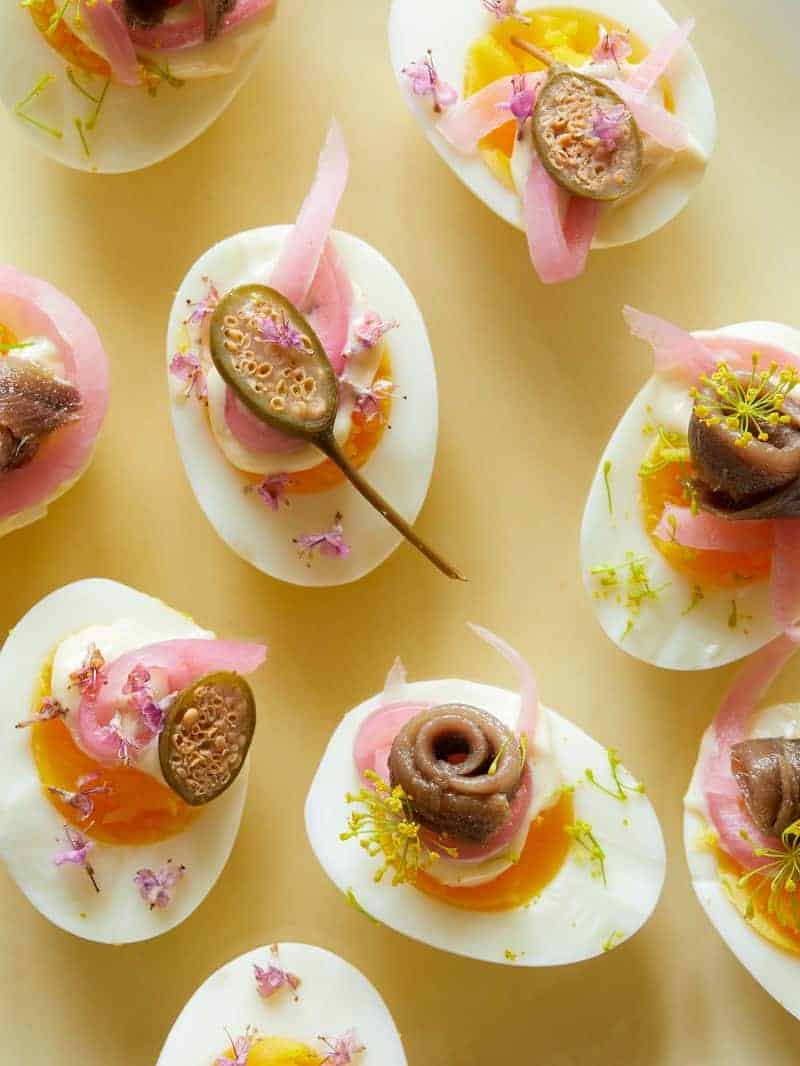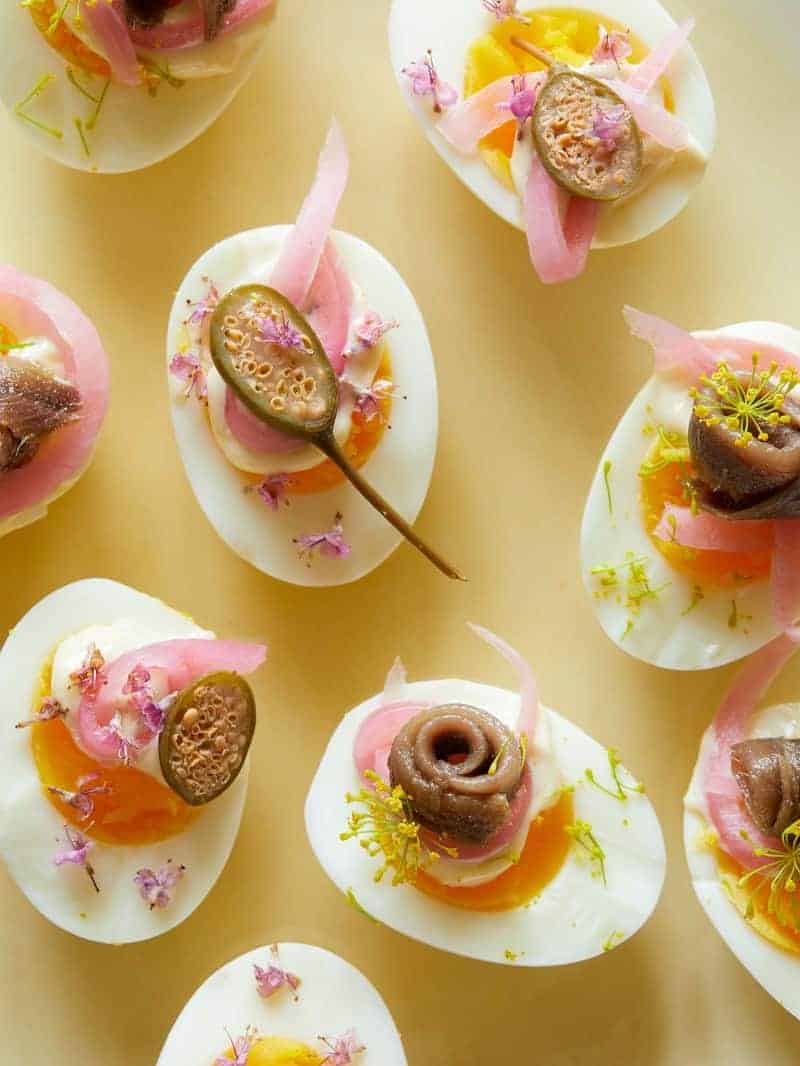 Deviled eggs have alway been a big favorite for me. My friends and I laugh at the fact that whenever it's offered as an appetizer on a menu anywhere we just can't not order them. They're just so creamy, briny and delicious and I have yet to have a really terrible deviled egg ('knock on wood').
This year I'm taking a little bit of a lazy man's approach to deviled eggs and am calling them the Undeviled Eggs. All the components of classic deviled eggs are there, but everything is a little deconstructed and layered instead. The deviled eggs are boiled to medium doneness to maximize the rich and creamy texture, while still being easy to top with yummy goodies.
The quick pickled red onions are simple and so so good. They go so well with these eggs, but they also go so well with SO many other things like simple charcuterie and cheese, in tacos, on an omelette, even in a blood mary, and so much more! You can also top these eggs with other toppings of your choice like crispy bacon or prosciutto, a drizzle of pesto, some sweet relish to name a few options. Enjoy! xx, Jenny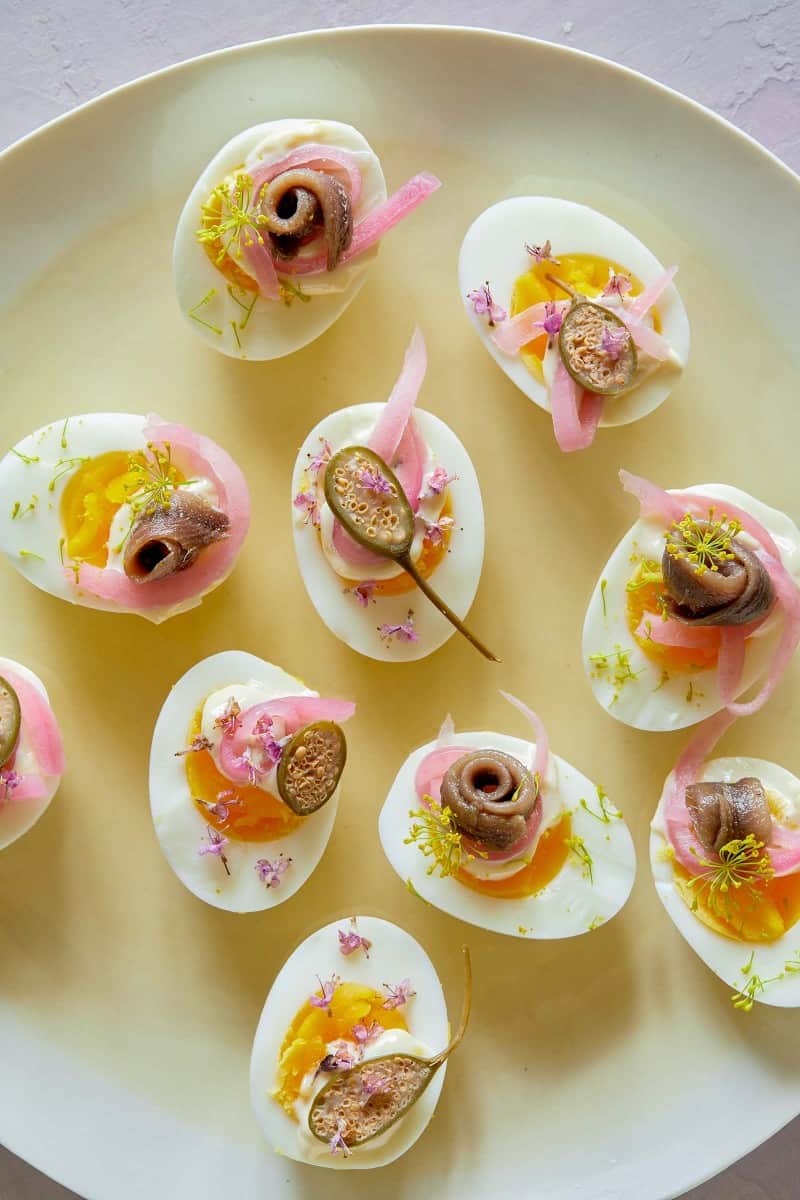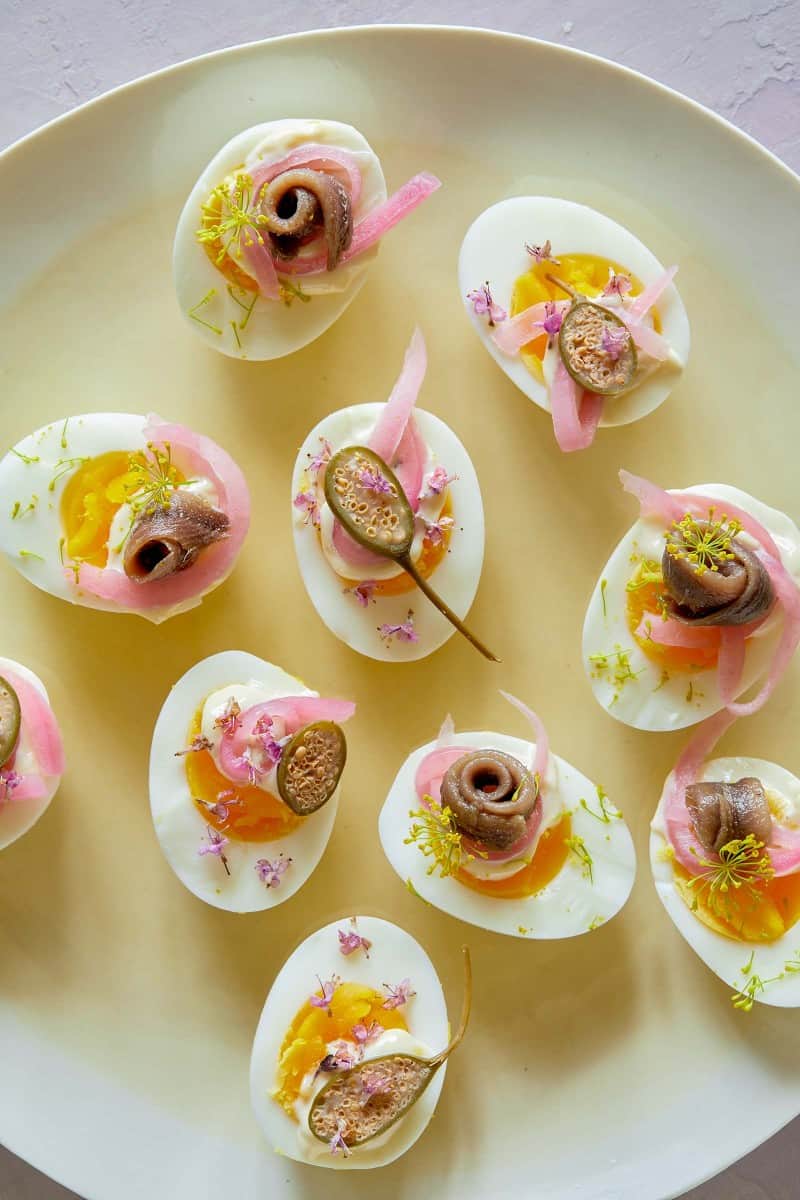 Hungry for more?
Subscribe to never miss a recipe.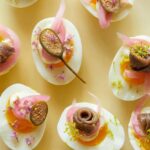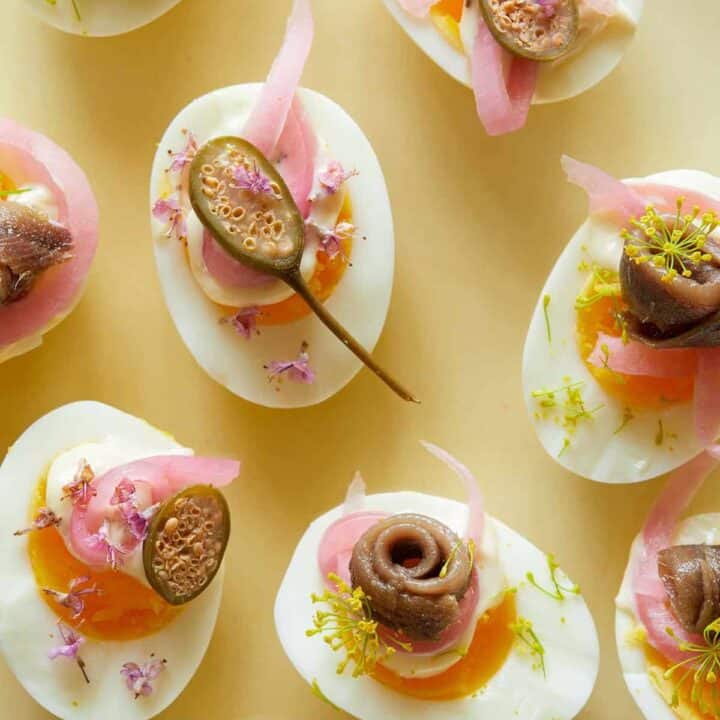 ---
Undeviled Eggs
INGREDIENTS
12

large eggs

¾

cup

mayonnaise

1

ounce

pickled red onions

12

anchovy fillets packed in oil, drained

3

caperberries, halved

dill flowers (or chopped dill)

oregano flowers (or chopped oregano)

salt and pepper to taste
INSTRUCTIONS
Fill a pot with water and bring to a boil over high heat.

Once water is boiling, carefully add eggs and boil for 6 to 7 minutes (to medium boiled).

Transfer eggs to an ice bath and cool completely. Peel eggs and slice in half lengthwise.
assembly
Place a small dab of mayo over each medium boiled egg half and top with a slice of pickled red onion. Top half of the eggs with an anchovy fillet and dill flowers (or chopped dill) and the other half of the eggs with caperberries and oregano flowers (or chopped oregano). Lightly season with salt and pepper and serve.
Calories:
185
kcal
Carbohydrates:
5
g
Protein:
7
g
Fat:
15
g
Saturated Fat:
3
g
Cholesterol:
172
mg
Sodium:
1032
mg
Potassium:
96
mg
Fiber:
1
g
Sugar:
4
g
Vitamin A:
247
IU
Vitamin C:
1
mg
Calcium:
40
mg
Iron:
1
mg