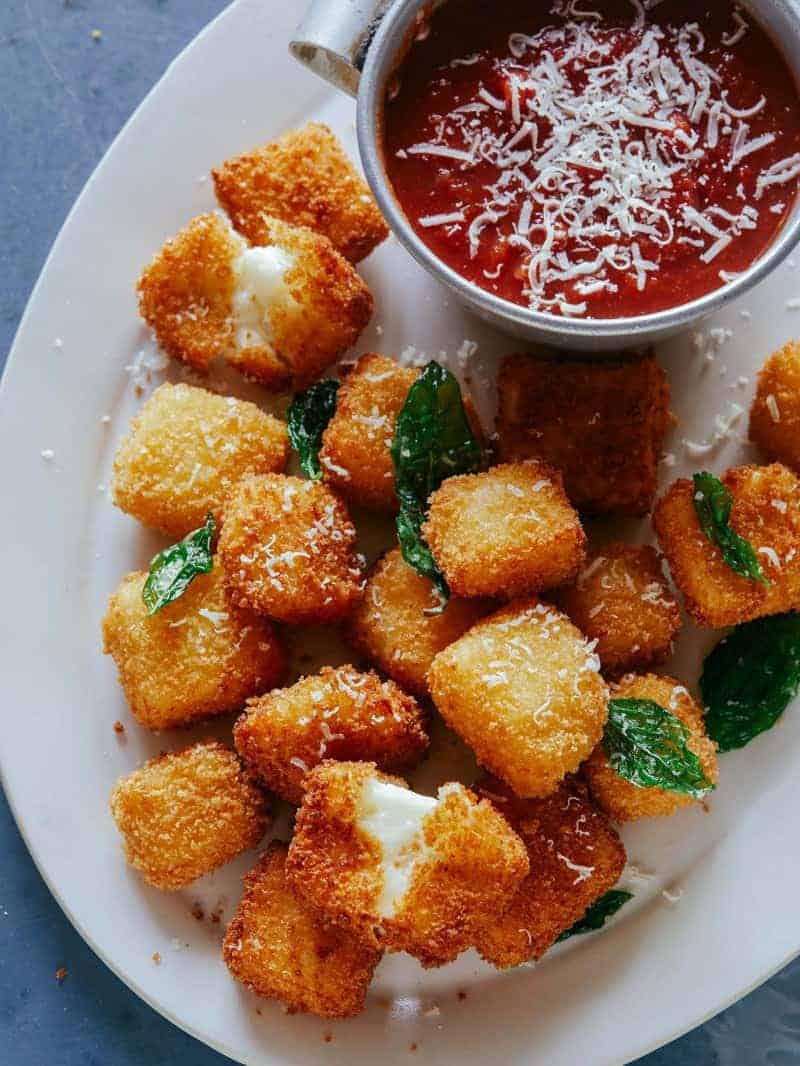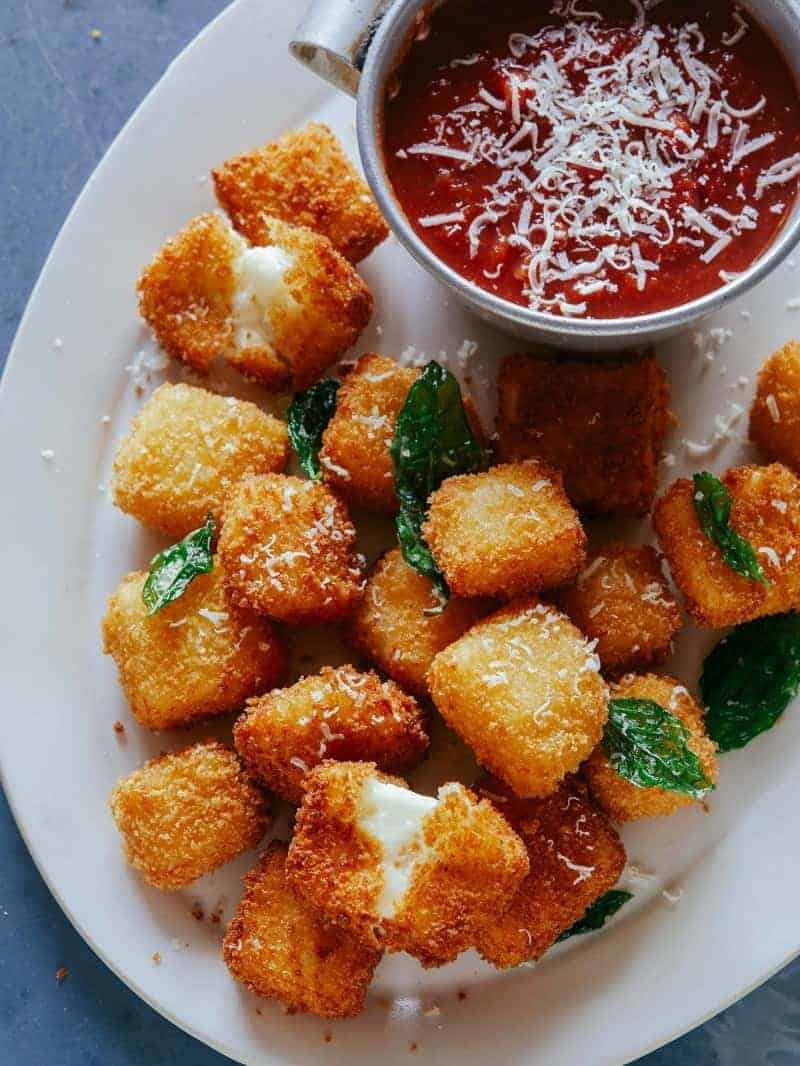 We really love fried foods and cheese We wanted to do a riff off of Fried Mozzarella Sticks, so we made Halloumi Nuggets! These little bit sized fried cheese cubes are perfect for an appetizer, and really yummy. We love Halloumi because of its salty taste and firm texture. Plus halloumi stands up well with heat which makes these little nuggets hold up really well when fried and while eating them.
If you love Halloumi book mark this recipe for Summer Corn Halloumi and Brown Butter Salad!
We especially love this brand of Halloumi cheese.
What is Halloumi?
Halloumi is a semi hard cheese that has a squeeky texture. Meaning when you bite into it, it kind of squeeks against your teeth. It can be made from sheeps milk, goats milk, or cows milk. It has a nice tangy and salty flavor. It is similar to mozzarella, but with less moisture content. It fries up perfectly because of this. Halloumi can be eaten raw, but it becomes even more delicious when it's fried, pan fried, or grilled.
These Halloumi Nuggets are really addicting and we dare you to try and stop yourself for eating the entire batch!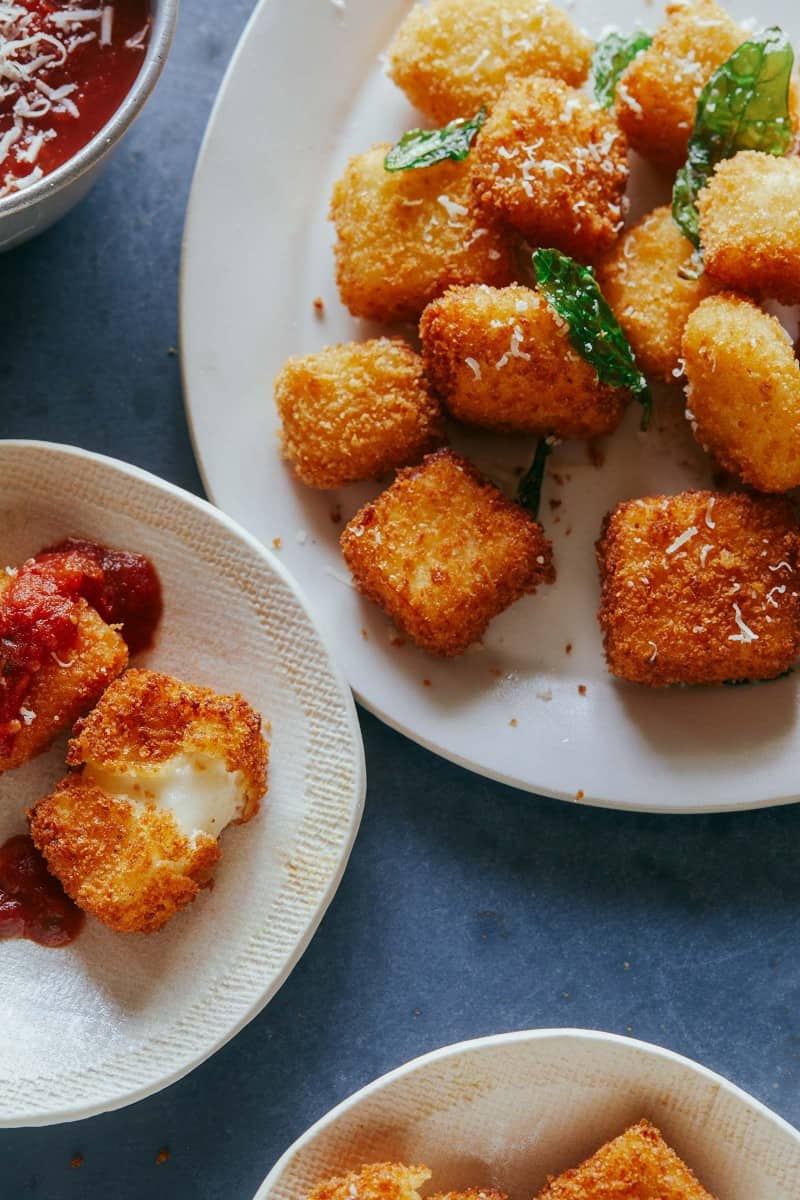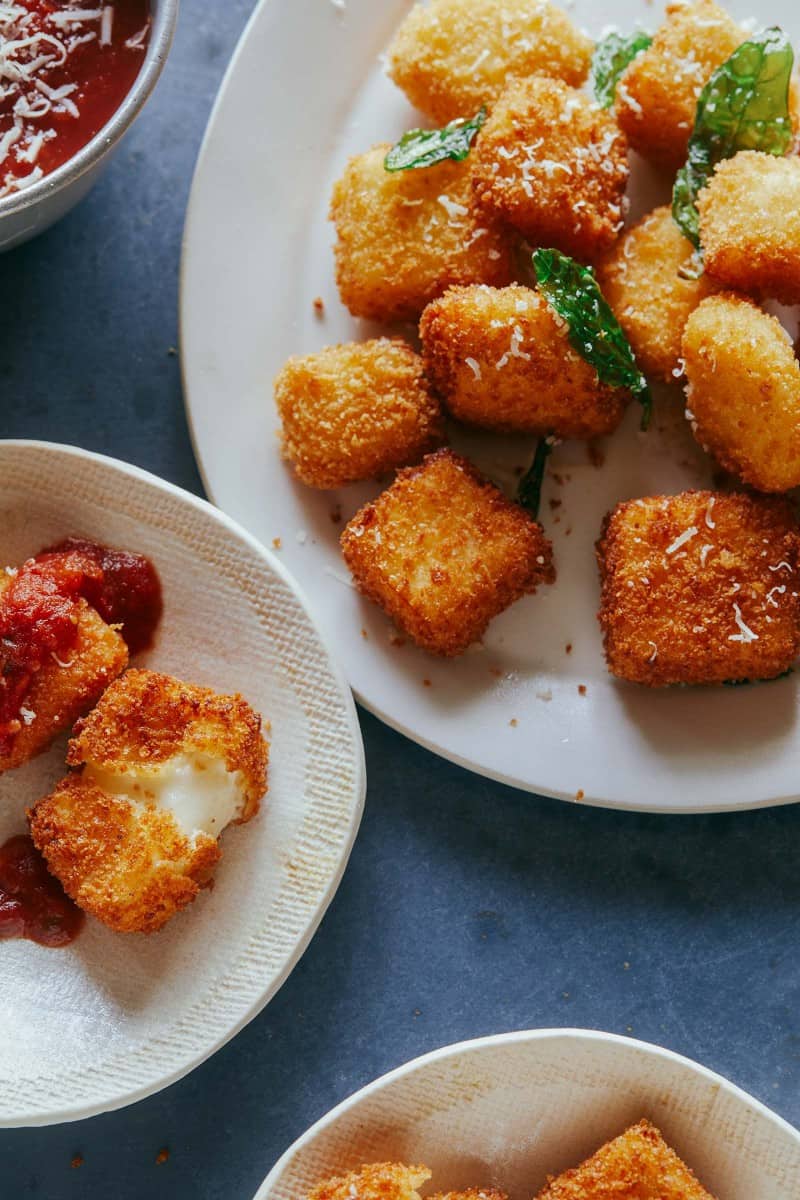 Here are some more cheesy recipes you will love: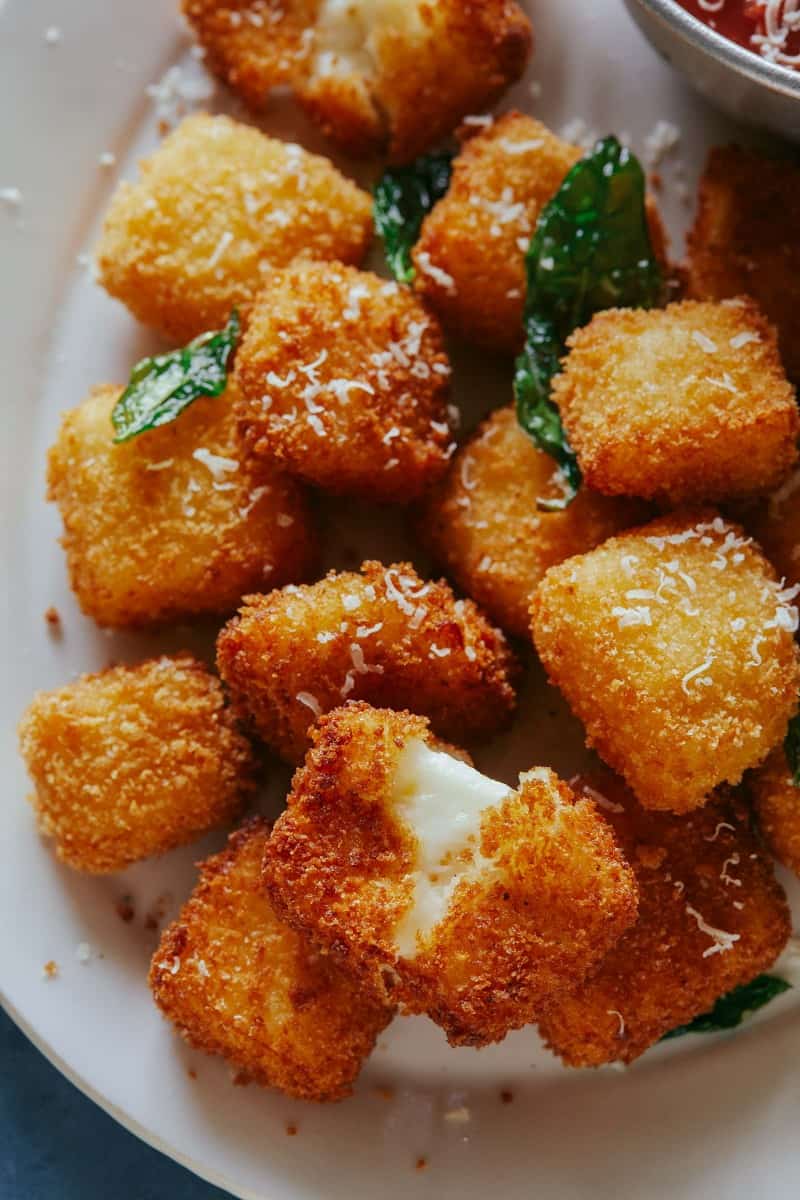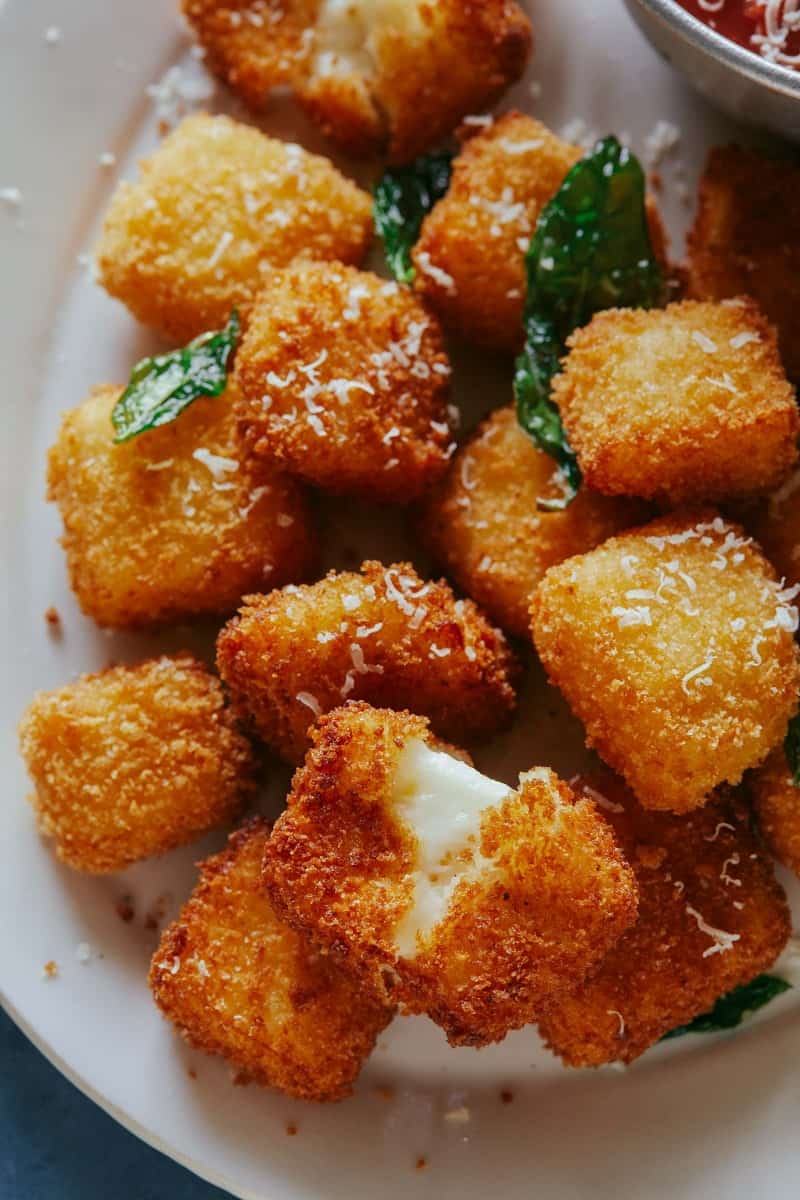 Hungry for more?
Subscribe to never miss a recipe.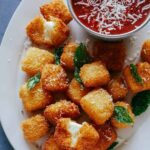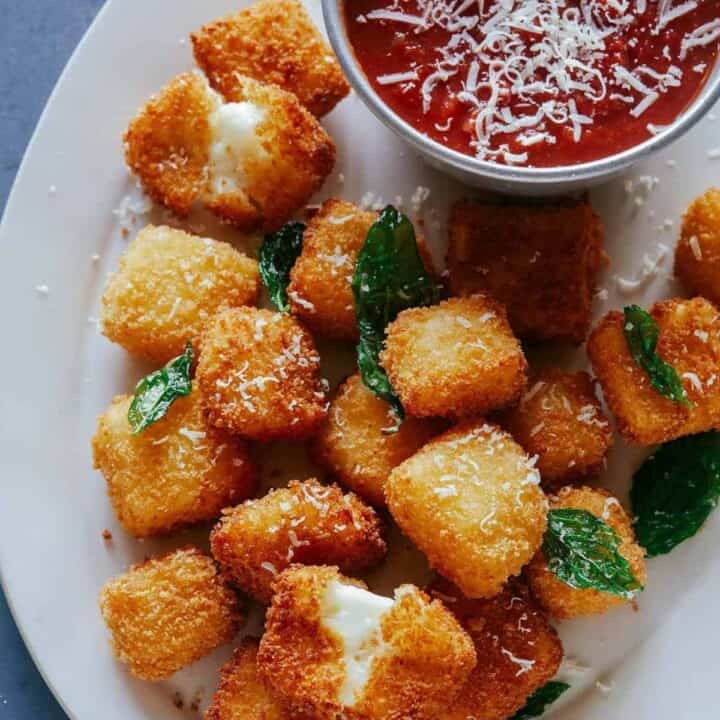 ---
Halloumi Nuggets with Marinara Dipping Sauce
These Halloumi Nuggets are a fun rift on chicken nuggets and mozzarella sticks. They're delicious and freeze really well for when you're craving a simple snack at a later date!
INGREDIENTS
2

pounds

halloumi cheese, cut into large bite sized cubes

about 1 ½"

1 ½

cups

all purpose flour

2

large eggs, beaten

2 ½

cups

panko breadcrumbs

salt and pepper to taste

7 to 10

basil leaves

oil for frying

1

cup

marinara sauce

for serving
INSTRUCTIONS
In batches, dredge cubes of halloumi into the flour, followed by the beaten eggs and finally the breadcrumbs, shaking off any excess after each coat.

Transfer prepared nuggets to a baking sheet lined with a cooling rack and repeat until all nuggets have been coated.

Place baking sheet in the refrigerator for at least 30 minutes and up to 12 hours (you can also freeze them at this time for a later use.

Pour 2 inches oil into a large skillet and preheat to 350˚F.

In batches, carefully add piece to the oil and fry for about 3 minutes on each side, until golden brown.

Using a slotted spoon transfer nuggets to a clean cooling rack lined baking sheet and lightly season with salt and pepper. Repeat until all nuggets have been fried.

Transfer all halloumi nuggets to a platter, garnish with fried basil (instructions below) and serve with warm or cold marinara sauce.
NOTES
*Makes 20 to 24
*For fried basil: Carefully add a few leaves of basil to the hot oil and fry for 4 to 6 seconds (be very careful here because the water in the fresh leaves will make the oil spatter). Make sure to watch the leaves hit the oil as the process is very fast. Quickly but carefully remove the fried leaves with a slotted spoon and transfer to a paper towel lined plate. Serve.
Calories:
720
kcal
Carbohydrates:
45
g
Protein:
42
g
Fat:
40
g
Saturated Fat:
27
g
Cholesterol:
55
mg
Sodium:
2233
mg
Potassium:
238
mg
Fiber:
3
g
Sugar:
4
g
Vitamin A:
281
IU
Vitamin C:
3
mg
Calcium:
1576
mg
Iron:
3
mg
KEYWORD:
halloumi, marinara, nuggets