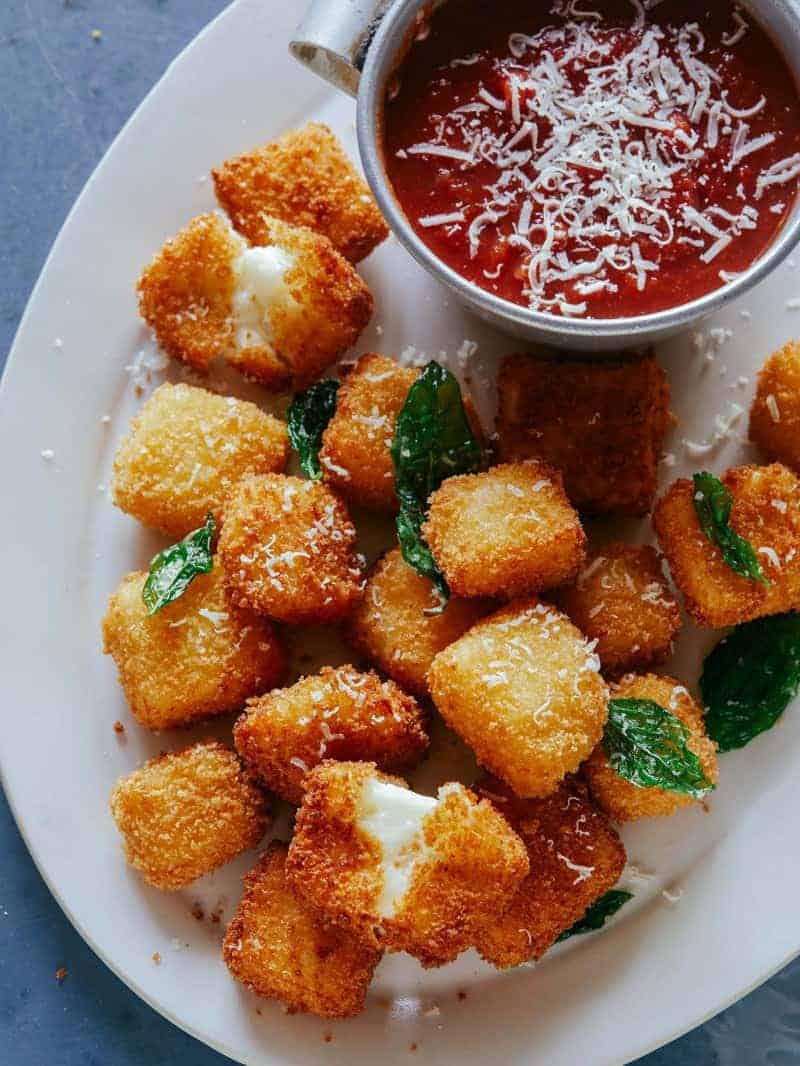 We made love fried food, and cheese. So we wanted to do a riff off of Fried Mozzarella Sticks, so we made Halloumi Nuggets! These little bit sized fried cheese cubes are perfect for an appetizer, and really yummy. We love Halloumi because of it's slightly tangy taste, and it stands up well with heat which makes these little nuggets not totally fall apart as soon as you bit into them. Pro tip: if you have some ranch on hand you should absolutely put that out as well, because these dipped in ranch are amazing. :)
♥ Teri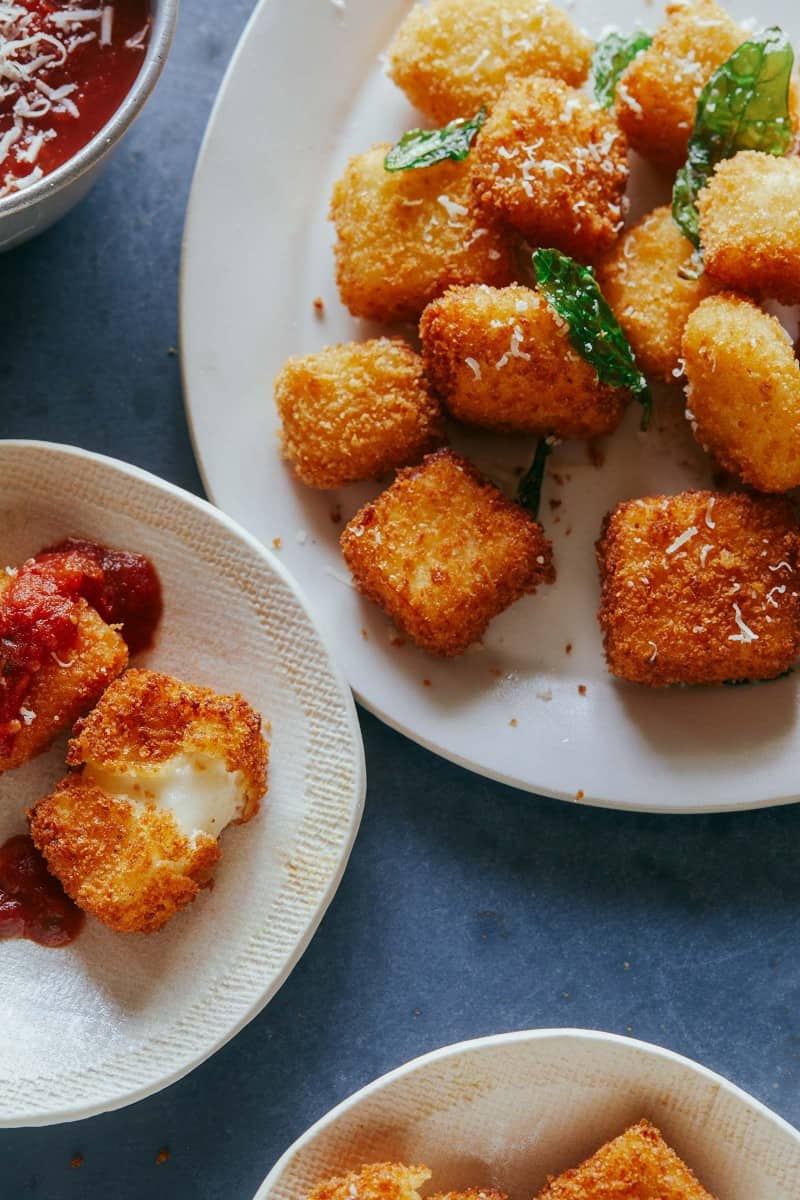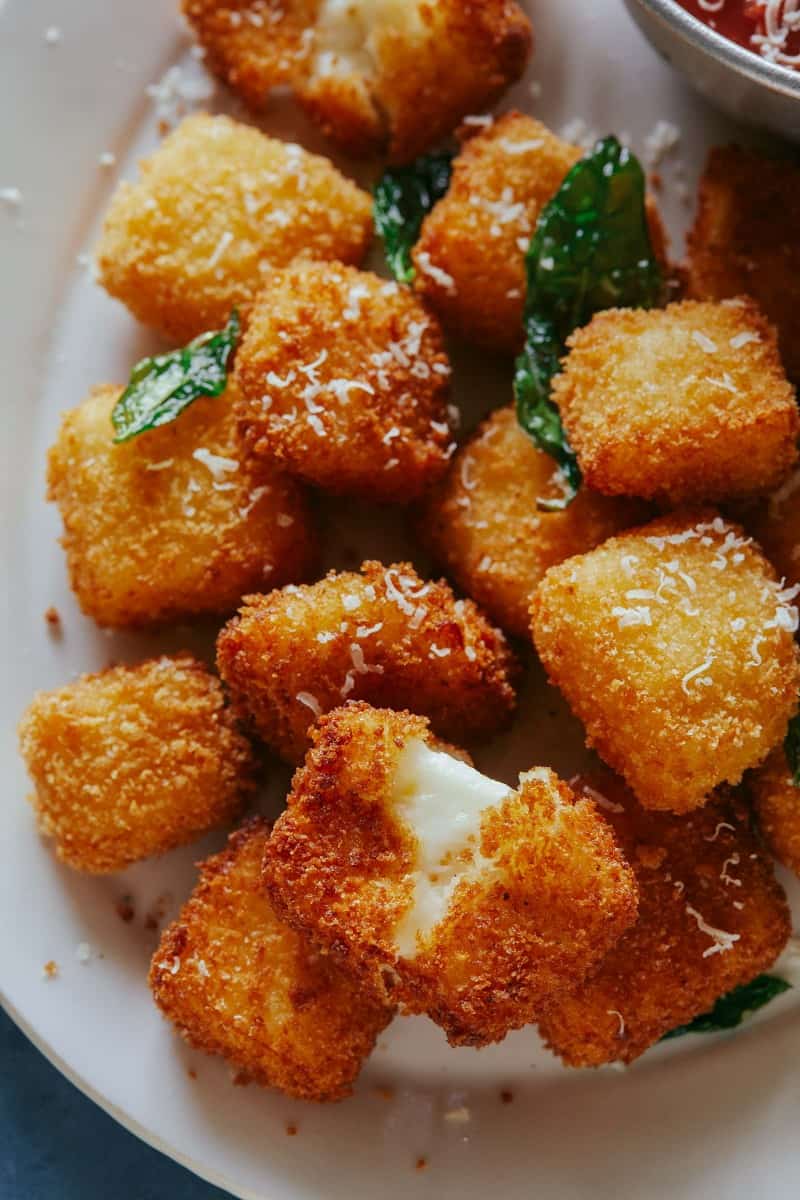 Halloumi Nuggets with Marinara Dipping Sauce
Makes 20 to 24
Ingredients:
2 pounds halloumi cheese, cut into large bite sized cubes (about 1 1/2")
1 1/2 cups ap flour
2 large eggs, beaten
2 1/2 cups panko breadcrumbs
salt and pepper to taste
7 to 10 basil leaves
oil for frying
1 cup marinara sauce of choice for serving
Directions:
1. In batches, dredge cubes of halloumi into the flour, followed by the beaten eggs and finally the breadcrumbs, shaking off any excess after each coat.
2. Transfer prepared nuggets to a baking sheet lined with a cooling rack and repeat until all nuggets have been coated.
3. Place baking sheet in the refrigerator for at least 30 minutes and up to 12 hours (you can also freeze them at this time for a later use.
4. Pour 2 inches oil into a large skillet and preheat to 350˚F.
5. In batches, carefully add piece to the oil and fry for about 3 minutes on each side, until golden brown.
6. Using a slotted spoon transfer nuggets to a clean cooling rack lined baking sheet and lightly season with salt and pepper. Repeat until all nuggets have been fried.
7. Transfer all halloumi nuggets to a platter, garnish with fried basil (instructions below) and serve with warm or cold marinara sauce.
*For fried basil: Carefully add a few leaves of basil to the hot oil and fry for 4 to 6 seconds (be very careful here because the water in the fresh leaves will make the oil spatter). Make sure to watch the leaves hit the oil as the process is very fast. Quickly but carefully remove the fried leaves with a slotted spoon and transfer to a paper towel lined plate. Serve.