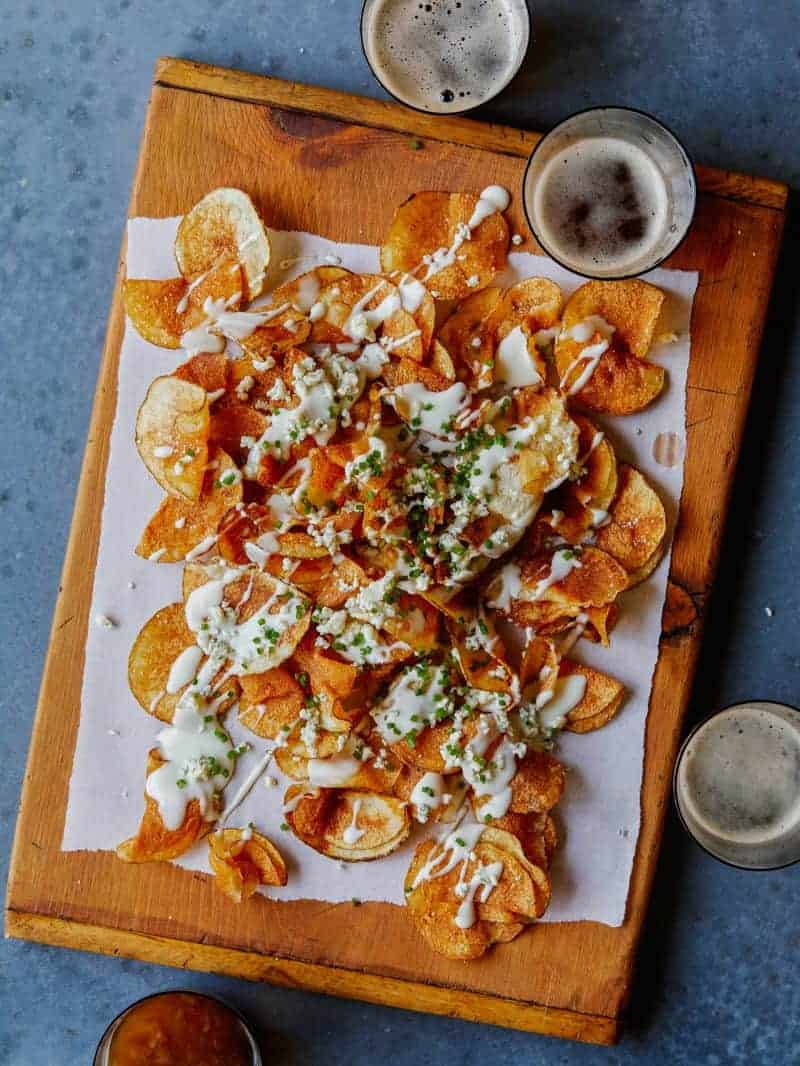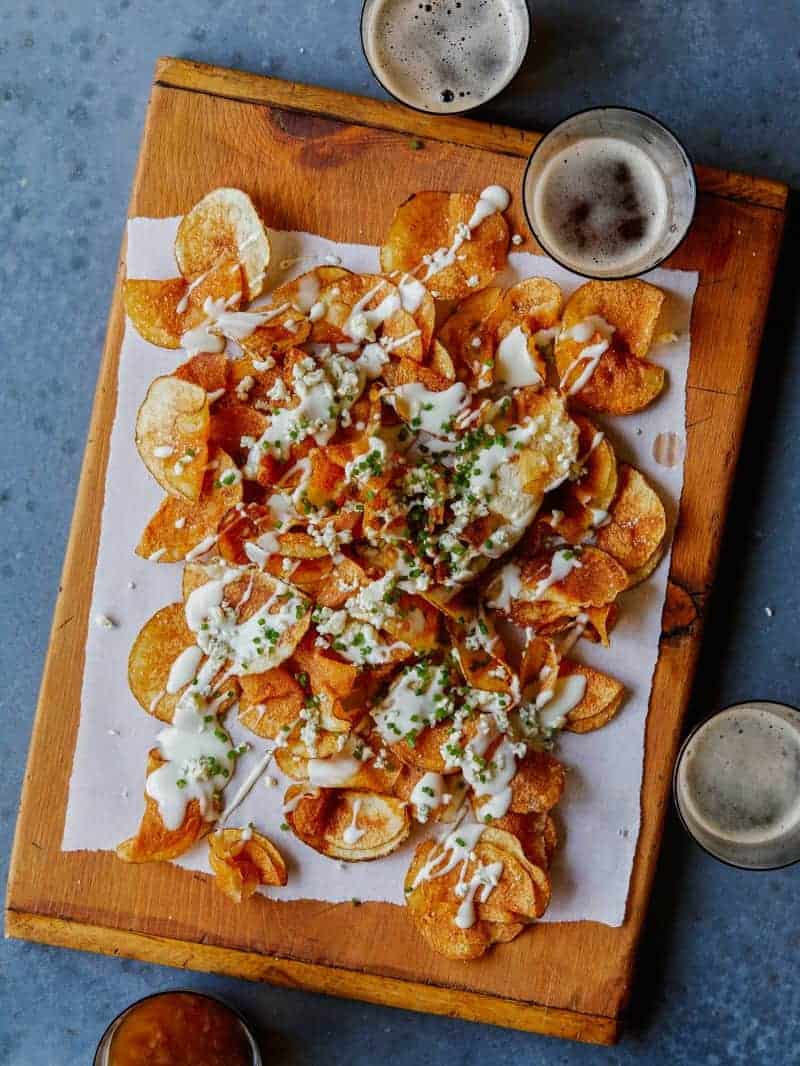 I think homemade potato chips are completely underrated. I totally understand that deep or even shallow frying isn't for everyone and how the thought of using up so much oil on potato chips could seem excessive, but I'm here today to say, "It's totally worth it!". Maybe not something you would do all the time, but for a fun, special occasion, they can really be the hit of the event…really! They're super light, crisp and salted just to your liking, and when paired with this gorgonzola cheese sauce…ultra yum.
That brings me to my next "thing"… Why aren't potato chips treated more like French fried and topped with delicious things?!…or even treated more like tortilla chips in a nacho sitch?! Seriously. Seems perfectly reasonable to eat potato chips dipped in cheese sauce and crumbled with things like bacon and green onions on top, doesn't it?? So our Homemade Potato Chips with Gorgonzola Cheese Sauce is our start to adding things onto potato chips always…well not always, but a lot of times, lol. Enjoy! xx, Jenny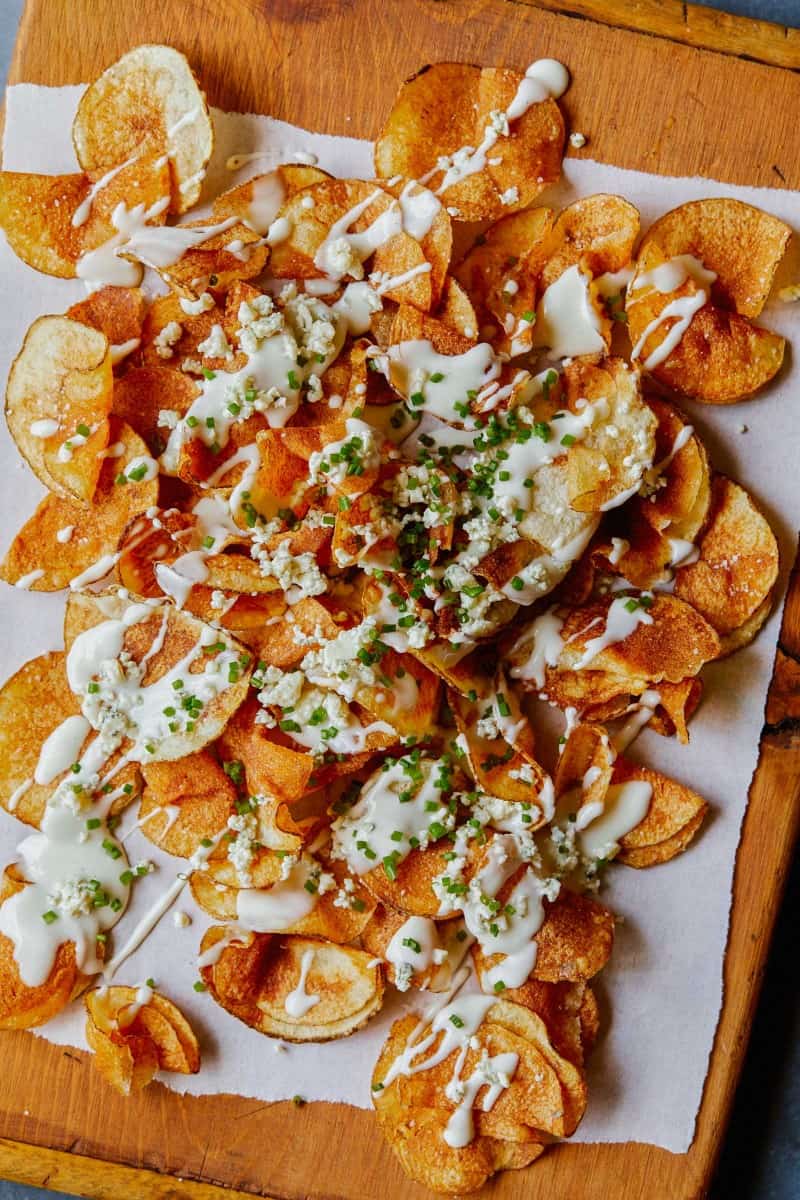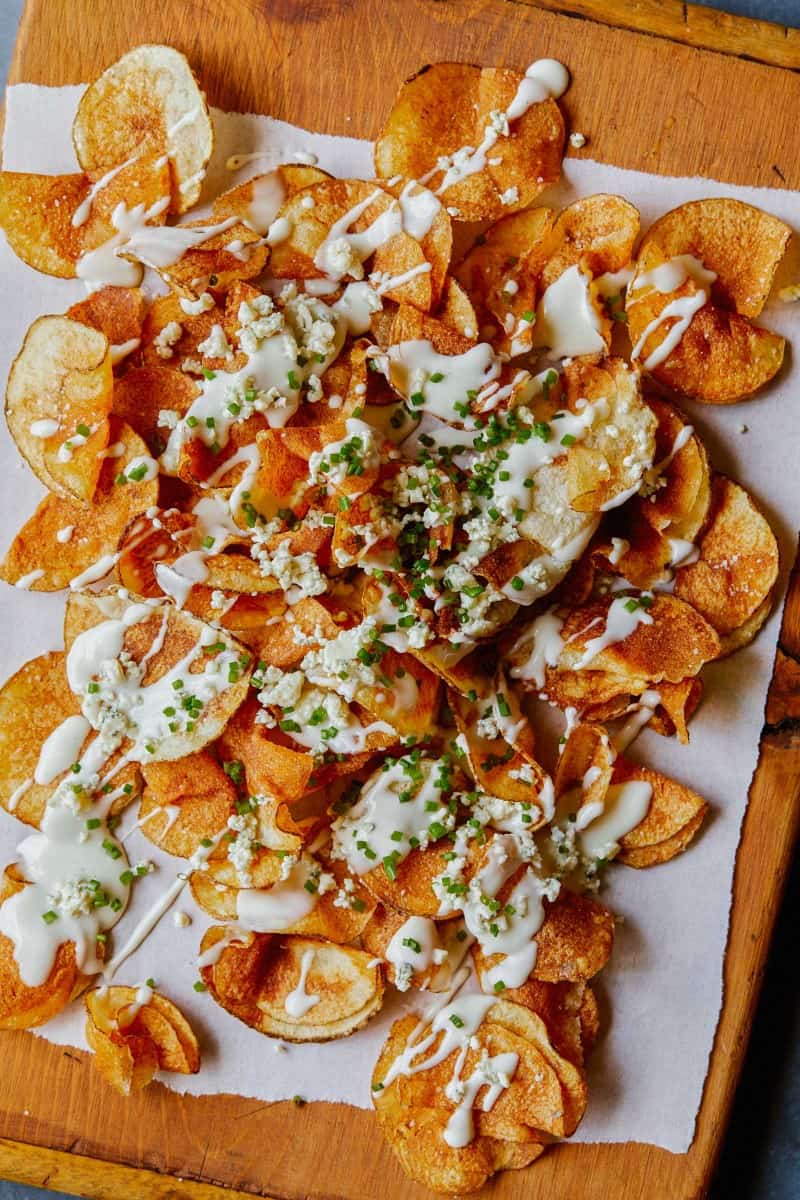 Hungry for more?
Subscribe to never miss a recipe.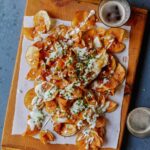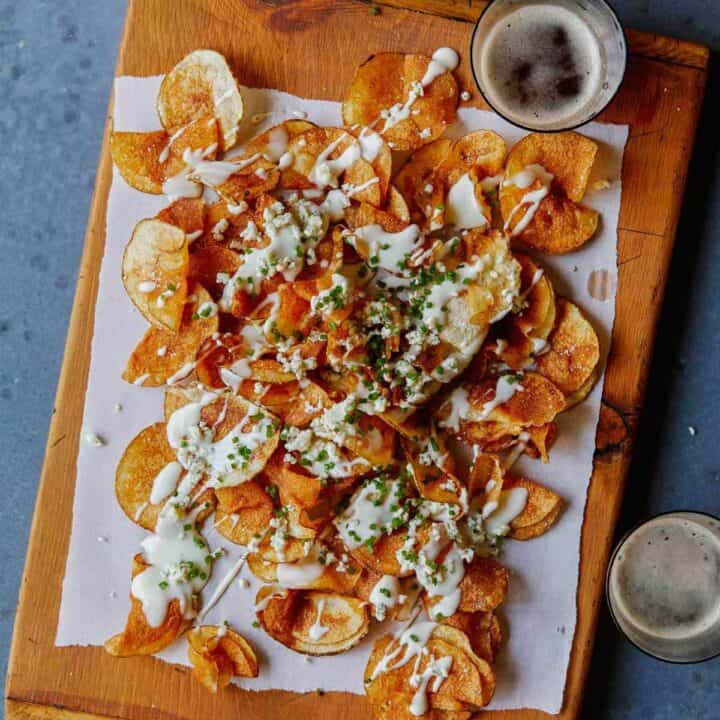 ---
Homemade Potato Chips with Gorgonzola Cheese Sauce
INGREDIENTS
2

russet potatoes, scrubbed and dried

sea salt flakes to taste

oil for frying
gorgonzola cheese sauce
2

tablespoons

unsalted butter

2

tablespoons

all purpose flour

1

cup

whole milk

2

ounces

shredded mozzarella

2

ounces

crumbled gorgonzola, plus more for sprinkling

salt and pepper to taste

thinly sliced chives
INSTRUCTIONS
Preheat deep fryer or a tall sided pot filled with 2 inches oil, to 350˚F.

Using a mandolin, slice potatoes paper thin and submerge into cold water for 30 minutes.

Line a baking sheet with paper towels and lay the sliced potatoes onto the surface. Top with more paper towels and press down to remove as much liquid from the potatoes.

In small batches, carefully drop a handful of sliced potatoes into the fryer or pot with hot oil and using heat-safe tongs, stir the potatoes around for 2 to 3 minutes, to ensure they don't stick together and end up having some texture/body to them.

Continue to fry the chips for an additional 3 minutes or until they begin to brown, but haven't overcooked or burned.

Remove them from the oil, onto a baking sheet lined with fresh paper towels and immediately season with sea salt. Repeat until all of the potato slices have been fried.

Once chips have cooled, remove the paper towels and toss together with a little more sea salt. Set aside.

For gorgonzola sauce: Place a saucepan over medium heat and melt butter. Add flour and whisk together until no lumps remain. Continue to cook the mixture for 1 to 2 minutes before whisking in the milk. Continue to whisk together until the mixture is smooth and has thickened slightly. Remove from heat and whisk in the cheeses, 1 ounce at a time, until all of the cheese has been added and the sauce is smooth. Season with salt and pepper.

To serve: Drizzle cheese sauce over chips and top with more crumbled gorgonzola and thinly sliced chives. Serve immediately.