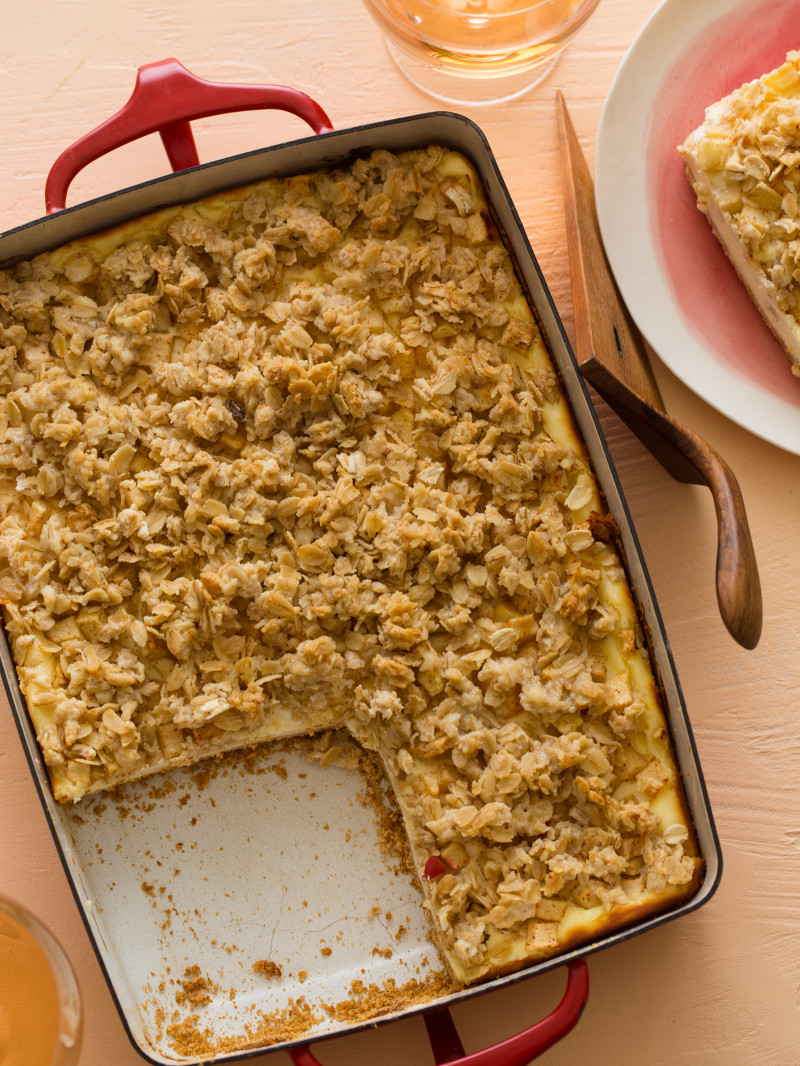 You guys, I recently became and aunt and it's one of the most fun experiences EVER! I knew I was going to be excited when the little guy finally came, but I didn't think I would become the biggest bag of blubbering mush over the little guy; which I totally HAVE become! He melts my heart to a zillion pieces and I couldn't be more thrilled for my sister and brother in law!
Now that my sister's done with being all preggo's I want to treat her and the rest of the family to a little something special and these French Apple Pie Cheesecake Bars are JUST the thing! She loves cheesecake and apple pie, so this seemed like an easy fit. These bars are so darn good and although they do require a handful of steps, they're not difficult to put together! These little bars also freeze VERY well. I often see my fiance (oh that's right, in the last month I got engaged too!! yay!!) sticking his nose in the freezer and eating one frozen…it's his favorite way!
If you guys are looking to change up your Thanksgiving or holiday desserts just a little bit I highly, HIGHLY recommend these bars. They're a total crowd pleaser! Enjoy!! xx, Jenny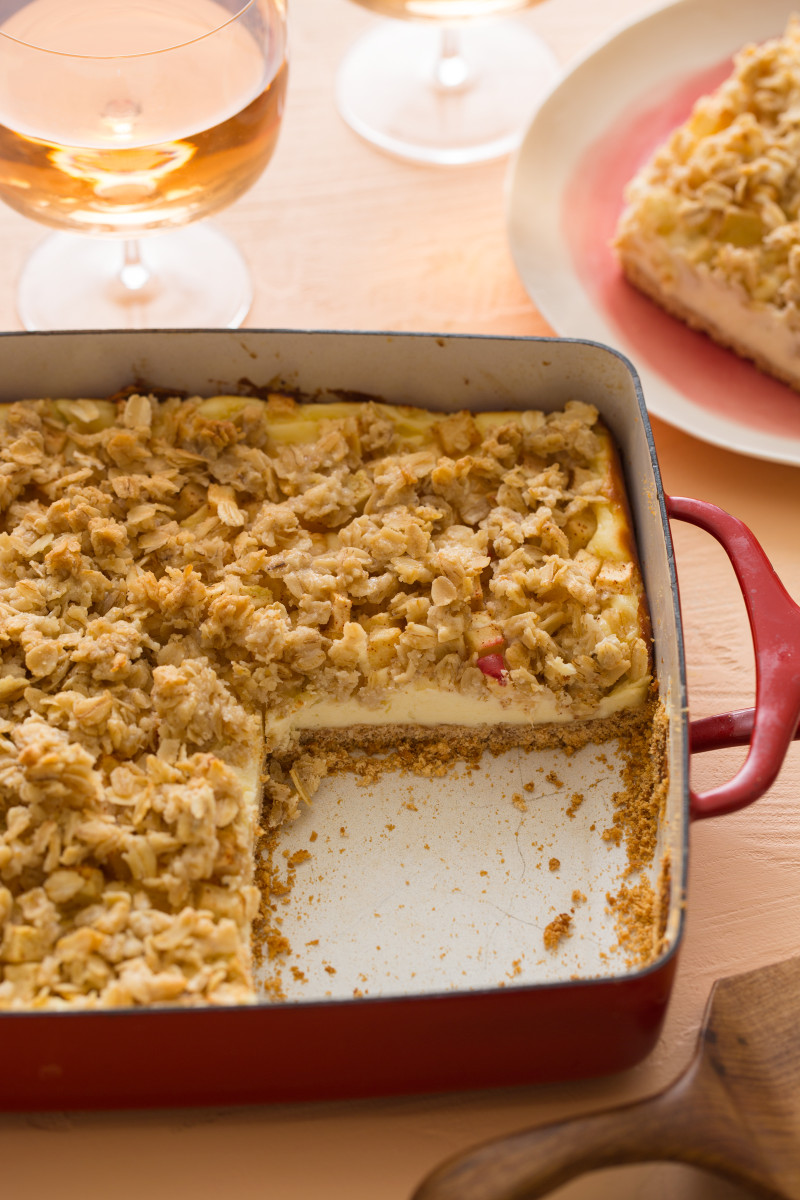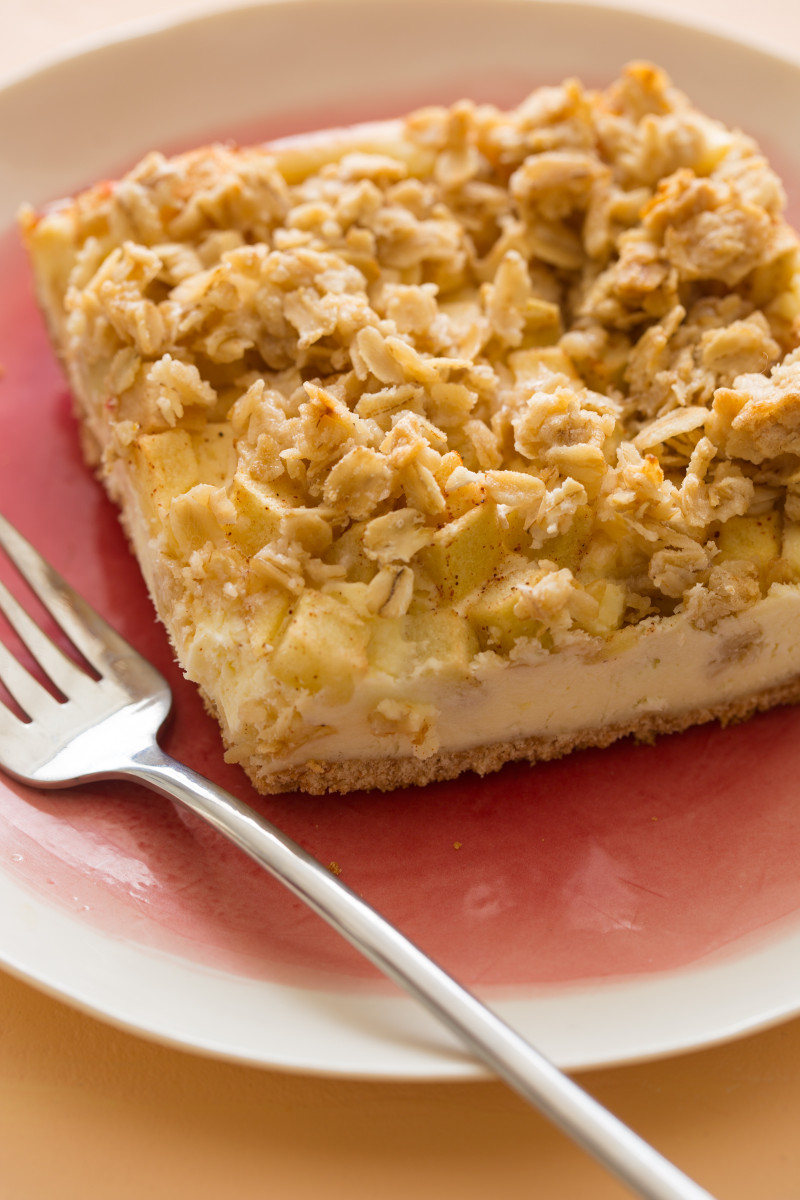 Streusel Topped Apple Pie Cheesecake Bars
Makes 1 (8"x8") pan
Ingredients:
Nilla wafer crust:
12 ounces nilla wafers, crushed into a fine powder
6 tablespoons unsalted butter, melted and cooled
1/2 NY cheesecake filling recipe
apple pie filling:
2 golden delicious apples peeled, cored and diced
2 tablespoons brown sugar
1 teaspoon tapioca starch
1 teaspoon ground cinnamon
1/2 teaspoon ground ginger
1/4 teaspoon ground nutmeg
1/4 teaspoon salt
streusel topping:
1/2 cup superfine sugar
1/4 cup rolled oats
2 tablespoons all purpose flour
3 tablespoons cold unsalted butter
Directions:
1. Preheat oven to 350˚F.
2. Pour wafer crumbs and butter into a mixing bowl and mix together until all crumbs are well coated. Press mixture into the bottom of a parchment lined 8"x 8" baking dish. Refrigerate for 30 minutes.
3. Make cheesecake filling and pour over crust, smoothing the surface.
4. Place all of the apple pie ingredients into a mixing bowl and toss together until completely mixed. Pour mixture over the cheesecake filling and smooth the surface.
5. Place the sugar, oats and flour into a mixing bowl and whisk together. Add the butter and cut into the mixture using a pastry knife until the mixture resembles cornmeal. Sprinkle the streusel evenly over the apple pie mixture.
6. Bake for 30 to 35 minutes or until golden brown and cooked through completely.
7. Allow the cheesecake to cool completely, then refrigerate for at least 1 hour.
8. Cut cheesecake into bars and serve.