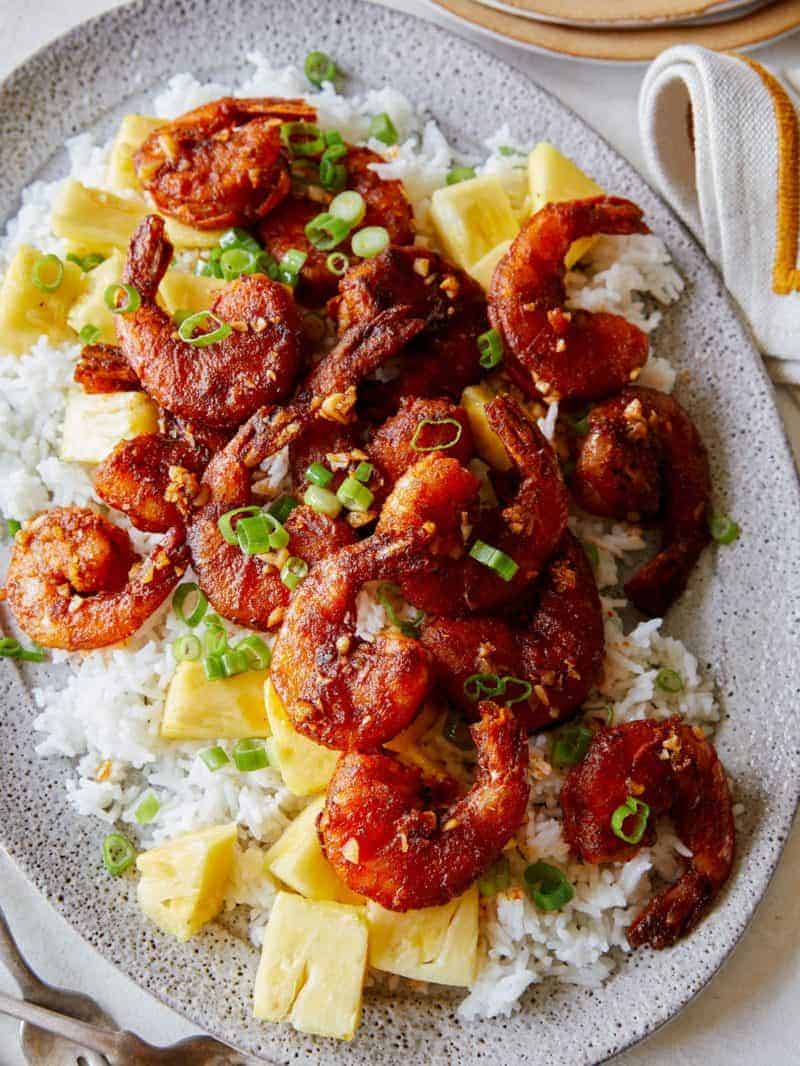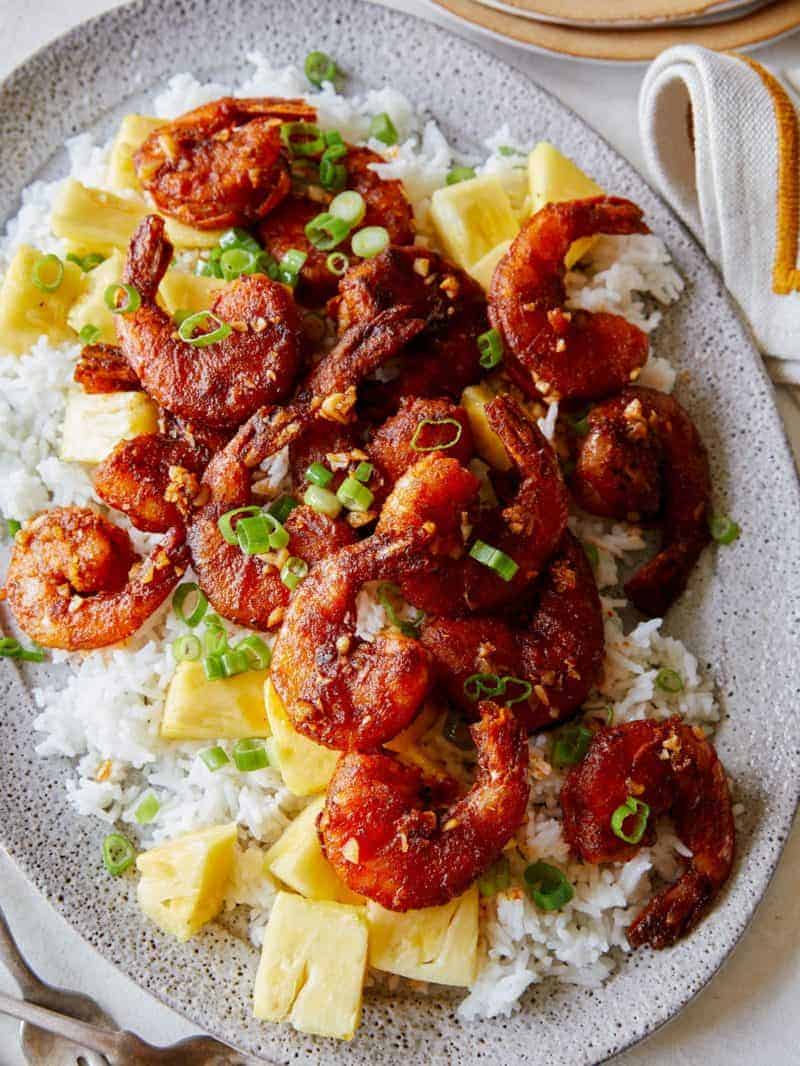 I'm in love with today's recipe. It's Hawaiian Style Crispy Garlic Butter Shrimp which is 100% inspired by Shrimp Daddy's garlic-butter shrimp from SmorgasburgLA. I've only ever had this style of Shrimp Daddy, and it's really addicting. I'm just bummed that I can only get it at SmorgasburgLA and only on Sundays. I first even heard of them through an IG account account I follow called Stir and Style, which is run by June Quan. She's one of the co-owners of Shrimp Daddy (as well as a handful of other eateries) and man is her IG fun to look through. She posts lots of videos of her eating and describing what she's eating and while I normally am not a fan of those kinds of accounts or videos, for some reason I find hers really interesting and entertaining to watch! I think maybe because her videos aren't overly curated or anything and seem pretty authentic, not stuffy and thoughtful overall. I highly recommend checking her out!
Okay, back to this crispy garlic butter shrimp! The shrimp in this dish is super garlicky and buttery (duh), but also super crispy, perfectly savory and pairs so well with rice and fresh pineapple. Although there's some flour dredging involved this recipe really doesn't take a long time to make, especially with the super quick cook times involved. I made my own version simply because of the limited availability of the one from Shrimp Daddy and when I get a craving for their crispy shrimp, I usually want it immediately! The flavor of this recipe isn't the exact same as Shrimp Daddy's version, but still very tasty. I know the peel on shrimp might not sound appealing to everyone (like my husband), but I promise you way the shrimp is cooked, makes the shell highly edible by being super crispy and loaded with tons of flavor!
I love quick and easy recipes like this one because it makes getting dinner on the table so simple! If you're also into deliciously quick and easy recipes like this try out our: Garlic Noodles, Taco Pasta Skillet, or our Mongolian Beef over Rice. Enjoy!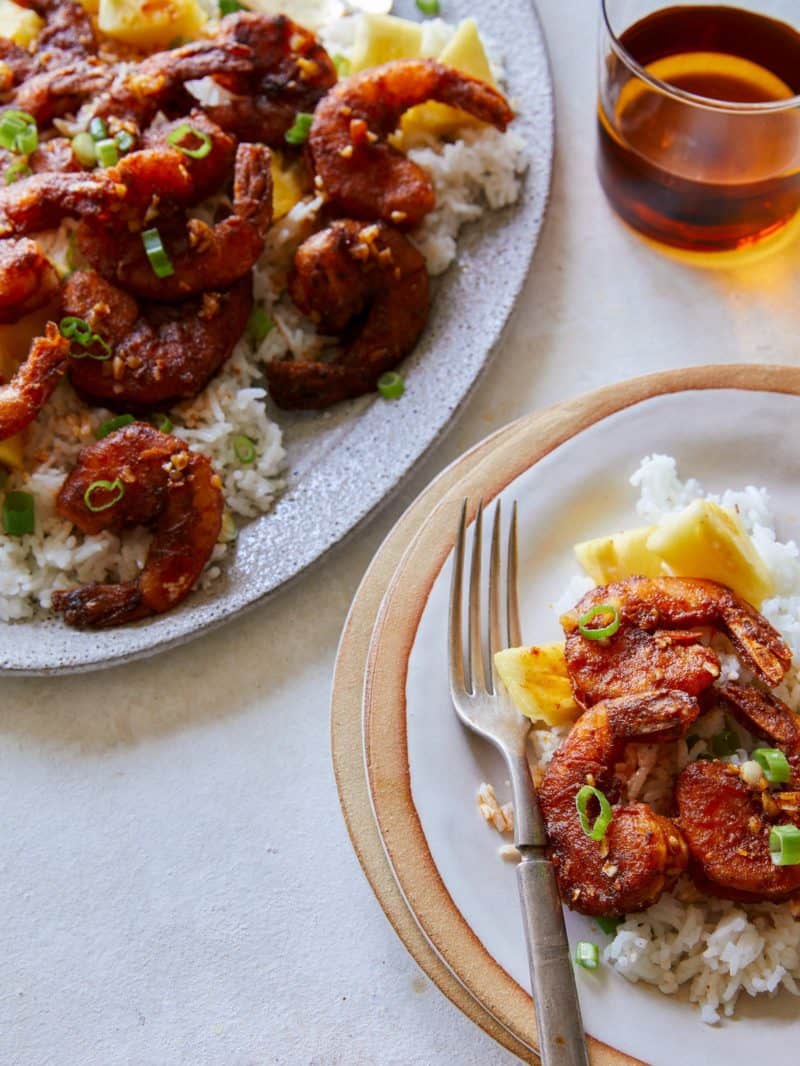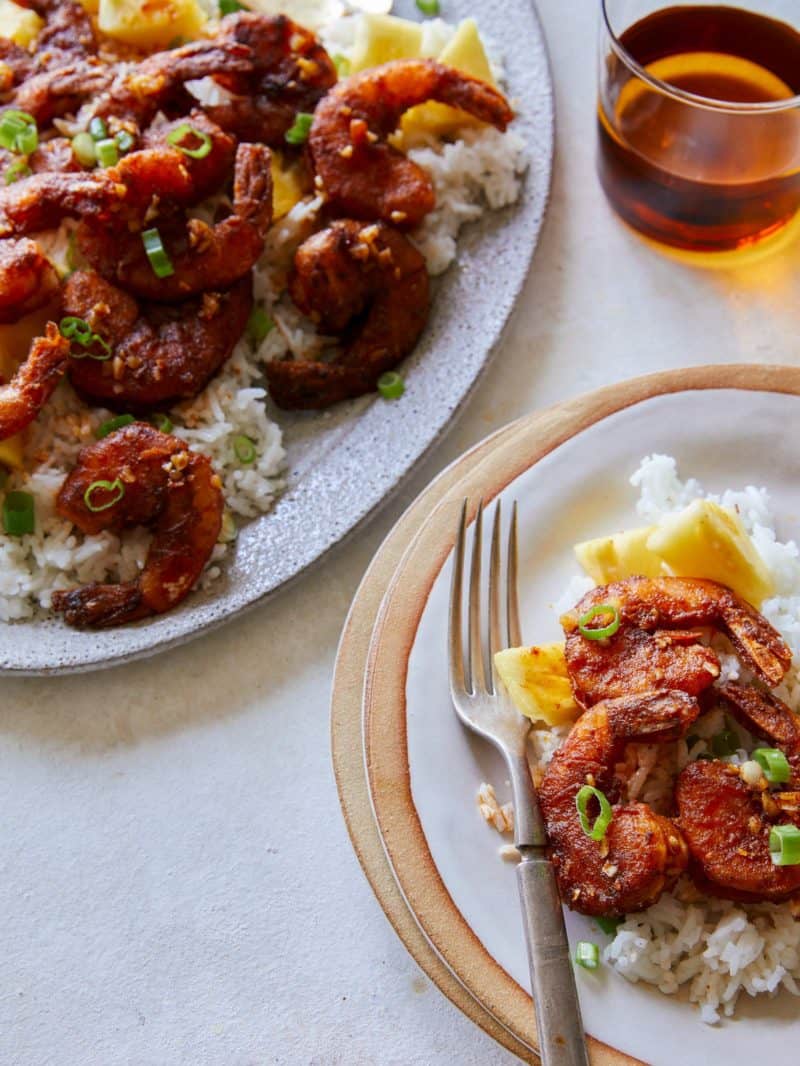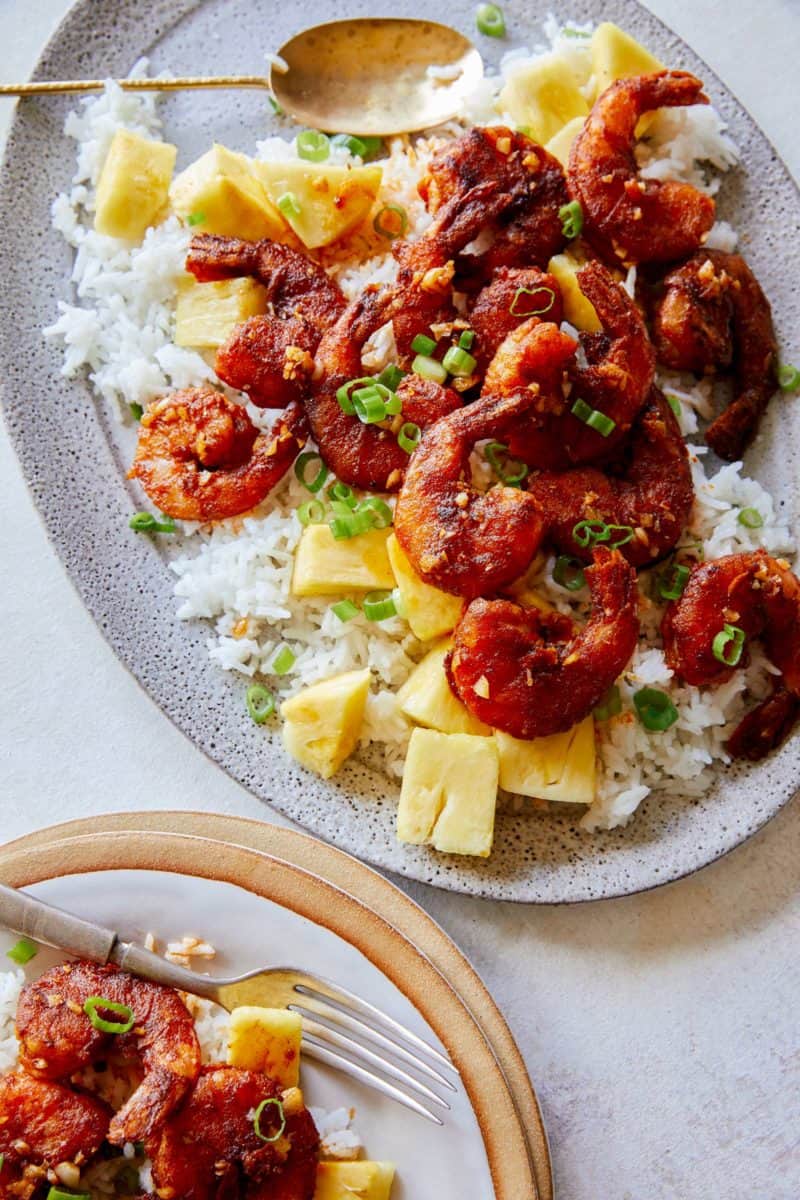 Hungry for more?
Subscribe to never miss a recipe.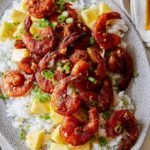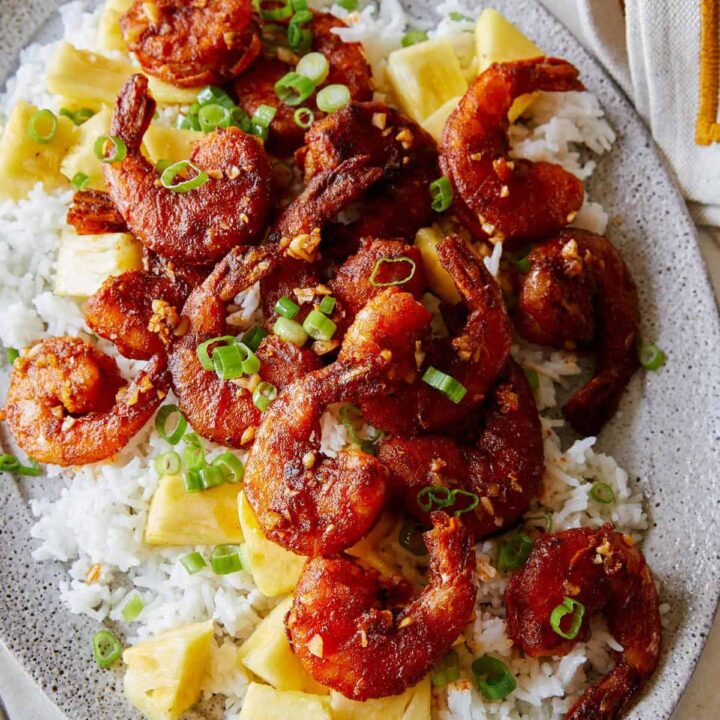 ---
Hawaiian Style Crispy Garlic Butter Shrimp
A delicious dinner recipe for Hawaiian Style Crispy Garlic Butter Shrimp. Our recipe makes these shrimp extra crispy, paired with an epic garlic-buttery sauce, this is a keeper!
INGREDIENTS
1

cup

flour

3

tablespoons

smoked paprika, divided

1

tablespoon

garlic powder

2

teaspoons

cumin

1

teaspoon

onion powder

24

jumbo

shrimp, deveined and cleaned with shells and tails intact

swimming legs removed, optional

4

tablespoons

vegetable oil, divided

4

tablespoons

salted butter

5

garlic cloves, minced

2

green onion, thinly sliced

salt and pepper to taste

2

cups

chopped pineapple

for serving

4

cups

steamed white rice

for serving
INSTRUCTIONS
In a shallow bowl combine flour, 2 tablespoons paprika, garlic powder, cumin, and onion powder and whisk together.

Lightly season shrimp with salt and pepper on both sides. Carefully dredge each shrimp in flour mixture until fully coated. Shake off any excess coating so each shrimp is only covered in a thin layer of flour mixture.

Place shrimp onto a baking sheet lined with a cooling rack.

Place a large skillet over medium-high heat and add 2 tablespoons oil.

Add half shrimp into the hot skillet and pan-fry for about 2 minutes on each side.

Transfer back onto the cooling rack, add remaining oil to skillet and repeat with remaining shrimp.

Once all shrimp has been pan-fried and placed back onto the cooling rack, clean skillet.

Place cleaned skillet back over medium-high heat and melt butter. Add remaining tablespoon paprika and garlic to melted butter and saute for 30 seconds. Add all shrimp back to skillet and toss together until all shrimp is well coated. Saute for 2 to 4 minutes or until all shrimp has just cooked through. Lightly season with salt and pepper.

To serve: Place a bed on rice onto a plate or platter with some bite sized chunks of pineapple. Pour crispy, garlic-butter shrimp and any excess butter over rice and pineapple and finish with green onions. Serve.
Calories:
652
kcal
Carbohydrates:
86
g
Protein:
17
g
Fat:
28
g
Saturated Fat:
19
g
Cholesterol:
121
mg
Sodium:
391
mg
Potassium:
401
mg
Fiber:
5
g
Sugar:
9
g
Vitamin A:
3056
IU
Vitamin C:
43
mg
Calcium:
119
mg
Iron:
5
mg