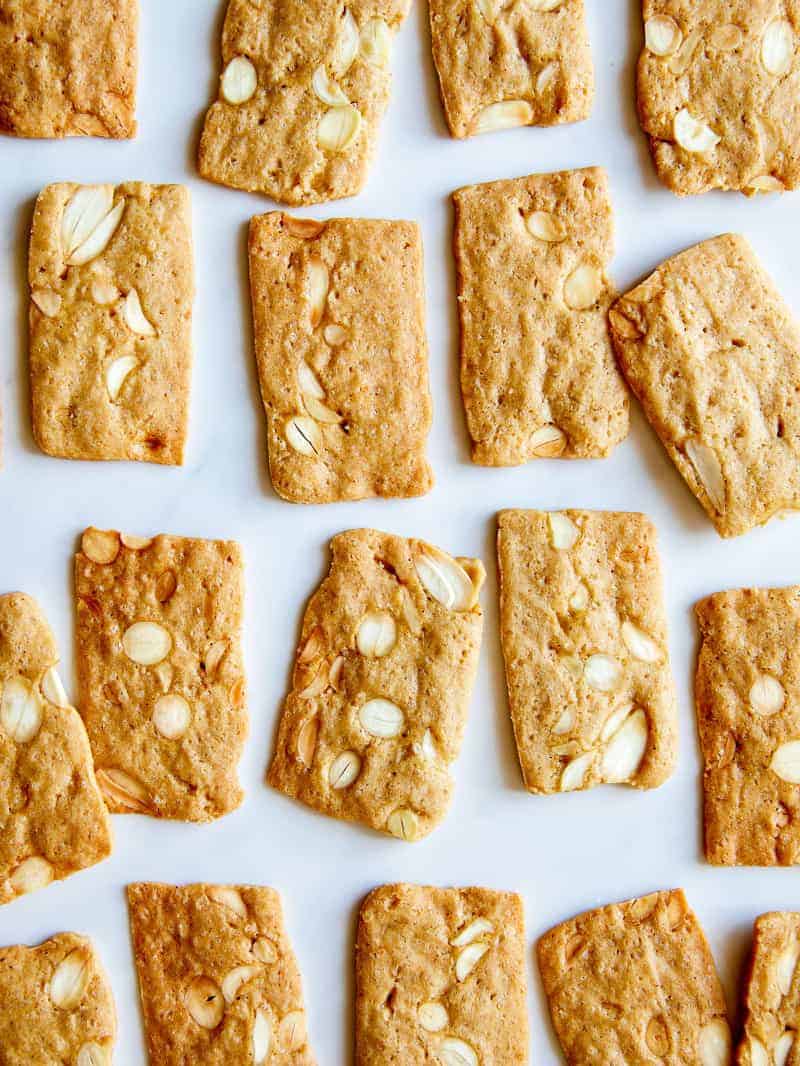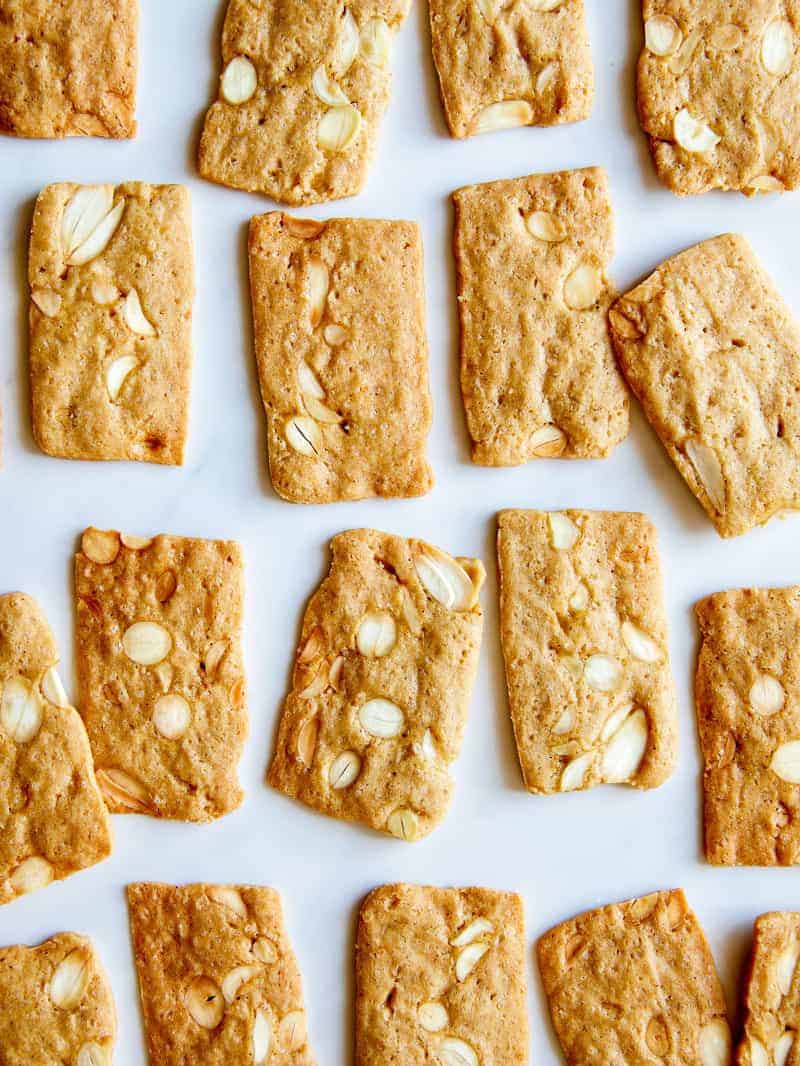 These Almond Thin Cookies are one of my favorites. They are incredibly addicting because they are so thin and crispy. They are also really nice to give as gifts! I also just love how simple they are, but really beautiful. The almonds dotting the cookie is just so pretty. These go incredibly well with coffee! They are actually some of those rare cookies that are perfect to have a around when you are craving something a little sweet, but don't want to necessarily go for it. Enjoy!
♥ Teri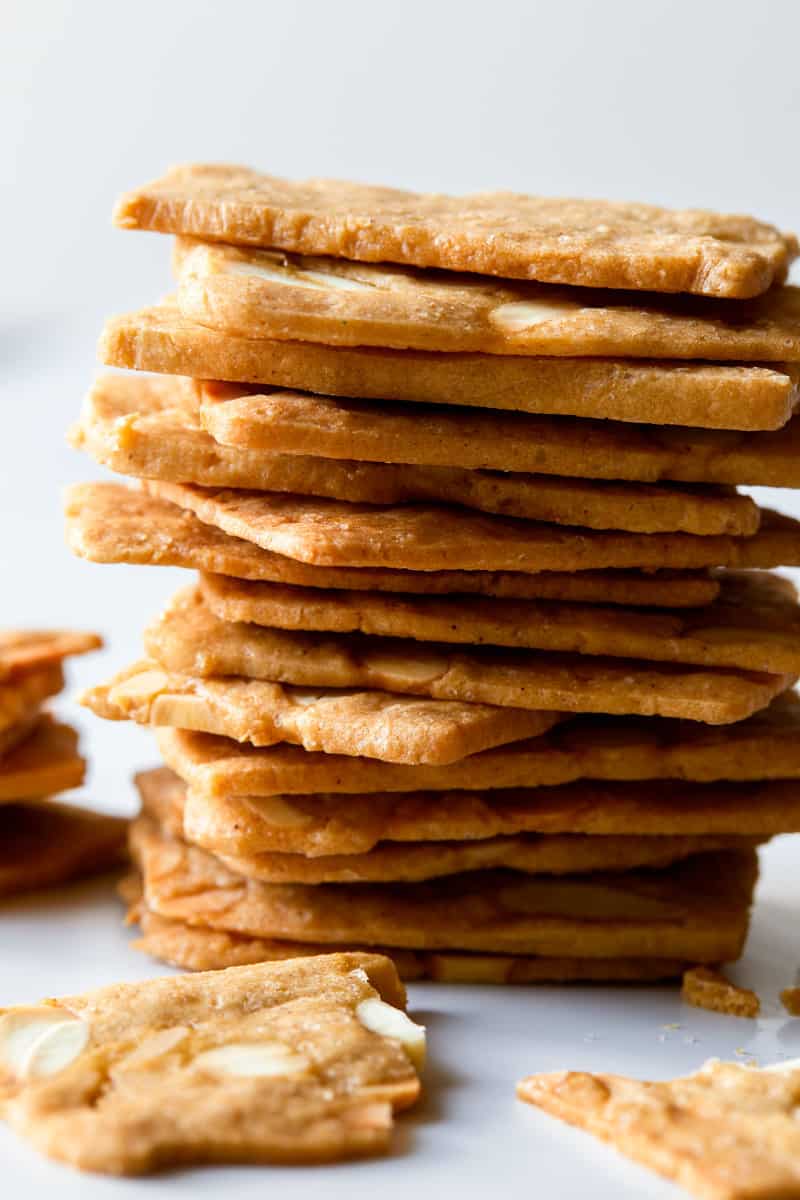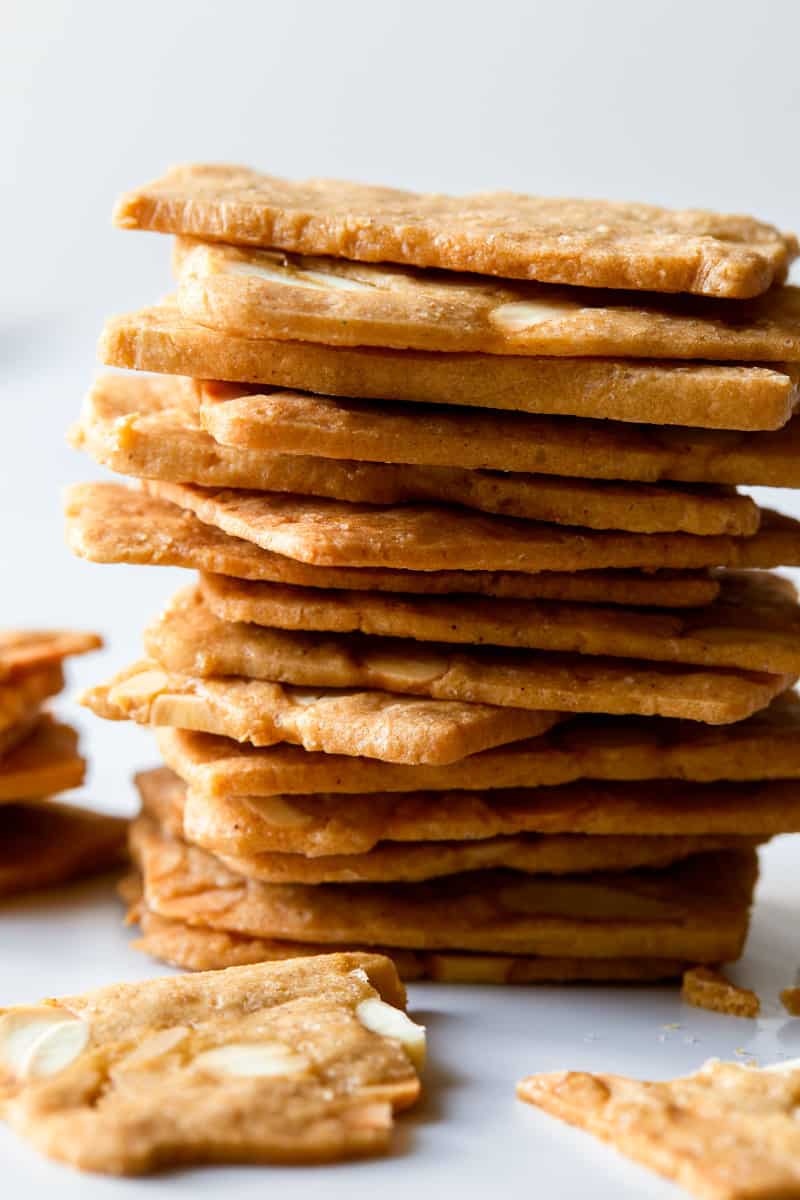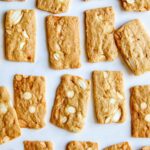 ---
Pain d'Amande (Almond Thin Cookies)
INGREDIENTS
2 ½

cups

all-purpose flour

¼

teaspoon

baking soda

Pinch salt

½

cup

(1 stick) unsalted butter, cut into small cubes

1 ½

cups

turbinado sugar

sugar in the raw

¼

teaspoon

ground cinnamon

pinch ground nutmeg

⅓

cup

plus 1 tablespoon water

1

heaping cup

blanched and skinned almonds
Recipe instruction visual controls:
INSTRUCTIONS
Sift together flour, baking soda and salt. Set aside.

Place butter, sugar, cinnamon, nutmeg, and water into a saucepan and simmer over medium heat until butter melts and sugar is semi dissolved. Remove from heat and cool for about 15 minutes.

Add flour mixture to sugar mixture and stir together with a wooden spoon until fully incorporated and a thick dough forms.

Firmly press dough into a lightly greased (9"x 5") loaf pan (one with straight sides would be best).

Press a piece of plastic wrap over the surface of the pressed dough and refrigerate for at least 6 hours and up to 2 days (the dough needs to be very firm).

Remove chilled dough from loaf pan and cut in half crosswise and then lengthwise (so you have four pieces).

Using a sharp knife, slice cookies as thin as possible (⅛ inch or thinner) from one of the logs and place them onto 2 parchment lined baking sheets, about 1 ½ inches apart.

Bake cookies (one baking sheet at a time) for about 10 minutes or until lightly browned. Flip each cookie over and continue to bake for another 7 to 8 minutes or until cookies are a honey to golden brown color and have crisped up (they will crisp up completely as they cool more).

Remove cookies from oven and transfer to a cooling rack.

Repeat steps 9-11 with the remaining cookie dough.

Once cookies have cooled completely serve or store in an airtight container for up to 10 days.