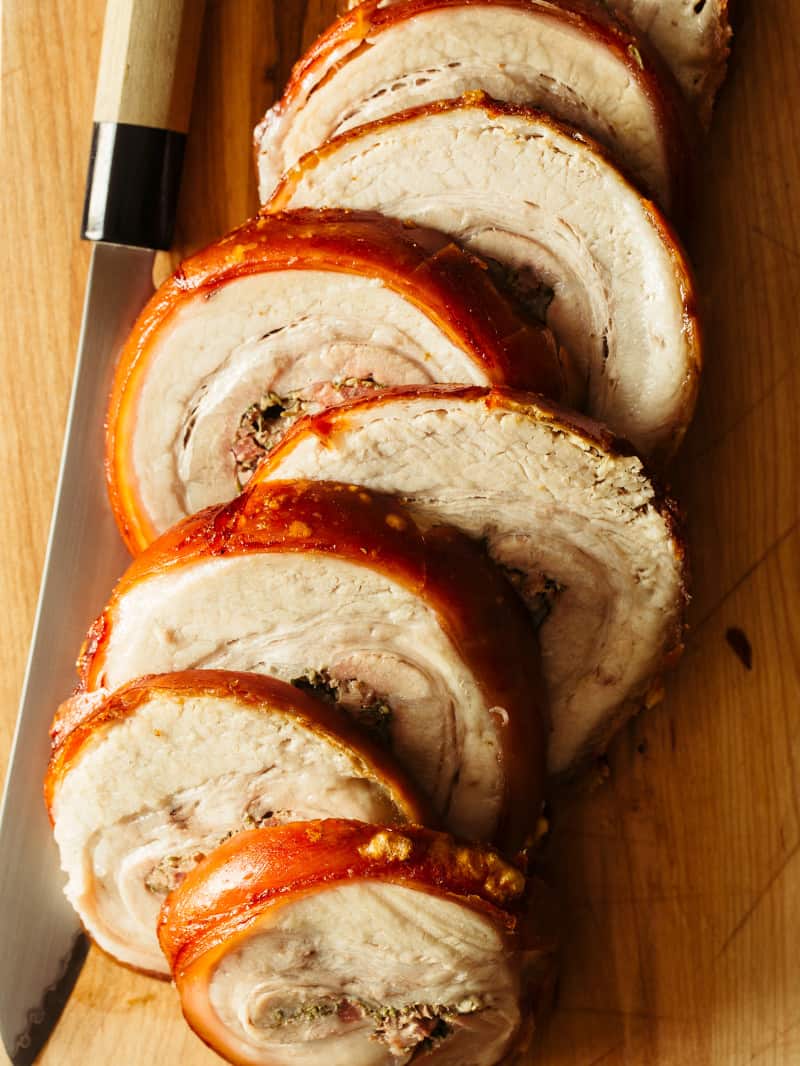 Hey guys! Easter is just about a week away and we're getting our menu together now. I spend Easter with my in-laws-to-be every year and each year they host a pretty amazing brunch, followed by a pretty epic Easter egg hunt (where I'm the youngest contestant, at 31 years old….and I LIVE for it! lol). Anyway, every year we have a baked ham, as the main entree, which is classic and great, but this year I really want to change things up! We're still sticking with pork, but this year we have this gorgeous pork belly porchetta!
Porchetta is a very moist, boneless pork roast that's stuffed with aromatics and rolled where the meat and fat are layered and cooked together, flavoring itself as it roasts. Classically this dish has been made with an entirely de-boned pig, but people tend to make it with the pork should these days because it's much easier to handle but still has a good fat to meat ratio. Today we've made ours with pork belly, because it's SUCH a great cut for something like this!
A few important things to remember:
– It's very important to get skin-on (rind-on) pork belly, to get that crispy, crunchy crust. If you're having a hard time finding it, you can ask your local butcher to order you some, which they can easily do. You can also visit your local Asian market and they should have skin-on pork belly readily available; the only thing to note is that if you go the standard Asian market route, the meat may not have been humanely butchered/handled, so that might be something to consider.
-Many recipes will tell you to cut the skin off the portion of the roast that will get rolled into the meat. They recommend this, because that part of the skin will not be able to crisp up and may turn thick and chewy. In my experience, that portion of the skin/rind is cooked down so much that the texture gets soft enough that I've never had an issue with the "toughness" and it ends up getting to be almost gelatinous. I think trying to cut the skin off is way more of a challenge, even with a very sharp knife, so we have left the skin intact for our recipe…but either way, the choice is yours!
-Allowing the rolled roast to sit in the fridge isn't completely necessary, but I like doing that to allow more moisture to get drawn out of the skin, resulting in the crispiest crust. The salt and baking powder mixture will help to draw moisture out of the skin anyway, so refrigerating the roast is just sort of a "crispy crust insurance policy"
-The spice rub mixture is totally open ended based on your flavor preferences. Garlic, rosemary and fennel seeds are pretty classic, but you can mix it up! I really love the pairing of ginger and pork, so I've added some ground ginger to my mixture. I like the dry ginger in this case because it's way more subtle and I think the fresh ginger flavor would "fight" to much against the bold flavors of the rosemary and fennel.
-Tightly rolling the roast is very important here. You can have someone help you roll it up to make it easier. You can also roll the roast, tie it, cut it in half, and freeze half of it for several months, if the full belly is too big. I recommend this over getting a smaller cut because the large piece of meat is easier to handle overall and the next time you want to make it, all you have to do is thaw, pat dry and roast.
Although seemingly difficult, this is really an easy dish to prepare. You just need a little bit of arm muscle and patience. This dish makes really great thinly sliced sandwiches, or you can serve them up in "steaks" alongside a variety of side dishes. Some of our favorites to pair with this porchetta are: cauliflower, parsnip and roasted garlic mash, lightly roasted green beans, roasted radishes, and balsamic grilled baby carrots. Enjoy!! xx, Jenny
More pork recipes you might like: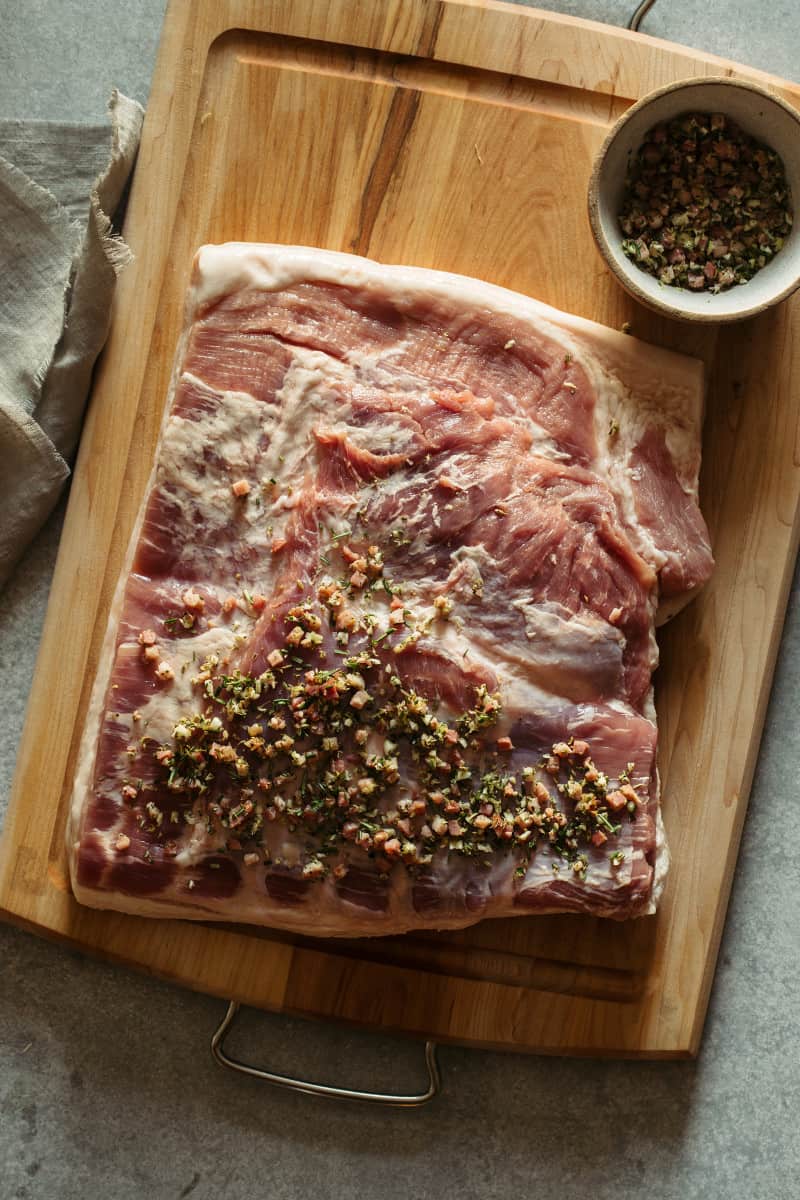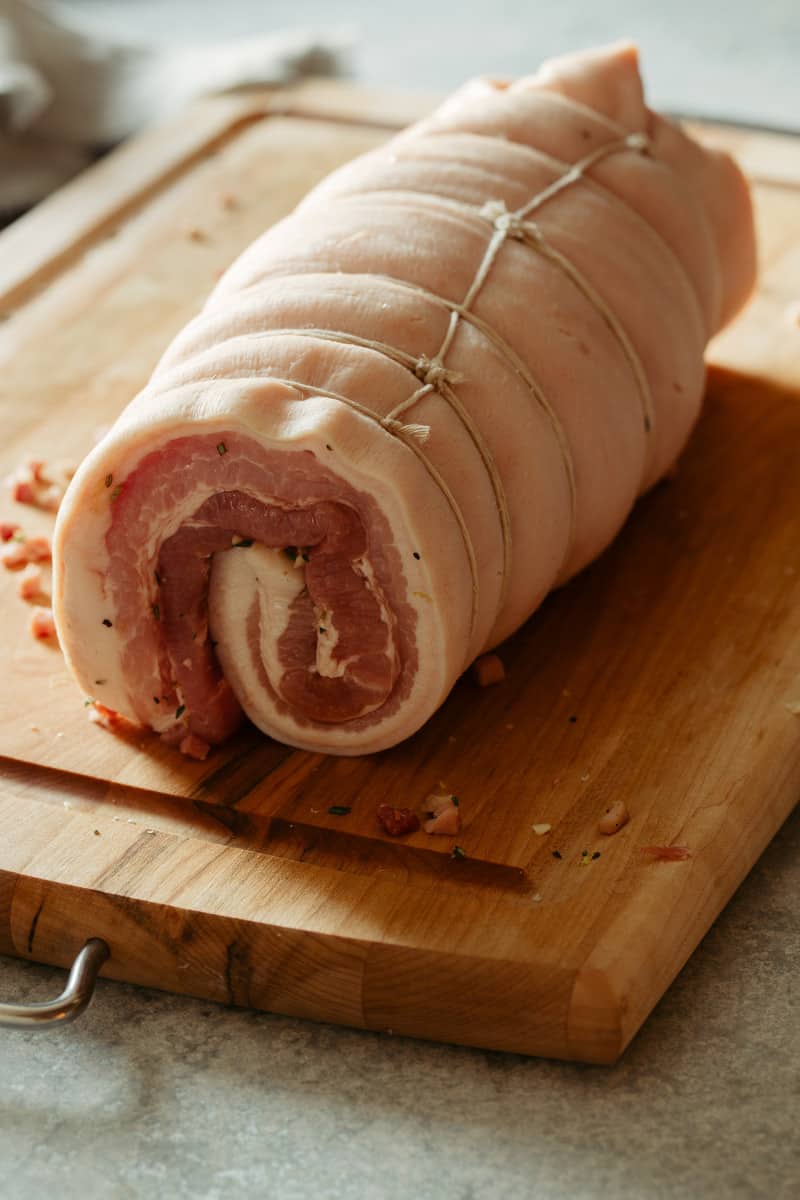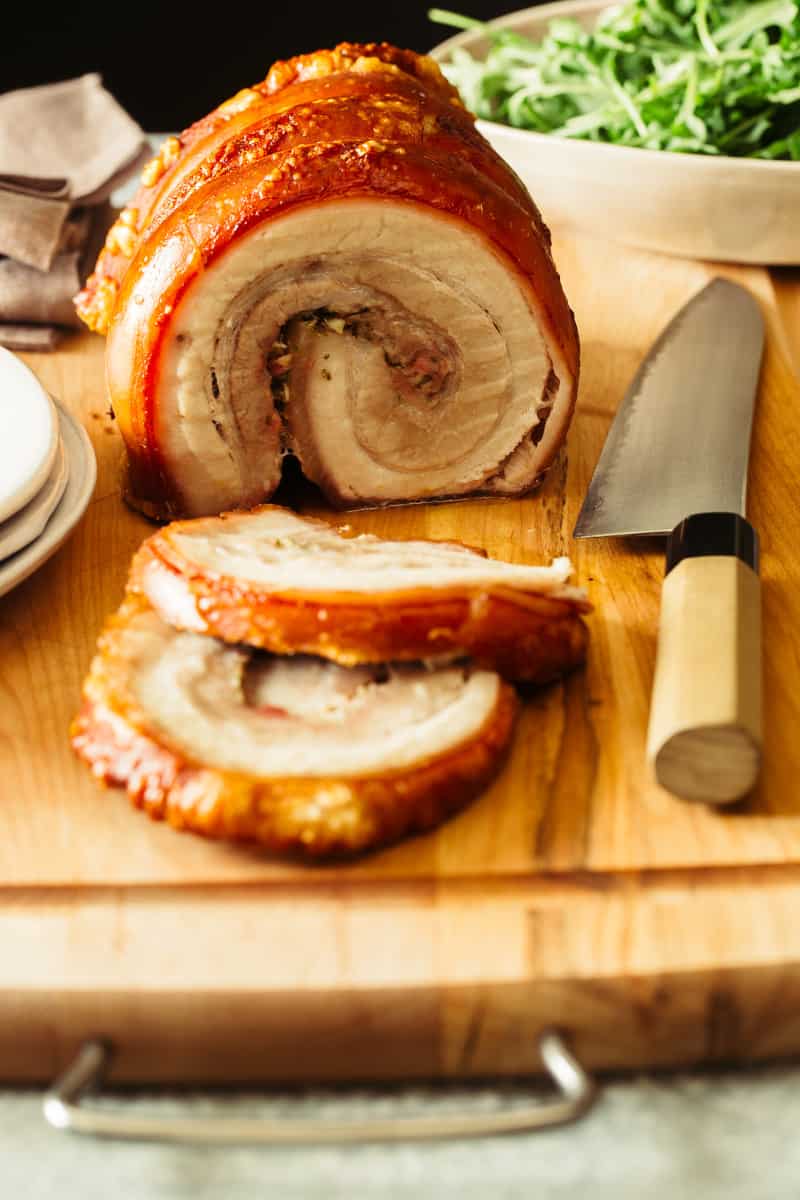 Hungry for more?
Subscribe to never miss a recipe.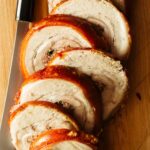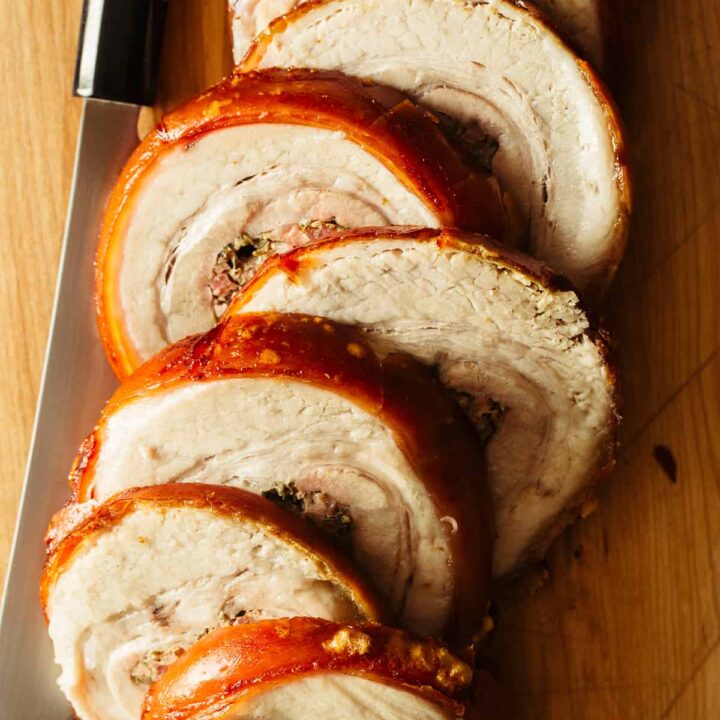 ---
Pork Belly Porchetta
INGREDIENTS
spice rub
3

tablespoons

minced rosemary

1 ½

tablespoons

minced sage

1

tablespoon

minced thyme

1

tablespoon

diced and rendered pancetta

8

garlic cloves, minced

2

teaspoons

crushed fennel seeds

2

teaspoons

ground ginger

1

teaspoon

cracked black pepper
porchetta
12

pound

whole pork belly (skin-on)

1 ½

tablespoons

sea salt

1

teaspoon

baking powder
INSTRUCTIONS
Place all spice rub ingredients into a small mixing bowl and toss together until well combined.

Place the pork belly on a clean surface, skin-side up and score the entire surface with a sharp knife, making sure not to cut into the meat. Pat both sides dry with a paper towel and set the pork belly, skin-side down.

Sprinkle the spice rub onto the pork belly and generously rub onto the entire surface of the meat.

Very tightly roll the belly into a log, making sure no gaps remain on the inside and tie roast with butchers twine, making ties 1 inch apart (you can use bamboo skewers to help hold the rolled belly together, while tying up with twine).

Place rolled roast into a roasting dish and refrigerate, uncovered, for about 6 hours.

In a small mixing bowl, combine sea salt and baking powder.

Pat porchetta dry with a paper towel and generously rub with salt and baking powder mixture.

Roast porchetta for about 1 hour and 45 minutes or until the internal temperature reaches 140˚F, basting every 30 minutes. Then continue to roast for an additional 1hr 30 minutes or until the meat, passed the skin, is soft and tender.

Increase oven temperature to 450˚F and roast for about 20 minutes, to get the skin extra crispy.

Remove from the oven and allow porchetta to rest for about 15 minutes (internal temperature should finish at 155-160˚F). Thinly slice with a serrated knife and serve.
NOTES
*Makes 1 (~12 lbs.) Porchetta
Calories:
2364
kcal
Carbohydrates:
2
g
Protein:
43
g
Fat:
241
g
Saturated Fat:
88
g
Cholesterol:
327
mg
Sodium:
1062
mg
Potassium:
869
mg
Fiber:
1
g
Sugar:
1
g
Vitamin A:
89
IU
Vitamin C:
3
mg
Calcium:
64
mg
Iron:
3
mg