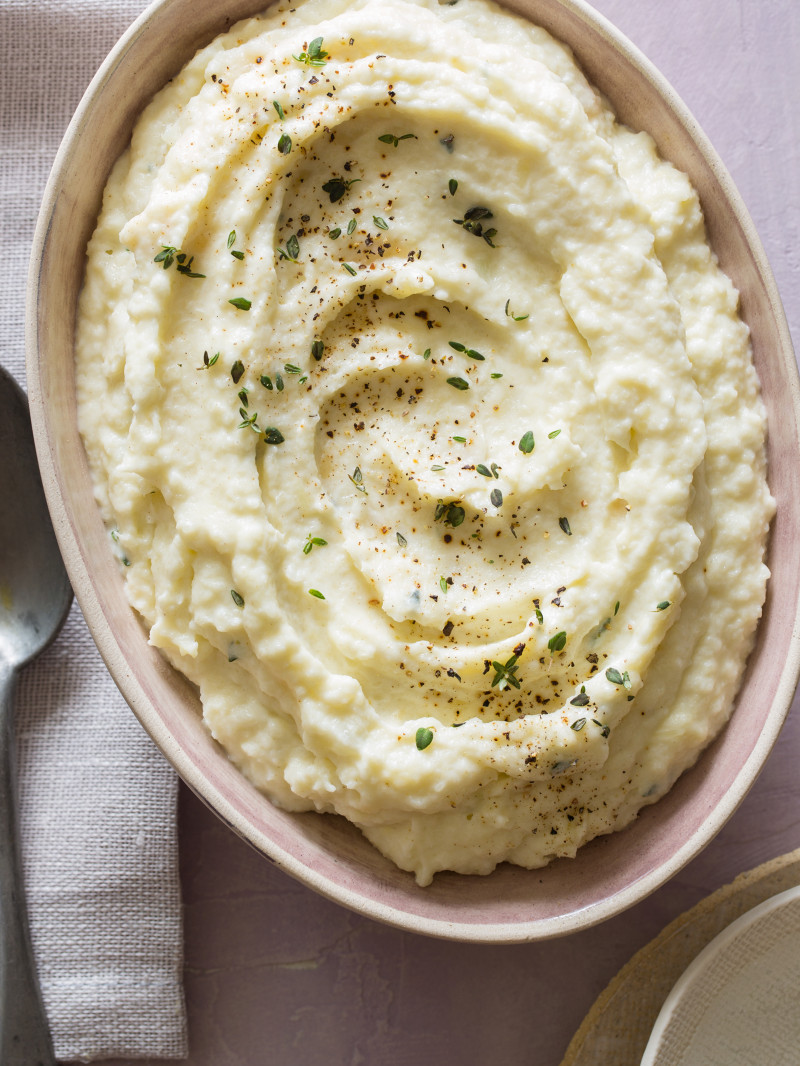 I feel like Thanksgiving food is all about the side dishes, ya know? I find myself usually going for a small piece of turkey, than loading up on stuffing, roasted vegetables, all the starches I can possible get my hands on and so on. :) This Cauliflower, Parsnip and Roasted Garlic Mash is one of my favorite sides ever and I love adding it to our Thanksgiving table every year. It's a slight departure from the classic mashed potatoes, but they're still super creamy and delicious.
If you want to lighten this dish up even more you can swap the heavy cream out for whole or reduced fat milk or even cashew milk, for a non dairy option. I'll often swap the cream out for something a little lighter, but will keep the cream and butter for when I want the dish to be super rich and decadent, like for Thanksgiving! Either way, this dish is delicious and easy to throw together. A total win for any Thanksgiving table…or something like that, maybe not said in such a dorky way. lol. Enjoy! xx, Jenny
This was originally posted on November 24th, 2015.
Thanksgiving is literally around the corner, but we're leaving you with this last recipe for cauliflower, parsnip and roasted garlic mash! Mashed potatoes are one of my favorite thanksgiving side dishes, but this year we're switching things up just a tad by replacing our mashed potatoes for this slightly healthier version! It's only slightly healthier because we swap out the potato for cauliflower and parsnips, but we're still using plenty of butter and cream to make sure this dish is still extra rich and creamy!
The roasted garlic creates a nice balance against the sweetness from the parsnips and this dish is my favorite go to "mashed potatoes" substitute! If you're still looking to squeeze one more dish onto your loaded holiday table, I highly recommend throwing these guys into the mix! Enjoy! xx, Jenny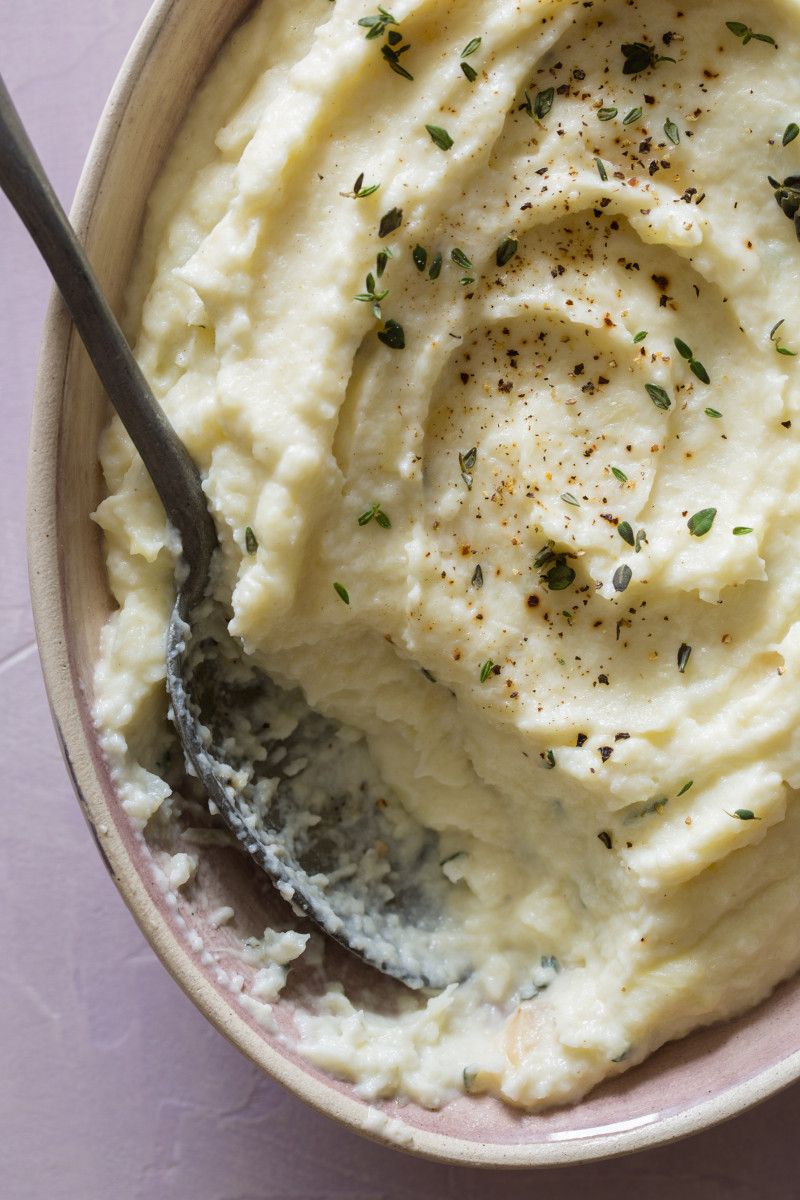 Hungry for more?
Subscribe to never miss a recipe.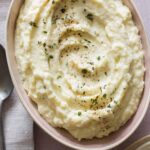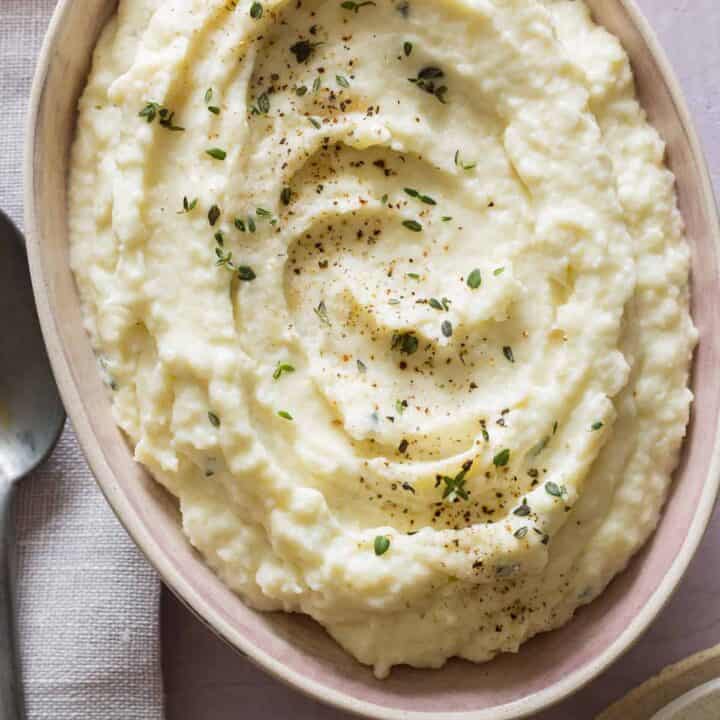 ---
Cauliflower, Parsnip and Roasted Garlic Mash
INGREDIENTS
4

large

parsnips, peeled and chopped into bite-sized pieces

2

heads cauliflower, chopped into bite sized pieces

1

head roasted garlic

1

cup

heavy cream, warmed

½

cup

(1 stick) unsalted butter, softened

2

teaspoons

minced thyme, optional

salt and pepper to taste
INSTRUCTIONS
Fill a large pot with water and bring to a boil.

Add parsnips and boil for about 6 minutes. Add cauliflower and boil for an additional 10 to 12 minutes or until parsnip and cauliflower are fork tender.

Drain completely. Add roasted garlic and begin to mash mixture. Add remaining ingredients, season with salt and pepper and continue to mash until mixture is smooth and creamy.

Adjust seasonings and serve.
NOTES
*To roast garlic: Preheat oven to 375˚F. Slice off the top 1/2 inch of a head of garlic. Place garlic head on the center of a small piece of foil. Drizzle the garlic with a small amount of oil and lightly season with salt and pepper. Wrap foil around garlic and place directly onto the center rack. Roast for 30 to 35 minutes or until garlic is fork tender and caramelized. Allow garlic to cool for about 10 minutes, uncovered. Remove cloves, discard the peel and set aside until ready to use.
Calories:
299
kcal
Carbohydrates:
22
g
Protein:
4
g
Fat:
23
g
Saturated Fat:
14
g
Cholesterol:
71
mg
Sodium:
64
mg
Potassium:
743
mg
Fiber:
7
g
Sugar:
7
g
Vitamin A:
816
IU
Vitamin C:
84
mg
Calcium:
84
mg
Iron:
1
mg