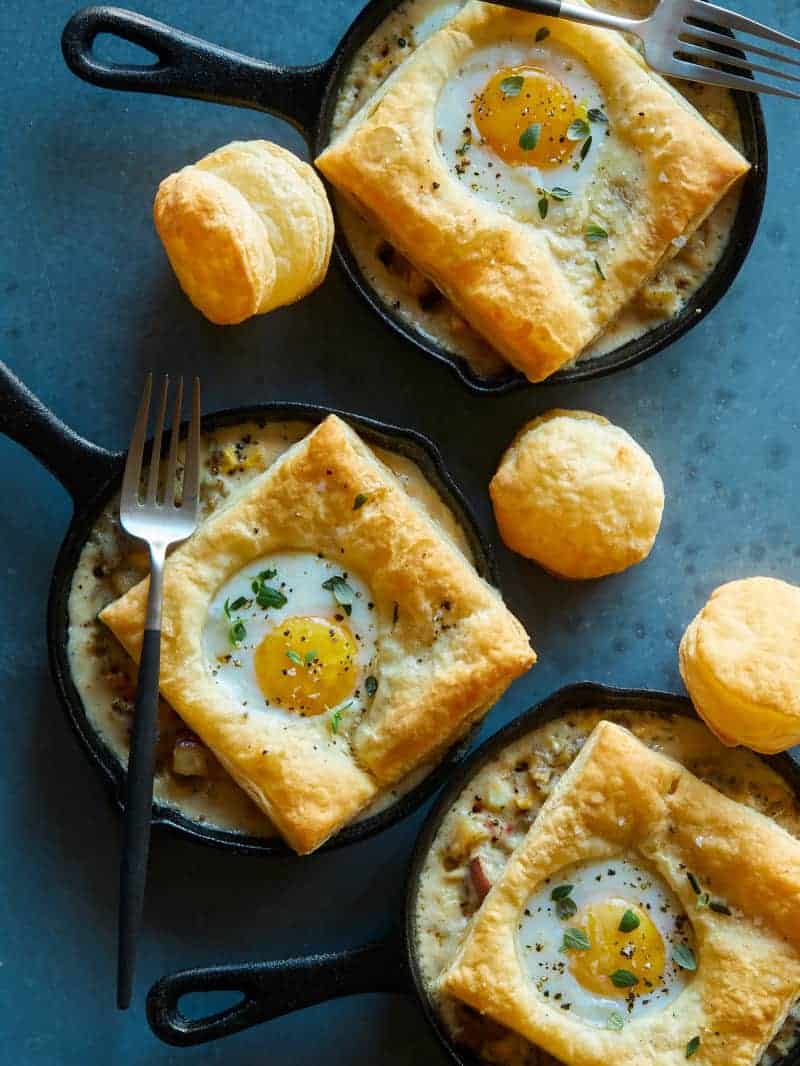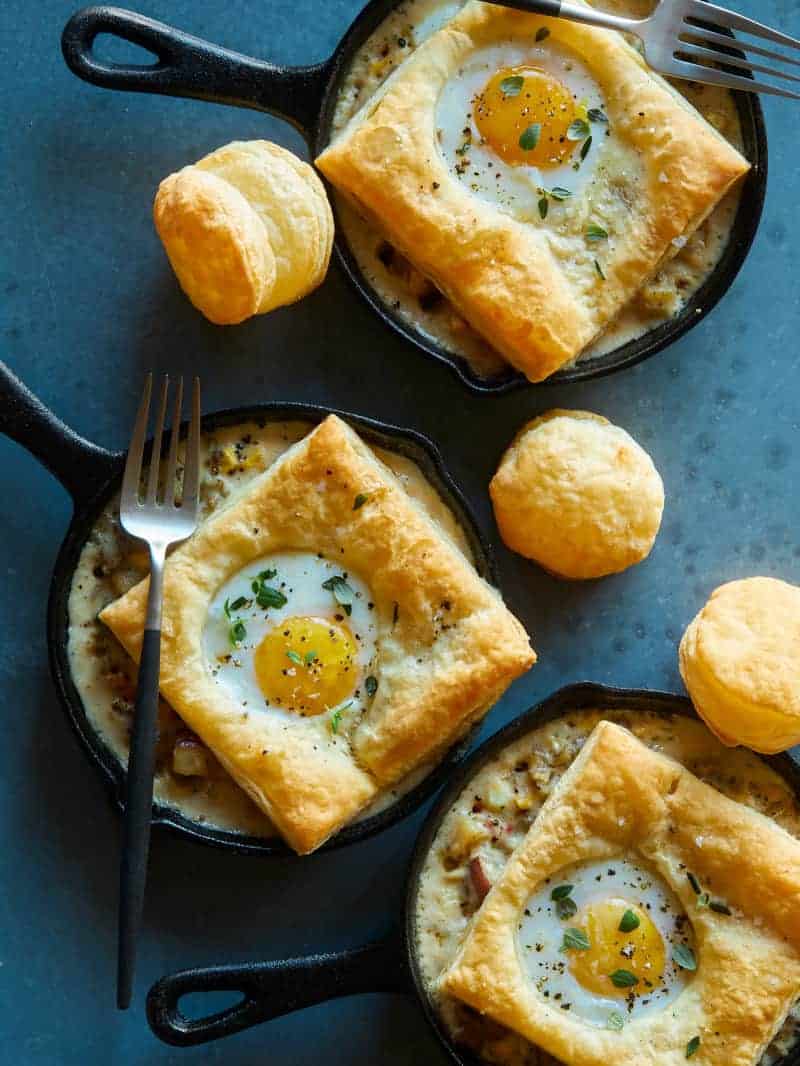 Chicken pot pies are one of my very favorite things to eat ever. I ate so so many Marie Calendars Chicken Pot Pies in college because they were so good. It wasn't until later in my life I looked at the calorie count and then I have not had another one since. Oye. Anyway – I will make them from scratch one in a while. On a recent trip to Paris, we were eating so many delicious creamy meals that I just kept thinking about how I needed to make pot pie when we got home. Then I had the idea of making a breakfast pot pie and that just seemed like an extremely good idea that we should be making and sharing with you. So here we are, with an easy and delicious breakfast pot pie topped with an egg no less. A delicious creamy potato-y and sausage-y filling that you will love I know it. :)
♥ Teri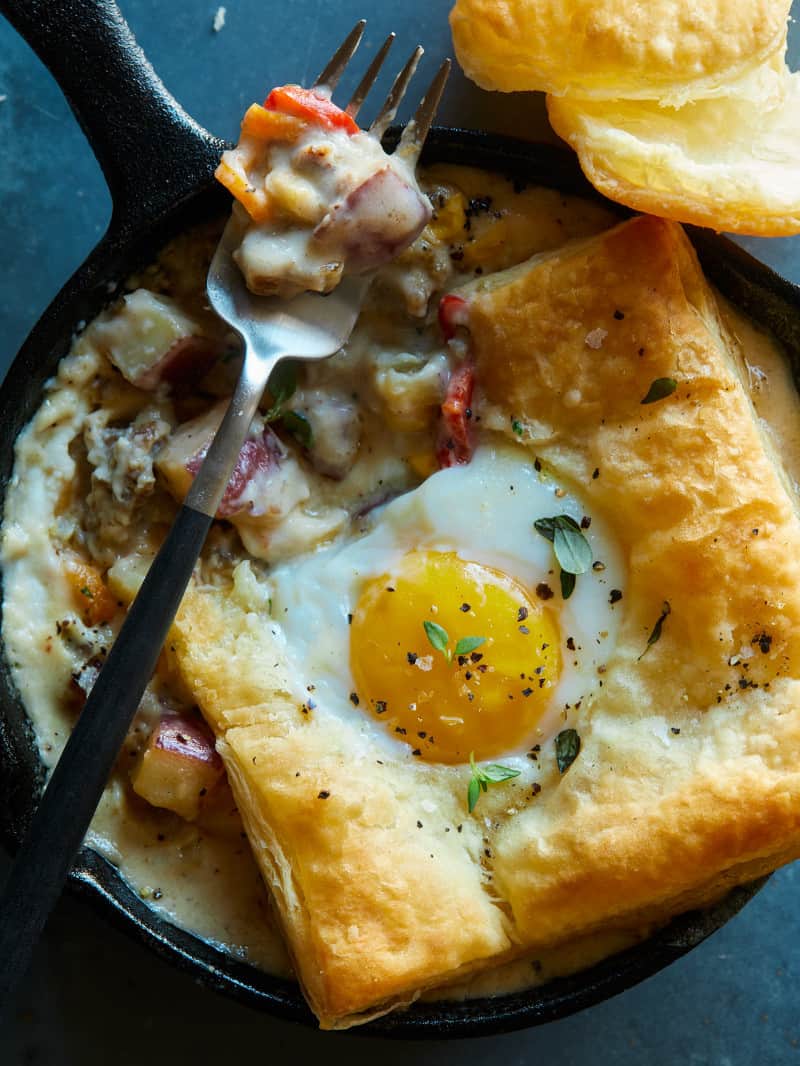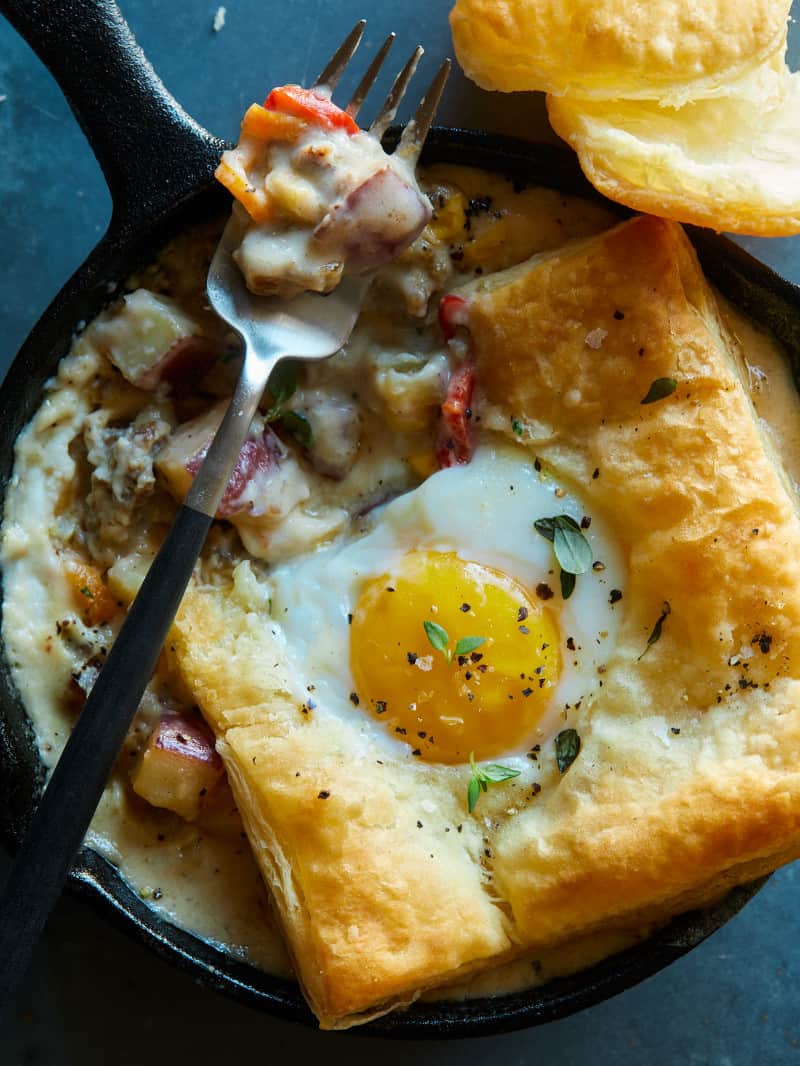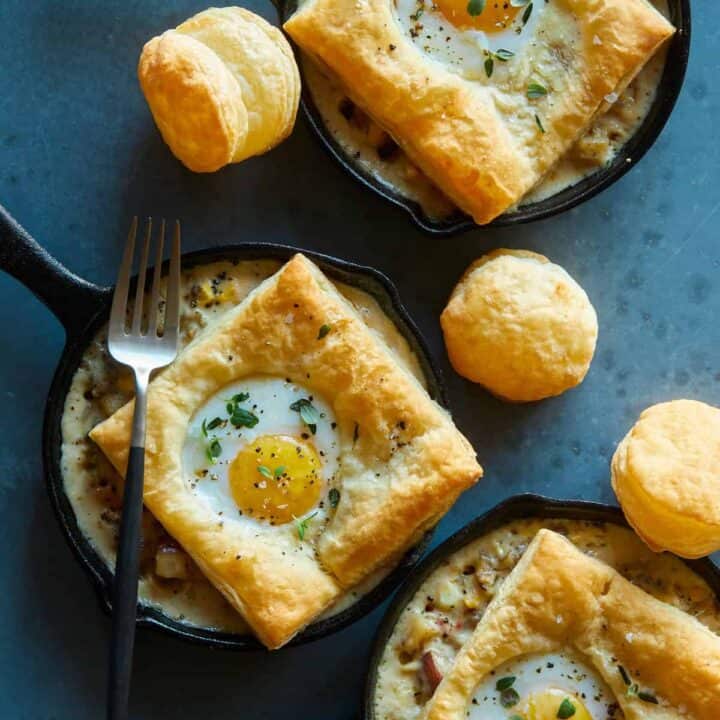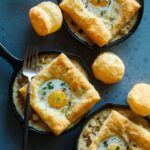 ---
Breakfast Pot Pies
INGREDIENTS
filling
6

ounces

breakfast sausage

3

tablespoons

unsalted butter

3

red potatoes, chopped

½

small

onion, diced

1

garlic clove, minced

5

sweet peppers, thinly sliced

or 1 diced bell pepper

1

tablespoon

minced thyme, plus more for garnish

1

tablespoon

thinly sliced chives

3

tablespoons

all purpose flour

1 ½

cups

whole milk

salt and pepper to taste
assembly
1

sheet frozen puff pastry, thawed

4

medium eggs
INSTRUCTIONS
Sausage gravy filling: Place a large skillet over medium-high heat and brown/crumble sausage, about 4 minutes. Transfer sausage to a mixing bowl and set aside.

Drain grease from skillet, add butter and melt over medium heat.

Add potatoes and onion and sauté for 6 to 8 minutes or until potatoes turn tender and onions lightly caramelize. Season with salt and pepper.

Add garlic and sweet peppers and continue to sauté for 2 to 3 minutes. Stir in herbs. Sprinkle flour over mixture and stir together for about 2 to 3 minutes. Slowly stir milk into the mixture and continue to stir until gravy is smooth and mixture is thick enough to coat the back of a wooden spoon. Fold sausage back into the gravy mixture and adjust seasonings. Set aside and keep warm.

Puff pastry topping: Cut thawed puff pastry sheet down the middle, both vertically and horizontally, so you have 4 even rectangles. Using a 2 ½ inch circle cutter, cut a circle out of each piece of puff pastry. Place each rectangle, plus cut circle onto a parchment lined baking sheet and bake for about 10 minutes.

To assemble: Divide the filling mixture amongst 4, 6″ skillets. Remove par-baked puff pastry rectangles from the baking sheet and set each one over a gravy filled skillet and gently press. Crack an egg into the cut out circle of each pastry rectangle and place mini skillets onto the baking sheet (circles of puff pastry should still be on the tray).

Place baking sheet back into the oven and reduce temperature to 375˚F.

Bake pot pies for 15 to 20 minutes or until the puff pastry is golden brown and the egg whites have set, with the yolks still runny. Lightly season with salt and pepper, top with minced thyme and serve immediately.