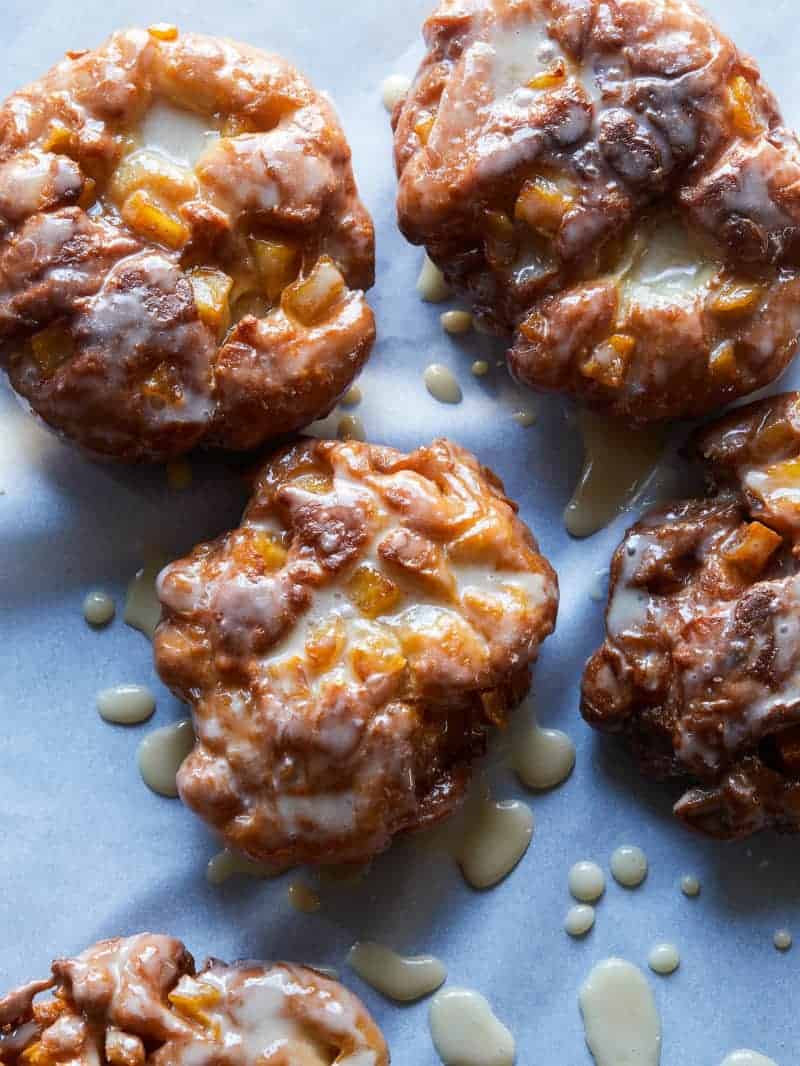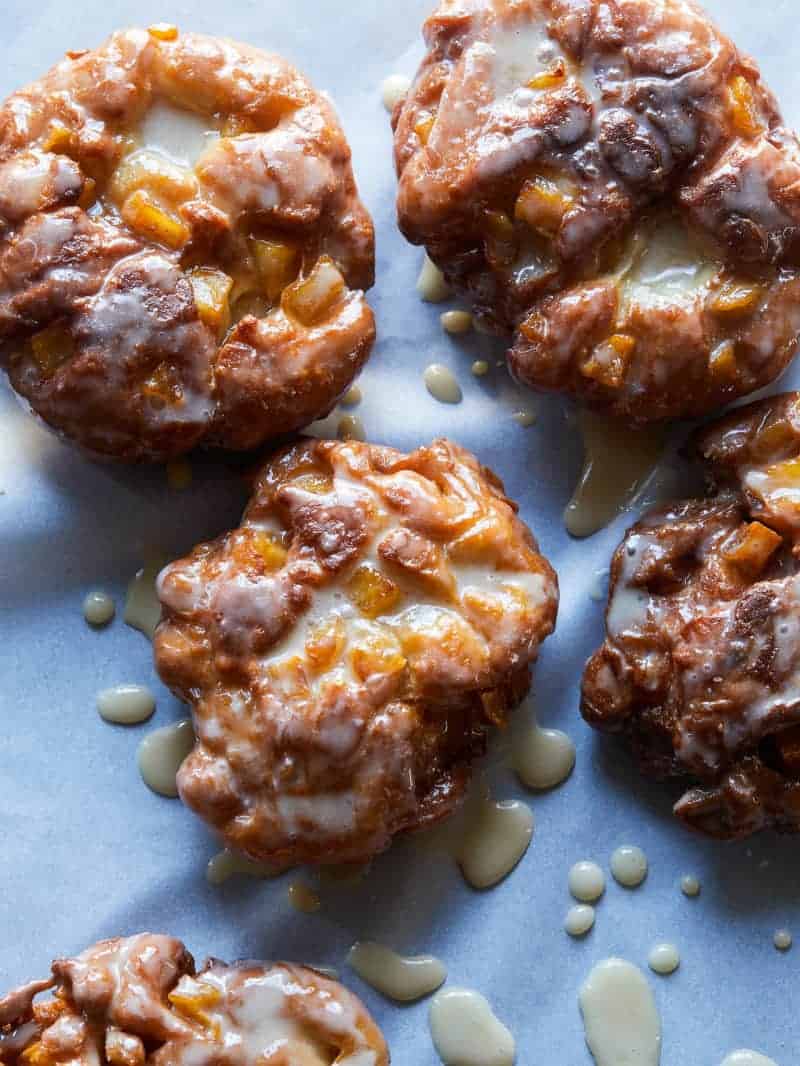 I'm not sure if I would say that apples are my favorite fruit, but it's definitely the one I eat most. Seriously, I eat an apple almost everyday, whether for breakfast or just as a snack, apples are something you can always find in our house. I love when fall rolls around because suddenly really fun varieties of apples start to pop up and they're usually really cheap too! I love honey crisp apples, but I also don't love paying $5/lb. for them, especially when I can get them for almost .99/lb. during the fall season.
ANYWAY, enough about apples and more about today's recipe…which involves apples wrapped in dough and fried….then glazed. Yep. Today we have those crazy big Apple Fritters for you!! You know which ones I'm talking about…those huge, scary looking fried things that always sit next to the bear claws at doughnut shops. They're one of my absolute favorite types of doughnuts (next to the classic Glazed Old Fashioned, duh). I love how massive they are and how they have little bits of apples throughout them! I also love how they're always encased in a perfectly thin glaze that almost cracks when you bite into it.
I'm not going to lie when I say that these doughnuts are a little more labor intensive than standard yeast doughnut recipes and the apple filling definitely make this a sticky process, but it's very well worth it….especially if you're making them for a special occasion, for loved ones! They're also best eaten the day they're made, so don't try to make these several days or even a day ahead of time (the dough sure, the frying absolutely not), you really want to eat these freshly fried and glazed! Enjoy! xx, Jenny
Check out our Apple Fritter Rings recipe!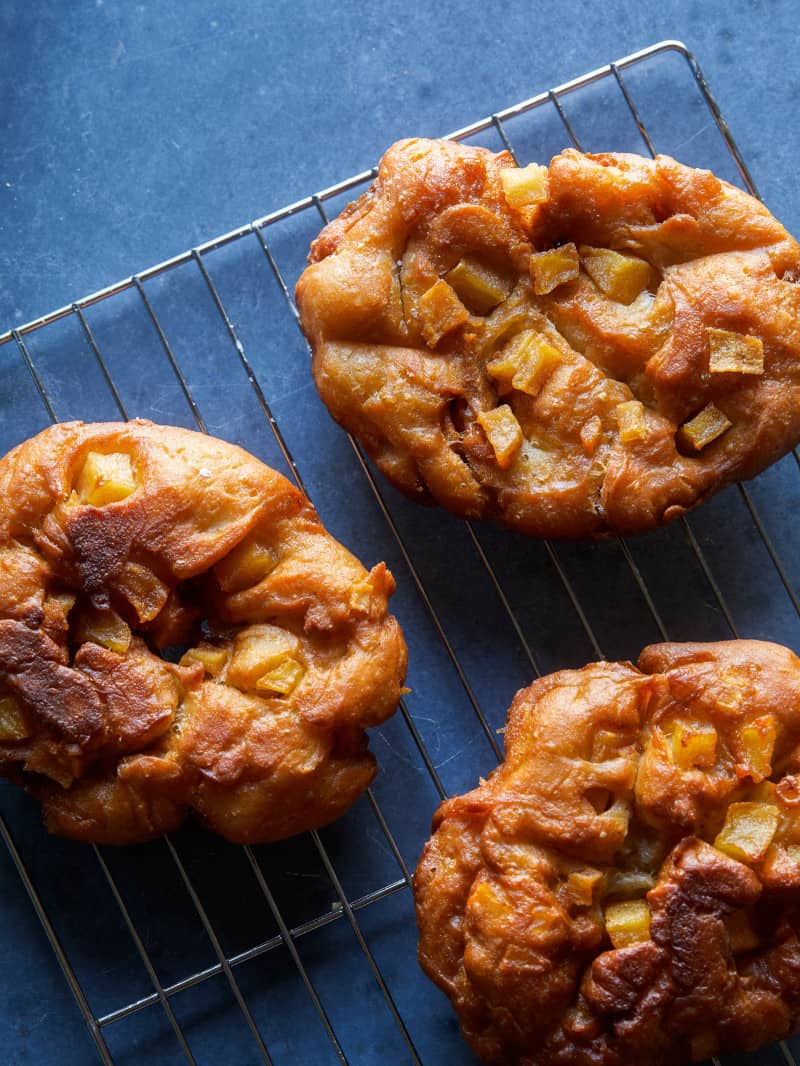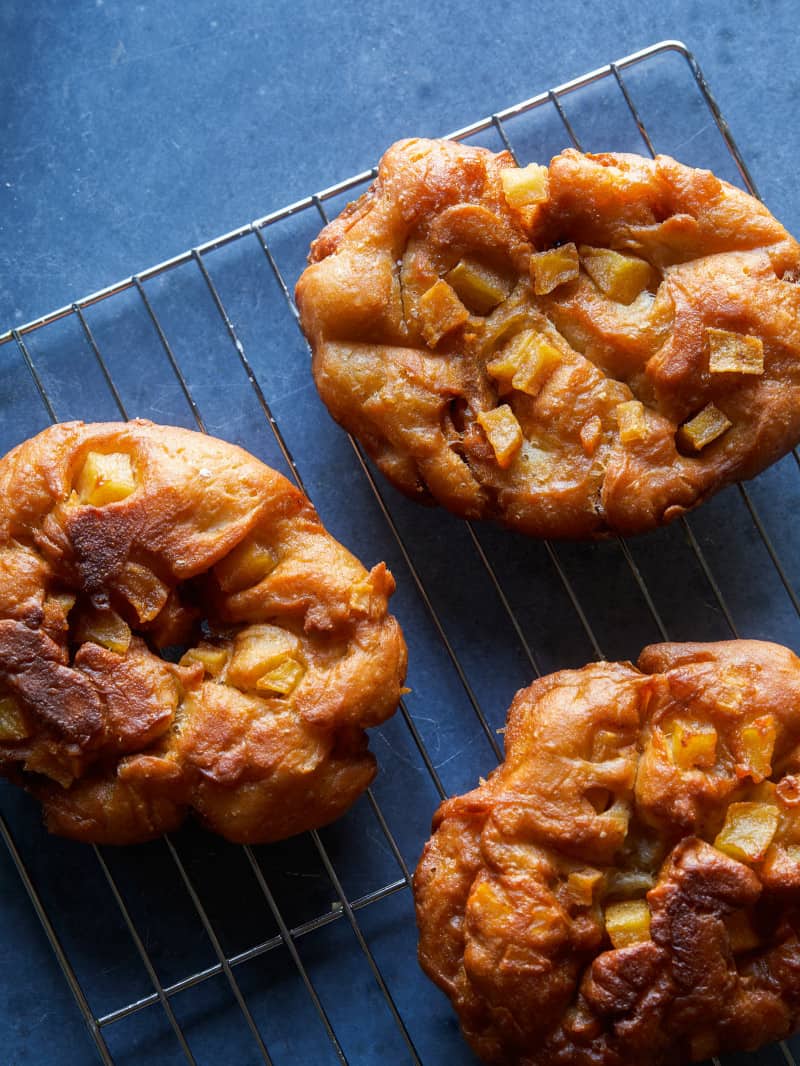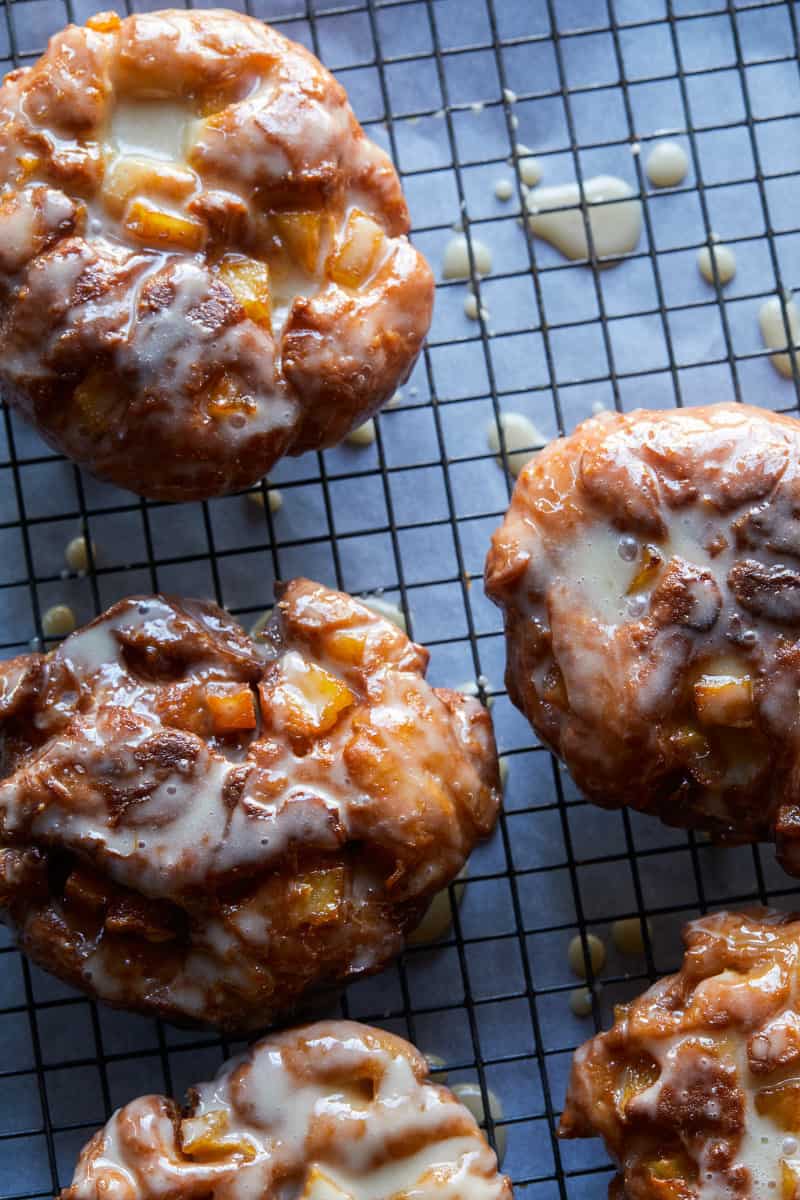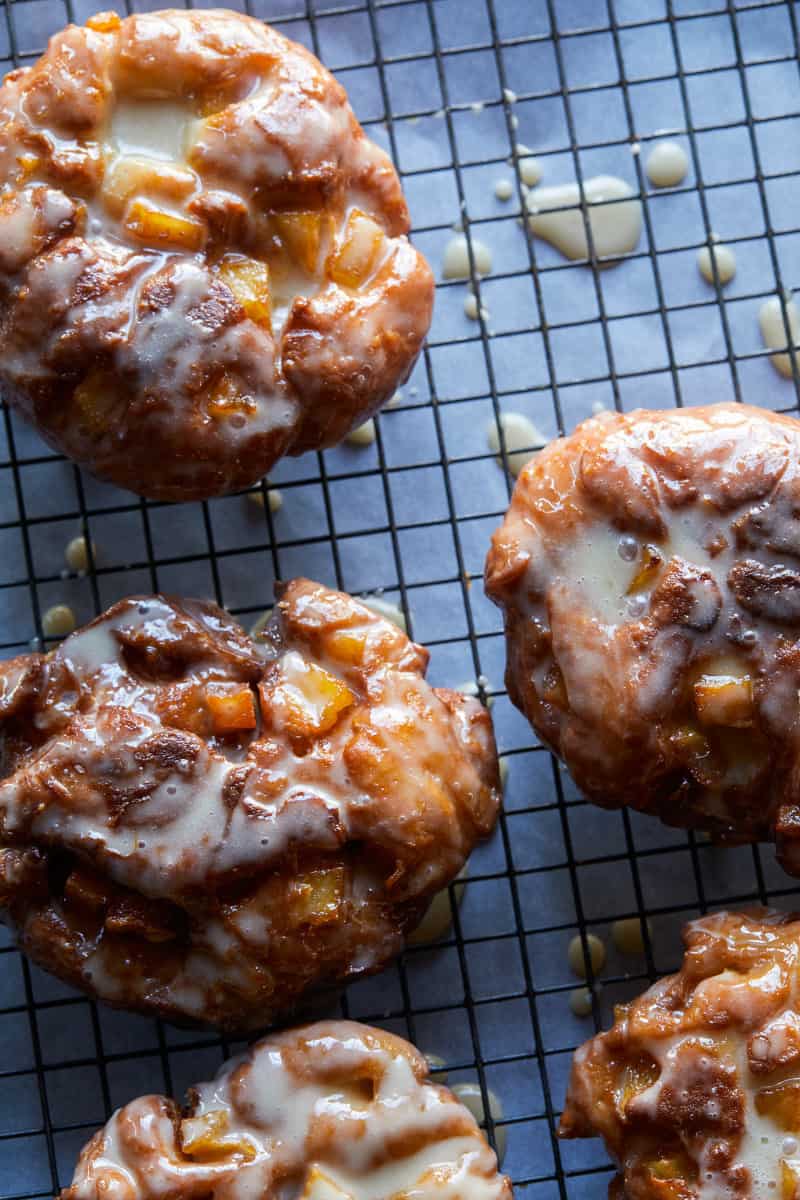 Hungry for more?
Subscribe to never miss a recipe.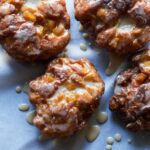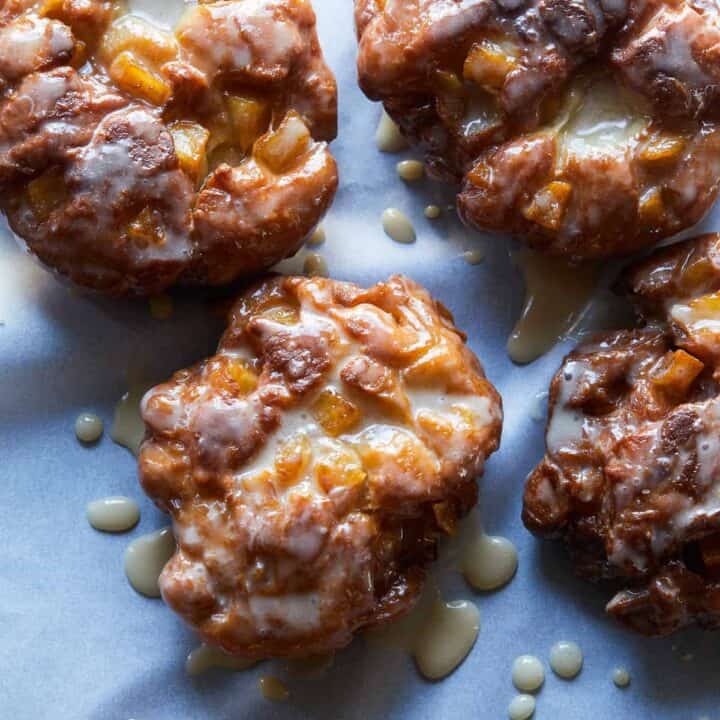 ---
Apple Fritters
INGREDIENTS
basic yeast doughnuts
2

tablespoons

active-dry yeast

½

cup

warm milk (about 110˚F)

½

cup

superfine sugar

3

large

egg yolks, lightly beaten

2 ½

tablespoons

unsalted butter, softened

1

teaspoon

salt

2 ½

cups

all purpose flour, plus more for dusting
apple filling
3

tablespoons

unsalted butter

3

large

apples, peeled, cored and chopped into ½ inch pieces

(such as gala, golden delicious, etc)

¼

cup

light brown sugar

1

teaspoon

ground cinnamon

pinch

salt
maple glaze
¼

cup

pure maple syrup

2

cups

sifted powdered sugar

2 to 4

tablespoons

hot water
INSTRUCTIONS
Doughnuts: Place warm milk in a mixing bowl along with 1 teaspoon of sugar. Sprinkle yeast over the milk mixture and allow mixture to sit for about 10 minutes, until foamy and bubbling.

Once mixture is bubbling, add remaining sugar, egg yolks, butter and salt and stir together.

Begin stirring in flour, ½ cup at a time until the mixture comes together as a sticky dough. Lightly flour a clean surface and turn out the sticky dough. Knead the dough for 5 to 7 minutes or until the dough has become soft and pliable, adding more flour 1 tablespoon at a time, as needed.

Place dough into a lightly greased bowl, cover and place in a warm, dry place until it has doubled in size, about 1 hour.

Apple filling: Melt butter I a skillet over medium heat. Add apples an sauté for 2 to 3 minutes. Stir in sugar and cinnamon and lower heat to medium-low. Simmer mixture until apples have slightly caramelized and the liquid has thickened into a sweet syrup. Remove from heat and cool completely.

To assemble: Punch dough down and turn out onto a clean and lightly floured surface. Roll dough out until ½ inch thick. Sprinkle apple mixture over have of the dough and fold other half of dough over the apples, gently pressing the edges of dough together.

Cut 1/2 inch strips through the filled dough both vertically and horizontally until you have small and sticky pieces of dough with apple filling.

Push the mixture together and continue to chop until apples are evenly dispersed throughout the pieces of dough.

With well floured hands, form the pieces of dough and apple into a 10" by 3" log, pressing the pieces together as best as possible.

Cut 10, 1" pieces from the log and transfer onto a lightly floured baking sheet, about 2 inches apart. Loosely cover and allow fritters to rise for about 20 minutes (fritters should puff up, but not double in size).

Meanwhile, fill a large skillet with 3 inches oil and preheat to 350˚F.

Press each exposed piece of apple into each fritter before carefully dropping the fritters into the hot oil, 2 to 3 at a time.

Fry each fritter on each side for 3 to 4 minutes or until golden brown. Drain into a baking sheet lined with a cooling rack. Repeat until all of the fritters have been fried.

Maple glaze: Place syrup and powdered sugar into a large mixing bowl and whisk together until mixture is thick and smooth. Add water, 1 tablespoon at a time, until a thick but pourable consistency has been achieved.

Dip top half of each warm fritter into the glaze, shaking to remove any excess and place back onto the cooling rack. Repeat until all frittered have been glazed. Allow glaze to set on fritters, about 15 minutes. Serve.
Calories:
405
kcal
Carbohydrates:
79
g
Protein:
5
g
Fat:
8
g
Saturated Fat:
5
g
Cholesterol:
73
mg
Sodium:
246
mg
Potassium:
160
mg
Fiber:
3
g
Sugar:
51
g
Vitamin A:
322
IU
Vitamin C:
3
mg
Calcium:
45
mg
Iron:
2
mg
KEYWORD:
apple fritter, fritters