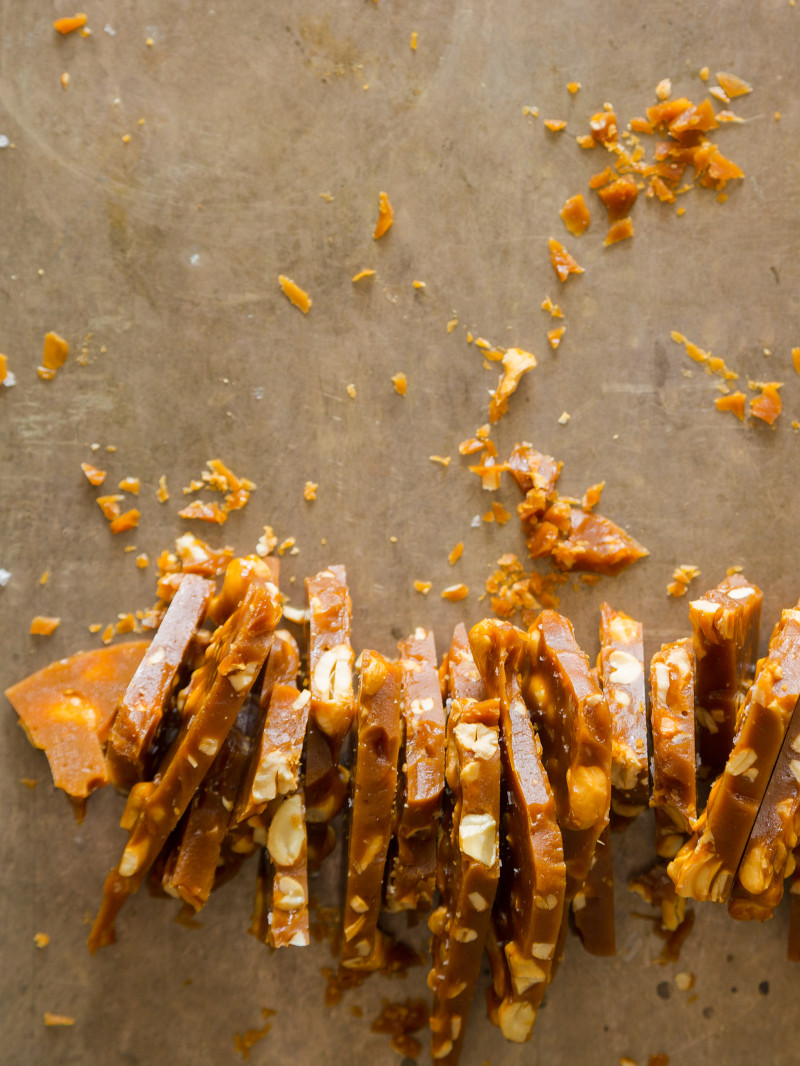 I don't usually make candy over the holidays because everyone is making holiday candy of sorts during the holidays, so I usually try to make something a little different like these homemade, Salted Gingersnap Mallomars we posted last week. They're a little candy-ish I suppose, but still a little different. This year though I'm trying to be less stubborn and finally make holiday candy!! I love things like toffee, brittle, almond roca, etc, so today we have a Salted Cashew Brittle for you! The cashews add a nice dose of savory decadence to the brittle that I prefer over peanuts.
I know cooking sugar can seem kinda scary, but as long as you have a trusty candy thermometer, don't agitate your boiling sugar too much (which can cause your sugar to crystallize) and really do use a pot with tall sides, you should be a-okay! We do incorporate a tid bit of light corn syrup here and I do actually recommend this for anyone cooking sugar or making brittle for the very first time….it's sort of like cream of tartar for egg whites; it's an insurance policy. The corn syrup adds moisture to your mixture and helps to prevent the crystallization from occurring.
I know, I know. Some of your are probably horrified about me encouraging the use of light corn syrup but remember, this recipe only uses a very small amount AND I'm recommending it mostly for novice "sugar boilers". I rarely use corn syrup myself so I'm okay with using on rare occasions, and only for specific purposes such as these. For those of you still rolling your eyes, don't worry I've provided a corn syrup FREE alternative as well that achieves just as delicious results! Enjoy!! xx, Jenny

Here are some more recipes I think you might like: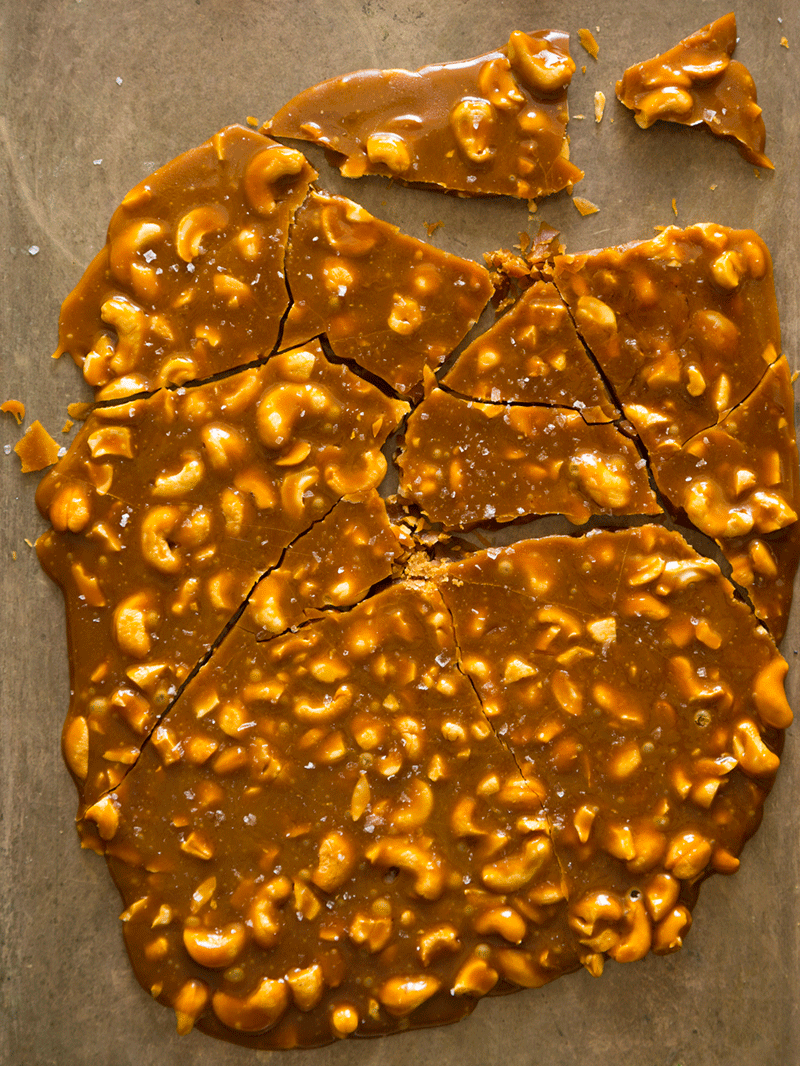 Hungry for more?
Subscribe to never miss a recipe.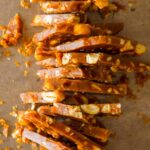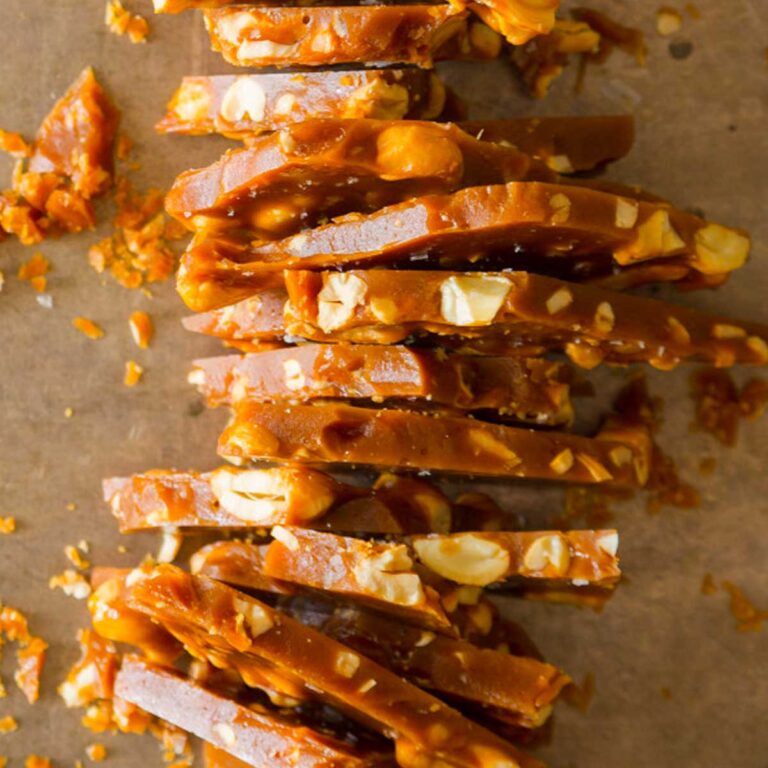 ---
Salted Cashew Brittle
INGREDIENTS
1

cup

superfine sugar

1

cup

(2 sticks) unsalted butter, cut into small cubes

1 ½

tablespoons

light corn syrup

OR 2 tablespoons water

2

cups

lightly salted and roasted cashews

1

tablespoon

sea salt flakes
INSTRUCTIONS
Place sugar into a small pot with tall sides and shake the pot to make sure the sugar has a flat and even surface. Attach a candy thermometer to the side of the pot, making sure the tip isn't touching the bottom of the pot.

Top sugar with cut butter and corn syrup and place over medium heat. Cook mixture until sugar melts completely and mixture begins to caramelize.

Gently stir with a wooden spoon to incorporate the melting butter into the melted sugar. Continue to cook the sugar and butter until an amber color develops and the candy thermometer reaches 310˚F.

Quickly remove the mixture from the heat and stir in cashews.

Pour mixture onto a silpat (or foil) lined baking sheet (with raised edges), moving the baking sheet around on a slit tilt to create an even 1/4 inch layer.

Allow the brittle to set for about 5 minutes, then sprinkle the surface with the sea salt. Set aside until the brittle has completely hardened (about 20 to 30 minutes).

Using the bottom of a knife handle, crack the brittle in multiple areas until you have sizeable serving pieces. Store in an airtight container until ready to serve.
NOTES
**If using water instead of corn syrup: Once you've shaken the pot of sugar, so the sugar has a flat and even surface, slowly pour the water around the perimeter of the pot so the edges of the sugar get wet….this will help to prevent the sugar from crystalizing.
Calories:
678
kcal
Carbohydrates:
53
g
Protein:
7
g
Fat:
52
g
Saturated Fat:
24
g
Cholesterol:
81
mg
Sodium:
1178
mg
Potassium:
267
mg
Fiber:
1
g
Sugar:
40
g
Vitamin A:
945
IU
Calcium:
30
mg
Iron:
3
mg