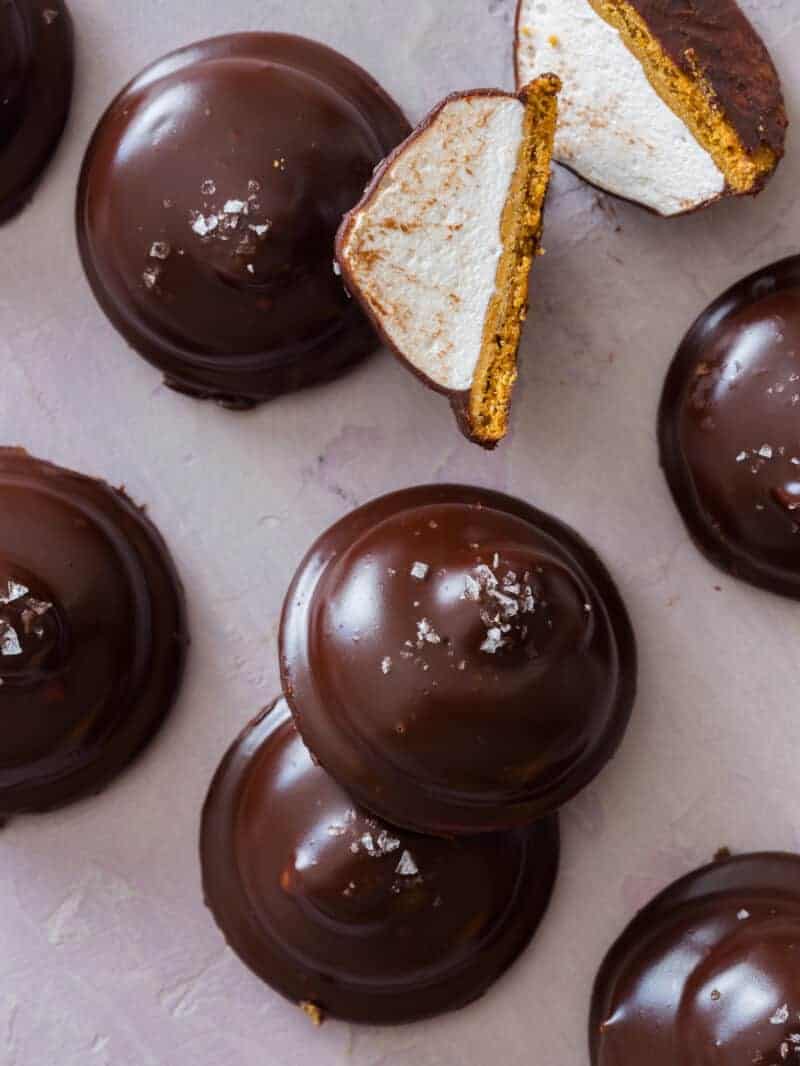 One of my favorite things about the holidays are all the festive dessert creations that begin to pop up everywhere. I definitely have more of a salt tooth then a sweet tooth, but even I get tempted by all the sweet goodies this time of year. One of my favorite chocolatey "candies" are mallomars. I love everything about them: the cookie base, soft marshmallow center, and the rich chocolate shell. Everything.
This year we have our own version of mallomars, our Salted Gingersnap Mallomars! Since the holidays are right around the corner I thought it would be fun to replace the traditional shortbread cookie base with a spicy gingersnap cookie! You can totally make your own cookies, but we decided to speed up the process by buying some at the market. We also finished ours with a little touch of sea salt, because who doesn't love that…seriously?!
These little guys are much easier to dip than you would think, but you need to make sure the marshmallow mounds are stiff enough, or else things will get a little messy. They also make the perfect homemade holiday gift, especially packaged up all nice and pretty! Yay for the holiday season, such a fun time of year. Enjoy! xx, Jenny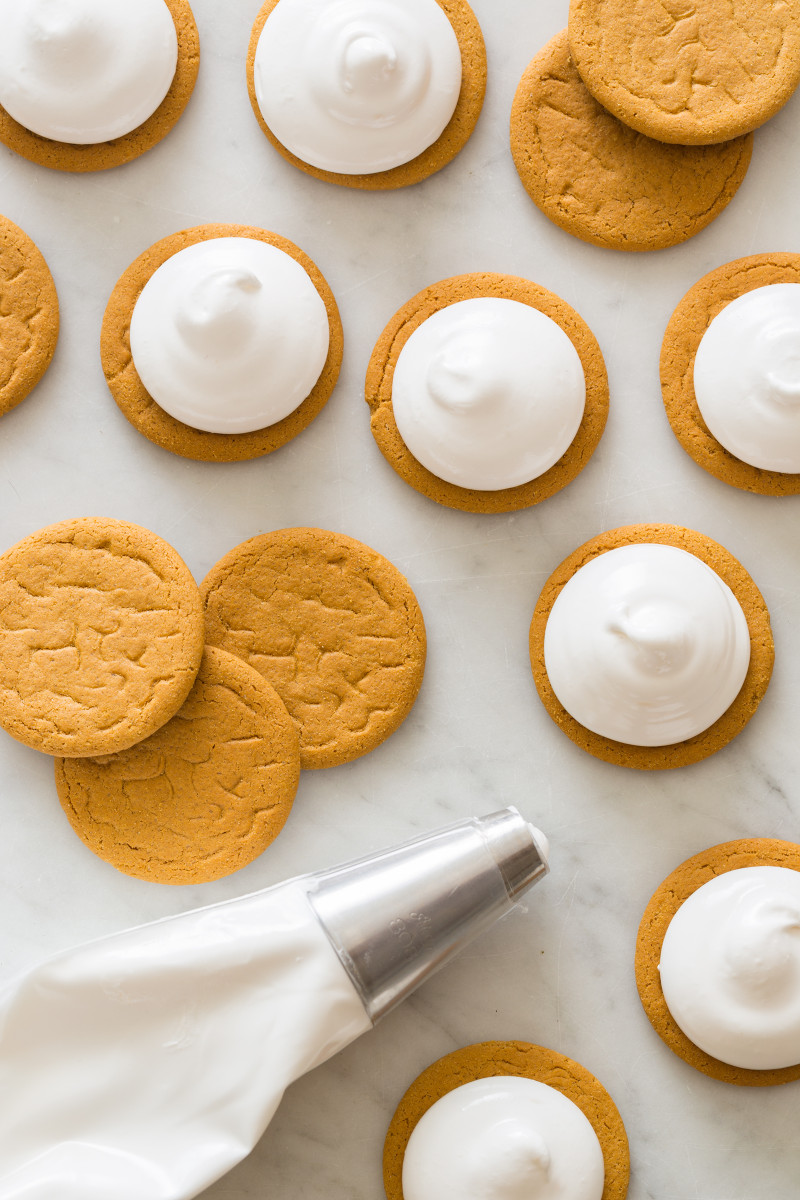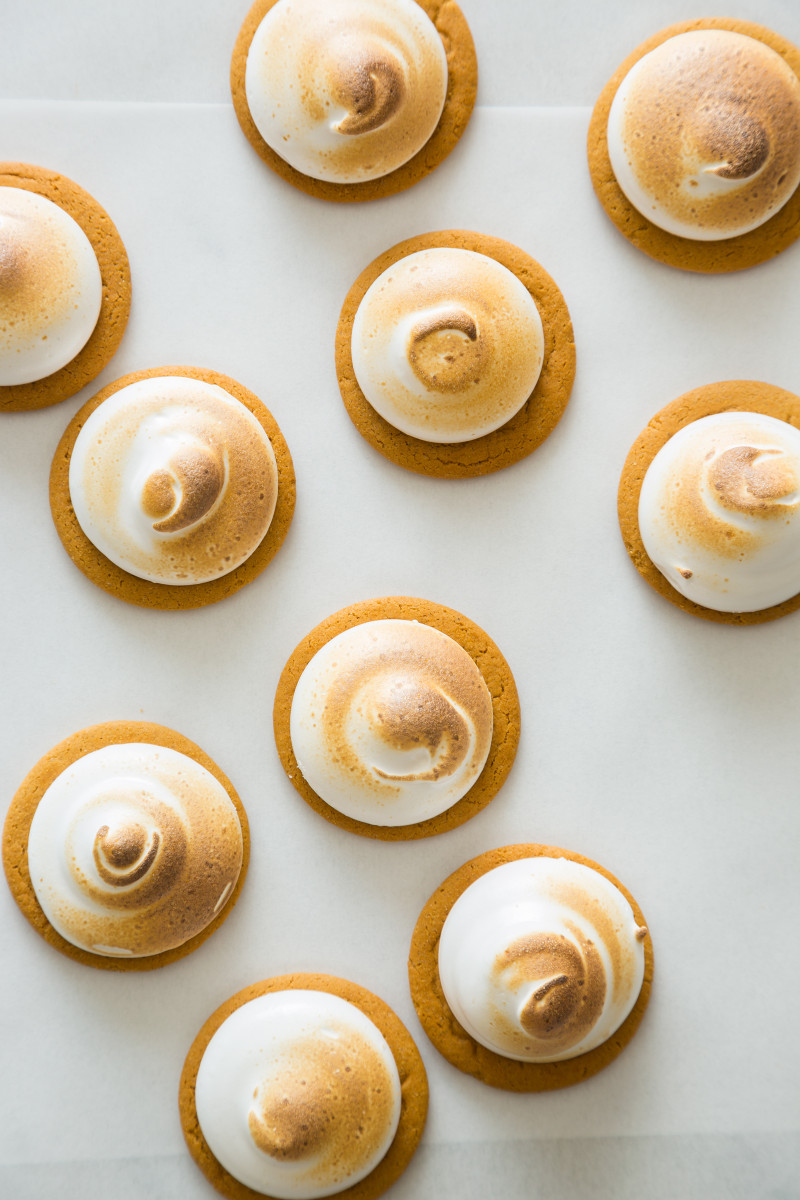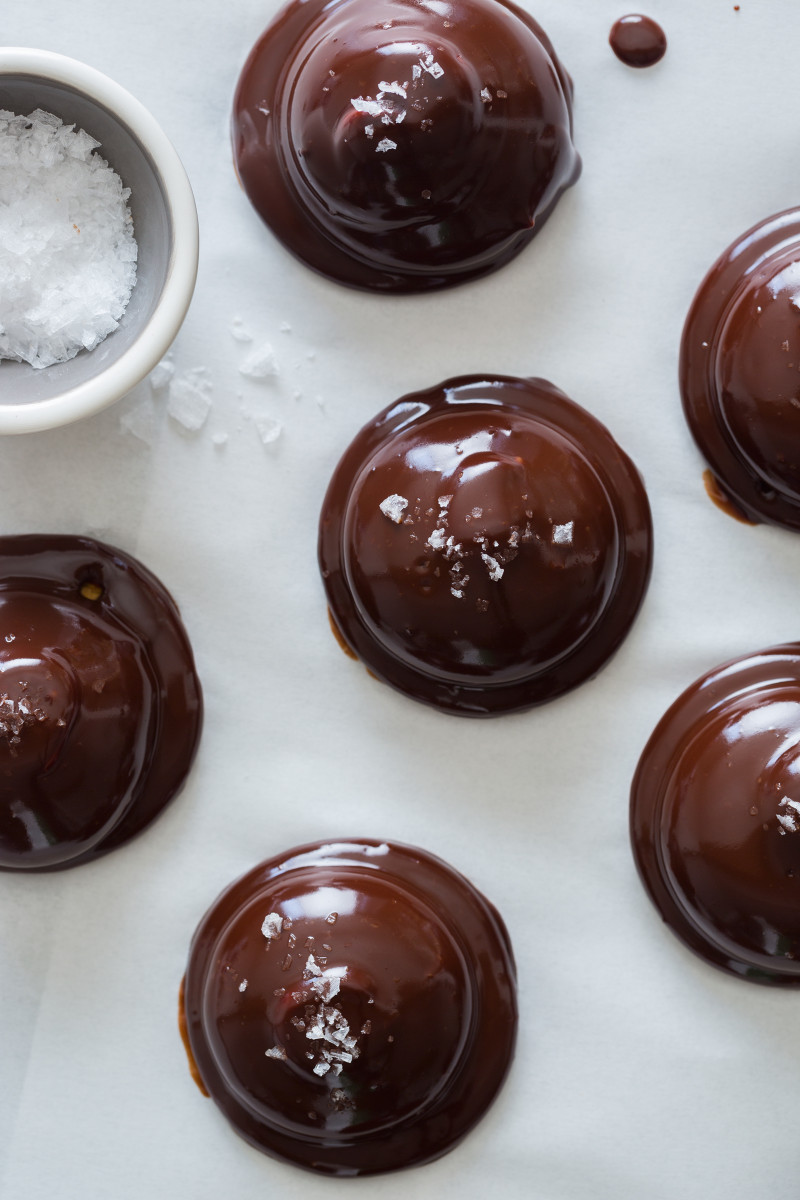 Hungry for more?
Subscribe to never miss a recipe.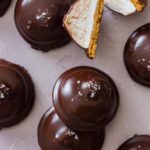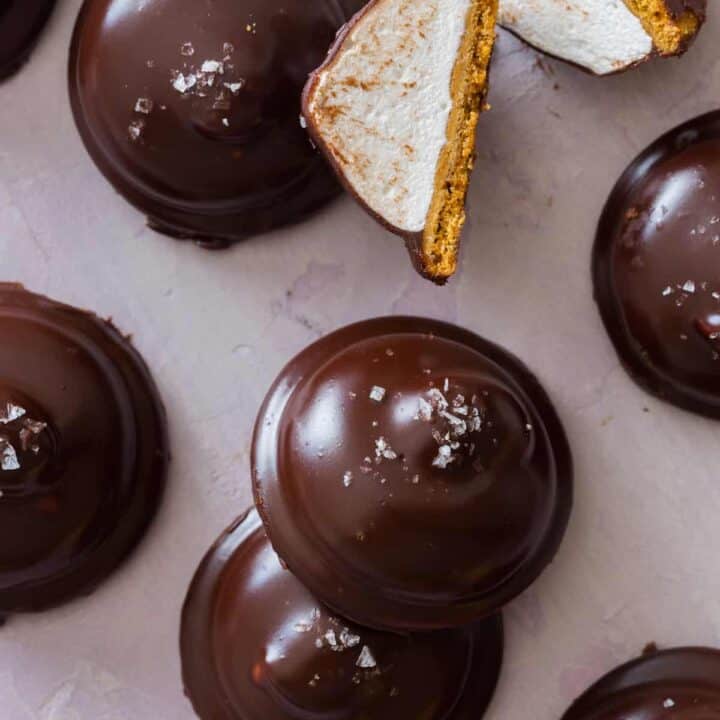 ---
Salted Gingersnap Mallomars
INGREDIENTS
marshmallow
3

teaspoons

powdered gelatin

1

cup

cold water, divided

2

cups

superfine sugar

2

teaspoons

vanilla extract

¼

teaspoon

salt
salted chocolate coating
12

ounces

dark chocolate, chopped

2

teaspoons

coconut oil

sea salt flakes, optional
INSTRUCTIONS
Line ginger snaps up onto a clean baking sheet about ½ inch apart and set aside.

For marshmallow: Pour ½ cup of water into the bowl of a stand mixer, sprinkle with gelatin and set aside, allowing the gelatin to bloom. Pour sugar and remaining water into a medium saucepan and bring to a boil. Continue to boil until the mixture reaches 240˚F. Fit the stand mixer with a whisk attachment and with the motor running pour the sugar mixture over the gelatin in a slow and steady stream. Beat together to combine and allow the steam to escape. After a few minutes turn the speed up and continue to beat for 12 to 15 minutes or until the mixture has doubled and turned white and fluffy (to stiff peaks). Then fold in the vanilla.

To assemble: Scoop mixture into a piping bag, fitted with a straight tip and pipe a small mound of marshmallow onto each ginger snap cookie. Set aside.

While the marshmallow mounds set, melt the chocolate in a double boiler, over medium heat. If the chocolate is too thick after melting stir in the coconut oil to slightly thin and smooth the chocolate.

Once the marshmallow mounds have set, carefully drop the marshmallow topped cookies into the chocolate, one at a time. Gently lift the cookie from the melted chocolate, by resting the base on a fork, and gently shake to remove any excess chocolate.

Transfer freshly coated mallomars onto a parchment lined baking sheet. Once all mallomars have been dipped and placed on parchment, sprinkle the tops with a small amount of sea salt and allow mallomars to fully set before serving.
NOTES
**To Toast Marshmallows: After the marshmallows have set, lightly brulee them with a hand held brulee torch (I don't recommend toasting them in the oven). Allow the marshmallows to cool, about 5 minutes, before dipping them in chocolate.
Calories:
122
kcal
Carbohydrates:
19
g
Protein:
1
g
Fat:
5
g
Saturated Fat:
2
g
Cholesterol:
1
mg
Sodium:
52
mg
Potassium:
85
mg
Fiber:
1
g
Sugar:
13
g
Vitamin A:
3
IU
Calcium:
12
mg
Iron:
1
mg