It's that time of year again; time to break out all our favorite Christmas Cookie Recipes! We've gathered a list of our top 25 favorite Christmas Cookie recipes that are perfect for gifting and sharing with loved ones!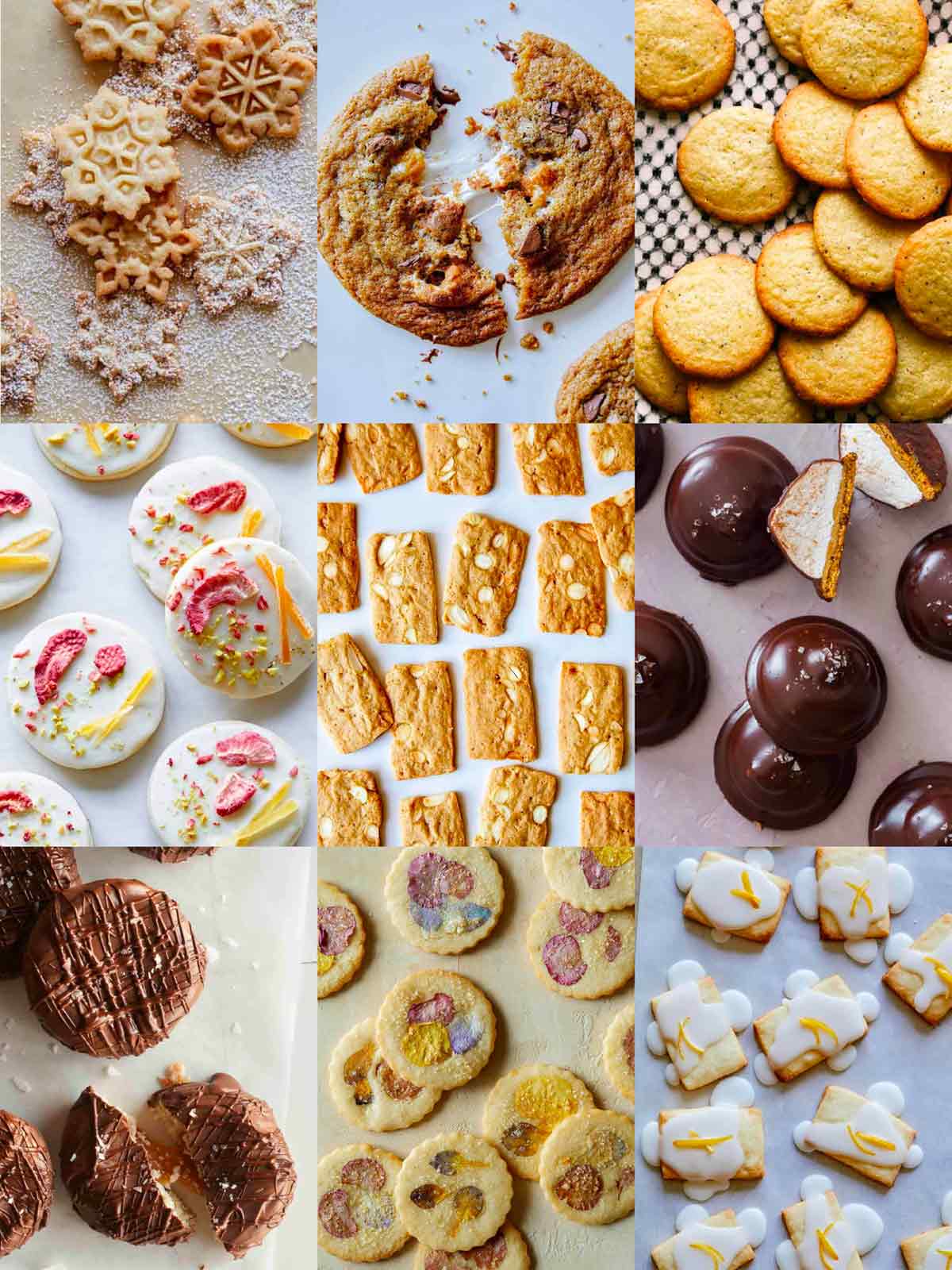 1. Gingerbread Spiced Snowflake Cookies are one of our favorite Christmas cookies! They're loaded with a German Gingerbread Spice mix (lebkuchen), making them pleasantly aromatic, spicy and so delicious. These cookies are truly special and make perfect, edible holiday gifts!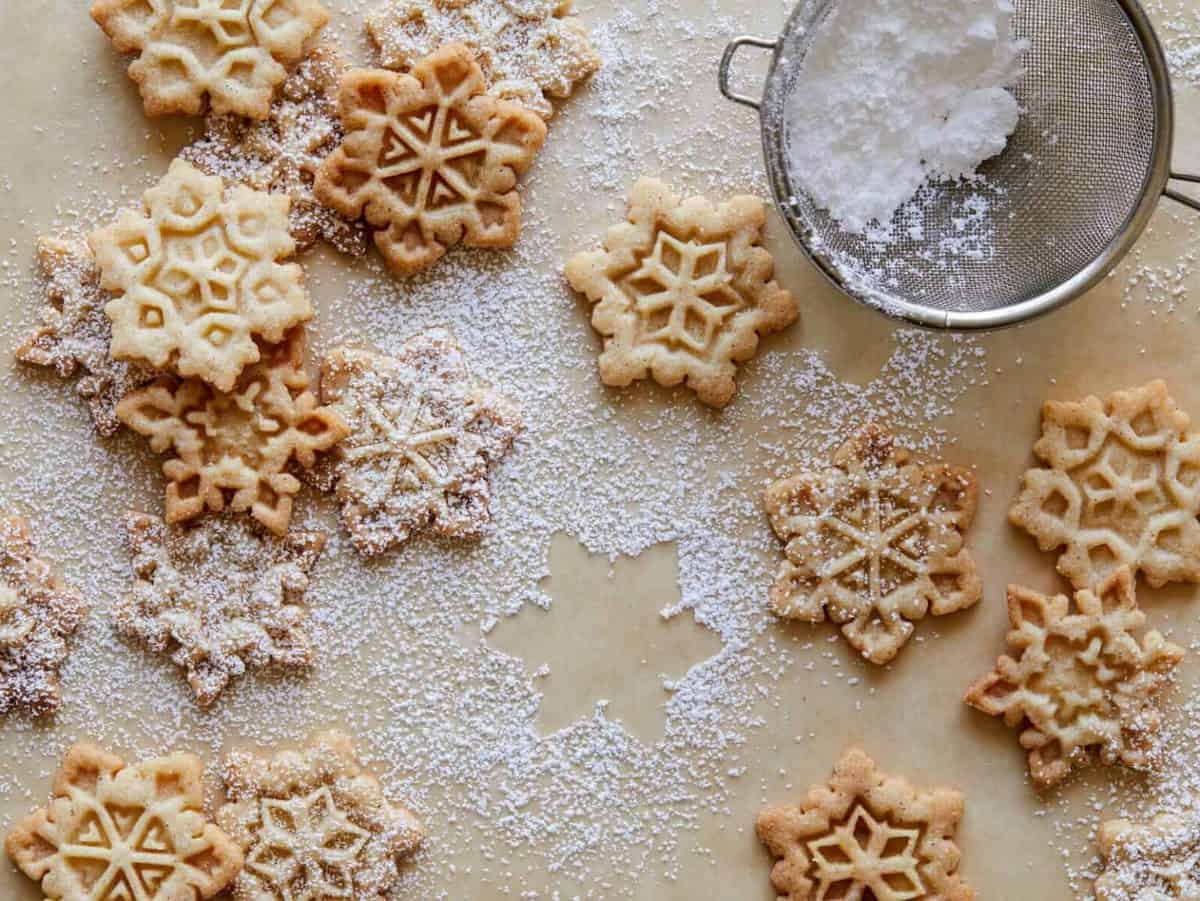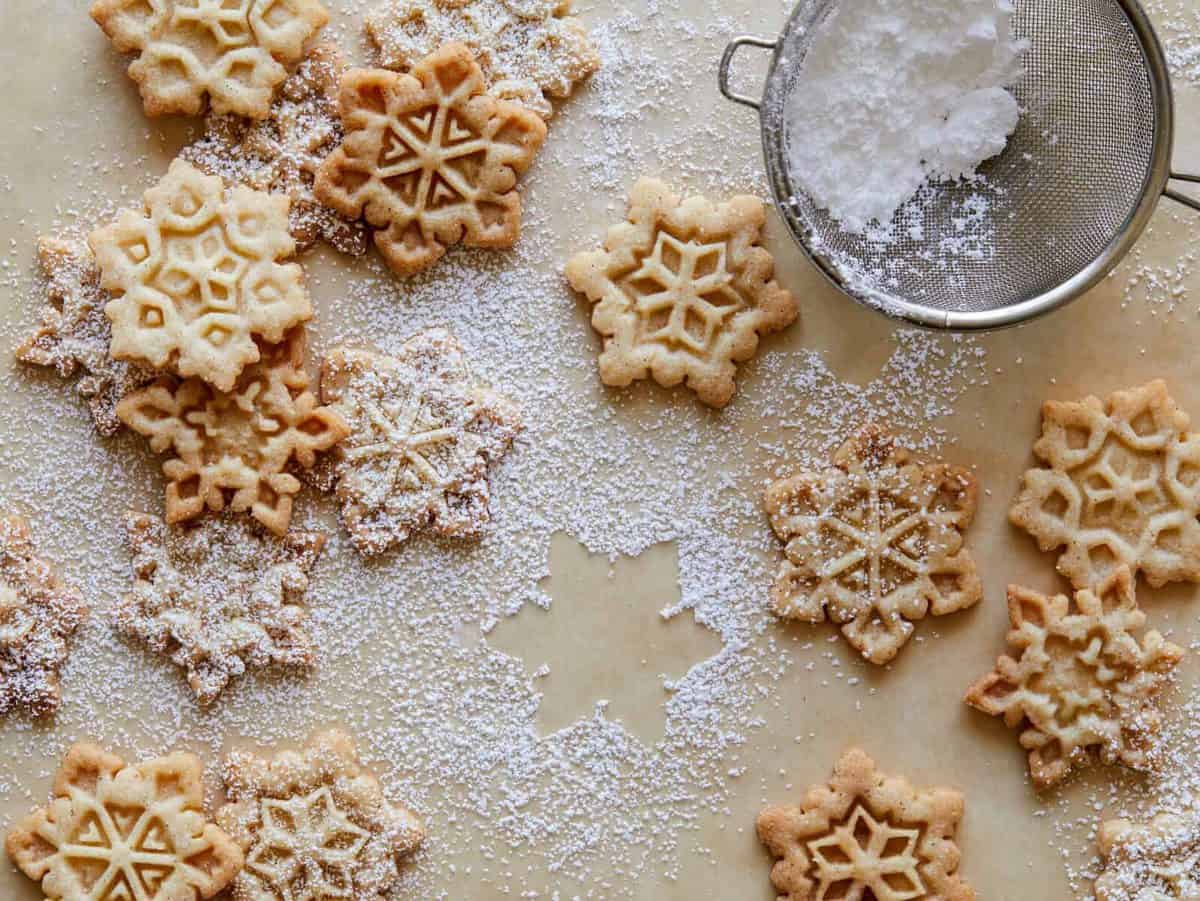 ---
2. Who doesn't love a warm chocolate chip cookie? Add some nutty browned butter, a sprinkle of sea salt flakes and you have these irresistible Salted Browned Butter Chocolate Chip Cookies. They're soft and chewy in the center, slightly crisp around the edges and so so good! We love gifting these Christmas cookies to neighbors, but also always have a batch in our freezers for whenever we have a sweet tooth craving for a cookie or two.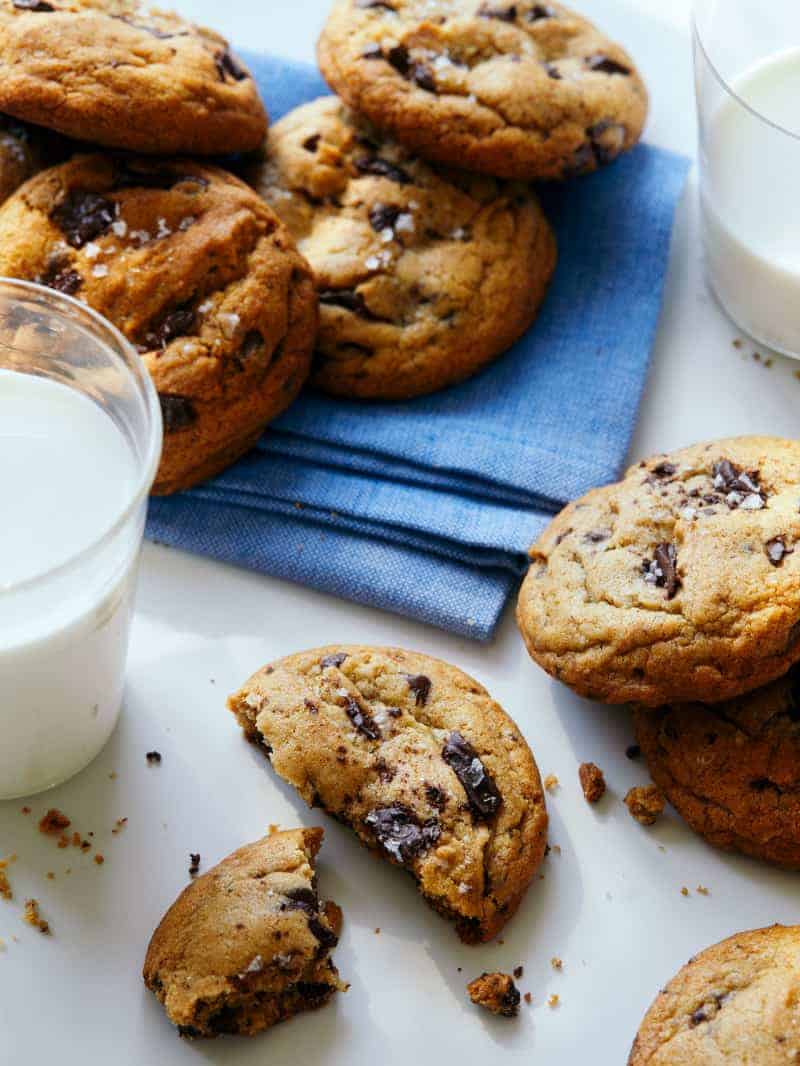 ---
3. These Pain d' Amande or Almond Thin Cookies are so good! They're "eat the entire batch yourself" good. This Christmas cookie recipe yields light, crispy and extremely addicting treats. We love packing them up for loved ones alongside a small tin of our favorite coffee beans or tea leaves; the perfect little holiday package!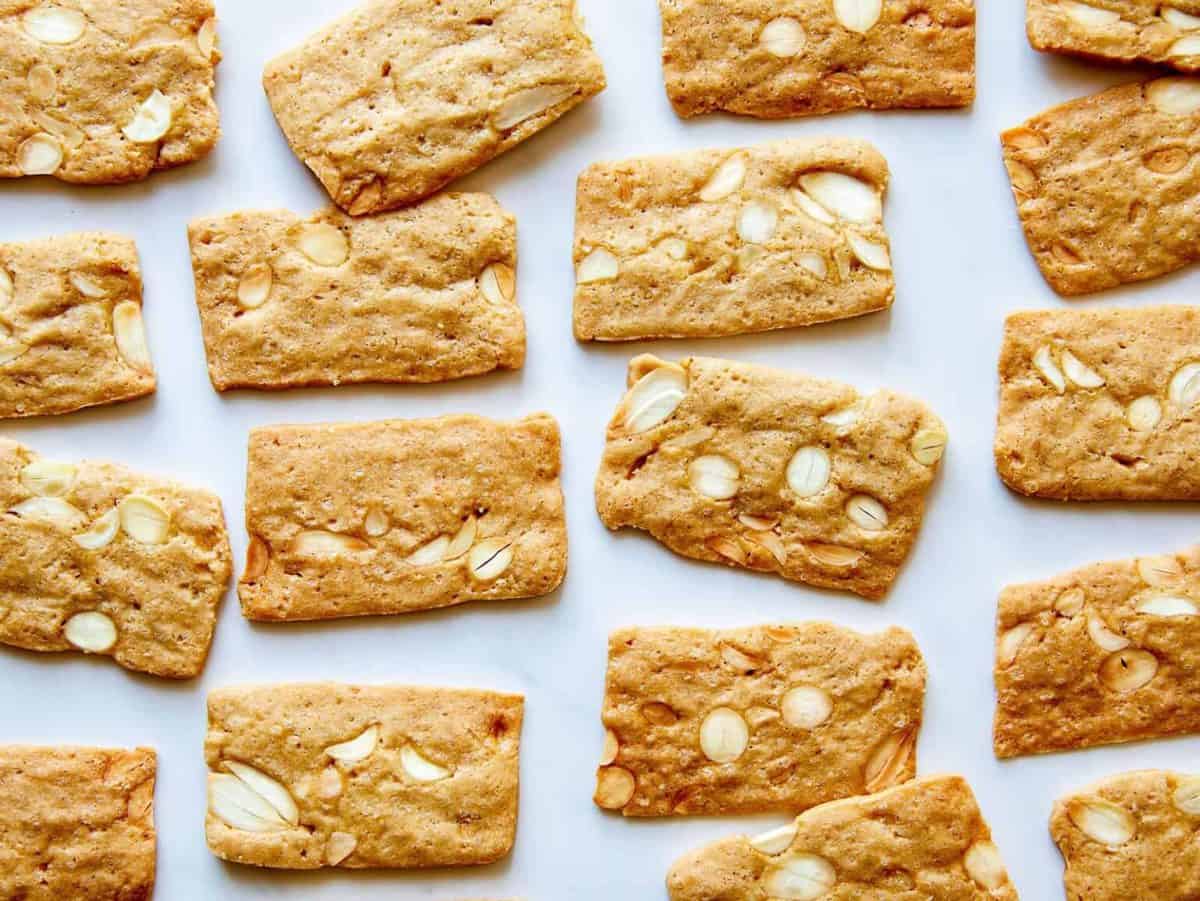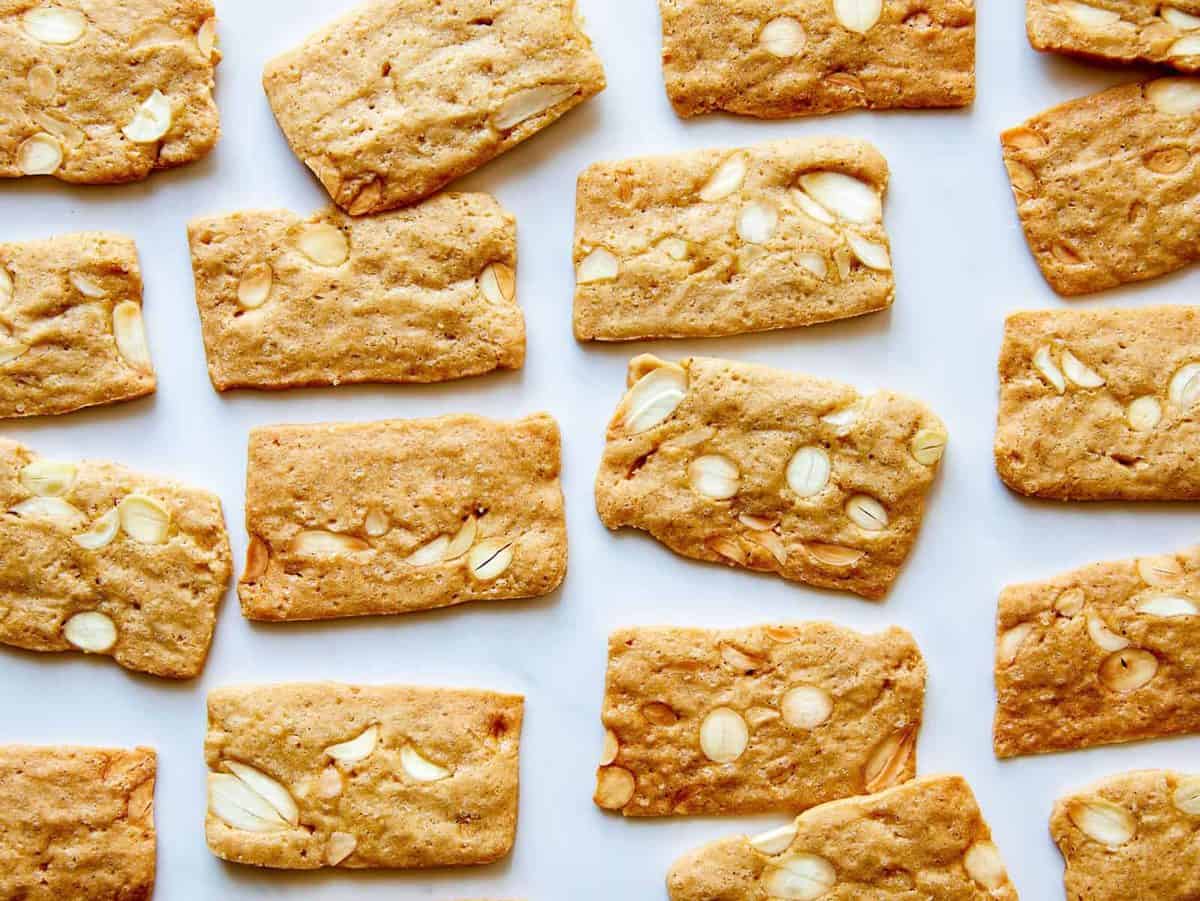 ---
4. Do these Salted Gingersnap Mallomars count as cookies? We say YES! They're one of our favorite holiday treats to make and gift (and eat!). We simplify our recipe by using our favorite store bought gingersnap cookies, so you're really just making some marshmallow fluff, melting chocolate and dipping. Instead of homemade truffles, we make these mallomars and people go nuts over them!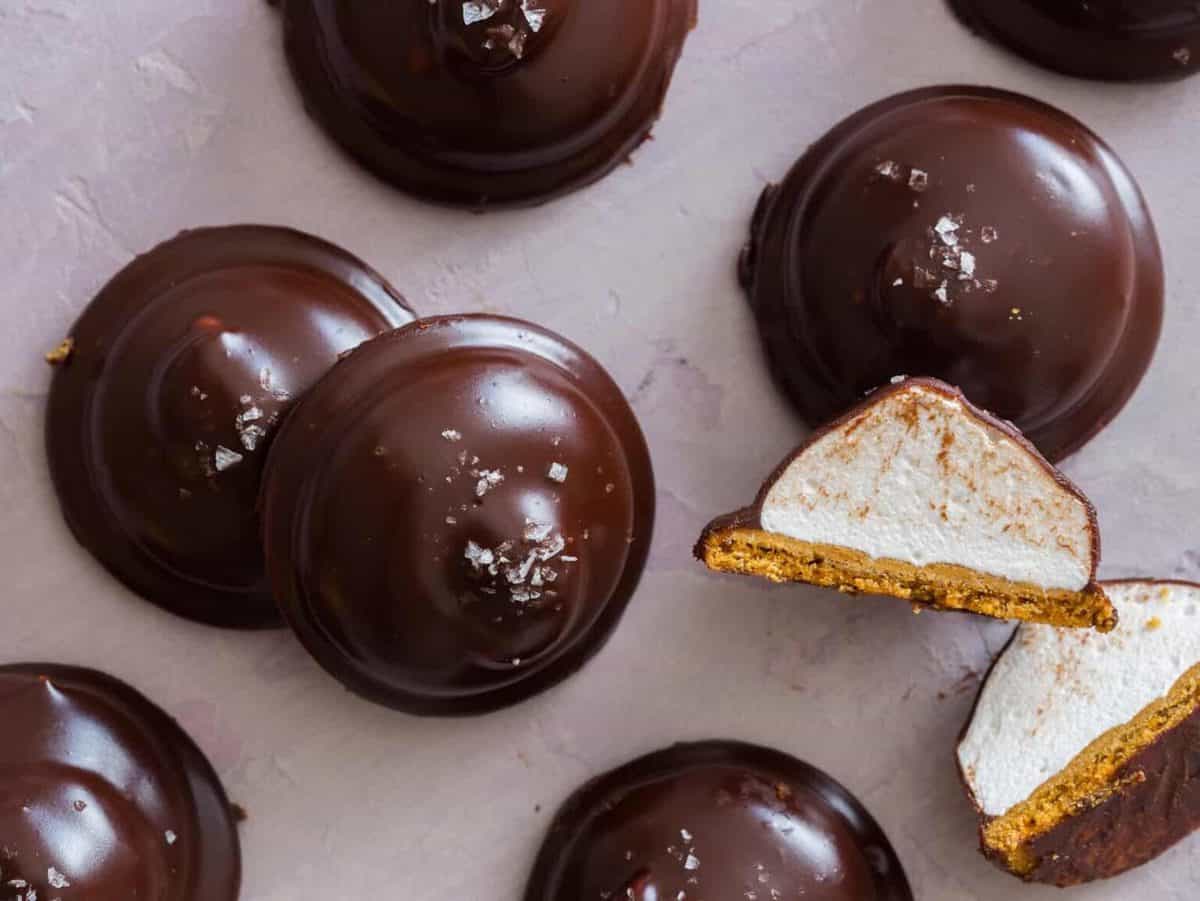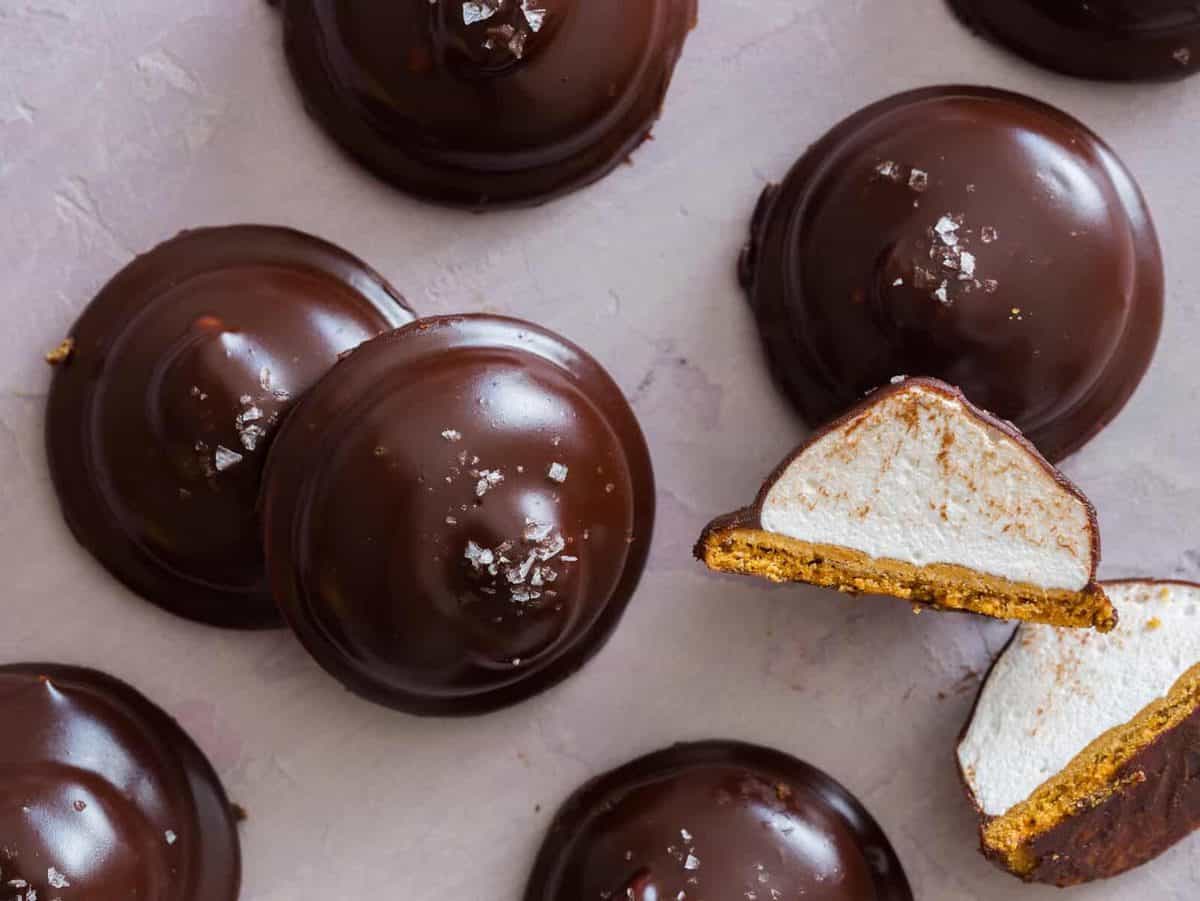 ---
5. Our Poppy Seed and Lemon Cookies are for the lemon lover in your life. The tiny bits of crunch from the poppy seeds are a pleasant texture contrast to these sweet, tart and chewy cookies. We love these delicious cookies so much!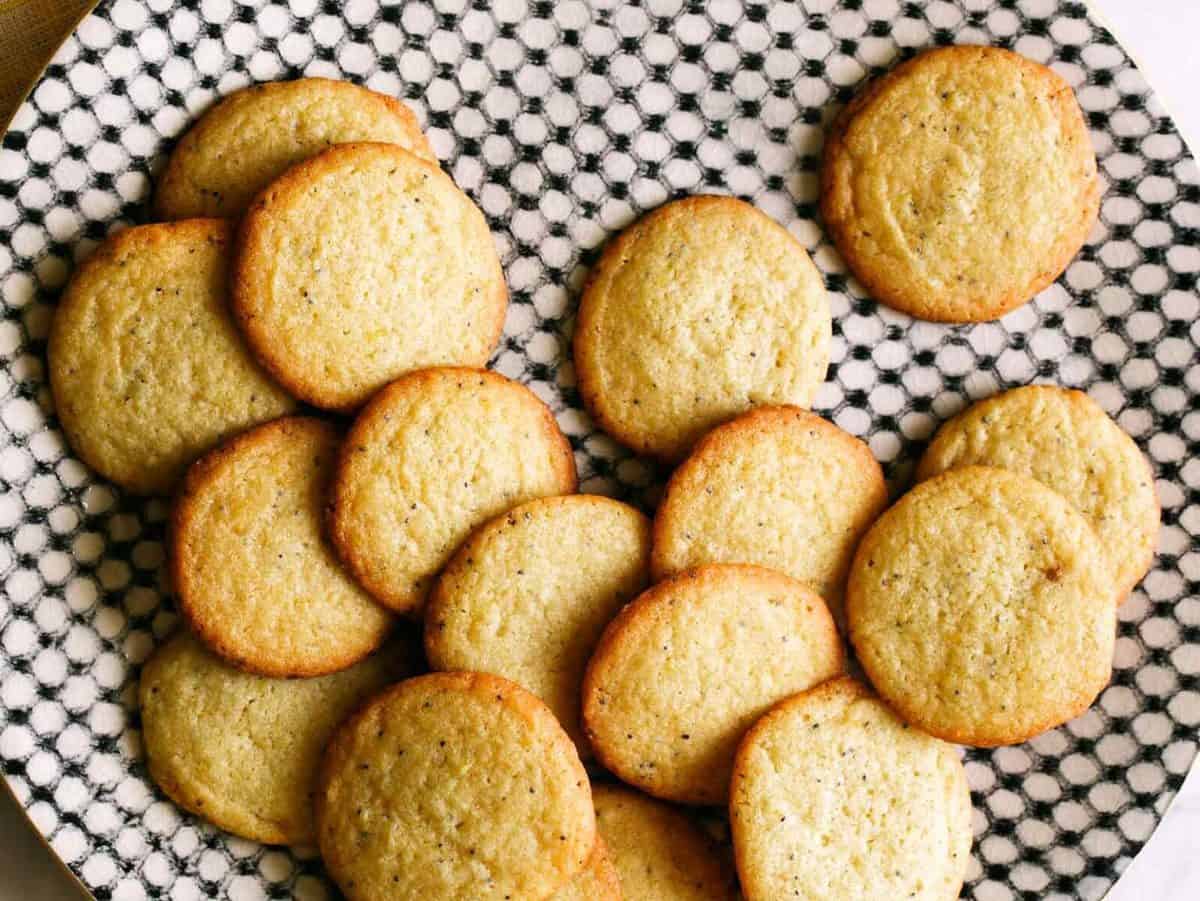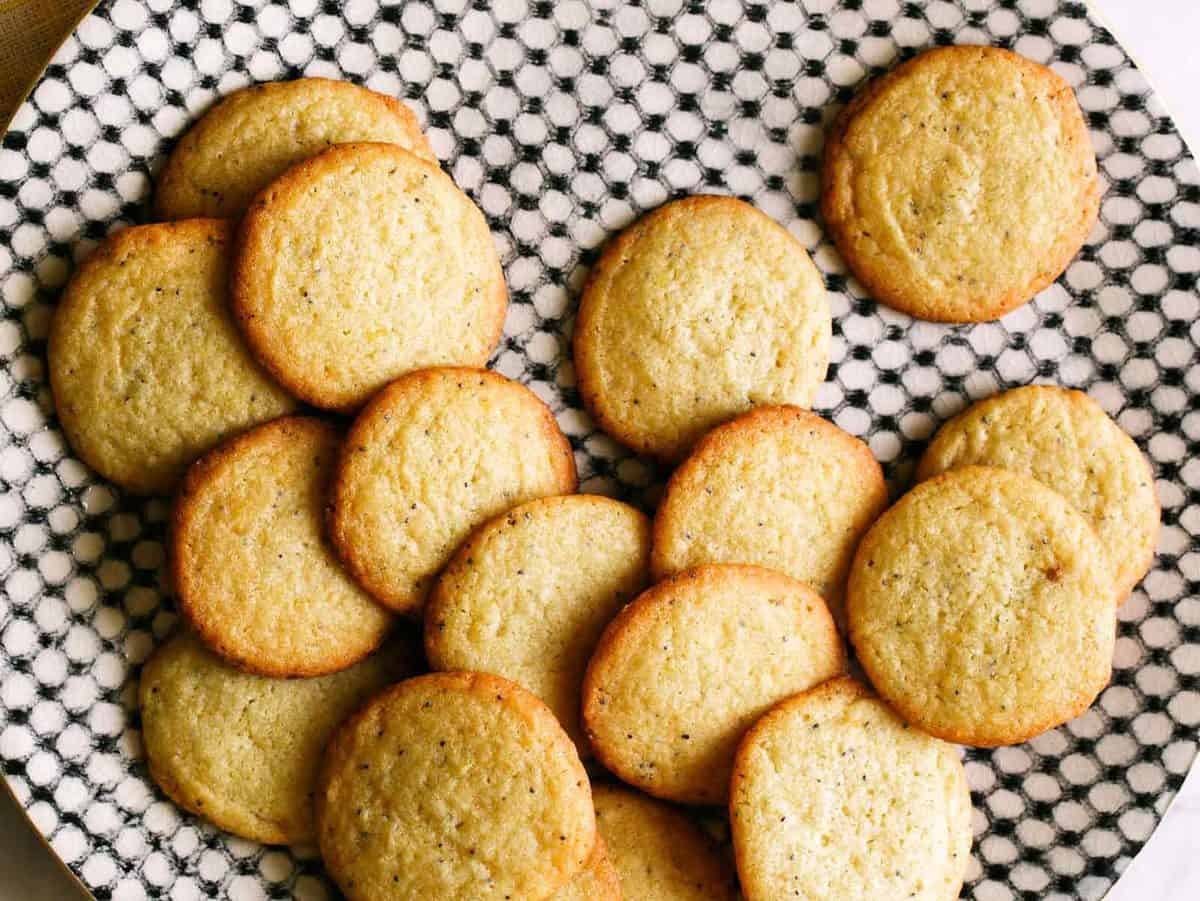 ---
6. Kitchen Sink Cookies are awesomely 'over the top' in every way. They're sweet, salty, chewy, crunchy, and filled with so many delicious mix-ins. We love that they can easily be customized to suite anyones preference. They're such fun Christmas cookie recipe to make, that everyone always loves!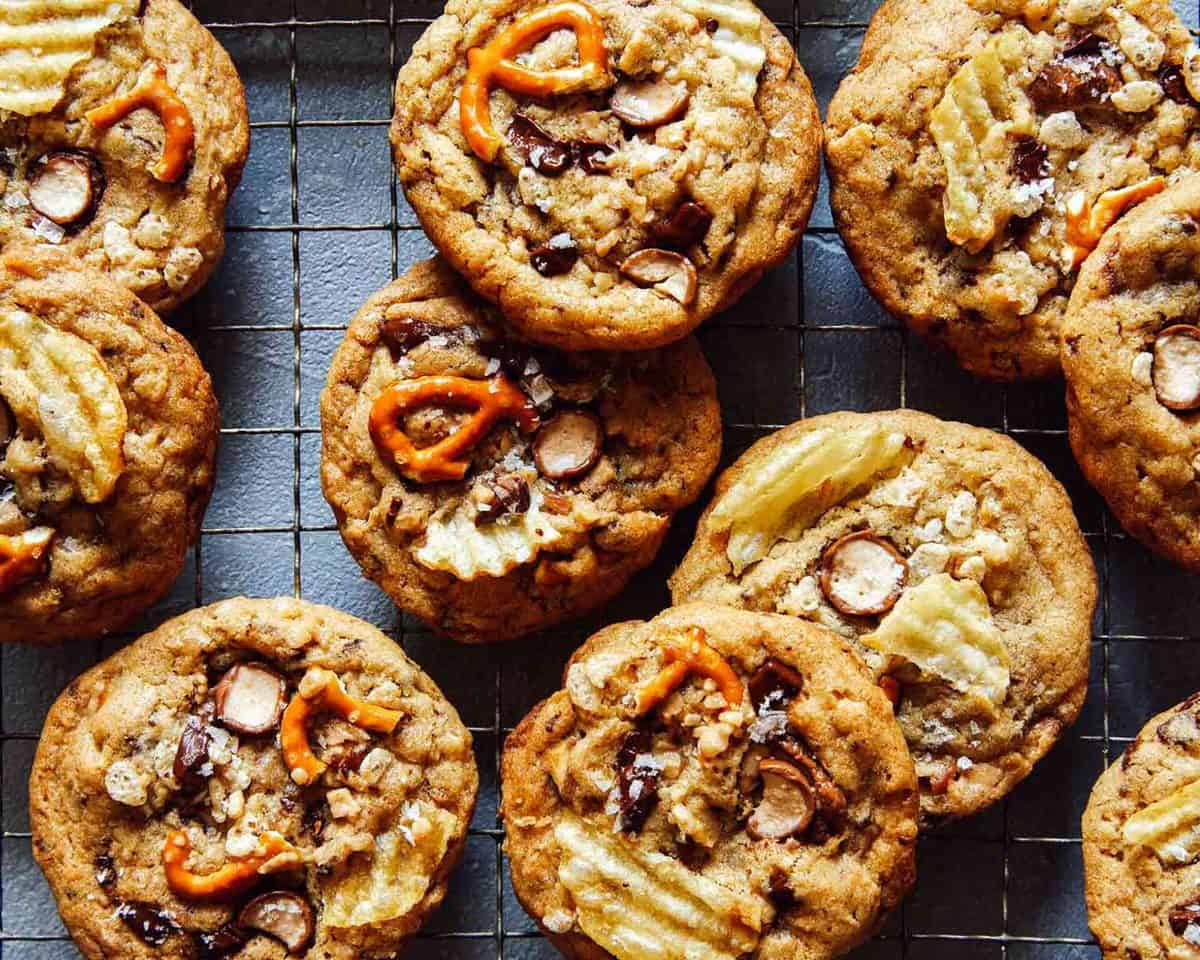 ---
7. Our Blueberry Yogurt Cookies are perfect if you're looking for a light, soft and fluffy cookie! The blueberries add bursts of a sweet-tart flavor and the Swedish sugar adds some crunch. These cookies are also delicious with coffee or tea. They also pack and travel well, so we highly recommend packing these up and sending them to a loved one this holiday season!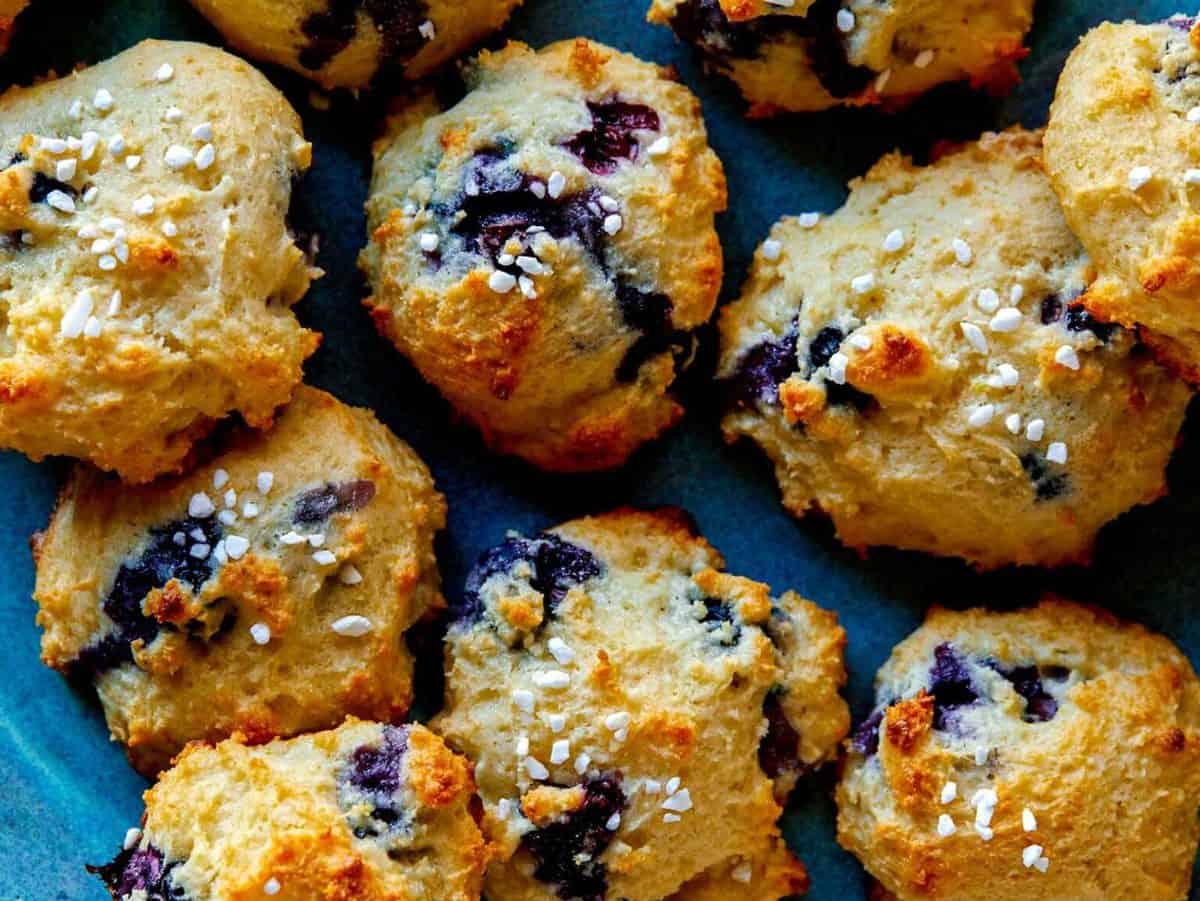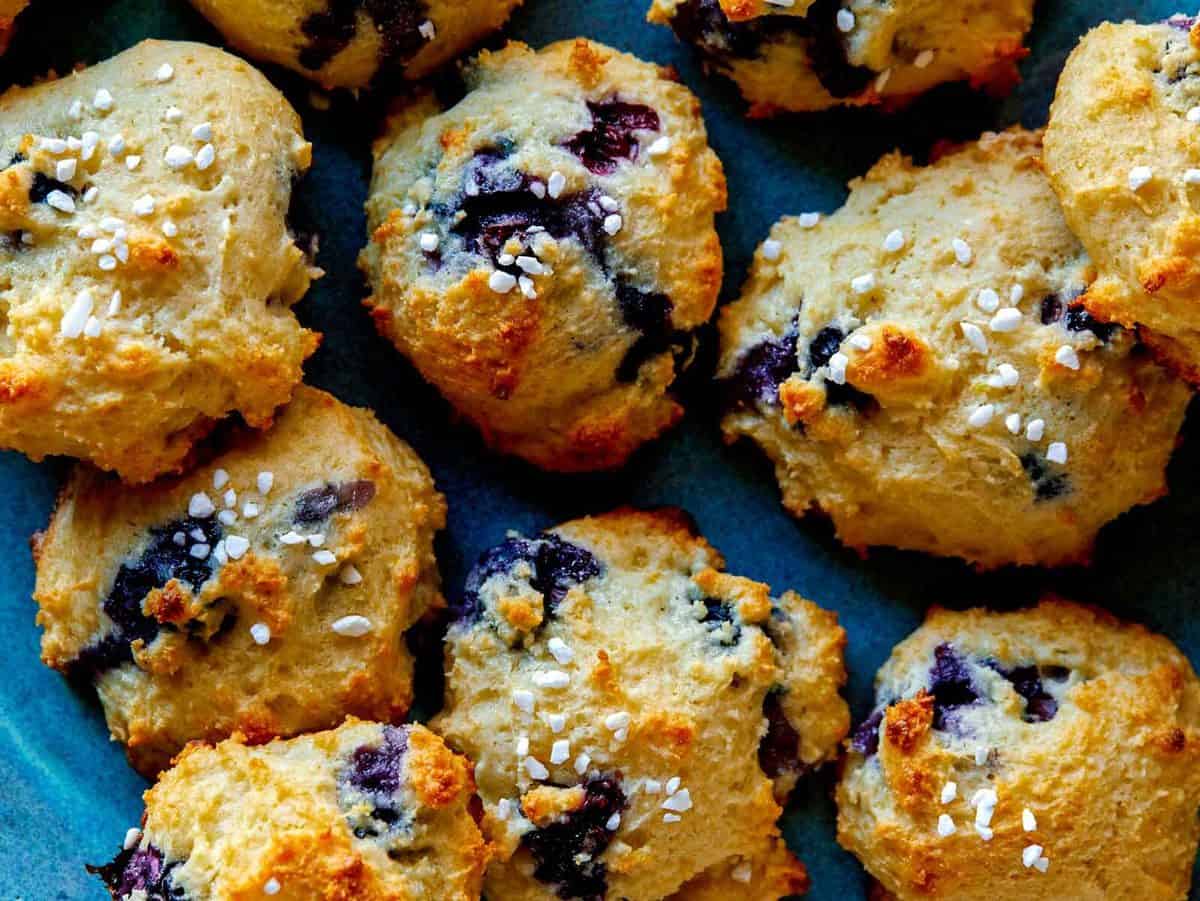 ---
8. Marshmallow Stuffed S'mores Cookies are so easy to make and especially delicious. There's something so satisfying about breaking this cookie in half to reveal the soft and gooey marshmallow center. Another Christmas cookie recipe that doubles as a fantastic year-round cookie!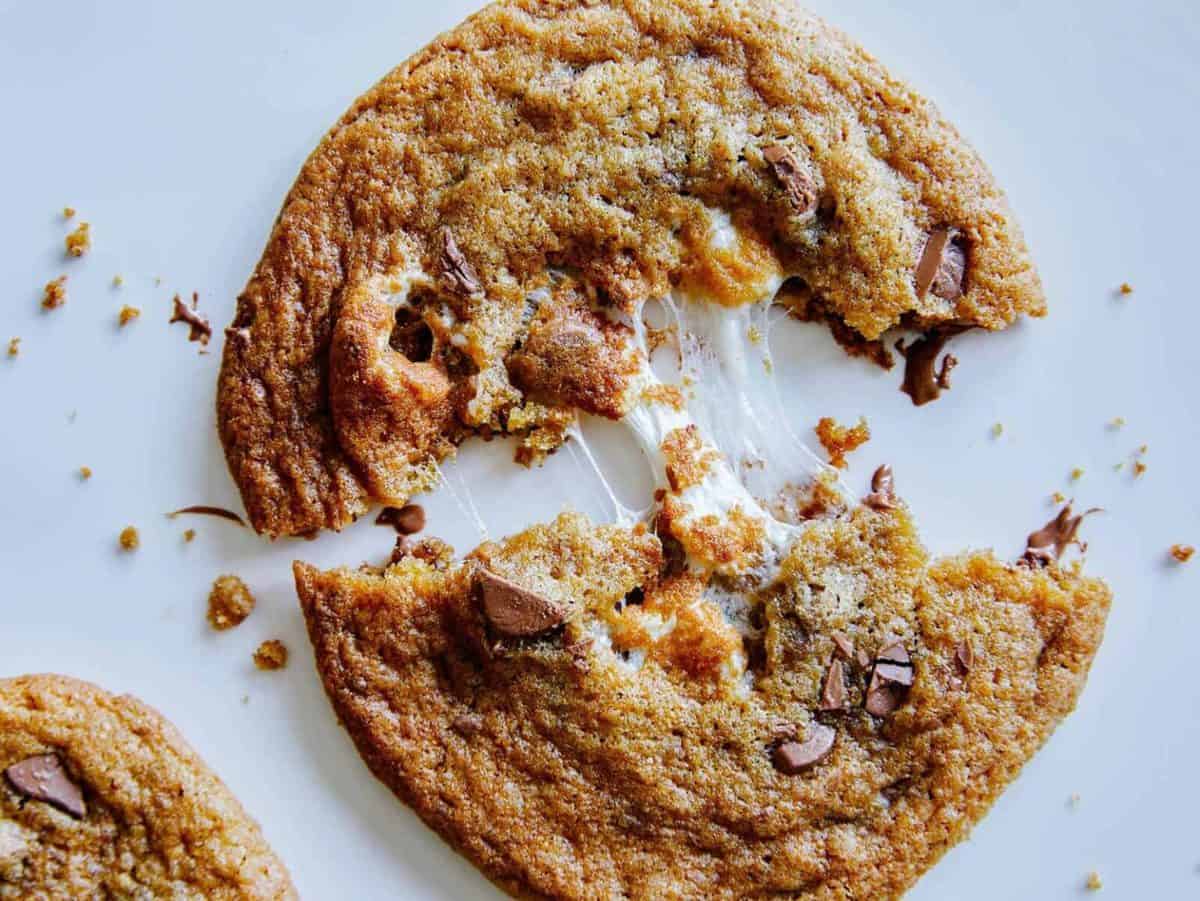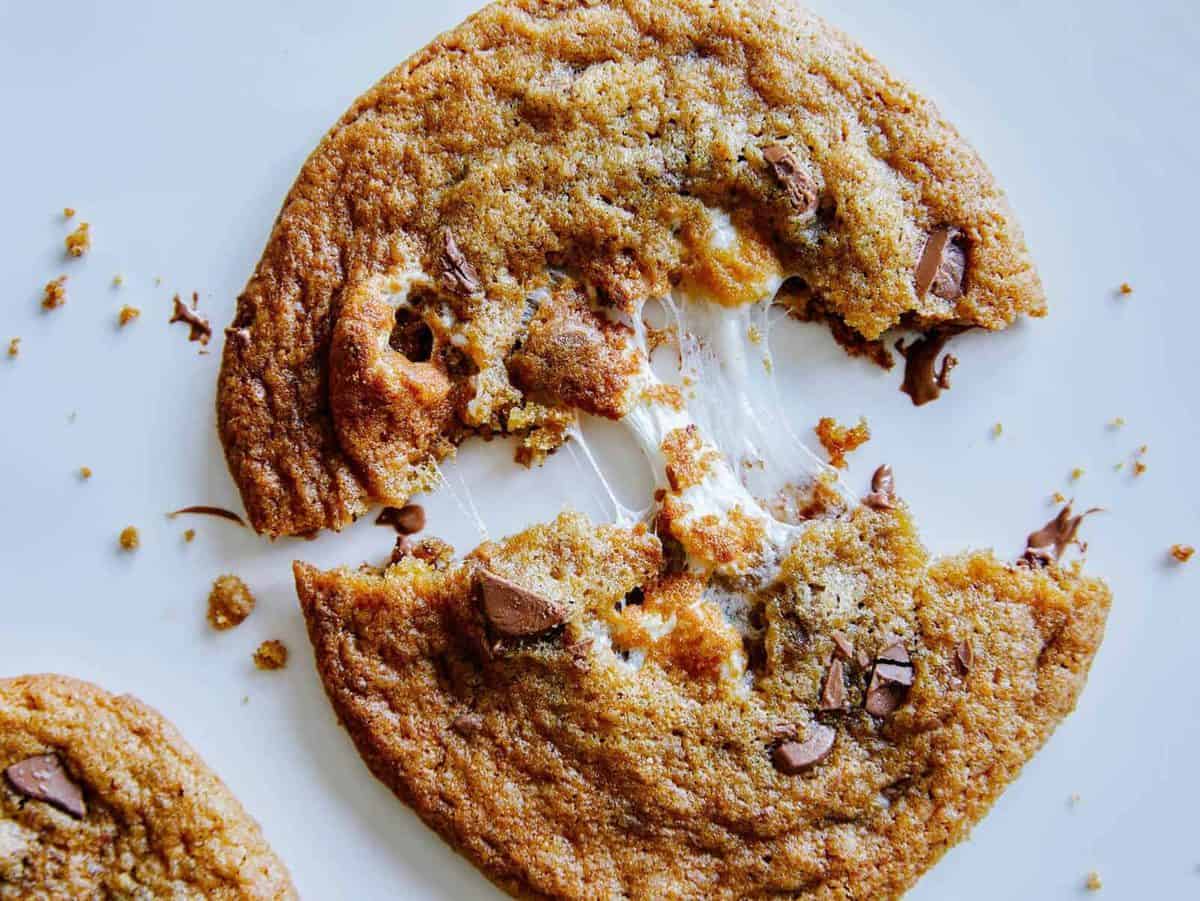 ---
9. Our White Chocolate Dipped Butter Cookies are like little palettes of edible art. They're beautiful, sweet, buttery, and also versatile. We topped ours with freeze dried strawberries, crushed pistachios and thin strips of candied citrus, but you can decorate them however you like! Your friends and family will be so excited to receive these beautiful Christmas cookies!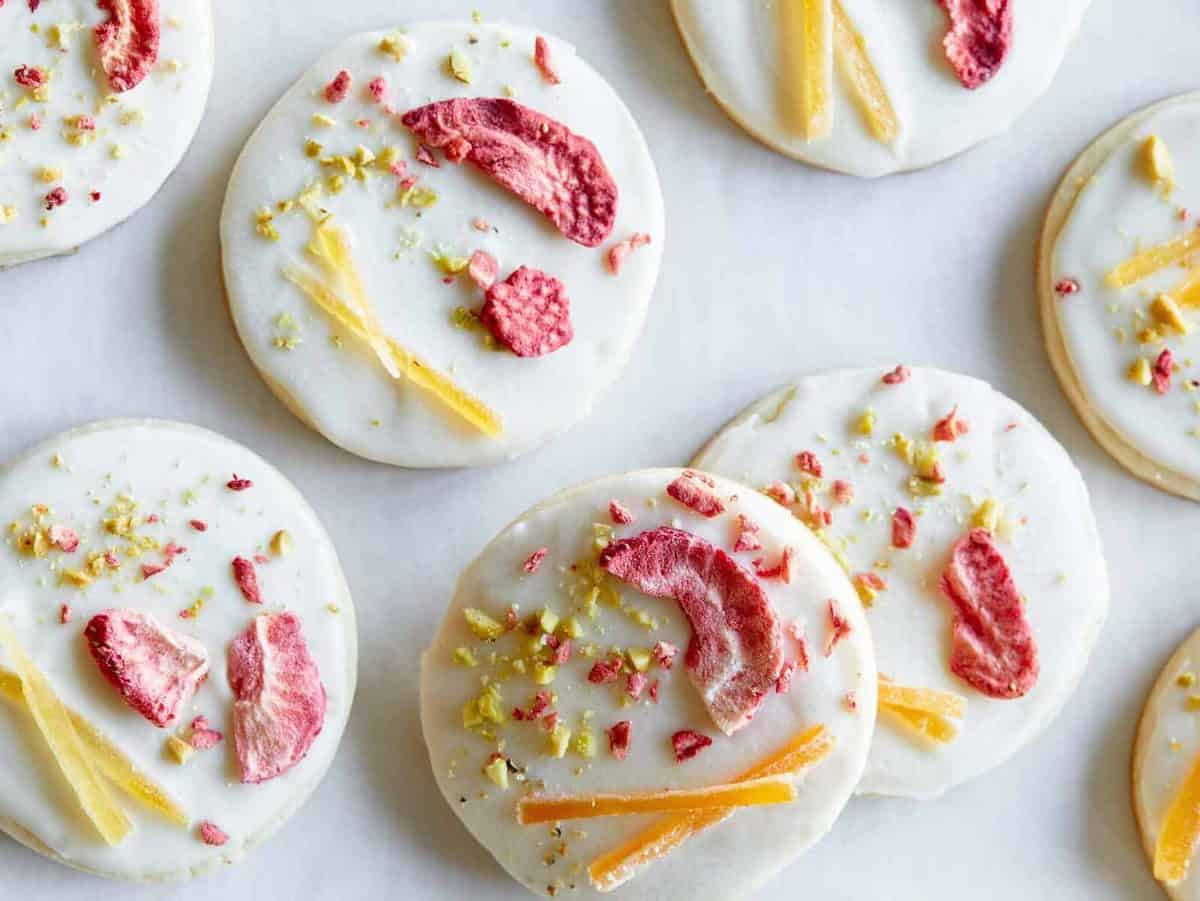 ---
10. These Floral Pressed Butter Cookies are beautiful cookies and make such lovely edible holiday gifts. They're a lot easier to make than they look, and make such impressive gifts that anyone would be lucky to receive this holiday season!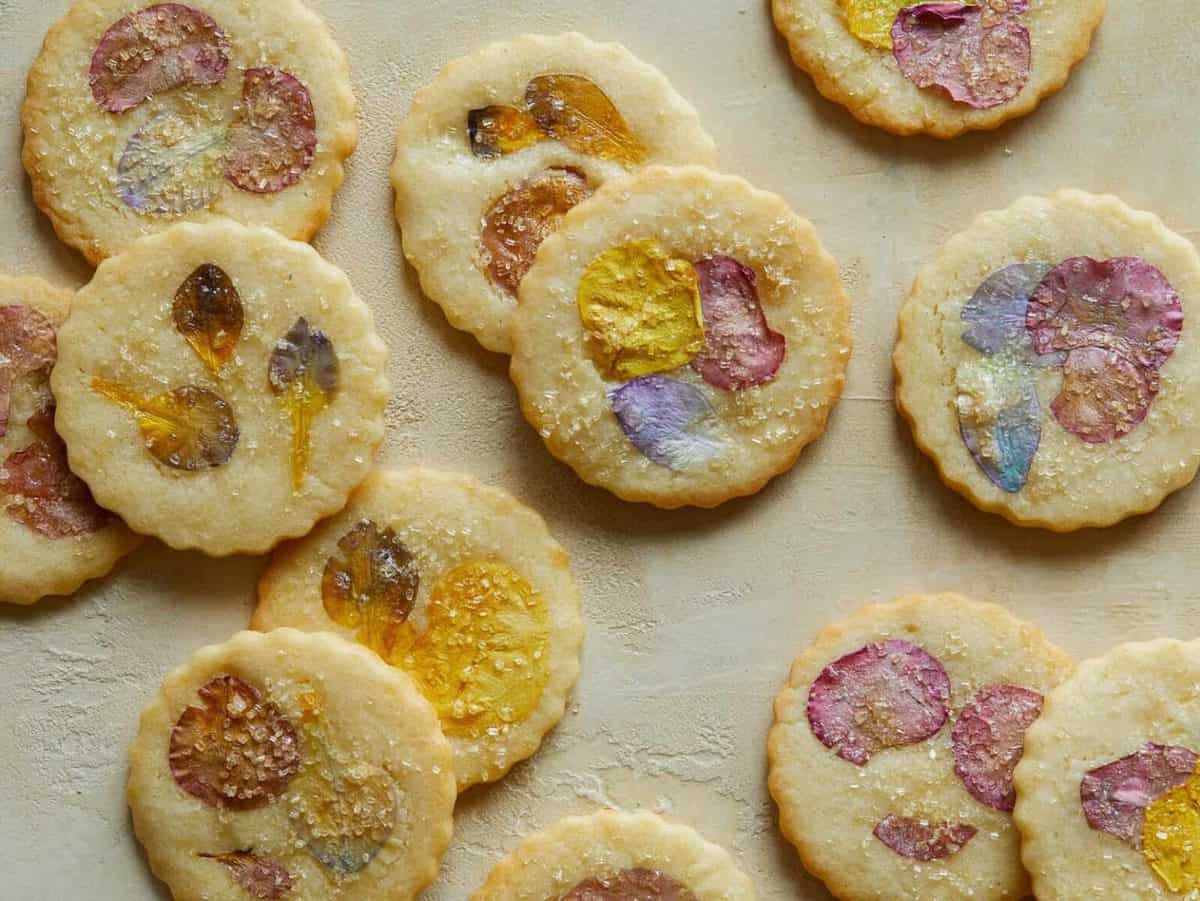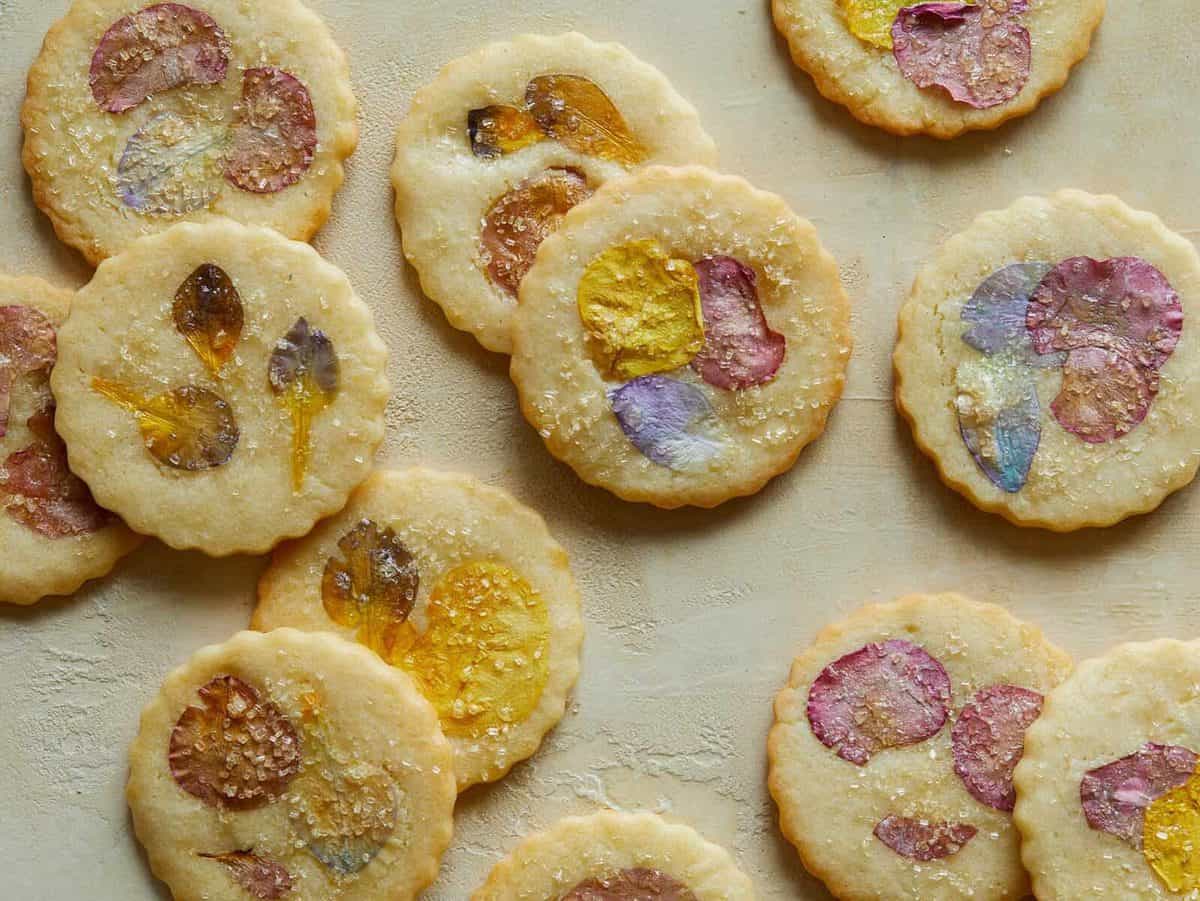 ---
11. Our Meyer Lemon Meltaways are one of our favorite Christmas cookie recipes! The cookies really are melt in your mouth. They're easy to make, beautiful and delicious. These are our go-to Christmas cookies to bring for almost any cookie exchange and almost always one of the first ones to disappear. The bright flavor of the Meyer lemon really comes through and it's our favorite part of these cookies!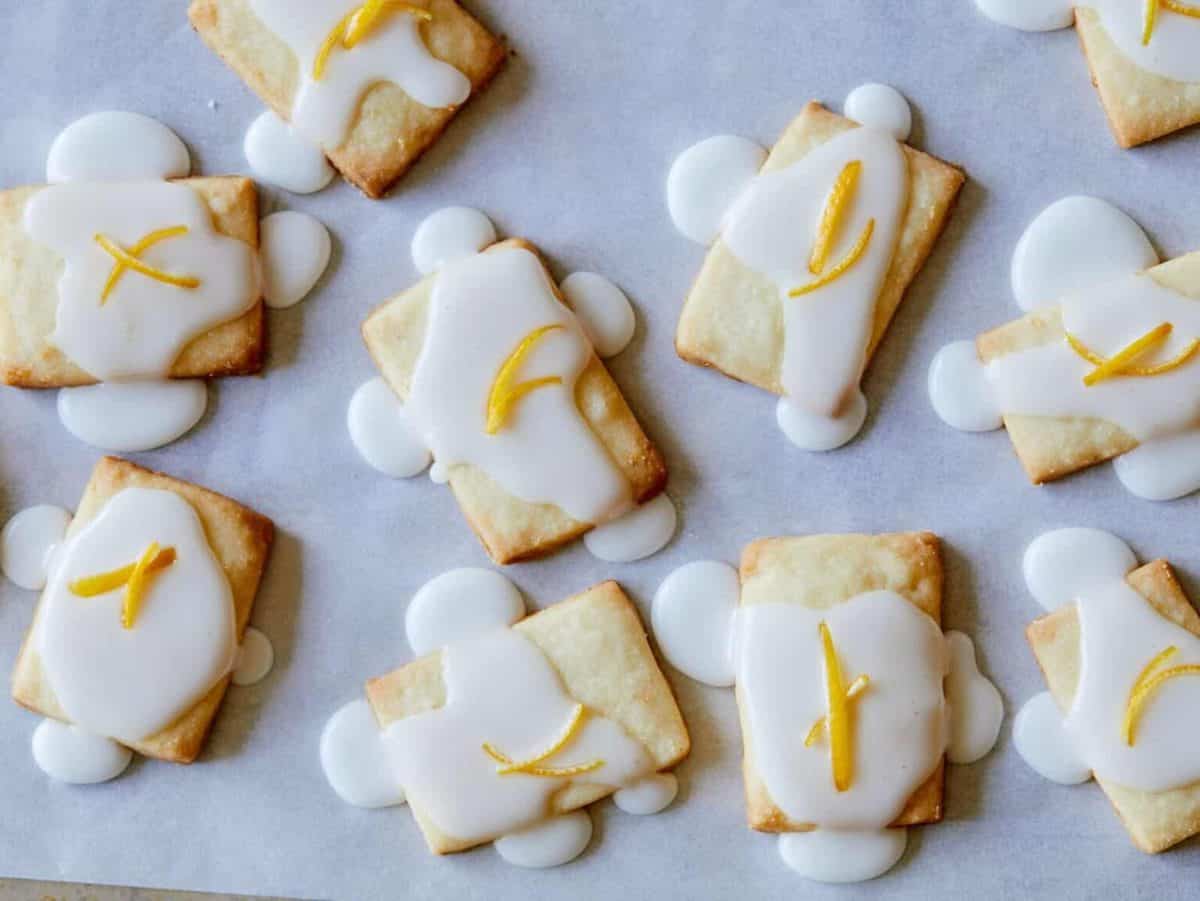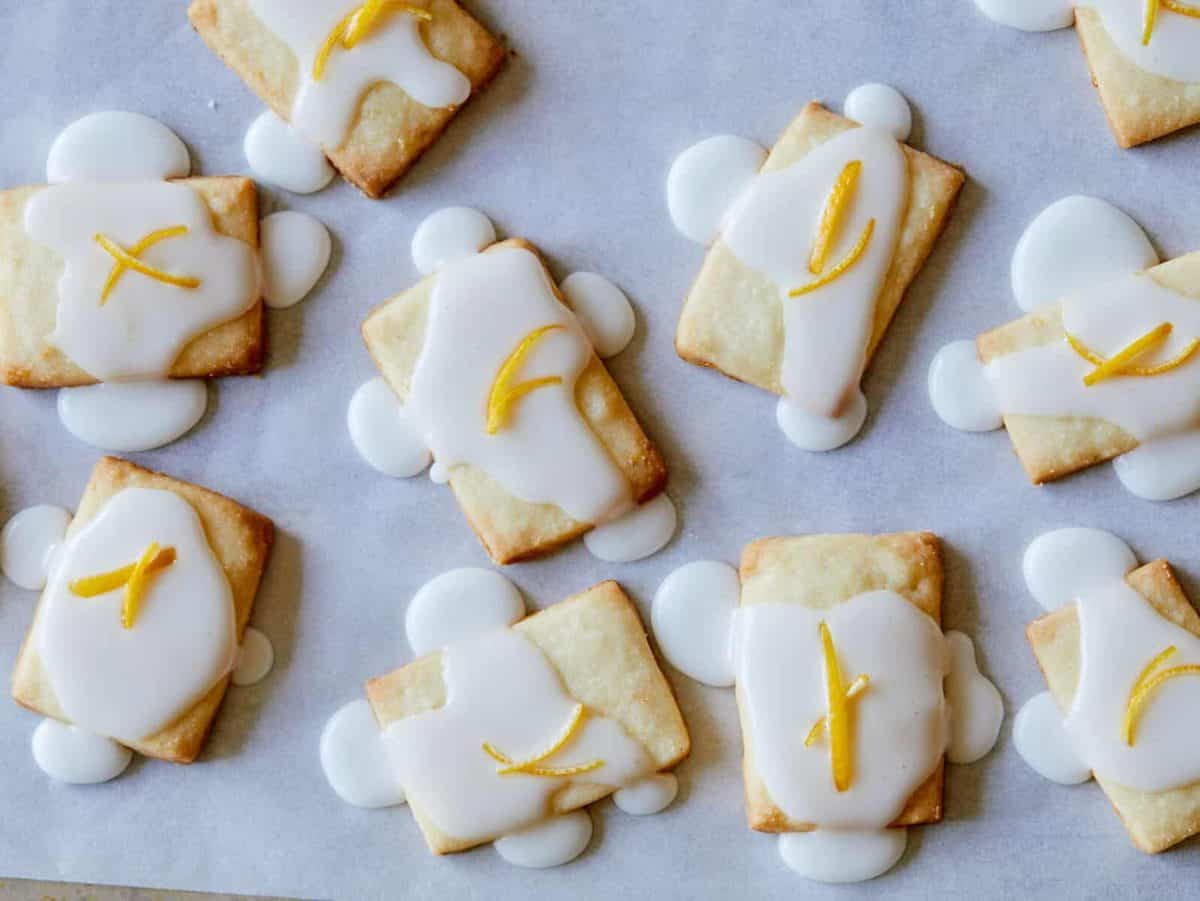 ---
12. Chai, Chocolate Chip and Coconut Cookies are the perfect snacking cookie! They're about the size of silver dollars, are crisp around the edges and so chewy in the center. The bright flavors of chai balance well with the chunks of dark chocolate and the sweet bits of coconut. These are another one of those perfect Christmas cookie recipes we love to have hidden away in the back of our freezer throughout the year for when we're having a quick cookie craving.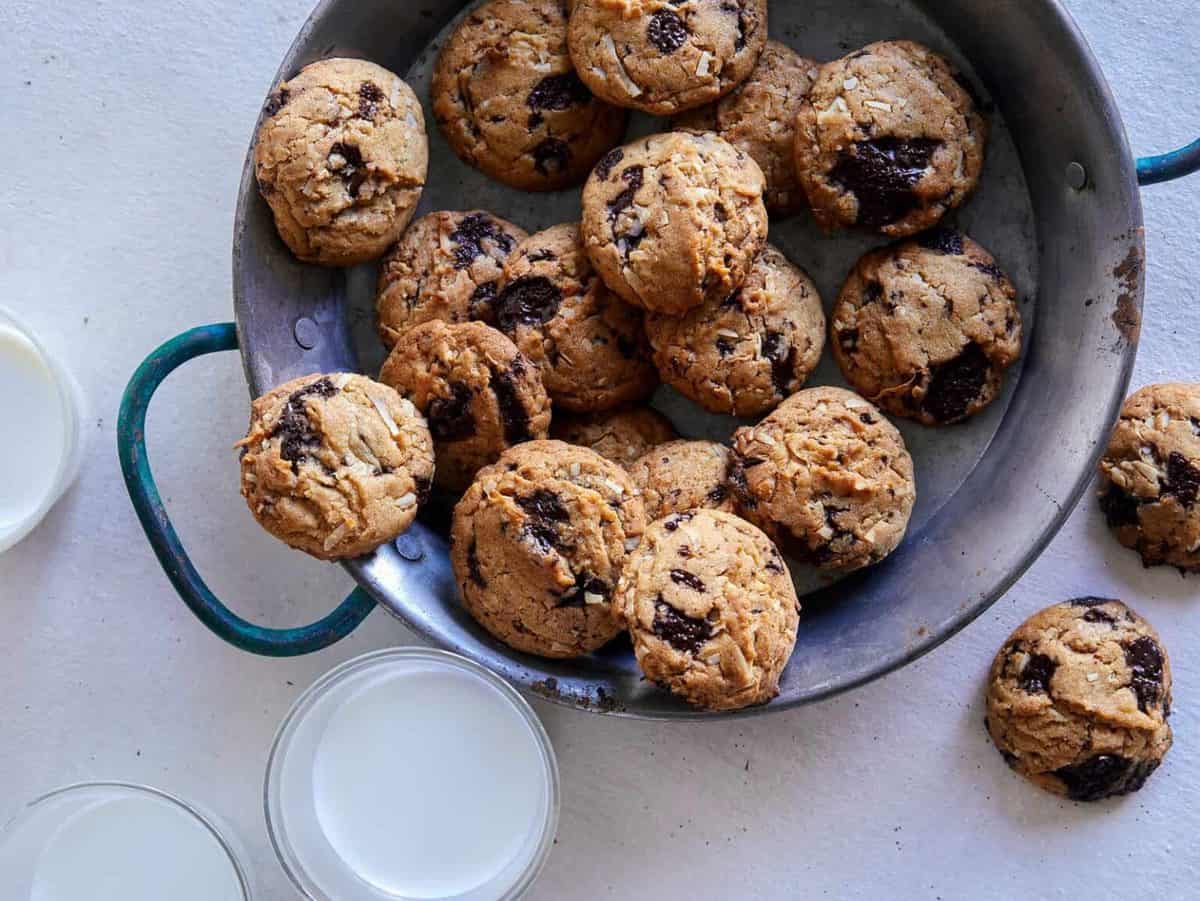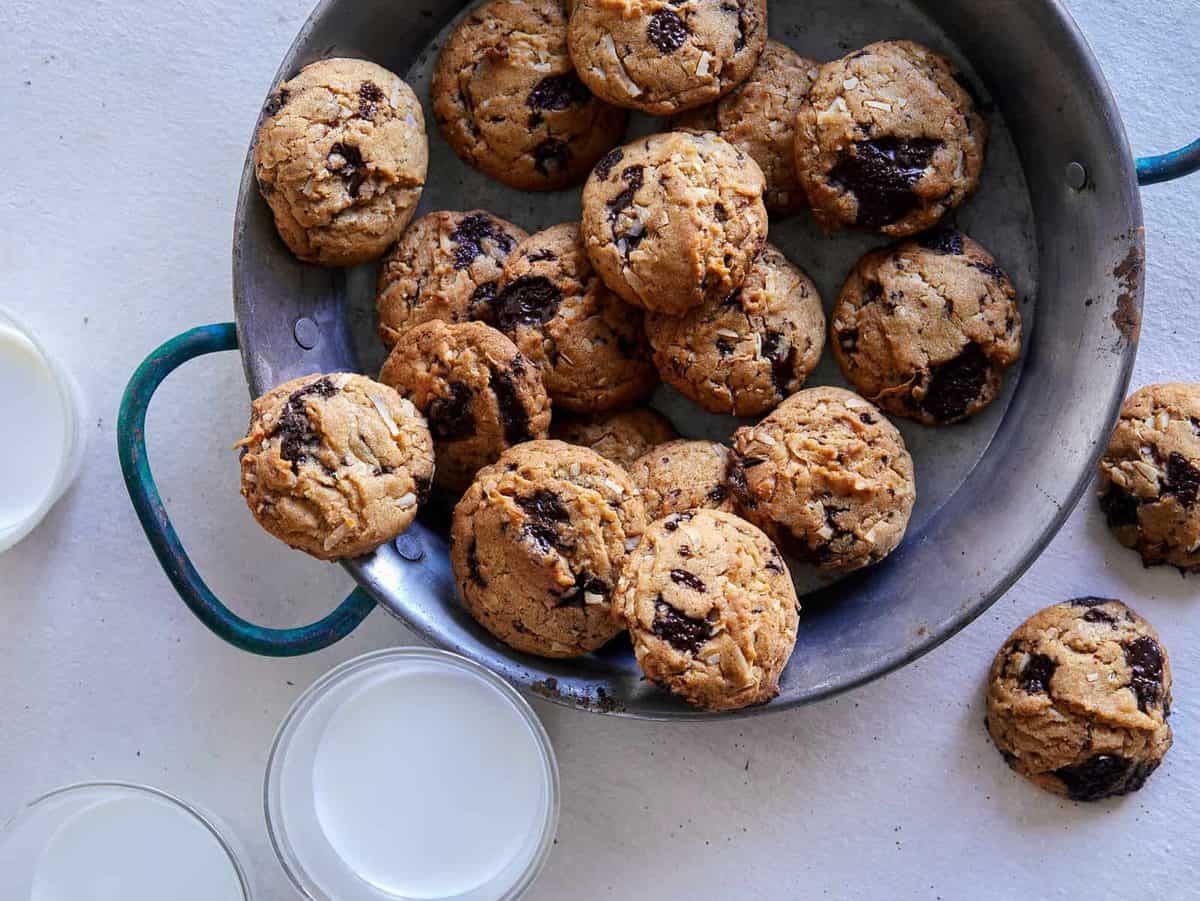 ---
13. Soft and Fluffy Strawberry Cookies with Vanilla Frosting are not only festive, but fruit forward and delicious! The freeze-dried strawberries add a more intense real strawberry flavor to these cookies, which we love! They're just like the name describes, soft and fluffy. If gifting and shipping these fun Christmas cookies we recommend sending the cookies unfrosted, with a jars of frosting and freeze-dried crumb topping on the side for freshness.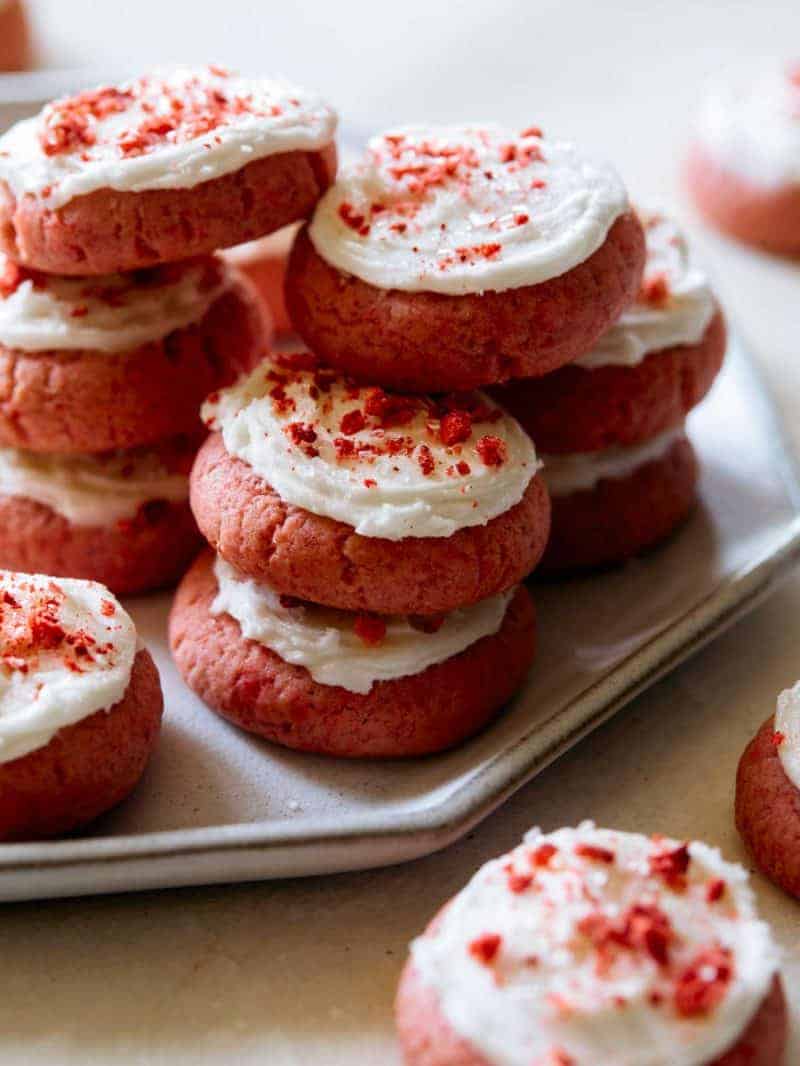 ---
14. Salted Caramel Almond Thumbprint Cookies are one of the first cookies we ever put up on our site. They're slightly crisp and nutty, with an oozing salted caramel center. We love these slightly sophisticated cookies that are easier to make than you would think!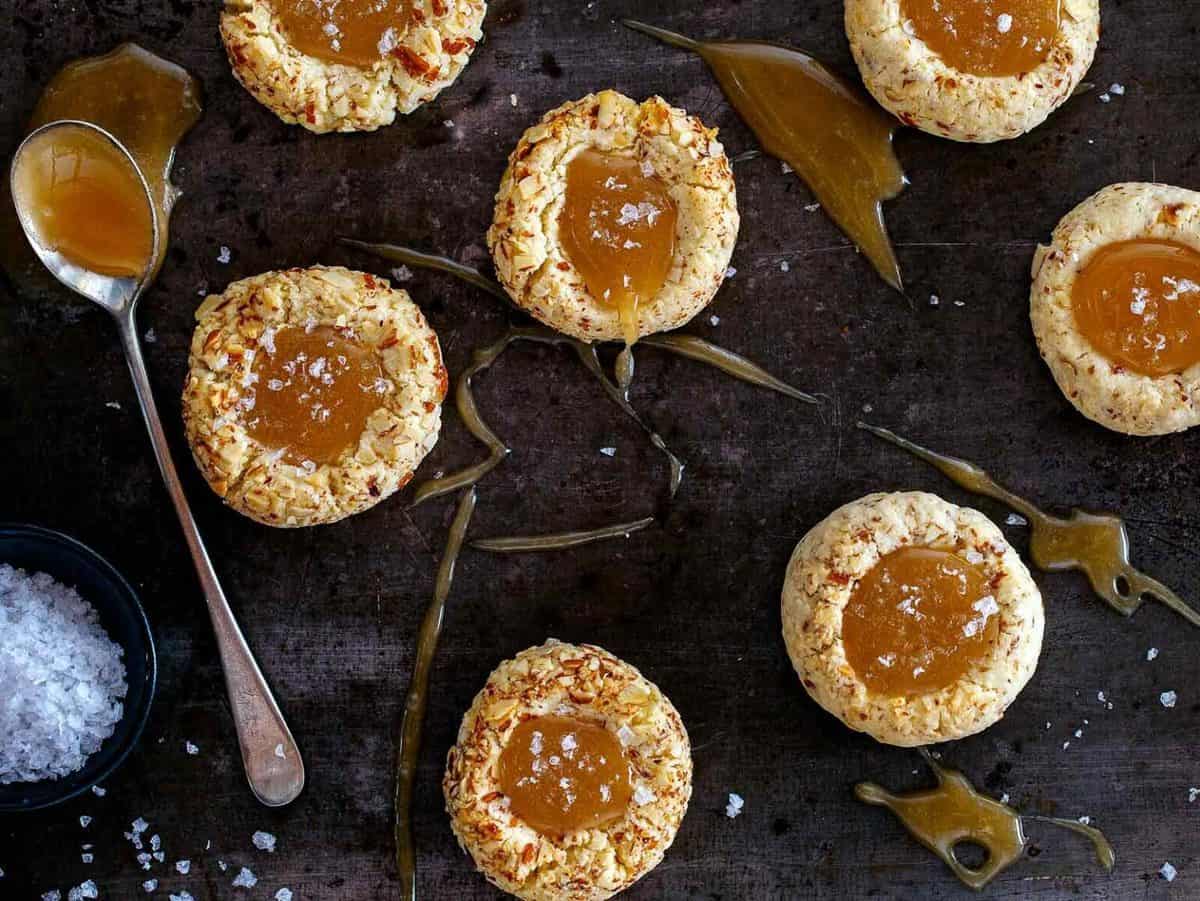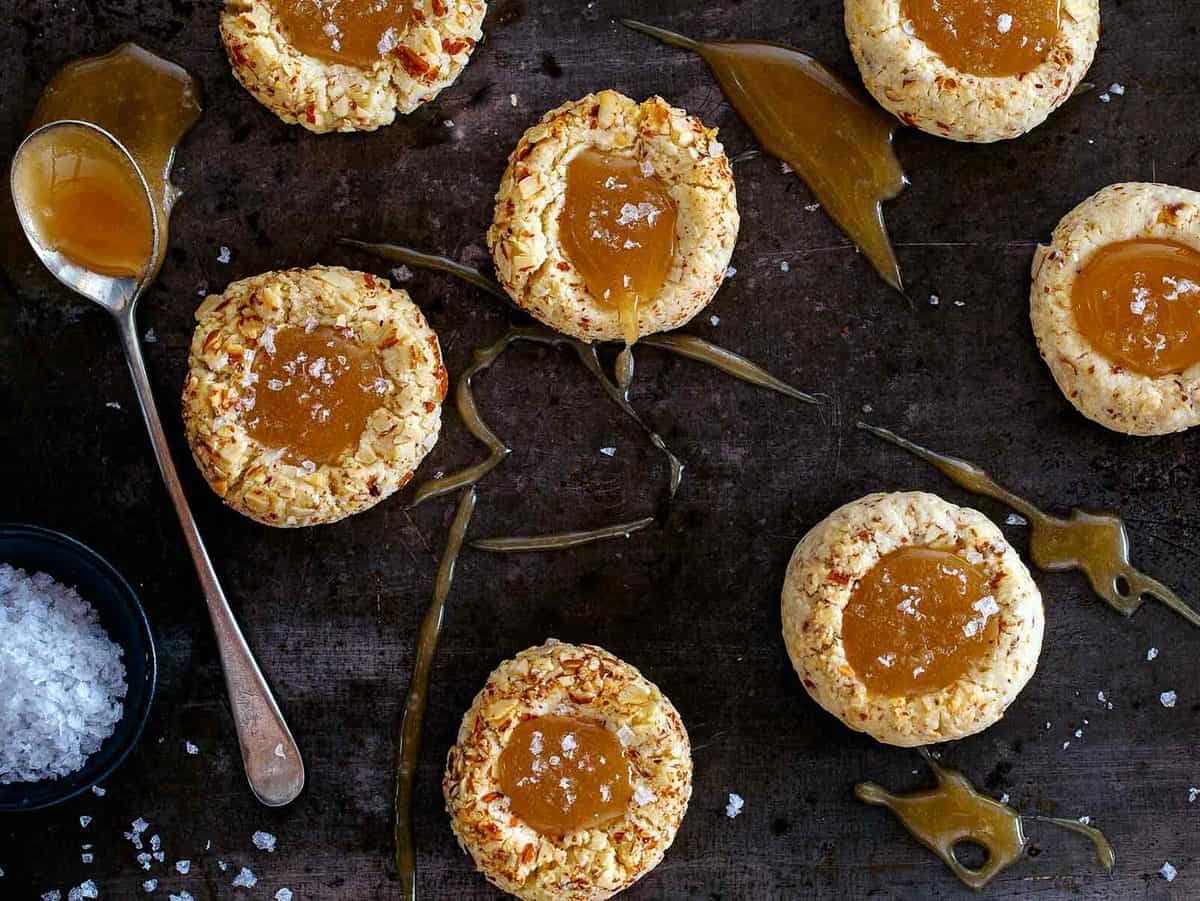 ---
15. We love these Mexican Chocolate Earthquake Cookies. They're crisp around the edges and extra chewy in the middle, like a good earthquake cookie should be! We love this chocolatey Christmas cookie recipe that has just a hint of cinnamon and a kick of cayenne from the Mexican Chocolate melted into the mix!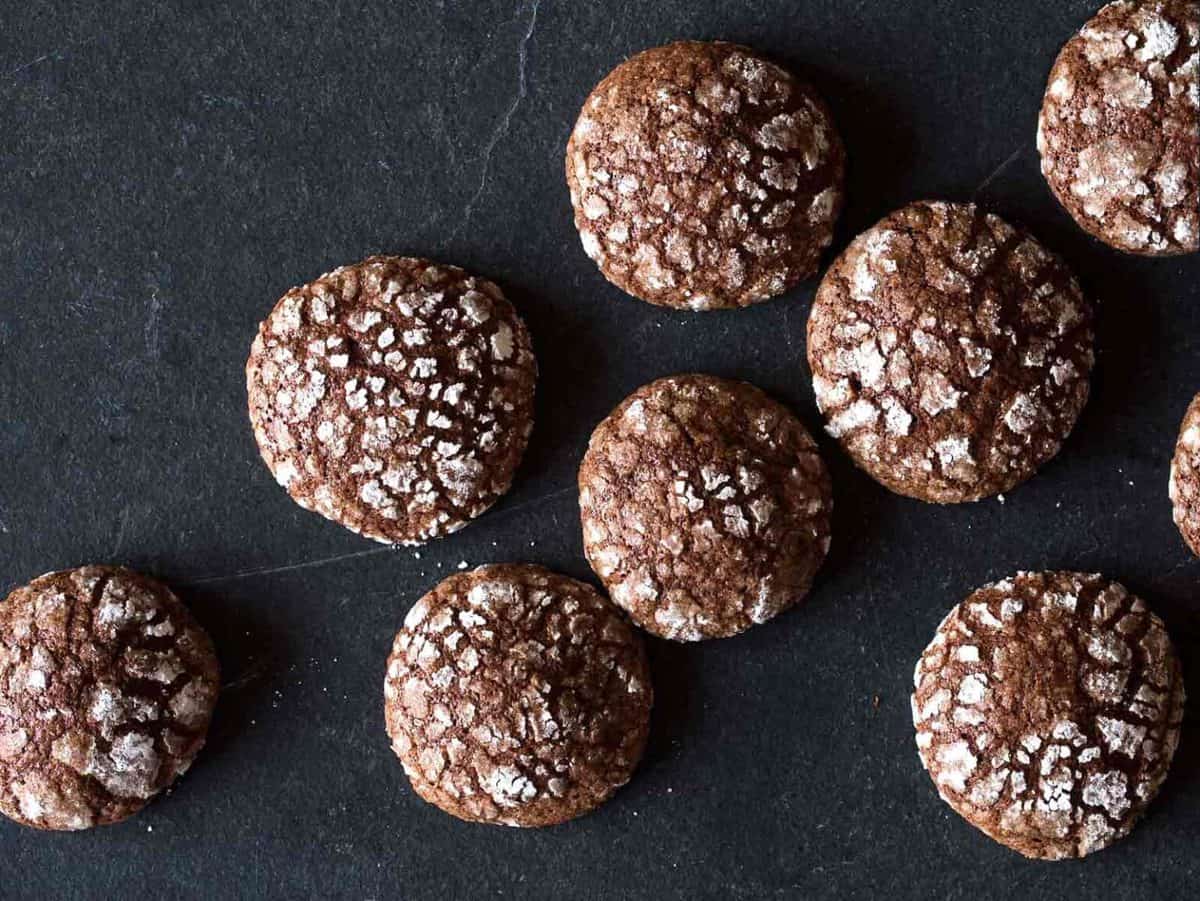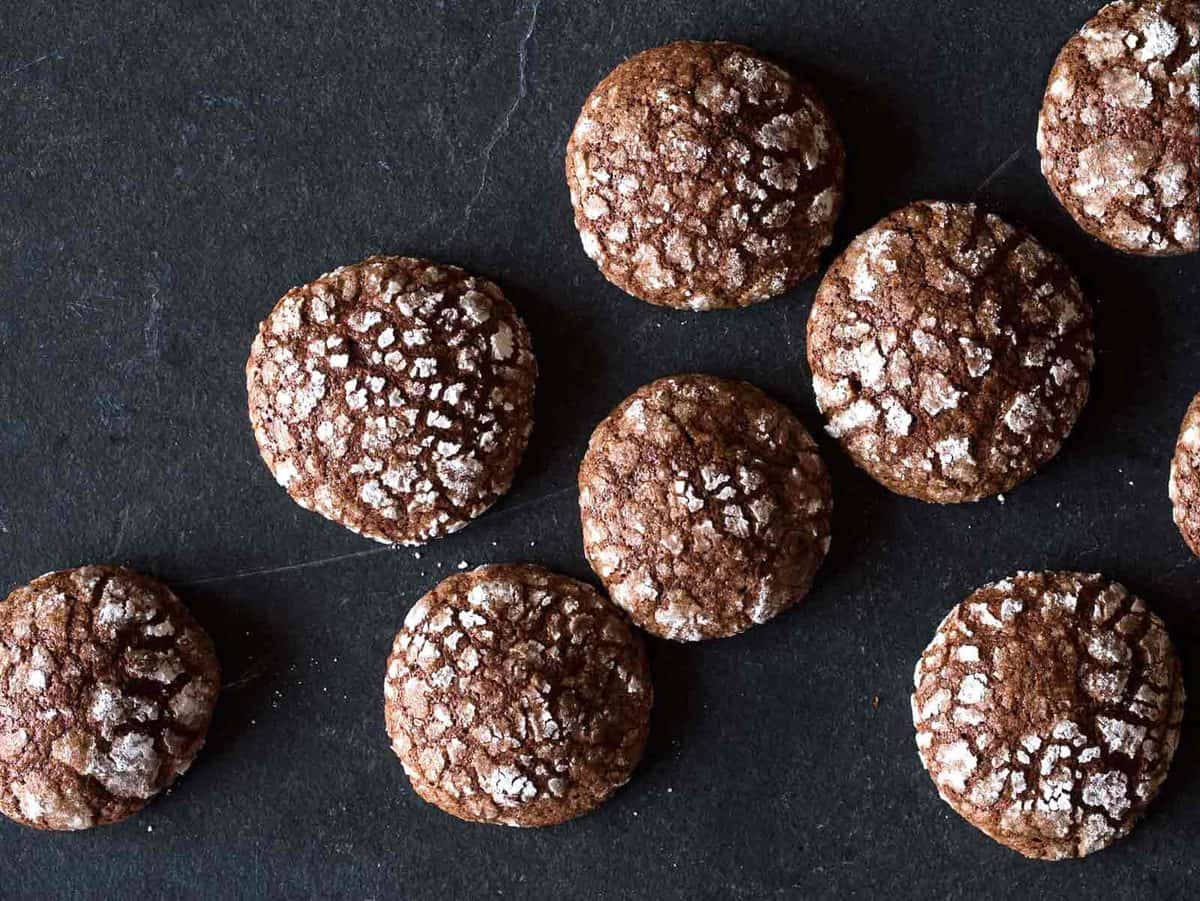 ---
16. Baci Di Dama which translates to "lady kisses" (since the cookies look like two lips ready to give a kiss) are so good! They're sweet, nutty and have the perfect amount of chocolate pressed into the center. We love scooping a bunch of these Christmas cookies into little gift bags and giving them to neighbors for the holidays.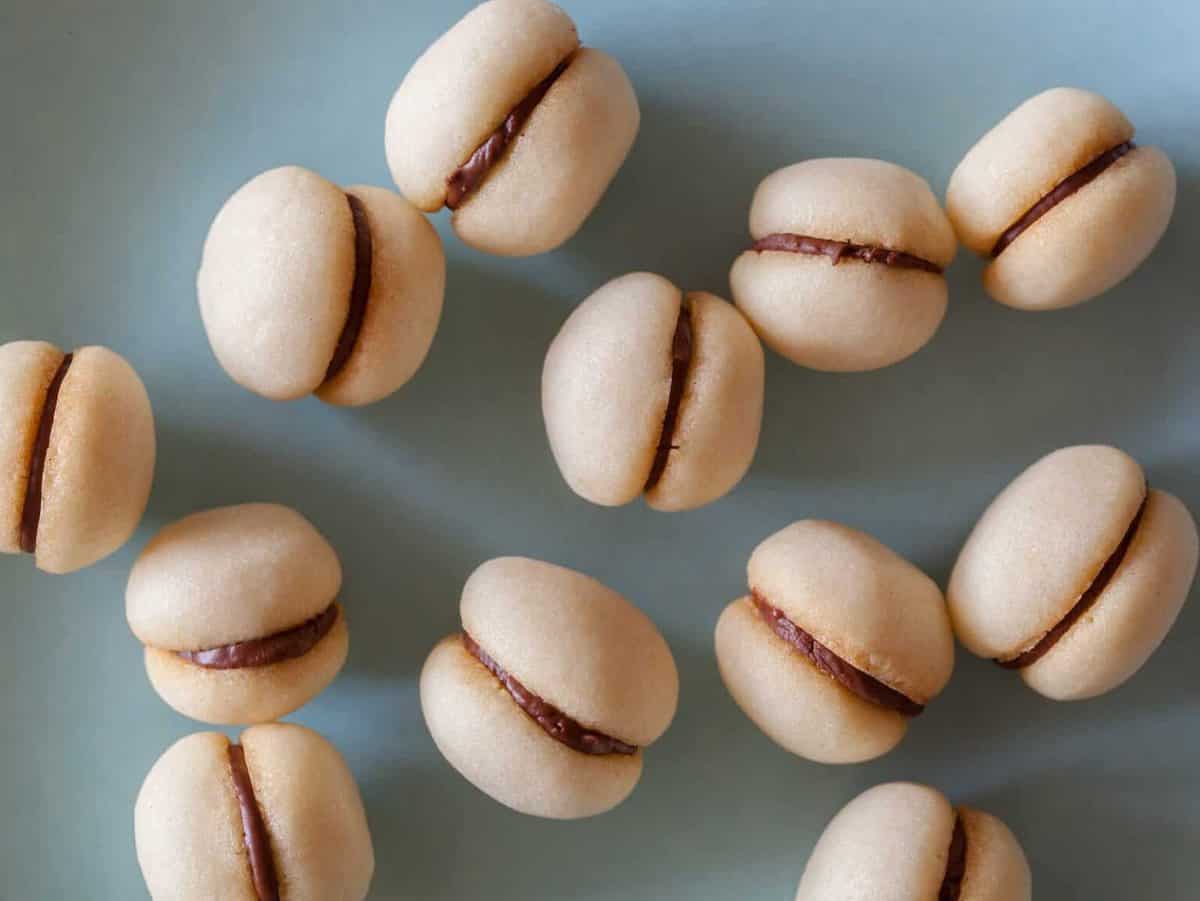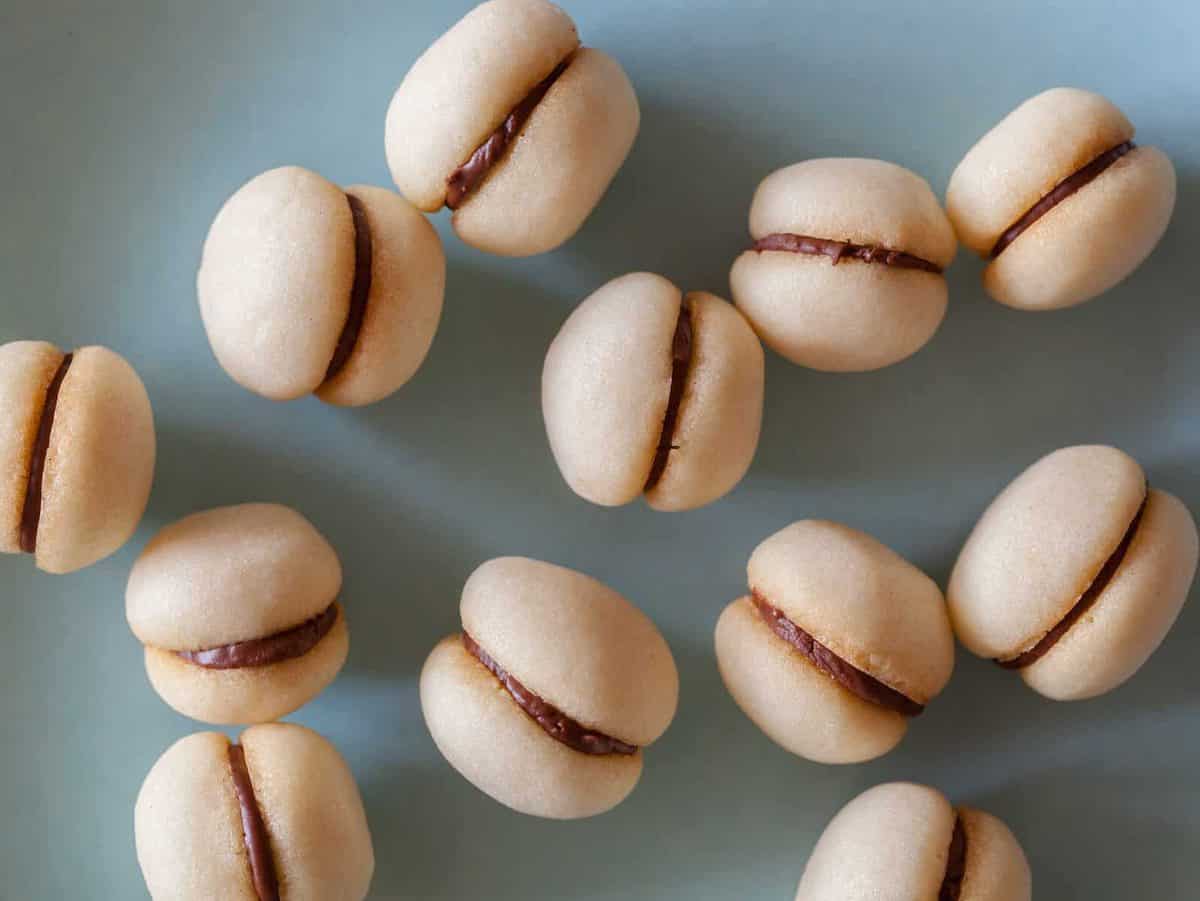 ---
17. Chocolate Chip Rice Krispies Treat Cookies are a mashup of two of our favorite treats, rice krispies treats and chocolate chip cookies. We love the slightly crisp texture the rice krispies provide in contrast to the soft marshmallows. These Christmas cookies are simple, delicious and sturdy so they travel really well!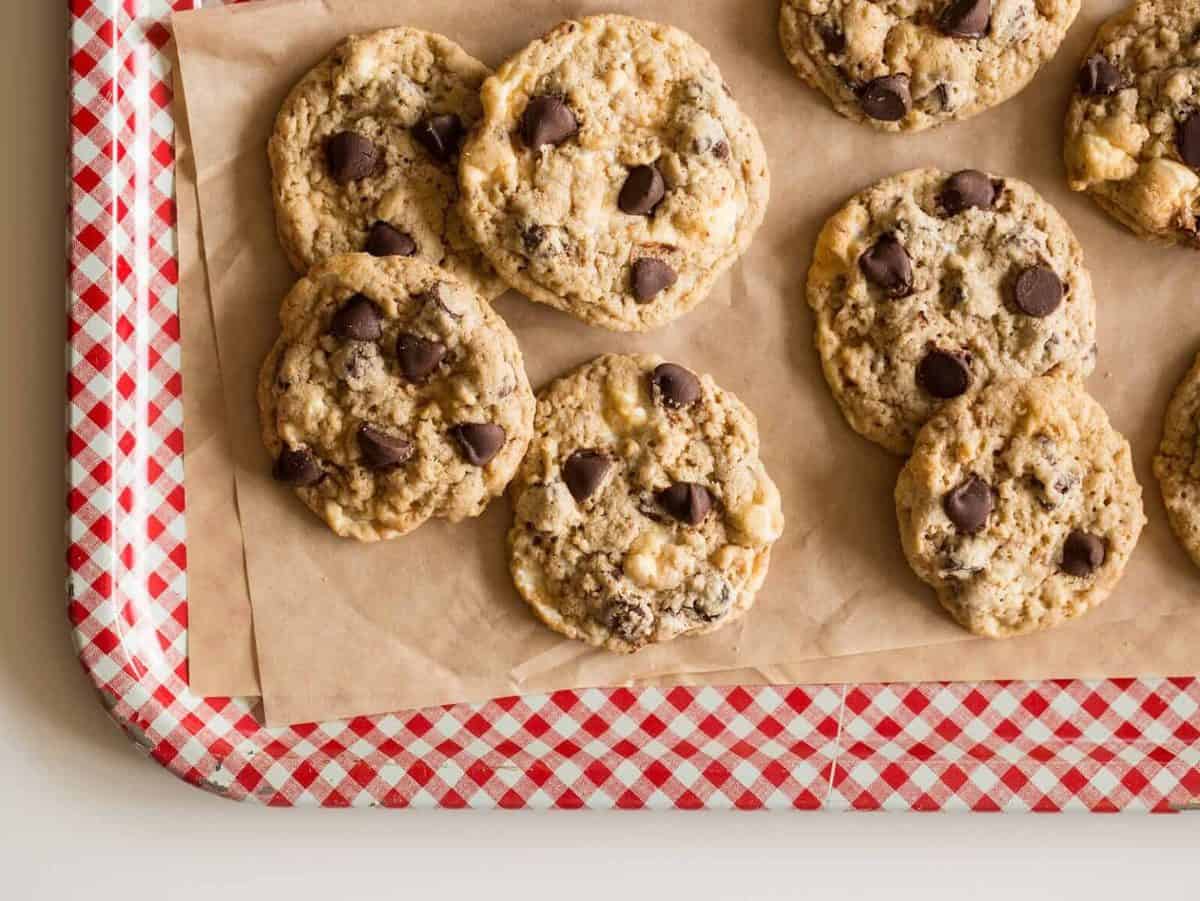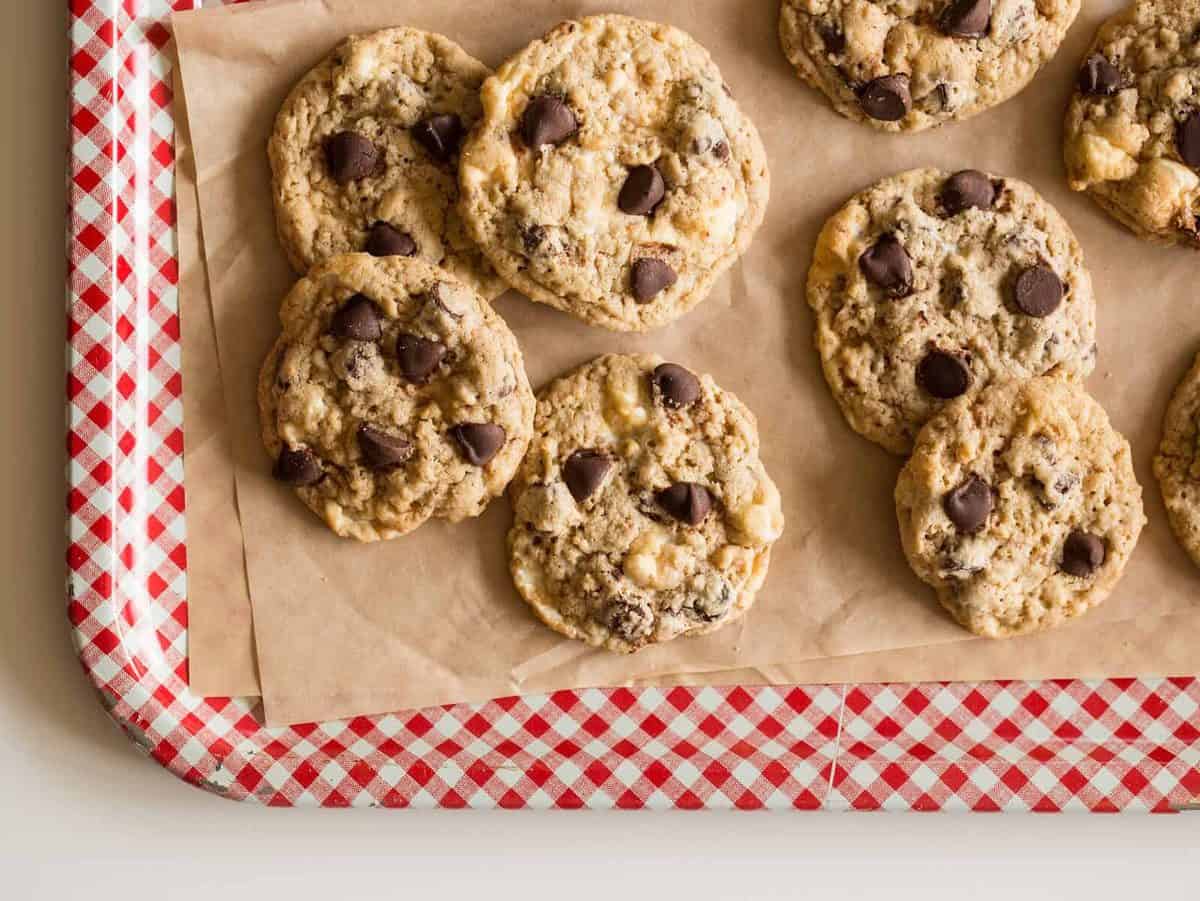 ---
18. We love food mashups and these Peanut Butter and Jelly, Potato Chip Thumbprint Cookies do not disappoint! They're sweet, salty, fun, and delicious! This unique Christmas cookie recipe is so fun and the nostalgic flavors take you right back to your childhood!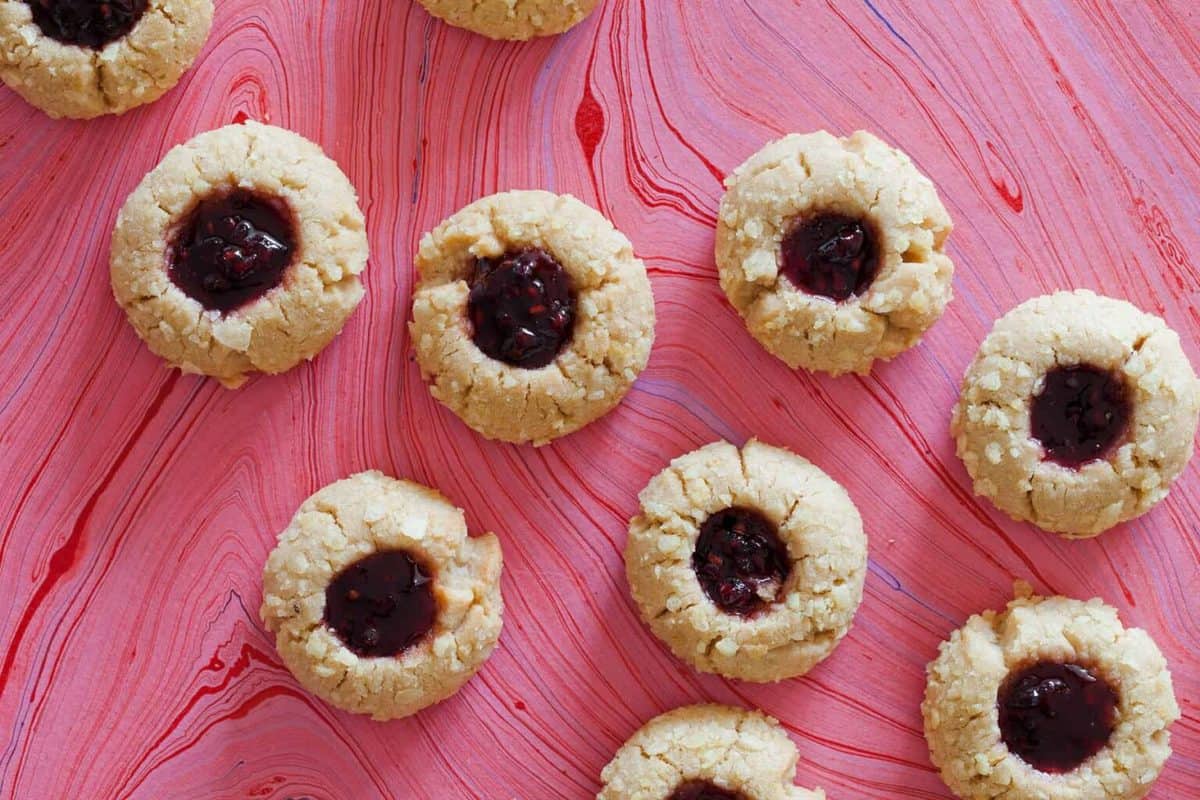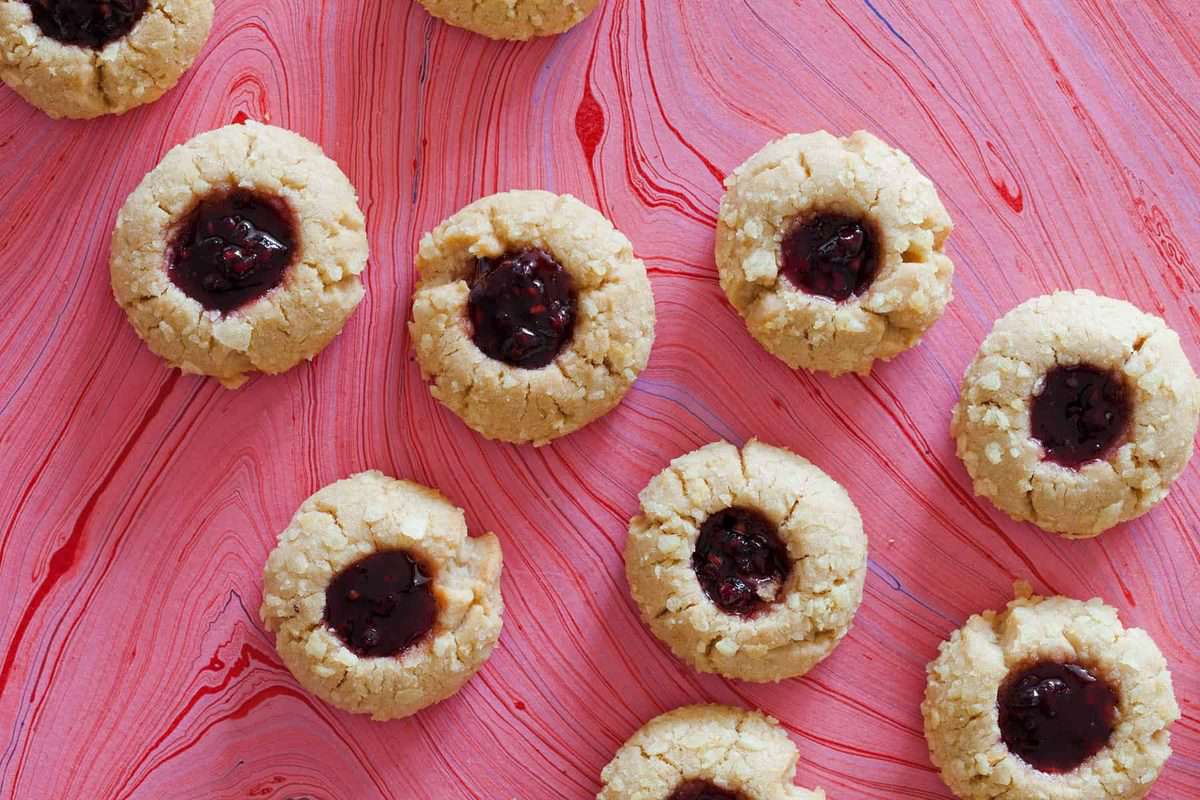 ---
19. We love these Oatmeal Chocolate Chip Sandwich Cookies. You get the chewy goodness of an oatmeal cookie, but we've swapped the raisins (just not a fan!) out for chocolate chips! We've sandwiched them with creamy, vanilla frosting to give them an old school Little Debbie oatmeal creme pie vibe. So good!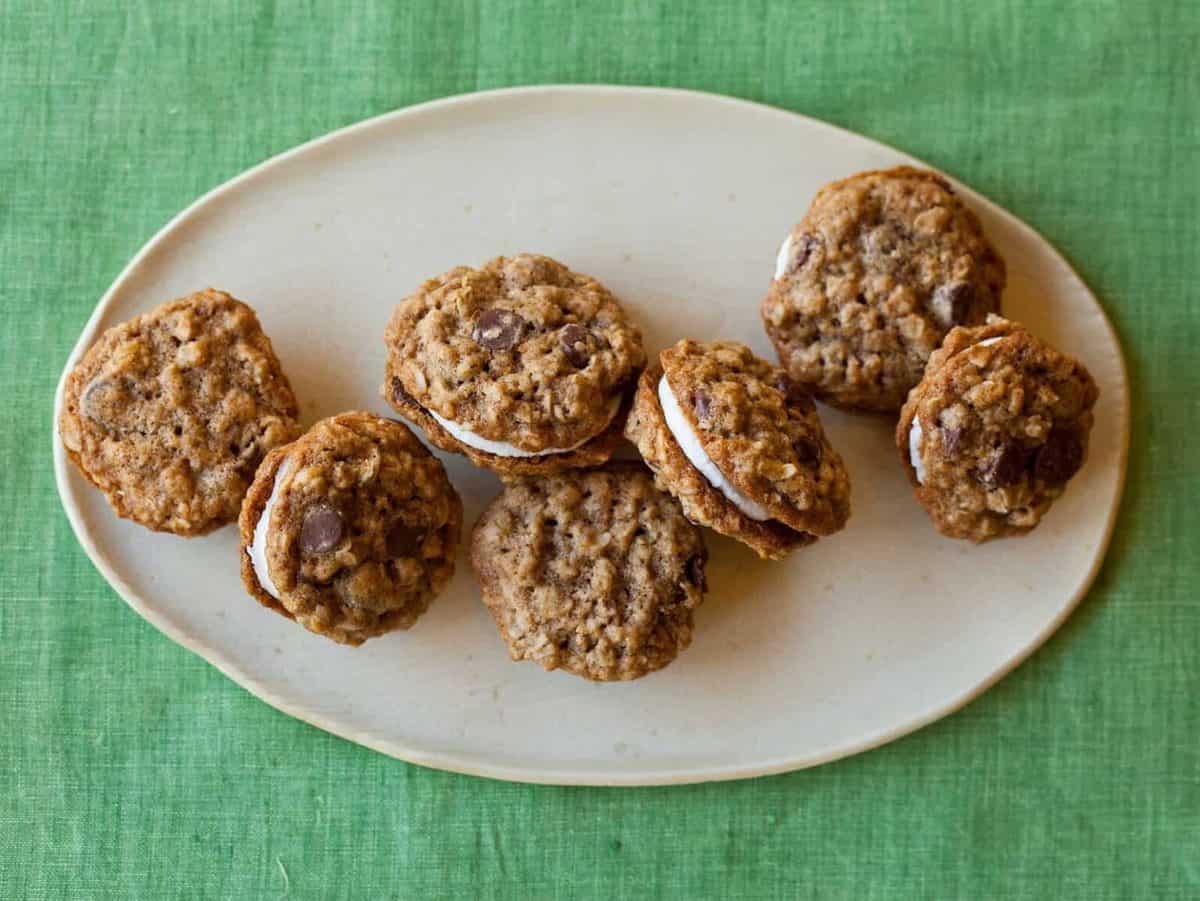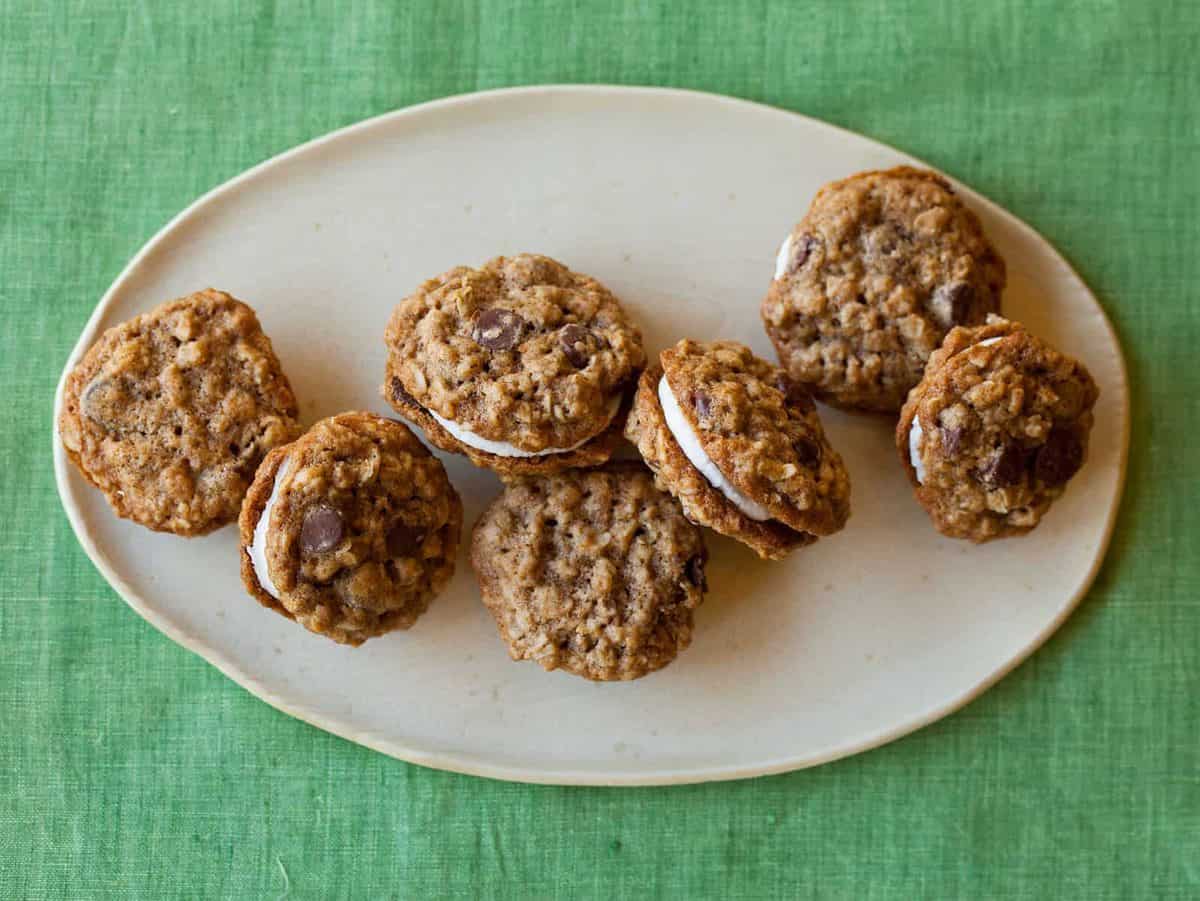 ---
20. We have another fun mashup for you guys with our Salted Twix Cookies! We've basically turned one of our favorite childhood candy bars and turned them into Christmas cookies! They're so decadent and delicious and make perfect edible holiday gifts!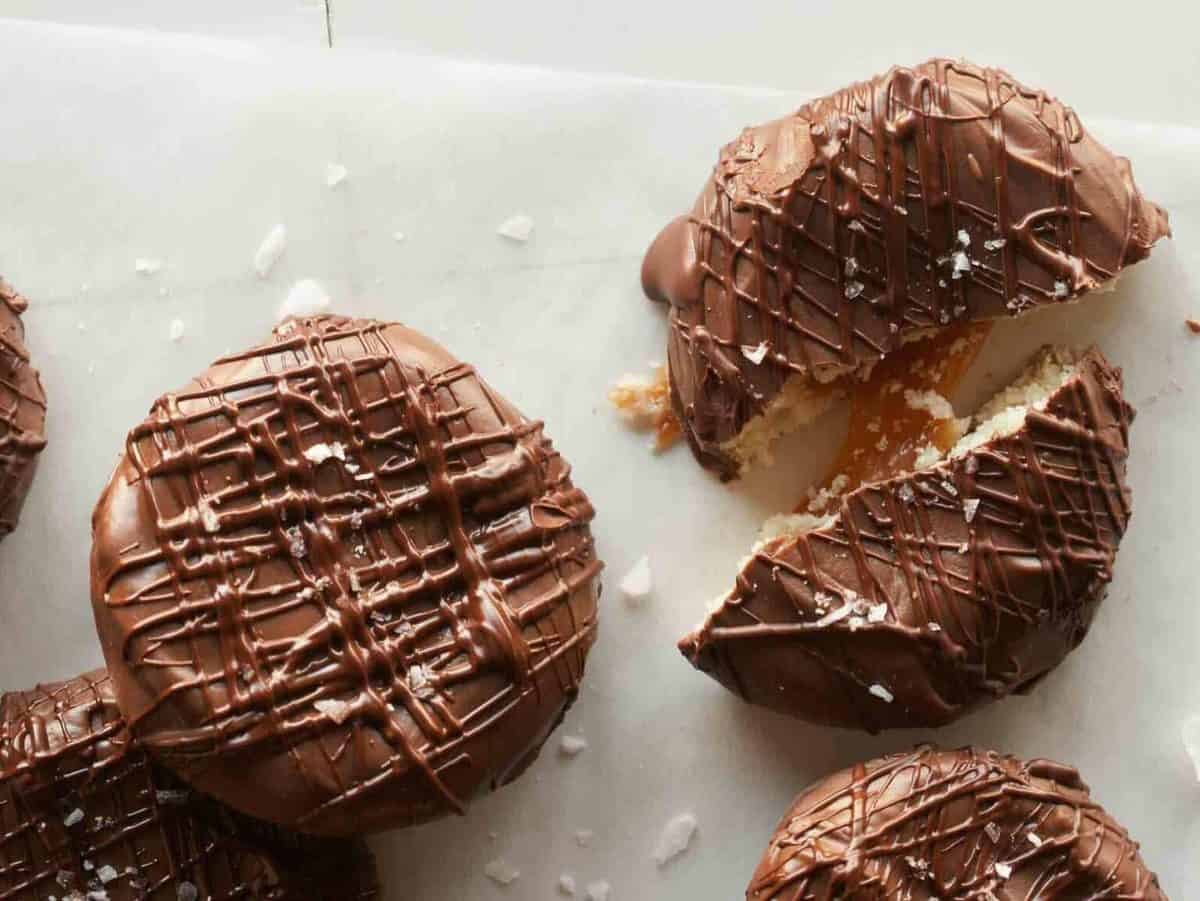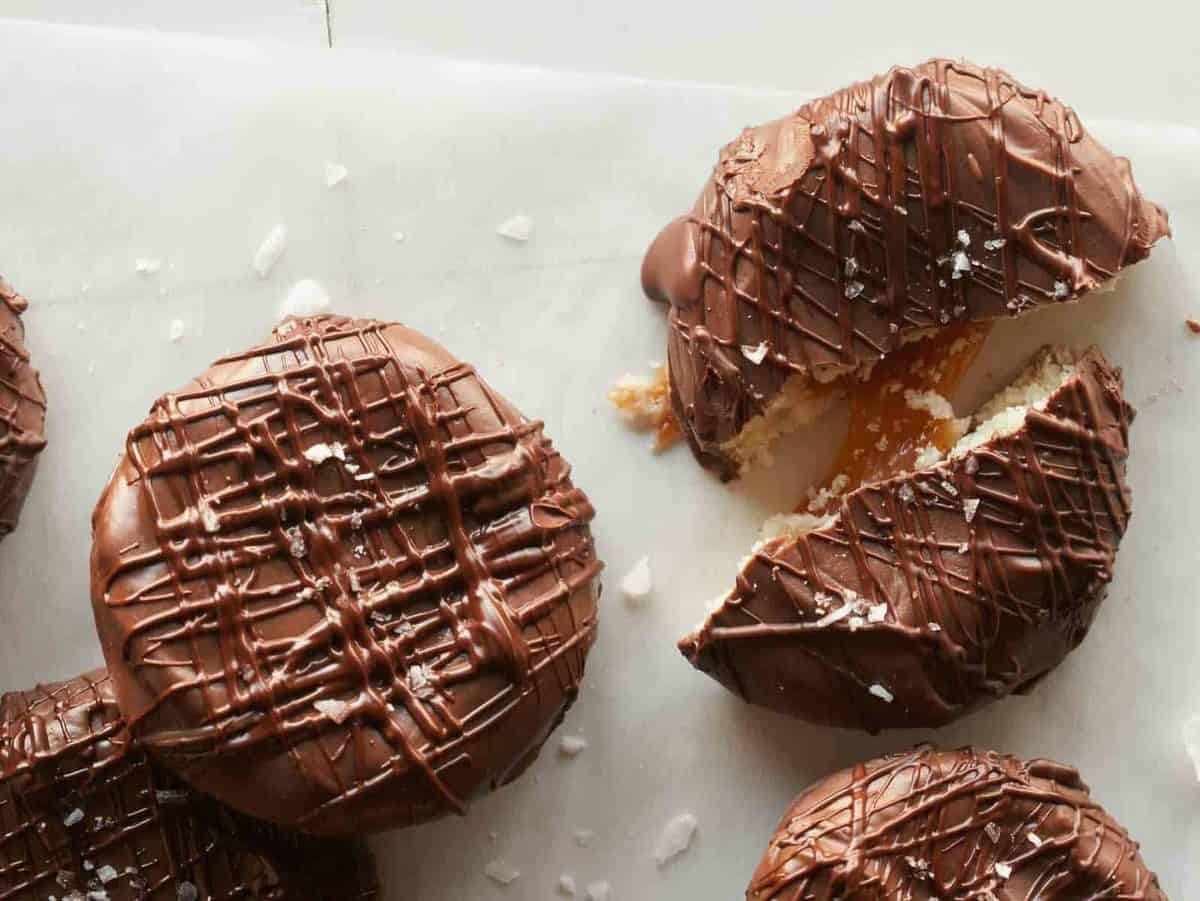 ---
21. Soft and Fluffy Sugar Cookies with Vanilla Frosting are our version of those addicting Lofthouse sugar cookies, without all the hard to pronounce ingredients. Our version is super soft and fluffy. We made sure not to make the cookie too sweet, so that it's well balanced with the thick layer of vanilla frosting we've slathered on top!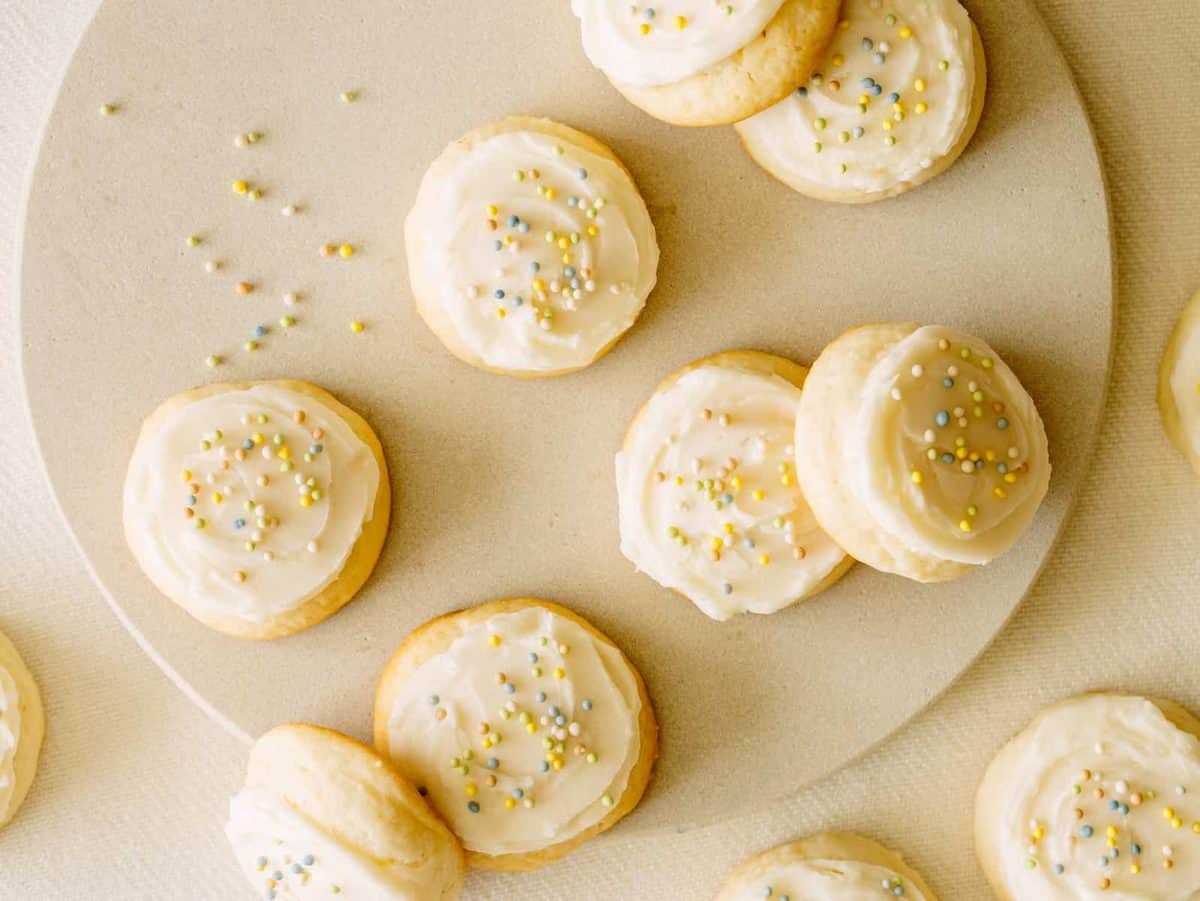 ---
22. These Blueberry and Cardamom Oat Cookies are another cookie that goes great with coffee or tea. The subtle hint of cardamom make this a delicious Christmas cookie recipe to enjoy throughout the season. We use fresh blueberries, but when they're not in season, we love using frozen blueberries with equally great results!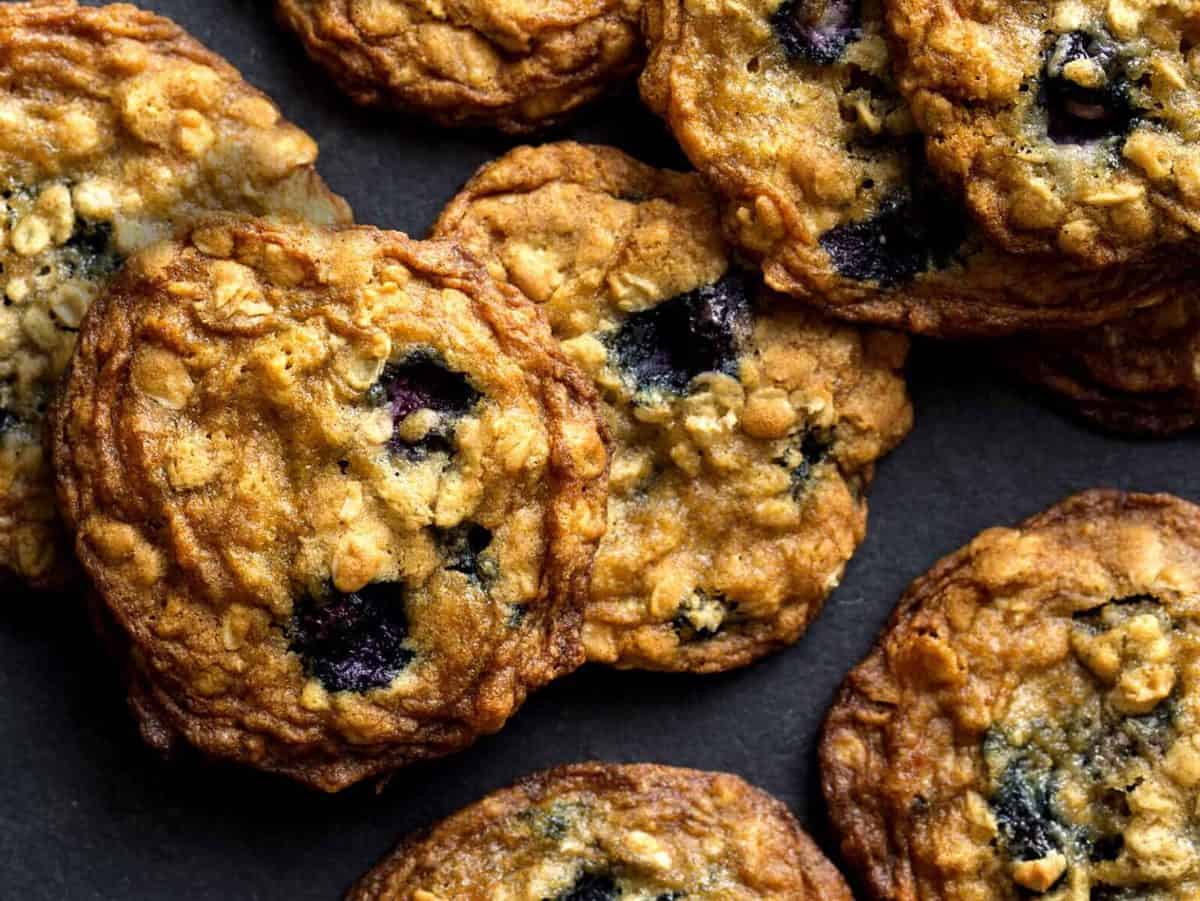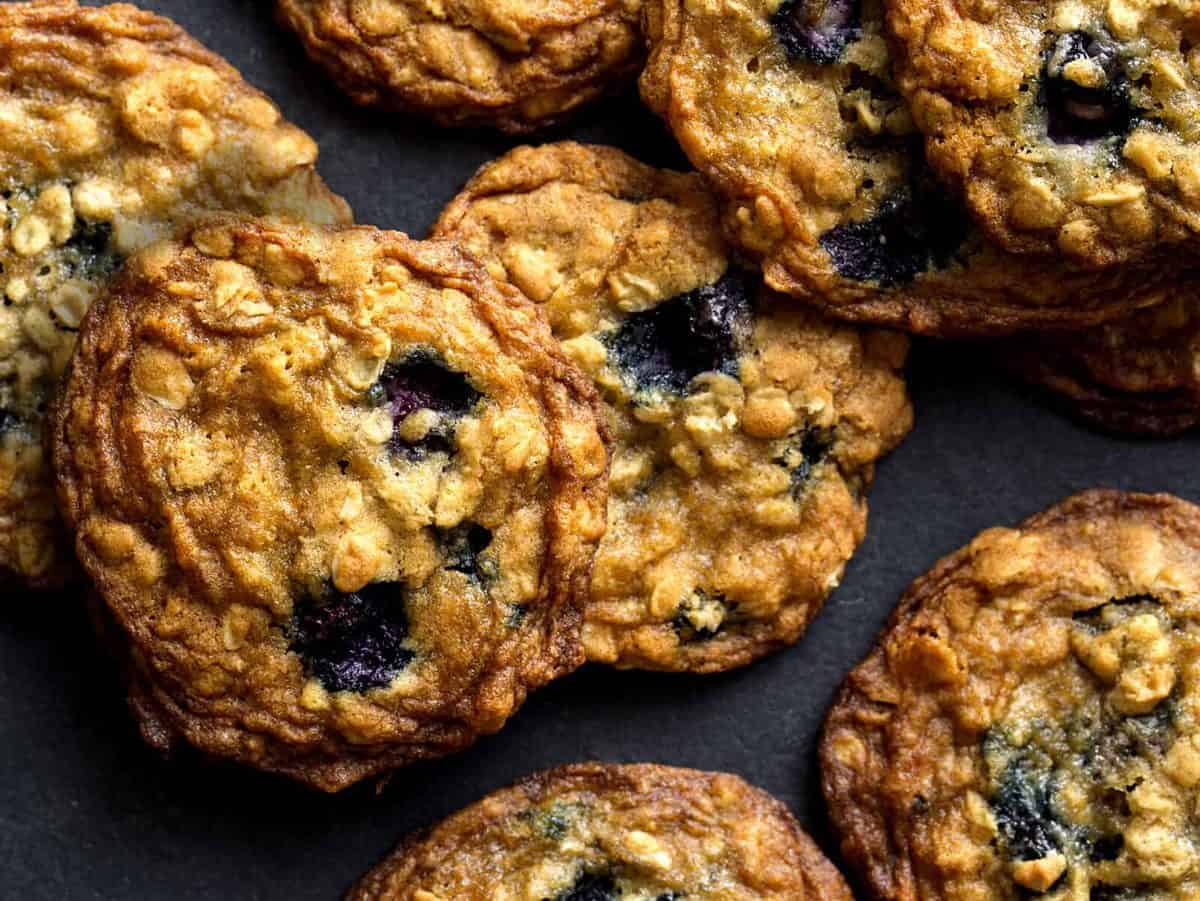 ---
22. Our Peanut Butter Stuffed Chocolate Cookies are super decadent and delicious. It combines the classic combination of peanut butter and chocolate, but takes it one step further with an extra dip in melted white chocolate at the end and light sprinkle of dry roasted peanuts, for texture. If you have a peanut butter chocolate lover in your life, this holiday cookie is for them!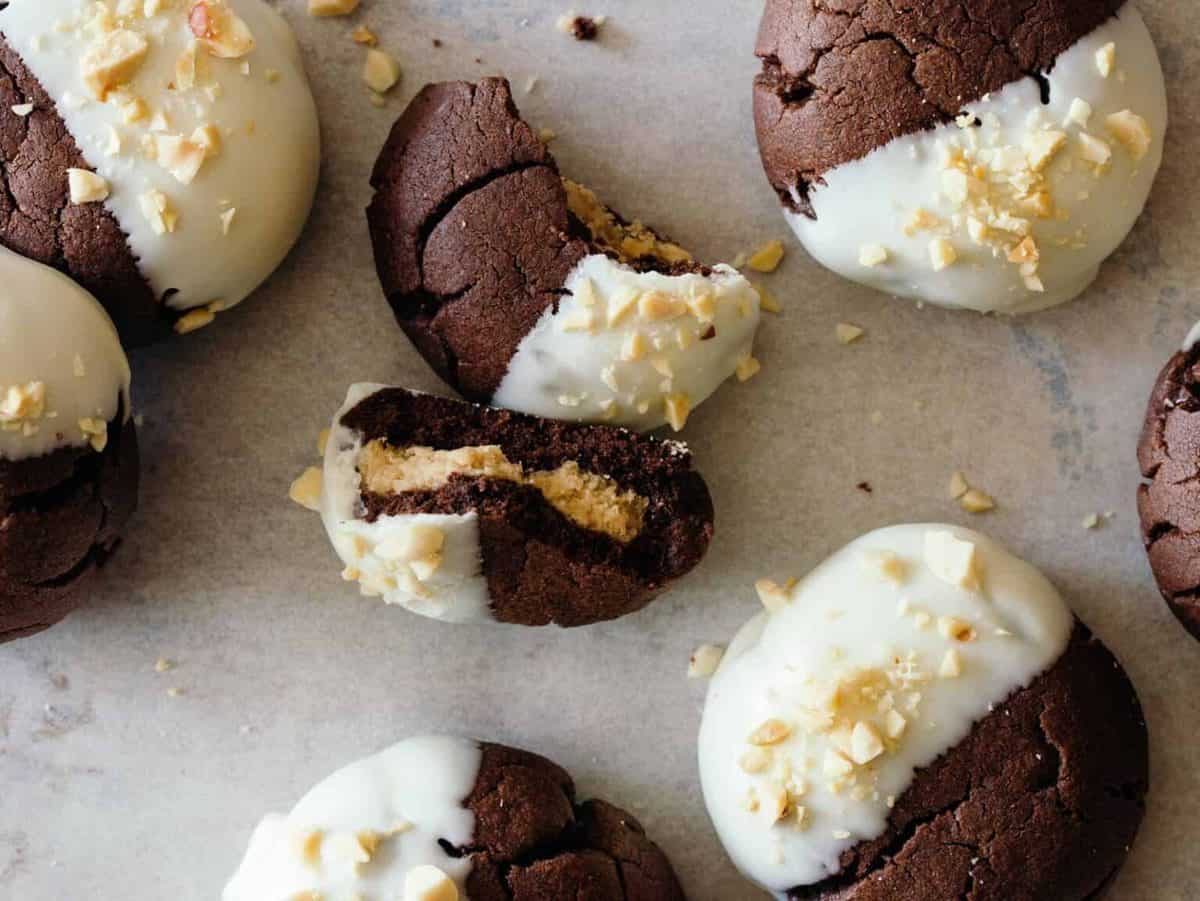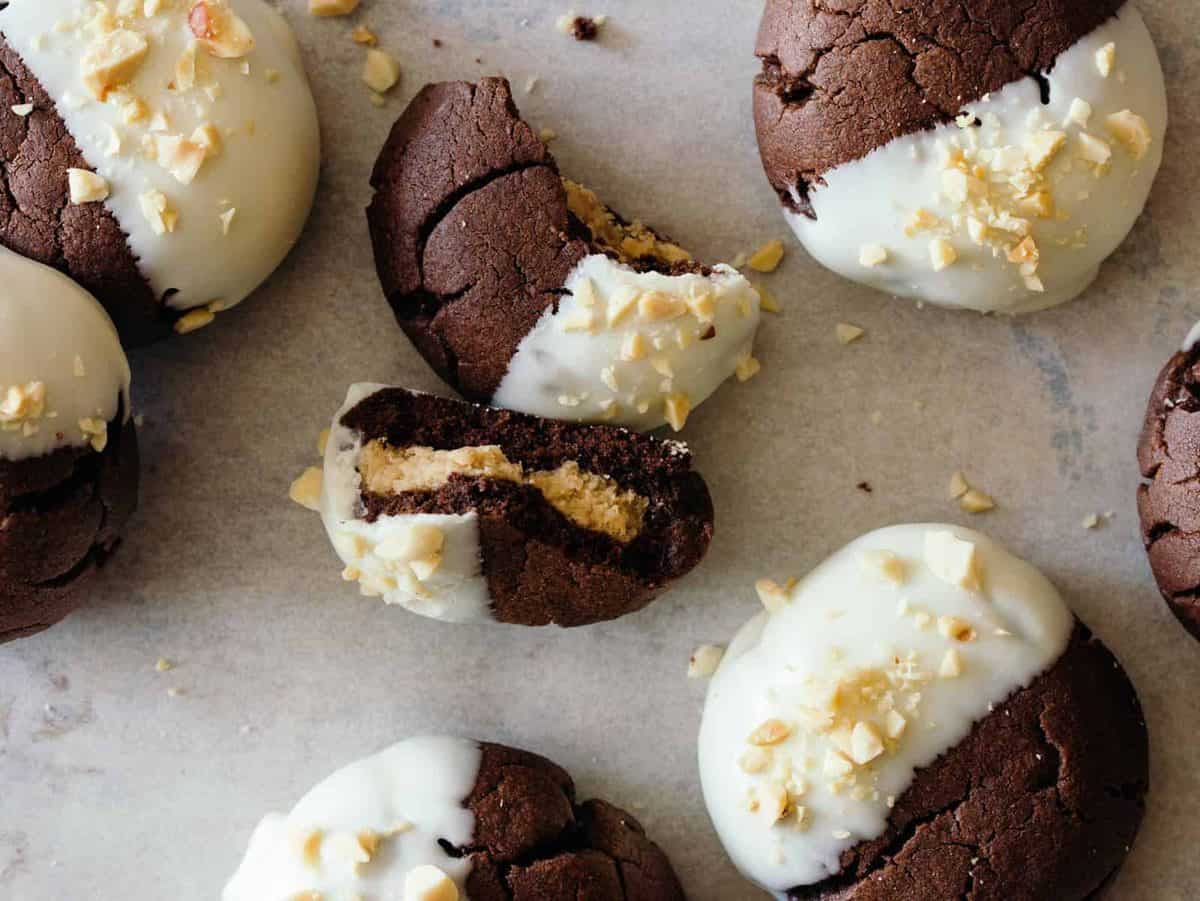 ---
23. We have our soft and fluffy Strawberry Shortcake Cookies. These cookies have an almost biscuit texture to them, to mimic the shortcake version. The vanilla glaze makes these cookies extra cute in addition to giving them an extra touch of sweetness.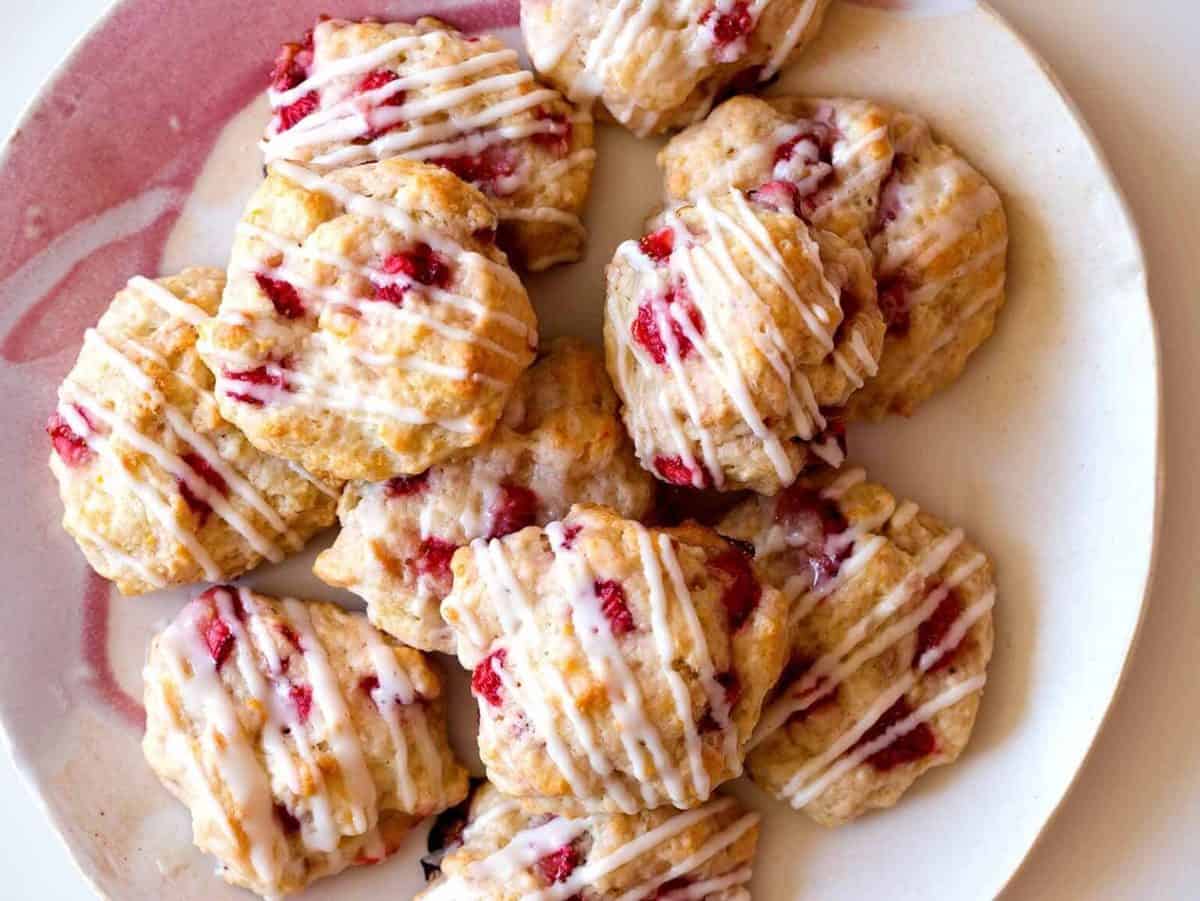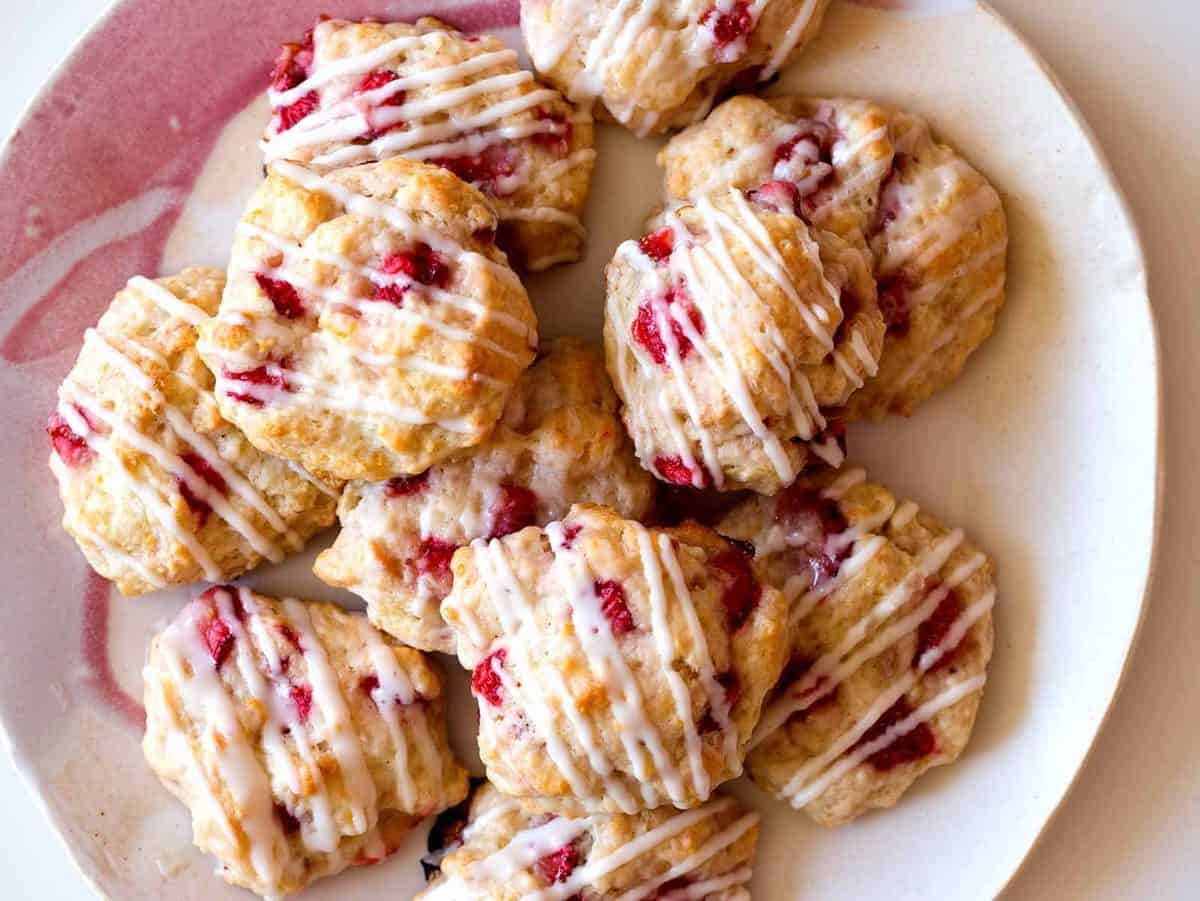 ---
24. These delicious Chocolate Covered Ritz Sandwich Cookies are super easy to make, and a great little project to do with kids! Creamy peanut butter is sandwiched between two buttery Ritz crackers and dipped in milk chocolate, for a truly decadent treat everyone will love.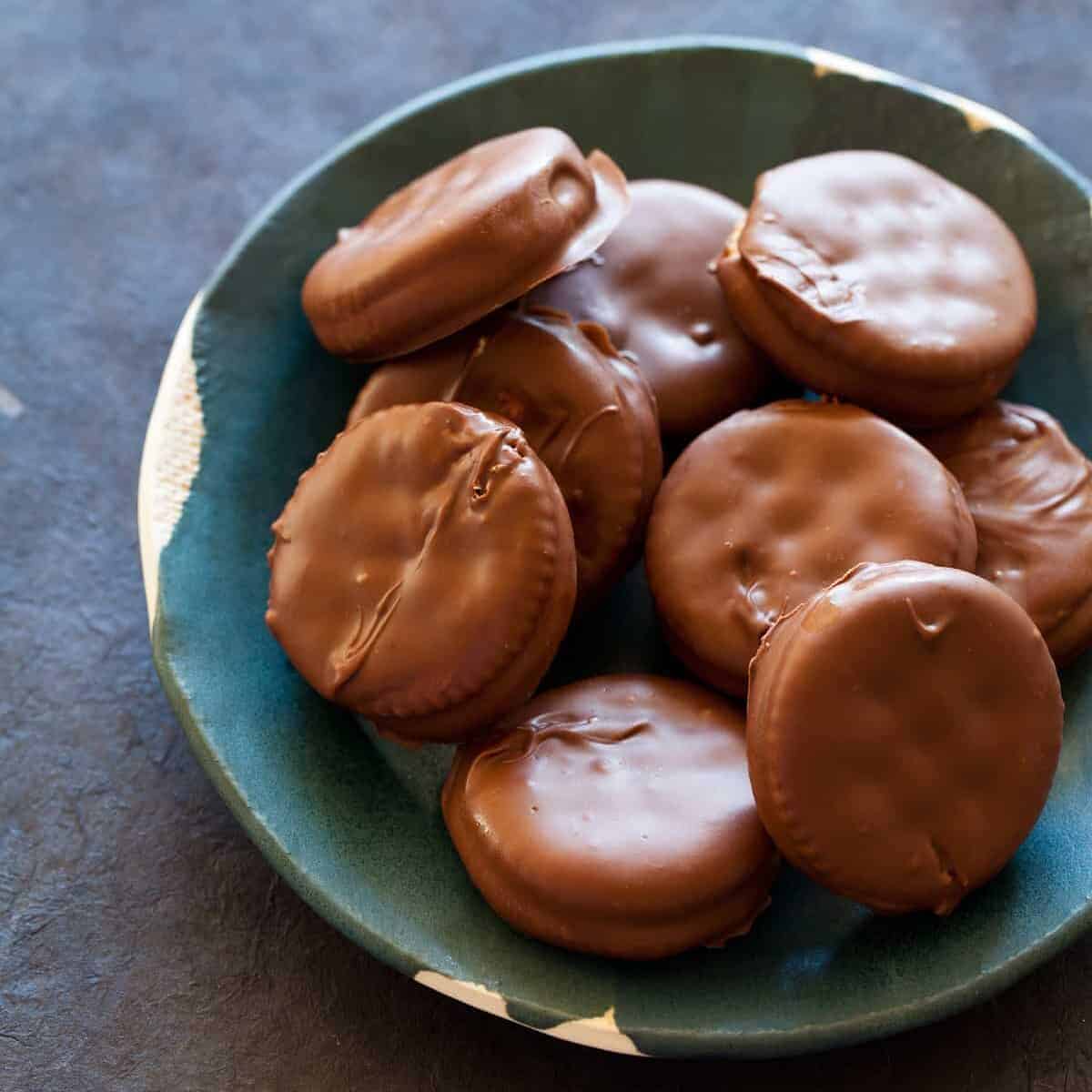 ---
25. Our Salted Browned Butter, Chocolate, and Toffee Chips Cookies are a simple yet delicious cookie! It's a twist on the classic chocolate chip cookie with the addition of browned butter and use toffee chips. It makes for an incredibly addicting cookie!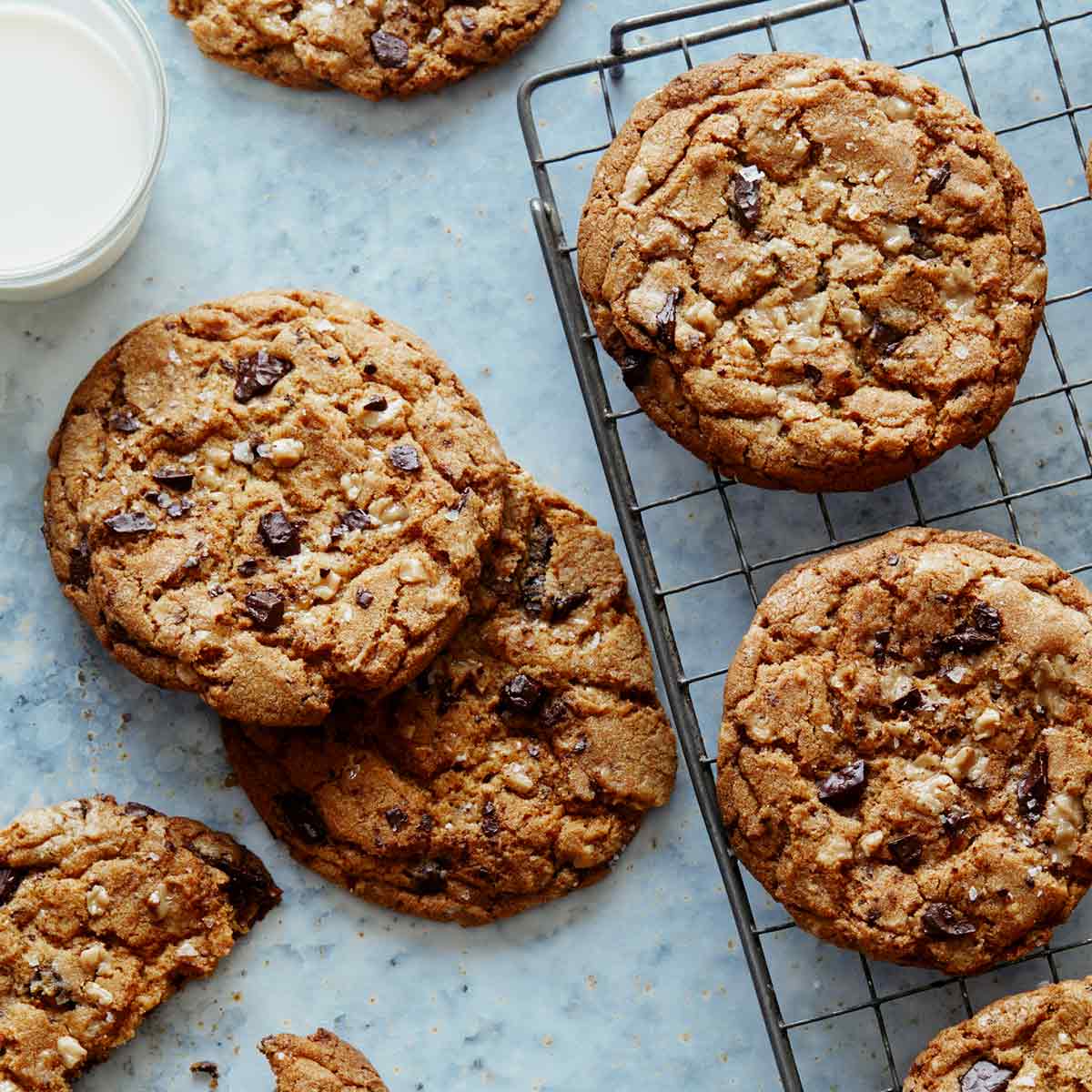 ---
Sifting through Christmas cookie recipes and deciding which ones we're going to make, are one of our favorite things about the holiday season. Not much beats the smell of cookies baking in the oven, wafting through the house.
We also have other delicious holiday dessert recipes that aren't cookies, if you're looking for something a little different. Some of our favorites are our French Silk Pie, Creamy No Bake Peanut Butter Pie , Mini Citrus Bundt Cakes with Sweet Lemon Glaze, Apple Cake with Chai Spiced Buttercream, Pumpkin Cake with Pistachio Glaze, and our Caramelized Pear Tart. Enjoy!
You might also like our post for The Best Christmas Appetizers or 50+ Gift Ideas for the Holidays!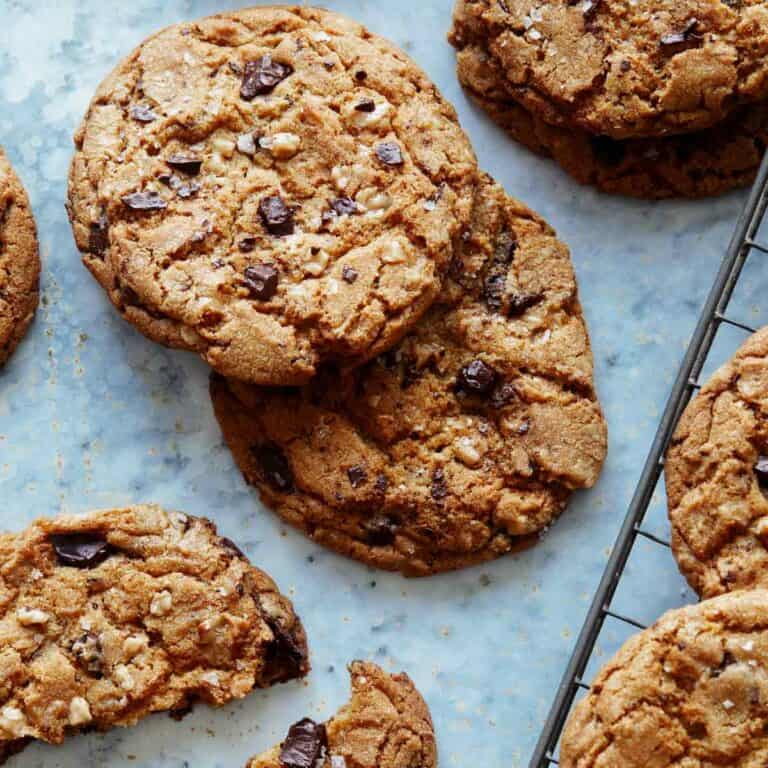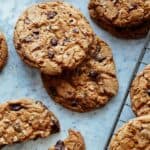 ---
25 Christmas Cookies: Brown Butter Chocolate Toffee Cookies
Our 25 Best Christmas Cookie Recipes are packed with a variety of cookies that are perfect to give as gifts or to make with family. Everything from chocolate dipped cookies to beautiful snowflake sugar cookies, there's something for everyone. These Browned Butter Chocolate Toffee Cookies are a flavorful twist on the classic chocolate chip cookie!
INGREDIENTS
1

cup

(2 sticks) unsalted butter, softened and divided

1

cup

superfine sugar

granulated is fine

½

cup

light brown sugar

1 ½

teaspoons

molasses

1

teaspoon

vanilla extract

1

large egg

1

large egg yolk

2 ⅓

cup

all-purpose flour

1

teaspoon

baking soda

1

teaspoon

kosher salt

1

cup

dark chocolate, chopped

⅔

cup

toffee chips

sea salt flakes
INSTRUCTIONS
Melt 1 stick butter in a small saucepan over medium-low heat and continue to cook until butter begins to smell nutty and lightly brown. Remove from heat and cool completely.

Place remaining stick of butter and cooled browned butter in a bowl and using an electric mixer, beat until light and fluffy.

Add both sugars and continue to beat together until light and fluffy.

Scrape down sides of the bowl, add molasses and vanilla and continue to mix together.

Stir in egg and egg yolk.

In another bowl whisk dry ingredients together and add to the butter mixture.

Beat together until a dough comes together.

Fold in chopped chocolate and toffee chips until fully combined.

Wrap dough in plastic wrap and chill in the refrigerator for at least 1 hour and up to 3 days.

Scoop 3 ½ tablespoon sized balls onto a parchment lined baking sheet, about 1 ½ inches apart.

Sprinkle cookies with sea salt flakes and bake for 12 to 14 minutes or until cookies are golden brown.

Cool cookies and serve warm.
Calories:
249
kcal
Carbohydrates:
30
g
Protein:
2
g
Fat:
13
g
Saturated Fat:
8
g
Cholesterol:
42
mg
Sodium:
159
mg
Potassium:
86
mg
Fiber:
1
g
Sugar:
19
g
Vitamin A:
336
IU
Calcium:
18
mg
Iron:
2
mg
KEYWORD:
chocolate, cookies, toffee