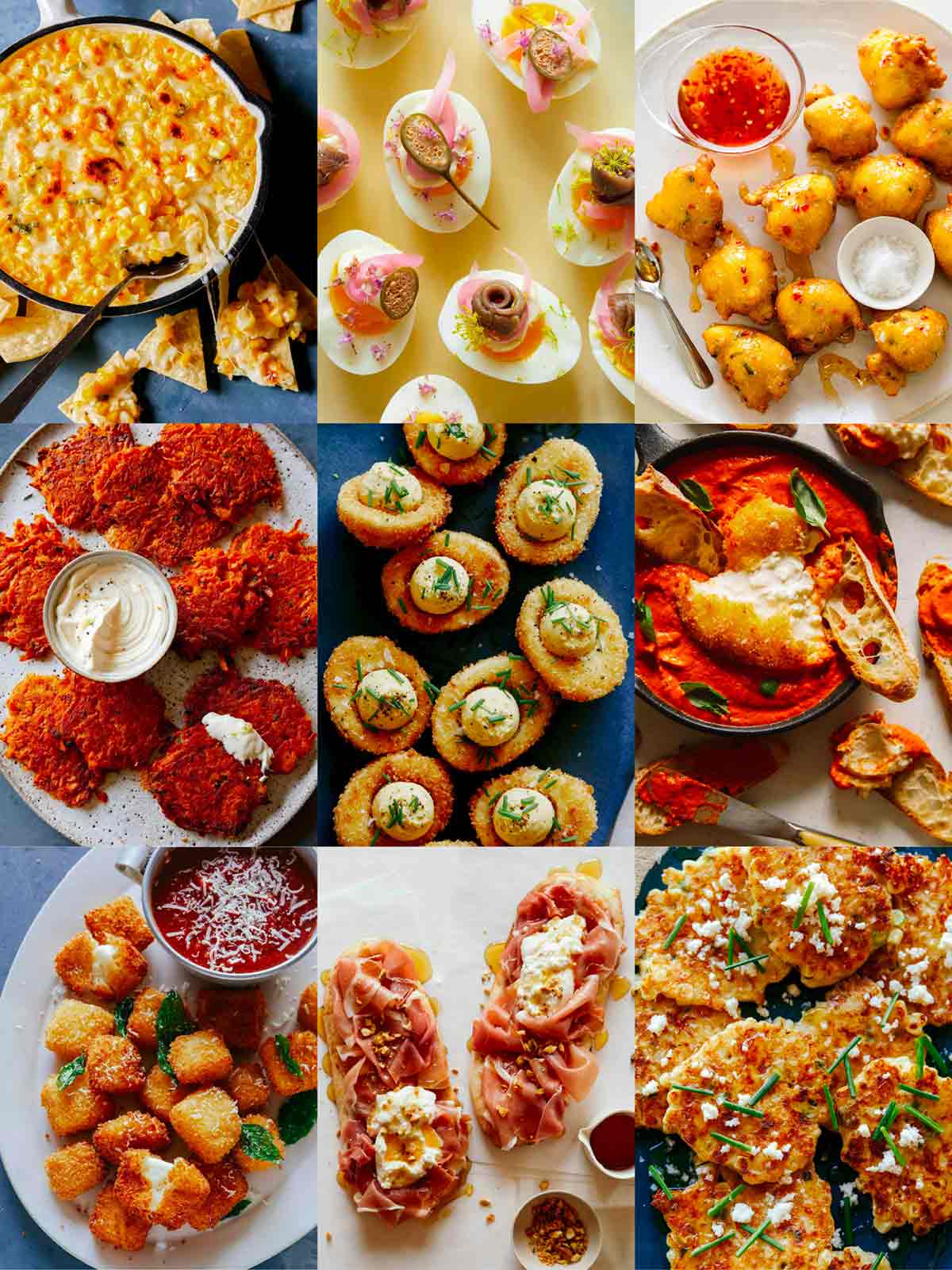 Christmas appetizers are one of our favorite things we look forward to every year! This year Christmas will undoubtedly look different for everyone, but that doesn't mean you have to skip out on the good party food! Appetizers are one of our favorite things to make. They often serve as the sustenance you need as you put together the finishing touches on your big (or small!) Christmas dinner.
We have quite a few appetizer and snack recipes on our site, but we cherry picked this collection of Christmas Appetizer ideas that we think are perfect for Christmas day or Christmas eve.

This list runs the gamut from easy Christmas appetizers that are no bake, to some Christmas appetizer ideas that are unique and fun twists on classics. Either way, we think these are some of the best Christmas appetizers you can find.
Don't miss our Best Christmas Cookie Recipes post! Or our 50+ Holiday Gift Ideas to help you with all your gifting needs!
Fritters And Savory Cakes – The Christmas Party Appetizers That We Love Most
Crispy fritters and cakes are on of our go to Christmas Appetizer ideas. They are easy and yummy, and often times cheesy! Here is a collection of our favorite Christmas appetizer ideas:
Cheesy Sweet Potato Fritters – These cheesy sweet potato fritters are great because you can make these ahead and re-heat when you are ready. We serve ours with a little sour cream!
Corn Cakes – This is one of my favorite Christmas appetizer ideas we have on the site. Cooking these in a cast iron makes the corn cakes really crispy. We serve them drizzled with honey and top with a sprinkling on chives and queso fresco cheese. Yum! Don't worry if you can find fresh corn right now, we have a recipe note on how to use canned corn!
Our Shrimp Fritters are one of my favorite appetizers we have on the site. Light and airy fritters melt in your mouth! These fritters are studded with shrimp and go perfectly with our delicious spicy honey drizzle. The perfect finger food!
Root Vegetable Fritters – These Root Vegetable Fritters are a perfect Christmas Appetizer idea. Crispy vegetable fritters are great if you are looking for a lighter option. You can serve this appetizer with sour cream, or just a sprinkling of cheese. I love a little feta on top of these!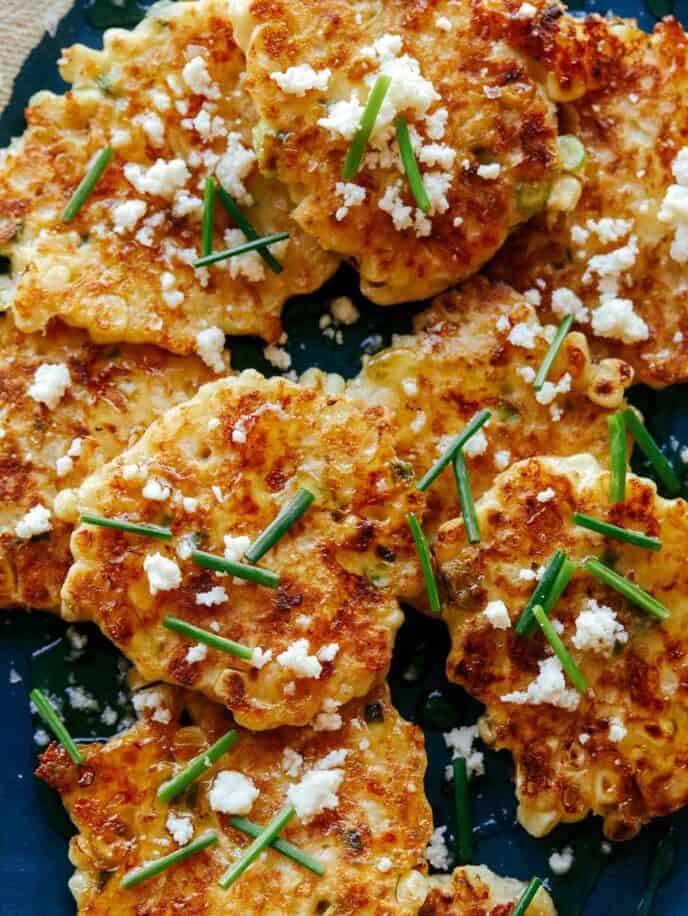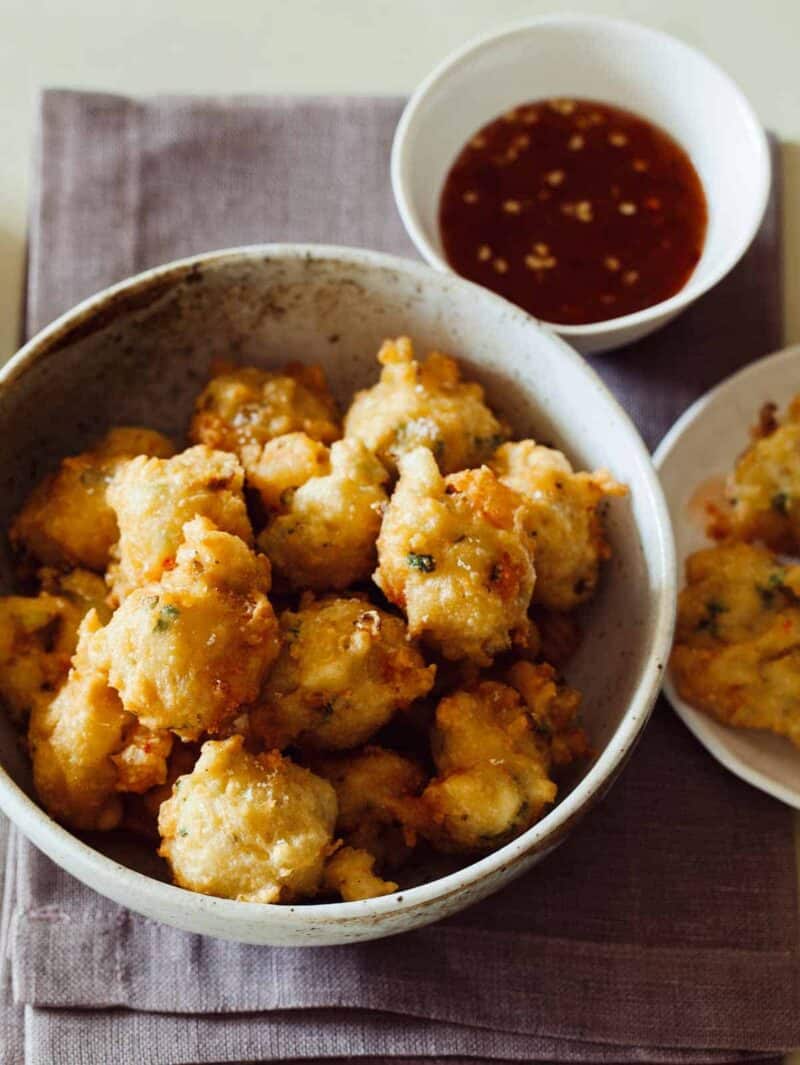 Cheese Please! Cheesy Christmas Appetizers That Are Sure To Be Crowd Pleasers!
Honey Brûléed Brie – Starting this collection off with a bang – our Honey Brûléed Brie is one of the best our of all our Christmas party appetizers. The brie softens in the oven, and the top gets a delicious caramelized skin. Serve this with crackers or crudité, and even a collection of charcuterie. This recipe is easy and a crowd pleaser!
Brie Filled Baklava – This may be solidly in the dessert category for some, but these are so delicious that I everyone will be so excited to see this offered as an app. Every time I brought these to a party people fall in love with this recipe.
Halloumi Nuggets – Think of this appetizer recipe as a fancy version of mozzarella sticks. Halloumi is a firmer cheese that is a little salty. Once fried it gets a little soft, and makes perfect little nuggets. We paired these with marinara sauce but you can also serve them with a bbq sauce, or even ranch!
Savory S'mores – This recipe is definitely a unique Christmas appetizer idea! Homemade buttery herb and cheese cookies ( or use store-bought!) topped with toasted brie, prosciutto, and a honey drizzle. These are insanely good and a must at your next holiday party!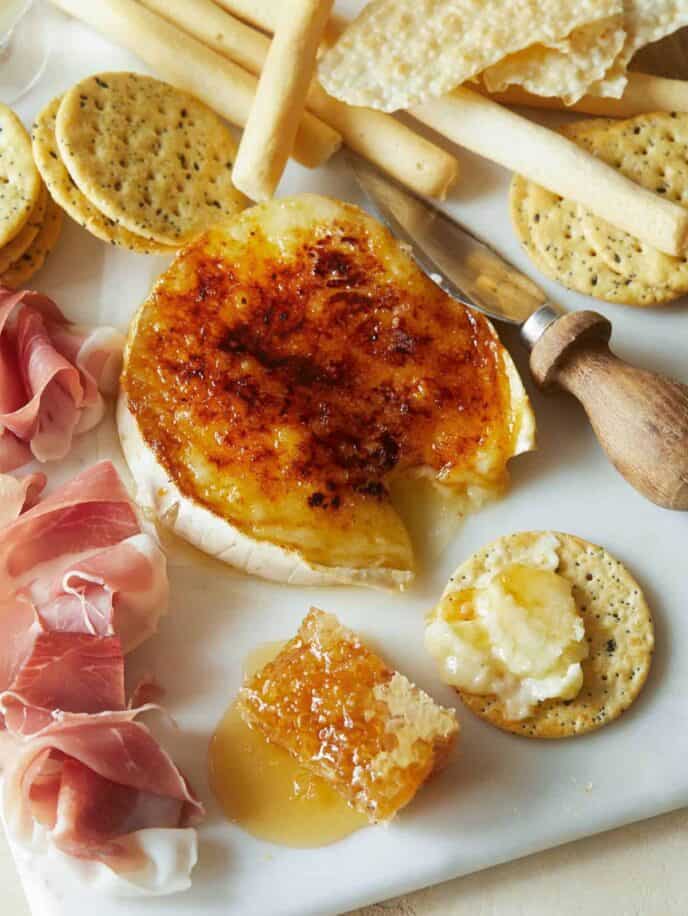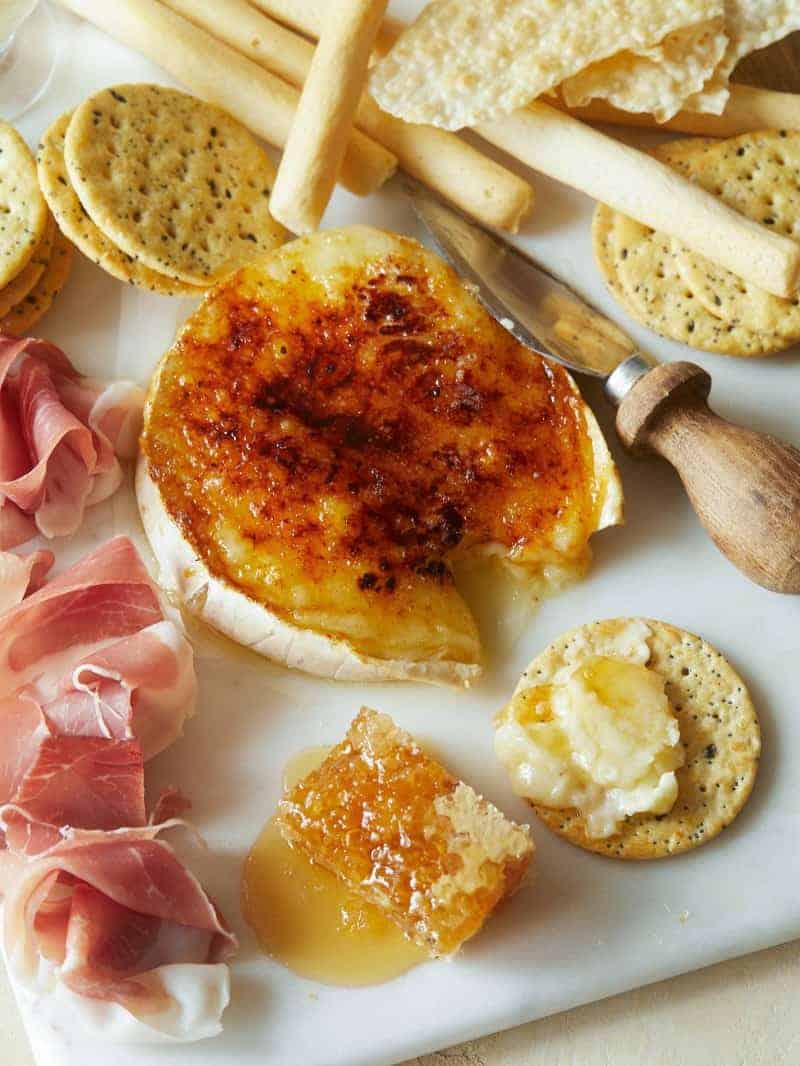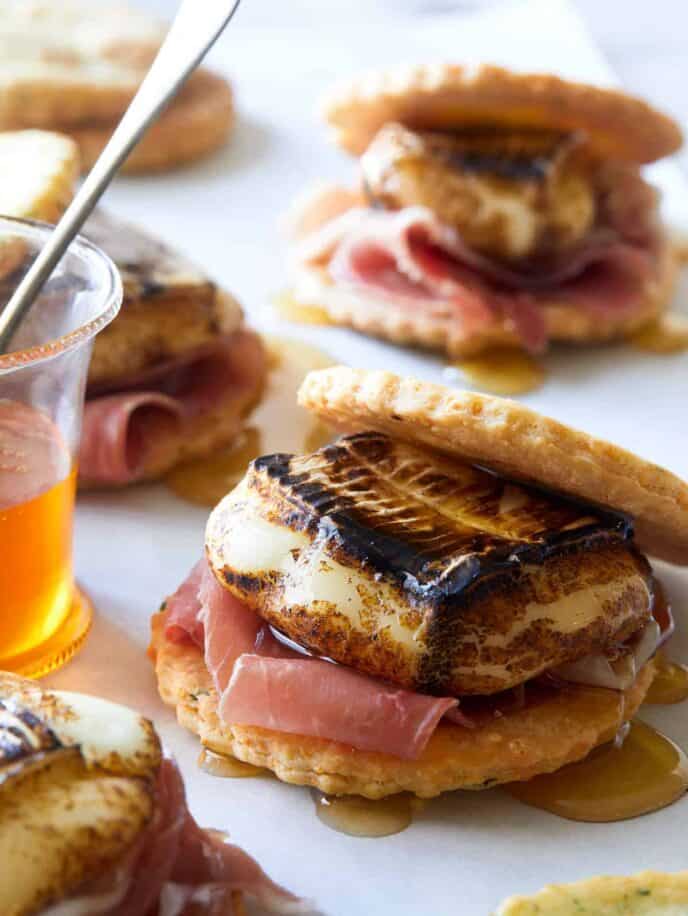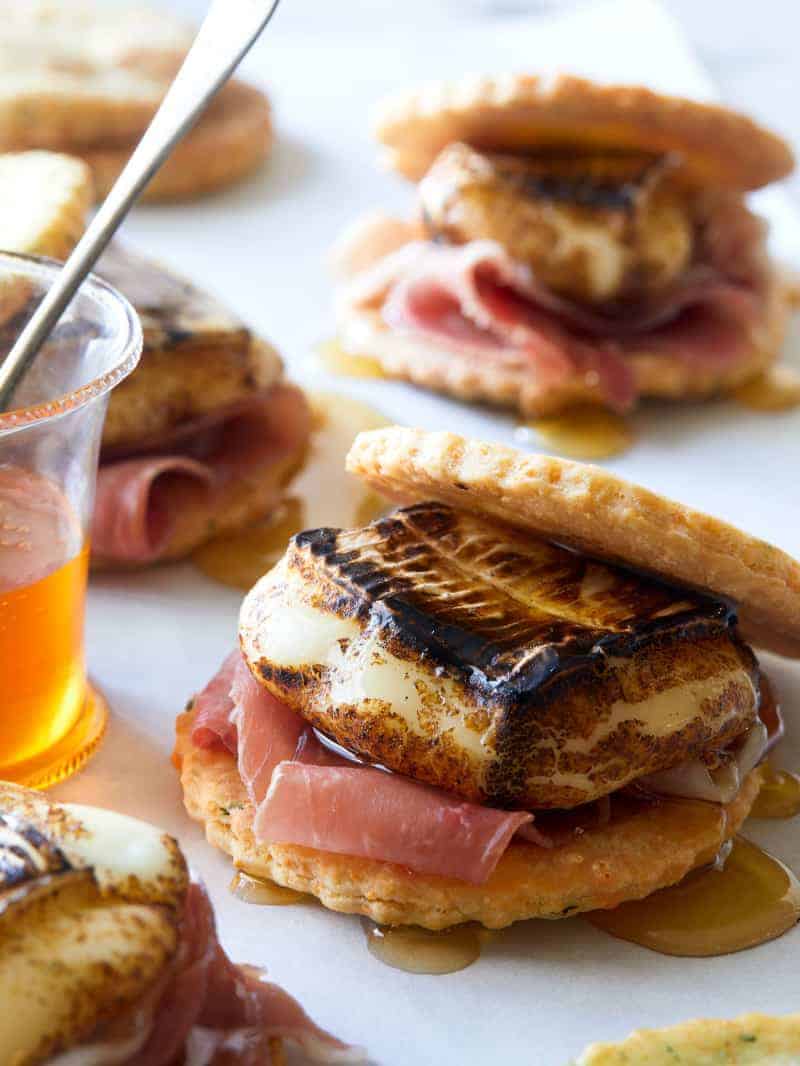 Our Favorite Prep or Make Ahead Christmas Appetizers
Buffalo Chicken Dip – Our Buffalo Chicken Dip is true winner. You can prep it all ahead of time and just bake it off before guests arrive! The cream cheese makes the filling extra creamy and it's packed with delicious buffalo chicken flavor! Serve it with crudité, crostini, chips, crackers, whatever you want!
Coconut Shrimp – We love this Coconut Shrimp recipe so much! You can bread them all ahead of time and freeze them, so all you have to do is quick them a quick fry before your guests arrive!
Chicken Satay – Everyone will love these Chicken Satay skewers! The marinade gives these skewers such amazing flavor! You can prep all the skewers ahead of time and even grill them up to 2 days ahead of time. When you're ready to serve them, just warm them in the oven for a few minutes and serve!
Bruschetta – Classic Bruschetta is so fresh and delicious and something everyone loves! The topping and crostini can both be made up to 2 days ahead of time. Just assemble right before guests arrive!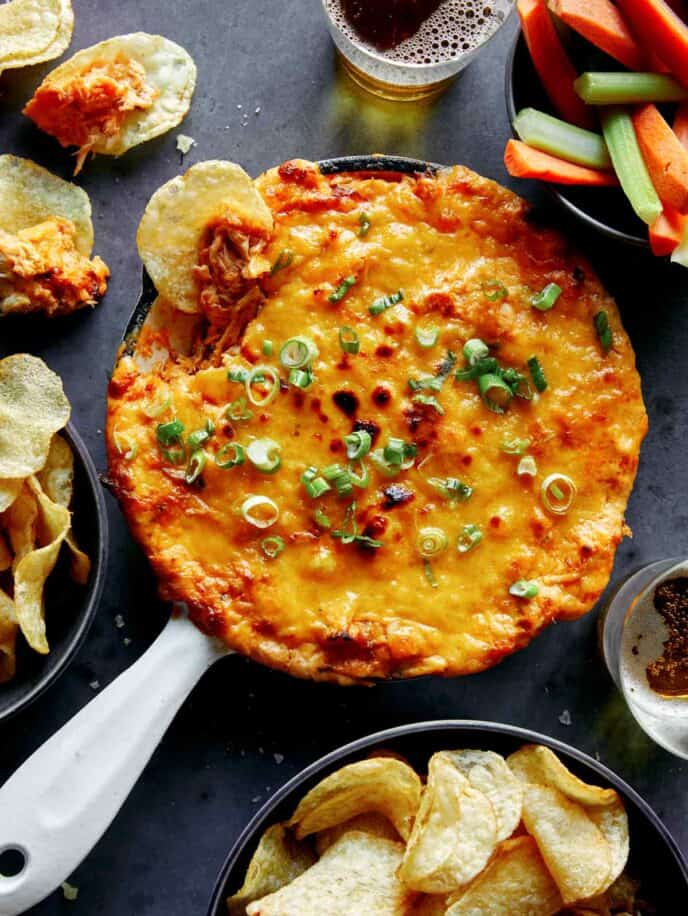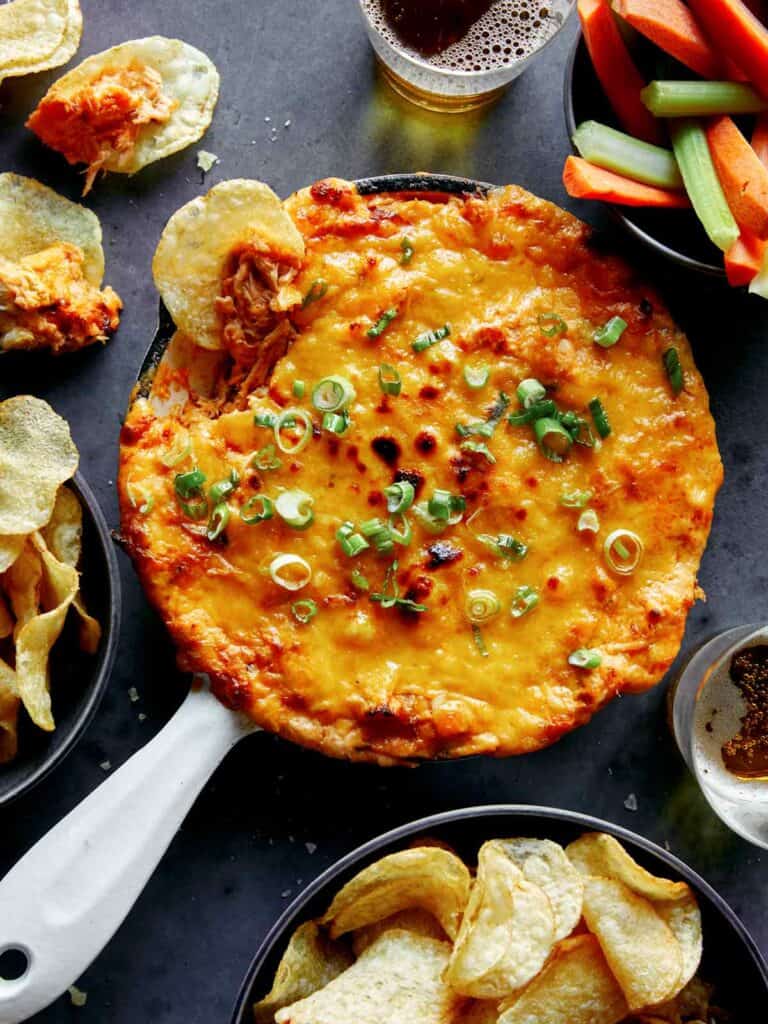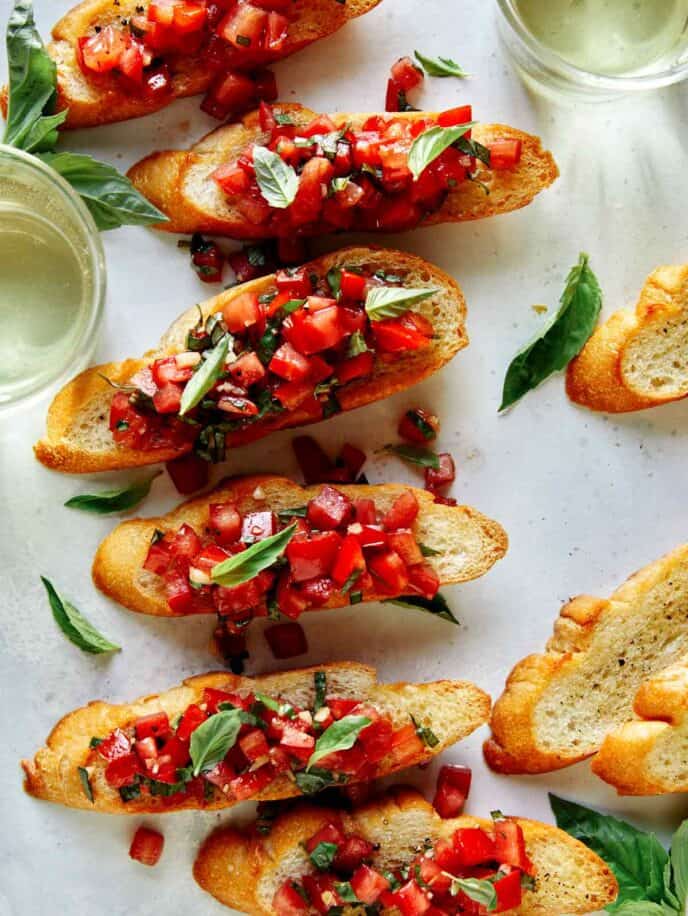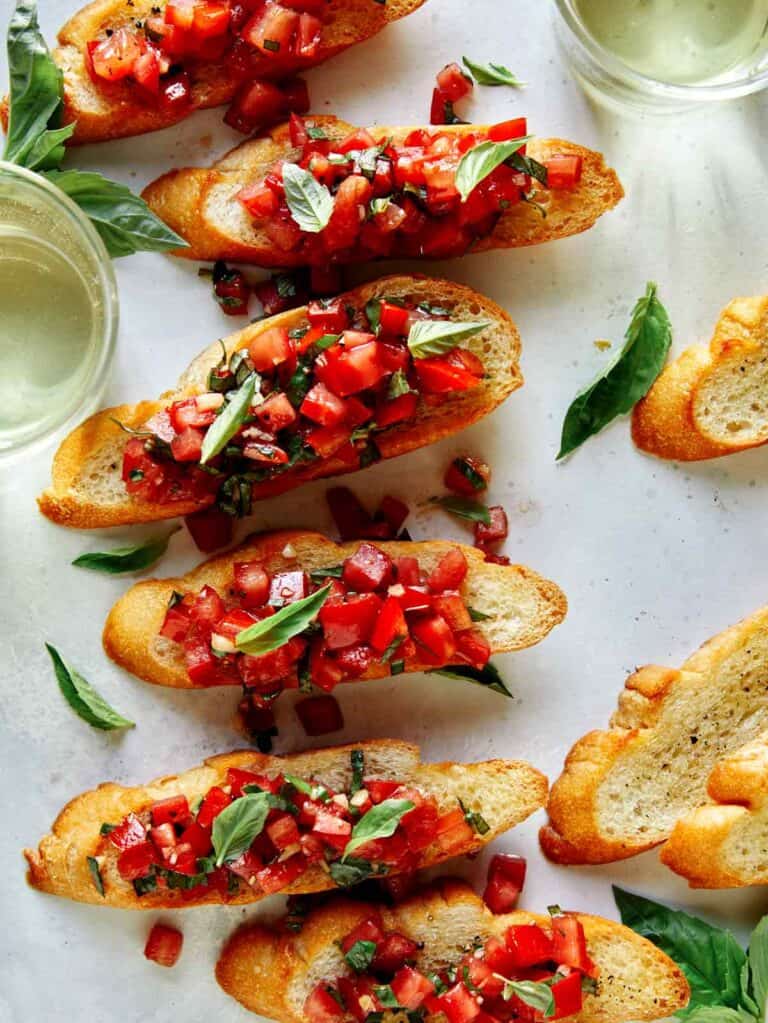 Easy No Bake Appetizers
Charcuterie Flatbreads – The beauty of this Christmas party appetizer is that they require no cooking. Yep! No cooking! This is more of an assembly situation. You can cut up these flatbreads to make more bite sized portions if that suits you better. You can also swap the burrata out for something like creamy goat cheese crumbles if you want to add a tart kick to the flatbreads, as well as swap the pistachios out for other nuts, walnuts being our next personal favorite here!
Prosciutto topped Cucumber Crostini – This a super easy appetizer to prepare because you can make these in advance and this recipe is easily customizable to your preferences. Cut the cucumber into smaller portions to make these bite-sized! The fresh crunch of the cucumbers pair so well with the rich and sweet toppings!
Black Pepper Lemon Asiago Dip – I love how easy this dip is to make! It's definitely a make-ahead, and you can serve it with whatever you have on hand! I love it with root vegetable chips, or fresh crudité. It's definitely one of our favorite holiday appetizers to make ahead of time!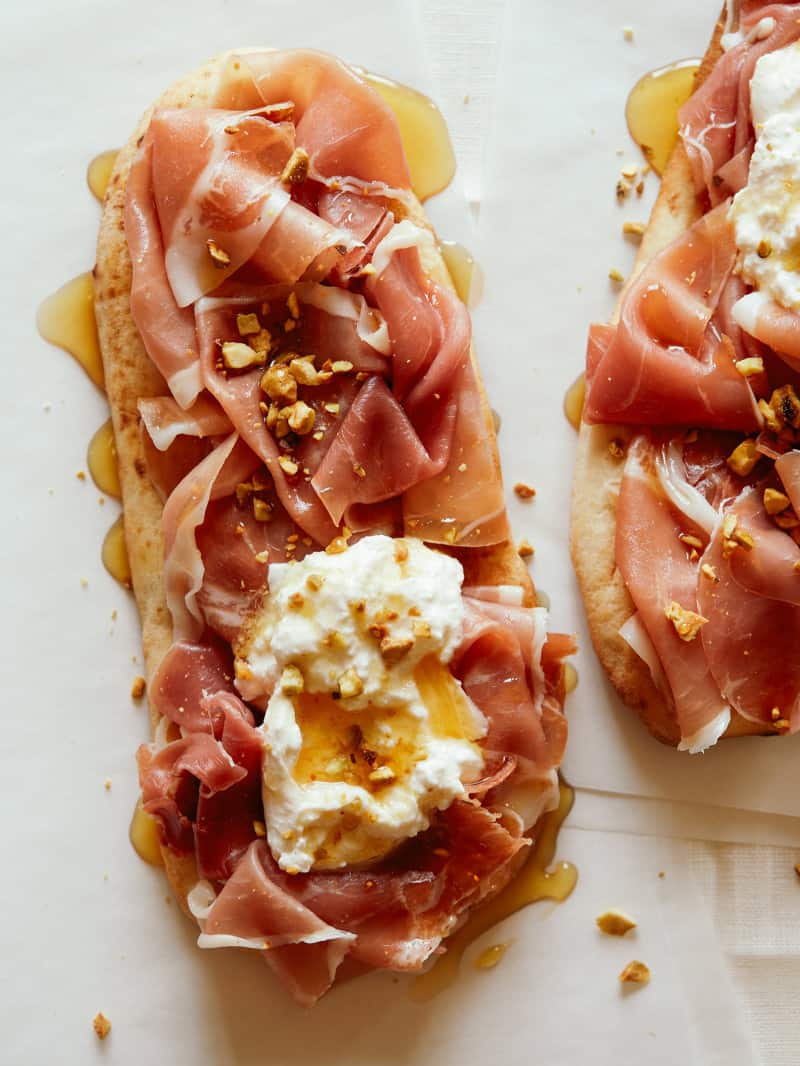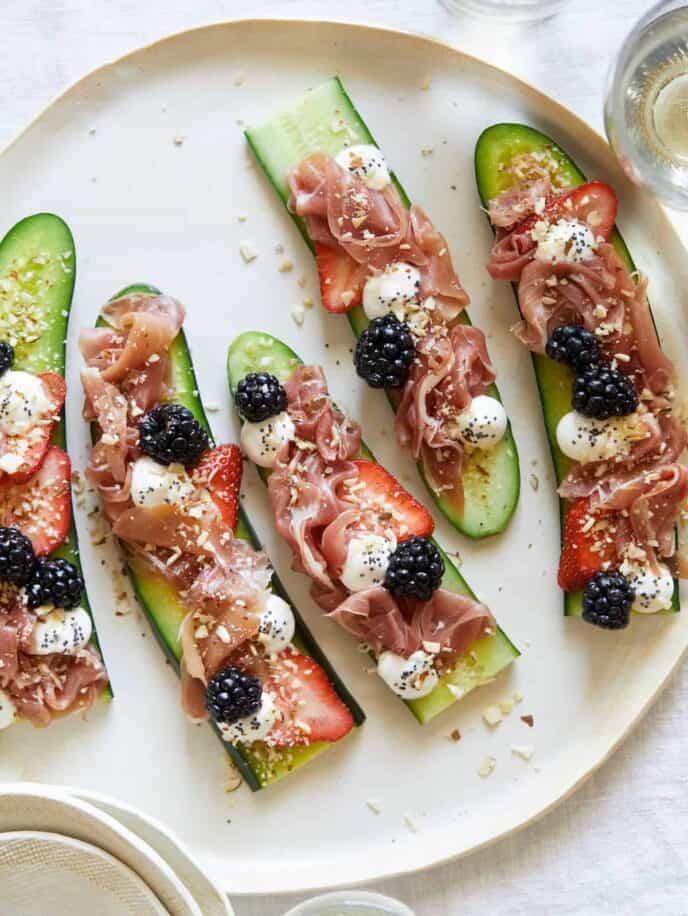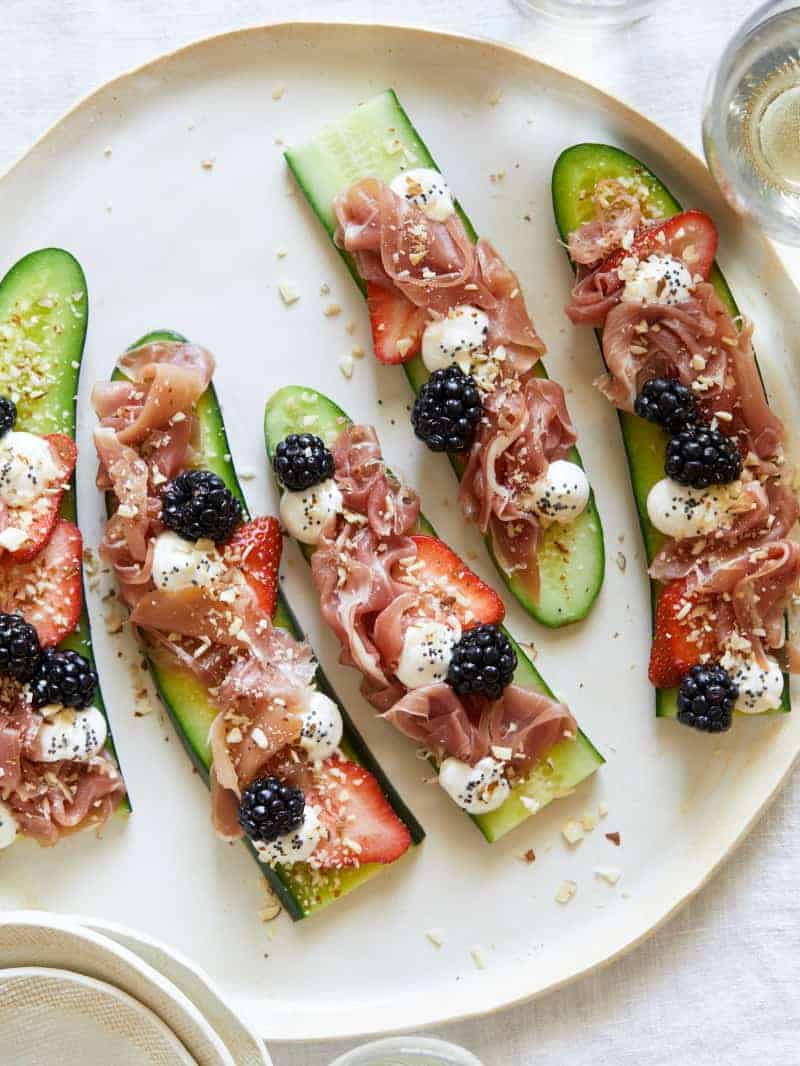 Meatballs – Delicious Twists On The Classic Christmas Party Appetizers
Herbed Turkey Meatballs – If you can't ever get enough of Thanksgiving food, these are for you. Flavorful turkey meatballs are paired with a cranberry BBQ sauce that is so good. This is a Christmas party appetizer that people will be coming back around for seconds. P.S. kids LOVE this one too!
Ginger and Garlic Cocktail Meatballs – These meatballs have such a delicious flavor. Meatballs are such a classic Christmas party appetizer. They are always so popular! This appetizer is definitely one you can prepare ahead. This one is a crowd pleasing Christmas party appetizer!
Mozzarella Stuffed Chicken Parmesan Meatballs – We basically took one of our favorite recipes – Parmesan Chicken and made it meatball-sized. These meatballs are everything you would expect and more. They're medium in size, so they're the perfect two-bite appetizer. They are so good paired with a simple marinara sauce!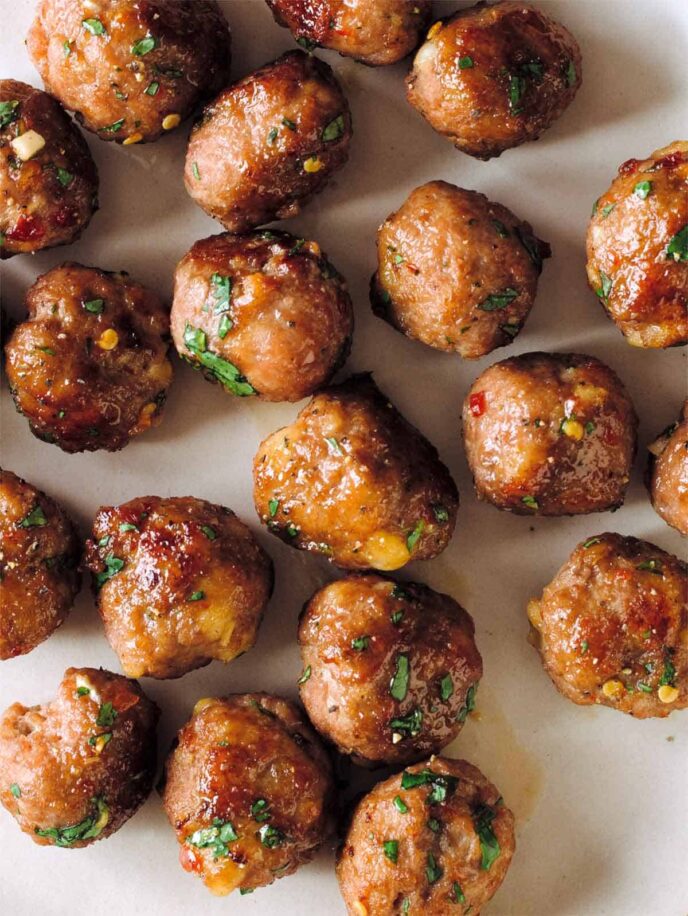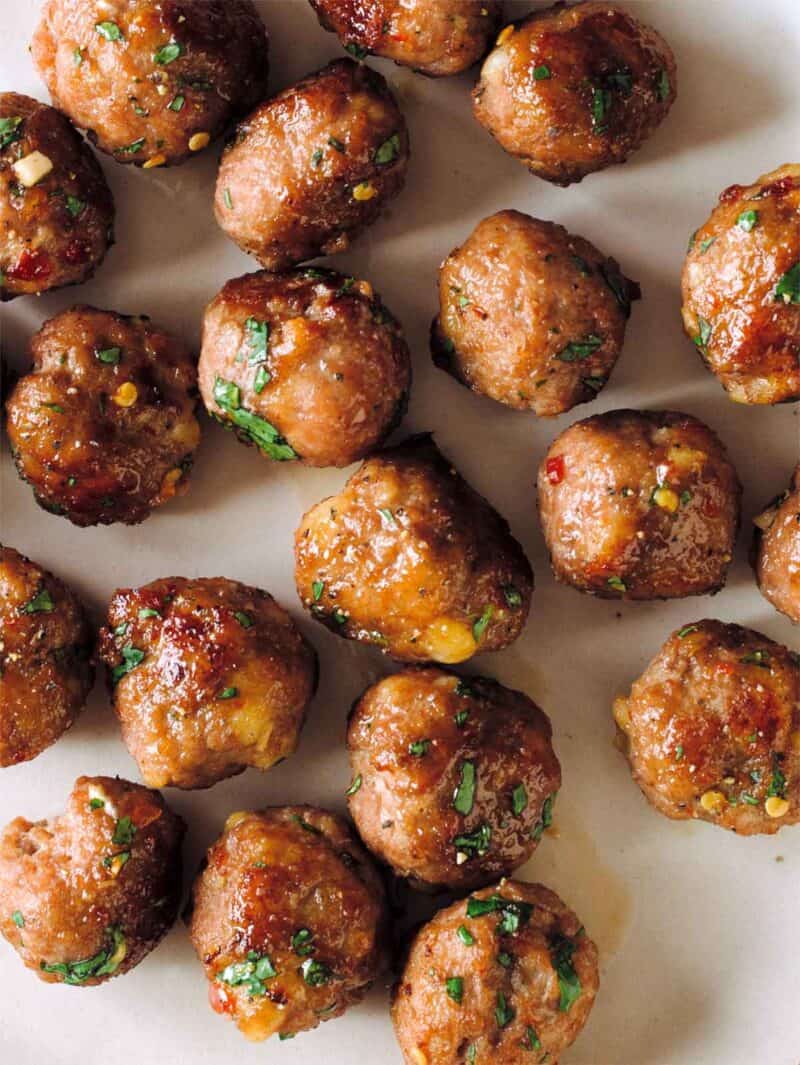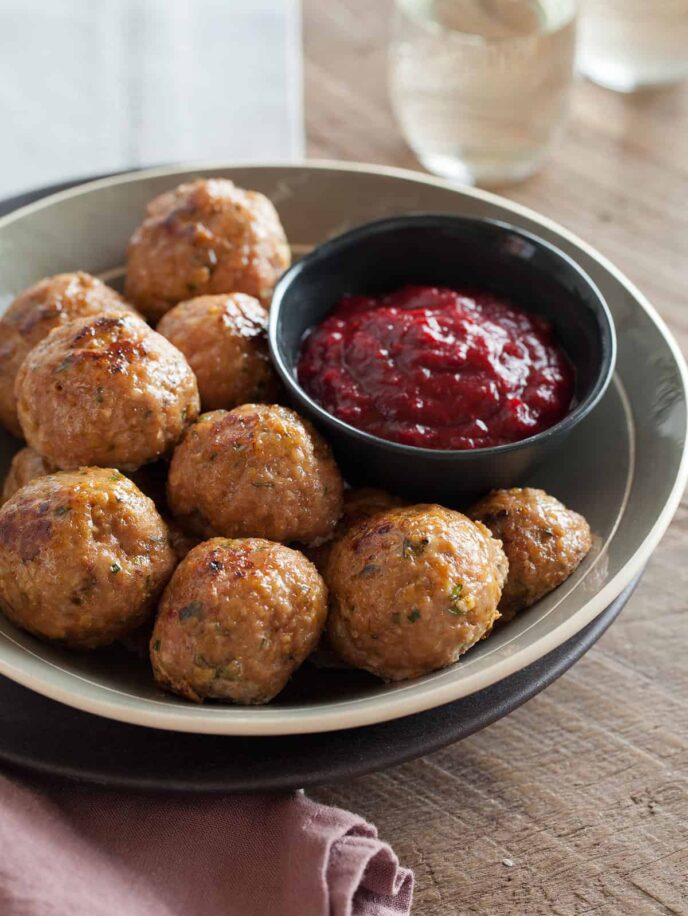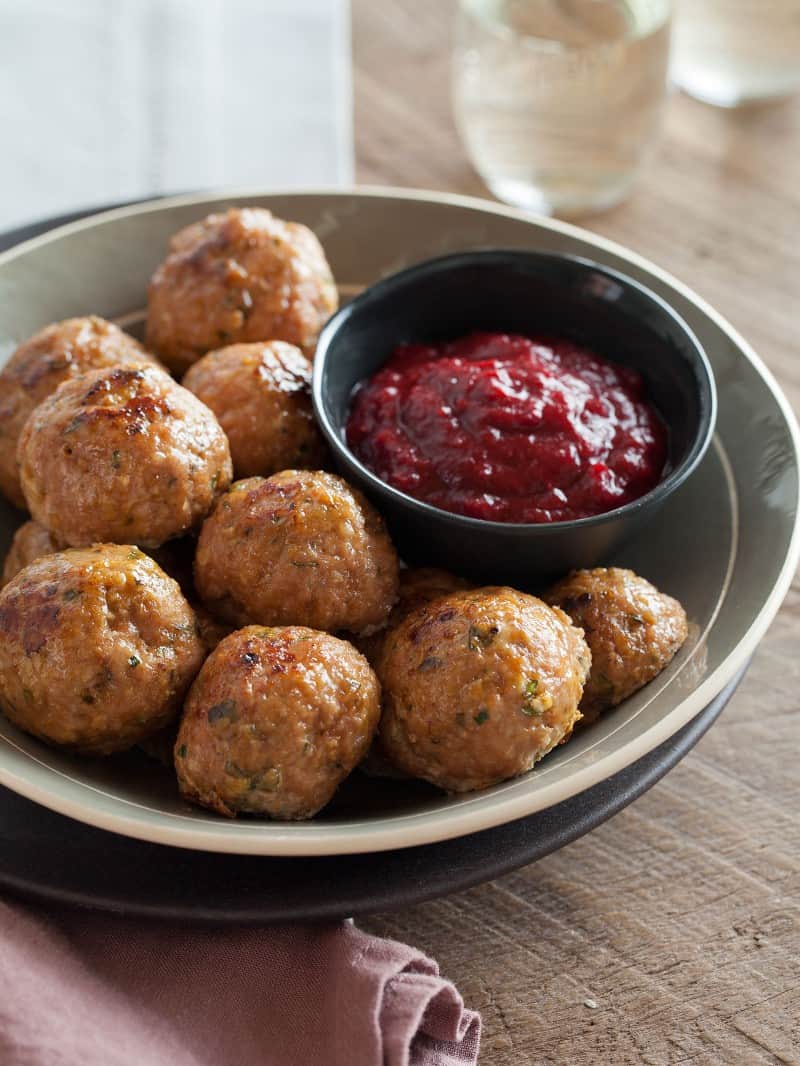 Our Absolute Favorite Christmas Appetizers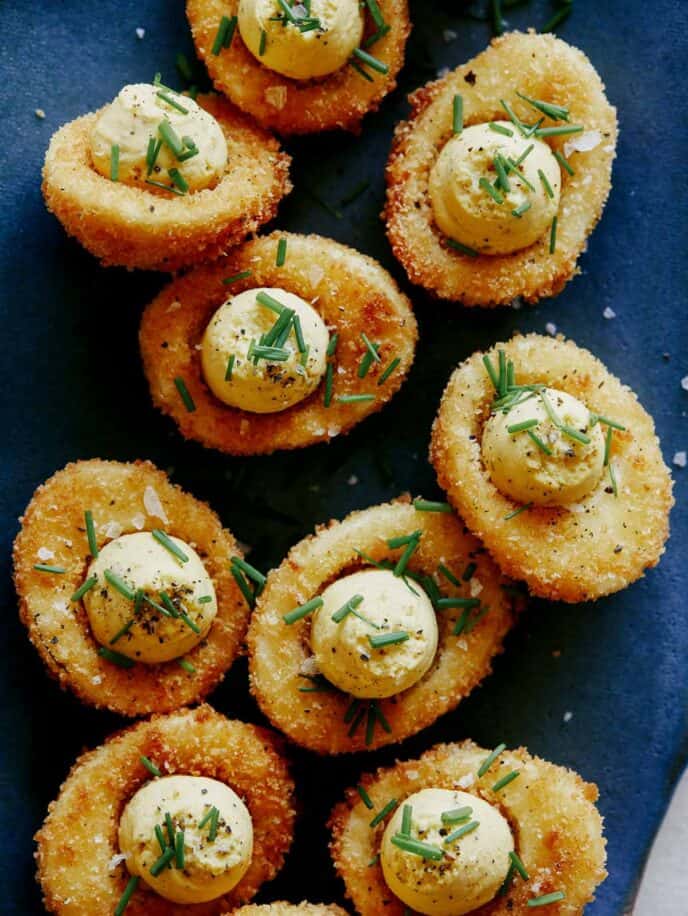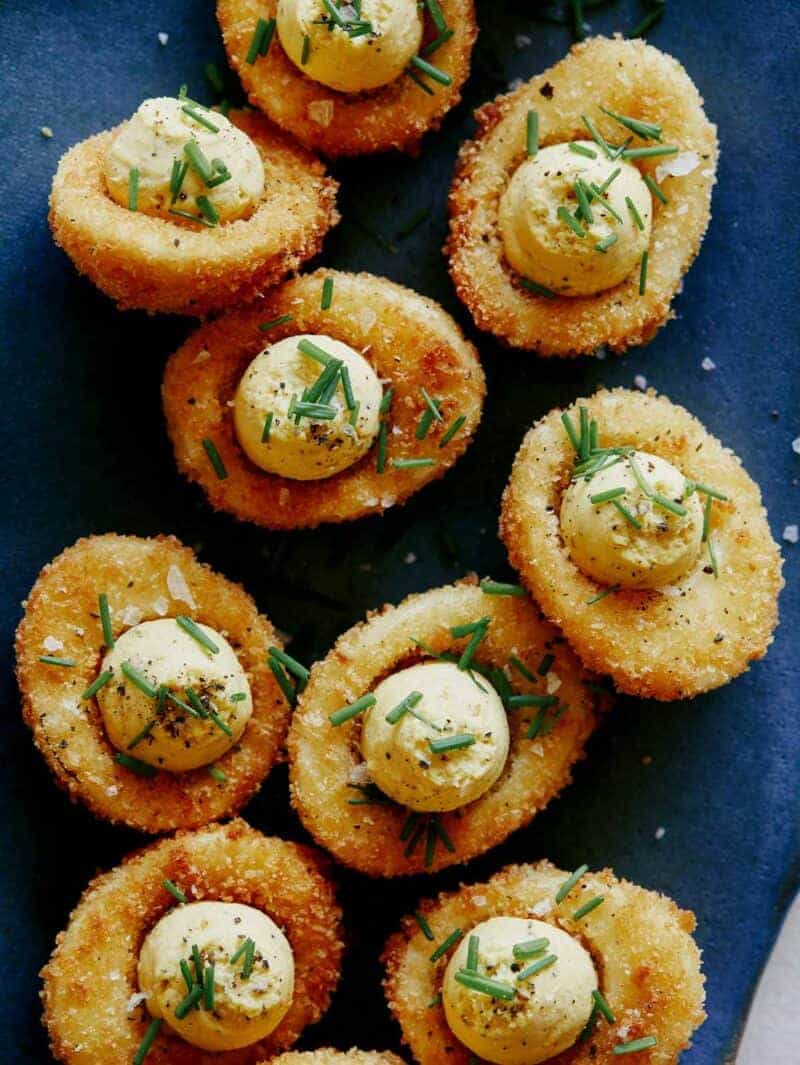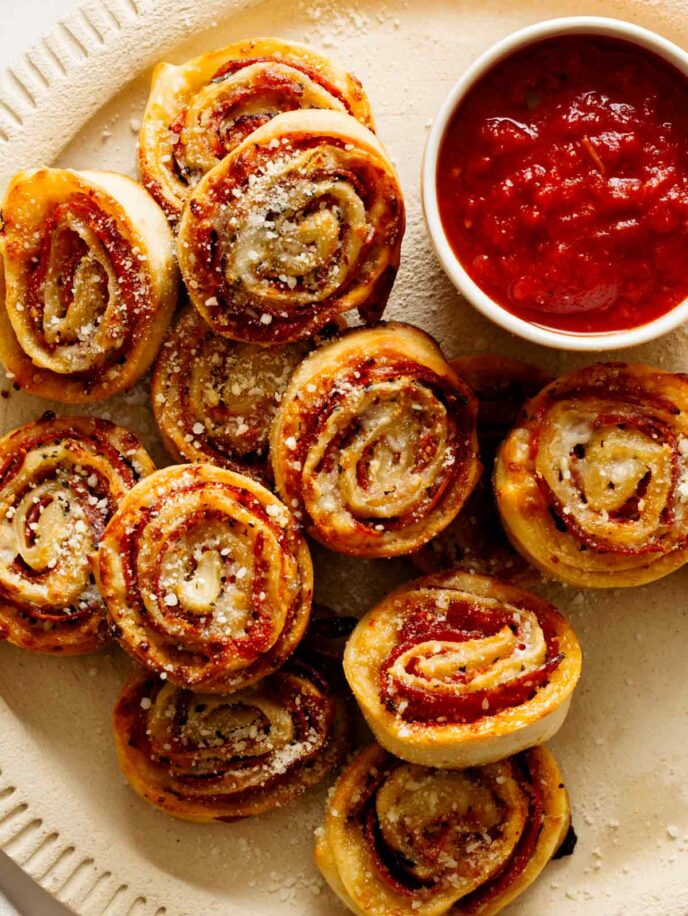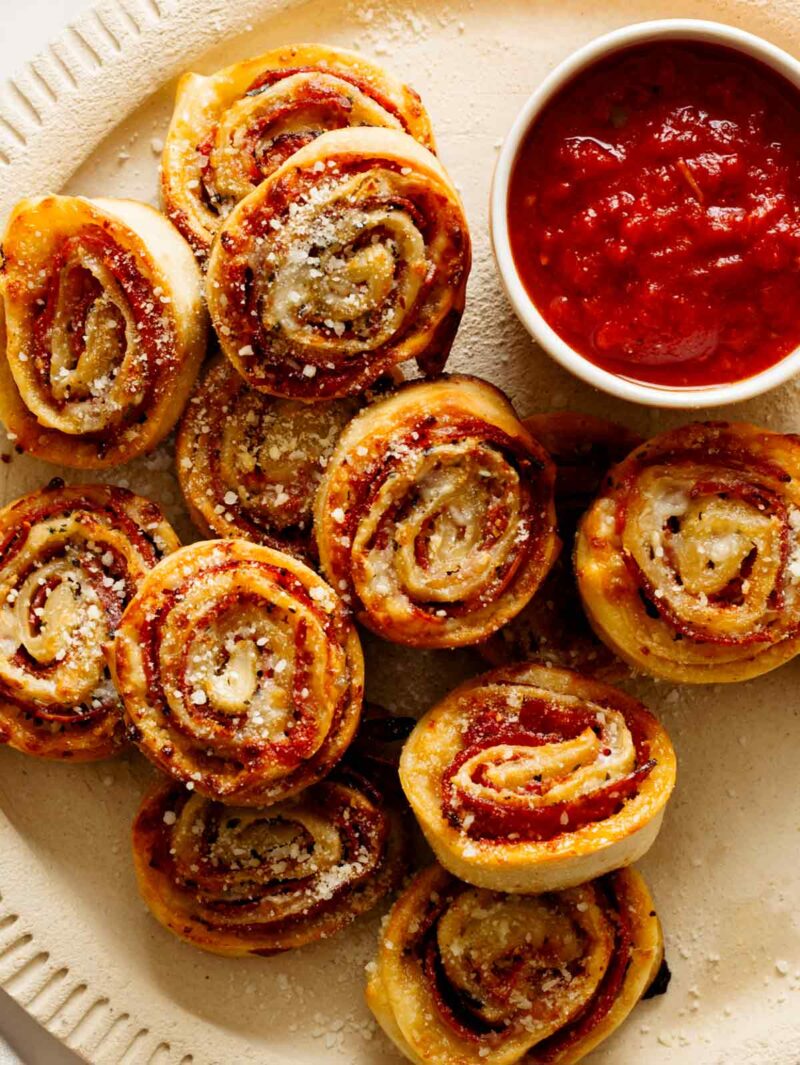 Fried Deviled Eggs – A yummy twist on classic deviled eggs. We fry the egg white halves in a panko mixture which results in a delicious crunchy version of Deviled Eggs. This is a super fun twist to try if your family is used to traditional deviled eggs!
Pizza Wheels – This appetizer recipe is great because you can prep ahead of time and bake when you are ready. These Pizza Wheels are so good, and a crowd pleaser especially among the younger ones. We filled ours with pepperoni but you can also just made them vegetarian! Or even add some veggies like bell pepper or mushrooms. Serve with Marinara Sauce.
Savory Cheesy Herb Waffles with Prosciutto – Cheesy herb-y waffles topped with some gooey burrata and prosciutto. Essentially instead of crackers we made delicious waffles because why would you not want to eat waffles?!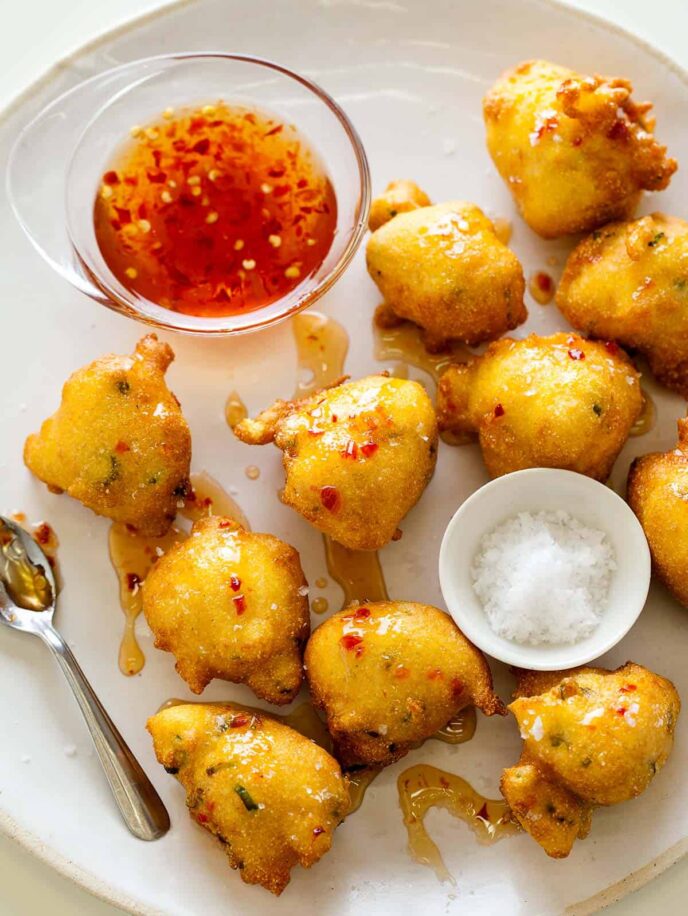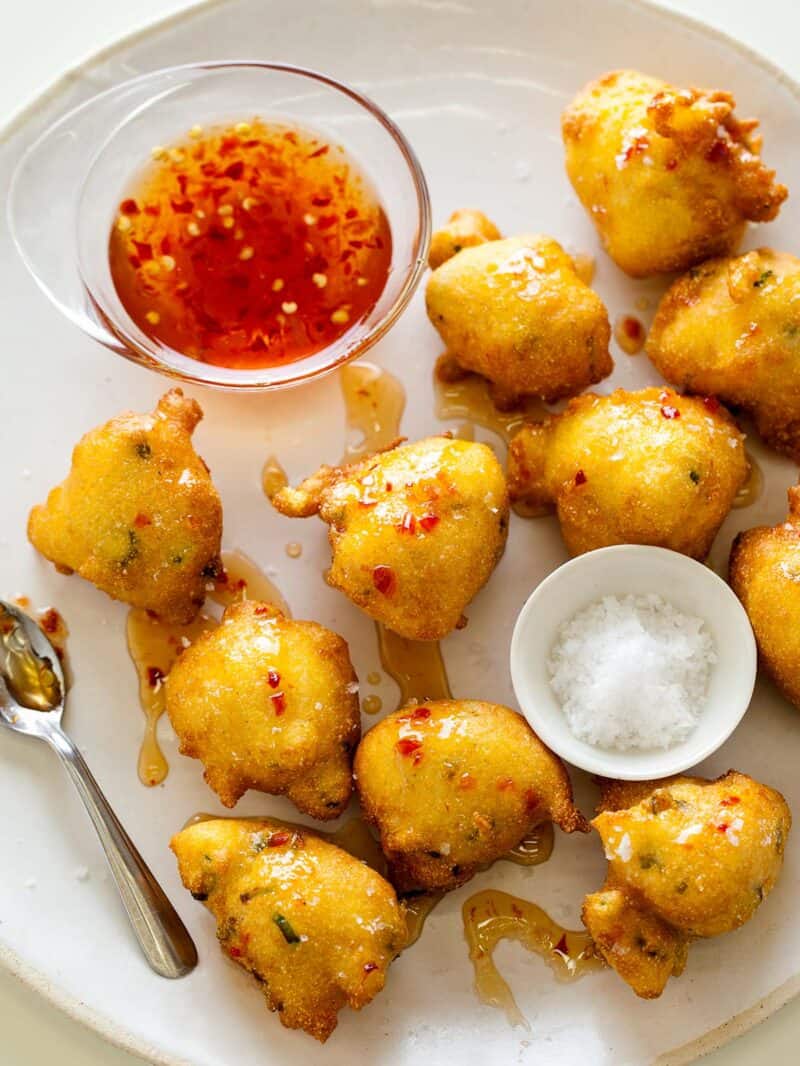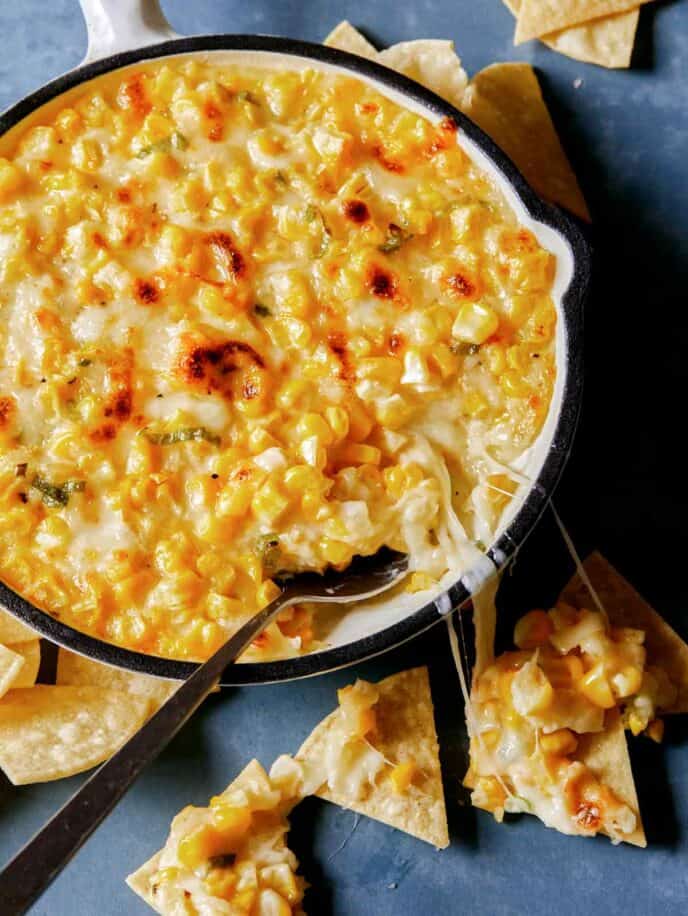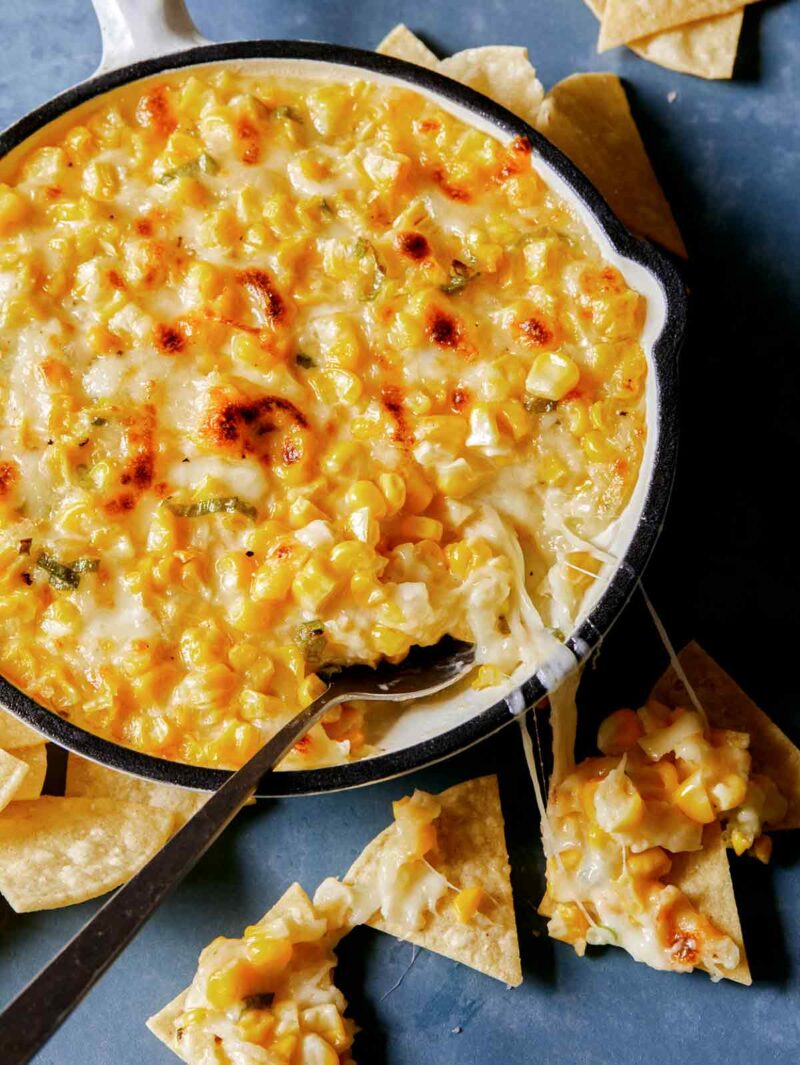 Korean Corn Cheese – This is a super easy recipe. You can prep it beforehand and then stick it in the oven when you are ready. Warning though, this appetizer recipe is incredibly delicious and you should probably made a double (or even triple) batch. Guests always go crazy over this dish!
Hush Puppies – Hush puppies are delicious little cornmeal filled fried balls that have a crispy exterior and a soft interior. They are so delicious. We serve our with a spicy honey drizzle. Trust us when we say these babies will disappear as soon as they are put out.
Undeviled Eggs – A twist on the classic deviled eggs. These Undeviled Eggs are a simplified version of deviled eggs. Just hit them each with a swipe of mayo and top with your favorite toppings. The possibilities are endless! We love crumbled bacon, anchovies, caper berries, crumbled sausage, caramelized onions, picked onions, diced olives and so much more!
Last but certainly not least! Our Fried Burrata with Romesco. This recipe is one that we love so much. Just imagine delicious cheese balls that's just burrata, breaded and fried to perfection! The delicious, creamy burrata coated in a crunchy breadcrumb exterior, swimming in a flavorful romesco sauce is so delicious and worth the effort! Recipe below!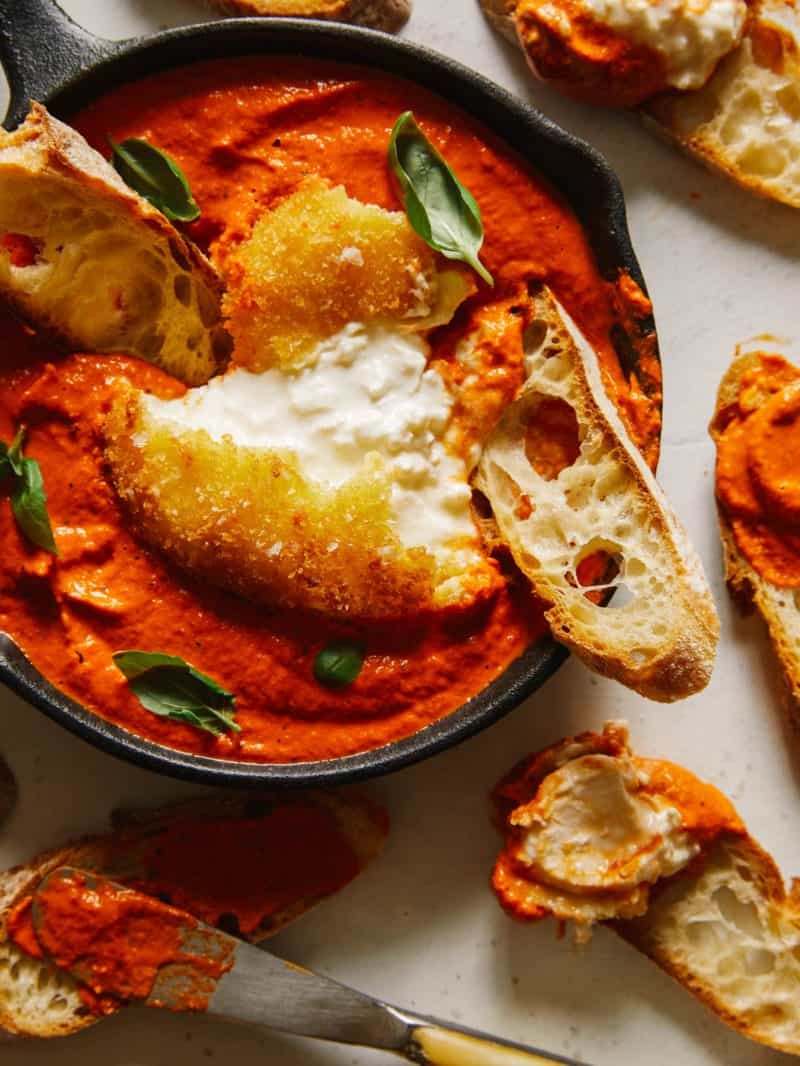 Click here for our Best Christmas Cookie Recipes! Also check out our Christmas Dinner Ideas and our Best Christmas Breakfast Ideas.