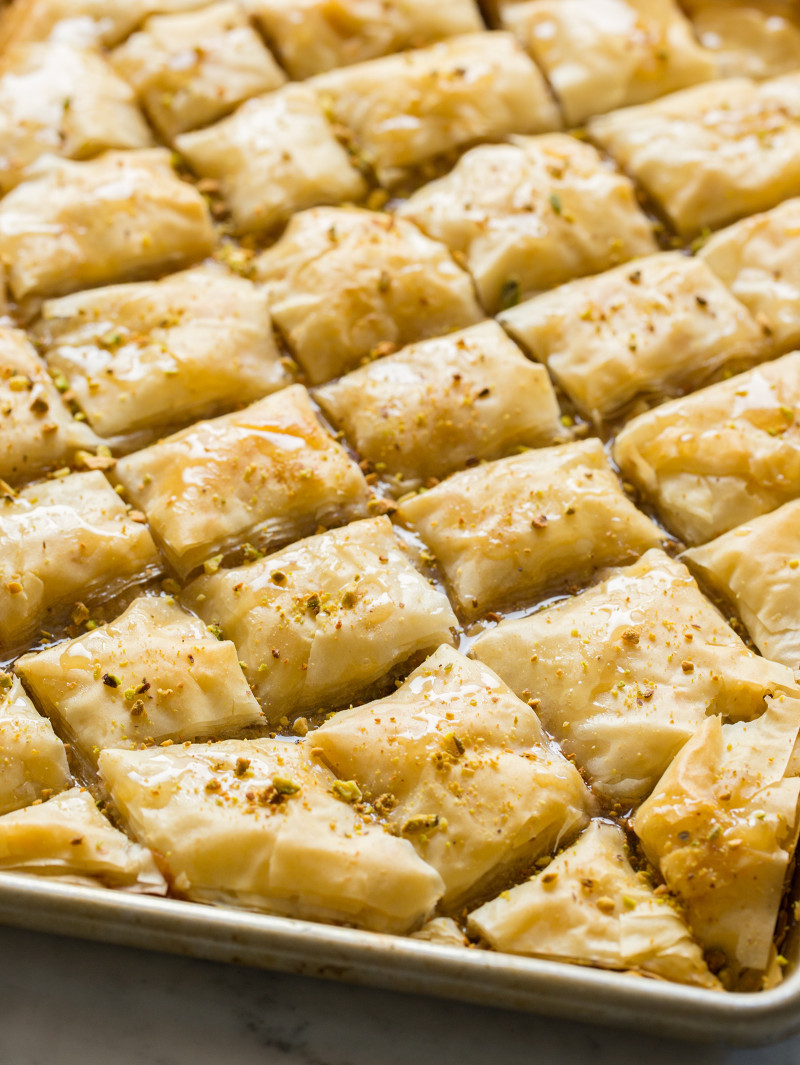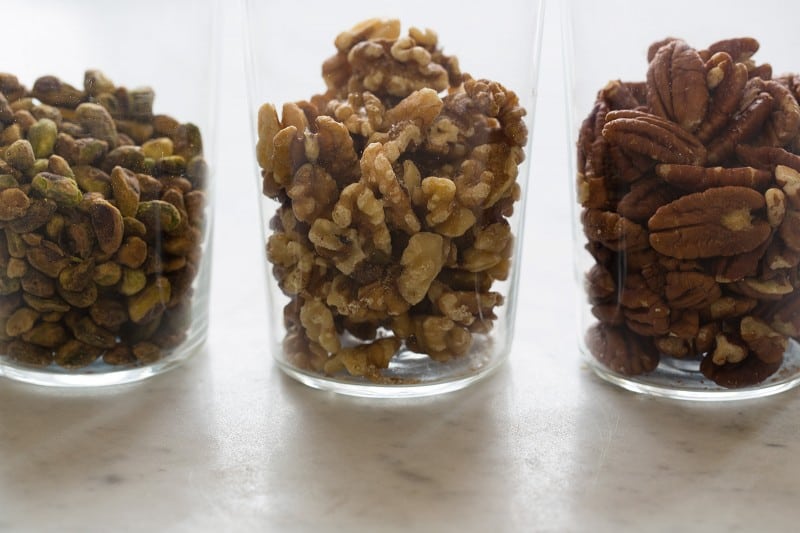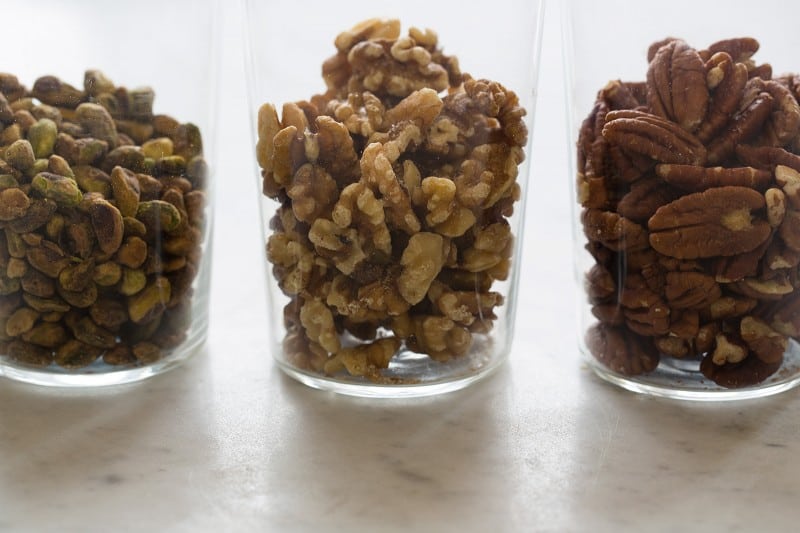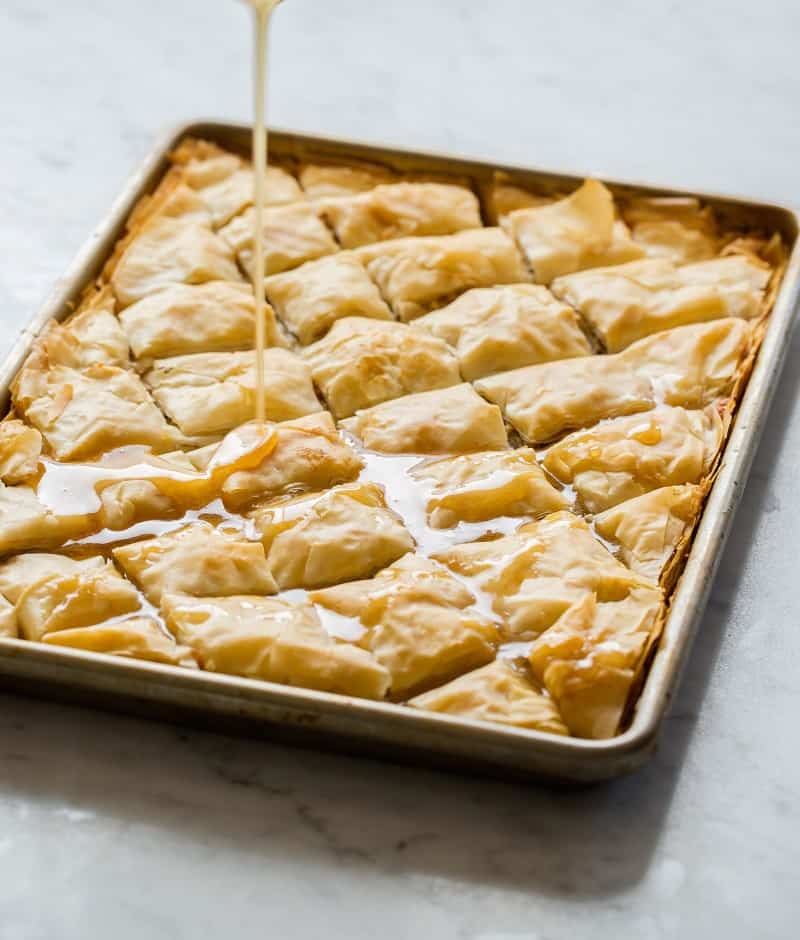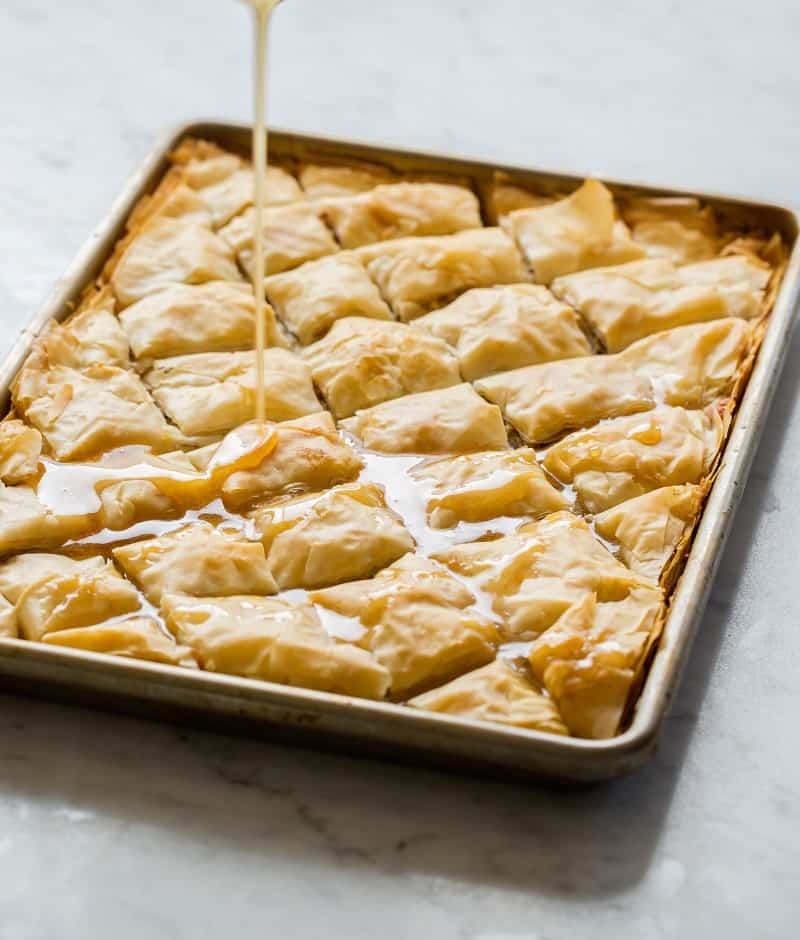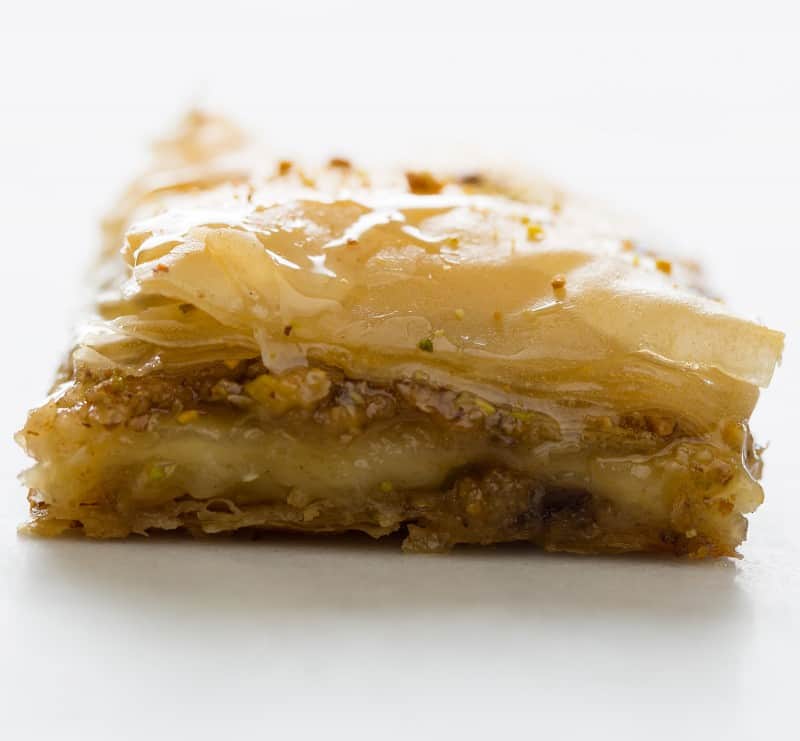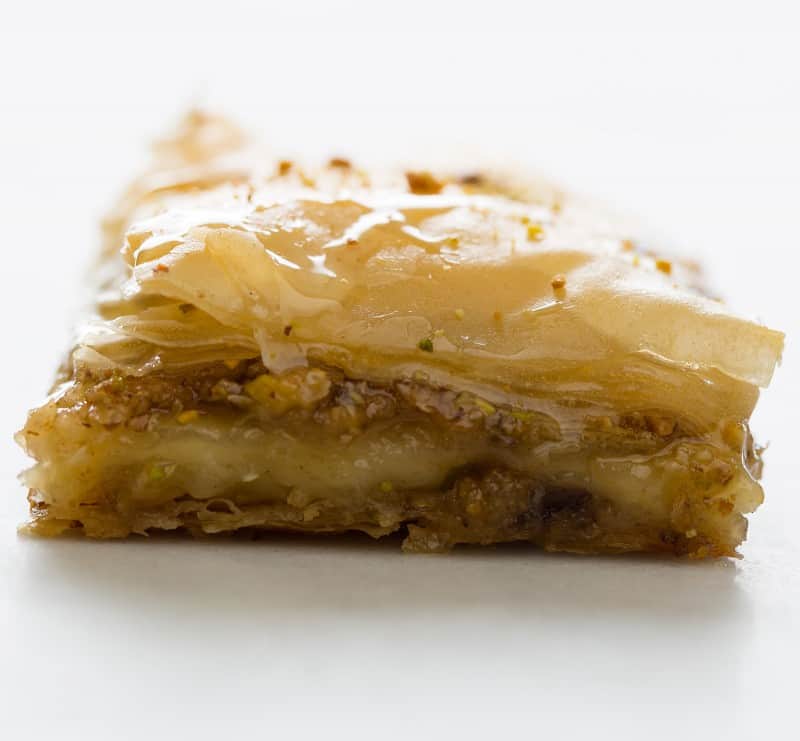 Hi Guys! Today we have Brie Filled Baklava for you! Every now and then, while my boyfriend and I are out getting a bite to eat he tastes something that tugs at his heart strings and he says to me with such deep passion, "BLOG-WORTHY", which always makes me giggle. This happened a few months ago when we were out getting some pizza. We ordered these spinach and cheese stuffed "pinwheels" my boyfriend got this crazed look in eyes and a couple of days later, after I did a couple tests in the kitchen, there were Pizza Wheels
Today's recipe is the result of another Jordan "BLOG-WORTHY" freak out! As a lover of baklava, he has to have a piece every time we run across some, and this time was no different. Except this time when he took a bite he was unexpectedly, but very pleasantly surprised to find a nice layer of rich and creamy cheese in the center! Neither of us have ever seen this before but it makes total sense! How could creamy cheese not go well with flaky, crispy crust, sweet honey, and toasty nuts?! I'm not quite sure it was brie that the restaurant was using, but it seemed to make the most sense to me so that's what we're using today for our own baklava!
Just a bit of layering, brushing and sprinkling involved in this recipe. So easy and they're so delicious! So go make them and share them, because everyone deserves a little Brie Filled Baklava in their lives. ;) xx, Jenny
Other brie recipes you will love:
Hungry for more?
Subscribe to never miss a recipe.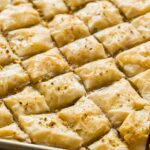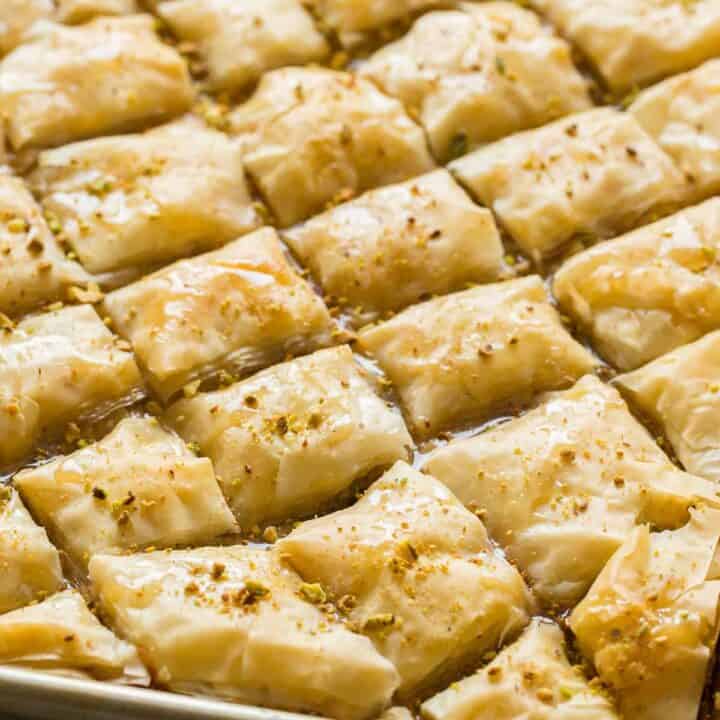 ---
Brie Filled Baklava
INGREDIENTS
1

cup

chopped pistachios plus more for garnish

½

cup

chopped walnuts

½

cup

chopped pecans

½

teaspoon

ground cinnamon

15

sheets

phyllo dough, thawed and cut in half

1 ½

cups

(3 sticks) unsalted butter, melted

7

ounces

double cream brie, rind removed and softened

1

cup

superfine sugar 

granulated is fine

⅔

cup

honey
INSTRUCTIONS
Preheat oven to 350˚F. Line a 9"x13", rimmed sheet pan with parchment and set aside.

In a mixing bowl, combine nuts and cinnamon and toss together. Set aside.

Brush butter onto parchment and layer 10 sheets of phyllo dough into the pan, brushing butter between each layer.

Sprinkle half the nut mixture over the phyllo and repeat step one with 5 more sheets of phyllo.

Dot the entire surface with pieces of brie and continue to layer 5 more sheets of phyllo and butter.

Sprinkle remaining nut mixture over the phyllo and finish by layering the remaining 10 sheets of phyllo and butter.  Cut 1 inch strips into baklava, in a diagonal pattern each way, creating diamond shaped pieces.

Bake for about 1 hour or until golden brown.

While the baklava bakes, combine sugar and honey in a small saucepan and bring to a boil until sugar dissolves. Remove from heat and allow to cool.

Remove baklava from oven and pour sugar mixture over pan. Allow mixture to soak in and sit for about 1 hour. Top with finely chopped pistachios and serve.
Calories:
215
kcal
Carbohydrates:
18
g
Protein:
3
g
Fat:
15
g
Saturated Fat:
7
g
Cholesterol:
29
mg
Sodium:
84
mg
Potassium:
77
mg
Fiber:
1
g
Sugar:
12
g
Vitamin A:
319
IU
Vitamin C:
1
mg
Calcium:
22
mg
Iron:
1
mg