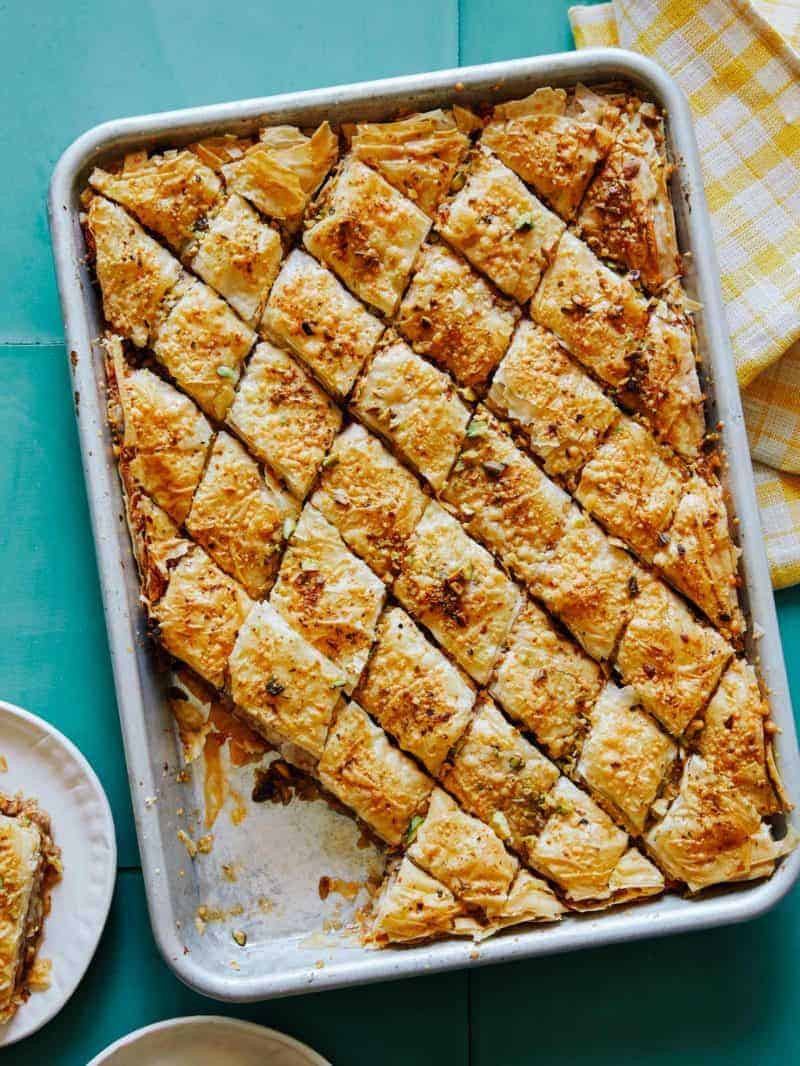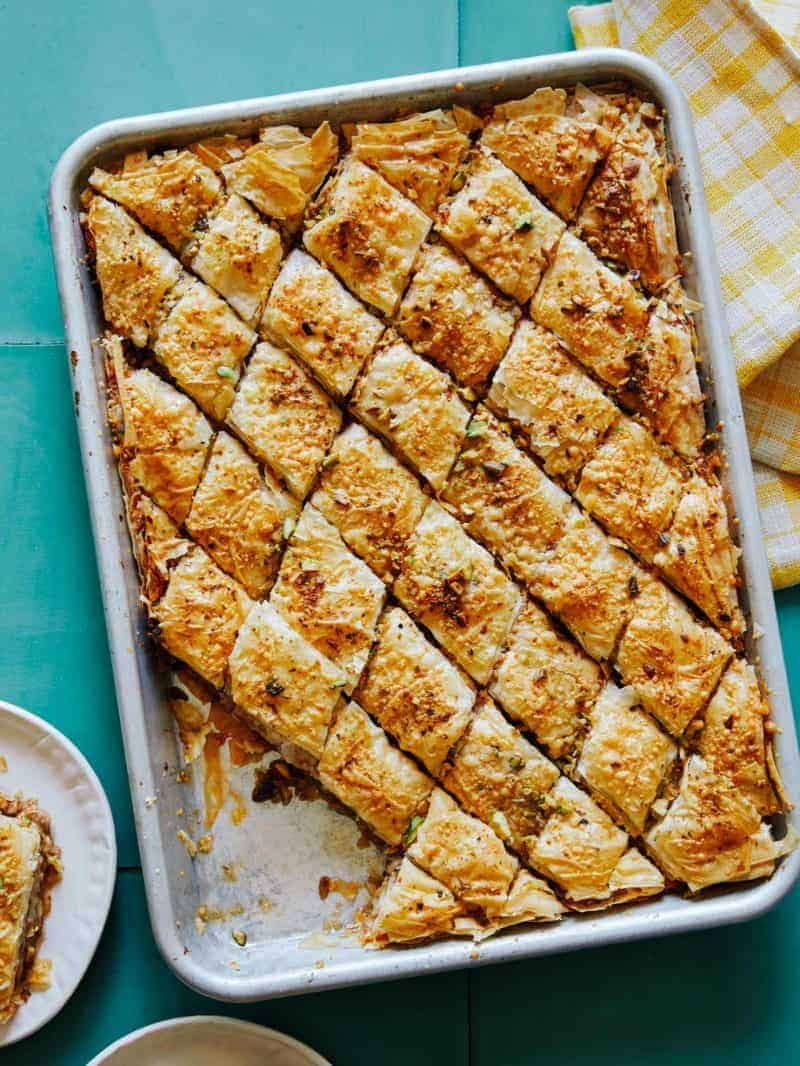 You guys already know I have a thing for turning originally sweet dishes, savory and today's recipe of Savory Baklava is no exception. This dish makes a really great appetizer for a crowd, and with Mother's Day coming up, this would make a great addition to any Mother's Day spread! It's actually a lot easier to put together than it might seem, you can swap the ground lamb out for beef or turkey if you prefer that, PLUS you can assemble this whole dish ahead of time and bake it right before you're ready to serve it. We also have another version of baklava from a few years back, our Brie Filled Baklava, which is more of a sweet-savory version. Both versions are really delicious and satisfying and both make great appetizers for a crowd. Enjoy! xx, Jenny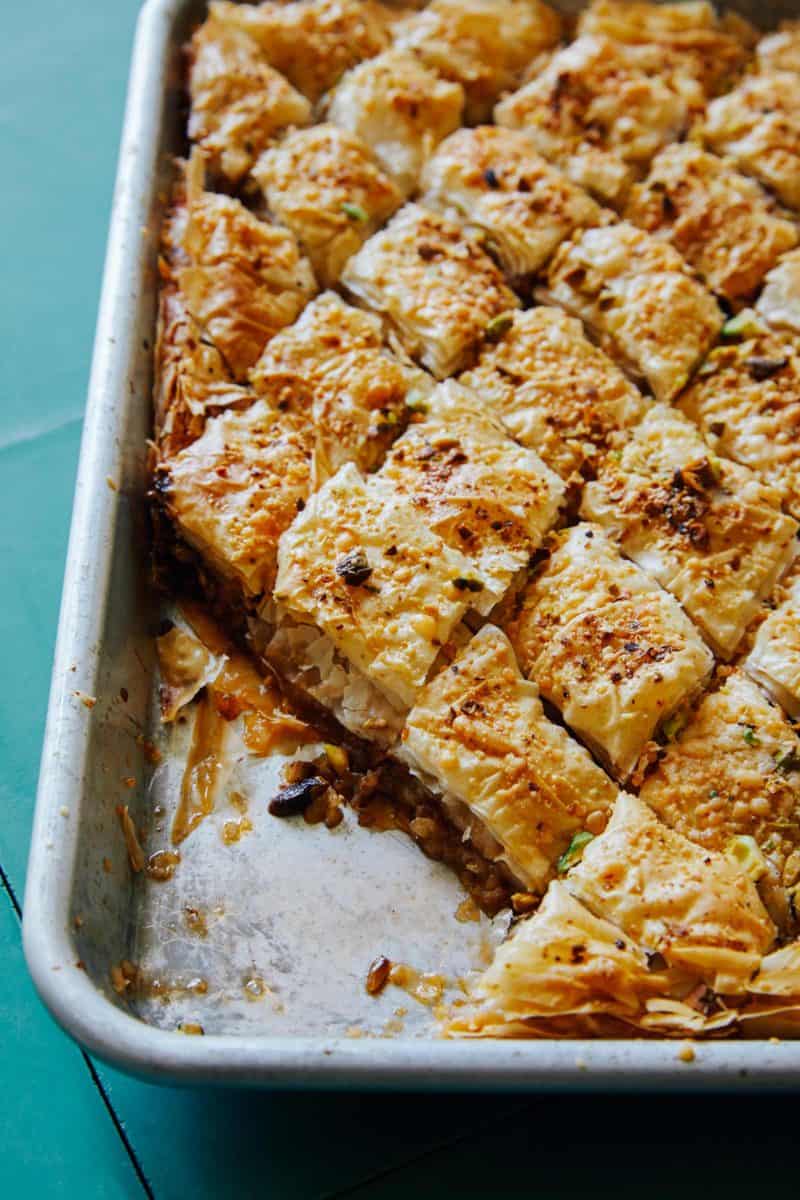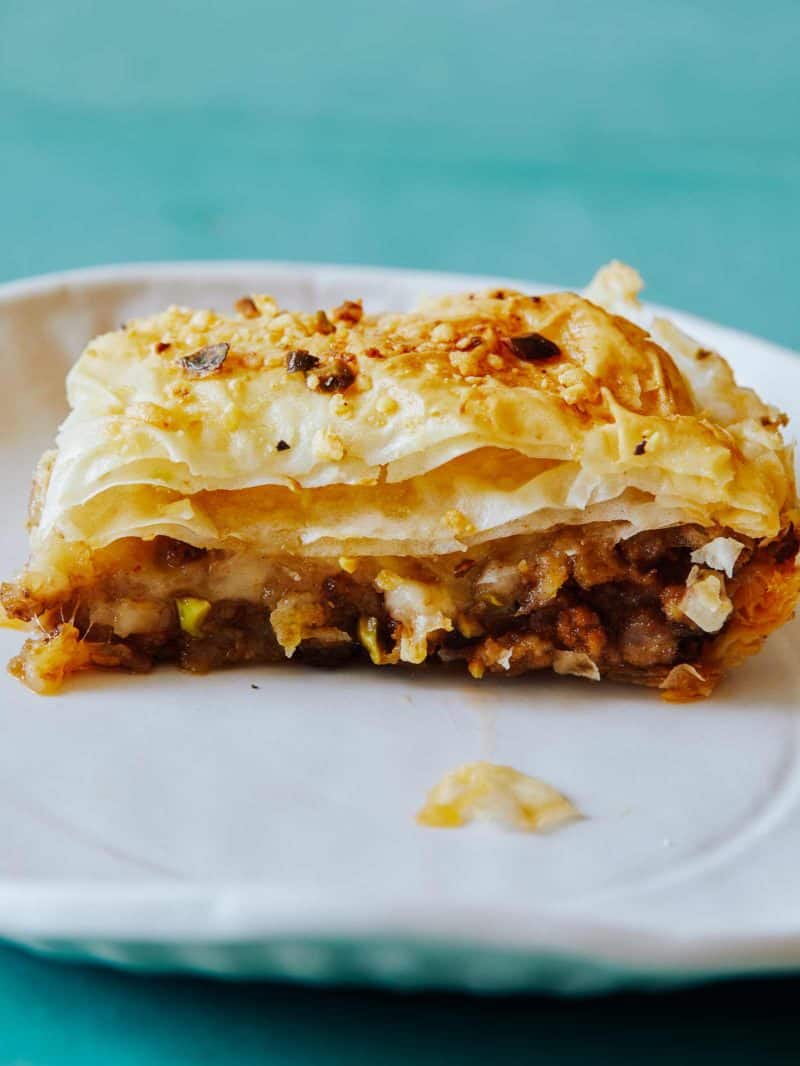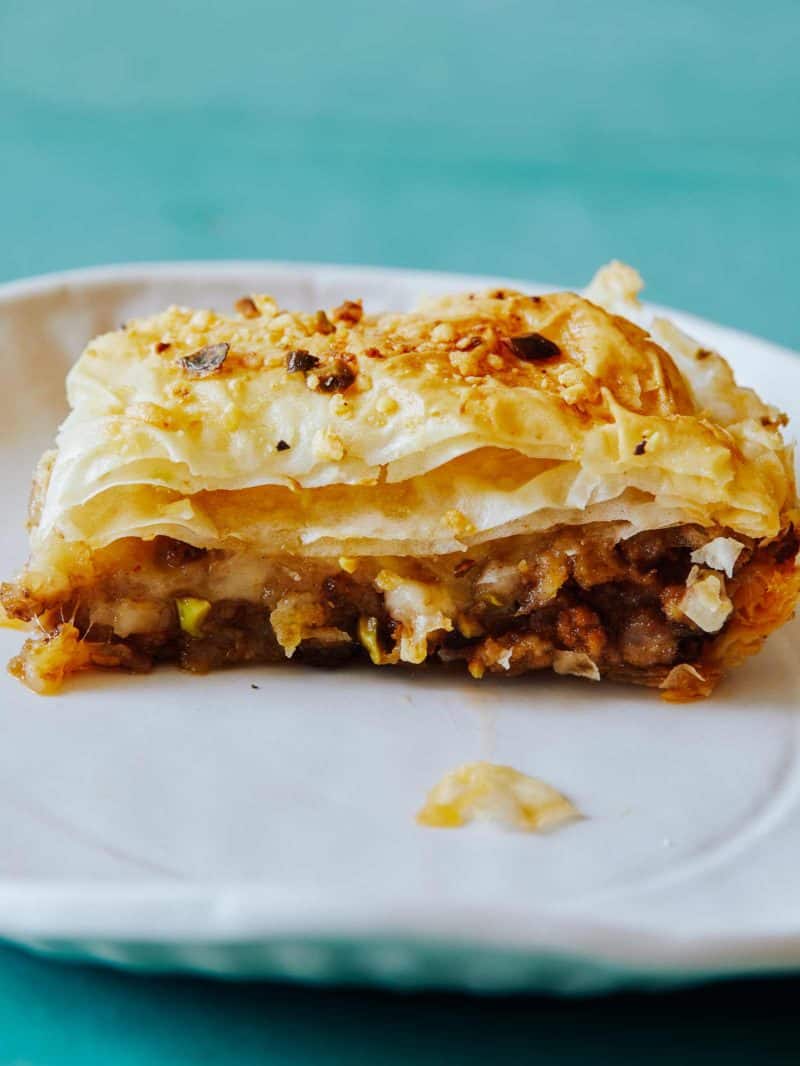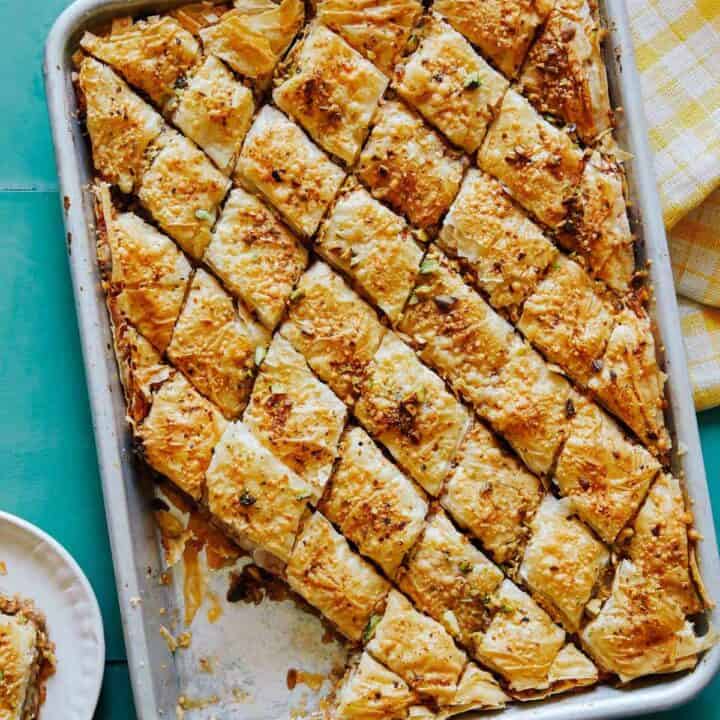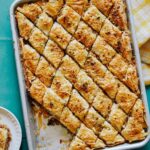 ---
Savory Baklava
INGREDIENTS
2

tablespoons

extra virgin olive oil

1

pound

ground lamb

ground beef or turkey work too

1

tablespoon

tomato paste

2

teaspoons

ground cumin

1

teaspoon

ground coriander

1

teaspoon

smoked paprika

½

teaspoon

ground ginger

2

garlic cloves, minced

¼

sweet onion, finely diced

½

cup

chopped pistachios, plus more for garnish

½

cup

(1 stick) unsalted butter, melted

15

sheets of phyllo dough, thawed and cut in half

1

cup

shredded gruyere cheese

½

cup

grated Parmesan cheese

salt and pepper to taste
INSTRUCTIONS
Preheat oven to 350˚F. Line a 9"x13", rimmed sheet pan with parchment and set aside.

Place a large skillet over medium heat and add 1 tablespoon oil. Once oil is hot add ground lamb and saute, breaking up with a wooden spoon. Add tomato paste, 2 tablespoons water, cumin, coriander, paprika, and ginger and season with salt and pepper. Continue to saute until tomato paste and spices have been evenly incorporate and the lamb has just browned. Transfer mixture to a plate and place skillet back over medium heat.

Add remaining oil to skillet followed by garlic and onion. Saute mixture until onions become slightly translucent, 6 to 7 minutes.

Add ground lamb mixture back to skillet and stir together with garlic and onions. Lightly season with salt and pepper, stir together and remove from heat.

Brush butter onto parchment and layer 5 sheets of phyllo dough into baking pan, brushing butter between each layer.

Sprinkle ¼ cup crushed nuts over the fifth layer of phyllo and top with half gruyere cheese. Evenly spoon half ground lamb mixture over the shredded gruyere and top with half of the Parmesan.

Top lamb and cheese mixture with 5 more sheets of phyllo, brushing butter between each layer.

Repeat steps 6 and 7 with remaining nuts, cheese and lamb mixture and finish baklava with remaining 5 sheets of phyllo, brushing butter between each layer. Cut 1 inch strips into baklava, in a diagonal pattern each way, creating diamond shaped pieces. Sprinkle some crushed pistachios and grated Parmesan over the top and bake for about 30 to 35 minutes or until golden brown.

Remove baklava from oven and cool for 10 to 15 minutes. Serve.