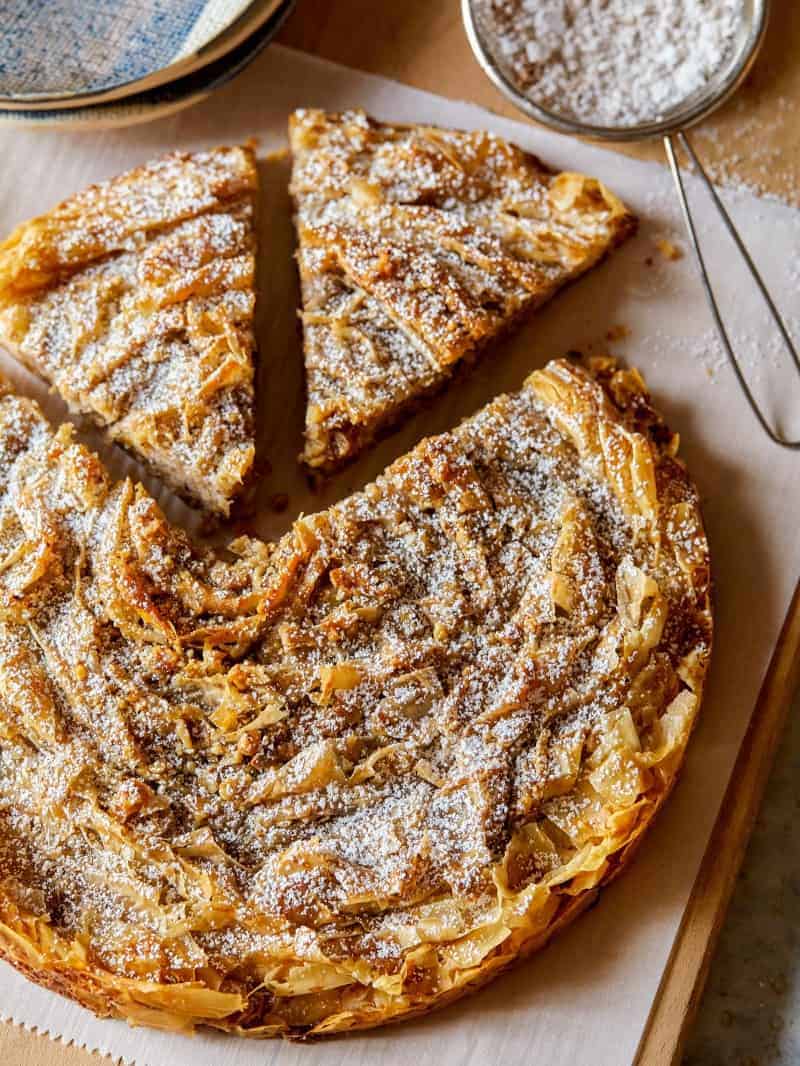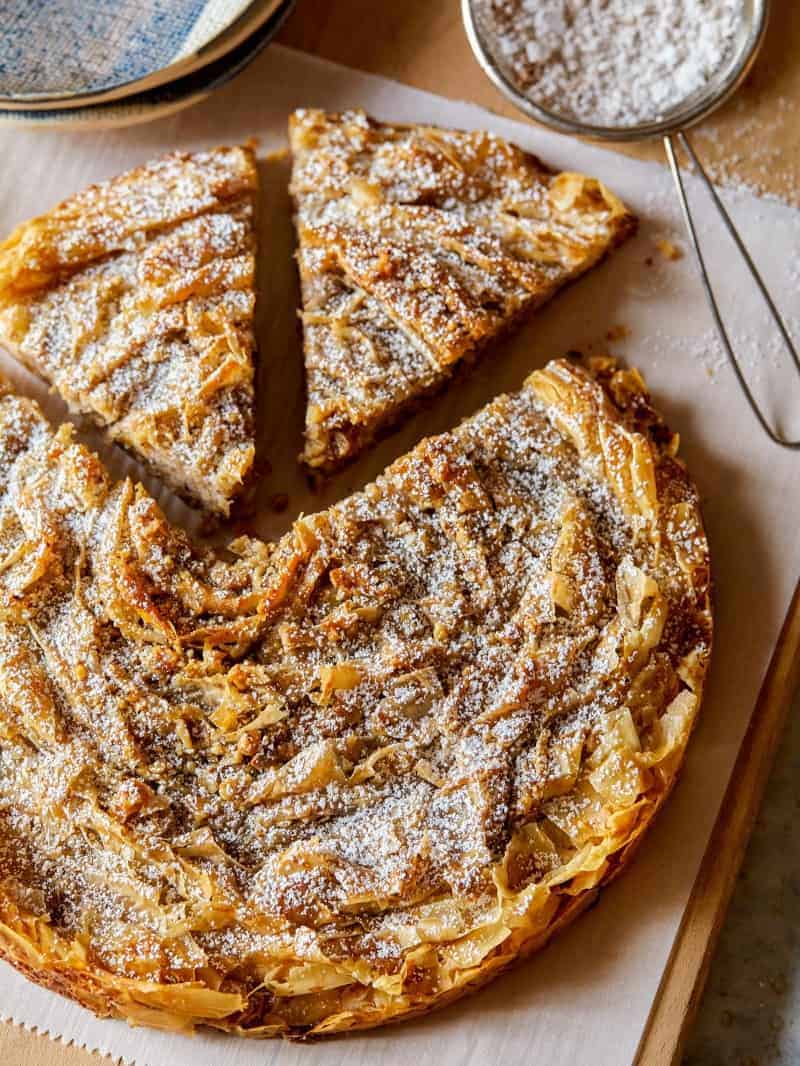 Happy Wednesday! I am excited to share this recipe for Chai Spiced Ruffled Milk Pie with you because this pie is the perfect, little comforting dessert for right now. It's cold everywhere, I live under my heated blanket and all I want to drink are hot things. We used chai spice in this pie because we love it and will never be over chai spice in desserts. Chai is just so good.
The ruffles from this pie come from scrunching the fillo together which is an easy thing to do. Then you wrap the scrunched fillo into a coil and bake it. Halfway through baking it you pour the milk over the entire dessert making a softer center with crispy edges. It's so good and the scrunching makes it really easy. Anyone can make this chai spiced ruffled milk pie look and taste amazing, I promise. It's one of those pies (using that term loosely, lol) that looks impressive but isn't hard to make at all. It's totally my favorite kind of pie. :)
You can also make this recipe ahead of time and stick it in the freezer pre-baked. When you're ready for it, just pop it into the oven straight from the freezer. It's so simple and makes a great freeze ahead dessert!
If you love this recipe and just chai in general, you'll also love our chai banana cake.
♥ Teri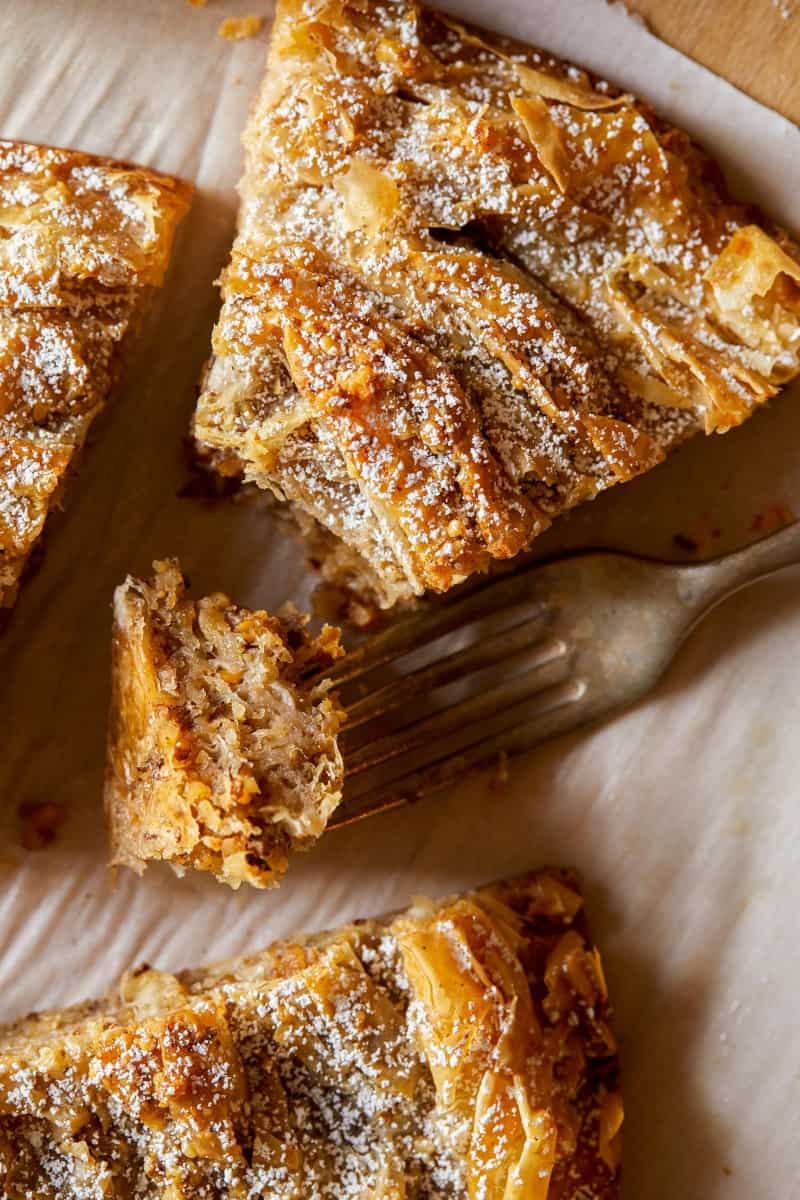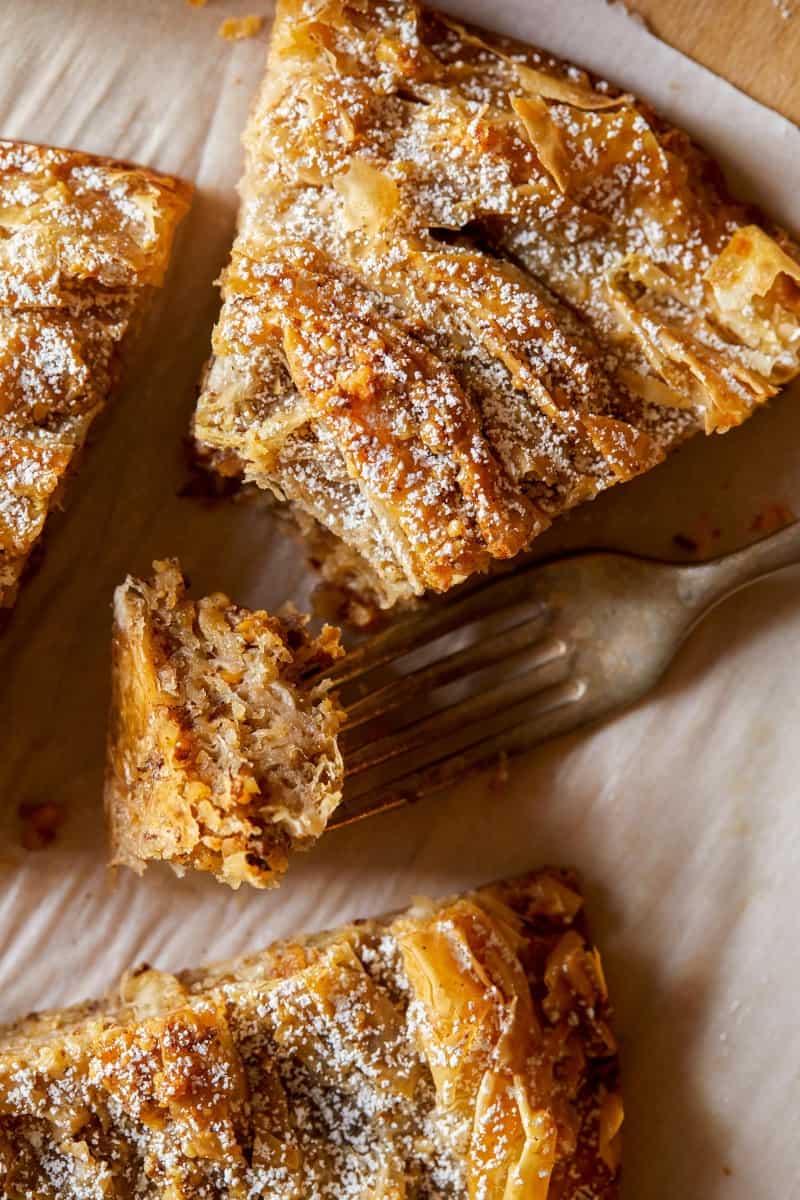 Hungry for more?
Subscribe to never miss a recipe.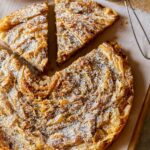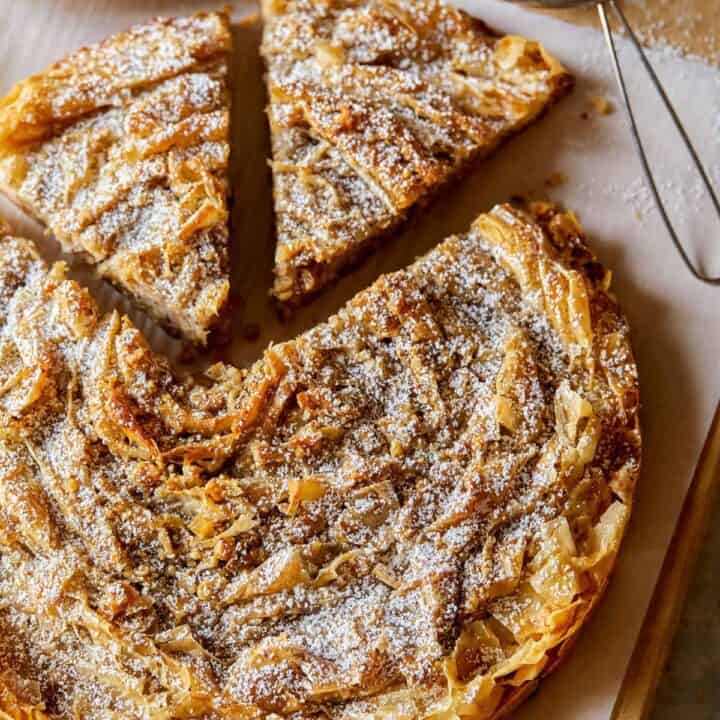 ---
Chai Spiced Ruffled Milk Pie
This Chai Spiced Ruffle Milk Pie is a simple and delicious dessert that's perfect for the holiday season!
INGREDIENTS
chai spice
1 ½

teaspoon

ground cinnamon

1 ½

teaspoon

ground ginger

¾

teaspoon

cardamom

¾

teaspoon

ground allspice

¾

teaspoon

ground cloves
filling
1

cup

(2 sticks) unsalted butter, melted

2

cups

finely chopped walnuts

1 ½

cups

light brown sugar, divided

2

cups

milk

2

large eggs

2

egg yolks

2

teaspoons

vanilla extract
assembly
32

sheets fillo dough, thawed

⅔

cup

powdered sugar
INSTRUCTIONS
Lightly grease inside of 9 inch springform pan, then wrap foil and place onto a baking sheet. Set aside.

Place all chai spice ingredients into a small mixing bowl and whisk together.

Place 2 sheets filo onto a clean surface, overlapping one another. Brush the top sheet with butter and top with 2 more sheet of filo and brush with butter.

Sprinkle ¼ cup of chopped walnuts evenly over buttered filo followed by 1 tablespoon brown sugar and ¼ teaspoon of chai spice.

Carefully scrunch together filo sheet from top to bottom, then tightly curl into a spiral.

Place stuffed and rolled filo into center of springform.

Repeat steps 4 to 6 with remaining ingredients, adding to the original spiral, with each ruffled log of filo until the springform is full.

Place pie in oven and bake for about 20 minutes.

While pie is baking, make custard base: Pour milk and vanilla into a saucepan and scald over medium-low heat.

In a mixing bowl combine remaining cup of brown sugar and eggs and whisk together.

Add ½ cup scalding milk to egg and sugar mixture and quickly whisk together to prevent scrambling. Whisk an additional ½ cup milk to mixture and whisk together.

Pour mixture back into saucepan with remaining milk and whisk together.

Cook mixture, constantly stirring, until just thick enough to barely coat the back of a wooden spoon. Stir in ½ tablespoon chai spice into milk mixture and remove from heat.

After 20 minutes remove pie from oven. Pour milk mixture evenly over pie and place back into oven for an additional 20 to 25 minutes or until custard sets and top of pie turns golden brown.

Remove from oven and cool for 10 to 15 minutes before unmolding from pan. Transfer to serving dish.

Combine powdered sugar with remaining chai spice and sift over ruffled pie. Serve.
NOTES
*Makes 1 (9 inch) pie
                                                                                                                                                                           *To Freeze: Cover springform pan tightly with foil and place in freezer for up to 3 months. To make, preheat oven as directed above and bake pie for 30 minutes before pouring milk mixture over and continuing to bake for 20 to 25 minutes.