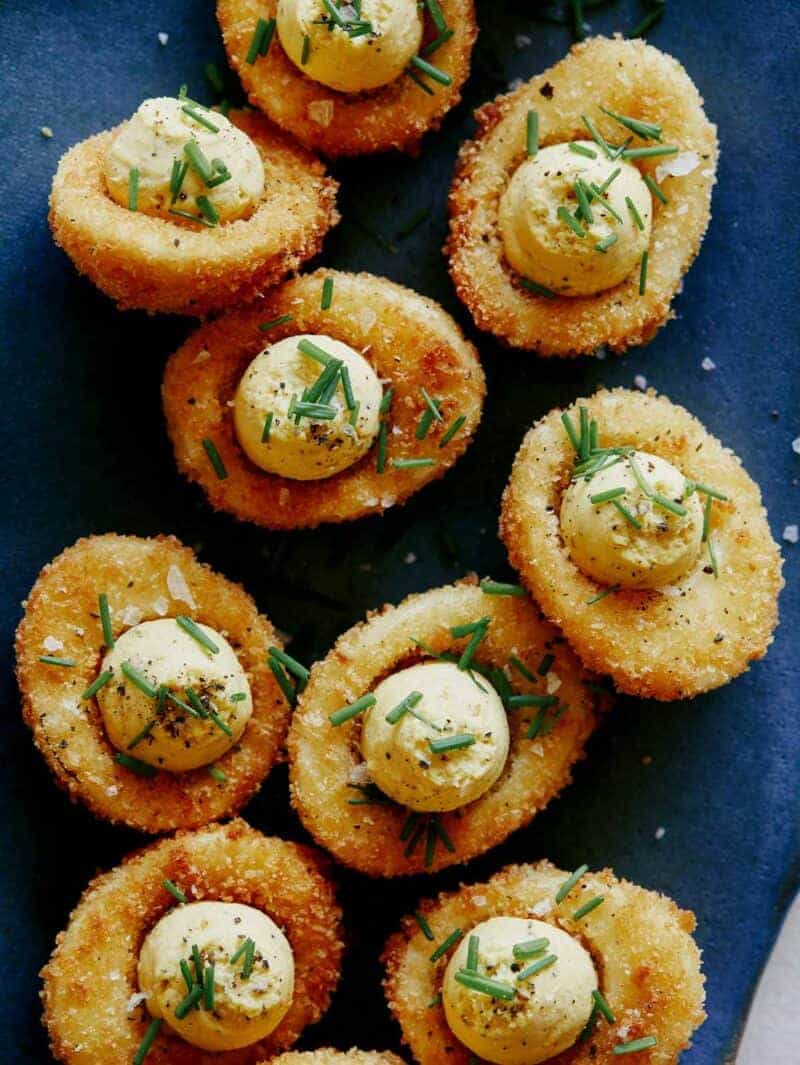 Just in time for the holidays we have a really yummy mix it up kind of recipe for you. If you are in charge of bringing deviled eggs – maybe try our fried deviled egg recipe. The crunch of the egg is a really nice change to your typical deviled egg. Plus, everyone likes fried things so you're kinda guaranteed it will be a hit. I am a really big fan of deviled eggs, and these do not make me wish I had the regular kind. Anyway – you should try them! Enjoy!
♥ Teri
Ingredients in Fried Deviled Eggs
There are only a few extra ingredients you need to make Fried Deviled Eggs versus traditional Deviled Eggs. For traditional Deviled eggs you typically need:
12 hard-boiled eggs
Mayonnaise
Sweet pickle relish
Dijon mustard
Salt and pepper
For Fried Deviled Eggs you will need these additional ingredients:
Flour
2 large eggs, beaten
Panko breadcrumbs
Butter crackers like ritz
Chives
Oil for frying
Best Way to Hard Boil an Egg
Place eggs into a large pot, in a single layer and fill with water until eggs are covered about 2 inches. Place the pot onto a stove over high heat and bring to a boil. Once water is boiling, set a timer for 10 minutes. Once eggs have been boiling for 10 minutes, remove from heat and transfer eggs to a bowl of ice water to prevent them from cooking further.
Best Way to Peel a Hard Boiled Egg
Place an egg on a hard surface and carefully, but firmly roll to crack the shell around the entire egg, then peel. This will help to loosen the inner protein membrane of the shell from the boiled egg, making it easier to peel. It's also a good idea not to use super fresh eggs as they are more difficult to peel.
How to Make Fried Deviled Eggs
To make Fried Deviled Eggs you start with the method you use to make classic deviled eggs.
You cut a dozen hard boiled and peeled eggs lengthwise, and then separate the yolks from the whites.
Then you can make a creamy filling with the egg yolks by adding mayonnaise, relish, Dijon, and salt and pepper. You mix those ingredients together and set aside until you are ready to use.
To prepare the hard boiled egg white halves for frying, it's best to set up an assembly line for your dredging station, which will help to stay organized.
First will be a bowl of your hard boiled egg whites.
Second, will be a shallow baking dish with the flour.
Third, you'll need two eggs beaten in a wide mouthed mixing bowl.
Fourth will be the panko and crackers in a shallow baking dish.
Once you have your dredging station set up, you take a hard boiled egg white half and dredge it into the flour mixture and carefully to coat the entire surface. Make sure to shake off any excess flour. Then place your flour covered egg white into the bowl of beaten eggs and cover with the egg mixture. Allow any excess egg mixture to run off the egg, to prevent the mixture from becoming too thick and gummy. Next, place the egg into the panko mixture, ensuring the egg white is evenly covered with panko over the entire surface. Again, you'll want to shake off any excess crumb mixture so you have a light and crispy coating once fried. Place onto a plate in a single layer to prepare for frying. Repeat until all egg whites have been coated.

Fried Deviled Eggs in an Air Fryer
Yes you can make Deep Fried Deviled eggs in an air dryer. Spray each dredged hard-boiled egg white half with olive oil cooking spray. Place into your air fryer at 380˚F for 4 to 5 minutes. Flip the eggs, and spray again with olive oil. Cook for another 4 to 5 minutes. They should have a nice golden brown color on both sides and should be crisp.
Fried Deviled Eggs without Panko
We like using panko breadcrumbs because they provide maximum crunch, but you can also use Italian bread crumbs or even finely crushed crackers or your choice. If you're looking for something gluten-free, there are gluten-free panko breadcrumbs available!
Make ahead tips:
You can hard boil, peel, and halve the eggs in preparation for this recipe up to 3 days in advance. You can also separate the yolks from the whites and prepare the filling. Store in an airtight container in the refrigerator until you are ready to use. 

You can also prepare the eggs up until you fry them. Line a container with parchment and place coated egg whites in a single layer. Top whites with another layer of parchment and place in the refrigerator for up to 24 hours. This recipe is best when you eat the eggs after they have been freshly fried.
Tips and Tricks for making Fried Deviled Eggs
Create an assembly line of your dredging station when you are ready to fry your eggs. This will help you stay organized.
Use a slotted spoon or a large fork to transfer the eggs from one dish to another when dredging, to keep your hands clean.
Make sure you shake off excess panko breadcrumbs so that the egg whites have a nice, thin and even coating for maximum crunch!
More egg appetizer recipes you might like: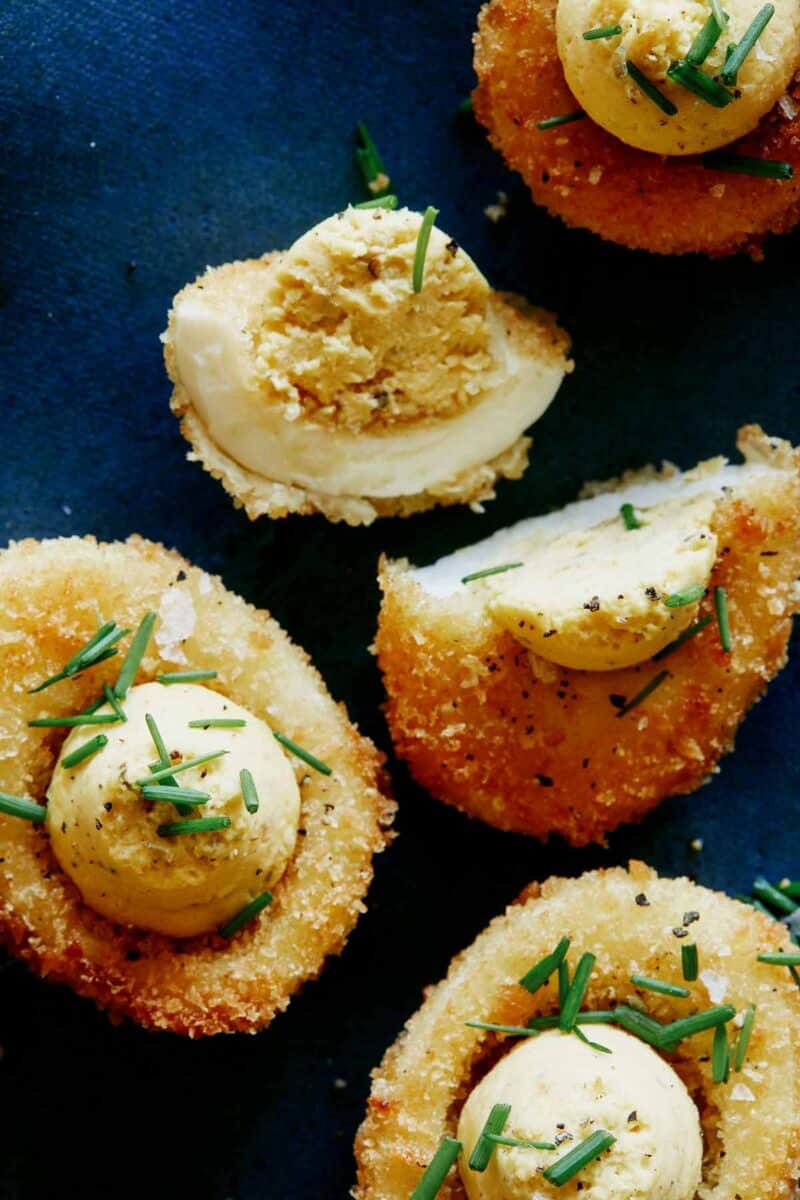 Hungry for more?
Subscribe to never miss a recipe.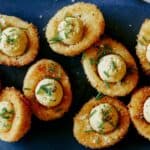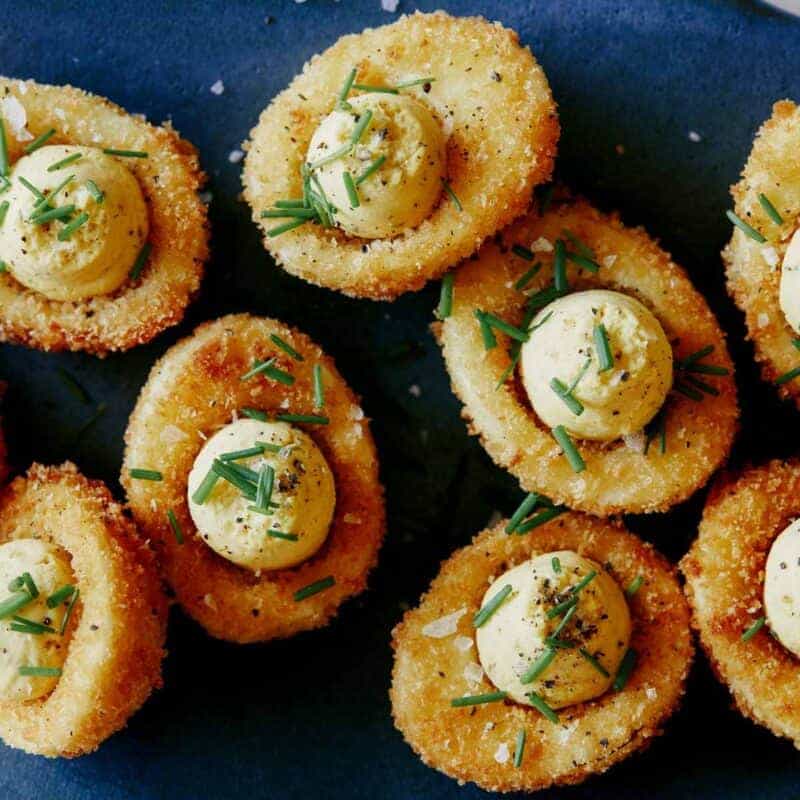 ---
Fried Deviled Eggs
Our Fried Deviled Eggs is an impressive snack or appetizer to serve your guests. We coated the egg whites in a panko mixture and then fried them. The result is a delicious crunchy twist on classic deviled eggs, and is always a crowd pleaser!
INGREDIENTS
12

large

hardboiled eggs, peeled and halved lengthwise

2

tablespoons

mayonnaise

1 ½

tablespoons

sweet pickle relish

2

teaspoons

Dijon mustard

salt and pepper to taste

1 ½

cups

all purpose flour

2

large

eggs, beaten

1 ½

cups

panko breadcrumbs

1

cup

finely crushed butter crackers

i.e. Ritz

thinly sliced chives for garnish

oil for frying
INSTRUCTIONS
Carefully scoop egg yolks from the egg whites, into a mixing bowl and set whites aside.

Add mayonnaise, relish and mustard to yolks and lightly season with salt and pepper.

Mash together until smooth and creamy. Adjust seasonings, cover with plastic wrap and set aside.

Set up an assembly line with the egg whites, flour in a shallow baking dish, eggs in a mixing bowl, and the panko and crushed crackers mixed together in another shallow baking dish.

Dredge egg whites into the flour, eggs and finally the panko-cracker mixture, shaking off any excess after each addition. Repeat until all the egg whites have been breaded.

Fill a tall pot with 2 inches oil and preheat to 350˚F.

Carefully add egg whites to the pot, a few at a time, and fry on each side for 2 to 3 minutes or until golden brown. Drain fried whites onto a paper towel and lightly season with salt and pepper. Transfer whites to a cooling rack (to prevent them from getting soggy) and repeat until all have been fried.

Scoop about 1-2 tablespoons of the yolk mixture into each well(or scoop mixture into a piping bag and pipe into the wells).

Finish each egg with a sprinkle of chives and serve warm.
Serving:
1
g
Calories:
219
kcal
Carbohydrates:
22
g
Protein:
10
g
Fat:
10
g
Saturated Fat:
3
g
Cholesterol:
218
mg
Sodium:
213
mg
Potassium:
112
mg
Fiber:
1
g
Sugar:
2
g
Vitamin A:
328
IU
Calcium:
53
mg
Iron:
2
mg