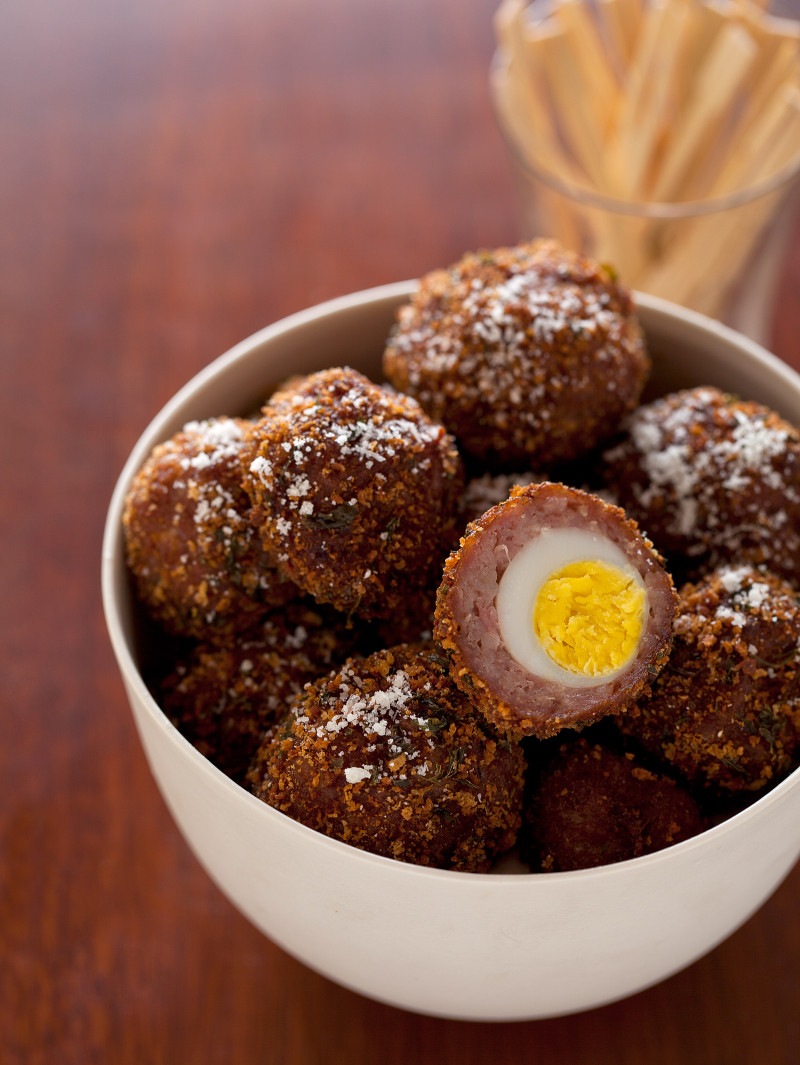 Hi.
Do you ever go to a super pretentious party and they serve weird appetizers that look like cat food on a cracker? I've been there. I usually eat it, even if it smells like cat food too. Why not? I'll eat just about anything, and because I have cats, the cat food smell is nothing new to me. In fact, I like the smell of cat food now. Anyway. Super pretentious food sucks. No one really likes it, and if you do like it, you are simultaneously admitting that you too, are pretentious. Enter Scotch Eggs. Its like the median between pretentious and trashy, kinda. You have a quail egg (pretentious? sorta), and then breakfast sausage (not even close to pretentious), IN ONE. Plus its fried, so that should give it like +5 un-pretentious points. its delicious, and pretty. How can you not like breakfast compacted into a small little meat ball? I dunno.
♥ Teri
Scotch Eggs
Makes: 12
Ingredients:
12 quail eggs, hard boiled and peeled
1/2 pound low sodium breakfast sausage
1  cup seasoned breadcrumbs
1/2 cup grated parmesan cheese, divided
salt and pepper to taste
1 quart oil for frying
12 wooden cocktail picks
Directions:
1. Pour oil into a large pot and begin preheating on medium-high heat.
2. Place about 1 tablespoon of sausage, evenly, around each quail egg, forming a thin meatball-like layer around the eggs.
3. Place breadcrumbs and ¼ cup parmesan into a shallow dish and gently roll eggs in mixture until fully coated.
4. Once oil has reached 350° F, fry eggs in two batches, for 5 minutes.
5. Drain on paper towels and season with salt and pepper.
6. Finish with a sprinkle of the remaining ¼ cup of parmesan and serve on cocktail picks.