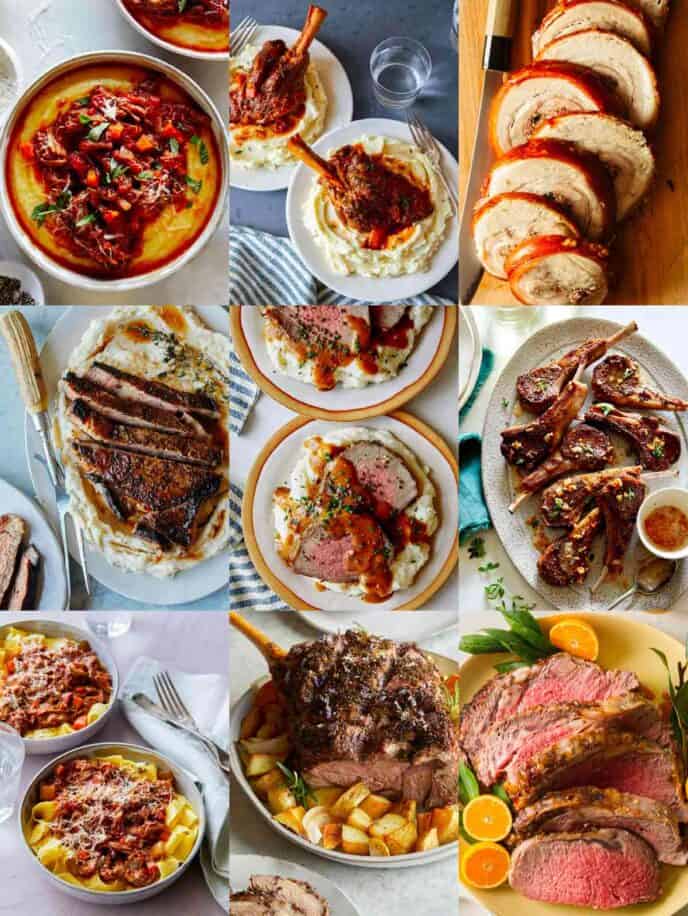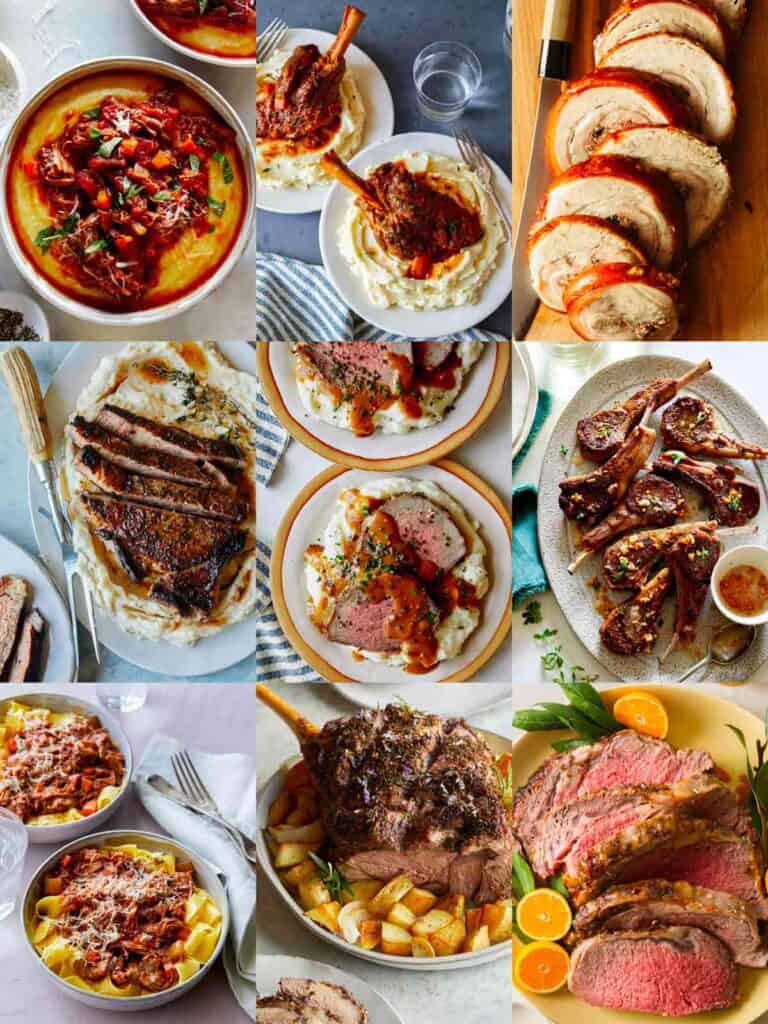 When you're planning for your Christmas Day Feast, it's so hard to decide whether to go with something expected like glazed ham with a green bean casserole, or something more offbeat like a Pork Belly Porchetta. We rounded up all of our favorite Christmas Dinner ideas for you! Some are traditional, and some are not so traditional. To round out your holiday menu we also included some delicious side dish recipes, appetizers, and my favorite – desserts. We hope you enjoy this list of Christmas Dinner recipes and find some delicious food you will want to make for family and friends!
Your go-to menu for a Traditional Christmas Dinner

What is a typical Christmas dinner? For us, it's a Standing Rib Roast. Prime Rib is always a crowd-pleaser and paired with the recipes we list below it makes the most perfect Christmas Dinner we can think of!
These Cheesy Potatoes Au Gratin are super creamy and cheesy. They are made with white cheddar and parmesan and baked so they get a nice crispy layer on top.
Popovers are often served with Prime Rib dinners. They are a delicious custardy and light dinner roll. Our Ham and Cheese Popovers are the perfect recipe to pair with this traditional Christmas Dinner menu.
Lightly Roasted Green Beans are the perfect pair for a prime rib dinner. We love this recipe because the green beans remain perfectly crisp, and the nut topping we have gives these beans a delicious flavor.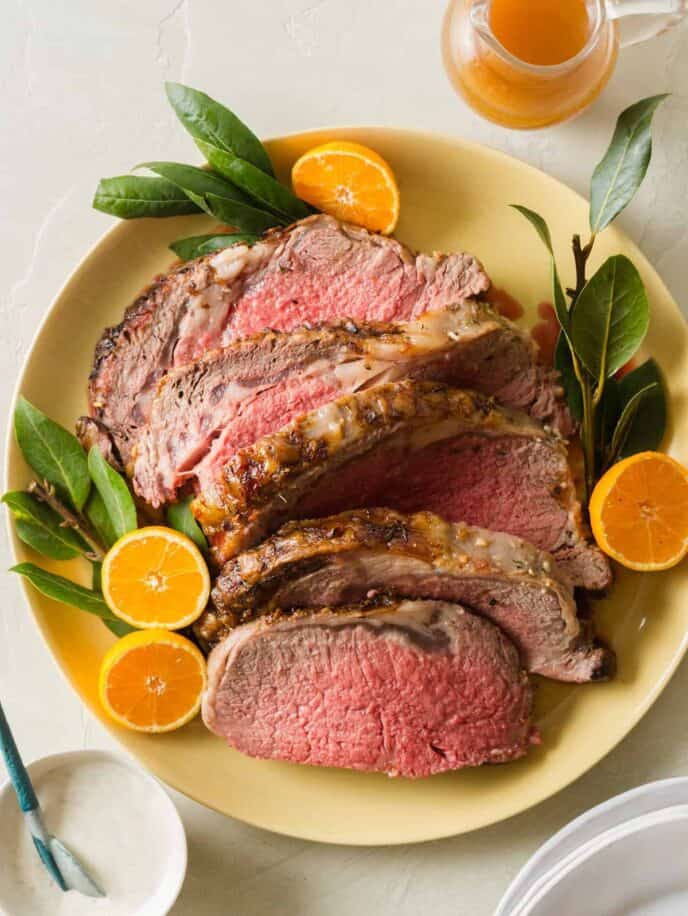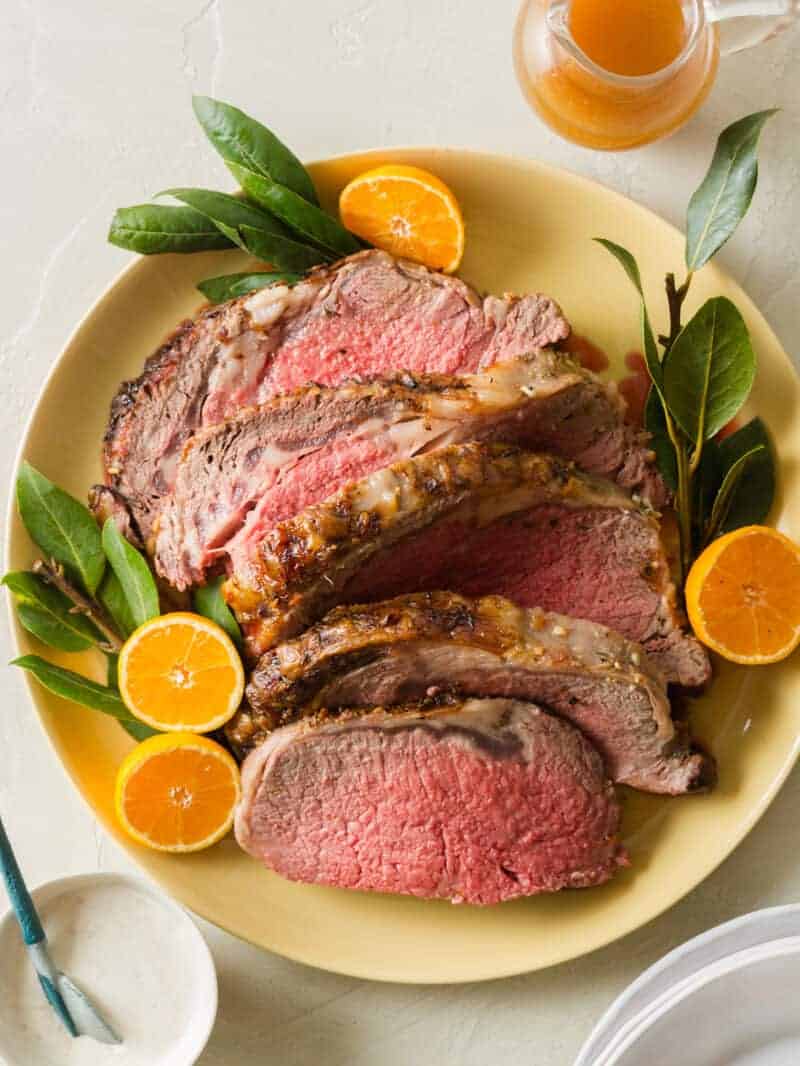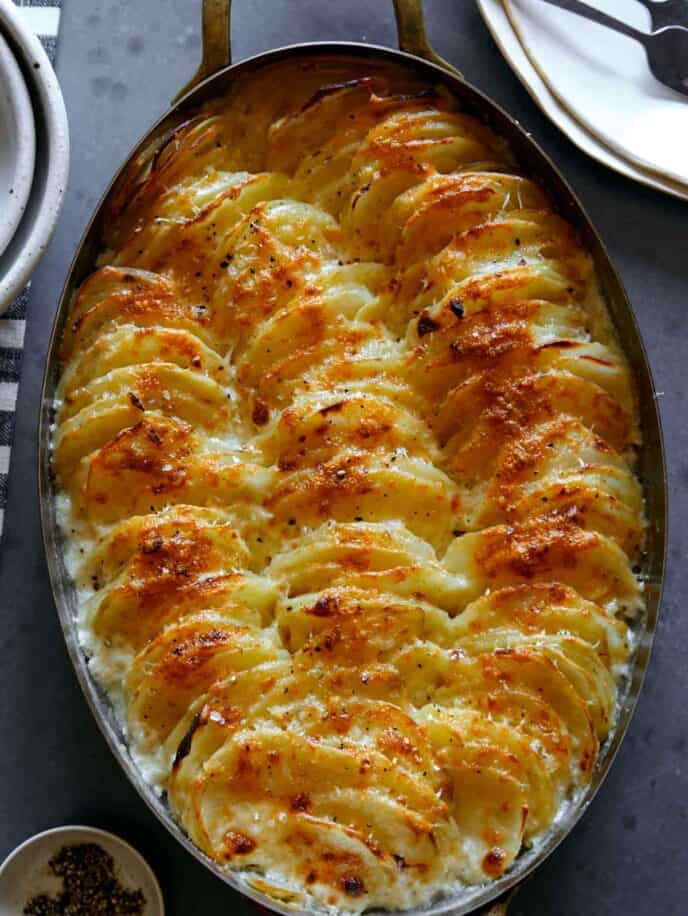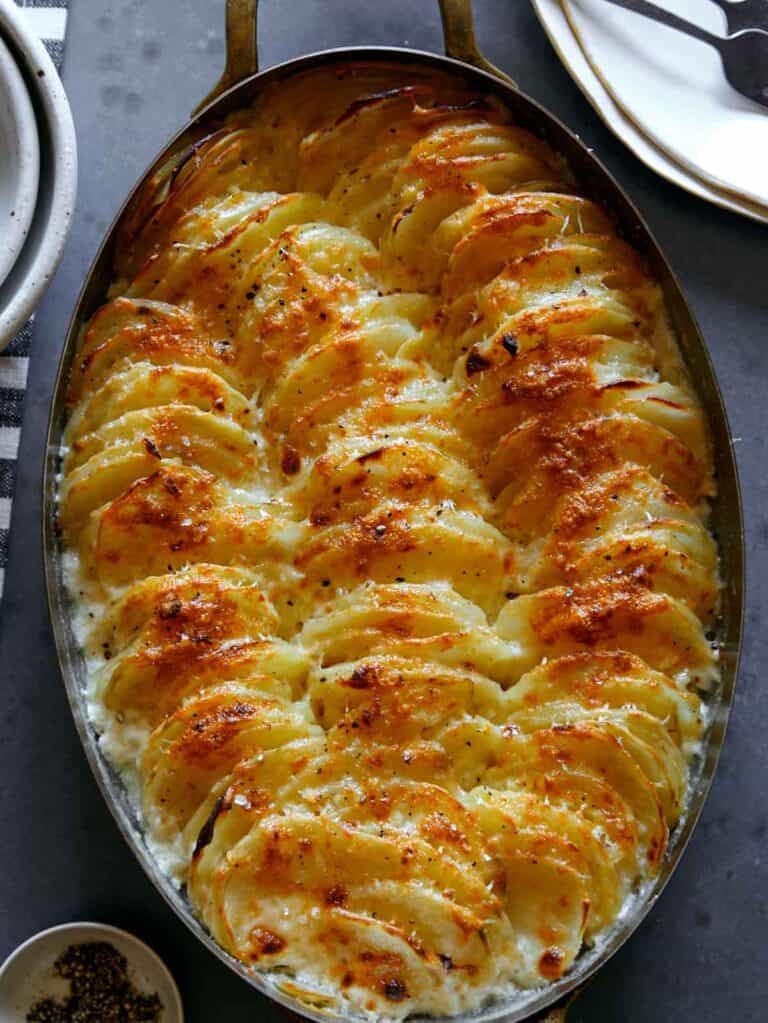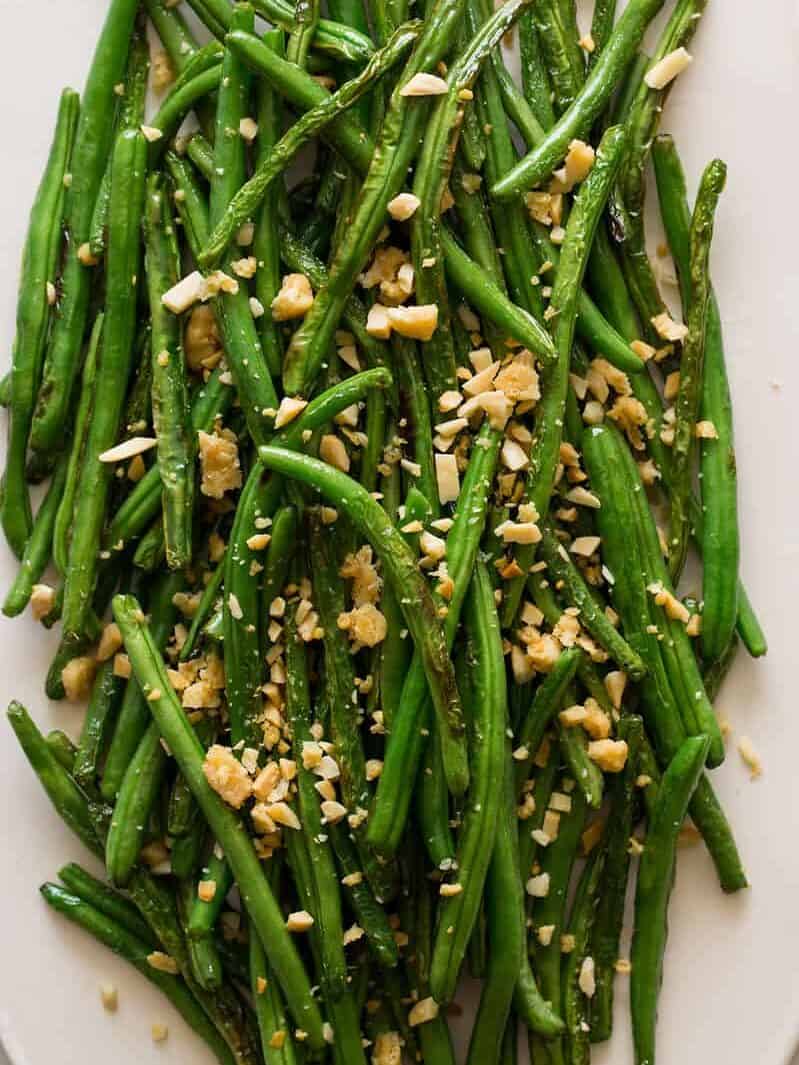 This Creamed Corn recipe is insanely good. Simple ingredients and 20 minutes are all it takes to make this side. A great recipe to add to your Christmas recipes list.
Sticky Toffee Pudding is the ultimate holiday dessert. Date flavored sponge cake with brown sugar with a rich toffee sauce and served with a softly whipped cream. This dessert has an insane flavor and we know all your guests will love it!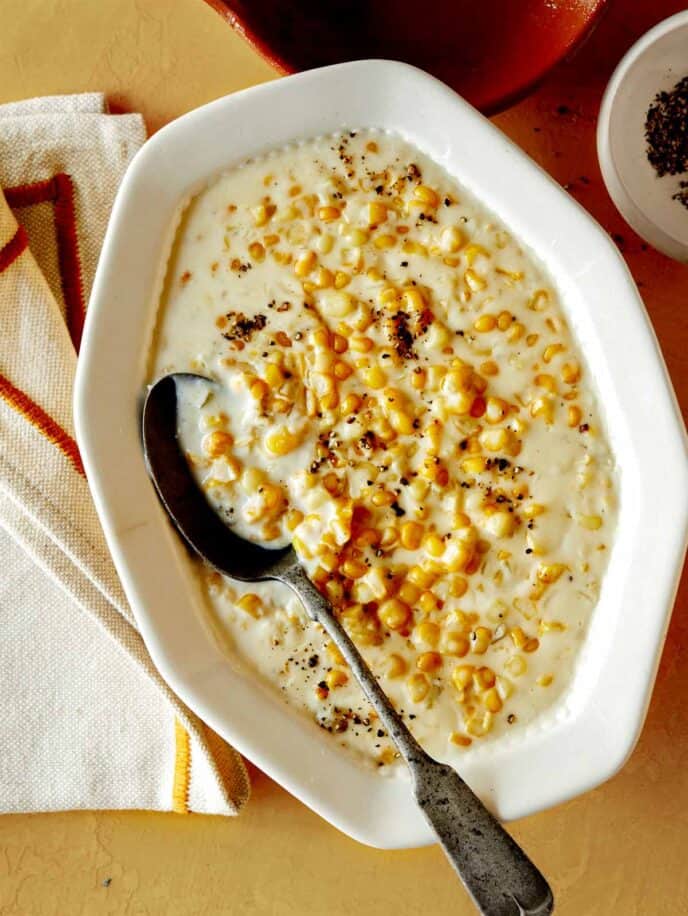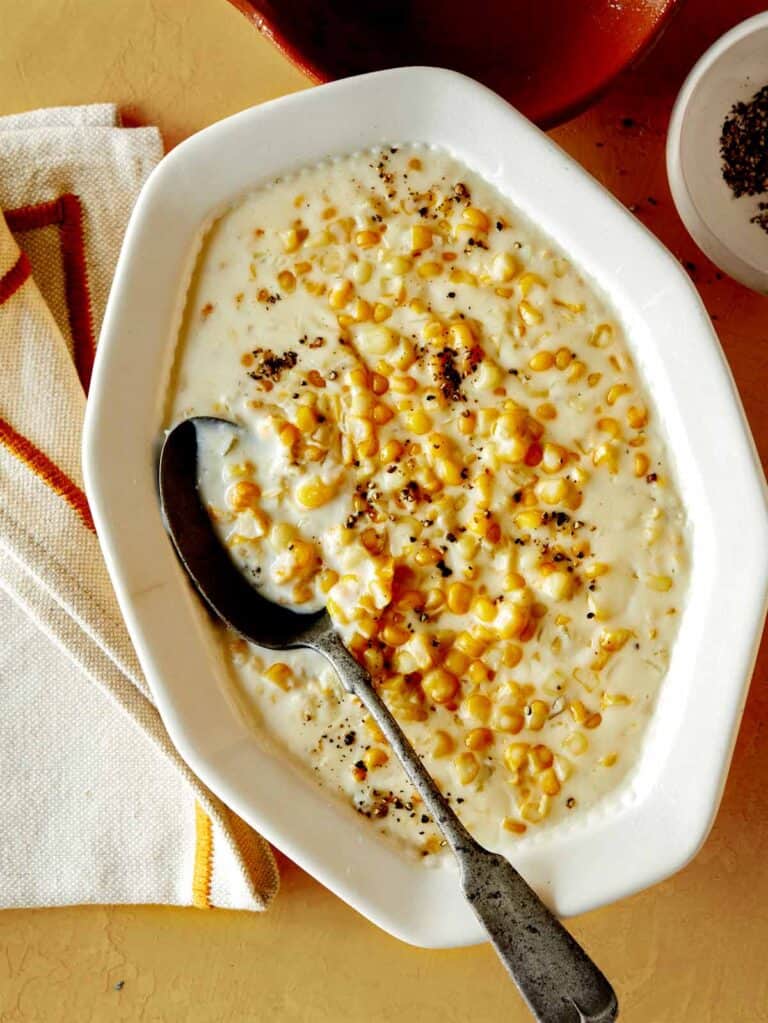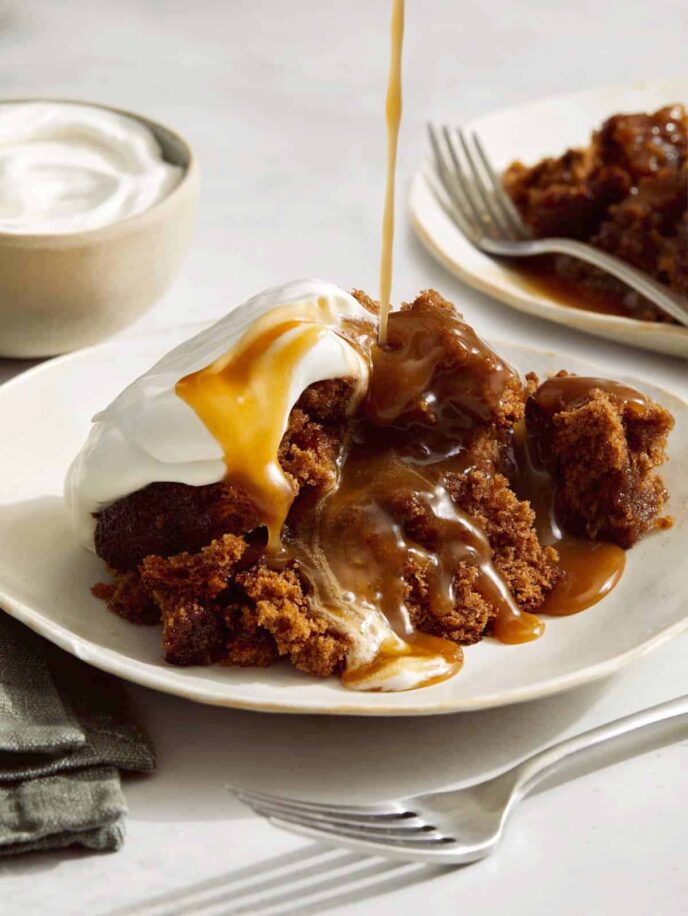 Christmas Dinner Mains
Roasts! Impressive meats for your Christmas Dinner Table

Easy Roast Beef is a great addition to your holiday menu because it's so easy! We serve ours with a yummy gravy and with mashed potatoes
Our Maple Balsamic Roasted Duck is the perfect recipe if you're looking for something special for your table. We serve this beautiful duck with a seasonally centric cranberry and persimmon chutney.
Garlic and Anchovy Roasted Lamb Chops is a flavorful and simple main dish. It's a pretty stress-free recipe to make, and if you can find it, we love the flavor of New Zealand lamb.
Our Spatchcock Chicken recipe may not seem special enough for a holiday dinner, but this recipe is so good, and really perfect if you have a small guest list.
Pork Belly Porchetta is an impressive dish. A whole pork belly gets rubbed with some spices and roasted in the oven. The skin of the roast pork gets super crispy. Your guests will be so happy to be served this.
This Herb Crusted Leg and Grass-Fed Lamb is an impressive dish to serve. We finished it with some fresh herbs which make it a very festive dish.
Our Citrus and Herb Roasted Turkey is a delicious way to prepare a turkey. You can even do this recipe with just a turkey breast if that is the cut of meat you prefer. Turkey isn't just for Thanksgiving either! Definitely do not skip on the cranberry sauce though!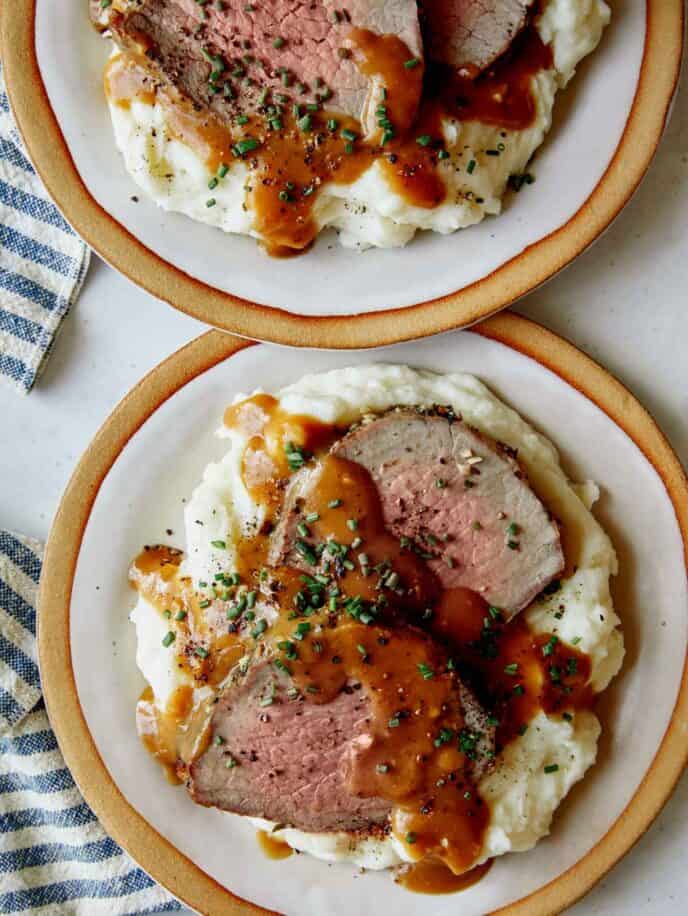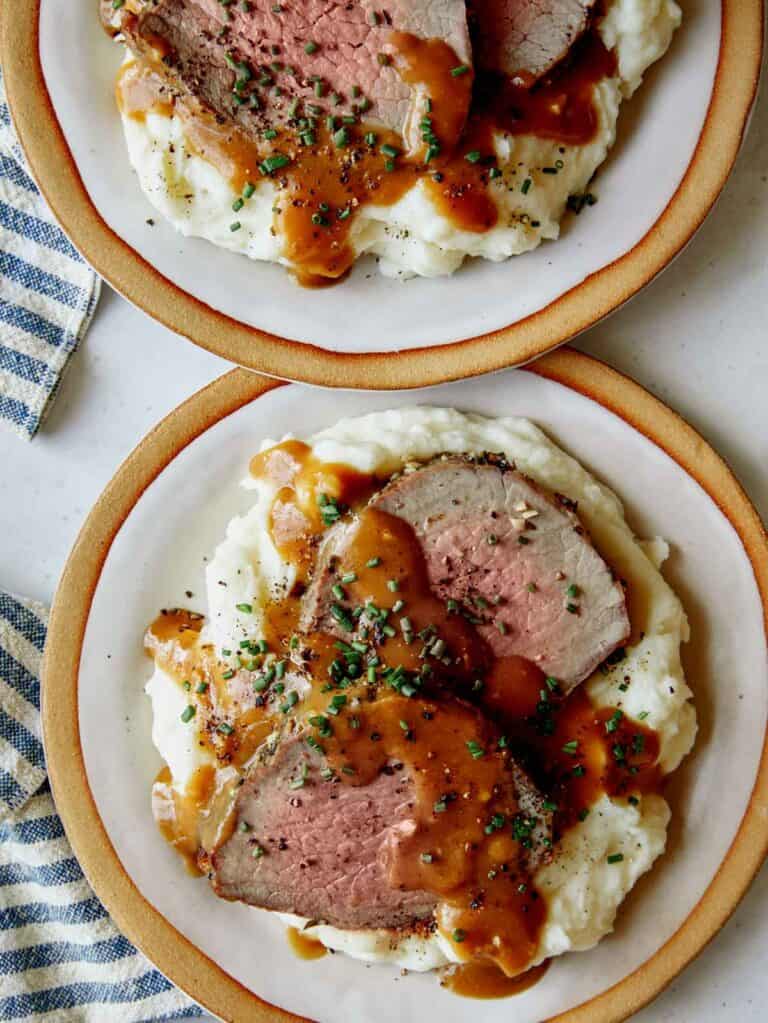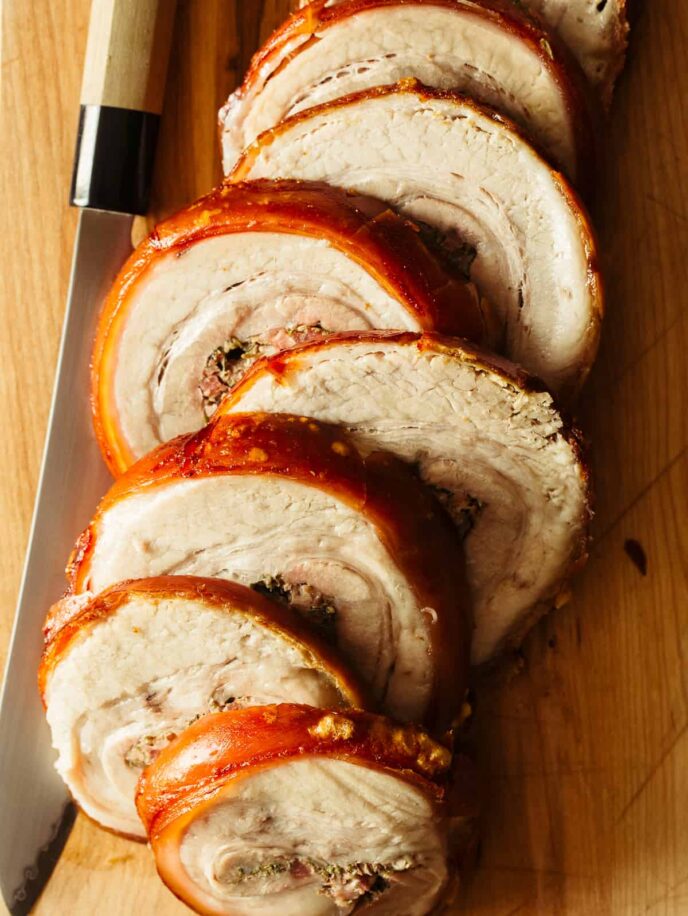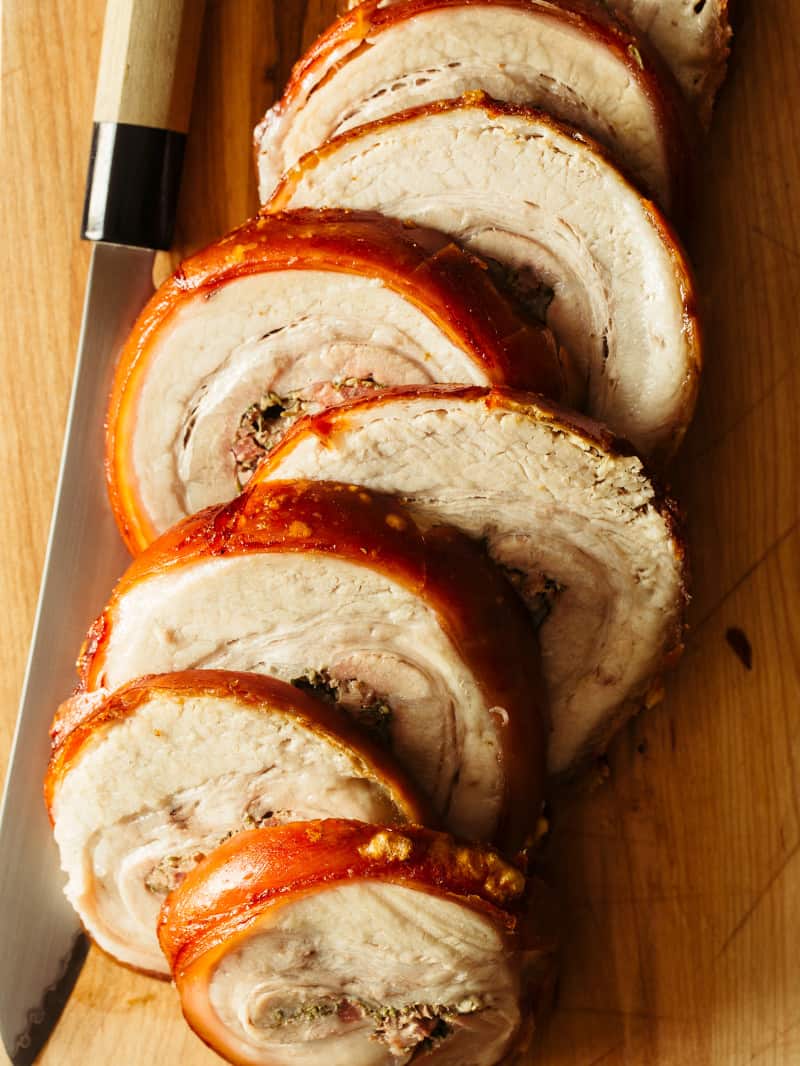 Braised Meats – Easy stress-free recipes for your Christmas Menu

These Braised Lamb Shanks are melt in your mouth delicious. Not only are they delicious and easy to make, but they give off quite an impressive presentation!
Beef Ragu is an incredibly flavorful dish. We serve ours over polenta but you can serve yours over pasta or risotto.
Coq Au Vin is a delicious chicken dish. The chicken is marinated in red wine which gives them a beautiful burgundy color and incredible flavor.
Our Milk Braised Pork Shoulder is a super hearty meal that is perfect for cold weather nights. We serve it over our Colcannon recipes but it's also delicious over risotto or our Creamy Cauliflower and Parsnip Mash.
This Braised Pork Ragu Pappardelle is a perfect recipe for a bigger group. This recipe does make a lot, and we love to serve it over pasta. Pair this with our garlic bread for a special but simple dinner!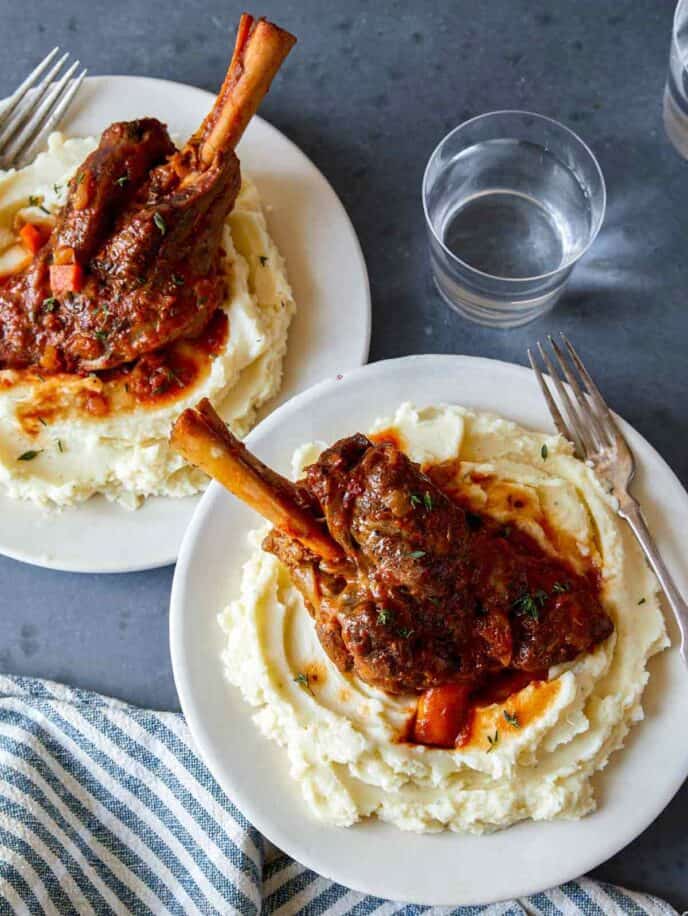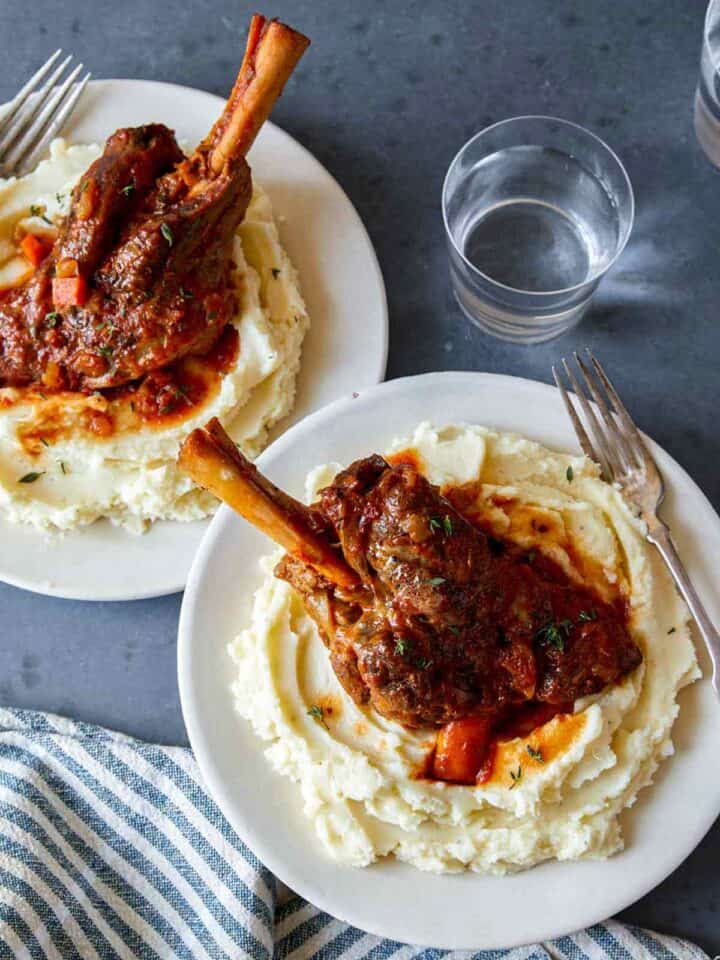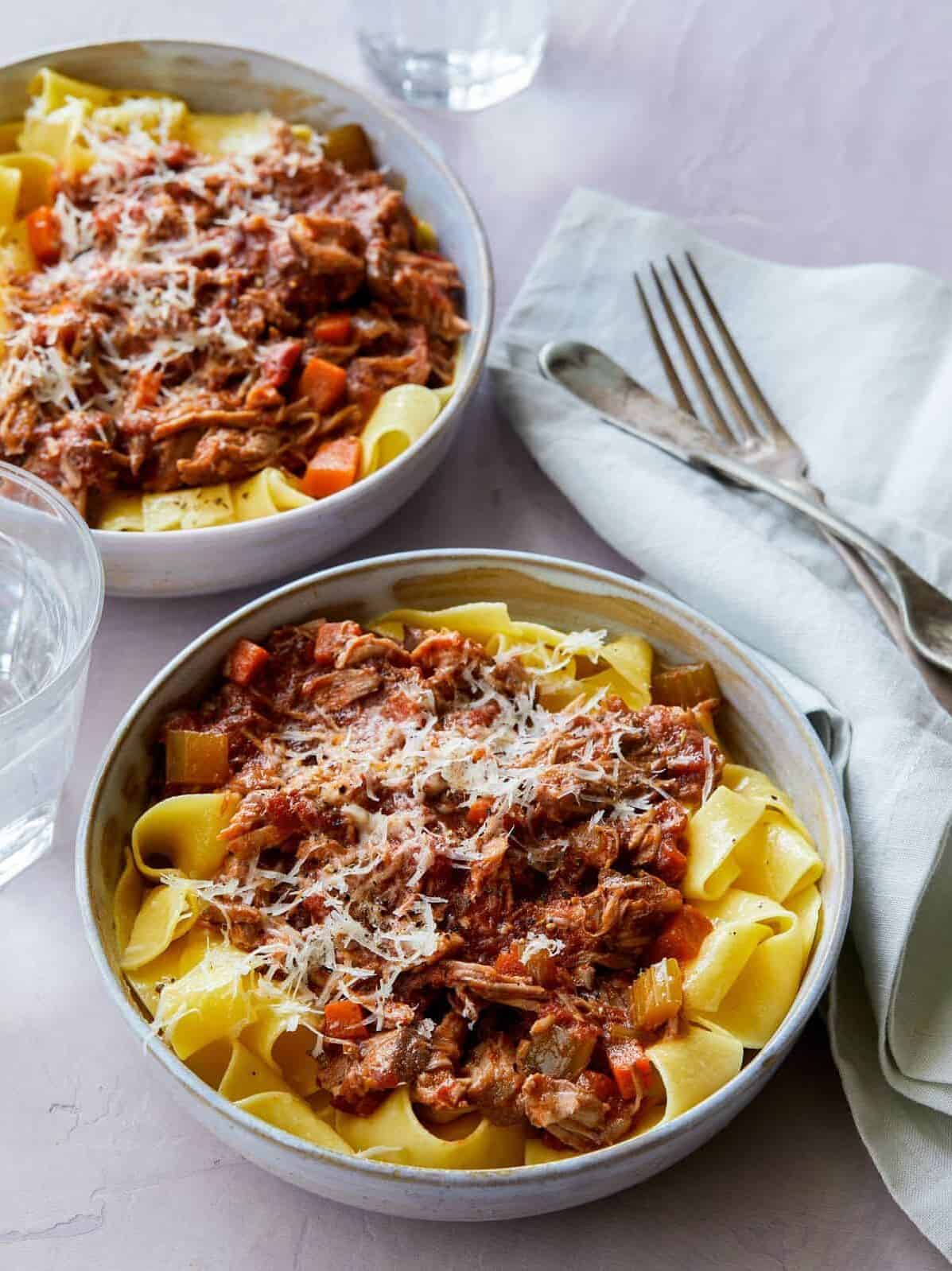 Alternative Mains for your Christmas Dinner Menu
Garlic Butter Lamb Chops are a terrific option for this special meal. These lamb chops are seared which gives them a nice crust to seal in all the flavor. Lamb isn't the usual dinner meat, which is why we included this on our Christmas Dinner Ideas list!
Beef Stroganoff is a super easy recipe that the whole family will love. It's an especially great recipe if you are hosting a big group because it doubles really easily.
These Pistachio Crusted Pork Chops are a very festive (the green pistachio crust is so pretty!) recipe. This Christmas dinner idea is a great alternative to beef.
This Char Siu Pork Tenderloin recipe is really perfect if you're looking for something a little more unique. This glazed pork tenderloin offers great flavor, and you can still pair it with all your favorite sides.
Our Seared Ribeye over Browned Butter Mashed Potatoes is a great recipe if you are looking for beef, but have a small enough group where it's not practical to cook a whole prime rib. This recipe is delicious and the browned butter mashed potatoes give the potatoes a yummy nutty flavor that we love paired with the ribeye.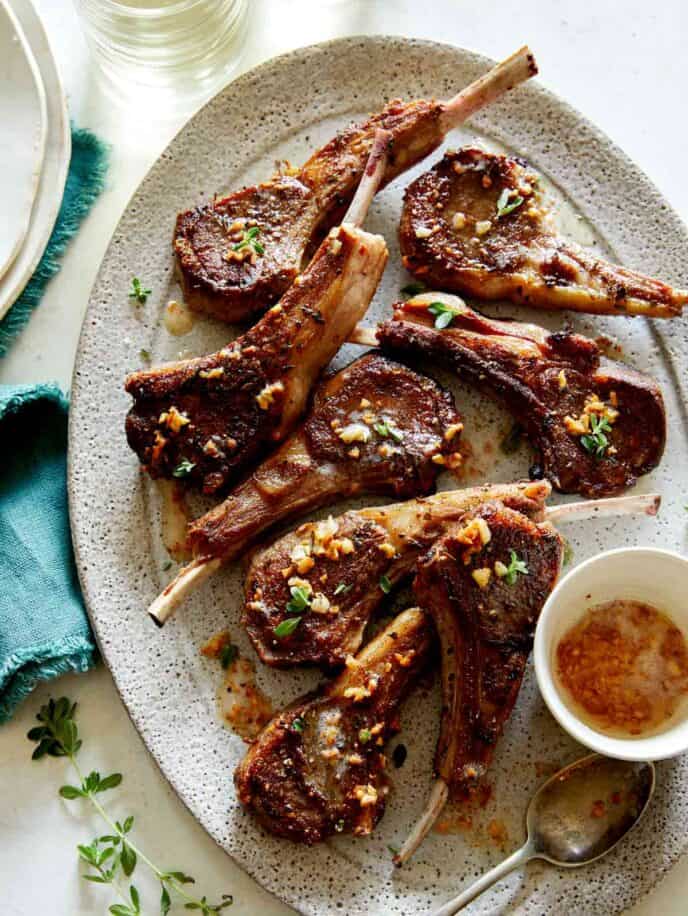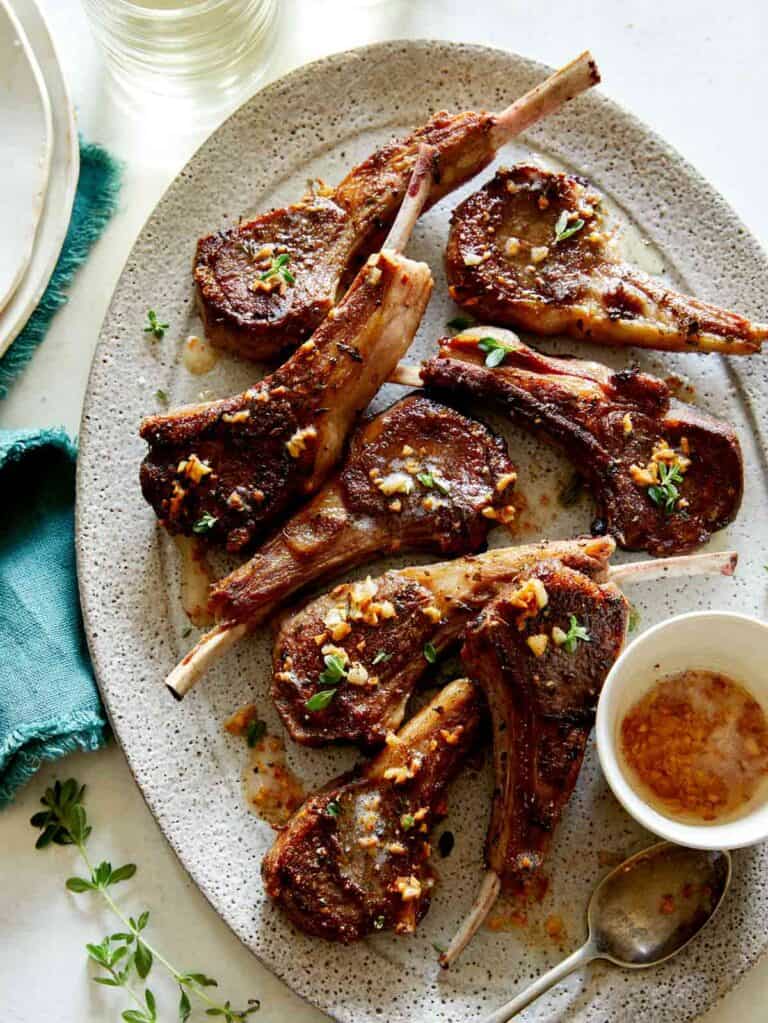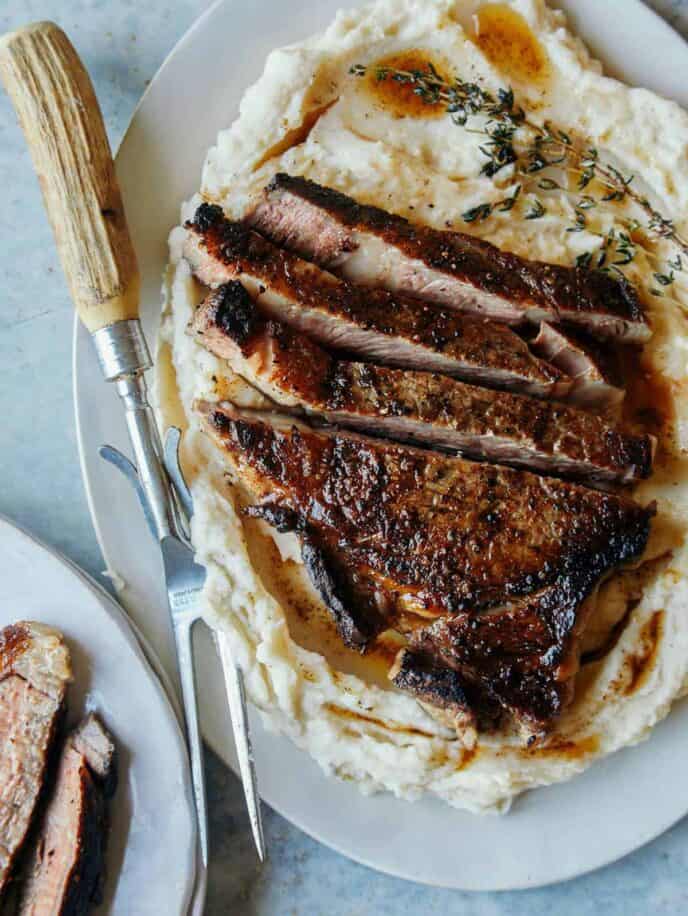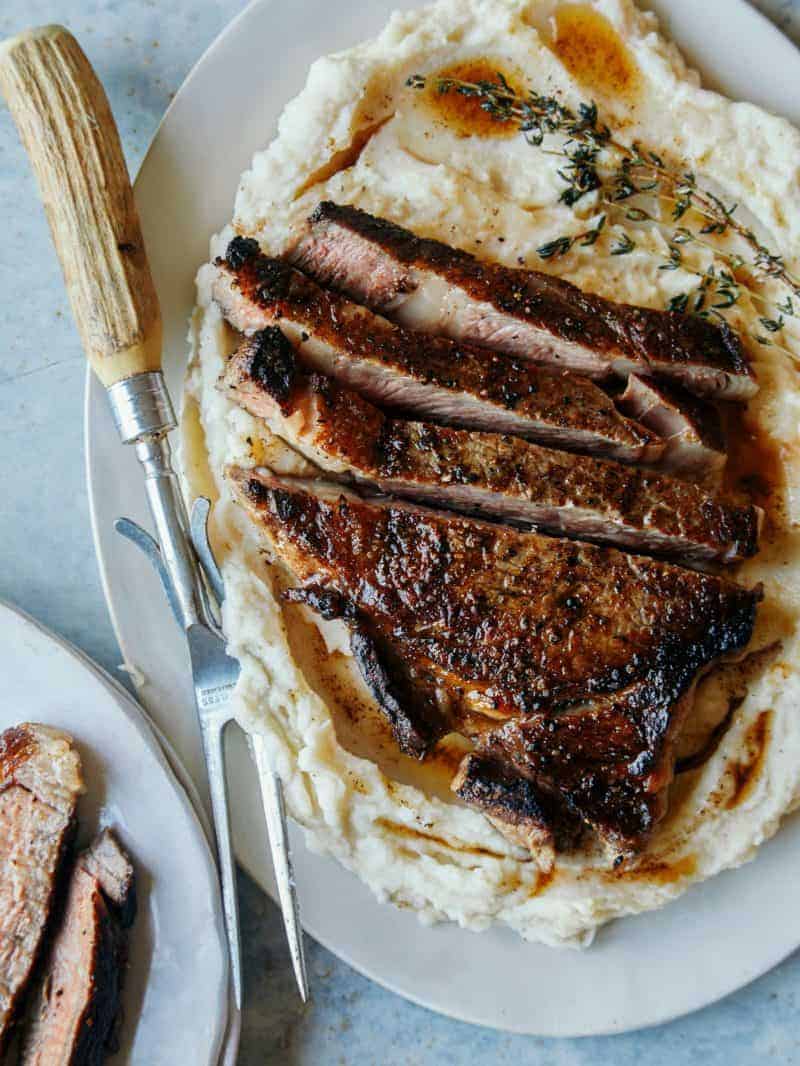 What to serve with Christmas Dinner
Salads
Sometimes it's hard to figure out some good side dishes that go with well with your main dish. This Classic Caesar Salad can do no wrong and will literally be delicious with any kind of meat you have planned.
This Shaved Brussels Sprouts Salad is one of our favorite salad recipes on the blog. We made this with warm mustard and prosciutto vinaigrette that is tangy and pairs so well with the crisp brussels sprouts.
Our Wedge Salad is another great salad option that goes with everything. Served with a creamy homemade bleu cheese dressing and some crispy Proscuitto, this salad is so good!
This Chickpea Kale Apple and Goat Cheese Salad utilized a lot of seasonal ingredients, and you can make it even more festive by adding in some pomegranate seeds.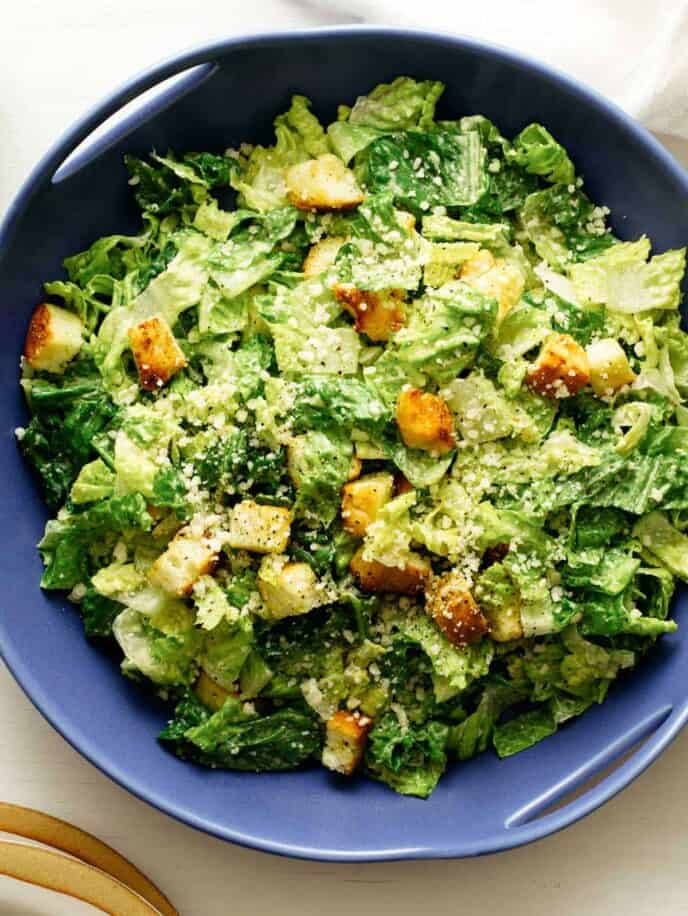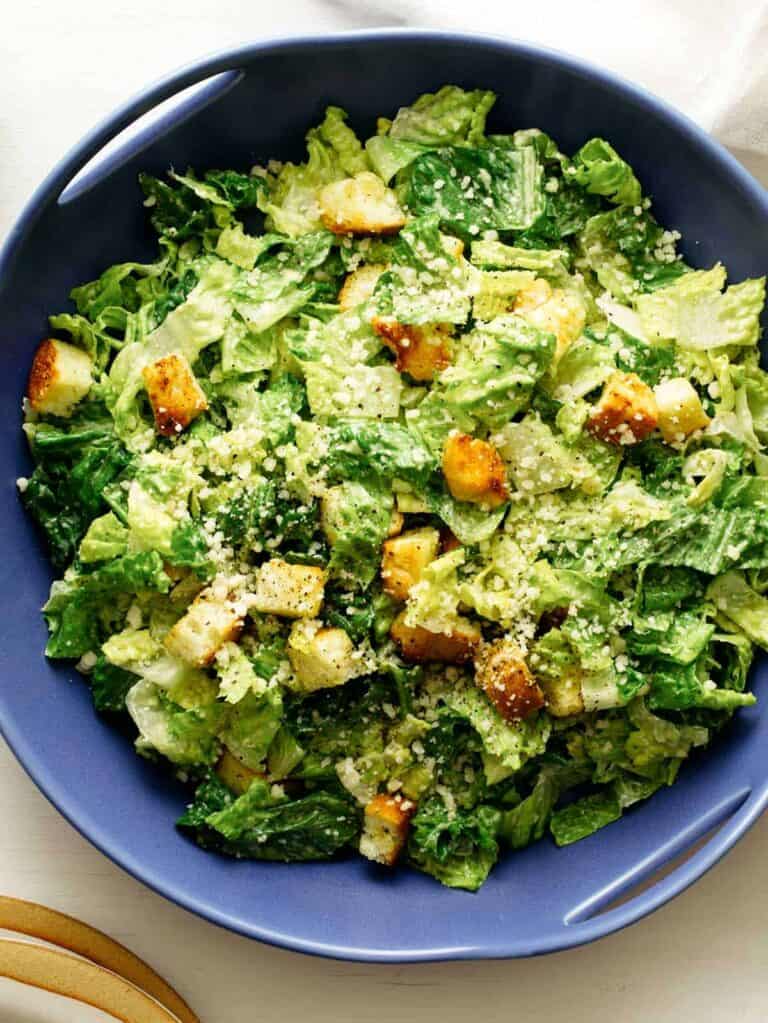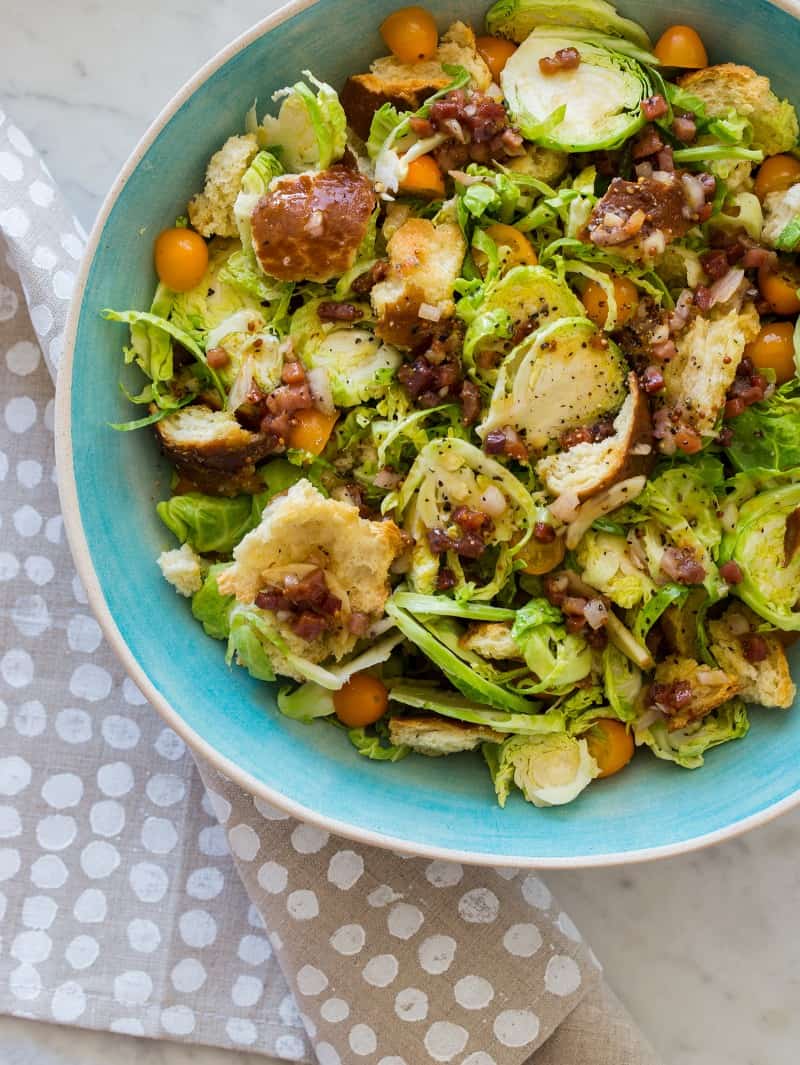 Side Dish Recipes
Cheesy Potato Casserole is one truly amazing potato side dish recipe. This recipe uses caramelized onions and a potato chip crust. All of which we know will wow your guests.
You may think stuffing is just for Thanksgiving and you would be wrong! We love pairing stuffing with more than just turkey, like beef dishes and even chicken. Our Mushroom Stuffing is so versatile and goes with all of that.
Heavenly Mashed Potatoes are just as you might think after reading the name, heavenly. These mashed potatoes have been taken up a notch because they are extra creamy because we added cottage cheese to them. You will want to keep this mashed potato recipe around!
Butternut Squash Puree with Browned Butter is a great alternative to mashed potatoes. This slightly sweet puree is swimming in brown butter so you know this is going to be good!
Our Baked Carbonara Mac and Cheese is a side dish we know no one will be complaining about. This super creamy mac and cheese has some bacon and peas added to it and will be an instant favorite on your holiday table.
These Twice Baked Sweet Potatoes are a very impressive-looking side dish recipe and a great alternative to a sweet potato casserole. We top ours with a few chopped pecans and some cheese.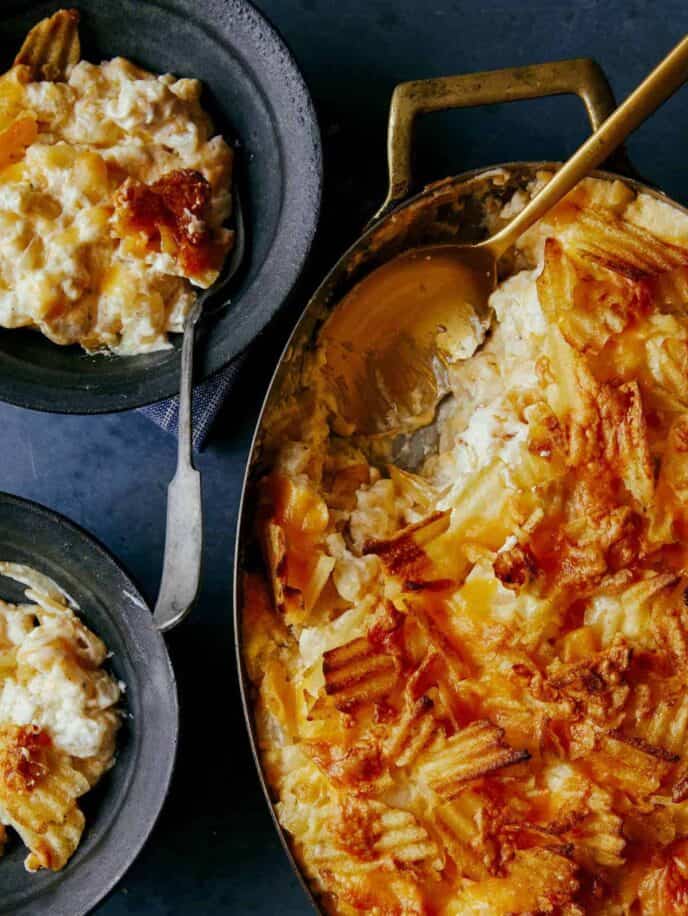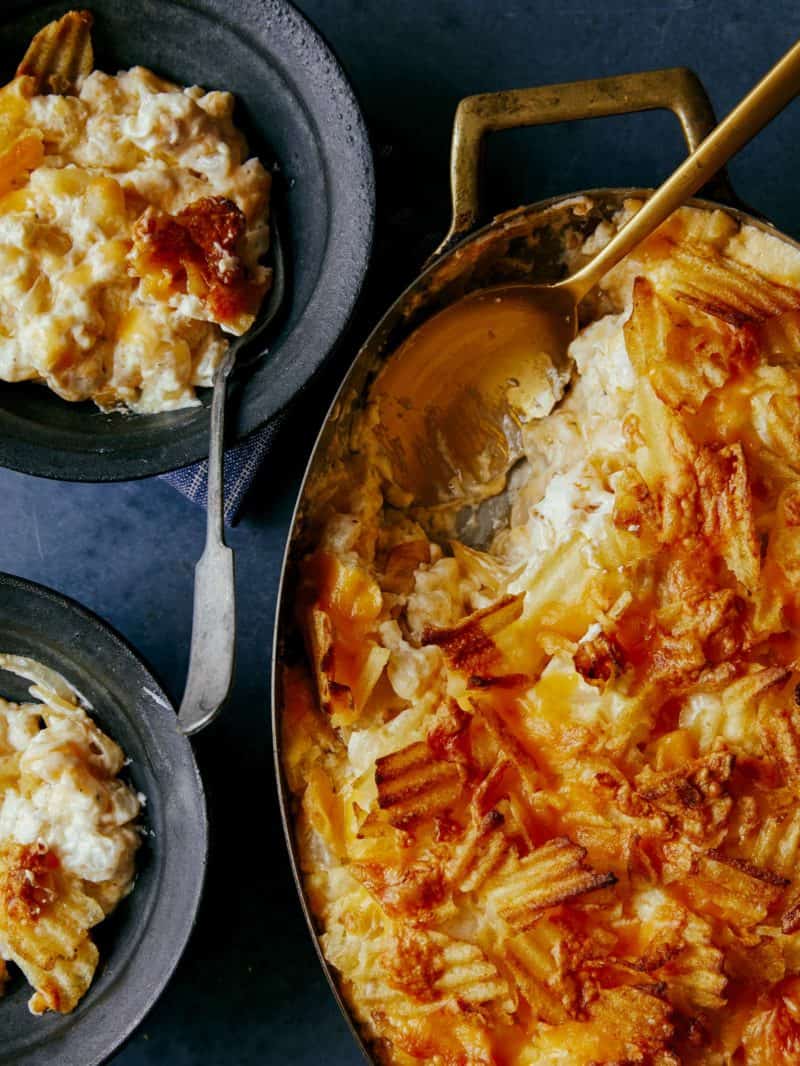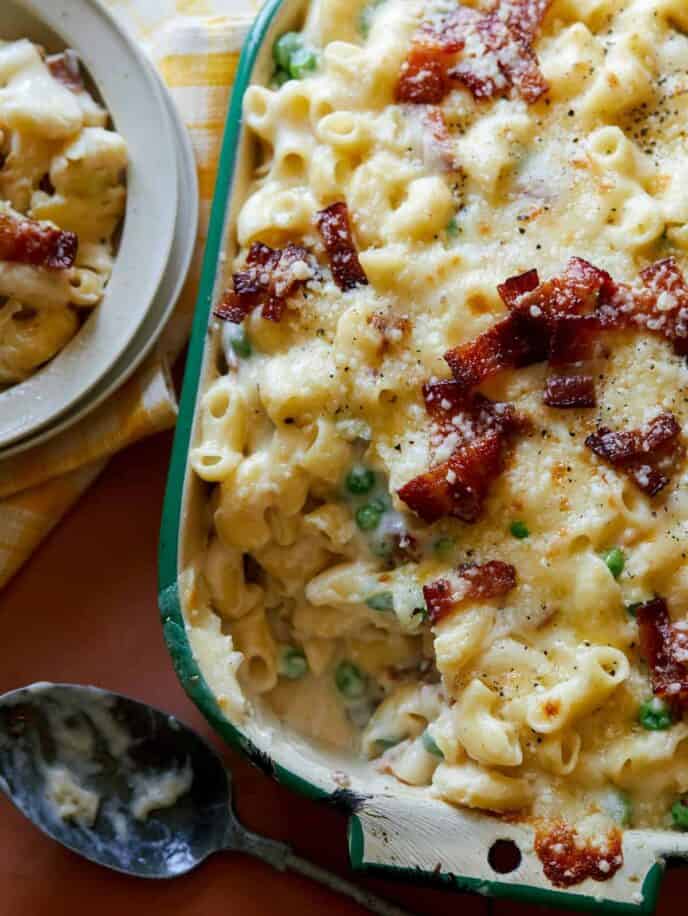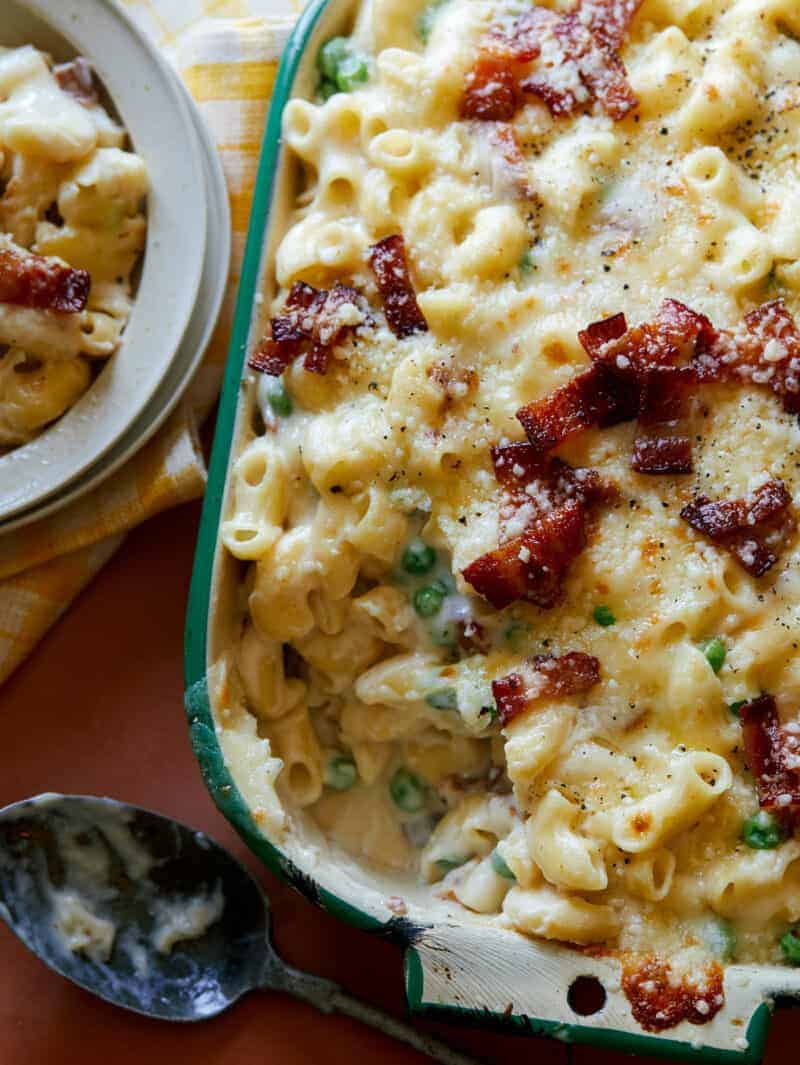 Bread and Biscuits because we can't forget about the carbs!
Our Sour Cream and Chive Drop Biscuits are one of the easiest biscuit recipes ever. No kneading, no rising, just easy.
Ham and Cheese Buttermilk Biscuits have such good flavor, and I love the little pieces of ham throughout that give the biscuits a nice little hint of salt.
Our Herb and Cheese Braided Star Bread is the perfect recipe if you're looking to impress. It's as delicious as it is beautiful!
These Apple and Cheddar Scones make the list because they are just so cute. I also love how dense these are, perfect for soaking up gravy or any kind of sauce.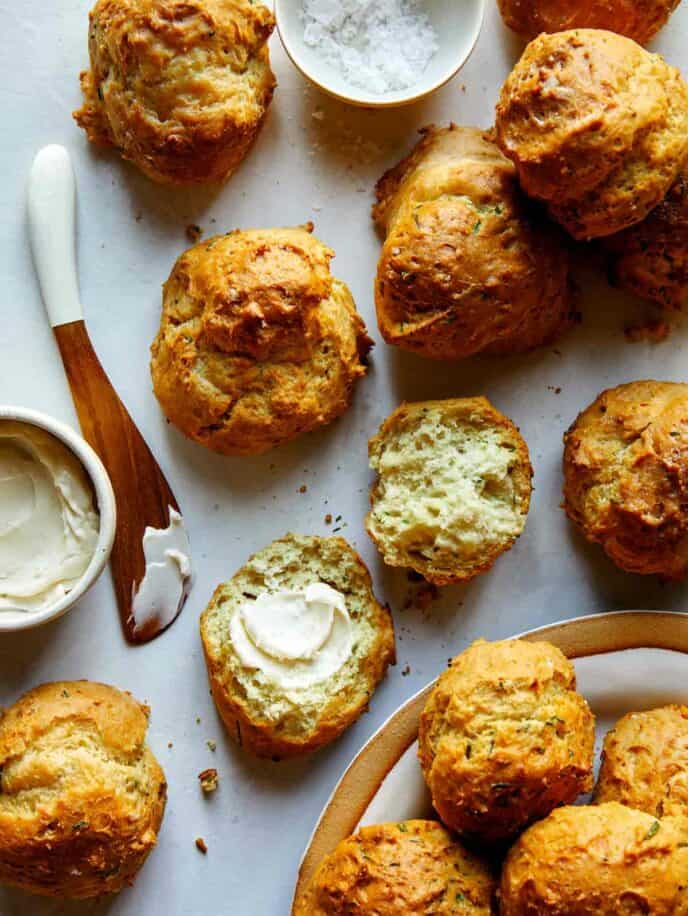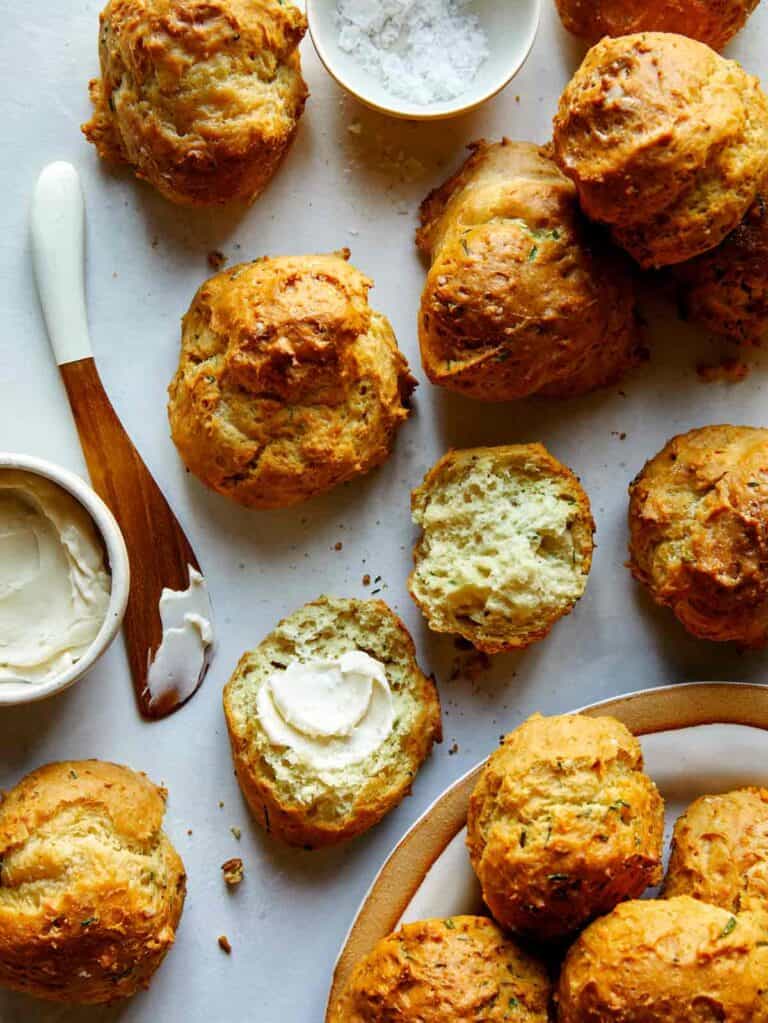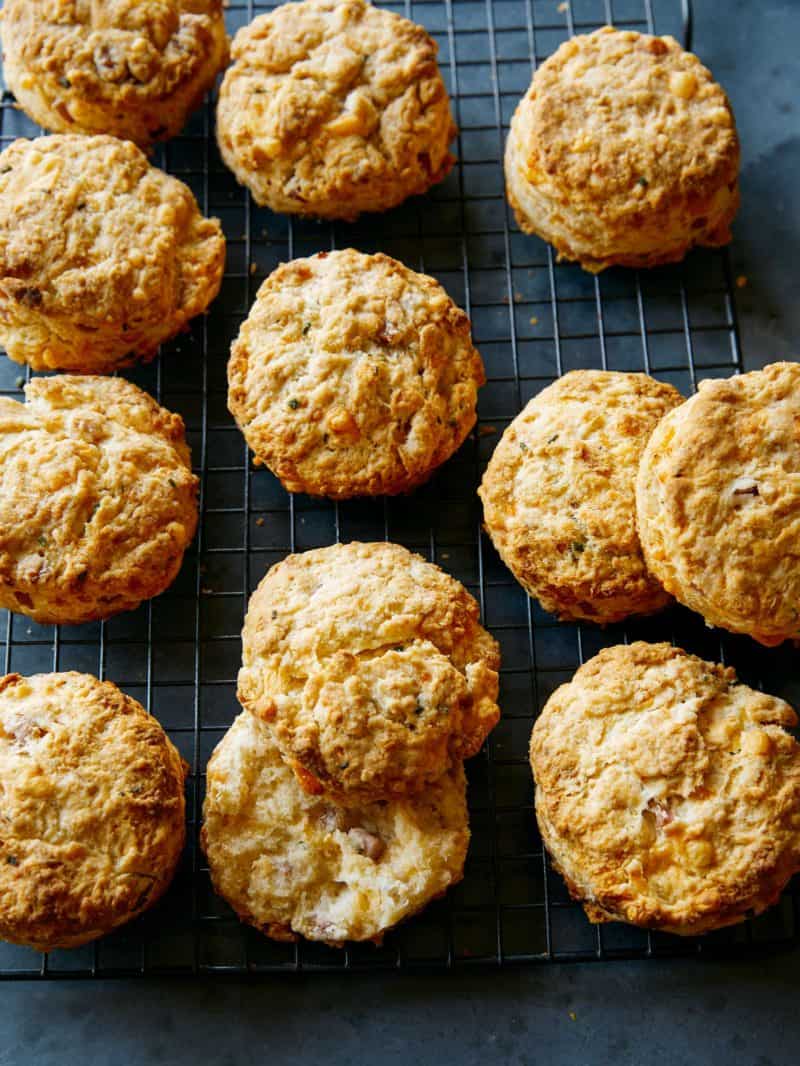 Crowd-Pleasing Appetizers for your Christmas Dinner
These Roasted Oysters are a perfect appetizer for Christmas because not only are they pretty, but they are special. It's not every day you have oysters after all. Plus it's nice to get a little seafood on your menu.
These Cheesy Sweet Potato Fritters are delicious little bites. We serve ours with a simple sour cream but they would also be excellent with an onion dip, or honestly any kind of dip.
Honey Brûlée Brie is a recipe to make if you want people to really love you. The baked brie gets broiled which makes it warm and gooey, and the sugar gets a nice crispy skin on top.
These Scotch Eggs are a unique recipe to serve. They are filling so you do have to be a little careful, but wow are they addicting. Hard-boiled eggs surrounded in a sausage mixture, these are so good.
Ginger Garlic Cocktail Meatballs are a great go-to appetizer recipe that is just a classic, so you know everyone will be happy. Our recipe is nice because you can make it ahead, and the flavor is impeccable.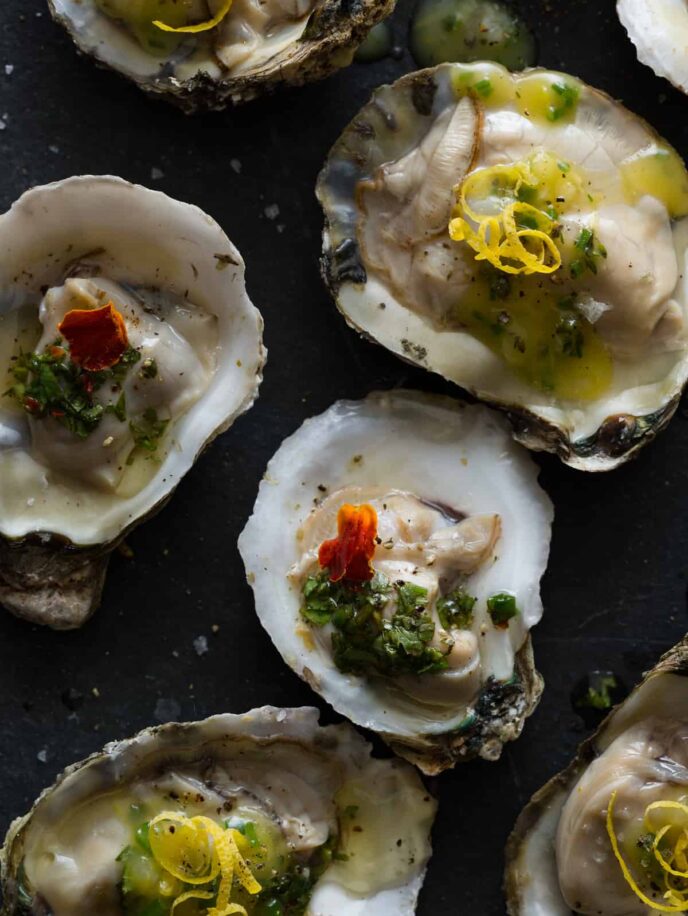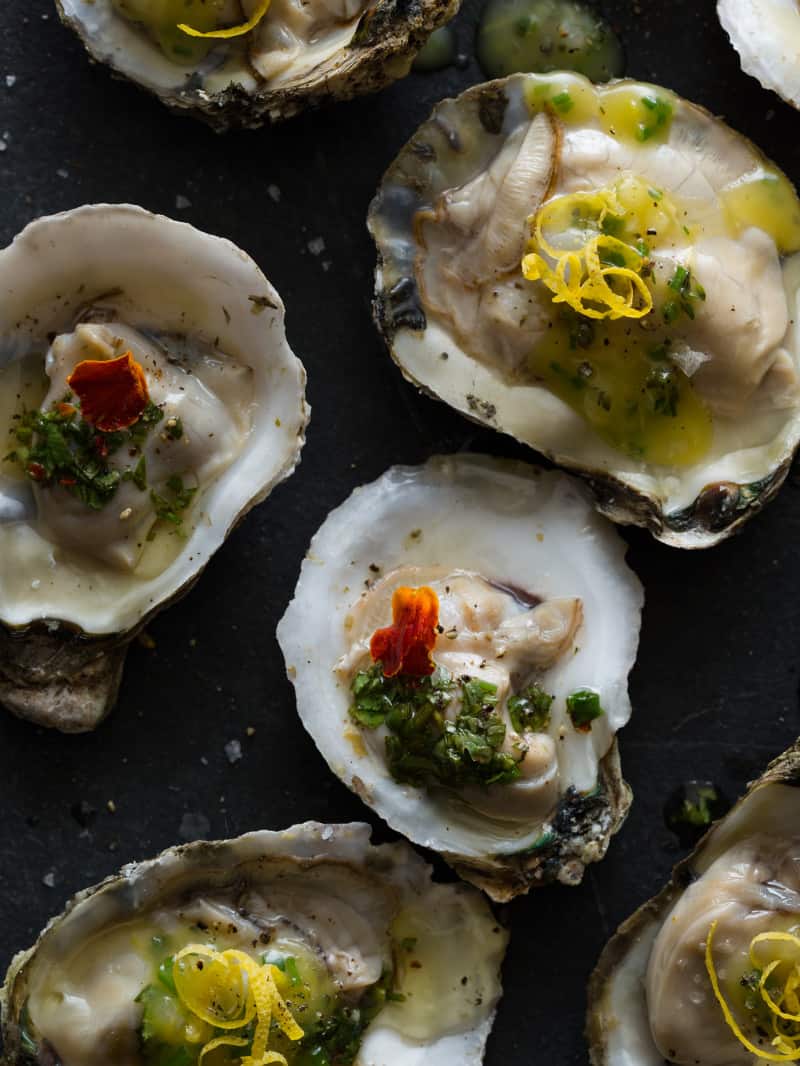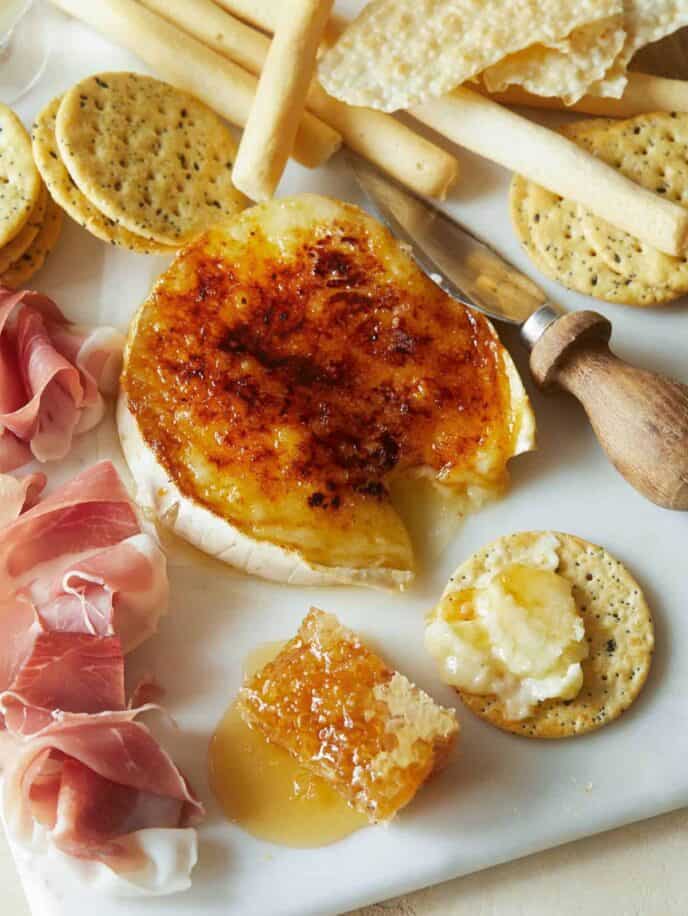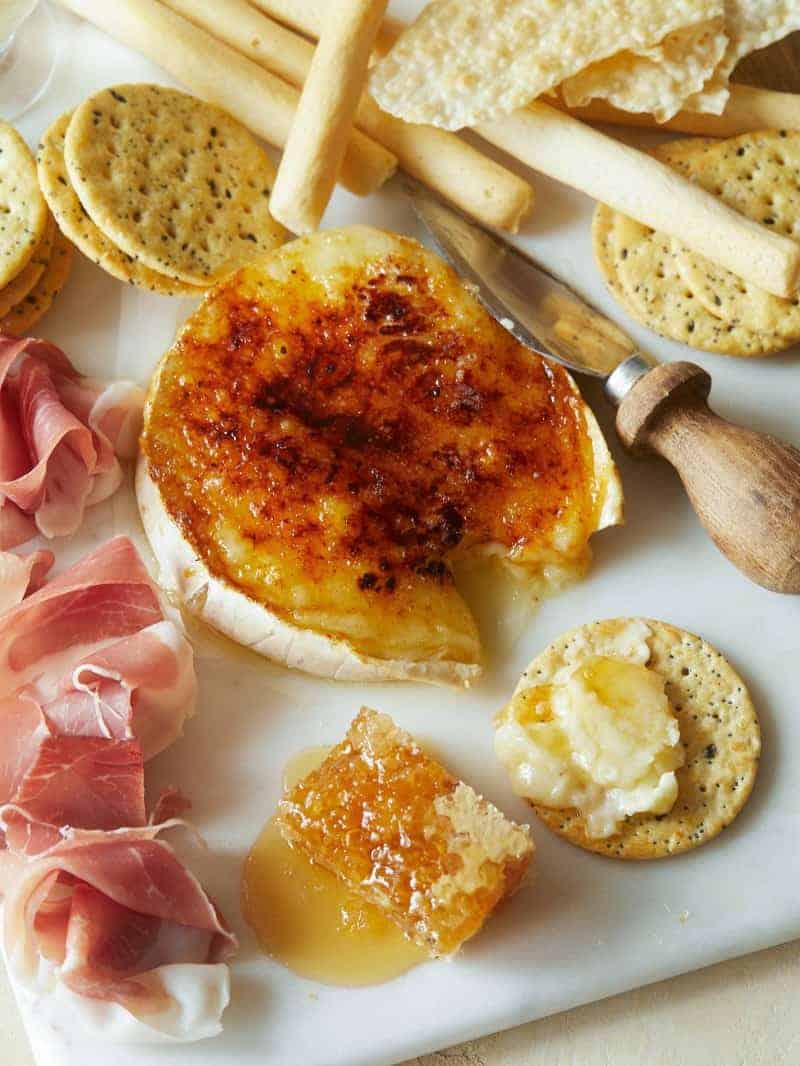 Desserts worthy of your Christmas Dinner
This Cranberry Crostata is an easy option for dessert. The phyllo dough is store-bought, and the cranberries sit over a nice yogurt filling.
Creamy No-Bake Peanut Butter Pie is maybe a recipe you hadn't really thought of for your Christmas dinner, but this recipe is perfect because you can make it ahead. The cream cheese and peanut butter filling is rich and delicious!
If you are a cheesecake fan look no further than this No Bake Peanut Butter Cheesecake with a Dark Chocolate Ganache. This recipe is super indulgent and will be a perfect end to your Christmas Dinner menu.
These Mini Citrus Pavlovas utilize winter citrus which we love. Bonus is you can some blood oranges! We also love that you can totally make these ahead of time and top when you are ready to serve.
Our Apple Crisps are really easy to make. Serve with a big scoop of vanilla ice cream or a huge dollop of whipped cream. Make these ahead and pop them in the oven when you are ready to serve.
Last but not at all least is our Pumpkin Pie with a Chocolate Crust. Pumpkin Pie isn't just for Thanksgiving! We love this twist on a classic by using a chocolate crust. It's so good!
Our French Silk Pie recipe is one dessert that we love bringing to dinner parties. It's not overly rich, but just a good solid recipe when you're looking for something other than a classic apple pie.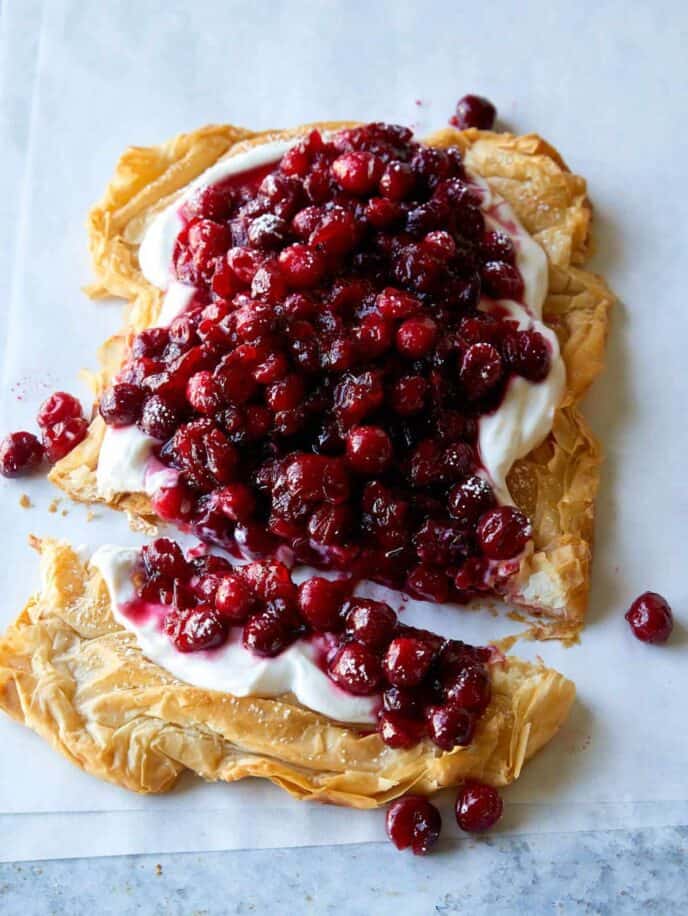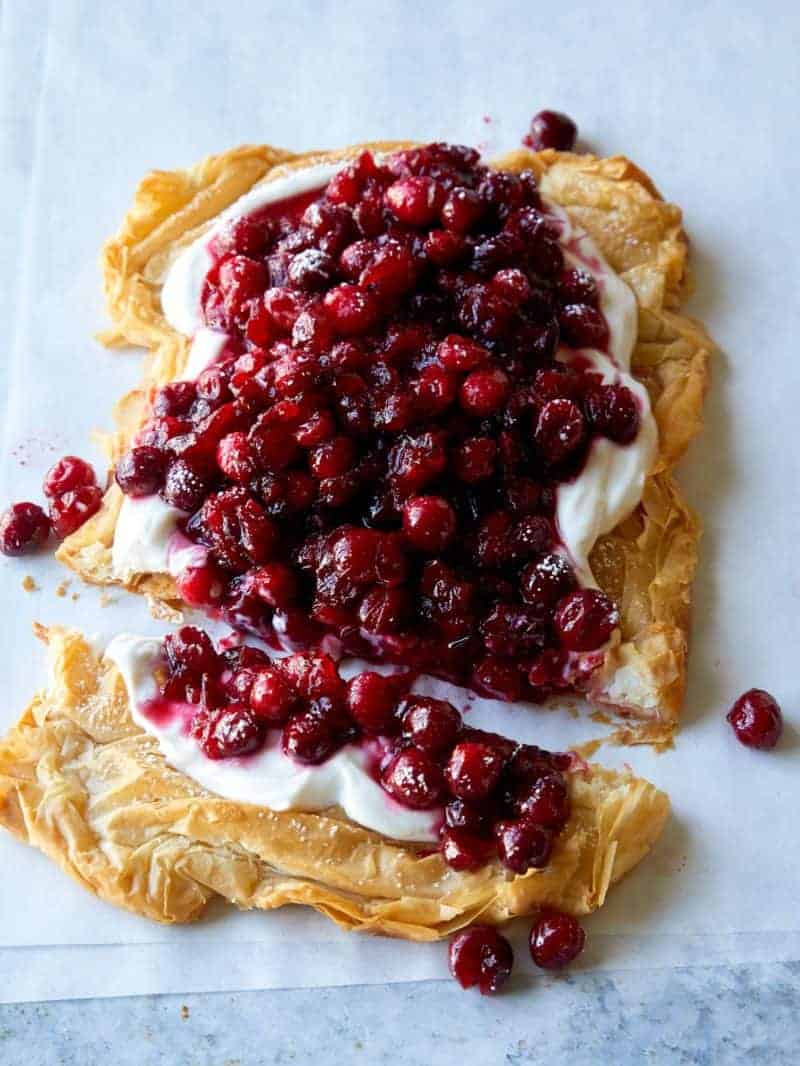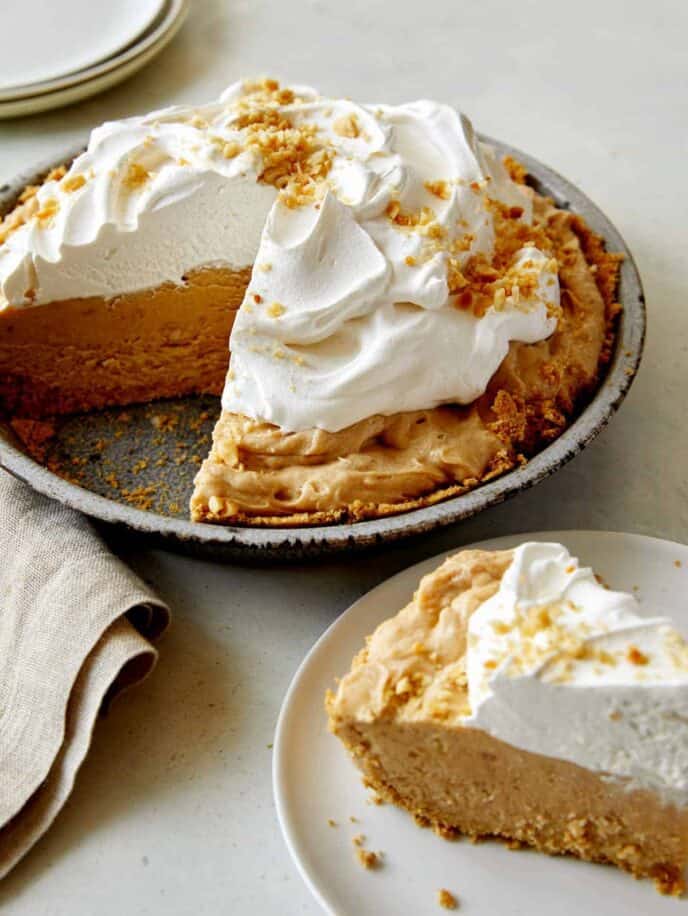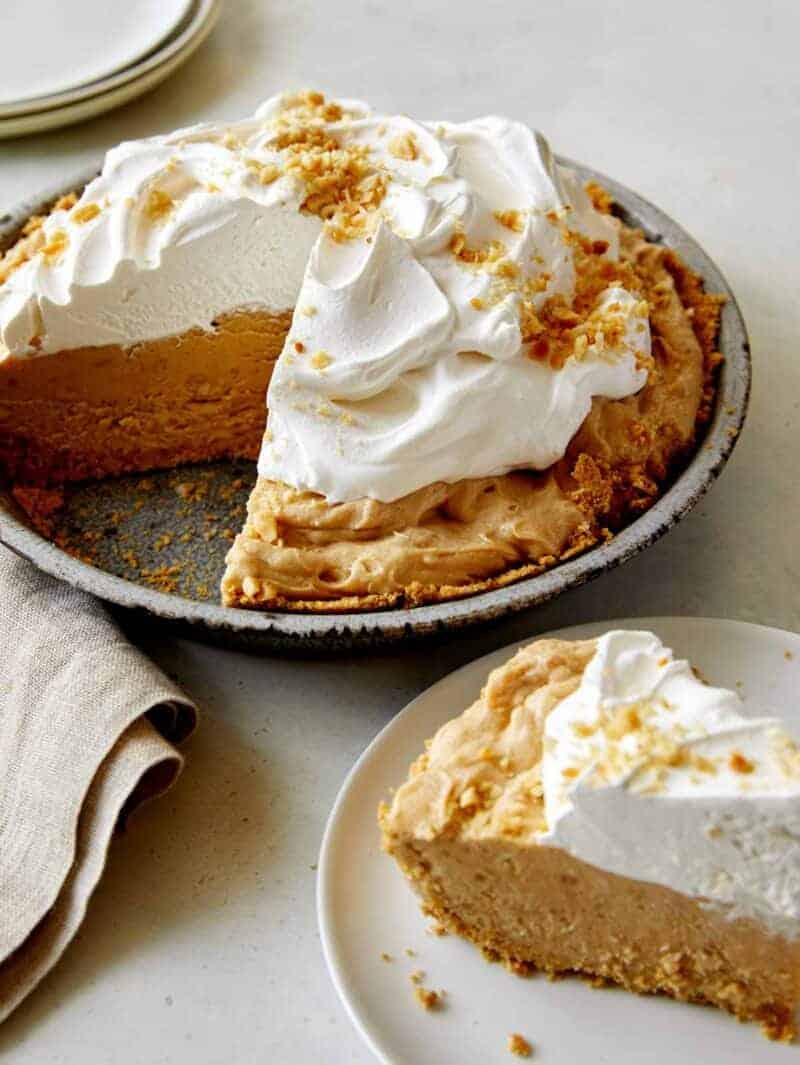 Check out our Best Christmas Cookies Post!