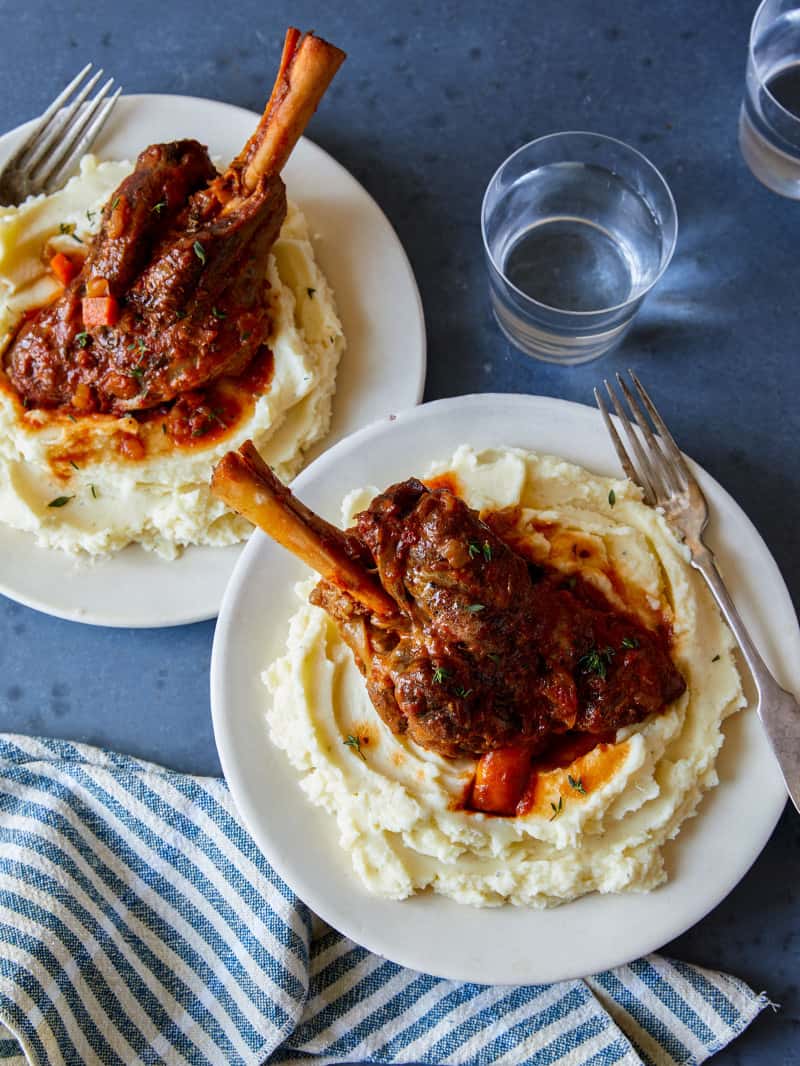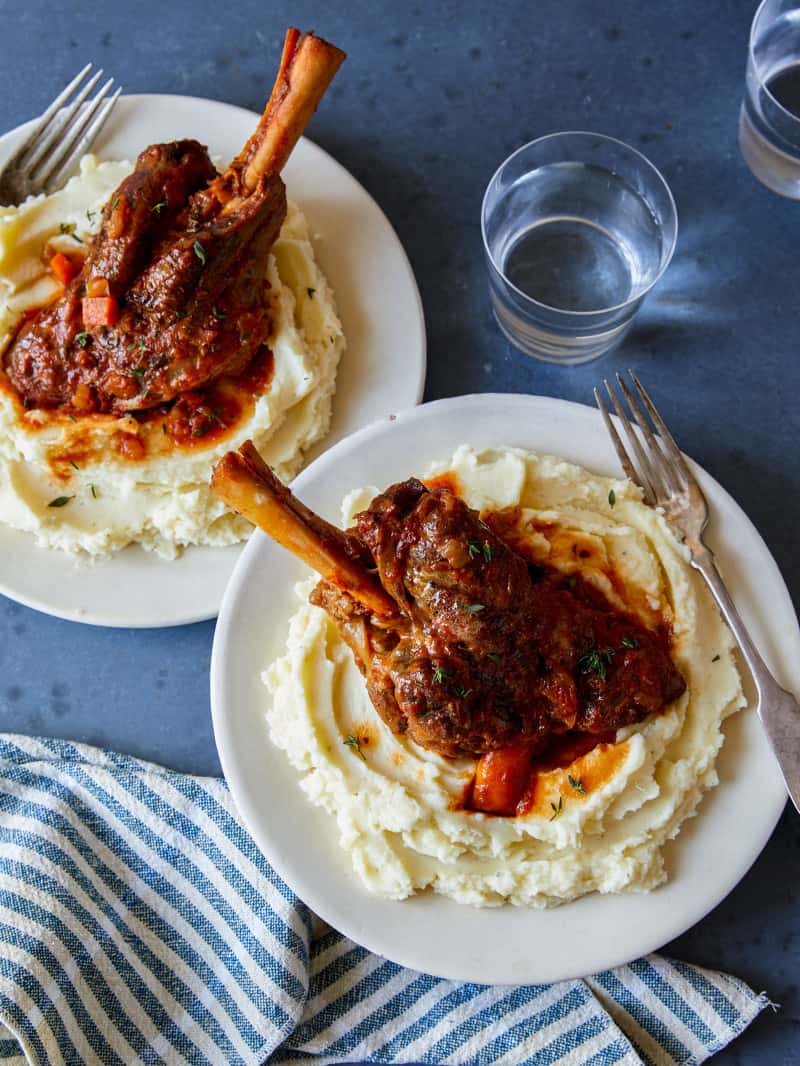 We're really in the thick of holiday season now and I feel like everyone's on overdrive. While we all strive to enjoy the holidays as much as we can, I feel like most of us end up feeling like our task load just doubles up until the New Year hits! That's how I tend to feel anyway. This year, I'm trying REALLY hard not to try to get 'everything done' and focus on a few fun things (I say this as I just threw a holiday party sandwiched between 2 weeks of work madness, lol). As much work as it was, it was also SO worth it! Now that, that is out of the way, I'm really beginning to take things a little slower and just enjoy spending quality time with my family and friends.
We still have to eat though, right?! I'm ALL about comfort food during chillier months. I love how a nice, cozy meal can make you feel like you just wrapped yourself in a thick, warm blanket. I think cozy, comforting meals also help you to relax and slow down. Today we have one of my favorite comfort dishes, Braised Lamb Shanks over Creamy Mashed Potatoes. This dish is so warm and packed with flavor, it's the perfect meal to enjoy when the air outside is crisp and frigid. We used chopped tomatoes, from Pomi, which helps to create such a nice, thick, and flavorful sauce for the shanks to bathe in for a few hours, before becoming fork tender and melt in your mouth. We also like using Pomi Organic tomato products because they guarantee that any of their produces can be traced back from shelf to farm, which is really great and something we appreciate, because knowing where our food comes from is very important to us.
This recipe couldn't be easier and would make the perfect meal to enjoy with loved ones this holiday season. Enjoy!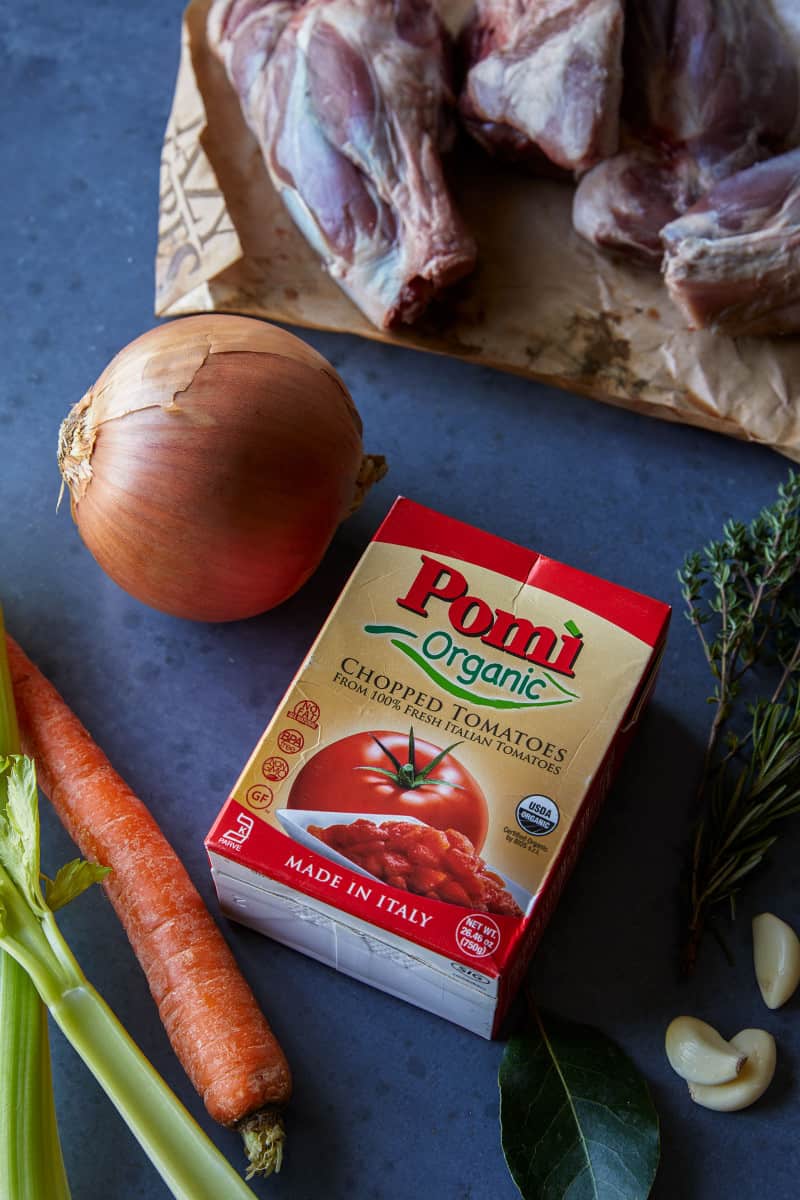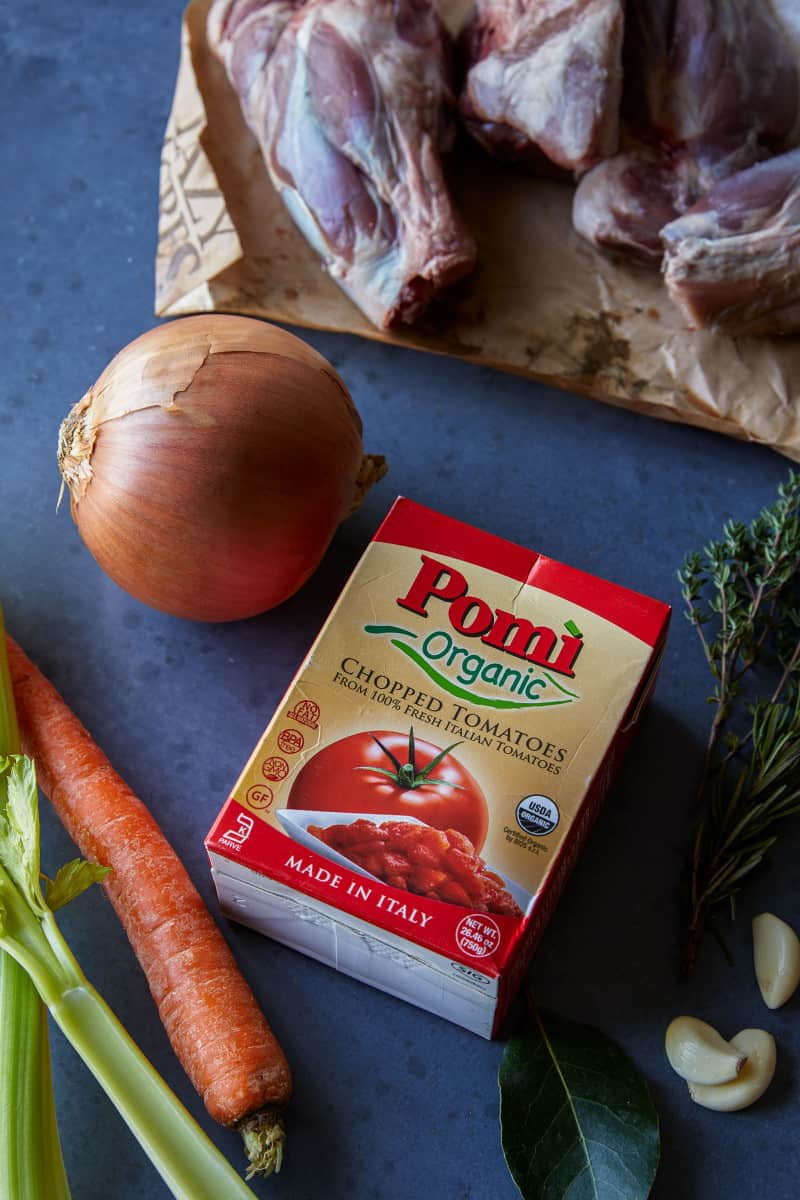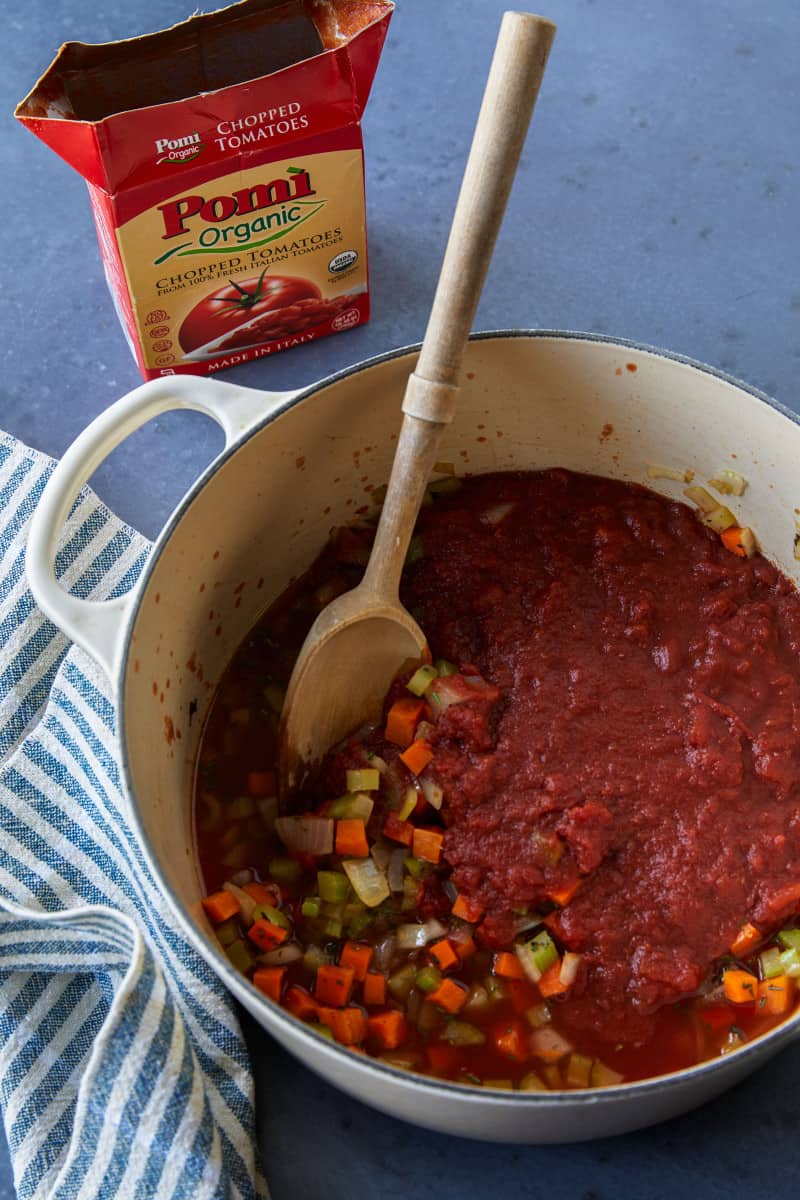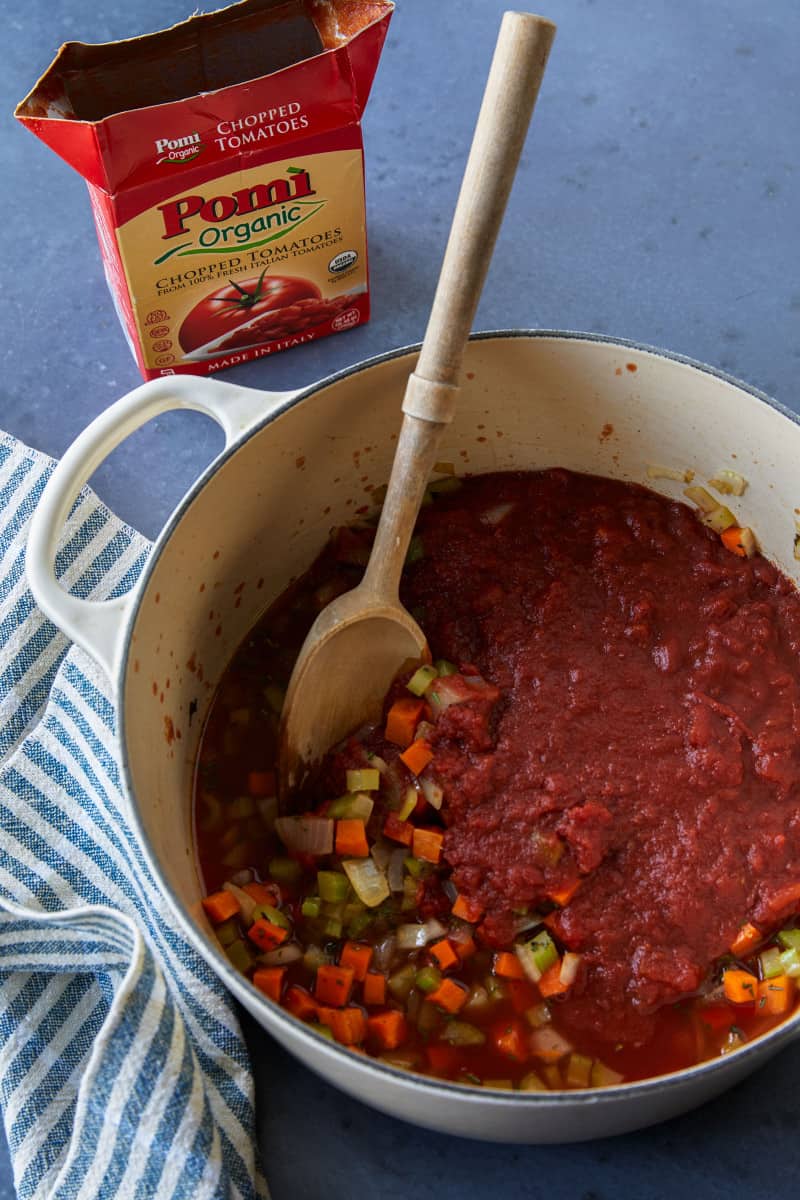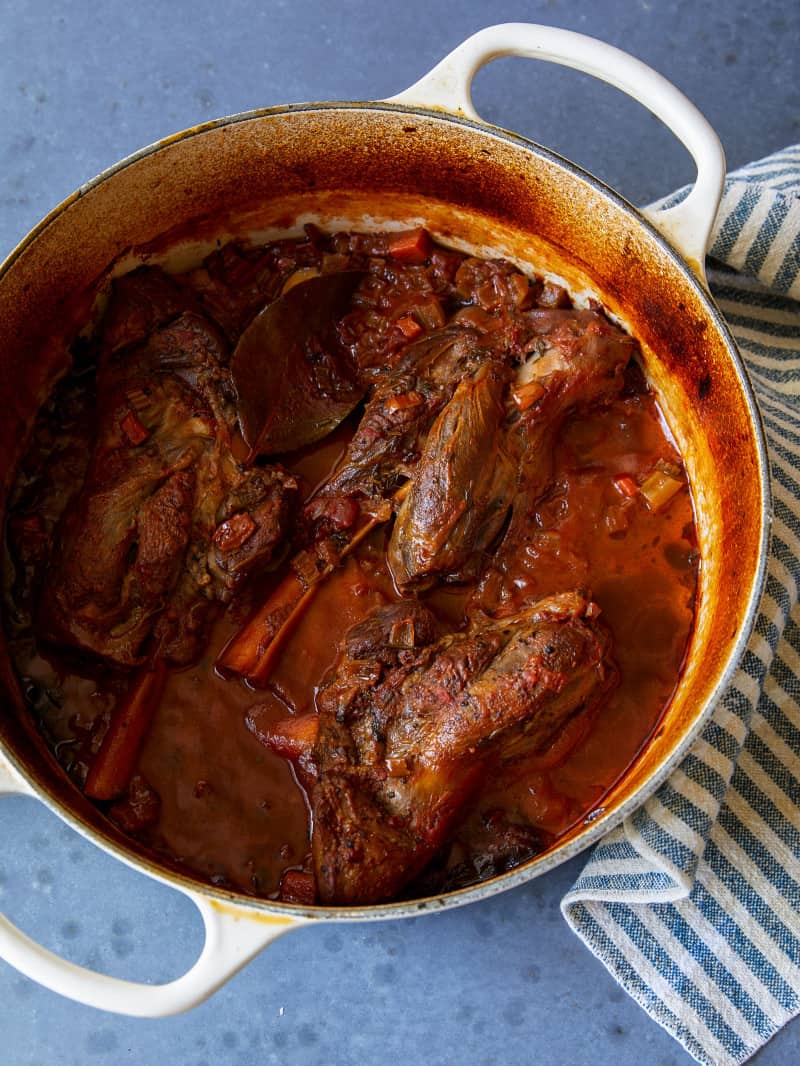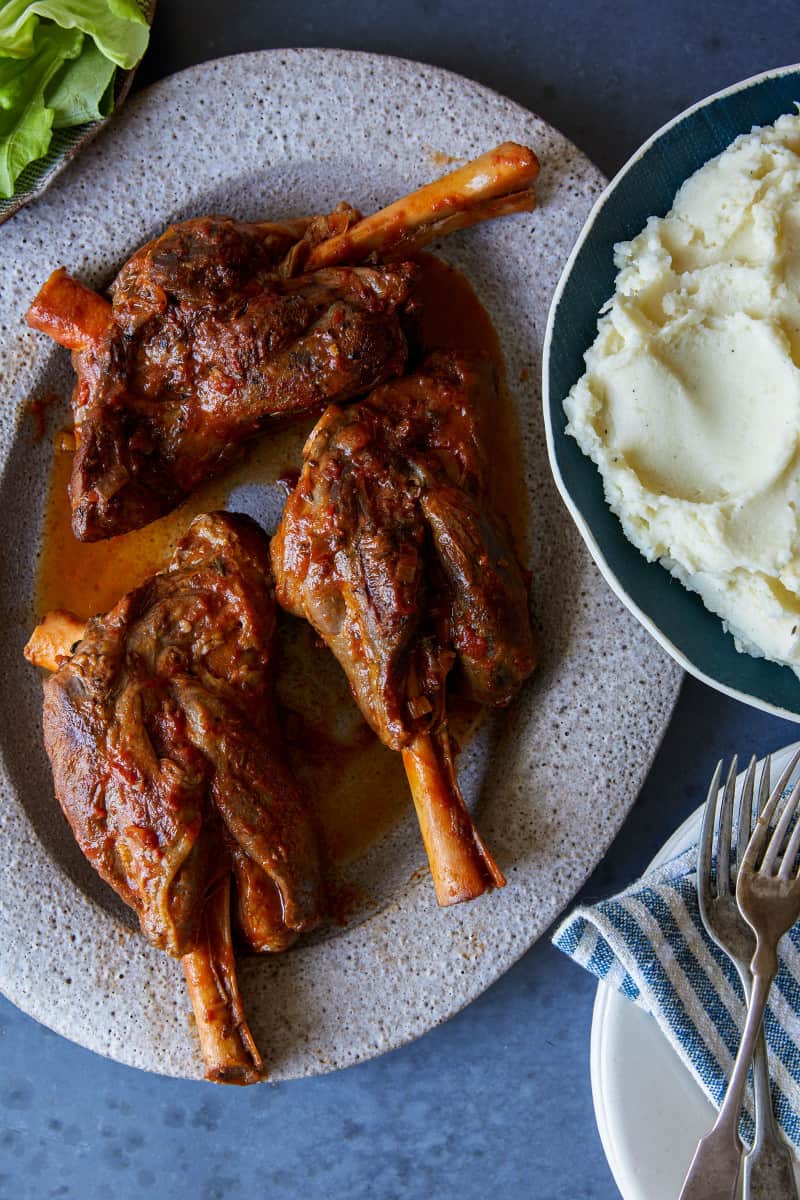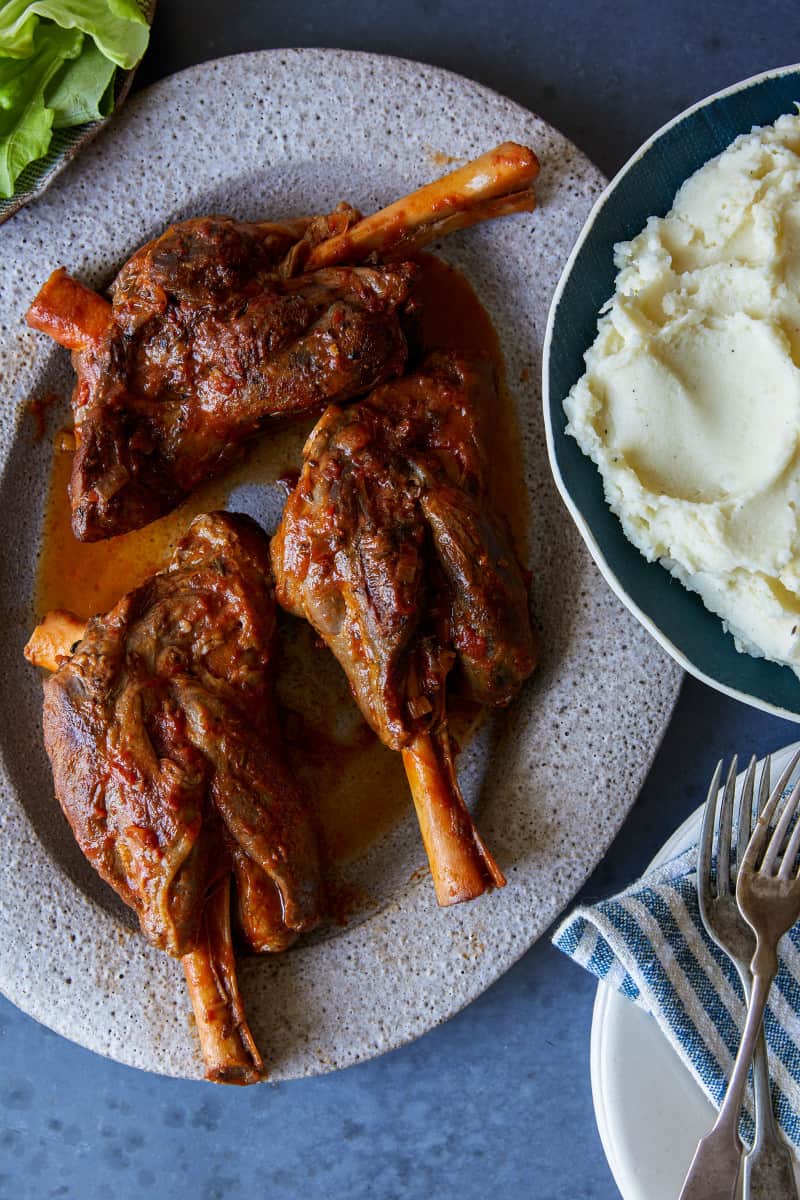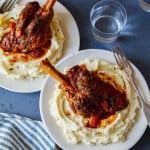 ---
Braised Lamb Shanks
INGREDIENTS
2

tablespoons

olive oil

4

lamb shanks

½

yellow onion, chopped

2

carrots, peeled and chopped

2

ribs celery, chopped

2

garlic cloves, minced

1

tablespoon

minced sage

2

teaspoons

minced thyme, plus more for garnish

1

teaspoon

minced rosemary

1

bay leaf

1

cup

red wine

2

cups

chicken stock

salt and pepper to taste
INSTRUCTIONS
Place (6 quart) Dutch oven over medium-high heat and add oil.

Season lamb shanks liberally with salt and pepper; then sear each shank in Dutch oven on all sides. Remove shanks from Dutch oven and transfer to a plate.

Add onion, carrots and celery to pot and sauté for 3 to 4 minutes. Add garlic and continue to sauté for an additional 3 to 4 minutes or until onions begin to caramelize. Season with salt and pepper.

Add sage, thyme, rosemary, and bay leaf and continue to sauté for another minute.

Deglaze pot with wine and simmer until liquid has dissolved.

Stir in chopped tomatoes and stock, then add shanks back to pot. Season with salt and pepper.

Bring mixture to a boil, cover and transfer to oven.

Braise shanks for about 2 ½ hours, or until shanks very tender.

Remove shanks from Dutch oven and nestle each atop a bowl of creamy mashed potatoes. Spoon some braising liquid over each shank and garnish with fresh thyme leaves. Serve.