Hi Guys! Last week Teri and I flew out to Las Vegas to attend The Best Food Blogs event thrown by Saveur Magazine. It was amazing. They really wined and dined us and took us around to a number of restaurants/venues at the Bellagio (where everything was being hosted). Huge thanks to both Saveur and Bellagio for hosting us last week! Our evening began with sot an Asian inspired theme at two of the restaurants, Sensai and Jasmine. The tasting menu's were incredible and it takes me to today's recipe.
We have a simple honey-soy braised rib dish that is absolutely mouthwatering and delicious. It's a pretty self-explanatory recipe with the exception of the boiling the meat might seem strange. My mom has always told me to boil pork ribs (with some ginger) before proceeding on to draw out some of the fat as well as remove some of the off-putting "pork smell". Please don't skip this step as it'll help to not turn the final sauce into one big greasy mess, plus you'll have a lot less skimming to do.
This dish is great for any occasion, but I really like to serve it family style to a close group of friends. This recipe feeds a pretty large group so it's perfect for casual get togethers. I love to serve it over rice, but quinoa is also a great substitute if you prefer that. Enjoy!
xx, Jenny
More recipes you might like: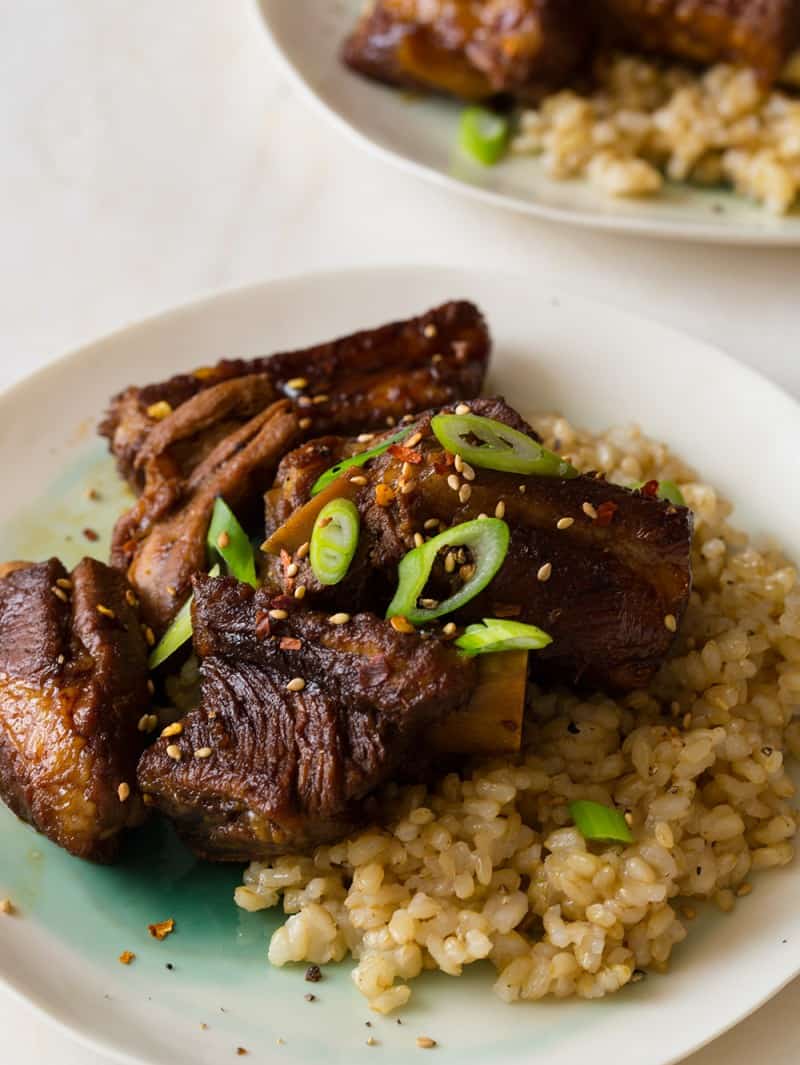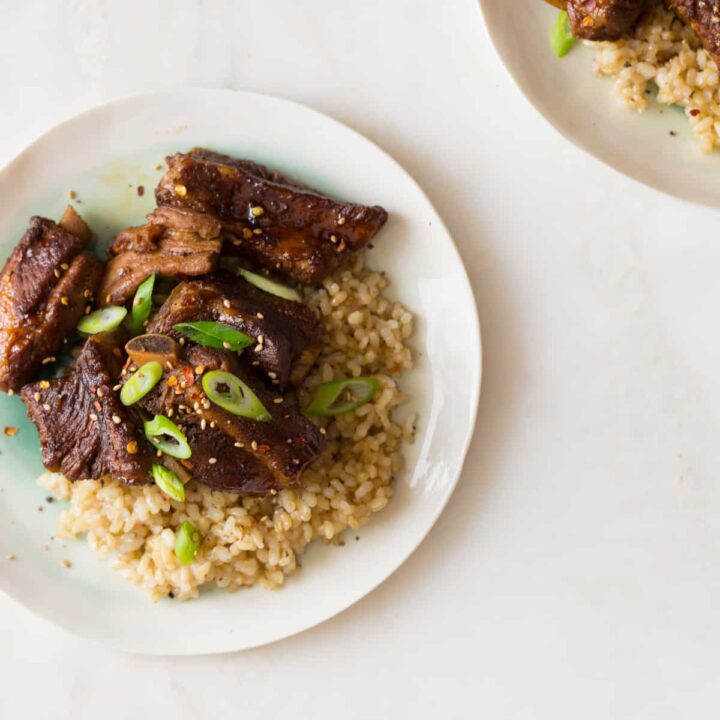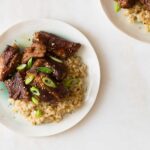 ---
Honey Soy Braised Ribs
INGREDIENTS
3

pounds

pork spare ribs, cut into 1 ½-2 inch pieces

1

1-inch piece ginger, peeled and thinly sliced

1

tablespoon

vegetable oil

6

garlic cloves, thinly sliced

1

tablespoon

minced ginger

¾

cup

plus 2 tablespoons low sodium soy sauce

1 ½

cups

dry sherry

¼

cup

superfine sugar

granulated is fine

3

tablespoons

honey

1

teaspoon

crushed red pepper flakes

salt and pepper to taste
honey-soy glaze
⅔

cup

braising liquid

¼

cup

honey
garnishes
thinly sliced green onion

toasted sesame seeds
INSTRUCTIONS
Rinse rib pieces under cold water and place in a large pot. Fill with water and add ginger. Place pot over high heat and boil for 30 minutes, skimming the fat from the surface as it forms.

Drain and rinse rib pieces in cold water for a second time, removing any excess fat, debris and ginger.

Place a large Dutch oven, or heavy bottom pot over medium-high heat and add oil. Add ribs and season with salt and pepper. Brown for about 3 minutes. Add remaining ingredients to the pot and stir together.

Bring mixture to a boil then reduce heat to medium-low. Cover.

Simmer mixture for 45 minutes to an hour, stirring occasionally, until meat is tender.

Scoop ⅔ cup of the sauce into a small pot (skimming off any excess fat) and stir in honey. Simmer for 15 to 20 minutes or until mixture has reduced by ⅓. Remove from heat and allow to cool for about 15 minutes.

Brush glaze over rib pieces and serve over white or brown rice. Top with sliced green onions and sesame seeds. Serve.
Calories:
711
kcal
Carbohydrates:
29
g
Protein:
33
g
Fat:
48
g
Saturated Fat:
16
g
Cholesterol:
156
mg
Sodium:
1555
mg
Potassium:
582
mg
Fiber:
1
g
Sugar:
25
g
Vitamin A:
85
IU
Vitamin C:
1
mg
Calcium:
43
mg
Iron:
3
mg