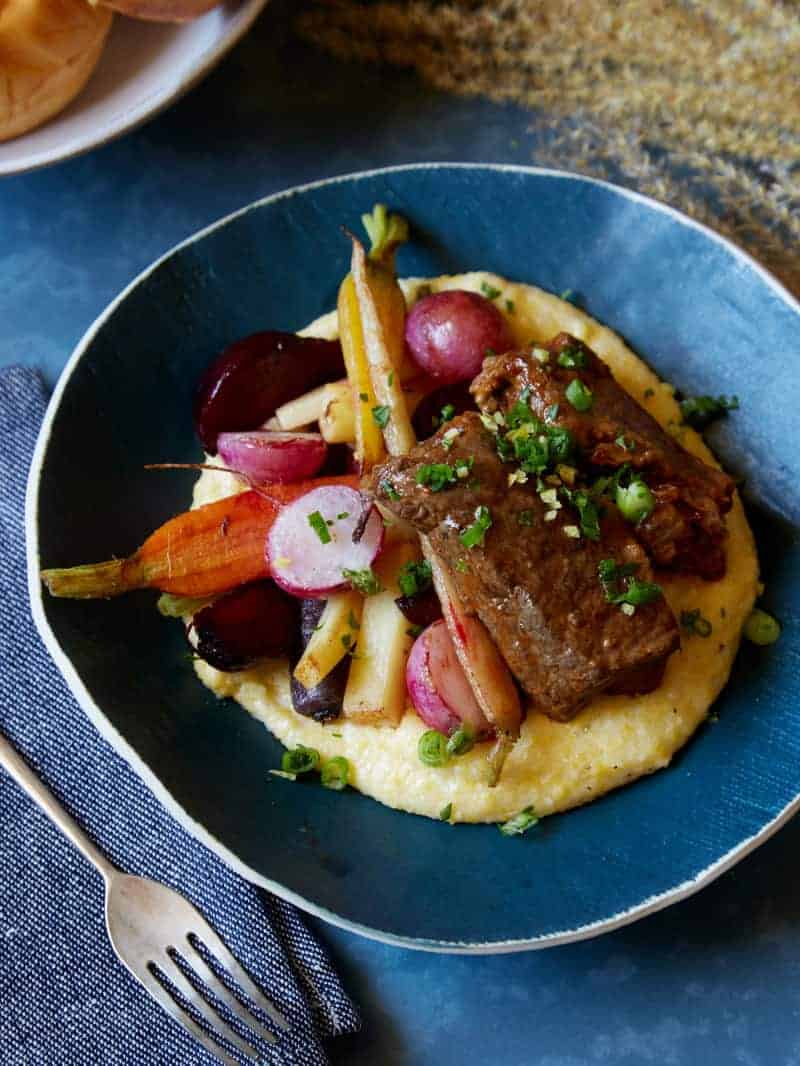 Hi guys! We are excited to share this post with you today. We have partnered with an app called Flipp, which is a free shopping app to help you save money on groceries (& more!) by collecting all your weekly shopping circulars and finding the best deals near you. During the holidays we entertain a lot, which means we spend a lot more on groceries than usual. We have been using Flipp to source some really good deals on ingredients, and it has been inspiring our holiday menus, which make them budget friendly and delicious! We recently hosted a dinner with Flipp in NYC, where we designed a three course meal using the app. We were able to save a bunch of money, and get the food cost per person down to about $8 for a 20 person dinner. Today we are going to share our entrée recipe from that dinner, which was our White Wine Braised Short Ribs on top of White Cheddar Polenta with Balsamic Roasted Root Vegetables. We love this recipe because braising is so easy for a group. It takes the stress out of cooking because we know that it would be pretty difficult to overcook the meat. We also love braising with white wine because it gives everything just a little bit of a lighter taste, and paired with the creamy white cheddar polenta, this is the perfect cozy recipe for winter! We hope you will love it. And don't forget to download Flipp to help you save money!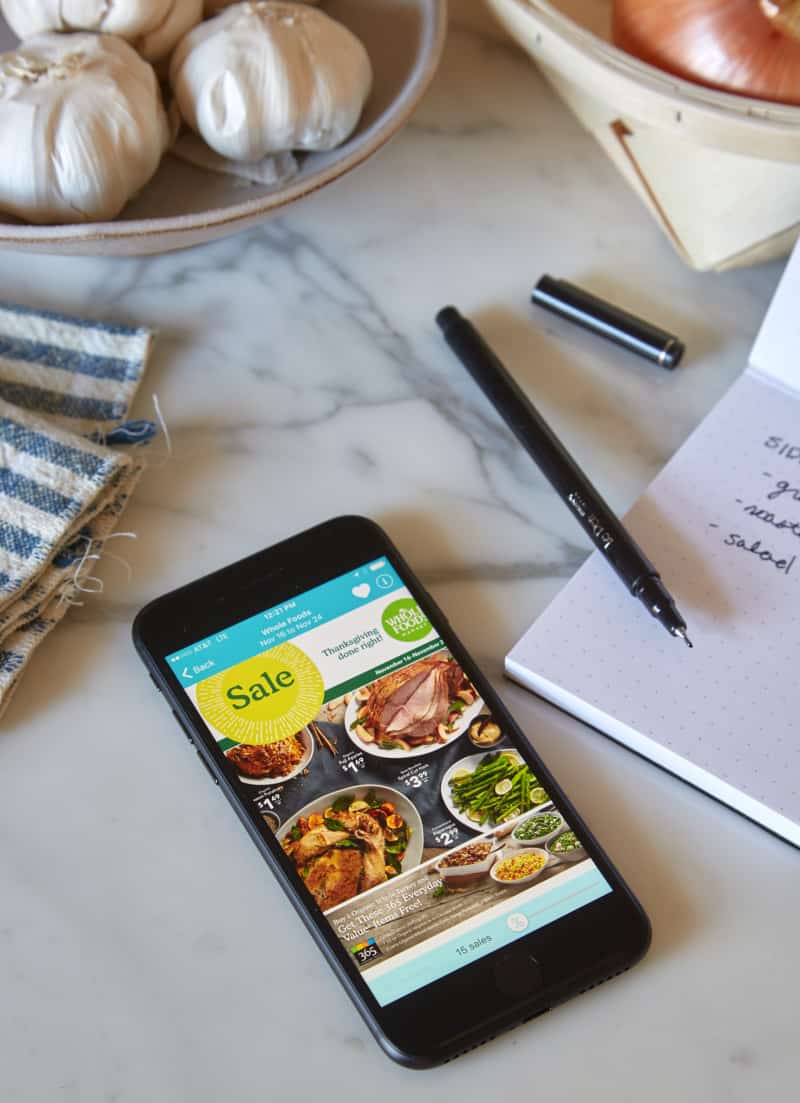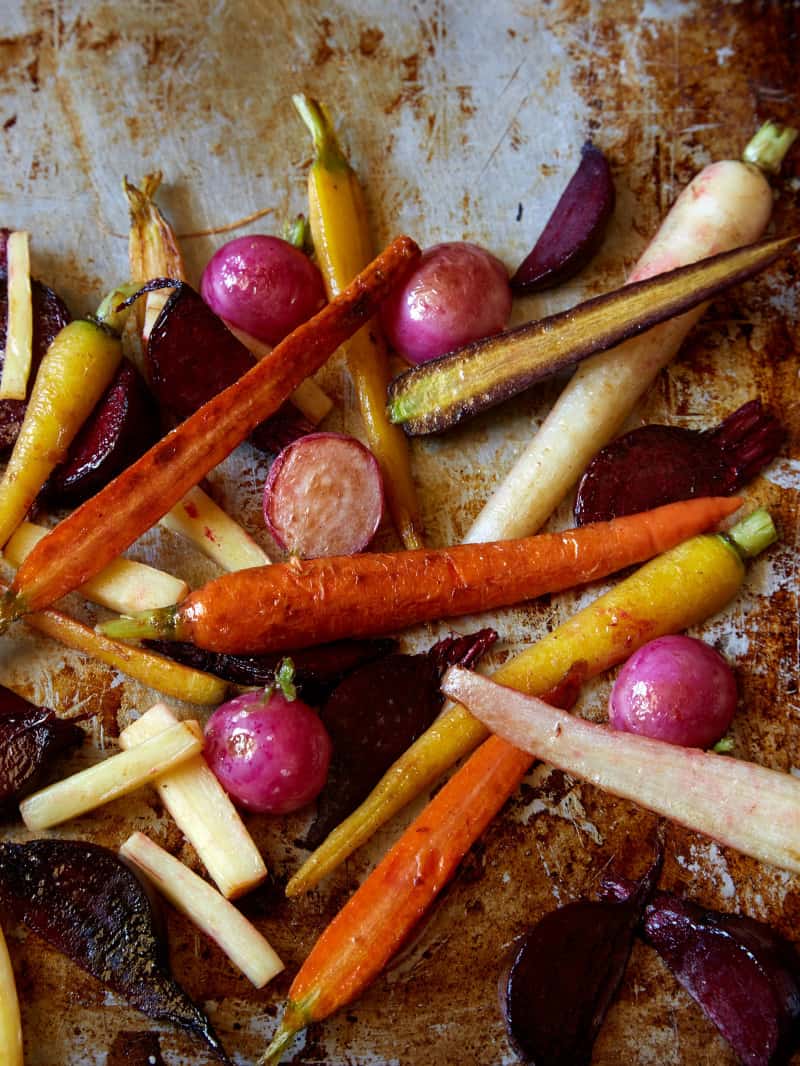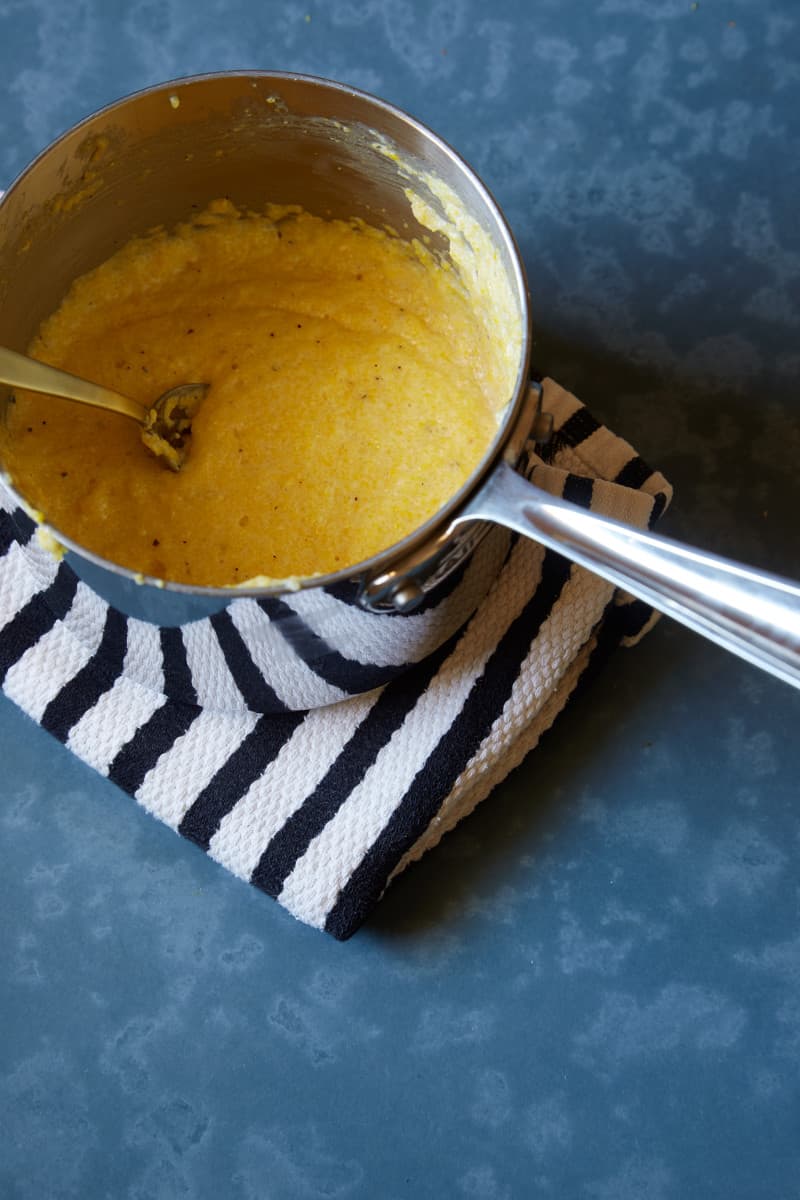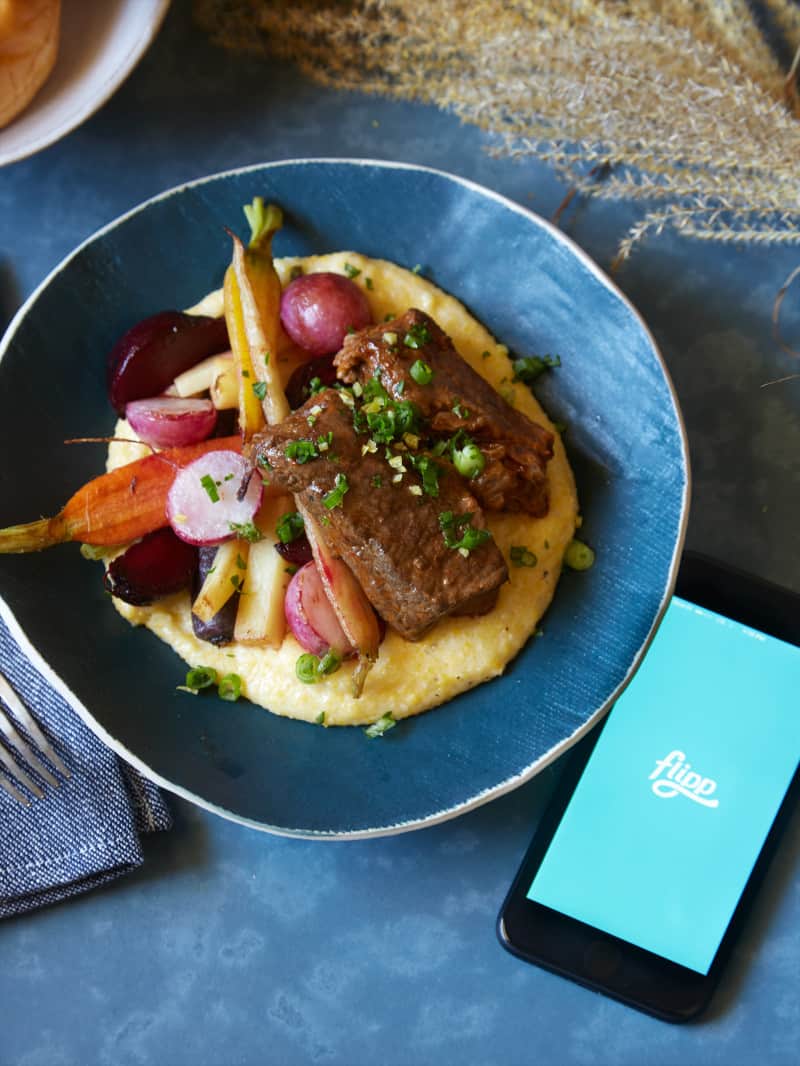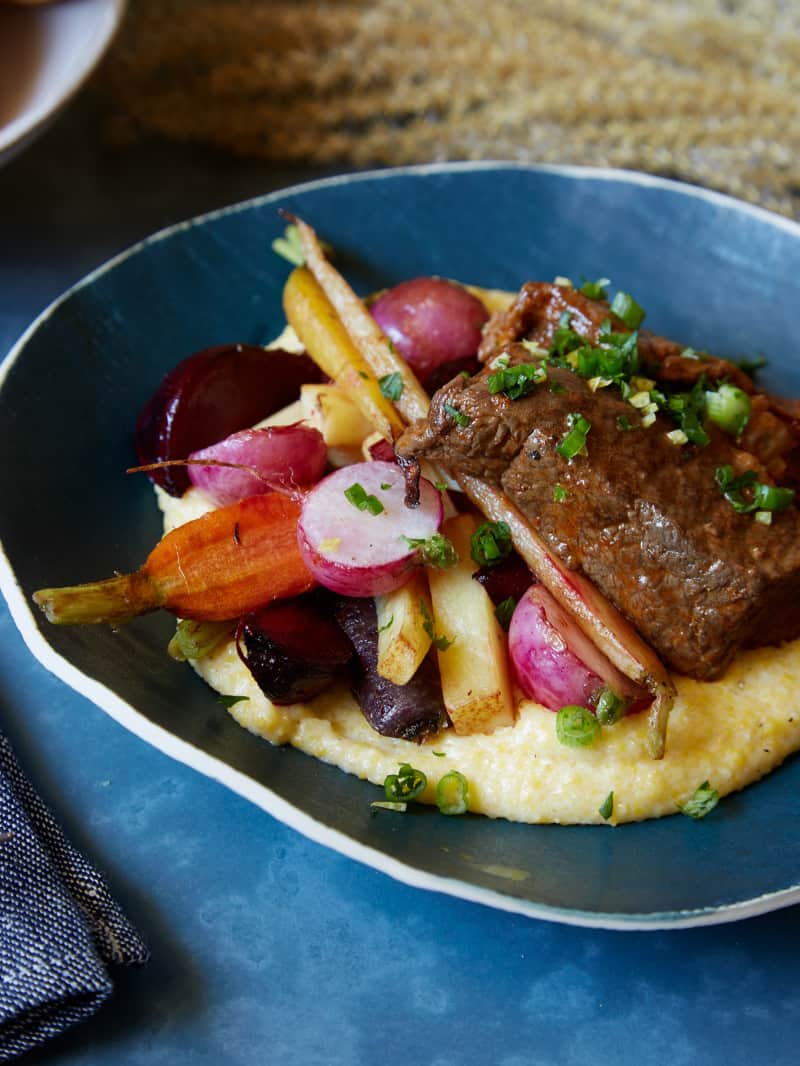 White Wine Braised Short Ribs with Balsamic-Mustard Marinated Vegetables Over White Cheddar Polenta
Serves 6
Ingredients:
braised short ribs:
3 1/2 tablespoons unsalted butter, divided
2 tablespoons extra virgin olive oil, divided
~4 pounds (bone-in) short ribs, trimmed
½ yellow onion, diced
1 carrot, peeled and diced
1 rib of celery, diced
1/2 apple (such as jazz or gala), seeded and diced
2 garlic cloves, lightly smashed
1 tablespoon minced thyme
1 tablespoon minced marjoram
2 tablespoons tomato paste
2 teaspoons Worcestershire sauce
1 1/2 cups dry white wine
2 cups beef stock
salt and pepper to taste
green onion gremolata:
3 green onion, thinly sliced
2 tablespoons minced parsley
zest from 2 lemons
1 garlic clove, minced
balsamic-mustard marinade:
2 tablespoons extra virgin olive oil
1 1/2 tablespoons balsamic vinegar
2 teaspoons whole grain mustard
1 teaspoon light brown sugar
1 garlic clove, minced
1/2 pound baby carrots, peeled and halved lengthwise
1/2 pound baby purple beets, peeled and halved lengthwise
1/2 pound parsnips, peeled and cut into 2"x1/2" sticks
1 bunch, radishes, scrubbed and halved lengthwise
salt and pepper to taste
creamy white cheddar polenta:
4 cups water
1 teaspoon salt
1 cup polenta
4 tablespoons unsalted butter
3 tablespoons heavy cream, optional
6 ounces shredded white cheddar cheese
2 ounces grated Parmesan cheese
cracked black pepper to taste
Directions:
1. Preheat oven to 350°F.
2. For short ribs: Pour 1 tablespoon butter and 1 tablespoon oil into a large Dutch oven and place over medium-high heat.
3. Generously season short ribs with salt and pepper and sear for 2 to 3 minutes on each side. Remove short ribs from pot and set aside.
4. Drain excess fat from pan and add remaining oil and 1 tablespoon butter. Add onions, carrots and celery and sauté for about 8 minutes. Season with salt and pepper. Add apples and continue to sauté for an additional 3 to 4 minutes.
5. Add garlic, thyme and marjoram and sauté for 1 minute. Stir in tomato paste and Worcestershire sauce.
6. Deglaze pot with wine, making sure to scrape away any browned bits that may have stuck to the bottom, with a wooden spoon. Boil until liquid has been reduced by 1/2. Add short ribs back to the pot, in a single layer (as much as possible) and top with stock.
7. Bring mixture to a boil, cover and transfer to the oven for about 2 1/2 hours or until ribs are fork tender.
8. For Gremolata: Combine all ingredients into a small bowl and toss together.
9. For Roasted Root Vegetables: Preheat oven to 375˚F.
10. Pour all marinade ingredients into a large mixing bowl and whisk together. Top marinade with root vegetables and toss together until all vegetable pieces are well coated. Allow mixture to sit for 1 hour then season with salt and pepper and gently toss again.
11. Pour mixture onto a large baking sheet, in a single layer, and roast for 30 to 35 minutes or until vegetables are caramelized on the outside and tender on the inside.
12. For Creamy White Cheddar Polenta: Place water and salt into a large saucepan and bring to a boil. While stirring, pour polenta into the boiling water and continue to stir until all the polenta has been added and no lumps remain. Lower the heat to medium and simmer polenta for 35 to 40 minutes, stirring frequently.
13. Once the mixture has thickened and smoothed out a bit, remove from heat and stir in the butter and cream. While stirring add the shredded white cheddar to the polenta, in small handfuls, until fully incorporated. Season with salt and cracked black pepper as needed, top with grated Parmesan and serve.
14. To serve: Remove short ribs from braising liquid and set aside. Skim excess fat from top of braising liquid and strain 1 cup of braising liquid into a saucepan. Simmer mixture until reduced by 1/2 and whisk in remaining butter. Season with salt and pepper and lightly drizzle sauce over the short ribs. Top short ribs with a sprinkle of gremolata and serve.