I love making whole grain beer mustard to keep in the fridge as well as for gifting to people whether it's the holidays or as a nice hostess gift. It's incredibly easy to make and only requires a handful of ingredients. It can be used right away, but gets better after allowing the finished condiment sit for about a week. This recipe can also be easily tweaked depending on your flavor preferences. We made ours with beer because we like the flavor, but also provided a non-alcoholic alternative for you guys!
What is Whole Grain Mustard?
 Whole grain mustard is a prepared condiment that is only partially blended, with some of the mustard seeds still visible, creating an overall coarse and slightly pasty texture.
What is the difference between yellow and brown mustard seeds?
 Yellow mustard seeds are the most widely used mustard seeds. They are also the largest in size and mild in taste. They have European roots and are easily found in local grocery stores. Brown mustard seeds are smaller in size and more pungent (and spicy) in flavor. They're derived from Indian cuisine and more commonly found in international grocery stores, but can also be found here.

How do you store Homemade Whole Grain Mustard?
 Homemade mustard can be stored in an airtight jar or container, in the refrigerator for maximum freshness.
How long does it keep?
When properly stored, homemade mustard will keep for up to 1 year.
Things to use with Whole Grain Mustard?
It's a great condiment to use in vinaigrettes and dressings, on charcuterie and cheese plates, in sandwiches as a spread, and as a dip for sausages, to name a few uses.
Our Homemade Whole Grain Beer Mustard is also a really great dip for our Pull Apart Pigs in a Blanket recipe! Enjoy!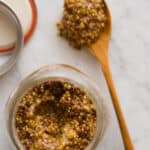 ---
DIY Whole Grain Beer Mustard
A simple recipe for whole grain beer mustard that's simple and delicious!
INGREDIENTS
⅓

cup

yellow mustard seeds

¼

cup

brown mustard seeds

½

cup

apple cider vinegar

1/3

cup

pale ale

or water

2

tablespoons

light brown sugar

1

tablespoon

honey

½

teaspoon

sea salt
INSTRUCTIONS
Pour both types of mustard seeds into a small mixing bowl and whisk together until well blended.

Stir vinegar and beer (or water) into the mustard seeds until just combined.

Cover the mixture and set in a cool, dry place for 12 hours or until all the liquid has been absorbed.

Stir the remaining ingredients into the mustard seed mixture and pour into a food processor.

Pulse mixture 5 to 6 times before running the motor for 30 seconds to 1 minute.

Pour mixture into a sterilized glass jar, seal and refrigerate.

**For a spicier flavor, leave the jar of mustard at room temperature for 1 to 2 days before refrigerating.