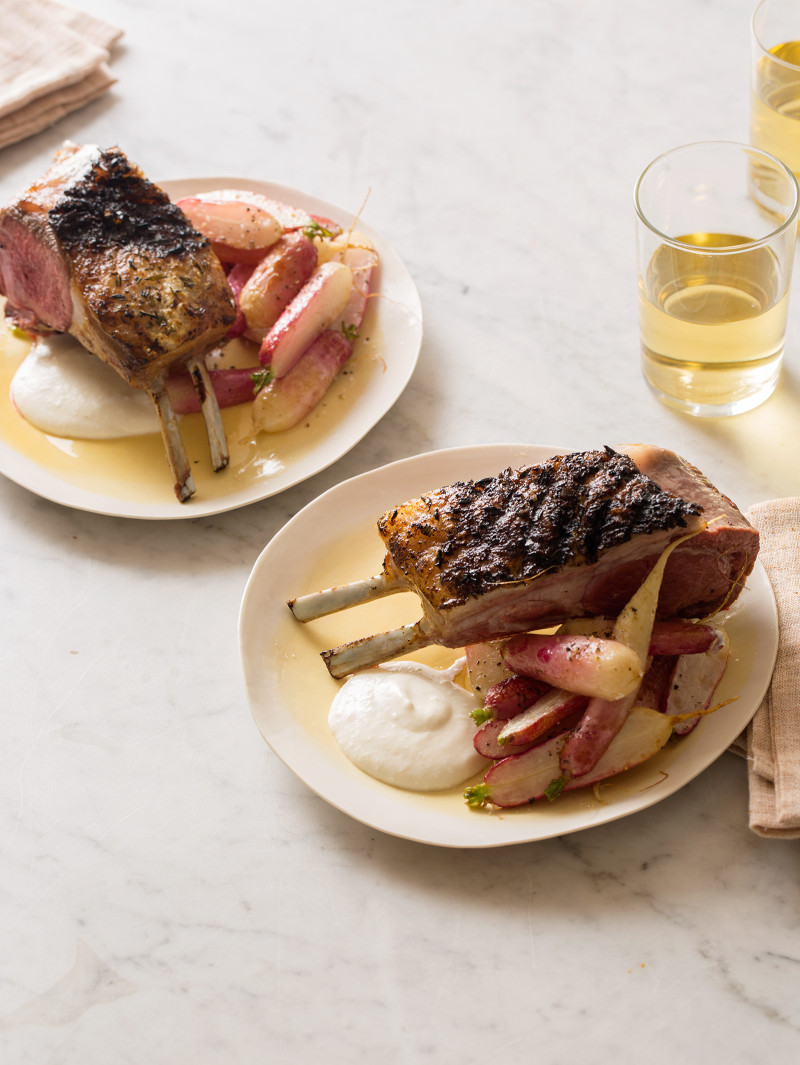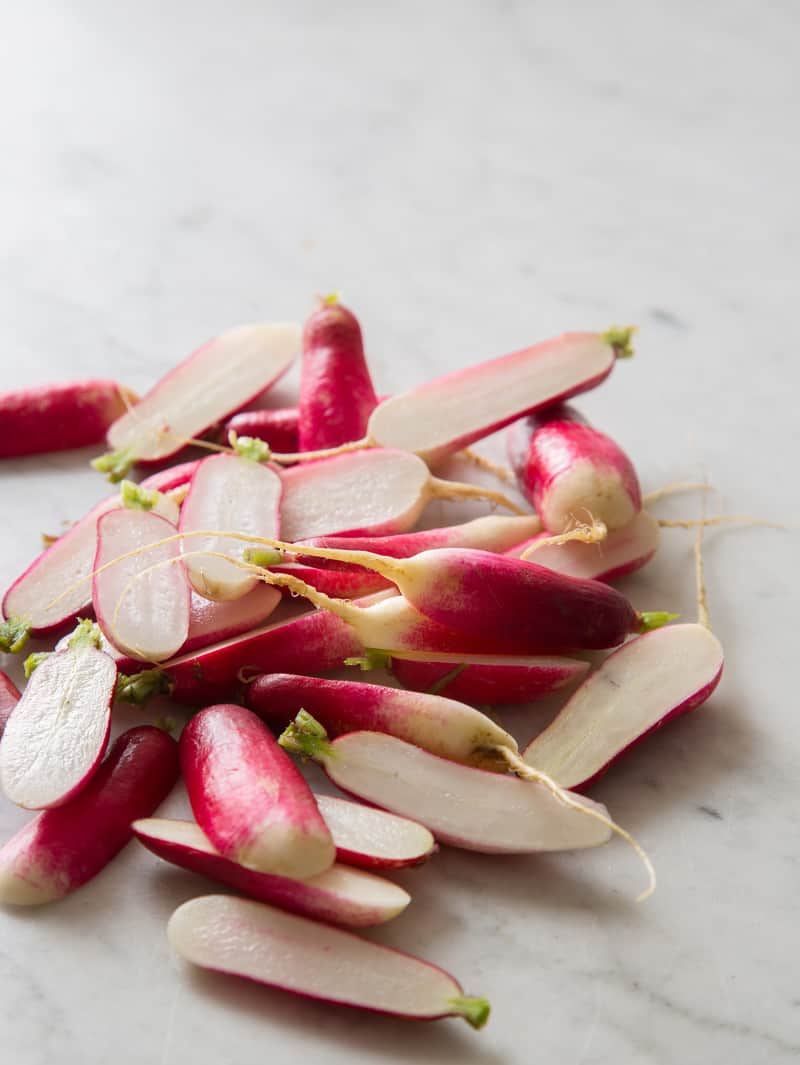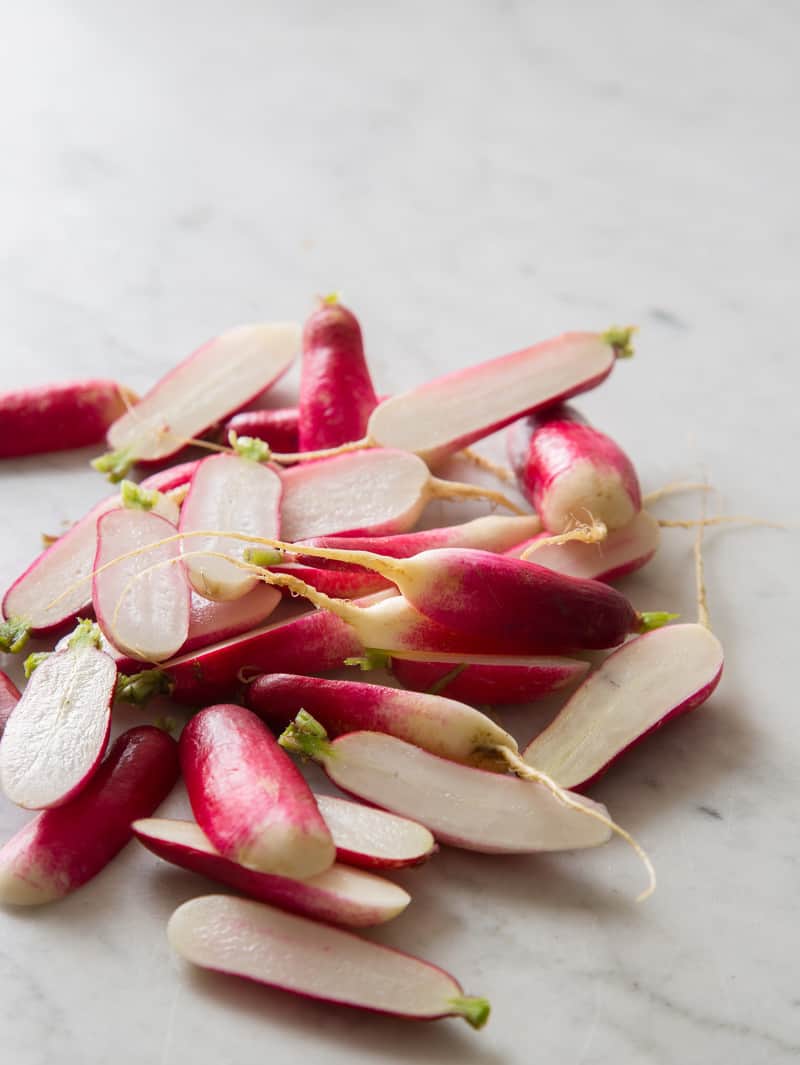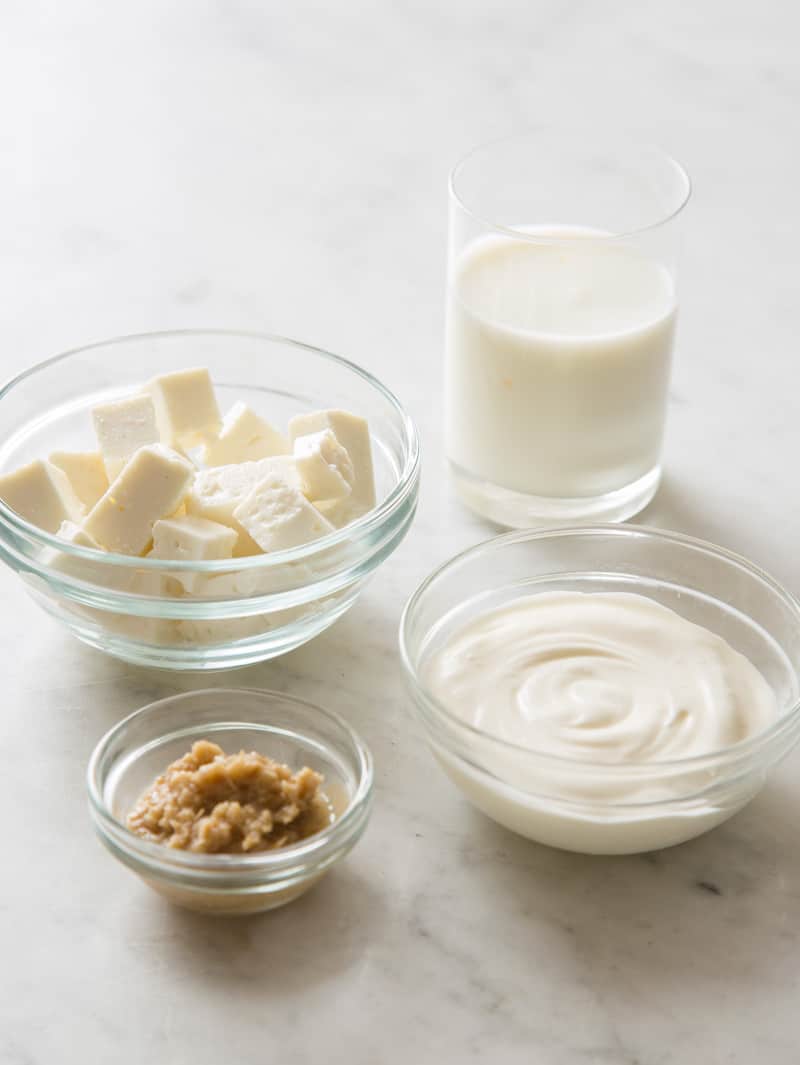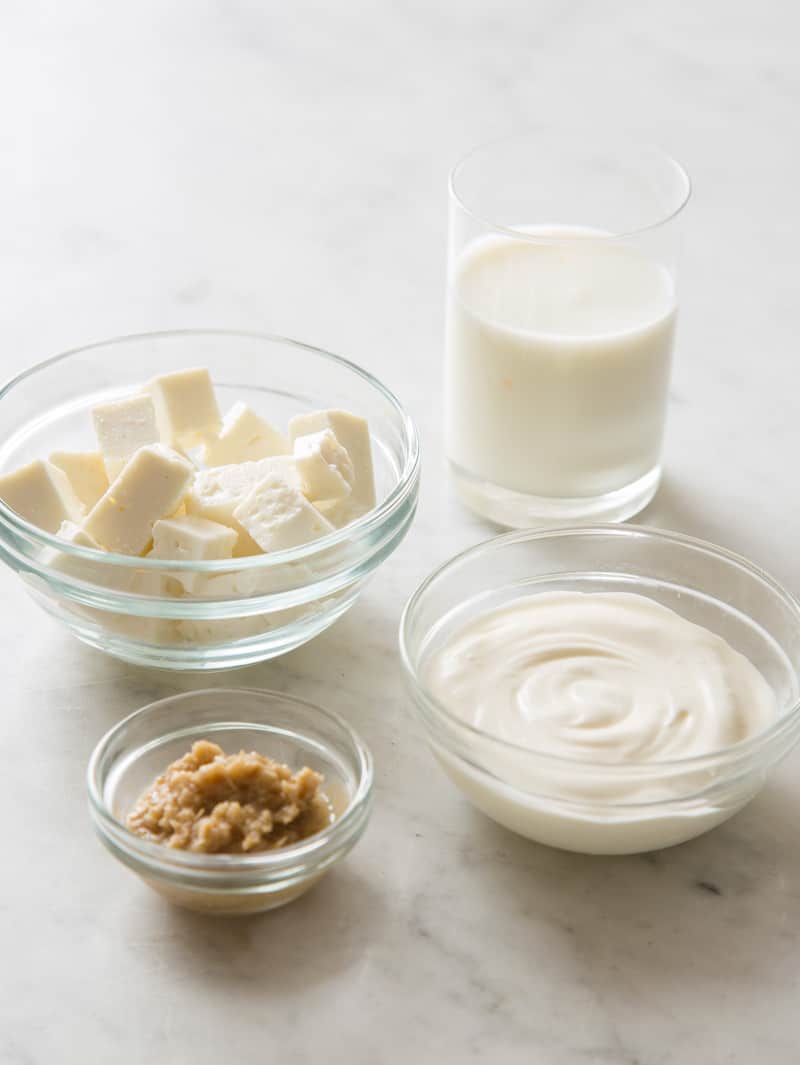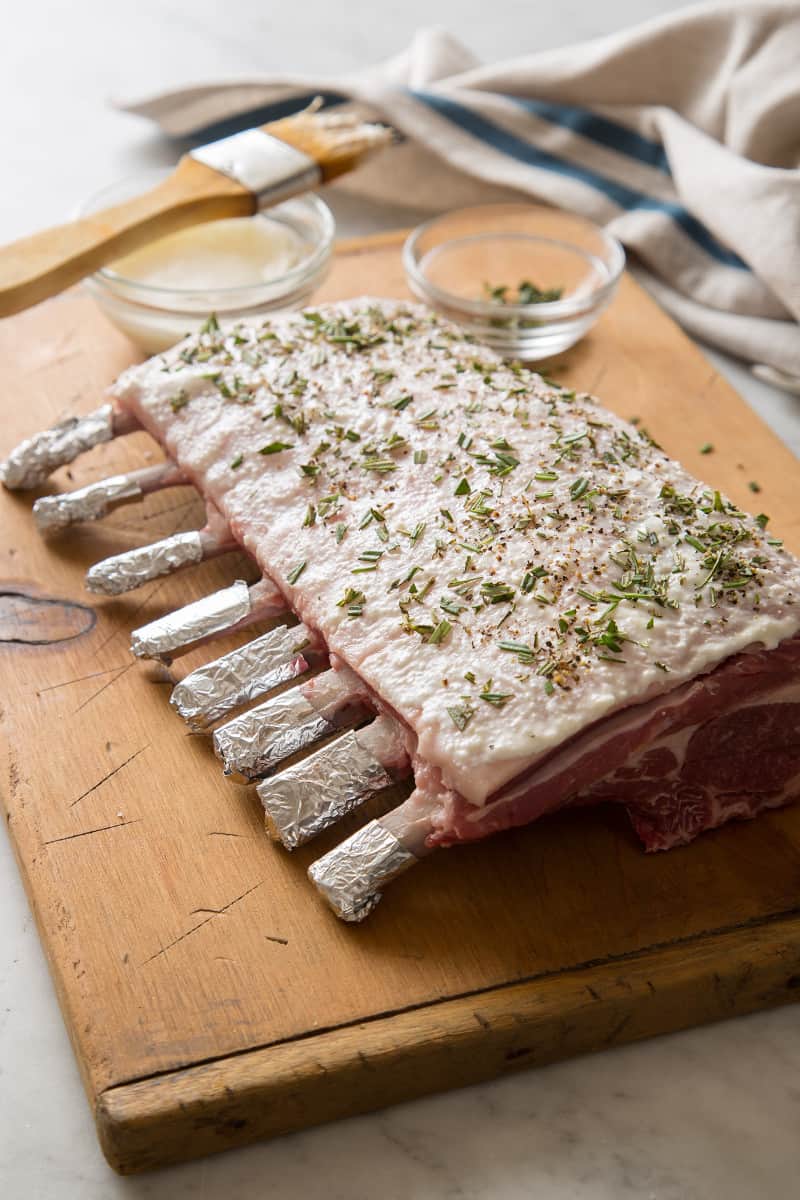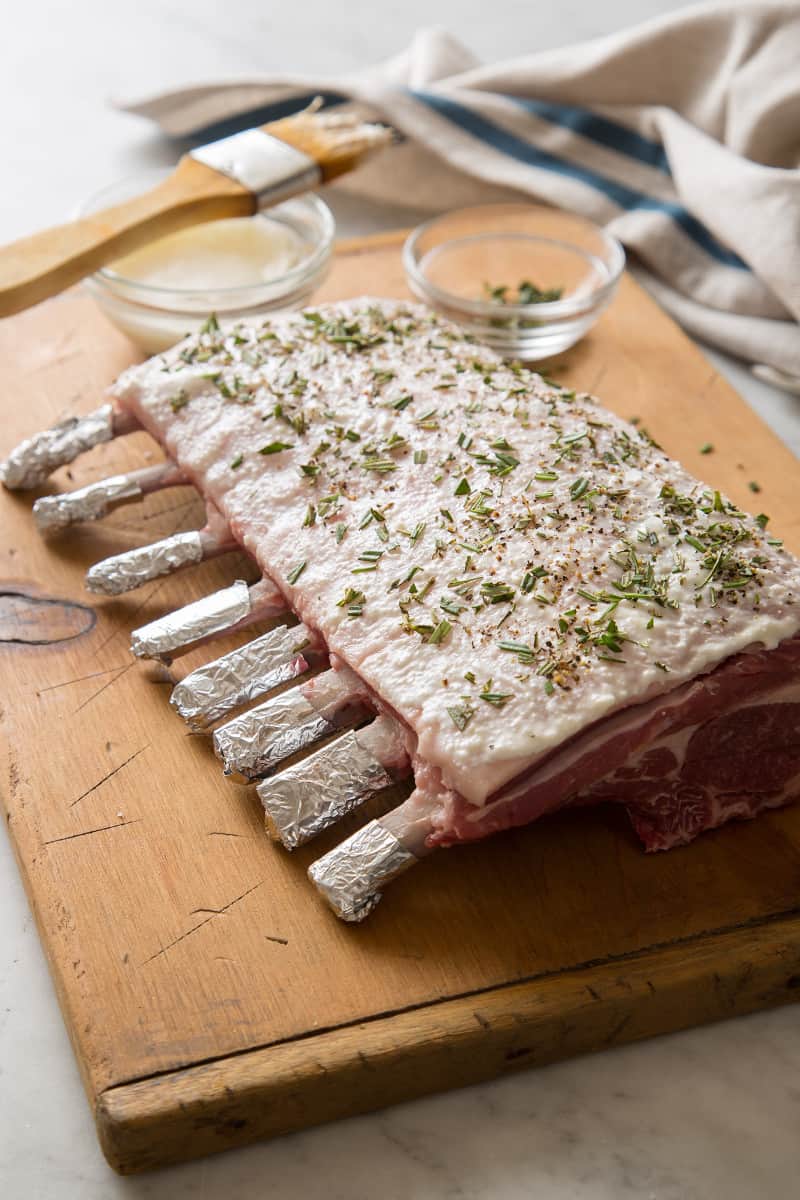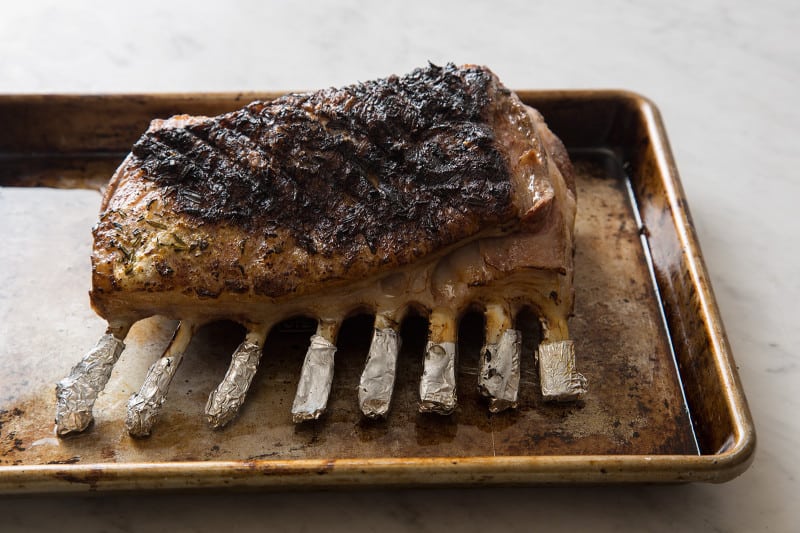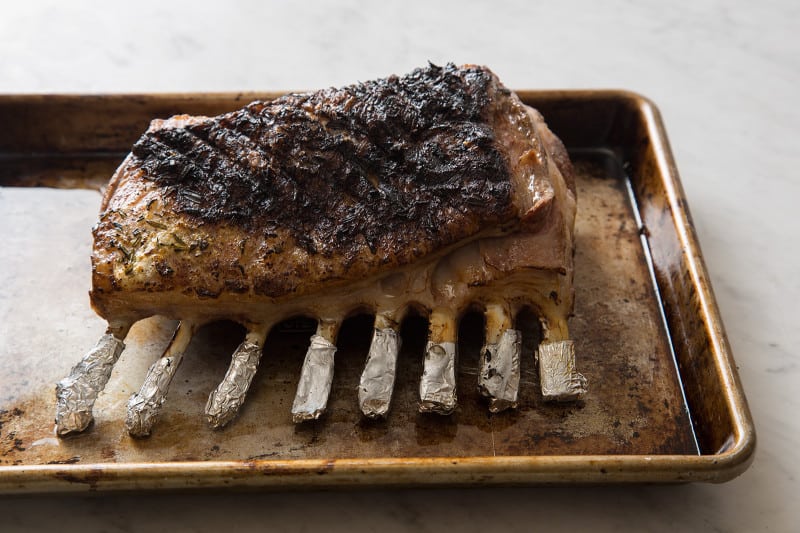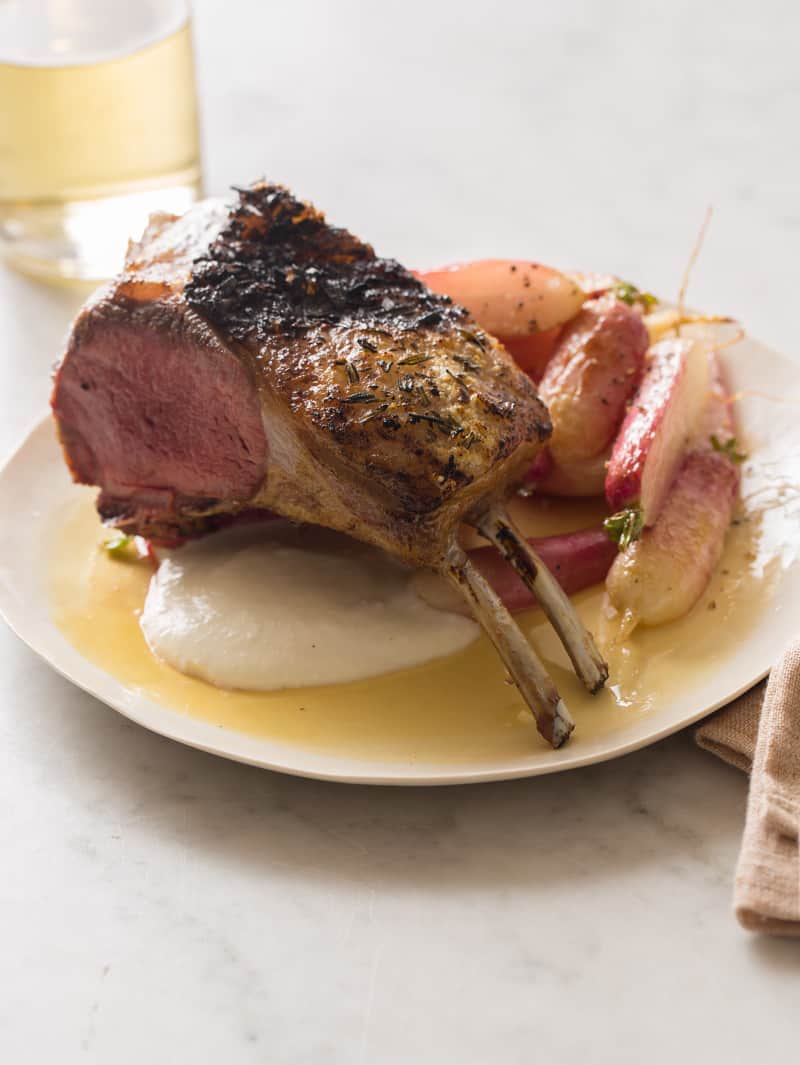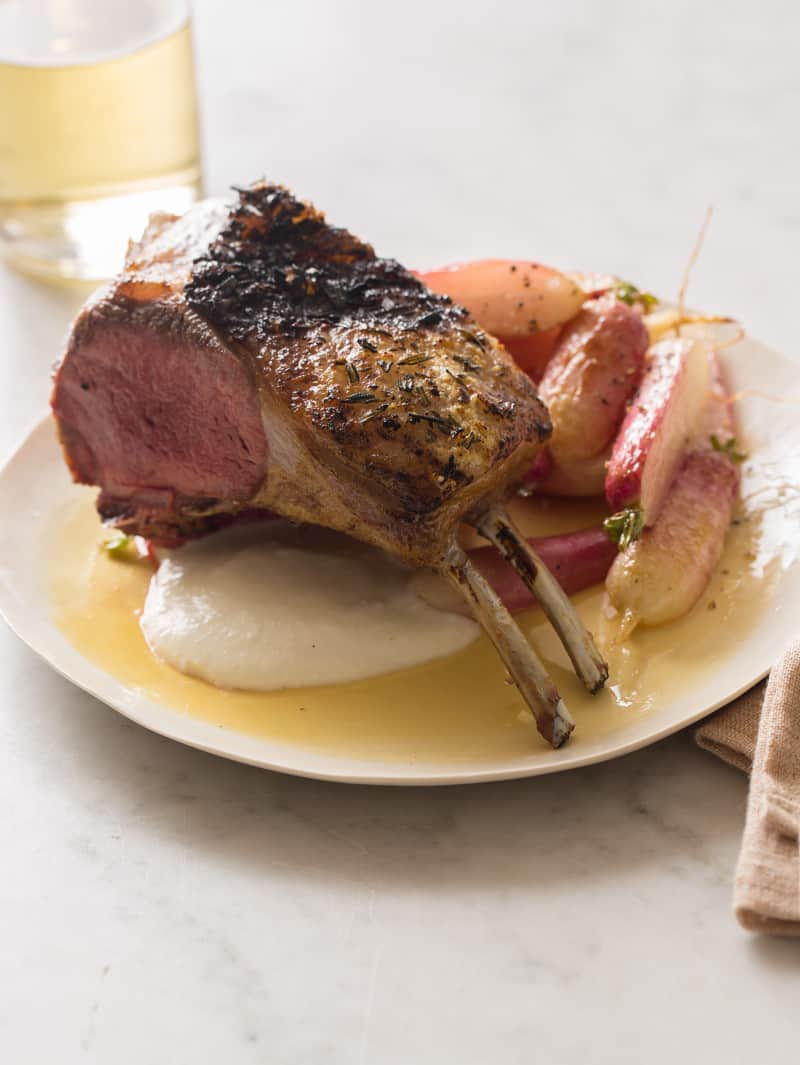 Hey guys! We're so deep into summer now, and it's great…but hot…real hot. I know I've mentioned a couple times already that the boyfriend and I have been grilling up a storm this weekend. We love cooking outside, especially in the evening as the weather starts to cool and a small breeze gently grazes the back of our necks as we sip on ice cold beers out on the patio, chat about the weird antics Dexter (our pooch) got into that day and grill something glorious. Recently we grilled up a rack of lamb with a creamy feta horseradish sauce and ate it alongside some roasted radishes. It was so simple and delicious. We were loving this dish so much that we ended up cutting the rack into individual chops, set down our utensils and pretty much ate them like meat lollipops by hand. Don't judge.
We know lamb is slightly out of the ordinary from the standard beef, pork or chicken, especially out on the grill, but it's such a tasty and low maintenance and lean protein, we often find ourselves going for a cut of lamb to cook up. An important thing to remember when purchasing a rack of lamb is to French the ends of the bone. This just means to clean the ribs completely of any meat that may surround them. You can do this easily by taking the back of a pairing knife and scrapping the bone back and forth, which will pull the meat up, making it easy to remove. If you're not particularly stoked about getting all handsy with your lamb, you can always ask your butcher to French your rack for you…wait, that sounds bad…but you guys know what I mean, right? ☺ It's also good to note that although there is a fat cap (layer of fat) atop the rack, you really don't want to go overboard with trimming. Not only will the fat help to keep the meat moist and full of flavor, but unlike a standing rib roast, the fat cap isn't tremendous and if you trim too much off your rack will become loose and possibly fall apart on the grill.
We're serving our rack with a creamy feta, horseradish sauce. We've steered away from the more familiar mint jelly sauce because we love the spicy kick we get from the horseradish and the extra bit of salty, creaminess from the feta. The sauce is great with the lamb as well as our roasted radishes. Roasted radishes have been one of my favorite things to eat since I was a little girl. Roasting them takes away their sharp spice and really mellows the flavors out. They become so soft and delicate in both flavor and texture, they practically melt in our mouth. SO GOOD. The radishes pair nicely with the lamb and sauce, without overshadowing either.
If you're looking for a quick and delicious recipe for grilled rack of lamb, we got you covered! Enjoy! xx, Jenny
PS Don't forget that the American Lamb Board is hosting a Grills Gone Wild contest and all you need to do is sign up and post a photo… that's it! Go check it out!
Hungry for more?
Subscribe to never miss a recipe.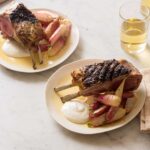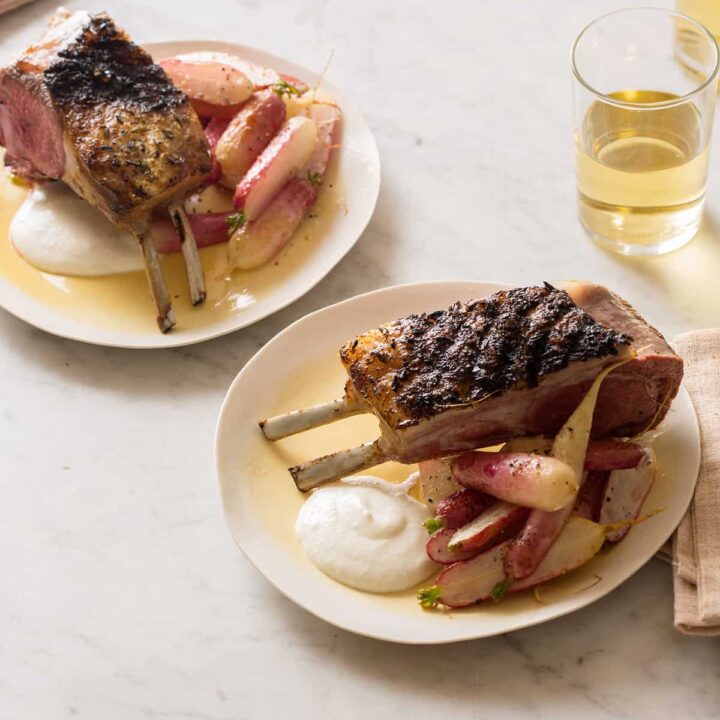 ---
Easy Grilled Rack of Lamb with a Creamy Feta-Horseradish Sauce
INGREDIENTS
Creamy Feta-Horseradish Sauce
½

cup

crème fraiche

2

ounces

feta, crumbled

2

tablespoons

buttermilk (optional)

1

teaspoon

prepared horseradish

½

teaspoon

cracked black pepper

pinch

sea salt
lamb
1 ½

teaspoons

minced thyme

1

teaspoon

minced marjoram (oregano is fine)

½

teaspoon

minced rosemary

1

rack of American lamb
INSTRUCTIONS
Preheat grill to 375˚F. (over high heat)

For the sauce: Place all ingredients into a food processor and whip until smooth. Adjust seasonings and set aside.

French the ribs of the rack (unless you've already had a butcher do so for you) and wrap the tips of each rib with about an inch of aluminum foil.

Place the thyme, oregano and rosemary into a small bowl and toss together. Set aside.

Once the grill is hot, brush both the rack and grill with extra virgin olive oil and generously season the rack with herb mix, salt and pepper, on both sides.

Place rack on the grill, fat side down and sear for about 4 minutes. Flip the rack and continue to sear for 2 to 3 minutes. Reduce the flames to medium and cover the grill. Allow the rack to grill with the cover closed, for about 6 to 8 minutes (keeping a close eye out for flame ups), uncover the grill allow the rack to continue to cook for another 1 to 2 minutes. This will give you medium to medium-rare results. For a medium to medium-well rack of lamb, keep grill cover closed for 8 to 10 minutes.

Remove from heat and transfer the lamb onto a cutting board and loosely cover with foil. Allow the lamb to rest for about 10 minutes before slicing and serving.

Serve rack with sauce and roasted radishes.
Calories:
561
kcal
Carbohydrates:
2
g
Protein:
21
g
Fat:
52
g
Saturated Fat:
24
g
Cholesterol:
123
mg
Sodium:
264
mg
Potassium:
286
mg
Fiber:
1
g
Sugar:
2
g
Vitamin A:
275
IU
Vitamin C:
2
mg
Calcium:
132
mg
Iron:
2
mg