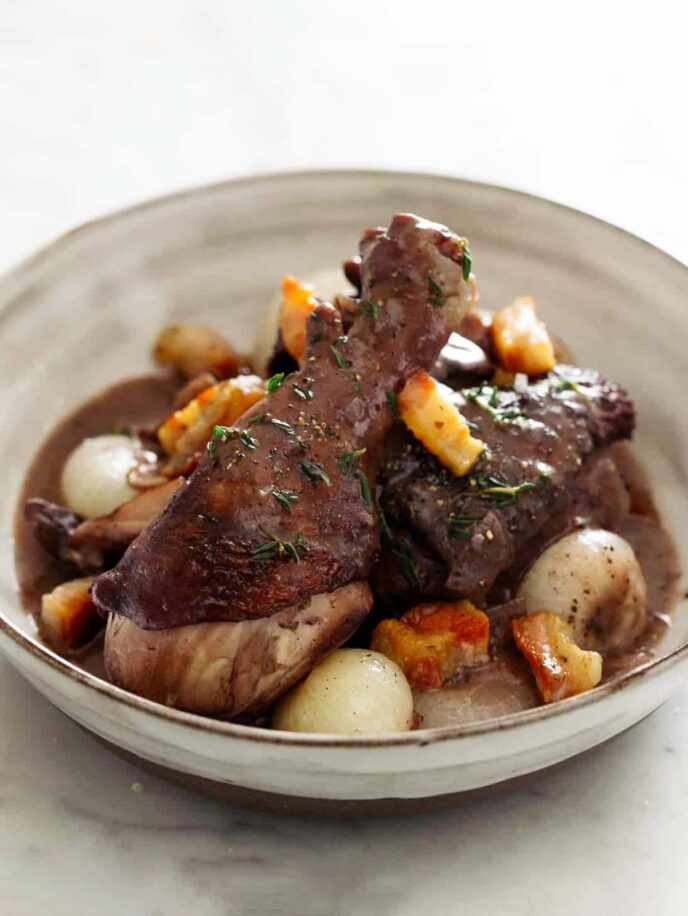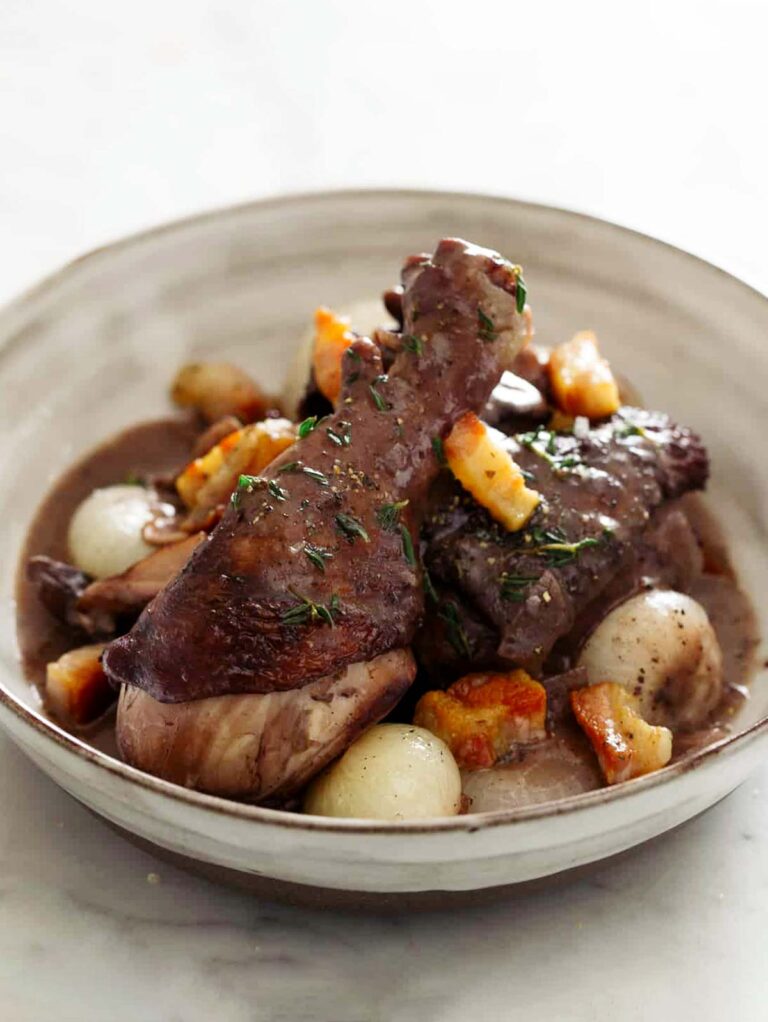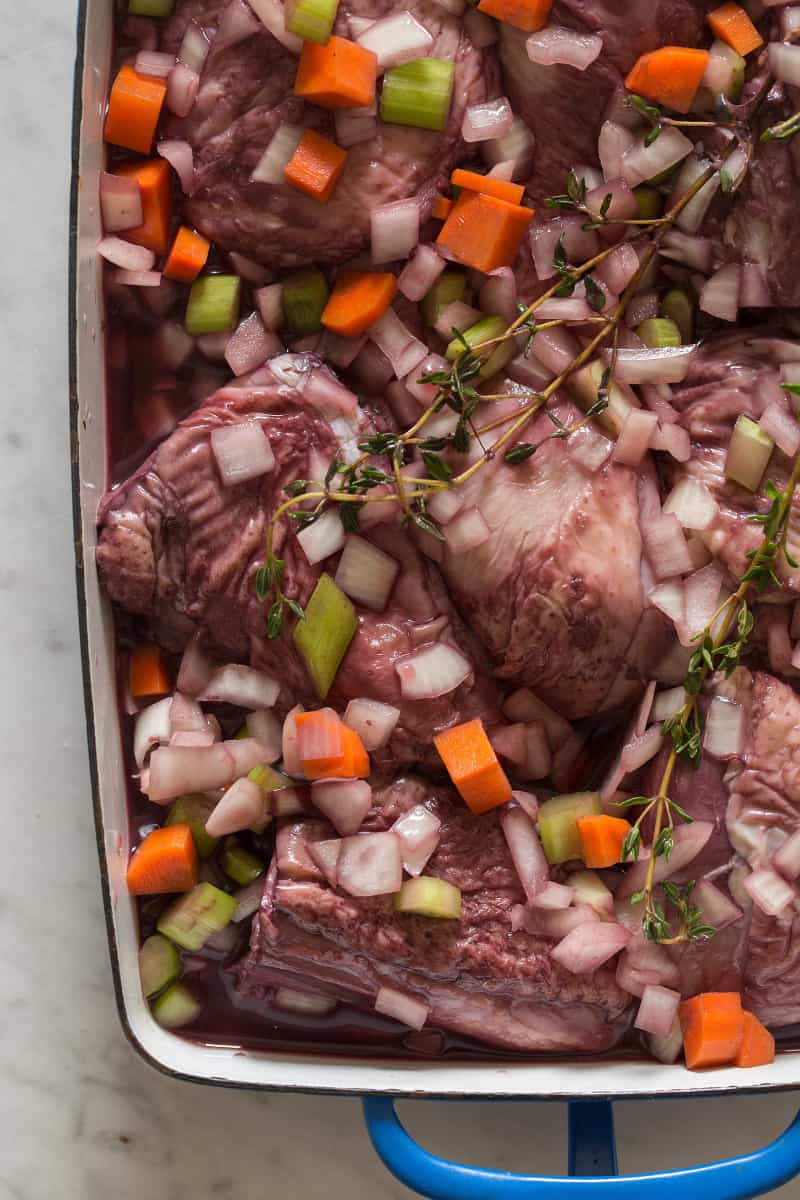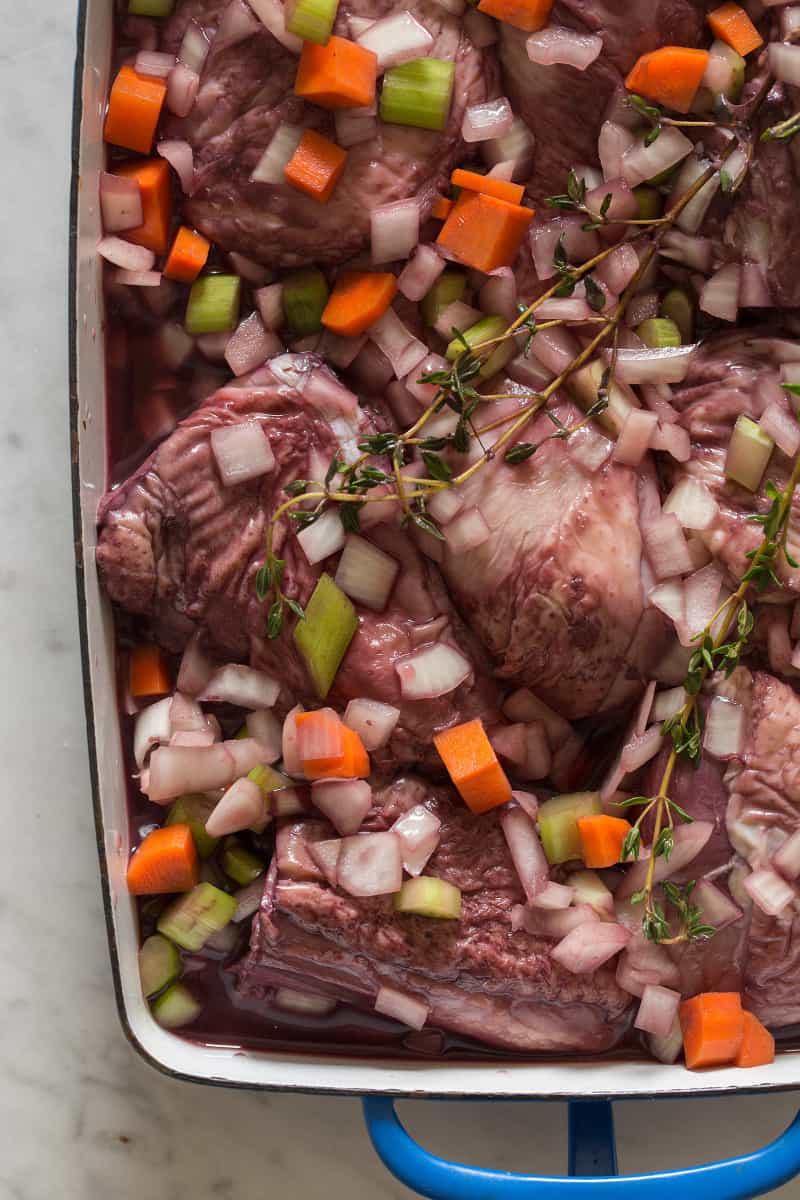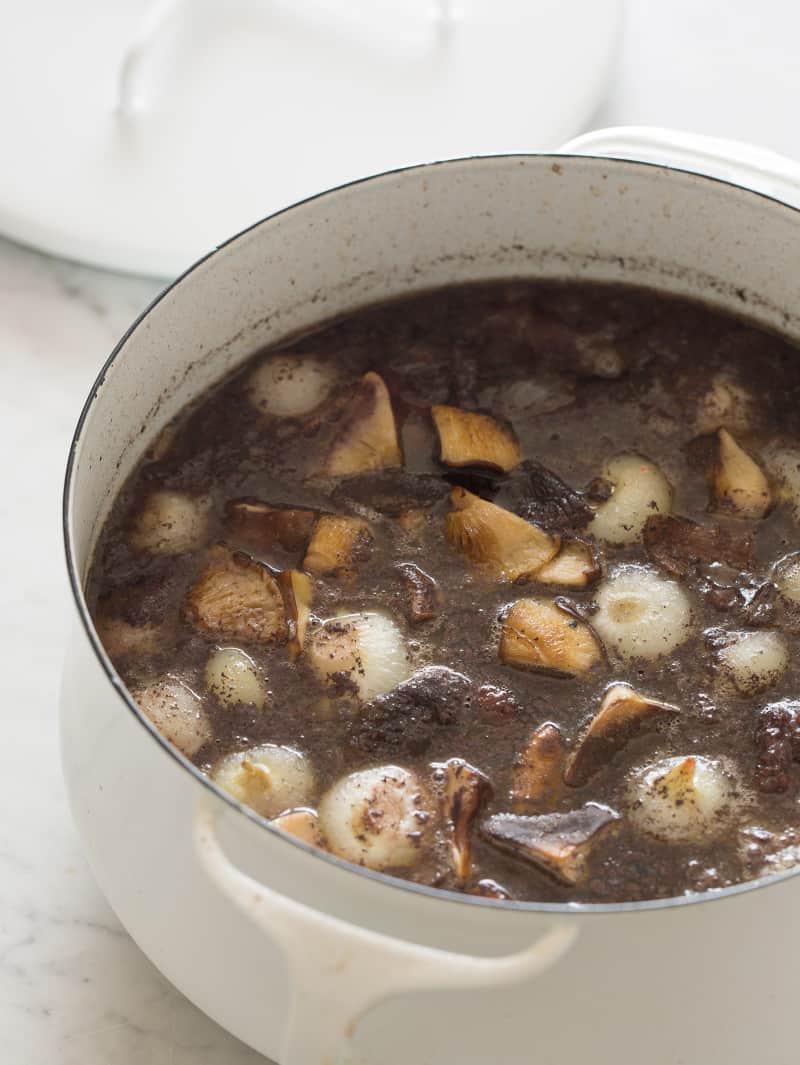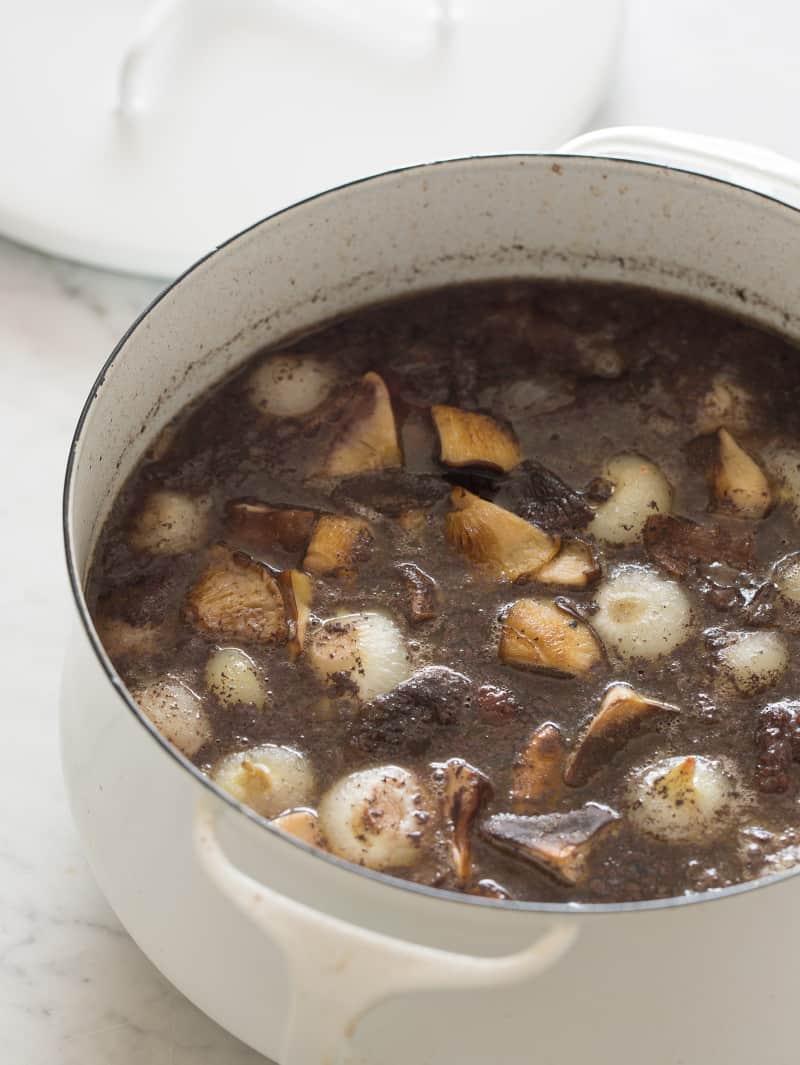 Hi Guys! The first time I made Coq Au Vin was in culinary school and we made a very classically French version of the dish, by marinating the chicken in red wine overnight. Not only does this impart a delicious flavor to the chicken, but it also turns the chicken the most glorious purple color. It's so pretty. Anyway, part of the reason I love fall so much is because I consider it the beginning of braising season! I love braising; whether it's cheap and fibrous cuts of meat like short-ribs and shanks or just some hearty vegetables, I love infusing a ton of flavor into a super warming dish.
We've replaced the traditional pearl onions for small cippollini onions simply because I prefer the slightly large, Saturn-shaped onions a little more. I'm so excited that the weather is kind of cooling down here in LA and can't wait until it begins to get really chilly and I can heat my apartment just with the copious amounts of braising I'll be doing, out of my oven. Enjoy! xx, Jenny
More yummy chicken recipes you might like: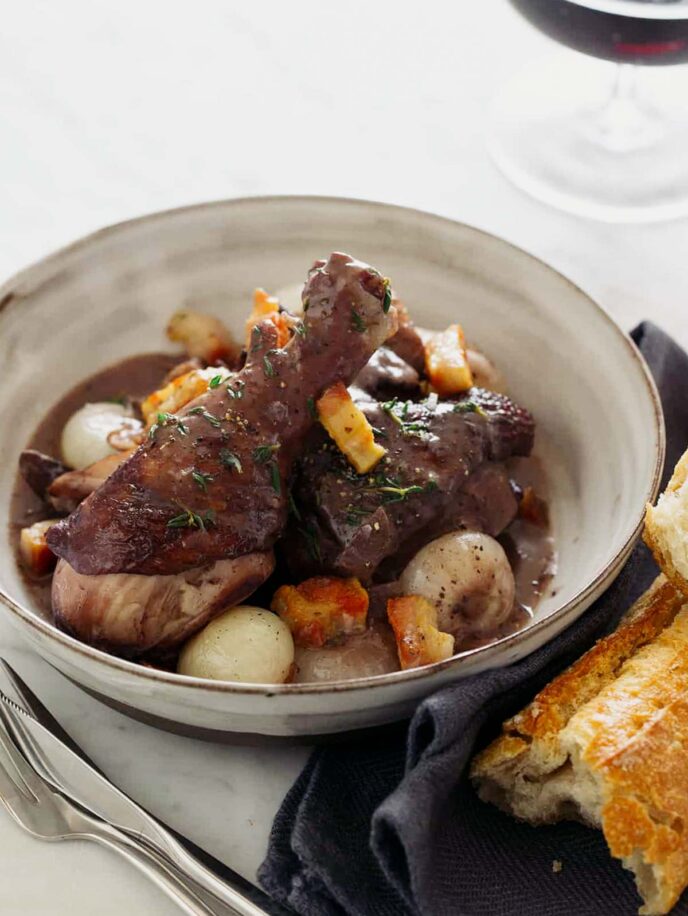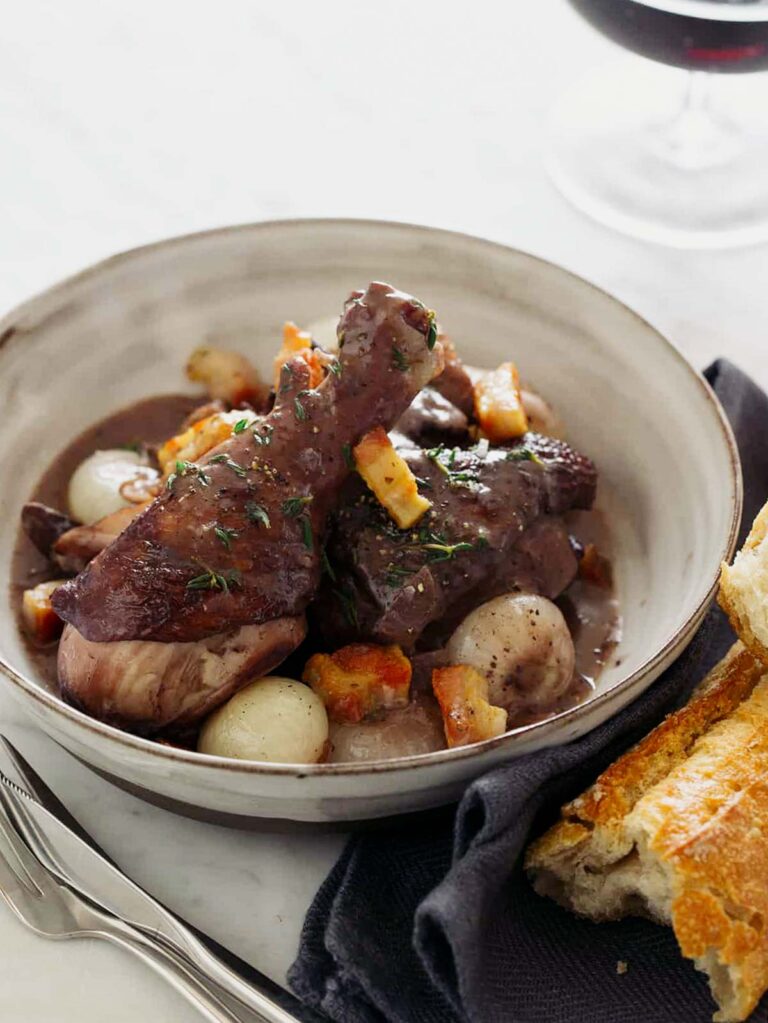 Hungry for more?
Subscribe to never miss a recipe.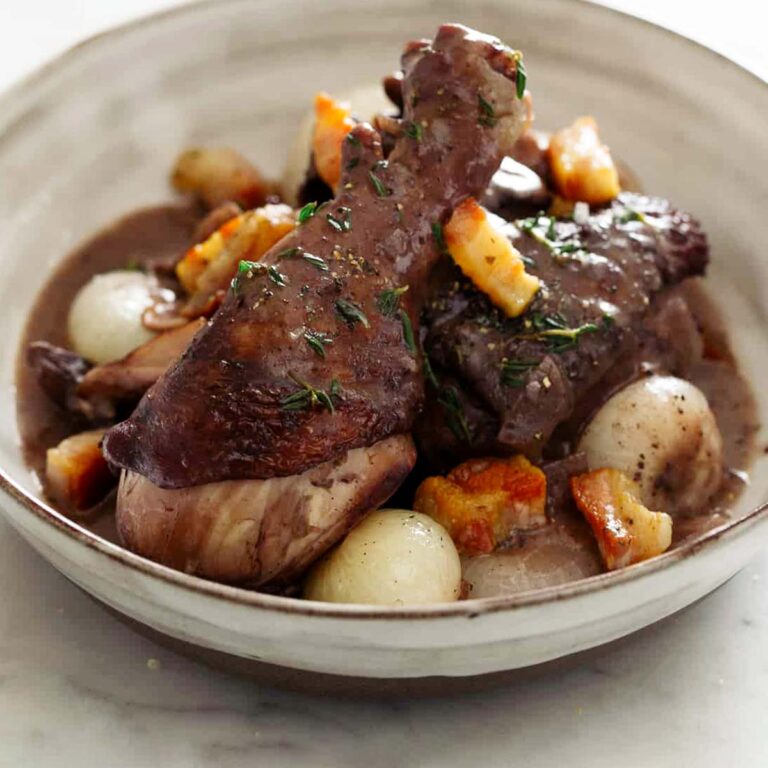 ---
Coq Au Vin
INGREDIENTS
1

yellow onion, diced

1

large

carrot, peeled and diced

2

celery sticks, trimmed and diced

2

garlic cloves, lightly crushed

4

each bone-in chicken thighs and drumsticks

4

sprigs

thyme, divided

3

cups

merlot

2

tablespoons

extra virgin olive oil

16

cippollini onions, peeled

1

cup

chicken stock

2

ounces

pancetta cut into ¼" x ⅛" pieces

1

tablespoon

all purpose flour

1

tablespoon

unsalted butter, softened
garnish
cippollini onions

fresh minced thyme
INSTRUCTIONS
In a large bowl toss together onion, carrot, celery and garlic cloves. Spread half the mixture into a large, shallow baking dish.

Top vegetables with a single layer of chicken pieces and sprinkle remaining vegetables over chicken. Top with 2 thyme sprigs.

Pour wine over chicken mixture until completely submerged.

Tightly wrap the chicken mixture and refrigerate for 12 to 18 hours.

Pour oil into a large Dutch oven and place over medium-high heat.

Add pancetta and fry for 2 to 3 minutes or until light and crisp. Remove from heat with a slotted spoon and set lardons aside.

Remove chicken from marinade and pat dry. Season with salt and pepper and add pieces into the Dutch oven skin side down, searing the pieces on each side for 2 to 3 minutes. Remove from pot and set aside.

Drain all but 1 ½ tablespoons grease from the pot and drain vegetables from the marinade. Pour marinated vegetables into the pot and sauté for 3 to 4 minutes. Add cippollini onions and continue to sauté for 2 to 3 minutes.

Add 2 cups of the marinade liquid into the pot and top with chicken stock.

Nestle the chicken pieces back into the pot, skin side up, and top with remaining thyme sprigs. Season with salt and pepper, cover and place into the oven for 45 to 55 minutes or until the chicken has cooked through completely.

Remove the pot from the oven and strain 1 cup braising liquid. Pour the strained liquid into a saucepan and simmer for 2 to 3 minutes.

In a small bowl, mash together the butter and flour and whisk the mixture into the simmering liquid. Continue to simmer and whisk until the mixture thickens and is smooth. Lightly season with salt and pepper.

To assemble: Place a couple pieces of chicken into each bowl and top with 3 to 4 onions. Drizzle some of the thickened sauce over each dish and finish with a small sprinkle of lardons and fresh thyme. Season with salt and pepper and serve.
Serving:
1
serving
Calories:
472
kcal
Carbohydrates:
17
g
Protein:
19
g
Fat:
27
g
Saturated Fat:
8
g
Cholesterol:
107
mg
Sodium:
213
mg
Potassium:
590
mg
Fiber:
2
g
Sugar:
6
g
Vitamin A:
2170
IU
Vitamin C:
9
mg
Calcium:
48
mg
Iron:
2
mg