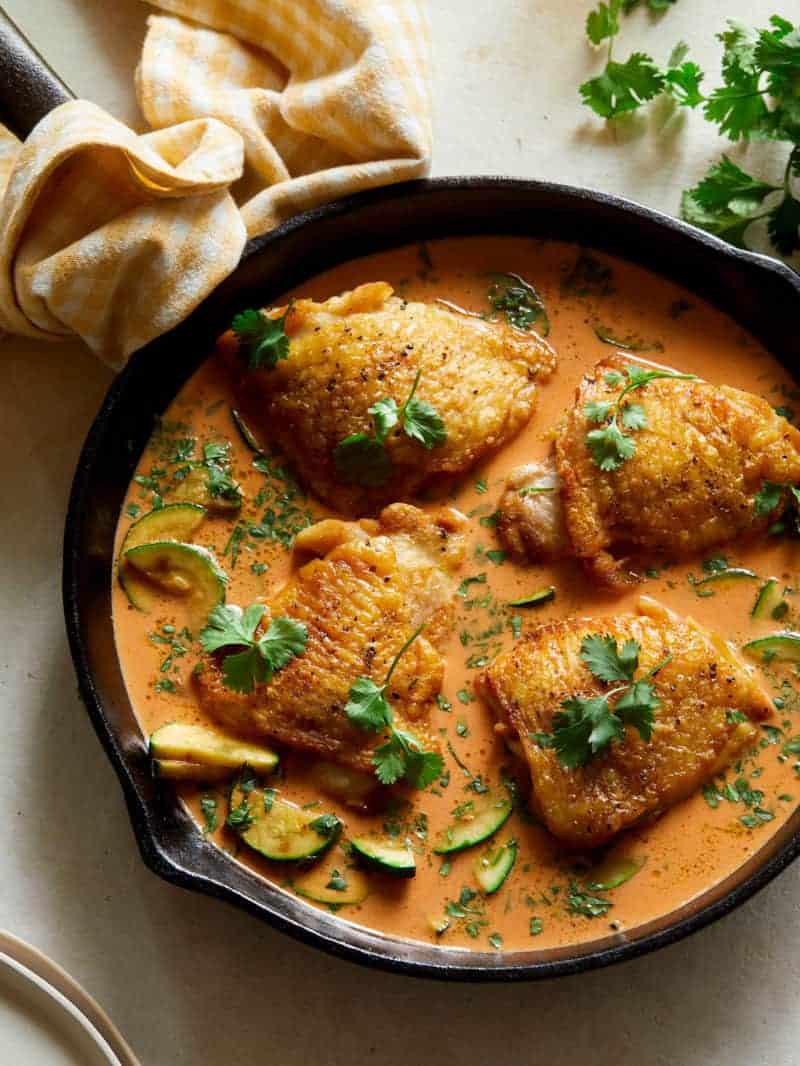 I love this Thai Red Curry Chicken dish. It's one of those cozy dinner meals to make just as the weather starts to turn. It's super satisfying and makes amazing (maybe even better?) leftovers. The chicken is so flavorful in this dish, and I love it with the rice and zucchini. I hope you guys love it too!
♥ Teri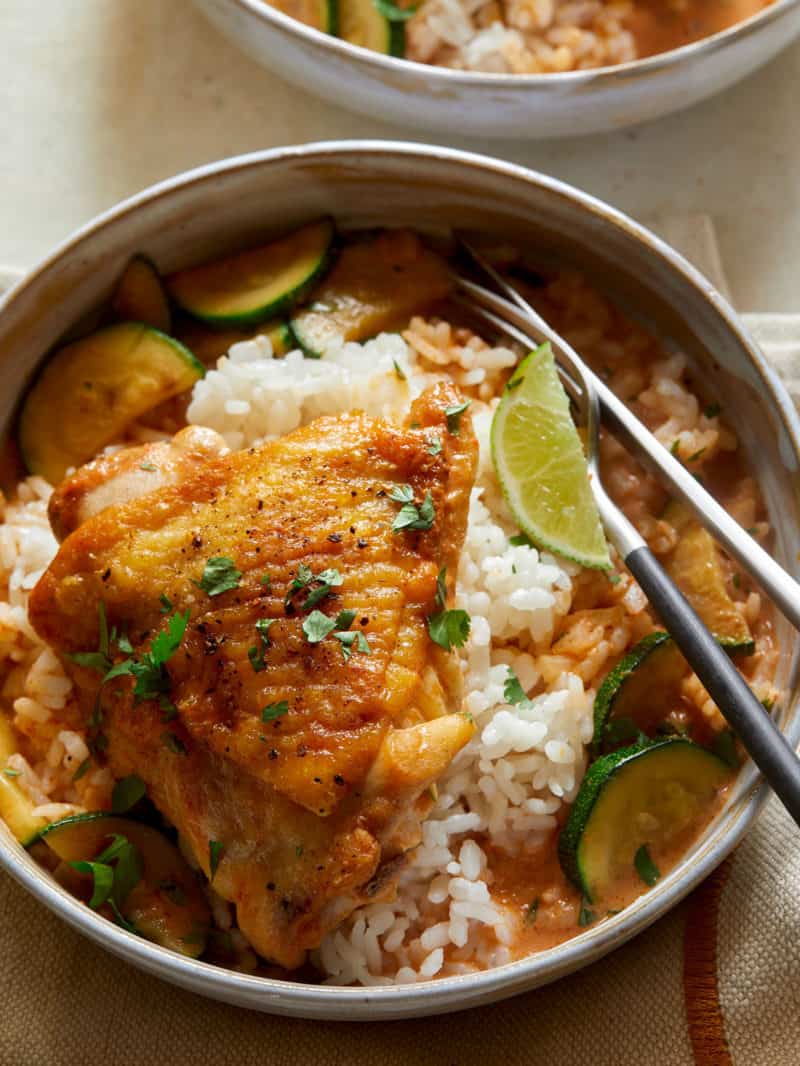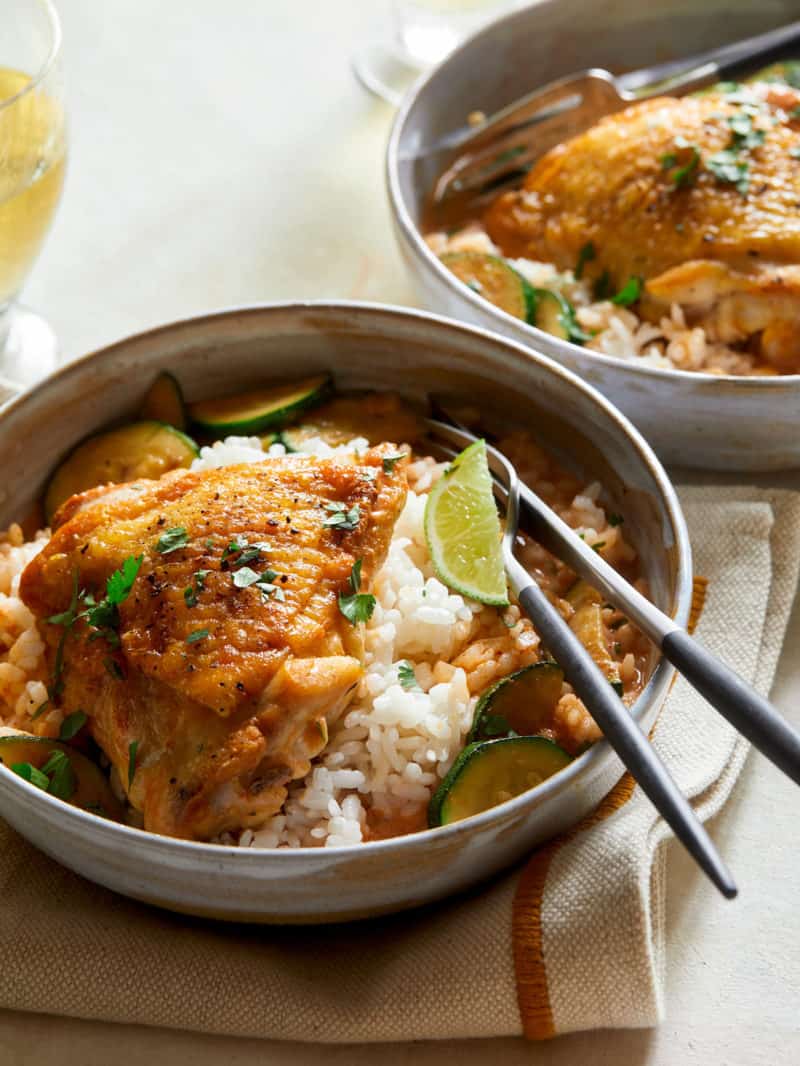 Thai Red Curry Chicken Thighs with Zucchini

Serves 3

Ingredients:
3 tablespoons extra virgin olive oil, divided
6 bone-in, skin-on chicken thighs
1 shallot, diced
2 garlic cloves, minced
2 zucchini, sliced in half lengthwise and thinly sliced crosswise
3 1/2 tablespoons red curry paste
2 cans coconut milk
2/3 cup chicken stock
salt and pepper to taste

steamed rice, for serving
cilantro leaves, garnish
lime wedges for serving

Directions:
1. Preheat oven to 375˚F.
2. Place a large skillet over medium-high heat and add 1 1/2 tablespoons oil. Swirl oil around skillet.
3. Generously season chicken thighs with salt and pepper and place each thigh into skillet, skin-side down.
4. Sear thighs for 4 to 5 minutes. Flip each piece of chicken and continue to sear for an additional 4 to 5 minutes.
5. Transfer skillet to oven and bake thighs for 12 to 15 minutes or until just cooked through.
6. Remove thighs from oven and transfer onto a plate. Place skillet back over medium heat and add remaining oil. Add shallot and garlic and saute for 3 to 4 minutes. Add zucchini and continue to saute for 3 to 4 minutes.
7. Stir in curry paste and toast for 1 minute. Stir in coconut milk and stock until sauce is smooth. Season with salt and pepper.
8. Nestle chicken thighs back into skillet, skin-side up and simmer in sauce for 6 to 8 minutes.
9. Scoop steamed rice into bowls and top each pile of rice with 1 or 2 chicken thighs. Ladle sauce into bowls, top with cilantro leaves and serve with lime wedges.