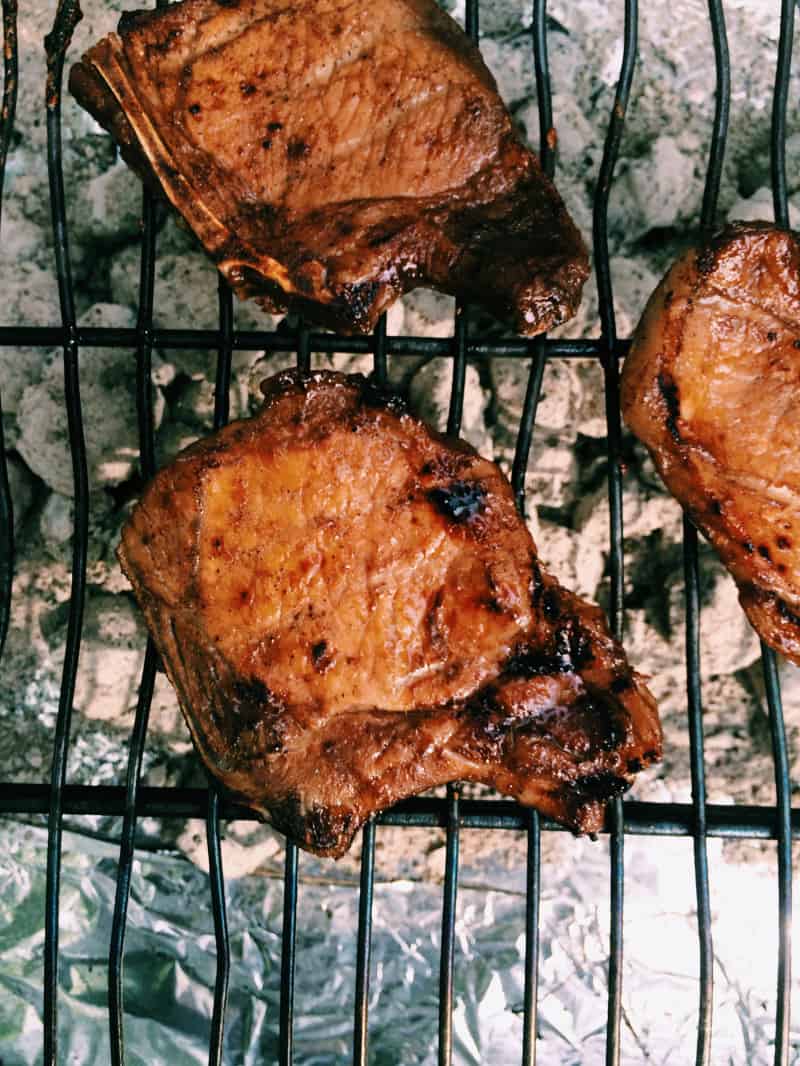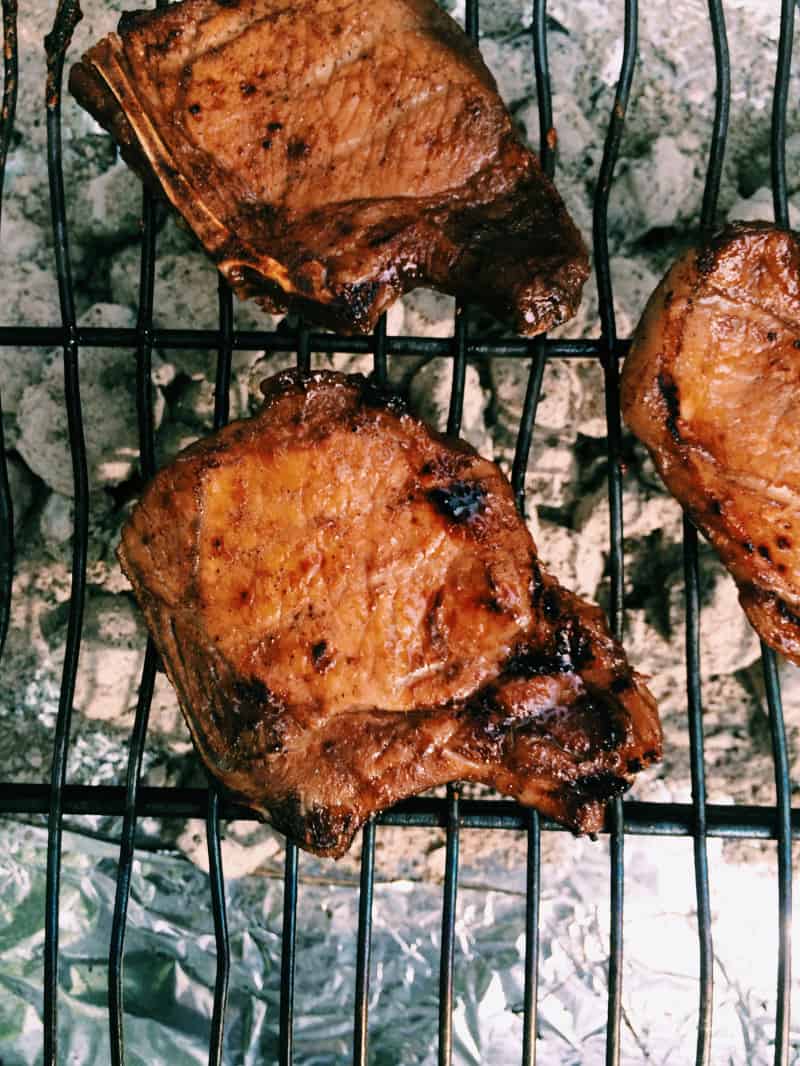 A few weeks ago we were lucky enough to fly out to Chicago and attend the Food Network in Concert Festival, held in Ravinia Park. We were excited to attend on behalf of the National Pork Board to cover all things pork. No problem there! When we first arrived we checked into the hotel and began exploring the city. I'm originally from Chicago, but hardly get to go back so it was nice to be able to spend some non-holiday time in my childhood city. Teri and I managed to squeeze our way into The Purple Pig (after a brief 2 1/2 hour wait!) where we definitely had an "eyes are bigger than our stomachs" moment. It was intense. Delicious, but intense.



We woke up the next morning, ready to head north to Ravinia Park (a well known summer concert venue in the north suburbs of Chicago, specializing in it's spacious stage setups and picnicking abilities). When we arrived we were given a swag bag, complete with reusable wine glass and picnic blanket! I loved the picnic blanket idea; I often feel that food festivals lack a place for consumers to really sit and enjoy their food, so the spacious park plus the picnic blankets really helped create a more relaxed vibe where people could comfortably sit, eat and drink while listening to some live music.



Shortly after we arrived we headed over to the hands-on demo hosted by Food Network chef and Chicago native, Jeff Mauro. He enthusiastically walked us through grilling two cuts of pre-marinated pork, char sui chops and a spicy dry rub tenderloin. We learned that many people tend to be turned away from cooking and eating pork, especially the leaner cuts (that we were preparing that day), because people tend to overcook pork (ironically due to fear of undercooking the meat), resulting in a dry product every time. He taught us that it's okay to have a barely pink center when cooking pork and that when cooked correctly, from 145˚F for medium rare to 160˚F for medium, with a 3 minutes rest time, pork can be very tender and flavorful to consume on a regular basis. Pre-marinated, grilled pork chops is something that we don't cook enough but something that is definitely on our Pork Bucket List…..maybe a nice achiote and chipotle marinated pork chop? Yum!



We spent the rest of the day walking through the food and beverage vendors where we noticed pork was definitely dominating the festival. Oh how we love the Midwest, never shy in expressing it's fantastically meaty side. One of our favorite pork-centric dishes from the rest of the festival was a simple sous-vide pork belly, which was perfectly paired with pickled blueberries. The richness of the pork, against the sweet and briny blueberries balanced one another nicely. Another example of pork done well was the pork tenderloin roulade topped with white sweet potatoes. The pork was delicate and flavorful and the sweet potatoes were almost candied; the sweetness from the sweet potatoes balanced out the savory flavors of the stuffed tenderloin.



With so many delicious sips and bites to try throughout the day it was nice that some places were literally setting out single bites of food. Tete was one of the vendors at the festival that was really leaving consumers hungry for more. They were offering the most perfect bite-sized morsels of their house-made country pate. These 'melt in your mouth' nibbles were seasoned so well and the texture of the pate was soft with a slight bite. Although these were the "perfect bites", they were also so addicting that we each went back for 3 or 4 extra tastes!





In case we hadn't stuffed our faces enough that day (we totally had), we were invited to a lovely dinner hosted by the National Pork Board and Chef Wylie Dufresne. The meal featured what other than ….Pork! We were introduced to some really interesting dishes, such as this 'nduja (presented by Chef Jimmy Bannos Jr of The Purple Pig), an out of casing, heavily spiced pork sausage that was meant to be eaten on a crostini like a spread, accompanied by house-made giardiniera (duh, we were in Chicago after all!). The soft texture of the sausage, against the crisp crostini and pickled vegetables was the perfect start to the meal.

Our other favorite dish of the evening was the hoisin braised pork cheeks. We had both indulged in beef cheeks in the past, but braised pork cheeks?! Not only were the pork cheeks extremely tender and moist, but also they were served with lightly grilled watermelon for freshness, and mustard greens and blistered shishitos for a bit of bite and spice. It was definitely something we were unexpectedly able to cross off our Pork Bucket List. We finished our meal with glazed old fashioned doughnuts, finished with a light sprinkle of candied bacon. It was the perfect end to a fantastic and unforgettable meal.



We didn't have a ton of time to explore the city, but we did manage to enjoy a few more Chicago classic eats, like hot dogs, Italian beef sandwiches, deep dish pizza, Garret's popcorn, and some Italian ice….well maybe we did have enough time to indulge in just about every Chicago classic, but we also did a little sightseeing too. We went on the architectural boat tour. I know it seems random, but going on a beautiful boat tour of a city with such neat architecture and history behind each and every building, it's definitely worth a quick 90 minute ride! A few things we didn't get to do this time around, but a couple personal favorite activities of mine are a little trip to Navy Pier, a visit to the Shedd Aquarium/Planetarium /Field Museum, a trip to Second City for a hilarious evening of crazy-good improv, and finally a quick stop at RM champagne salon for fabulous bubbles and cheese! There are SO many other amazing things to do in the city of Chicago, but that's just off the top of my head!


A huge thank you to the National Pork Board for having us apart of this extremely memorable and totally tasty event!
Check out our Truffle Hunting in Italy Post, and our My Trip To NY Post, or Peek inside our Prop Room!