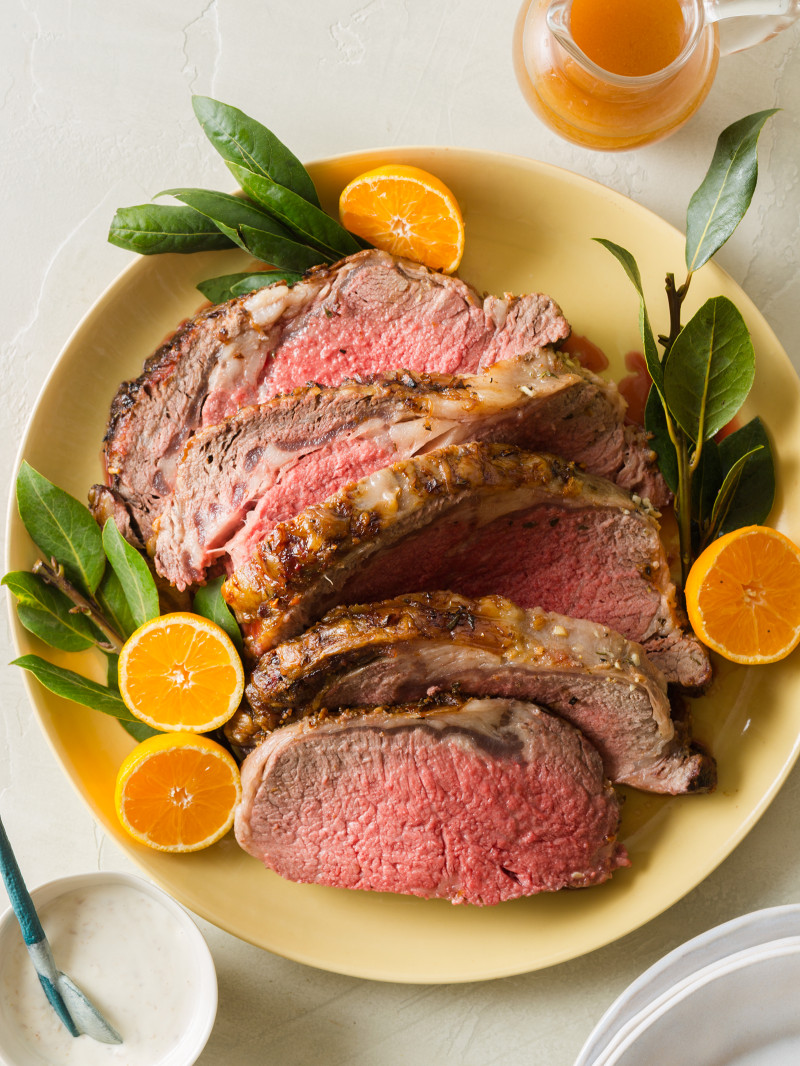 Since christmas is less than week away and we know some of your are still trying to figure out your holiday menus, we thought we'd bring this big guy back this year; our Standing Rib Roast with Au Jus + Creamy Horseradish Sauce! This is a classic holiday dish that seems so intimidating, but is actually very simple. The trickiest part is to make sure your timing and temperature is in sync with one another so you don't end up serving dry beef (the worst!) or a bloody mess (just as bad!) to your guests. 
This dish will totally impress your guests, but you don't need to let them know that it took little to no effort to put it together, right? It's okay to enjoy a little holiday praise, you are hosting during one of the most stressful times of year after all! :) Enjoy! xx,

Jenny
Today we have what both Teri and I plan to make for christmas dinner this year, a Standing Rib Roast with Au Jus and Creamy Horseradish Sauce! It's a classics holiday dish that might seem a bit intimidating, but as long as you get the cooking temps and times down, it's actually a breeze! There are definitely a few things though that I think are important for a successful roast:
– Instant Read Thermometer: You might think this is excessive, but seriously get one. They're fairly inexpensive and will make your life so much easier. You're already spending a lot of money on a big chunk of meat that's supposed to be the star of the meal, so you really want to make sure it's cooked exactly the way you and your guests prefer it and an instant read thermometer will allow you to know immediately what's going on in your roast. I'm all about the touch test when it comes to my steaks, but for a large piece of meat like this, I really like to depend on my instant read!
-Try to get a roast with a fat cap: ….even if you go boneless. The fat cap is literally a 1/4-1/2 inch layer of fat that covers the roast, you won't eat it, but it'll help keep the roast nice and juicy throughout the cooking process and they'll be no need to constantly open the oven (which will then immediately lower your oven temp) to baste your meat….it's basically a way for the meat to self baste!
– Take advantage of your local butcher: Especially if your knife skills aren't the greatest. I have yet to go to a butcher (even at my local Vons!) that won't fabricate the meat just how I like it. They'll even slice the fat cap almost entirely off for you, so you don't have to do that part (refer to the recipe for further clarity). They'll french the ends of the rib bones if you'd like and even tie everything tightly together in twine for you).
– Low and slow is the key: Yes, we're starting the roasting at a very high temperature, but it's to develop a nice crust around the meat. Once you have a nicely browned outside, you want to make sure to lower your cooking temp and make sure to NOT rush this process. Trying to cook this cut quickly will likely result in a overcooked and dry piece of meat…so just stick to the high sear to low and slow method and you'll have success every time!
I hope everyone is enjoying this holiday season, as busy and hectic it may be! I'd also love to hear what some of your holiday meal plans are! Enjoy! xx, Jenny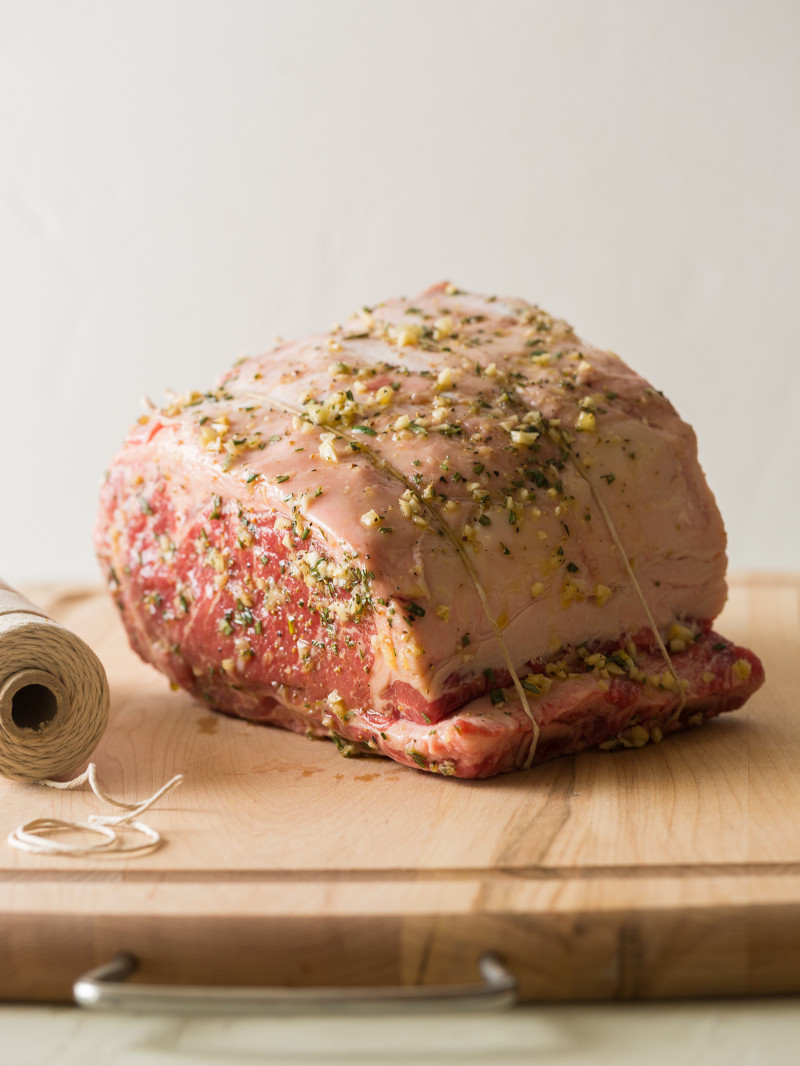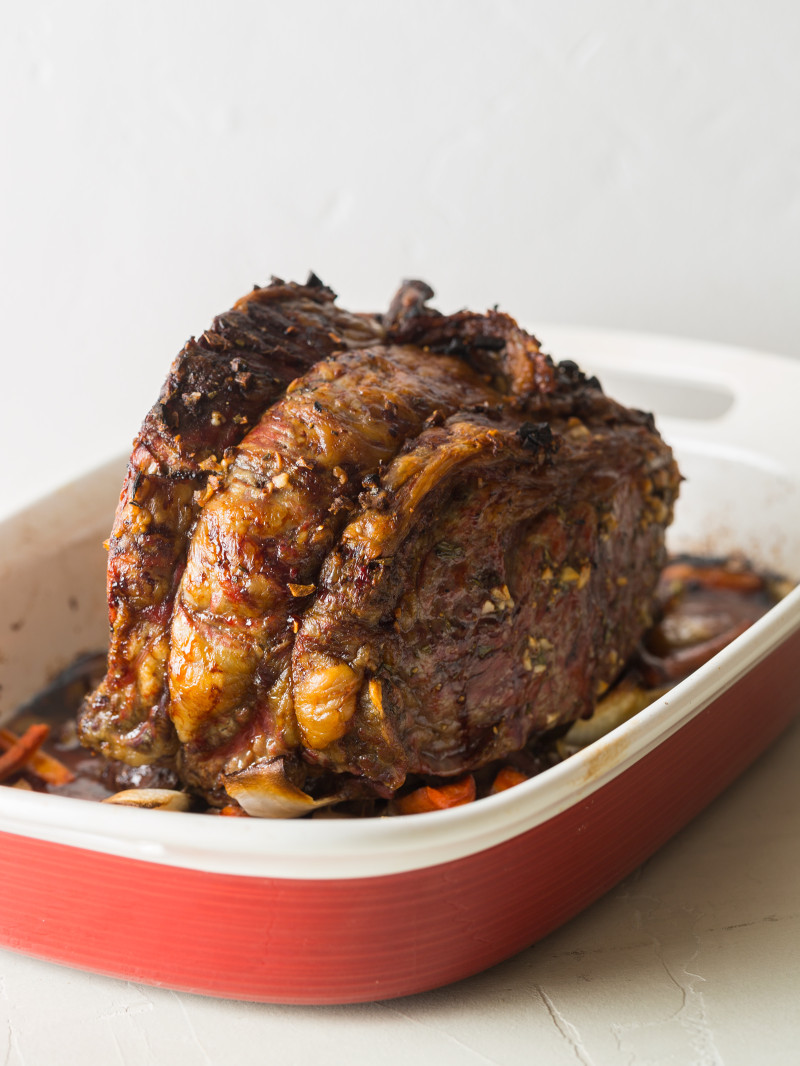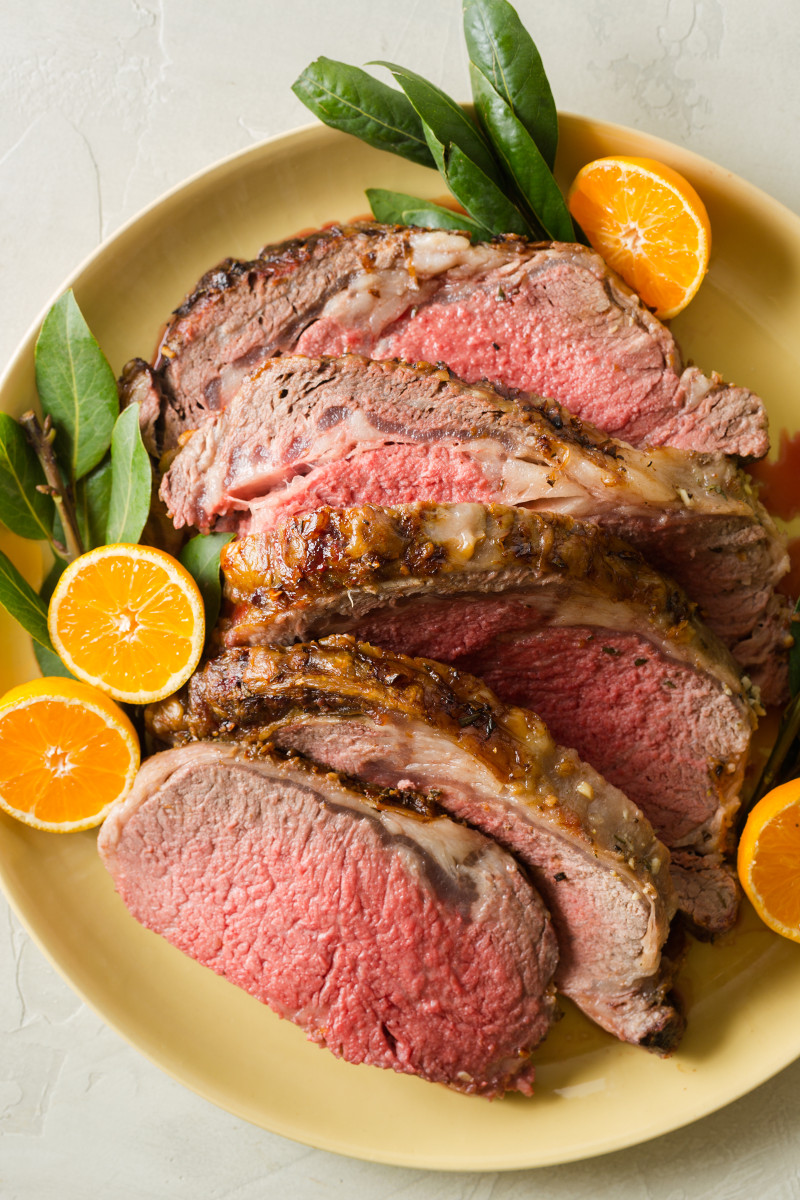 Hungry for more?
Subscribe to never miss a recipe.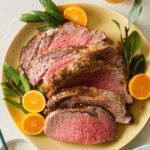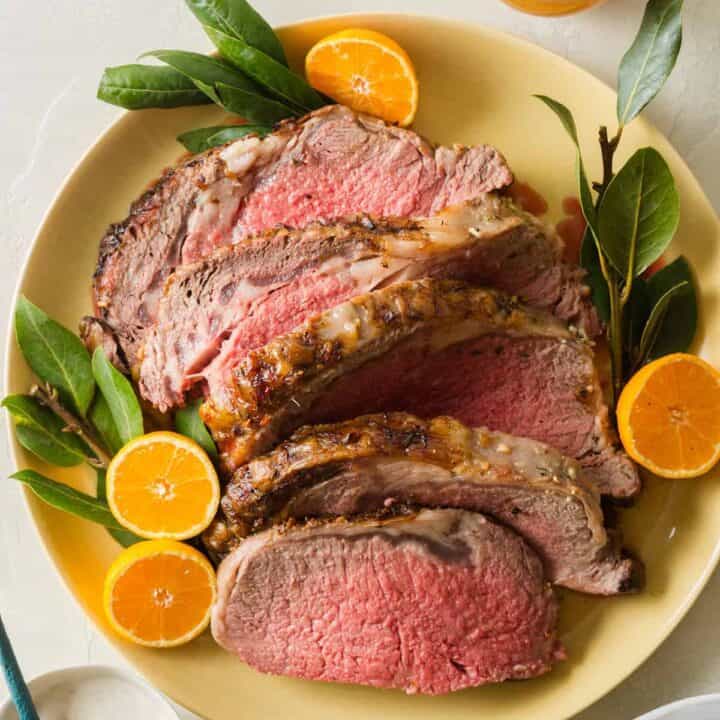 ---
Standing Rib Roast with Au Jus and Creamy Horseradish Sauce
INGREDIENTS
creamy horseradish sauce
1

cup

sour cream

1 ½

tablespoons

grated horseradish (preferably freshly grated)

2

teaspoons

dry mustard

1

teaspoon

white wine vinegar

1

teaspoon

salt

pinch cracked black pepper
rib roast & rub
1

(8 lb.)

standing rib roast

should have 2, usually 3 bones

1 ½

tablespoons

kosher salt

1

tablespoon

minced rosemary

1

teaspoon

Dijon mustard

3

garlic cloves, minced

2 ½

tablespoons

extra virgin olive oil

2

large yellow onions cut into wedges

4

ribs celery, cut into 2 inch pieces

4

large carrots, peeled and cut into 2 inch pieces
au jus
1

tablespoon

Worcestershire sauce

½

cup

red wine

1

cup

beef stock
INSTRUCTIONS
For the creamy horseradish sauce: Place all ingredients into a mixing bowl and whisk together. Cover and refrigerate for at least 4 hrs. (sauce will hold in the refrigerator for up to 1 week). Remove from refrigerator about 20 minutes before serving, adjust seasoning if needed, stir, and serve.

For standing rib roast: Carefully slice fat cap off the top of the roast, leaving the back edge intact (this way you can marinate the beef and then place the fat flap back over the meat before tying with twine). Allow roast to sit at room temperature for about 1 hr.

Place all rub ingredients into a small mixing bowl and whisk together. Generously rub mixture over the entire roast. Replace fat cap back over the top and tightly tie the roast (parallel to the bones) together with cooking twine.

Allow roast to sit for another 30 minutes. At this time, preheat your oven to 500˚F.

Place cut onions, celery and carrots into the bottom of a roasting pan and toss together. Set roast, meat-side up, atop the vegetables and place in the oven.

Roast the beef for about 20 minutes before reducing the heat to 325˚F and continuing to cook your beef for about 11-13 minutes per pound (so about 1 hr. and 30 minutes to 1 hr. and 50 minutes). About ¾ into the cooking time, check the internal temperature of the meat at the thickest part of the beef (make sure the thermometer isn't hitting the bone. For medium rare, you want the internal temperature to be about 130-135˚F, knowing that when you pull the roast out the carryover cooking will add about another 5˚F) For medium, you want the internal temperature to reach between 140-145˚F.

Loosely cover with foil and allow the roast to sit for about 30 minutes before removing the twine, fat cap and bones, slicing and serving with creamy horseradish sauce and au jus.

For au jus: Once the roast has been removed from the pan, remove and discard the roasting vegetables (they'll be pretty mushy and stilling in grease at this point, but if you'd like to drain and salvage them for your meal, you totally can! They just need a bit of salt and pepper) and all but 1 tablespoon of grease. Place roasting pan over your stovetop burners and set over medium-low. Add Worcestershire sauce and red wine and reduce by ½. Add the beef stock and reduce by about ⅓. Lightly season with salt and pepper and serve.