This amazing potato recipe is inspired by something we always had at my house growing up. We could call them heavenly potatoes because they were just that good. My favorite meal were these Heavenly Mashed Potatoes and honey ham.  I would know, being from Idaho and all. Here is a weird side note. Did you know that Idaho is the Gem State, and there we call tater tots "tater gems?" True story. Oh, its also pronounced poh-tay-toh. Don't even try and get all fancy and pronounce it poh-ta-toh. Everyone will hate you if you do that, its also really annoying. But for real, these mashed potatoes are really really good, and you should totally make them for Thanksgiving, and then be thankful you now know how to pronounce potato right. YAY!
♥ Teri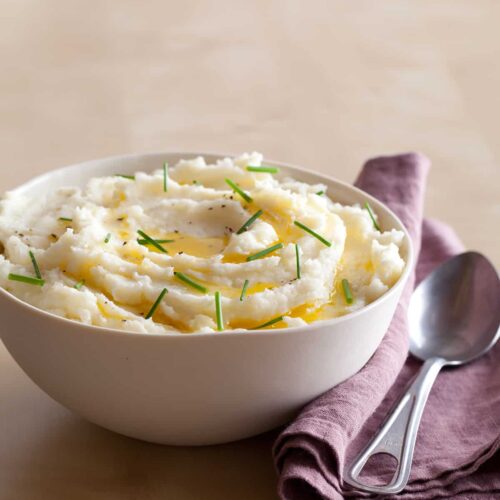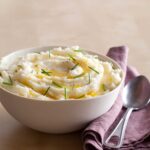 ---
Heavenly Potatoes
INGREDIENTS
4

russet potatoes, peeled and cut into chunks

⅓

cup

heavy cream

¼

cup

(½ stick) unsalted butter

2

garlic cloves, minced

¼

cup

cottage cheese, pureed

2

tablespoons

chives, thinly sliced

salt and pepper to taste
INSTRUCTIONS
Place potatoes in a large pot and fill with water. Place over medium-high heat and bring to a boil.

Boil potatoes until fork tender, about 25 minutes.

While potatoes boil, place cream, butter and garlic in a small saucepan and simmer. Once mixture comes to a simmer, remove from heat.

Drain potatoes in a colander and return back to the pot. Lightly mash the potatoes and season with salt and pepper.

Pour cream mixture over the potatoes, a little at a time and mash the potatoes until all the cream mixture has been used and potatoes are smooth.

Stir in pureed cottage cheese and sliced chives and season with salt and pepper.

Top with remaining chives and melted butter, if desired. Serve warm.