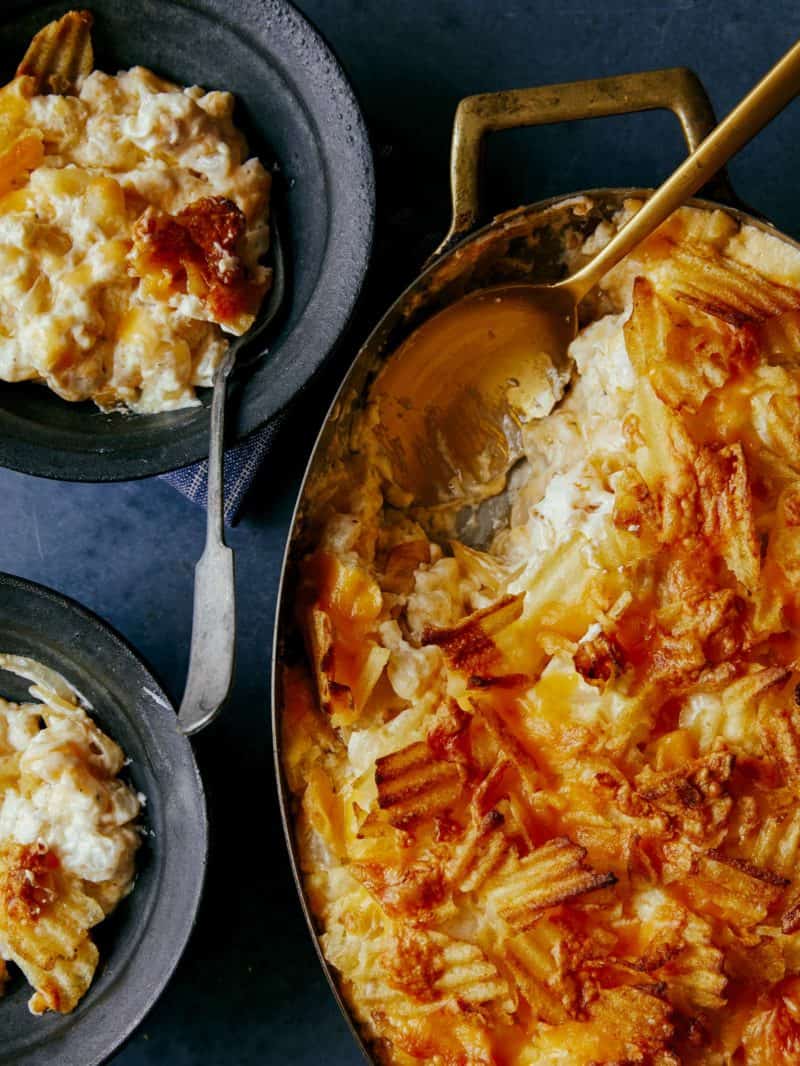 Today we have Cheesy Potatoes with Caramelized Onions and a Potato Chip Topping! It's a super simple, extra creamy and delicious casserole recipe, also known as Funeral Potatoes! We love this recipe because it's really easy to make these Cheesy Potatoes for a crowd. Seriously these potatoes NEED to end up on your dinner table. They're so so good and right after we shot this recipe I immediately started picking away at it until almost a third of the entire Cheesy Potato Casserole was gone. Not my finest moment, but whatever!
Anyway, this Cheesy potato recipe with caramelized onions uses store-bought condensed chicken soup. I know it can be a bummer to read the laundry list of weird ingredients on those cans, so we've also added a homemade condensed cream of chicken soup recipe below. It's really easy to make and might make you feel a little better in the end. Honestly it's up to you and both versions still turn out really freaking good! When I use a store bought soup, I like using this one.
How to make homemade condensed chicken soup?
First bring the chicken stock to a boil.
Whisk together the remaining ingredients and stir into the stock.
Simmer soup until very thick. It will thicken even more as it cools. So easy!
How to make Cheesy Potato Casserole with caramelized onions?
Start by slowly caramelizing the onions in butter.
Next, whisk together the sour cream, condensed soup and melted butter.
Stir the sour cream mixture with the frozen potatoes (no need to thaw them!).
Fold the onions and shredded cheese evenly into the mixture.
Pour the potatoes into a greased baking dish.
Toss together the remaining melted butter and chips and sprinkle over the casserole.
Bake, slightly cool and enjoy!
Substitutions
If you don't have sour cream you can replace it with softened cream cheese or some whipped cottage cheese (for a smooth texture).
If you don't have frozen diced potatoes, you can also use frozen, shredded hash brown potatoes.
You can replace the kettle chips with regular potato chips or even panko breadcrumbs.
If you love cheesy potatoes as much as we do, you'll also love our recipe for Cheesy Garlic Potatoes Gratin!
Cheesy Potatoes for a Crowd
This recipe is great because you can make big batches for a crowd, you can make ahead of  freezer. Directions for those options below.
How much Cheesy Potatoes for 50: We recommend making 6 casseroles for 50 people.
How much Cheesy Potatoes for 100: For 100 people we would recommend baking 12 casseroles.
Are Cheesy Potatoes Gluten Free?
Yes! Our Cheesy Potato recipe can be gluten free. You just need to be sure you are using a gluten free version of cream of chicken soup. If you can't find it in stores, you can make our homemade cream of chicken condensed soup recipe that is in this post, and just use a gluten free flour replacement in that recipe.  Just be sure to check all the ingredients you  purchase to make sure. Especially the potato chips.
Can Cheesy Potatoes be made Ahead of Time?
Yes. We love this recipe because it's so easy to make them ahead of time. There are two options for make ahead:
To Freeze: Yes, Cheesy Potatoes can be frozen! Make the Cheesy Potato Casserole without adding the topping. Tightly wrap with aluminum foil and place in the freezer. It will keep for up to three months. When you are ready to bake just add the topping and place in the oven, following the recipe directions.
Make Ahead: Make the casserole and skip the topping. Tightly wrap and store in the refrigerator for up to three days. When you are ready to bake simply add the topping and then follow the recipe instructions for baking.
What goes with Cheesy Potatoes?
We love this side dish recipe, and it just goes well with almost anything. Here are some of our favorites:
– Crispy Chicken Thighs in a Creamy Mushroom Sauce
– Loaded BBQ Chicken Salad
– Roasted Root Vegetable Salad with Chicken
– Pistachio Crusted Pork Chops
Enjoy! xx, Jenny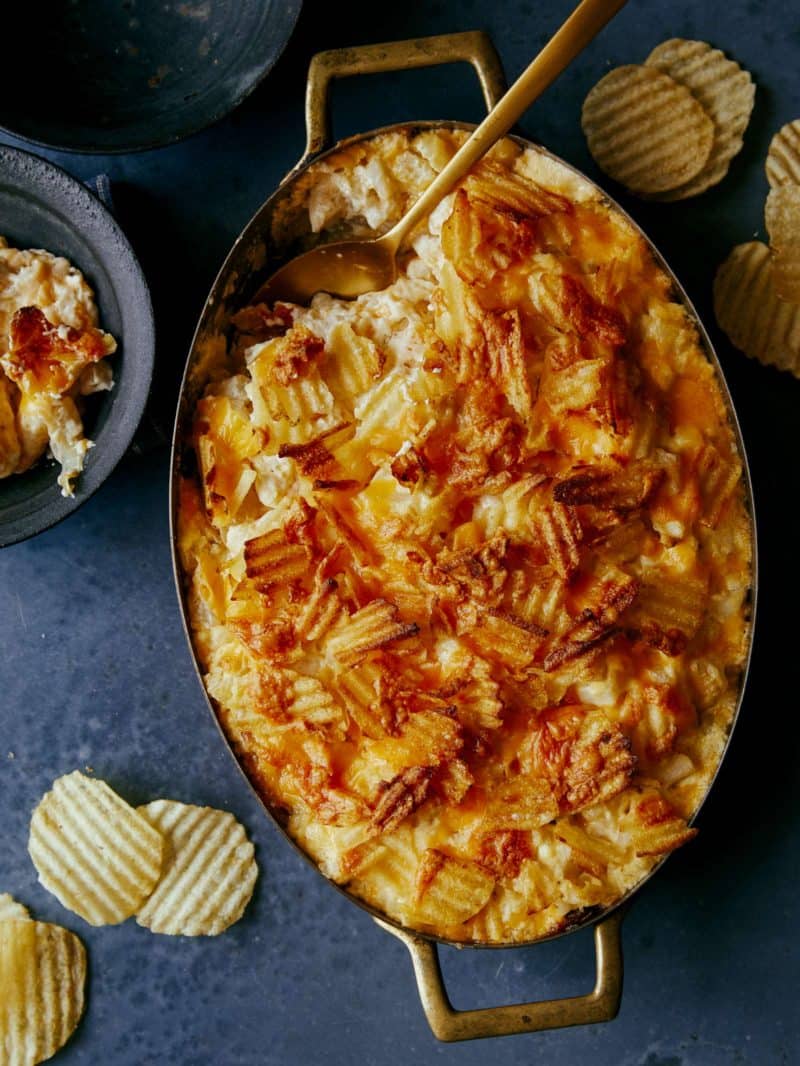 ---
Cheesy Potatoes with Caramelized Onions
Also known as funeral potatoes, this Cheesy Potato Casserole with Caramelized Onions is rich, creamy and delicious. They only require a handful of ingredients and are super simple to make. We love making these Cheesy Potatoes for a crowd.
INGREDIENTS
caramelized onions
2

tablespoons

salted butter

1

sweet onion, thinly sliced
potatoes
1

(15 ounce) can condensed cream of chicken soup

homemade version below!

1 ½

cups

sour cream

1/2

cup

(1 stick) unsalted butter, melted and cooled

1

(32 ounce) pack frozen, diced hash brown potatoes

2

cups

shredded cheddar cheese, divided

2

cups

roughly crushed, kettle cooked potato chips

cracked black pepper to taste
INSTRUCTIONS
Preheat oven to 350˚F. Lightly grease a 9"x 13" baking dish and set aside.

Melt salted butter in a large skillet over medium-low heat. Add onions and cook, stirring occasionally for 25 to 30 minutes or until cooked down and evenly browned. Remove from heat and set aside.

In a large bowl combine condensed soup, sour cream and butter.

Add frozen potatoes and stir together until completely combined, then fold in 1 1/2 cups shredded cheese and caramelized onions.

Pour mixture into prepared baking dish and top with remaining 1/2 cup cheese and potato chips.

Bake casserole for 35 to 40 minutes or until golden brown and bubbling.

Cool for 10 minutes and serve.
NOTES
*Makes 1 (9"x13") casserole

*Homemade condensed chicken soup: 1 1/2 cup chicken stock, 3/4 cup milk, 1/2 cup flour, 1 teaspoon salt, 1 teaspoon garlic powder, 1/2 teaspoon onion powder, 1/4 teaspoon black pepper.

Boil chicken stock in a small saucepan over medium heat. In a mixing bowl combine remaining ingredients until mixture is smooth. Whisk milk mixture into stock until fully incorporated and no lumps remain. Lower heat to medium-low and simmer until mixture gets very thick. Remove from heat and use in recipe above or seal in airtight container and refrigerate for up to 10 days.
Calories:
596
kcal
Carbohydrates:
40
g
Protein:
13
g
Fat:
44
g
Saturated Fat:
22
g
Cholesterol:
95
mg
Sodium:
765
mg
Potassium:
838
mg
Fiber:
3
g
Sugar:
4
g
Vitamin A:
1097
IU
Vitamin C:
16
mg
Calcium:
287
mg
Iron:
2
mg
KEYWORD:
cheesy, potatoes
COURSE:
dinner, Side Dish