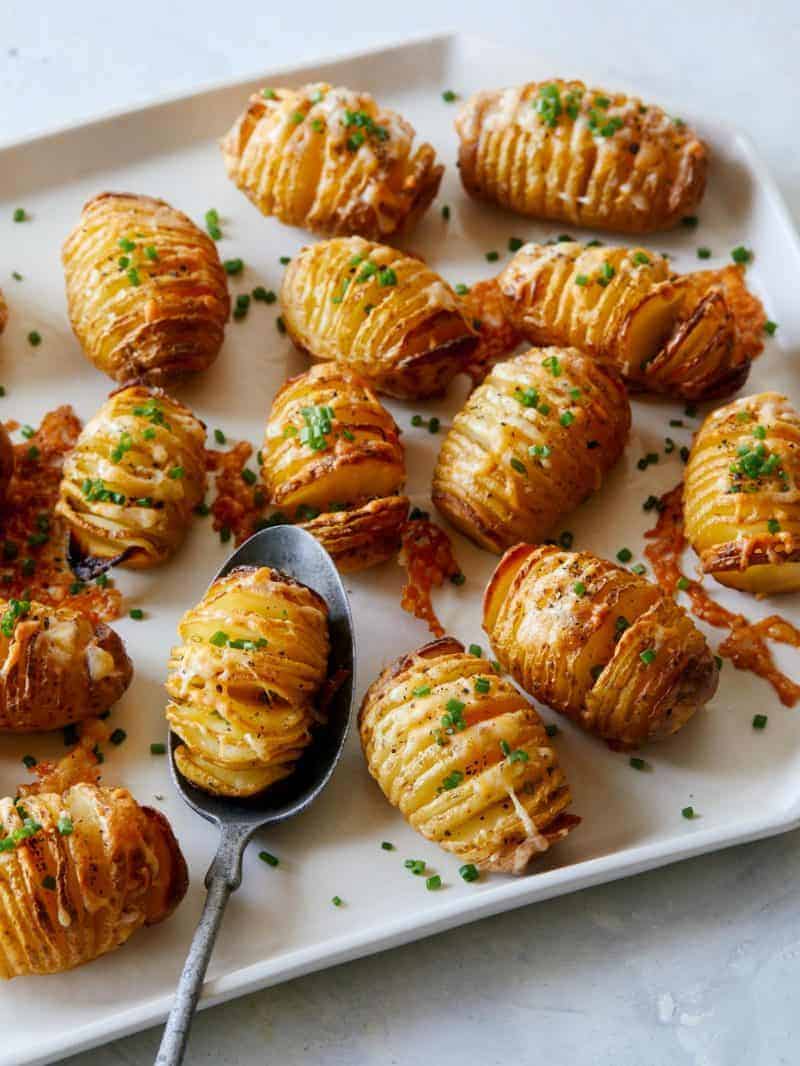 Is there really anything better than a cheesy potato? I mean they're pretty hard to beat and there's never a bad time to have some. Today we have Mini Cheesy Hasselback Potatoes that are so dang good. I know these look like a pain in the butt to make, but they're really not that bad. The most difficult part is making all the little slits through each potato, but as long as you have a sharp knife and make sure not to cut too deeply through them they're pretty easy and VERY worth it!
These little crispy, cheesy, carby bites make the best side dish to just about any meal. Seriously. You can even pop a few on top of a salad to 'fatten' it up a little. I can seriously eat an entire tray of these guys. If you really want to go all out, you could also dollop them with a little bit of sour cream. YUM. I promise you, you won't regret making this dish. Enjoy! xx, Jenny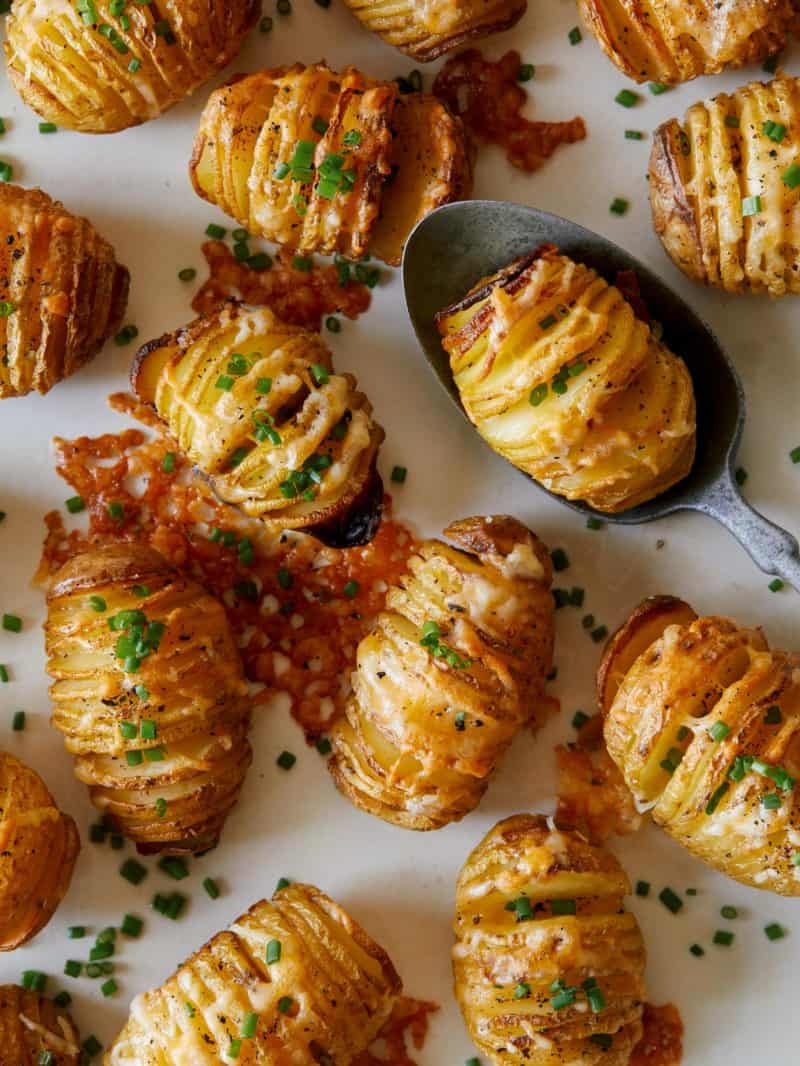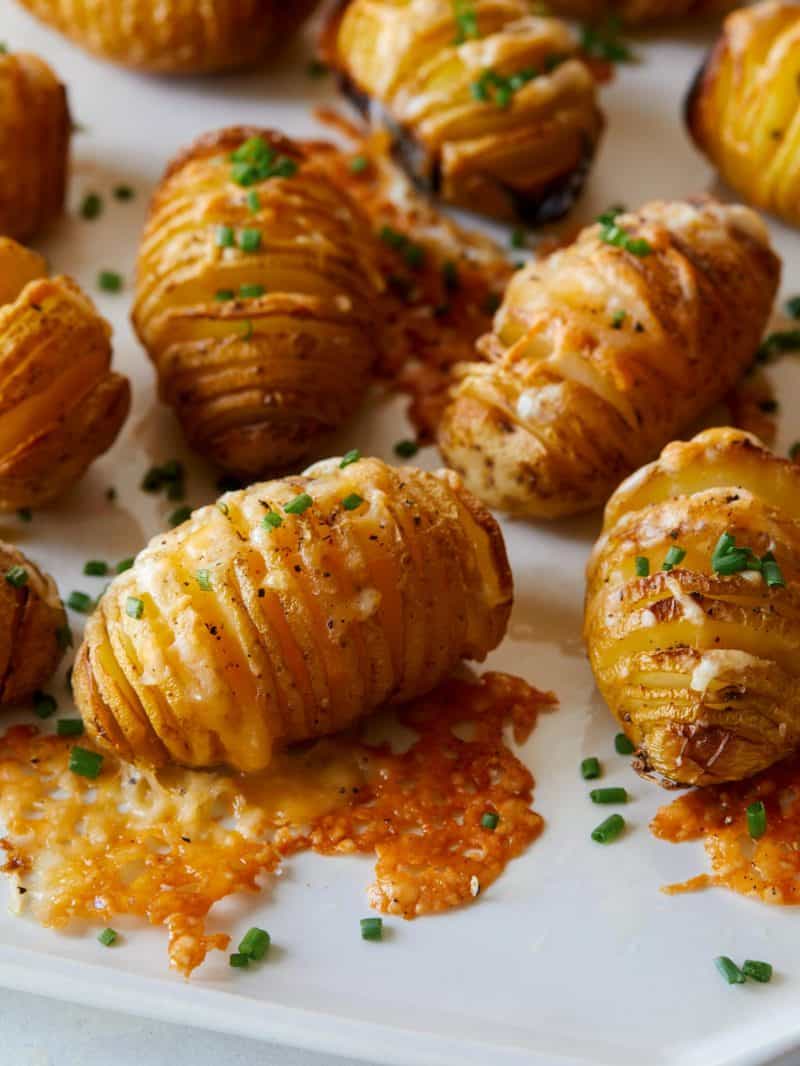 Mini Cheesy Hasselback Potatoes

Makes 20

Ingredients:
20 small new potatoes
1/2 cup (1 stick) unsalted butter
2 garlic cloves, minced
1 1/2 heaping cups shredded cheddar
salt and pepper to taste

thinly sliced chives, garnish

Directions:
1. Preheat oven to 400˚F.
2. Cut slits 2/3's of the way into each potato, 1/4 inch apart.
3. Place potatoes onto a parchment (or silpat) lined baking sheet 1/2 inch apart.
4. Melt butter in a small saucepan over low heat with minced garlic.
5. Brush garlic butter over each potato and season with salt and pepper.
6. Bake potatoes for 20 minutes. Remove potatoes from oven and generously baste again with garlic butter.
7. Continue to bake for an additional 10 minutes. Remove potatoes from oven and top each potato with cheese.
8. Place potatoes back into the oven and bake for an additional 15 to 20 minutes or until potatoes are fork tender and cheese has melted.
9. Lightly season each potato with more salt and pepper and finish with a sprinkle of chives. Serve.