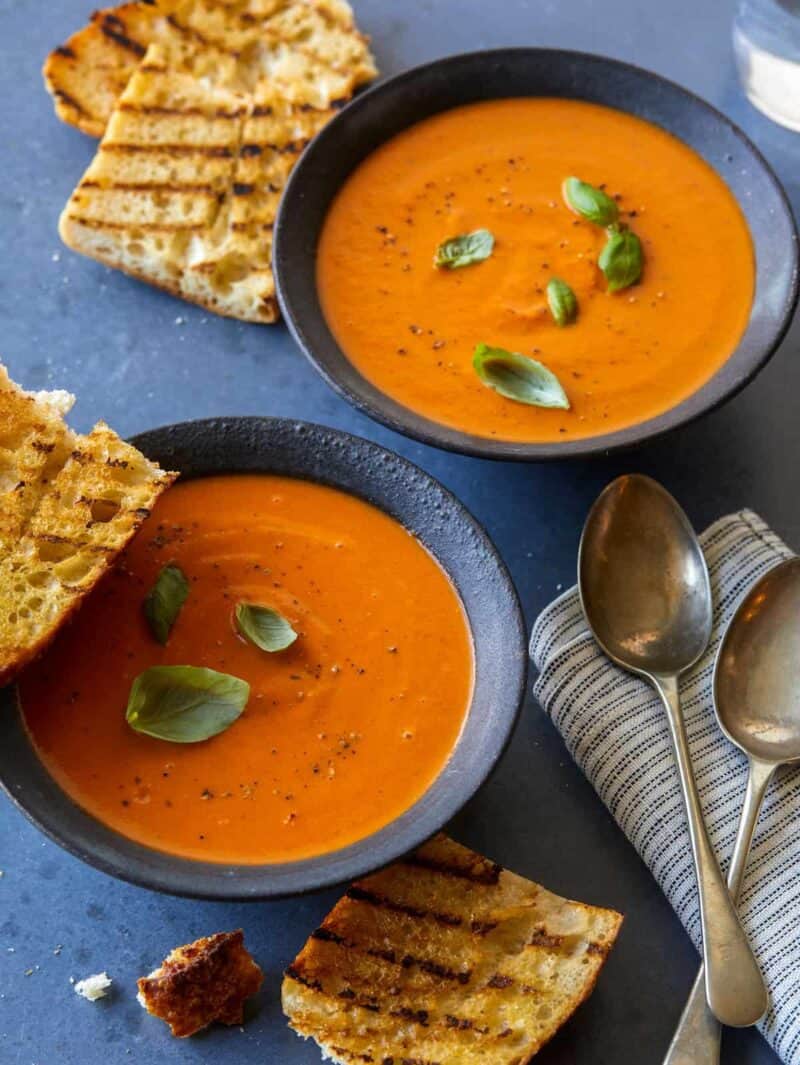 Hi All! The very first time I had REAL tomato-basil soup for the first time at The Noodle Cafe when I was about 12 or 13. This little gem is in a small suburb of Chicago (where I grew up) and to this day it's still one of my all time favorite restaurants. There are a few reasons for this: 1) The food is amazing. I can rarely say I've never had a bad meal when I'm taking about restaurants, but this is one of the very few I can say that about. 2) All of there food is made from scratch…including their pasta (duh) 3) The restaurant itself is teeny tiny…teeny tiny in the best way possible, with only a handful of tables. It's always so intimate and cozy in there; perfect for a date night. 4) They have some of the most personal, friendly staff you could ask for, with amazing service.
Anyways, this place is known for a few things, there pastas, their caesar pasta salad (yea you're reading that correctly) and last but not least….their creamy.tomato.basil.soup. This soup is like punch yourself in the face good.
I don't know what it is, but there's SOMETHING about this soup that sets it apart from every other tomato-basil soup. Now that the weather has started to cool down here in LA it's finally getting to be appropriate soup weather which gets me so excited not only for this soup, but to be able to start wearing chilly weather clothes again….scarves, boots, cute jackets, yay! Okay, back to soup… I've made this dozens of times and think I finally got it close enough to The Noodle's version. I hope you all enjoy this Creamy Roasted Tomato and Basil Soup as much as I do…I mean who doesn't love tomato soup, right?!
xx, Jenny
Here are some other cozy soup recipes we love that you might also love:
Looking for more soup recipes? Check out our entire soup recipe collection below!
Also check out this post for our Best Soup Recipes!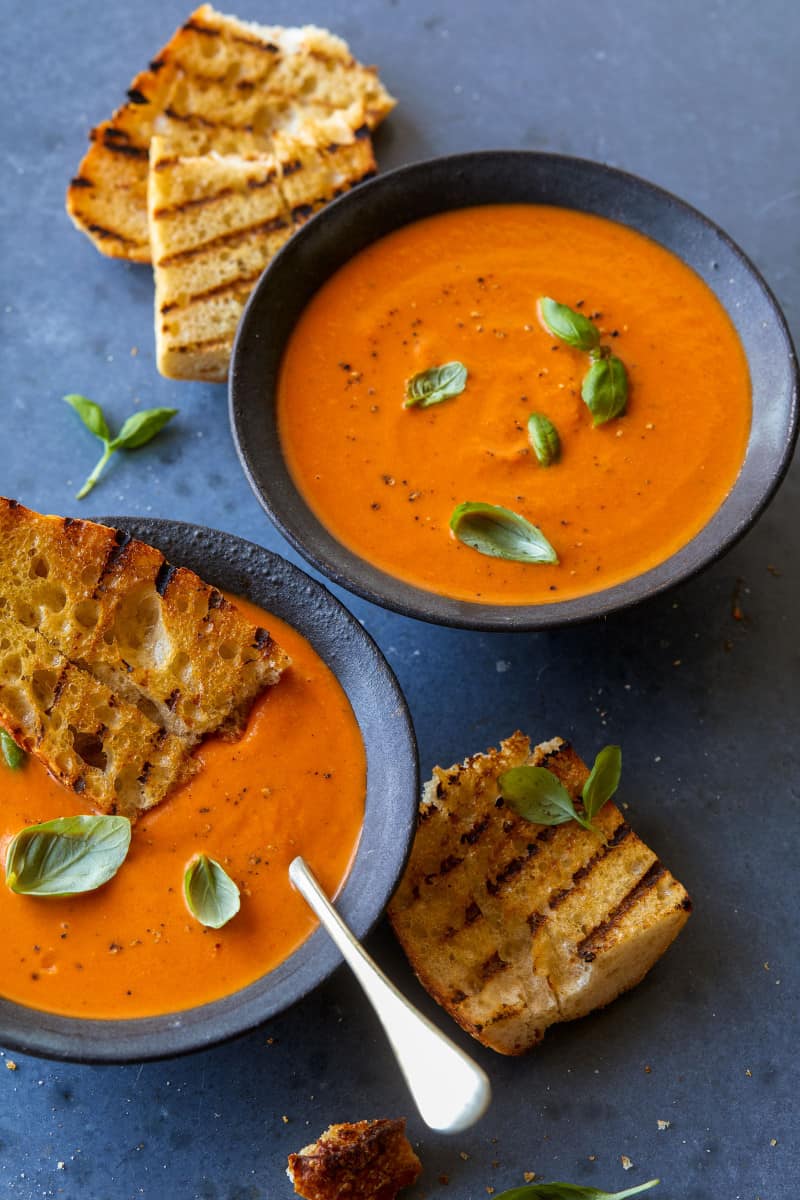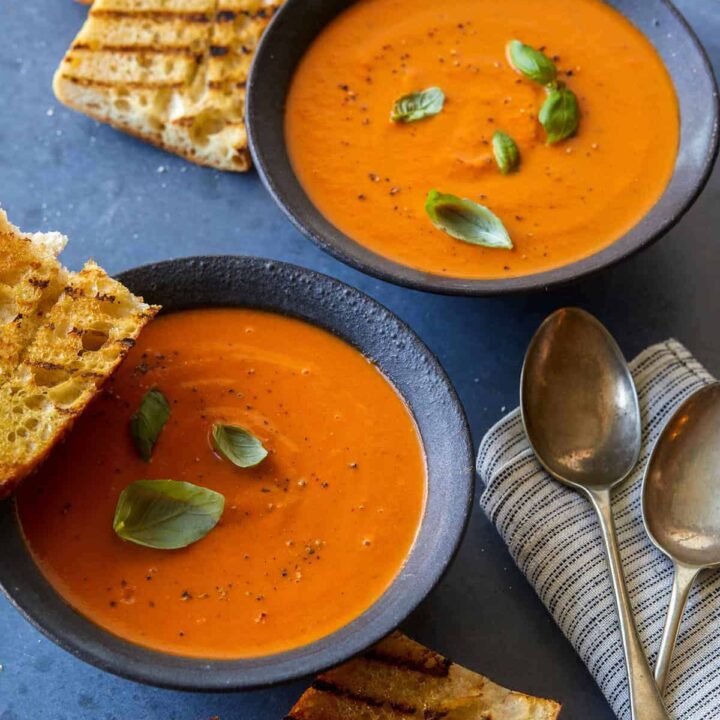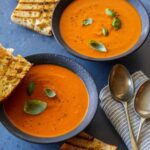 ---
Creamy Roasted Tomato & Basil Soup
INGREDIENTS
1 ½

pounds

Roma tomatoes, sliced lengthwise

3

tablespoons

extra virgin olive oil

2

tablespoons

unsalted butter

1

medium

yellow onion, diced

4

garlic cloves, minced

1

tablespoon

fresh thyme, minced

1

(28 ounce)

can crushed tomatoes

2

cups

basil leaves, roughly chopped

2

tablespoons

dried basil

1

tablespoon

sugar

2

cups

low sodium chicken broth

salt and pepper to taste

⅔

cup

heavy cream
garnish
fried basil

goat cheese, crumbled
INSTRUCTIONS
Spread tomato halves onto a baking sheet and drizzle with olive oil. Season with salt and pepper.

Roast tomatoes for about 1 hour.

While tomatoes are in the oven, melt the butter in a large pot over medium-high heat.

Add onion and sauté for 5 minutes.

Stir in the garlic and thyme and sauté for another 5 minutes.

Add crushed tomatoes, basils and sugar. Season with salt and pepper.

Stir the mixture and reduce the heat to medium or medium-low and simmer for 10 minutes, covered.

Pour broth and roasted tomatoes into the pot. Season with salt and pepper.

Continue to simmer soup, covered, for about 30 minutes, stirring occasionally.

Carefully pour soup into a blender and blend until smooth.

Pour soup back into the pot and stir in the cream until fully incorporated.

Simmer the soup for 3 minutes before ladling into bowls.

Top each soup with a sprinkle of goat cheese and fried basil and serve hot.
Calories:
191
kcal
Carbohydrates:
6
g
Protein:
3
g
Fat:
18
g
Saturated Fat:
8
g
Cholesterol:
40
mg
Sodium:
32
mg
Potassium:
161
mg
Fiber:
1
g
Sugar:
3
g
Vitamin A:
851
IU
Vitamin C:
5
mg
Calcium:
66
mg
Iron:
2
mg