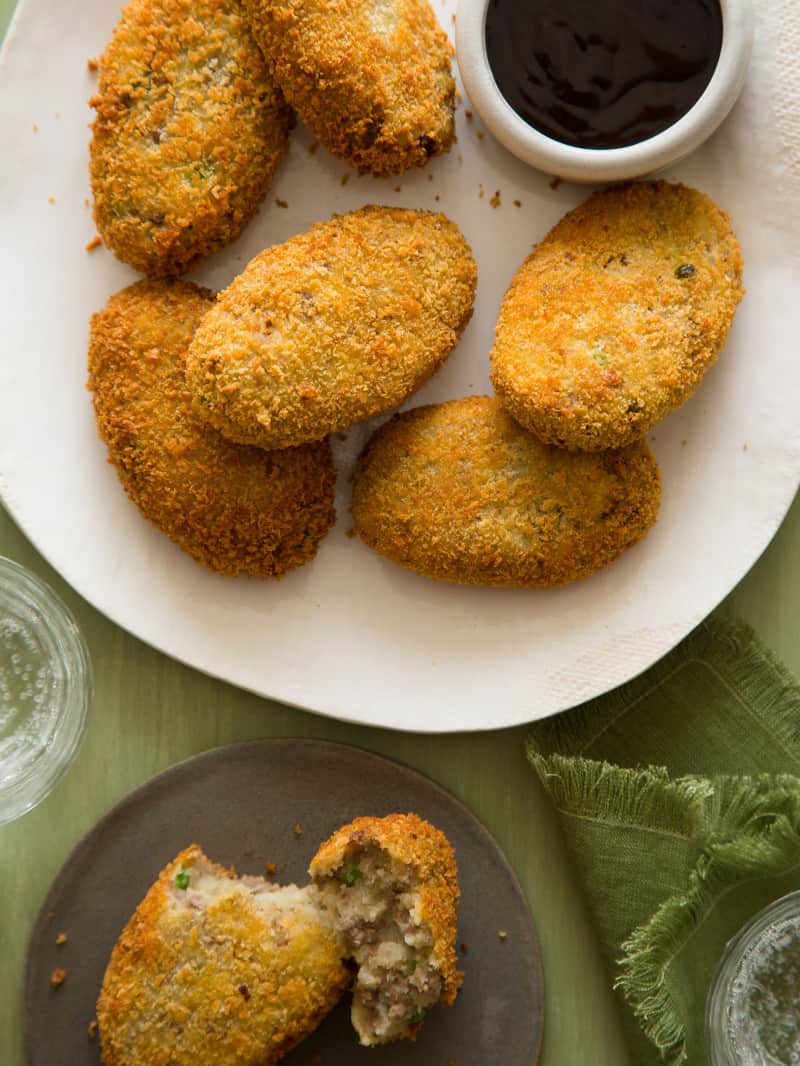 Hi! Is everyone ready for the big game day? We are both pretty excited that Beyonce will be the half time entertainment, and probably even more excited about all the food situations that happen for game day. This is the best day for those of us that just love appetizers, dips, or tater taquitos (what?!), or just generally tasty fried foods, like this recipe for Korokke. Korokke is a Japanese meat and potato croquette. The potatoes in this recipe are mashed, so it gives these croquettes a really nice smooth texture. We paired these with an optional katsu sauce for dipping, but that's totally optional because these can stand alone! We partnered with Potato Goodness for this recipe, and you can find all kinds of amazing potato recipes on their site, like these Mashed Potato Puffs. So what are you guys planning to make for game day?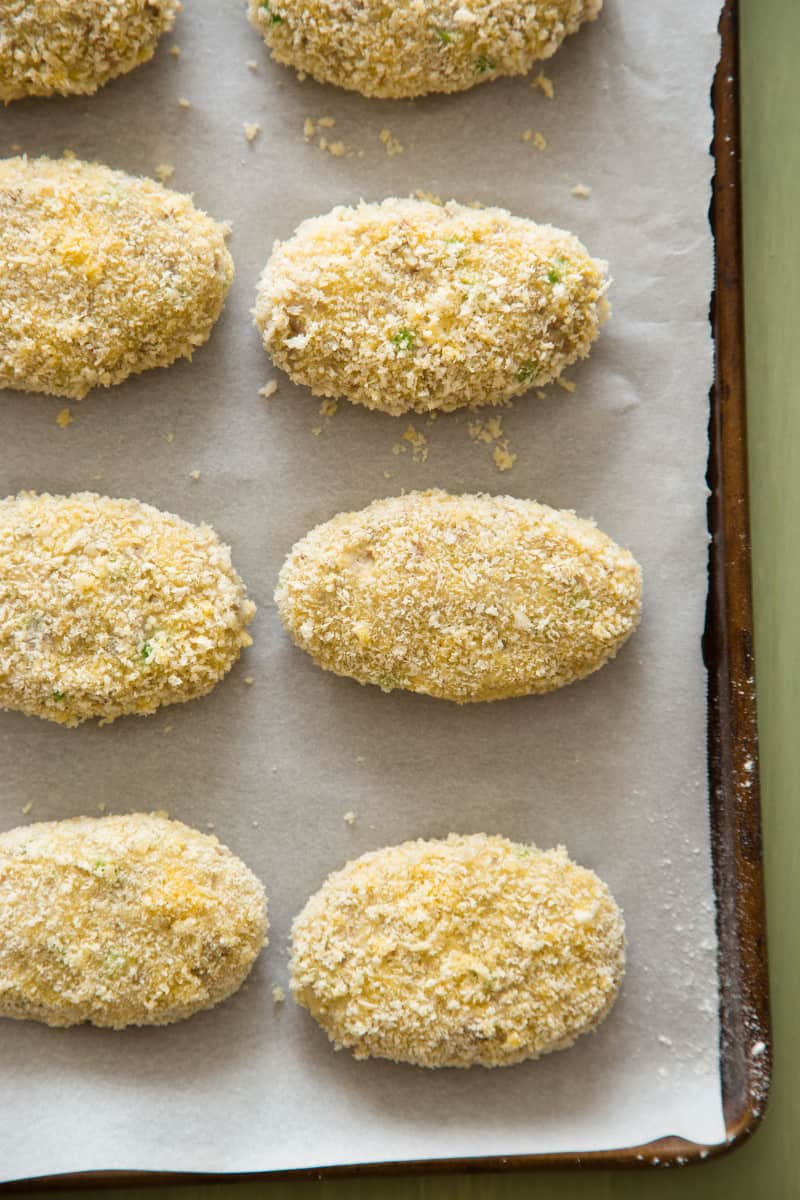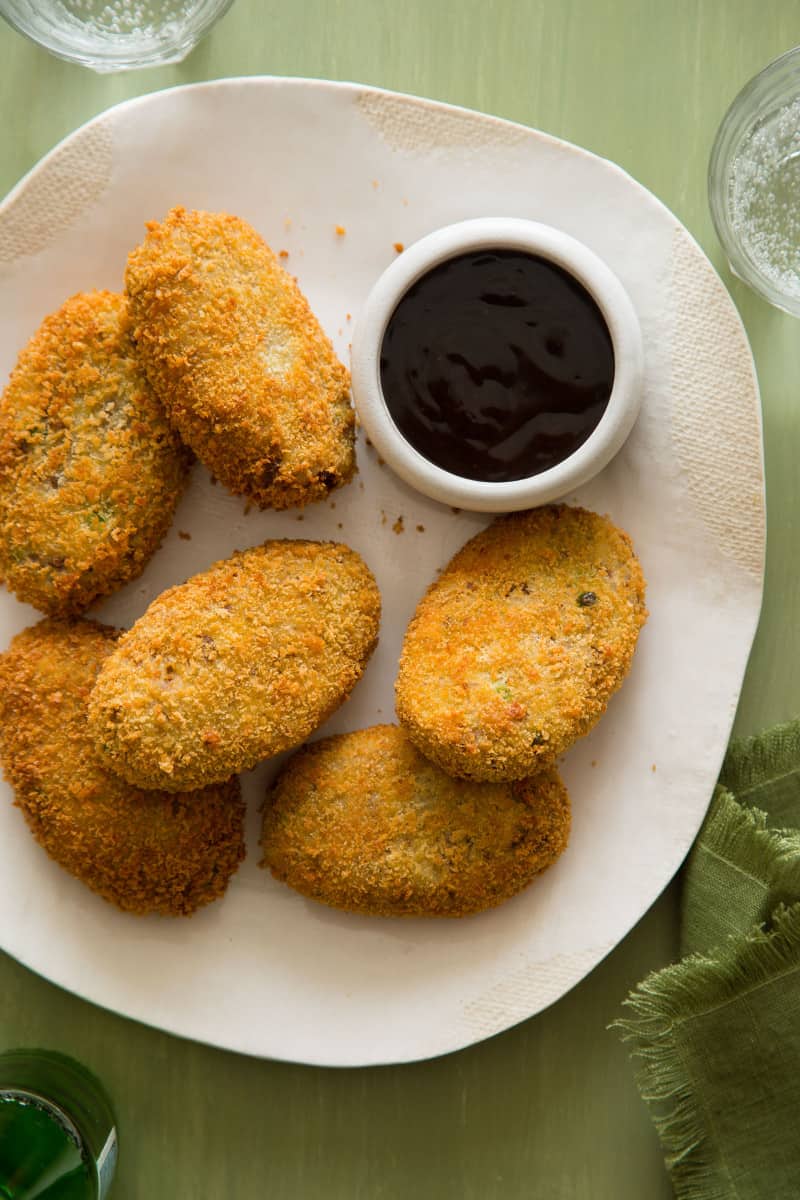 Korokke (Japanese Meat and Potato Croquettes)
Makes 9
Ingredients:
1 lb. russet potatoes (about 2 large potatoes), peeled and chopped
2 tablespoons unsalted butter
2 tablespoons extra virgin olive oil
1/2 cup diced onion
1 garlic clove, minced
1/2 lb. lean ground beef
1/4 cup frozen green peas
2 cups all purpose flour
2 large eggs, beaten
2 1/2 cups panko bread crumbs
salt and pepper to taste
oil for frying
katsu sauce, optional
Directions:
1. Place potatoes in a medium pot and cover with water. Place over medium-high heat and bring to a boil. Boil potatoes until fork tender, 15-20 minutes.
2. Drain potatoes and pour into a large mixing bowl. Add butter, season with salt and pepper and mash until smooth. Set aside and allow mash to cool.
3. Pour oil into a medium skillet and place over medium heat. Add onion and sauté for 4 to 5 minutes.
4. Add garlic, beef, salt, and pepper and crumble using a wooden spoon. Sauté mixture until beef has browned. Stir in peas and remove from heat.
5. Pour beef mixture over potato mixture, season with salt and pepper and completely mix together.
6. Lightly wet your hands and take 1/2 cup of the potato mixture and form into a flat, oval patty, about 1 inch thick.
7. Dredge patties in a thin layer of flour, followed by the eggs and finally into the panko until patties are all completely encased, shaking off any excess.
8. Place Patties onto a parchment lined baking sheet and refrigerate for 30 minutes.
9. Fill a tall pot with 3 inches of oil and preheat to 350˚F.
10. Fry chilled croquettes in the oil, a few at a time until golden brown, about 3 to 4 minutes. Transfer croquettes onto baking sheet lined with a cooling rack. Lightly season with salt and pepper. Serve.