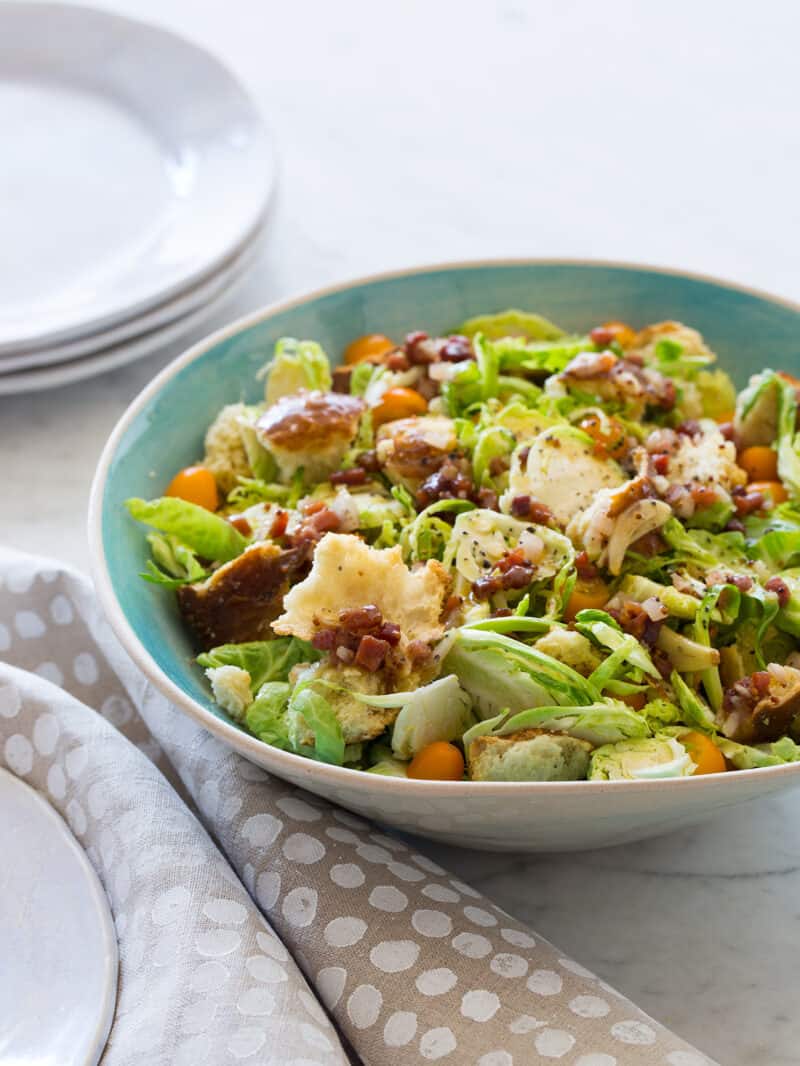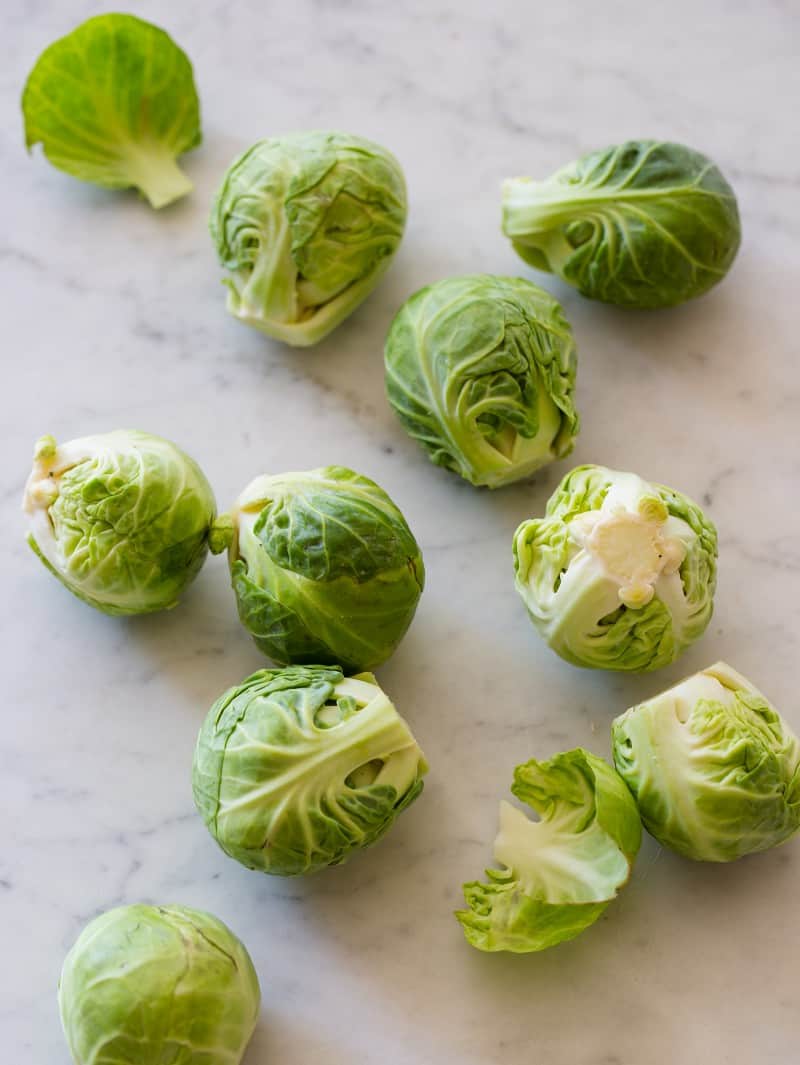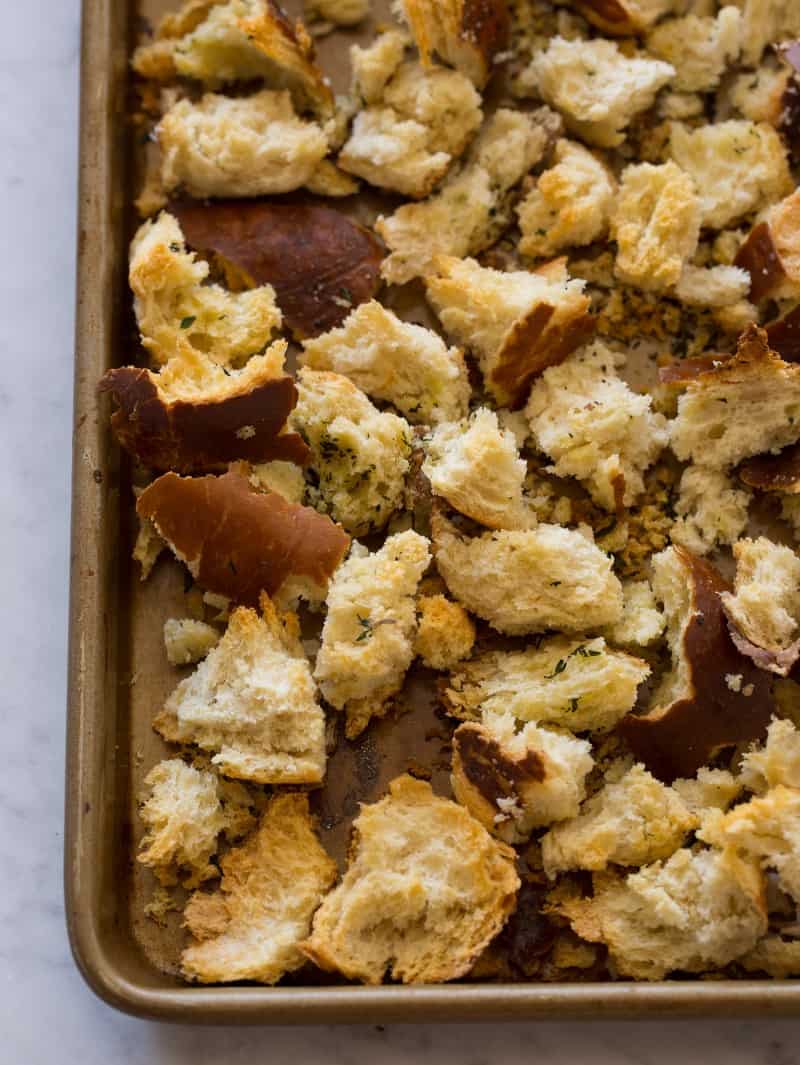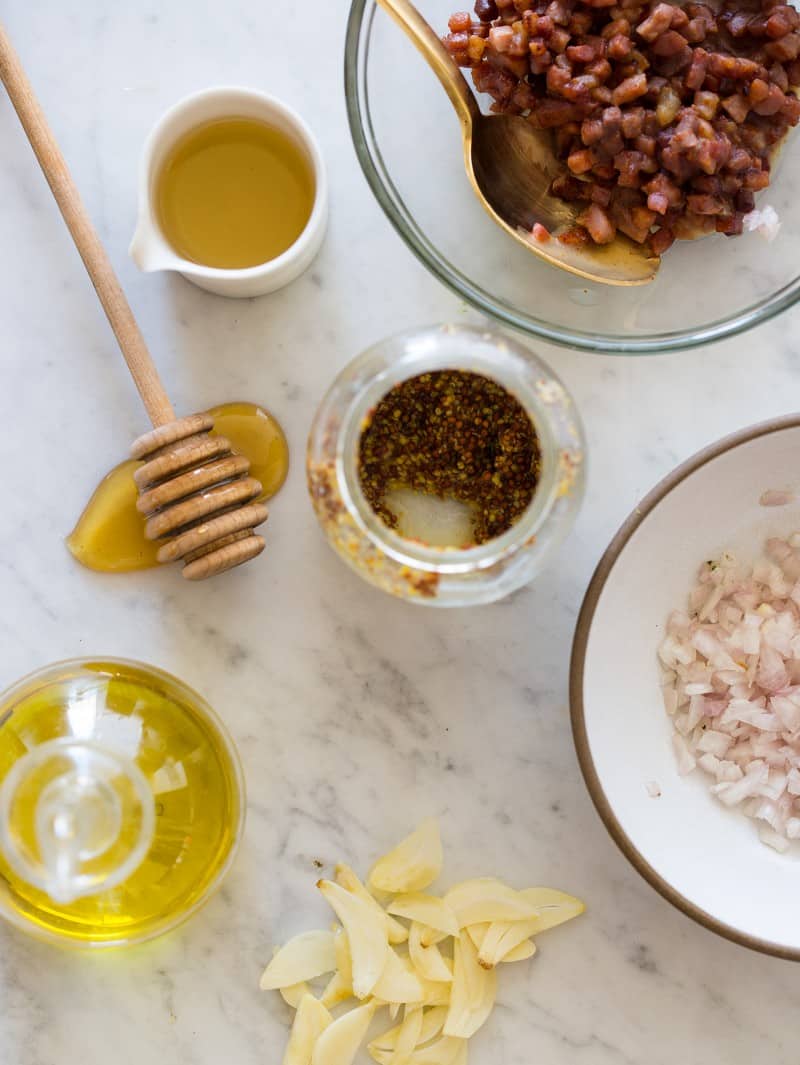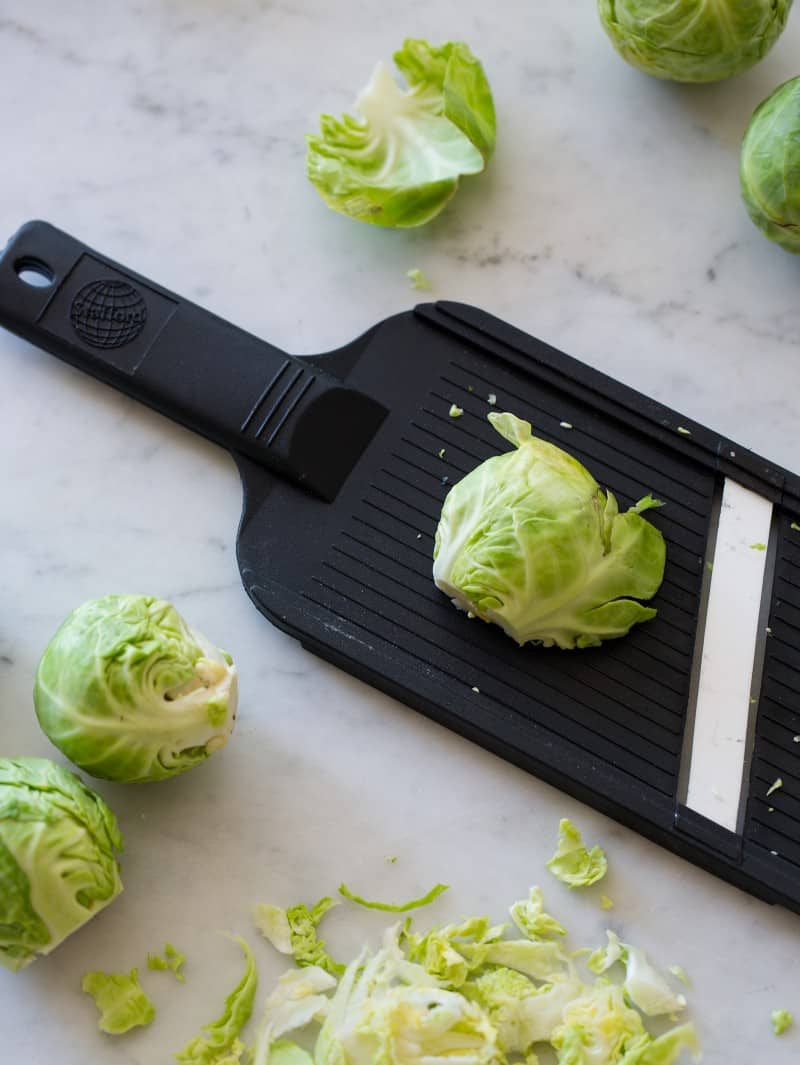 Hi Guys! So the most exciting thing is happening! I'm moving!!! Okay, so I'm staying in the city of Redondo Beach, but this time I'm moving beachside! That's right, the boyfriend, Dexter and I are all moving next to the water and we're thrilled!
While the boyfriend is excited to be in a 1 minute walking range from his favorite watering hole, Naja's place, and one of our favorite burger joints, the Standing Room, I'm most excited to be in walking distance to the fresh seafood market at the pier, a whole foods market and my favorite local farmer's market! I can't wait to not have to hop in my car to run a few errands! I know this might seem like a small feat, but I look at being able to walk outside and arrive at your destination on foot (in a reasonable amount of time) a luxury…especially living in LA!
Anyway, with this crazy move happening during the holidays (terrible timing!) I feel like I barely have time to cook a proper meal. Something I've been making big batches of lately, to help save myself on time, is this Shaved Brussels Sprout Salad. I'll make a batch of it on Monday and eat it multiple times a day through at least Wednesday. If I start to get bored with it I toss in some pepitas, pomegranate seeds or dried cranberries (dried and chopped cantaloupes are pretty amazing in this too!). I'll also add some quick sauteed garlic shrimp or chicken if I want to bulk it up. It's such a great go to salad/meal when you're limited on time. I love it because the brussels sprouts are so hearty that even after it's tossed together with the vinaigrette, it takes DAYS for the veg to become soggy and I actually like it when the brussels sprouts have been sitting in the vinaigrette for a day or so, the flavors really have a chance to develop. The pretzel croutons also don't get too soggy like you might expect them to; they definitely soften as time goes on but I kind of like that. If you're not into "soft" pretzel bits in your salad, you can always make extra pretzel croutons and refresh your salad with nice, crisp croutons every time you take this salad to the face!
Brussels sprouts and bacon are such a perfect combination of flavors that a pancetta vinaigrette just makes sense. The whole grain mustard adds a simple, but great tangy flavor and cuts through the richness of the butter and prosciutto, balancing the dish out nicely. This Thanksgiving we thought it would be nice to include brussels sprouts because it just screams chilly seasonal eats; but we thought we'd skip out on the typical roasting and make a deliciously, hearty salad that is good enough to stand up next to all the other thanksgiving side dish contenders. Enjoy! xx, Jenny
Other salad recipes you might like: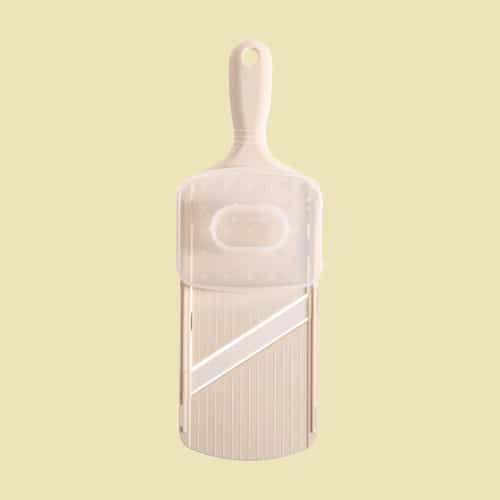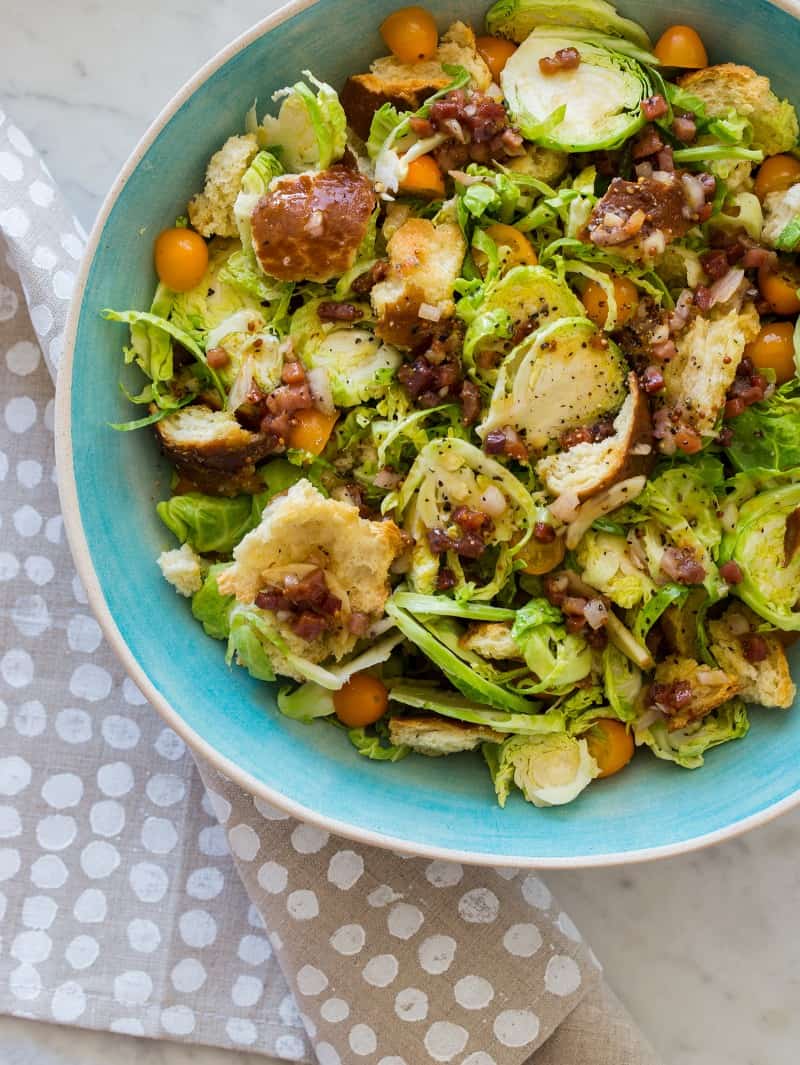 Hungry for more?
Subscribe to never miss a recipe.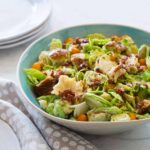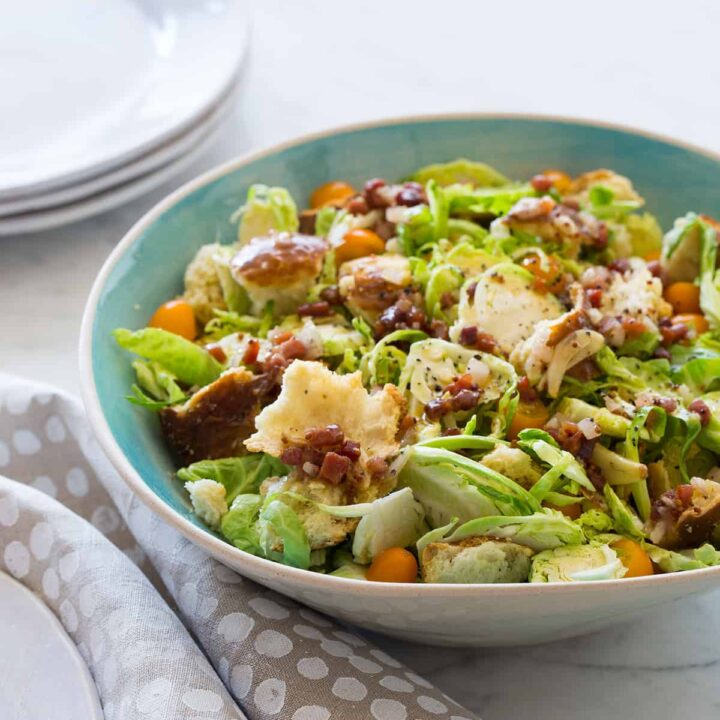 ---
Shaved Brussels Sprout Salad with a Warm Prosciutto-Mustard Vinaigrette
INGREDIENTS
4

ounces

pretzel bread, torn into bite sized pieces

2

tablespoons

extra virgin olive oil

2 ½

pounds

shaved (or thinly sliced) Brussels sprouts

1 ½

cups

halved cherry tomatoes

6

ounces

goat cheese, crumbled

optional
vinaigrette
2

tablespoons

unsalted butter, softened

4

ounces

pancetta, finely diced

1

shallot, minced

3

garlic cloves, minced

2

tablespoons

whole grain mustard

1 ½

tablespoons

honey

2

teaspoons

white wine vinegar

½

cup

extra virgin olive oil

salt and pepper to taste
INSTRUCTIONS
For pretzel croutons: Place pretzel pieces and oil into a large mixing bowl and season with salt and pepper. Toss together. Spread onto a baking sheet, in a single layer, and toast for 15 to 20 minutes or until light and crisp. Remove from oven and allow pretzel bits to cool.

For vinaigrette: Place a small sauté pan over medium-high heat and melt butter. Add pancetta and sauté for 3 to 4 minutes or until pancetta browns. Pour contents into a mixing bowl and add remaining vinaigrette ingredients, except oil. Whisk together and add oil in a slow and steady stream until fully incorporated. Adjust seasonings and set aside until ready to use.

To assemble: Place Brussels sprouts, pretzel croutons, cherry tomatoes and goat cheese (if using) into a large salad bowl and toss together with vinaigrette. Adjust seasonings and allow salad to sit for about 10 minutes before tossing one more time and serving.
Calories:
274
kcal
Carbohydrates:
17
g
Protein:
8
g
Fat:
21
g
Saturated Fat:
6
g
Cholesterol:
18
mg
Sodium:
352
mg
Potassium:
444
mg
Fiber:
4
g
Sugar:
5
g
Vitamin A:
1008
IU
Vitamin C:
86
mg
Calcium:
64
mg
Iron:
4
mg