I love huge salads with lots of toppings. It's my go to weeknight dinner. It's so easy to throw together a big salad and do a little fridge clean out in the same go. I usually throw in some rotisserie chicken with my big salads, but I love this big salmon salad idea because salmon cooks so quick, so it still makes for a super quick dinner. The tahini dressing is something you can make in advance and keep in the fridge. This salad also works great as leftovers for lunch! What are some of your favorite ingredients to add to salads?
♥ Teri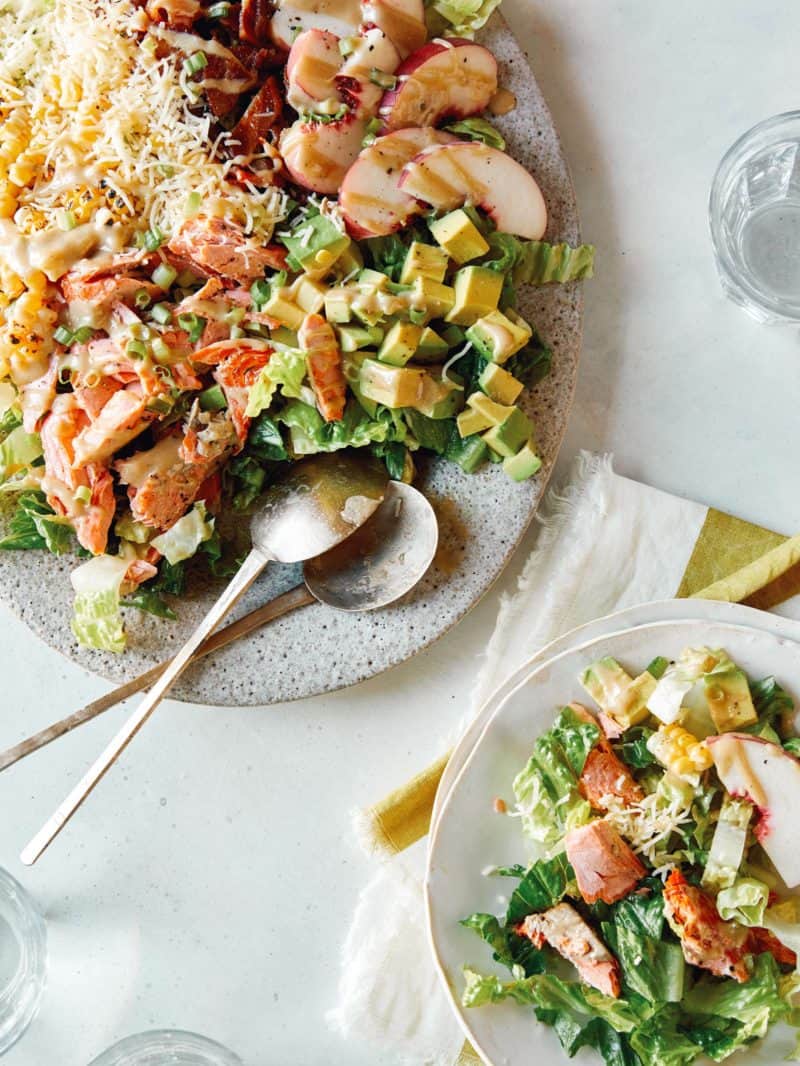 Loaded Salmon Summer Salad with Creamy Tahini Vinaigrette

Serves 4 to 6

Ingredients:
tahini vinaigrette:
2 heaping tablespoons tahini
1 teaspoon honey
1/2 lemon, juiced
6 tablespoons extra virgin olive oil
salt and pepper to taste

2 tablespoons extra virgin olive oil
12 ounces boneless, skinless wild-caught salmon
2 ears sweet corn
2 romaine hearts, ends removed and thinly sliced
2 avocados, peeled, pitted and chopped
1 large white peach, pitted and thinly sliced
2/3 cup shredded fontina
2 green onions, thinly sliced

Directions:
1. In a small bowl whisk together tahini, honey and lemon juice. While continuing to whisk together, add oil, in a slow and steady drizzle until fully incorporated. Season with salt and pepper. Set aside.
2. Pre-heat broiler to high. Place salmon and corn onto a baking sheet and drizzle with oil. Season generously with salt and pepper.
3. Place under broiler for 2 minutes, until corn has charred on one side. Turn corn and broil for an additional 2 minutes. Remove corn and broil salmon for an additional 5 to 7 minutes or until salmon has just cooked through. Remove from heat, slice kernels from cob and shred salmon fillet.
4. To assemble: Pour 1/4 cup vinaigrette into the bottom of a mixing bowl and toss top with romaine. Toss together until romaine is evenly coated. Transfer romaine onto a large platter. Top dressed romaine with salmon, corn, chopped avocados, sliced peach, shredded cheese, and sprinkle entire salad with green onion. Drizzle more vinaigrette over salad, lightly season with salt and pepper and serve.