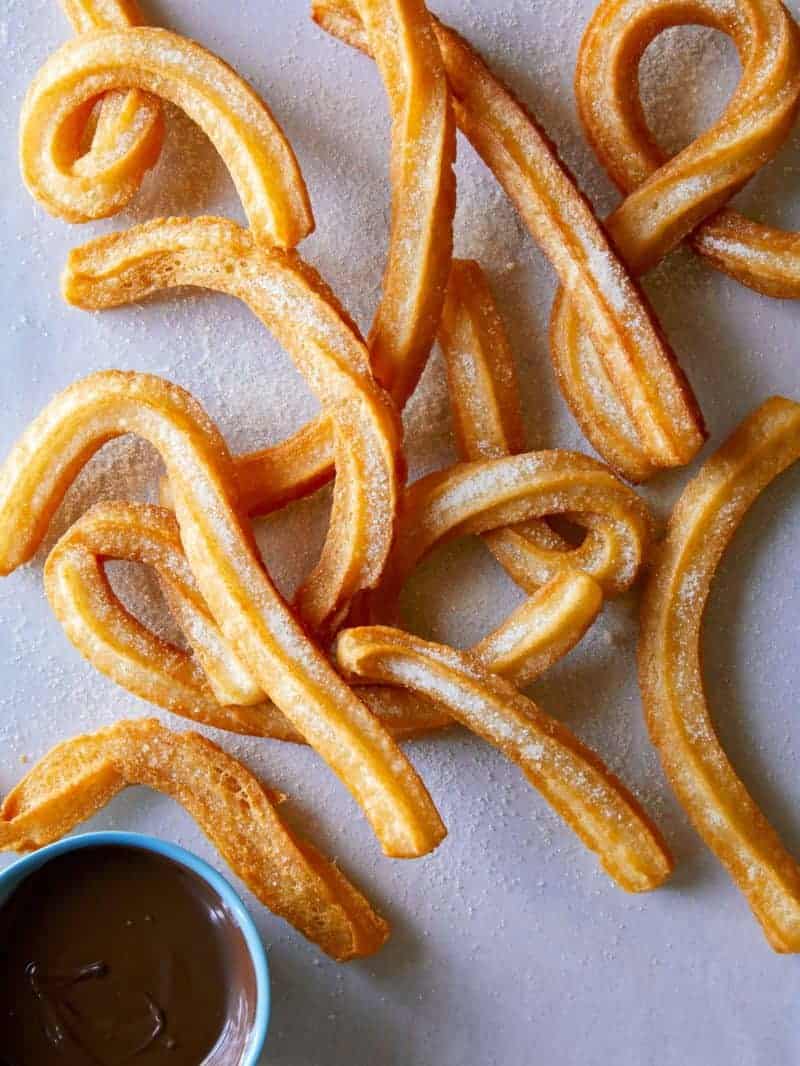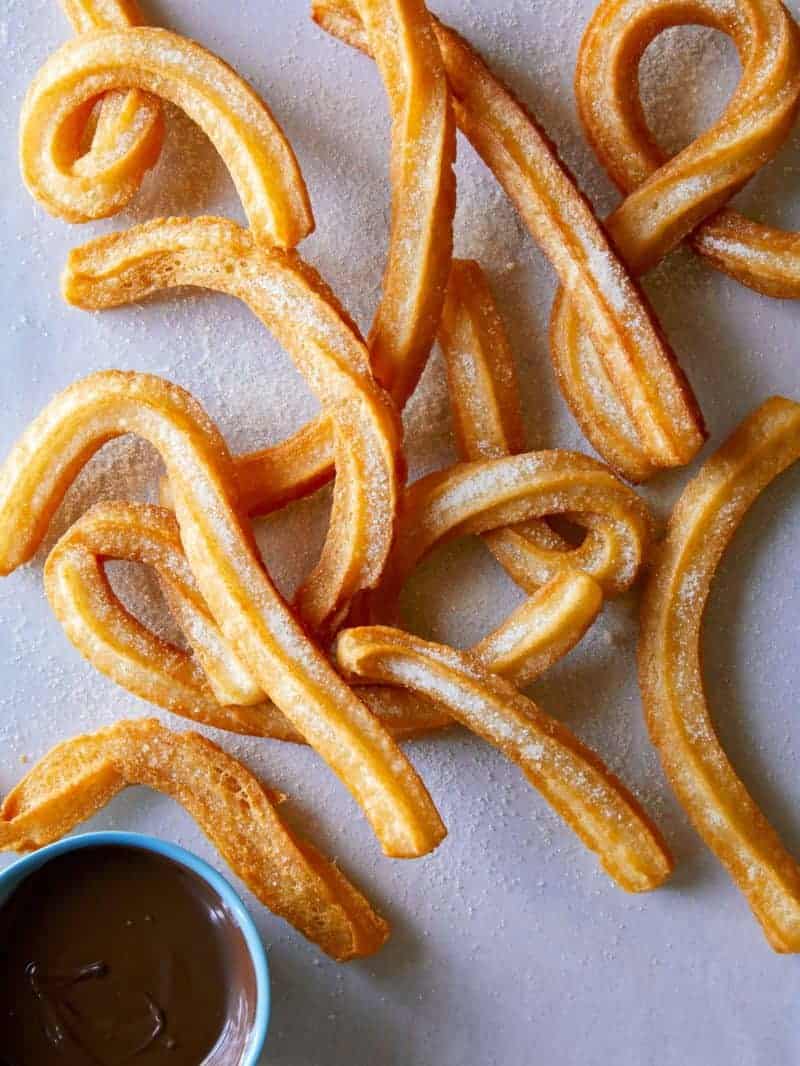 My husband and I took a trip to Spain a few months ago and I ended up falling in love with the churros. I already knew I loved Mexican style churros, but oh man, Spanish Churros might be my new favorite thing! The biggest difference is that they are vegan because there's no egg in their dough and they aren't rolled in cinnamon-sugar once they're fried. This makes for a super light and crispy texture rather than a crisp, chewy one. Aside from the lighter than air texture, I love the fact that sugar is just sprinkled on at the end (and is also optional) and isn't covering the entire churro. It's makes dipping them in chocolate sauce that much more delicious and not overly sweet. Freshly whipped cream to dip them in was another option we saw happening a lot in Spain, along with the chocolate sauce and who doesn't love that, right?
When I came home I searched all across LA to find a place that made and sold these types of churros, but they were really few and far between, so I somewhat reluctantly decided to make my own. Turns out, they're really easy to make! The only thing I really recommend, to make these guys absolutely perfect, is getting a hand-held churro maker. I KNOW. Investing in a single use gadget probably doesn't seem that appealing, but they really make the job 100 times easier, are not expensive and it doesn't take up very much space at all! I mention being able to use a piping bag with a star tip for this recipe, but I should warn (and do at the end of the recipe), that the piping bag/tip method is still a bit difficult to use because the dough is so stiff. I do provide a third alternative too if you don't want to deal with any gadgets. While they won't be quite the same, they'll still turn out crisp and delicious! Enjoy! xx, Jenny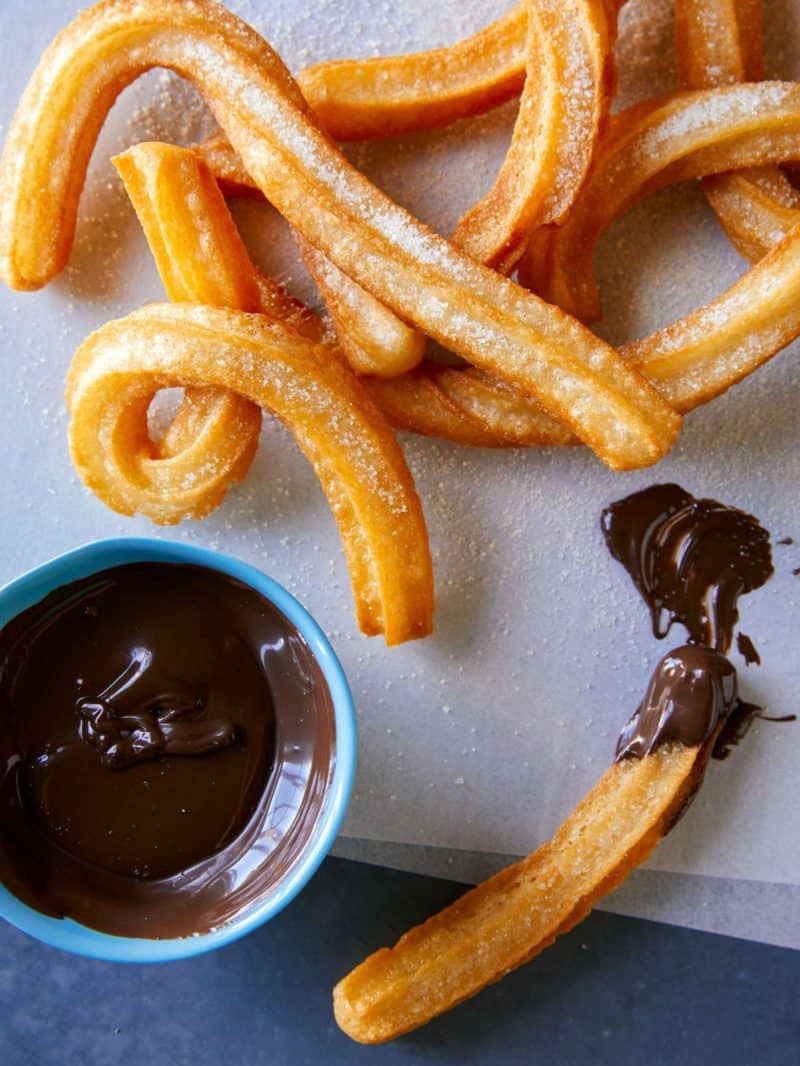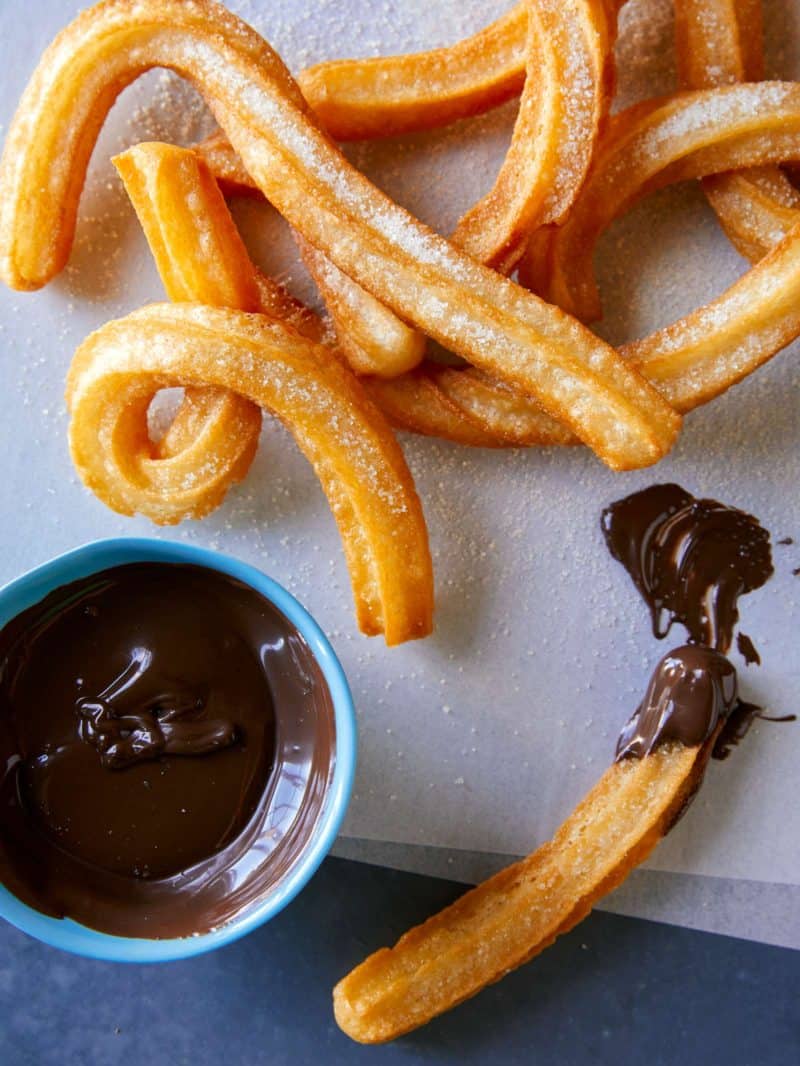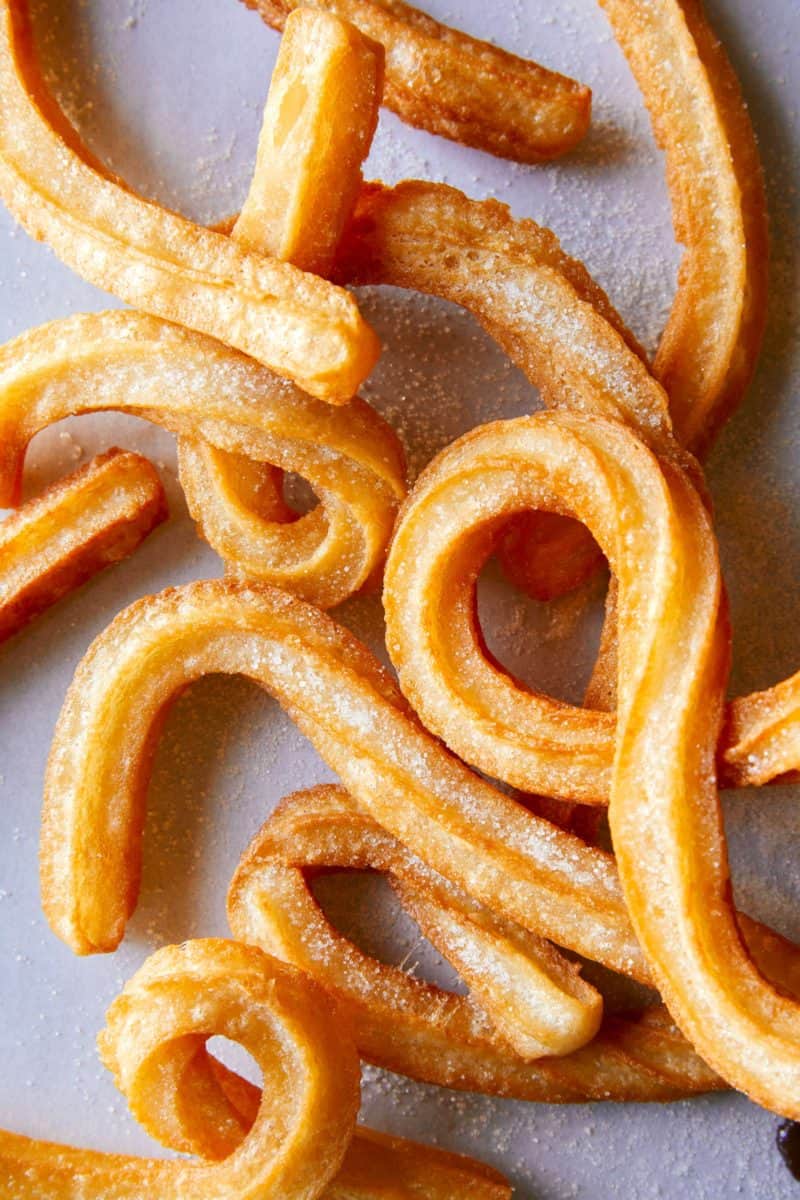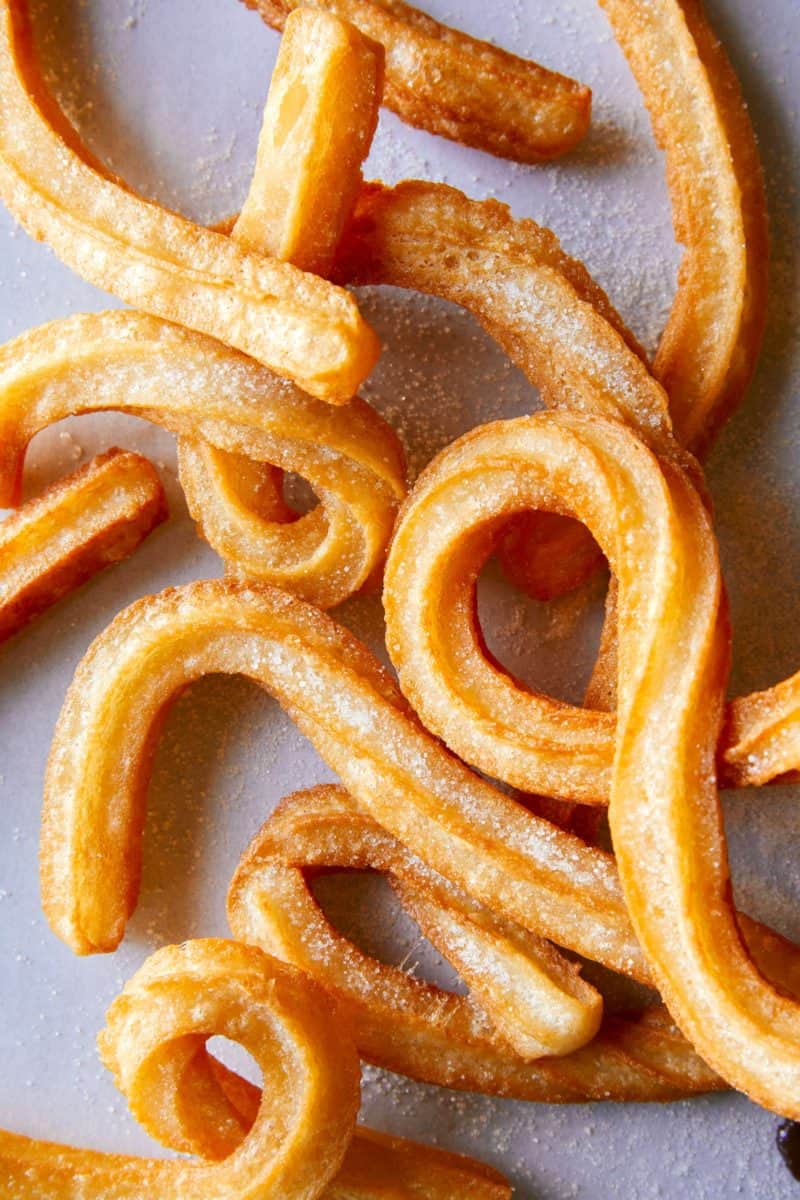 Hungry for more?
Subscribe to never miss a recipe.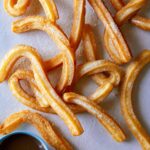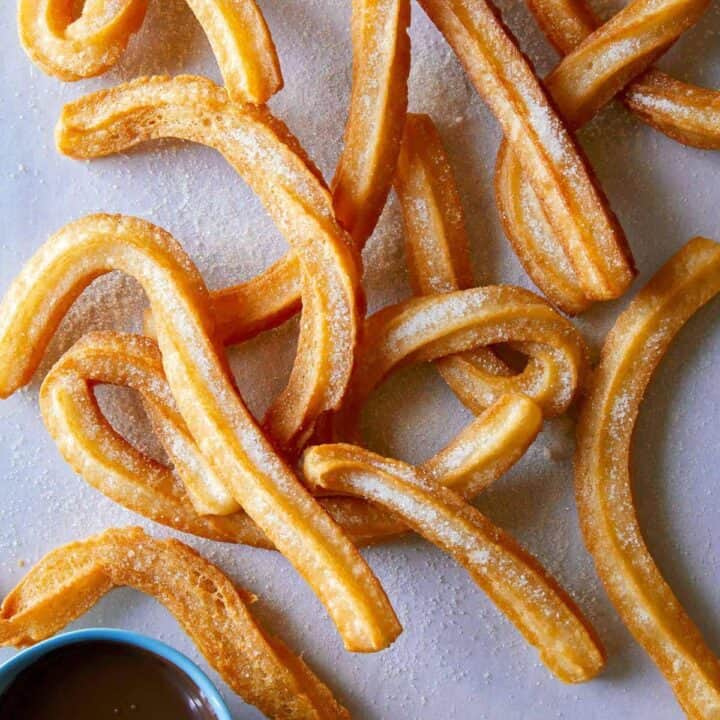 ---
Spanish Churros
EQUIPMENT
churro maker or piping bag fitted with a coupler and medium star tip
INGREDIENTS
1

cup

flour

1

teaspoon

baking powder

½

teaspoon

salt

1

cup

plus 2 tablespoons boiling water

vegetable oil, for frying

sugar for sprinkling

8

ounces

chopped dark chocolate, melted
INSTRUCTIONS
Place flour, baking powder and salt into a mixing bowl and whisk together.

Add boiling water to flour mixture and stir together with a wooden spoon until mixture is fully combined, with no dry spots.

Pour 3 inches oil into a tall sided pot and preheat to 350˚F.

Push mixture into a churro maker with a medium star insert, or piping bag fitted with a medium star tip and pipe 6 inch churros directly into the hot oil, snipping the ends off with scissors, before piping another churro. Fry a few at a time.

Fry churros for 2 to 3 minutes on each side, or until golden brown.

Transfer churros onto a cooling rack, lined with a paper towel and repeat until all churros have been fried.

Transfer churros onto a platter and sprinkle with a generous amount of sugar. Serve with melted chocolate on the side.
NOTES
*Makes ~12 churros
**Although you can use a piping bag, fitted with a star tip, it's a bit difficult because the dough is so stiff. I highly recommend buying a churro maker….OR you can roll the dough out into a thin, long snake and snip into 6 inch piece and carefully lift and transfer into the hot oil. They won't be quite the same, but still crisp and delicious!
Calories:
302
kcal
Carbohydrates:
33
g
Protein:
5
g
Fat:
16
g
Saturated Fat:
9
g
Cholesterol:
1
mg
Sodium:
272
mg
Potassium:
293
mg
Fiber:
5
g
Sugar:
9
g
Vitamin A:
15
IU
Calcium:
70
mg
Iron:
6
mg