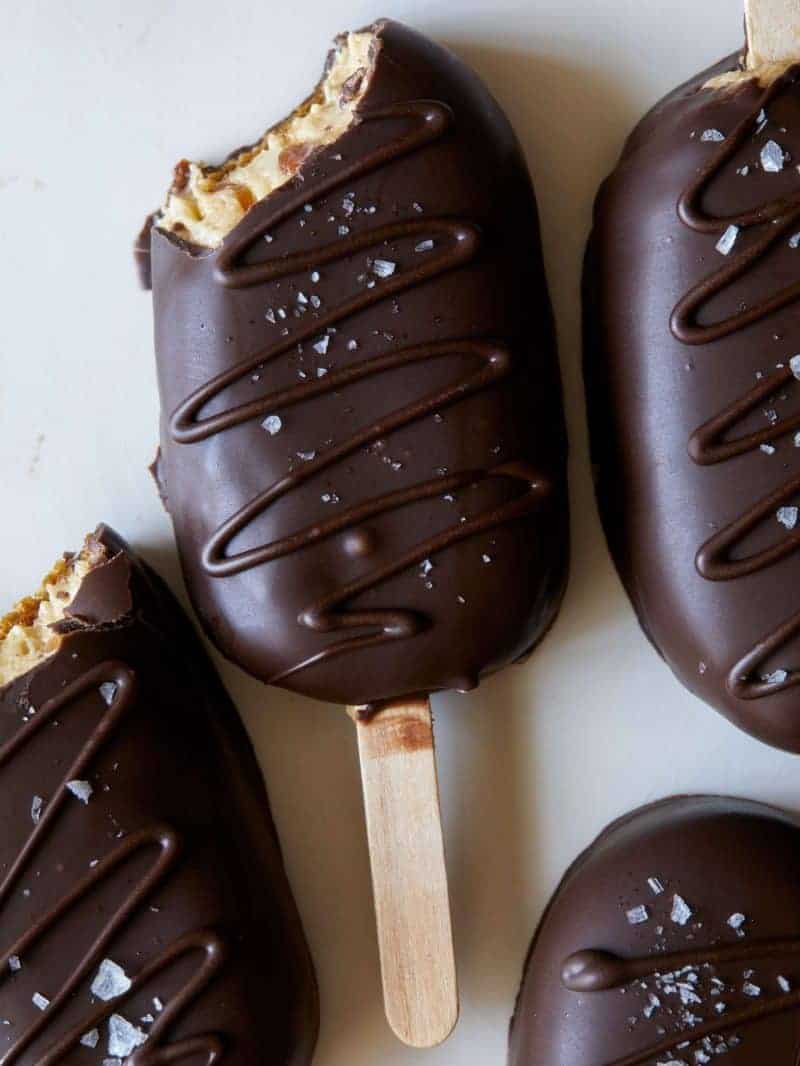 I mentioned a few weeks ago how I haven't had any 'wild' pregnancy cravings, except for the fact that my sweet tooth has really grown and chocolate-peanut butter is something thats recently hit me pretty hard. I've always been a fan of the classic combo, but was never obsessed with it or anything. Well recently, I can't seem to have a couple days go by without indulging in at least one or two of those Justin's Peanut Butter (or even Almond Butter) Cups. I prefer the dark chocolate ones, but definitely wouldn't say no to a milk chocolate one either. :) Today we have our Crunchy Peanut Butter Pie Pops and I'm all about them! They're actually really easy to make and SO.GOOD. Once coated in chocolate, these guys also last a few months in the freezer, which I also love.
I used one of my favorite silicone molds for this recipe. These molds are so versatile and easy to use. They're also dishwasher safe, making cleanup super easy. I've used them for so many desserts like our Cookie Coated Mango Lassi Frozen Yogurt Bars , our Salted Butterscotch Apple Pie Cheesecake Bars , and our No Bake Strawberry Shortcake Cheesecake Bars just to name a few.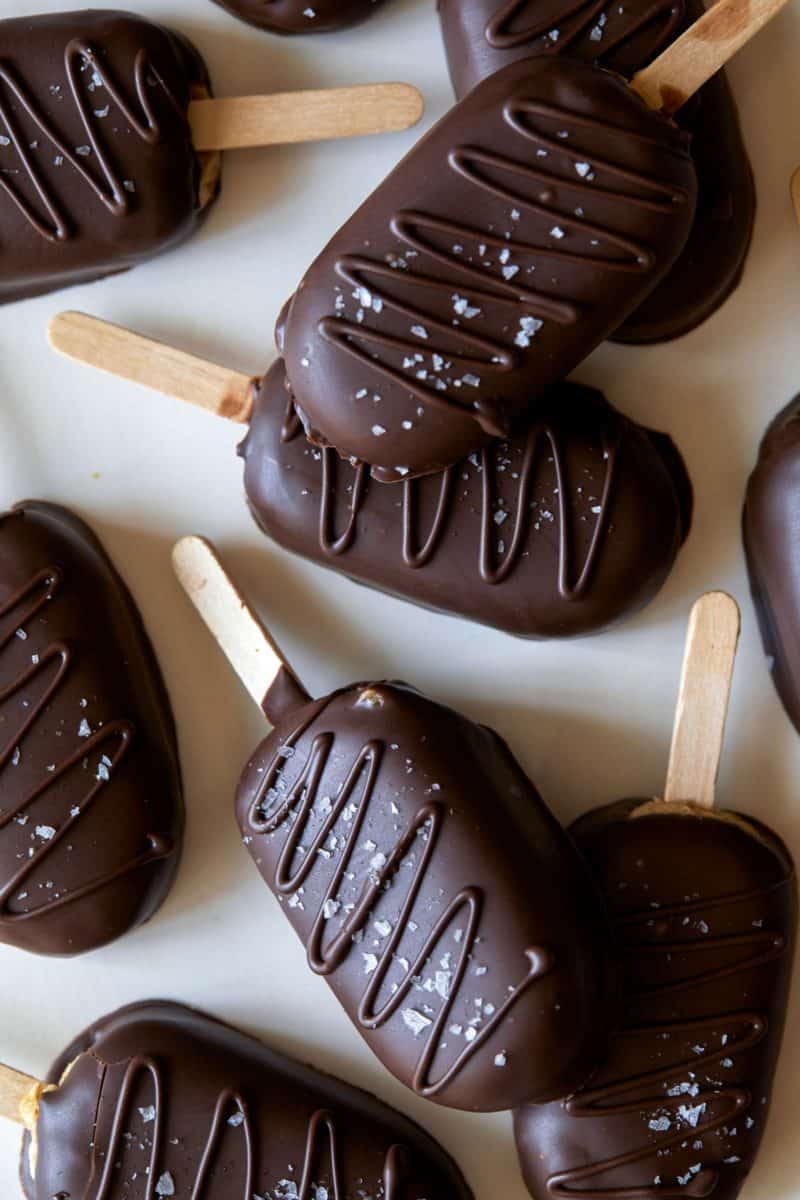 Crunchy Peanut Butter Pie Pops

Makes 16

Ingredients:
8 ounces cream cheese, softened
1 cup crunchy peanut butter
3/4 cup sugar
1 1/4 cups heavy cream
16 biscoff cookies
12 ounces chopped dark chocolate
chopped dry roasted peanuts, for garnish

special equipment:
16 mini silicone ice cream bar molds

Directions:
1. Place cream cheese, peanut butter and sugar into a mixing bowl and beat together until light and fluffy (can use hand or stand mixer).
2. In another mixing bowl, beat heavy cream until stiff peaks form.
3. Stir a third of the whipped cream into the peanut butter mixture until fully incorporated.
4. Fold remaining whipped cream into the peanut butter mixture until completely combined.
5. Insert popsicle stick into each mold. Fill each ice cream mold halfway with the peanut butter mixture, gently press a biscoff cookie into each mold.
6. Top cookies with more peanut butter mixture until each mold is filled, scraping any excess off with an offset spatula until each mold is level.
7. Place filled molds into the freezer and freezer for at least 12 hours and up to 2 days.
8. Once bars are frozen, unmold and place onto a sheet pan lined with parchment. Return bars to freezer until ready to use.
9. In a double boiler, melt chocolate until smooth. Remove melted chocolate from heat.
10. Carefully dip each peanut butter bar into the melted chocolate, shaking off any excess and place back onto the baking sheet.
11. Top each bar with a sprinkle of chopped peanut butter. Place bars back into the freezer until set and ready to serve.