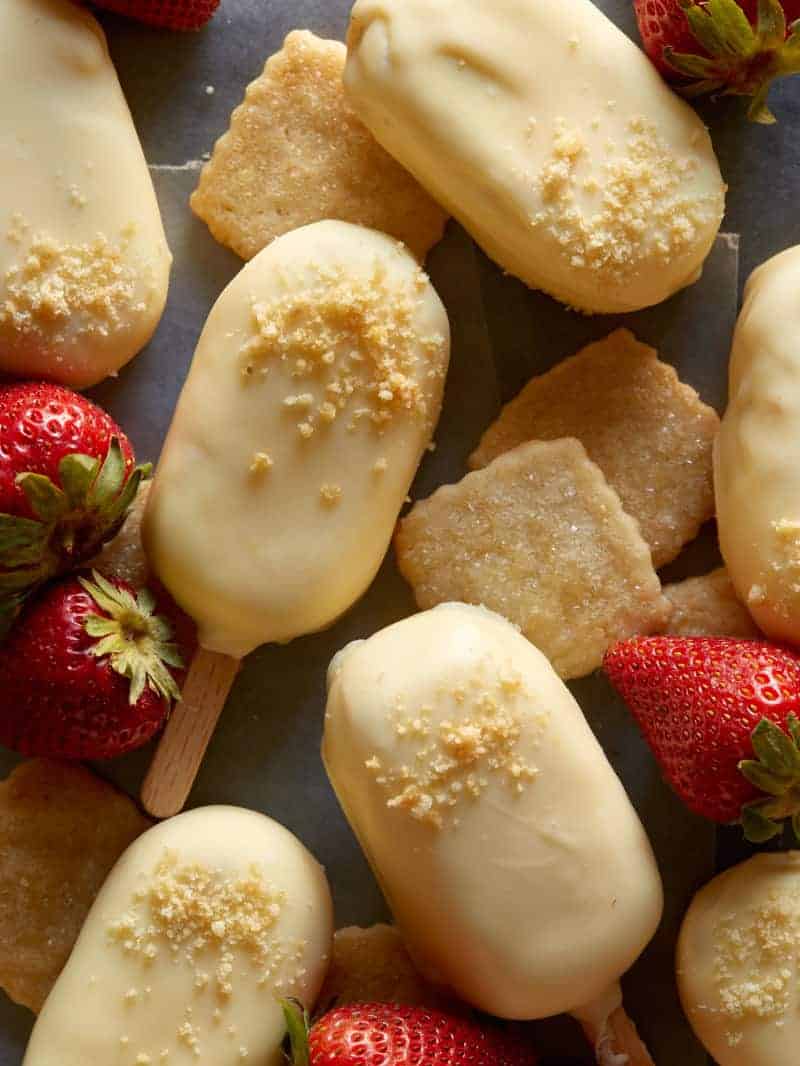 If you guys haven't noticed, we've been pretty into strawberries these past few weeks. I love strawberry season! Although strawberries are generally available year round, they get especially sweet, juicy and delicious around this time of year and I can never get enough! Today we've incorporated the sweet beauties into these White Chocolate Dipped No Bake Strawberry Cheesecake Bars! They're a fun, sweet treat that are actually not too difficult to make, especially since the cheesecake bars are a no bake sitch.
These make a really great treat for a spring/summer get together and would be perfect for Mother's Day! Enjoy! xx, Jenny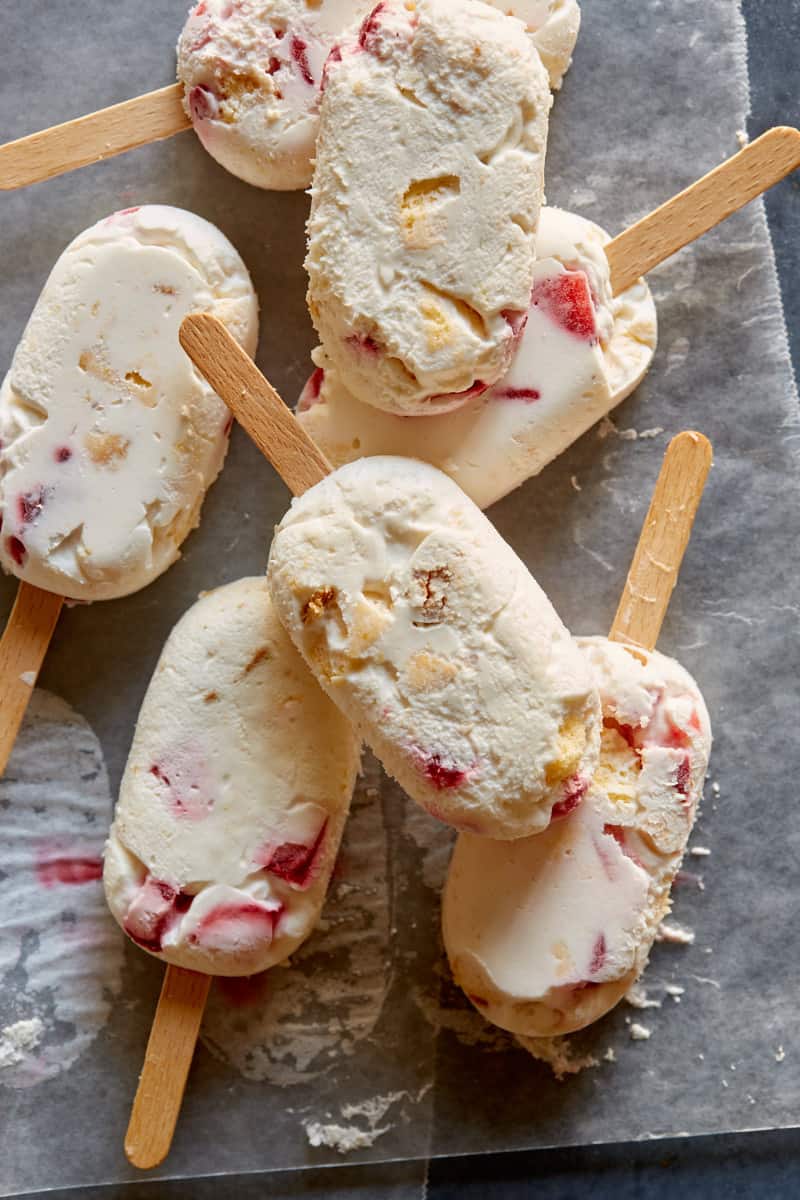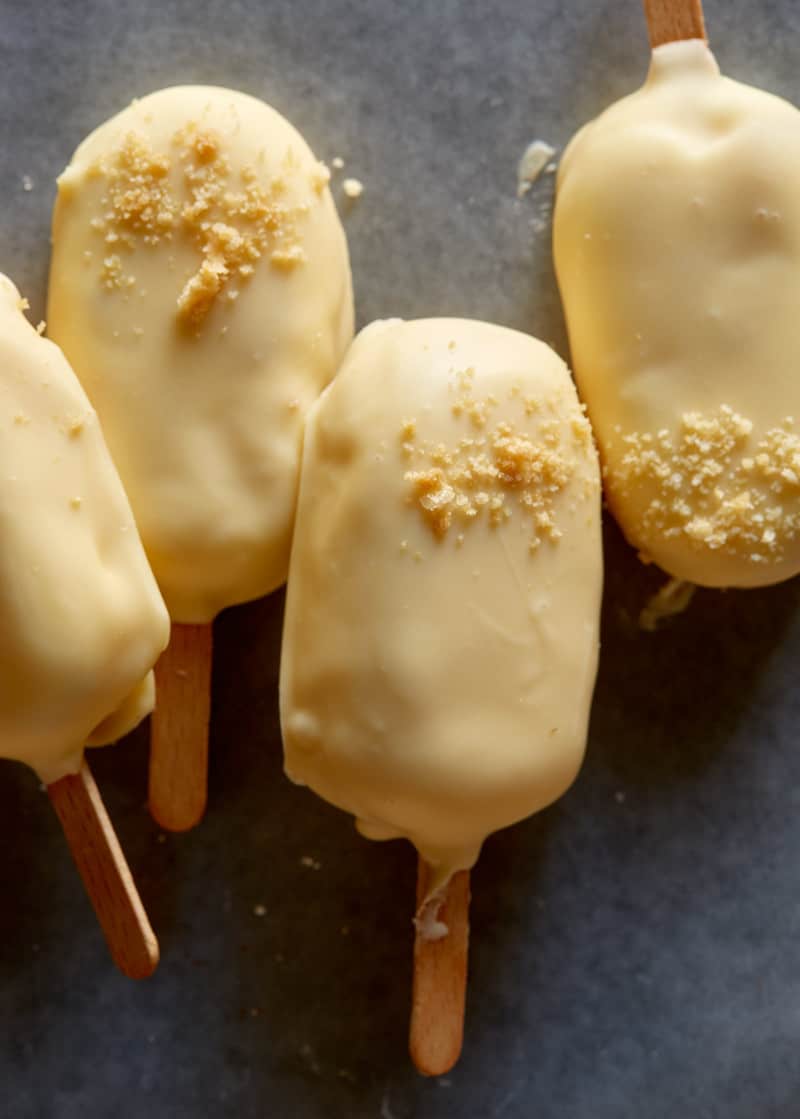 White Chocolate Dipped No Bake Strawberry Shortcake Cheesecake Bars

Makes 8

Ingredients:
1 (8 ounce) package of cream cheese, softened
2/3 cup plus 2 tablespoons superfine sugar
1/4 cup sour cream
zest of 1 lemon
1 tablespoon fresh lemon juice
1 teaspoons vanilla extract
1/2 cup heavy cream
10 large strawberries, hulled and diced
1 heaping cup of diced pound cake (store bought or homemade is fine)

2 cups melted white chocolate
pound cake crumbs

Directions:
1. Place cream cheese, sugar, sour cream, lemon juice, zest, and vanilla in a medium mixing bowl. Beat together with an electric mixer, until smooth and fluffy.
2. Scrape down sides of the bowl and set aside.
3. In another mixing bowl with the electric mixer, beat the cream until stiff peaks form.
4. Fold the whipped cream into the cream cheese mixture until fully incorporated.
5. Fold in the strawberries and pound cake until just combined.
6. Scoop the mixture into mini silicone ice cream molds (you can use paper Dixie cups too) and fit each with a mini wooden popsicle stick.
7. Place molds in the freezer until the mixture sets.
8. Once the cheesecake bars have set, unmold them and quickly, but carefully dip each bar into the melted white chocolate (you'll have to work quickly because the frozen bars being dipped into the chocolate will make it seize/harden rather fast). Shake off any excess chocolate and plce each dipped bar onto a baking sheet lined with parchment.
9. Finish each bar with a sprinkle of pound cake crumbs and allow the chocolate to harden (you can refrigerate the bars to expedite the hardening of the white chocolate coating).