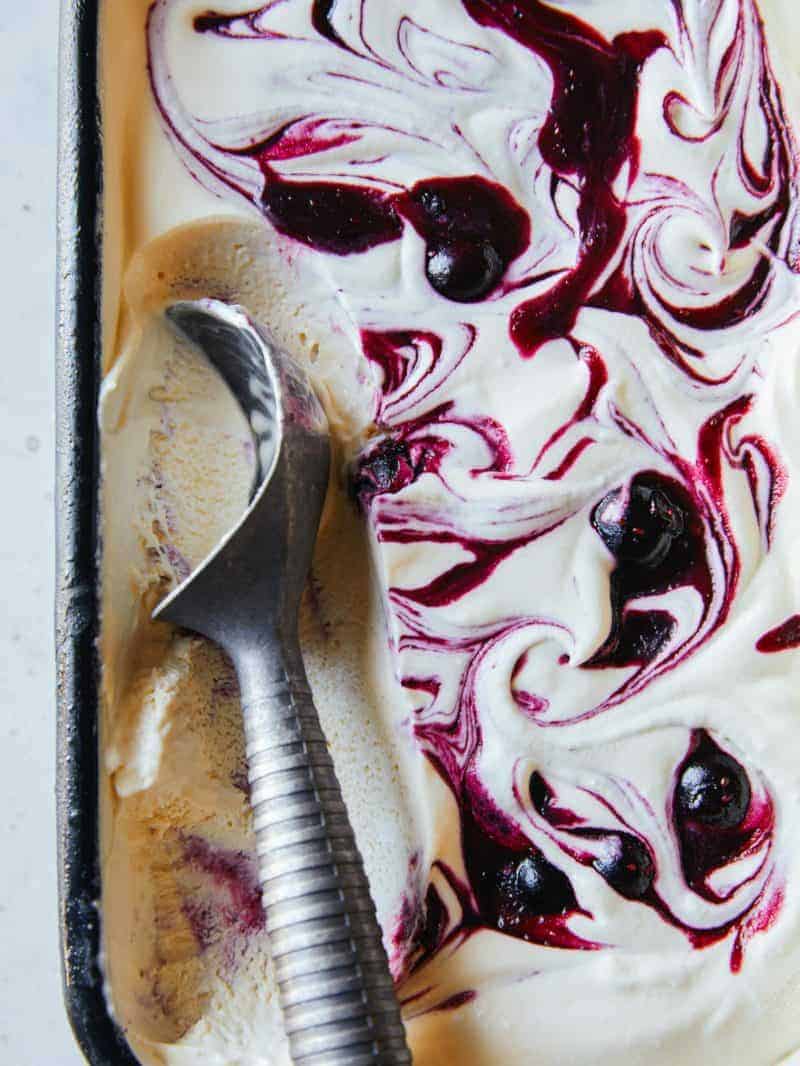 I love when we can make stuff that is easy to make pretty. Adding swirls is easy! And it makes this semifreddo beautiful! And it takes no talent to make these swirls. That is why I love when recipes like this one exist. Semifreddo is like making ice cream but so much easier. It's also delicious and needs nothing else unless you want to add a waffle cone situation. I would approve of that addition. Ok recipe below, all the ingredients are simple – nothing crazy. Make this and then eat it while watching Pen15 on hulu because it's my favorite new show ever ever ever.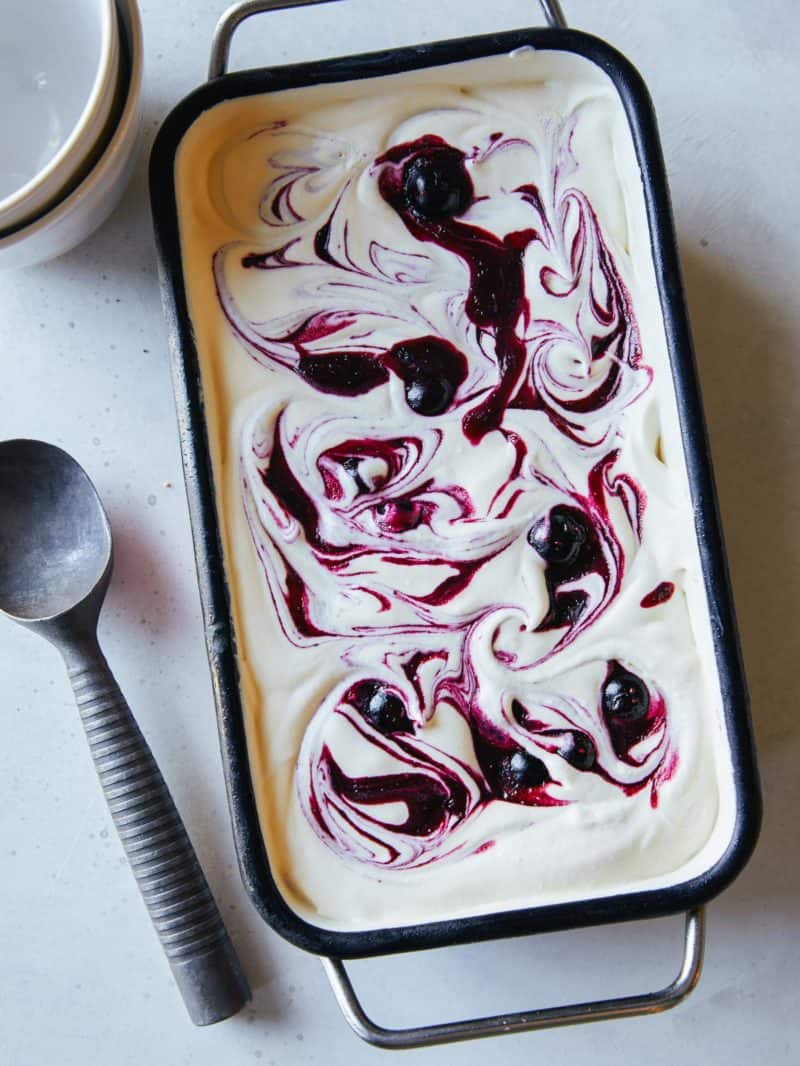 Blueberry Vanilla Honey Swirl Semifreddo

Makes 1 quart

Ingredients:
blueberry compote:
1 pint blueberries, divided
1/2 cup sugar
1/2 teaspoon tapioca starch
1/2 lemon, juiced
vanilla-honey semifreddo:
1/2 teaspoon unflavored gelatin powder
6 tablespoons cold water, divided
1/2 cup plus 1 tablespoon honey
1/4 cup sugar
1/4 teaspoon salt
1 1/2 teaspoons vanilla paste or extract
6 large egg yolks, lightly beaten
1 cup heavy cream, whipped to stiff peaks

Direction:
1. Blueberry Compote: Place all but 1/2 cup blueberries, sugar, starch and lemon juice into a saucepan and lightly simmer over medium-low heat for about 15 minutes, stirring and lightly crushing blueberries as the mixture cooks down.
2. Strain blueberry mixture and return strained liquid back to saucepan with remaining blueberries. Gently simmer for 5 to 7 minutes, stirring occasionally. Set aside and allow compote to cool.
3. Sprinkle gelatin over 2 tablespoons water and bloom.
4. Combine remaining water, honey, sugar, and salt into a saucepan and bring to a boil. Continue to boil until mixture reaches about 288˚F.
5. Beat yolks together in a stand mixer (with a whisk attachment), until light and fluffy. With the motor running, slowly drizzle hot honey mixture into the yolk mixture and beat together until completely combined. Add gelatin mixture to the used saucepan to melt the gelatin. Pour mixture into the stand mixer along with the vanilla paste/extract and beat together.
6. Fold in 1/3 of the whipped cream until fully incorporated. Fold in the remaining whipped cream until light and fluffy.
7. In a quart container add 1/3 of semifreddo mixture. Dot with 1/3 of the blueberry compote and swirl compote into semifreddo. Repeat in layers until all semifreddo and blueberry compote has been used.
8. Cover with plastic wrap and place in freezer for at least 6 hours. Serve once frozen.