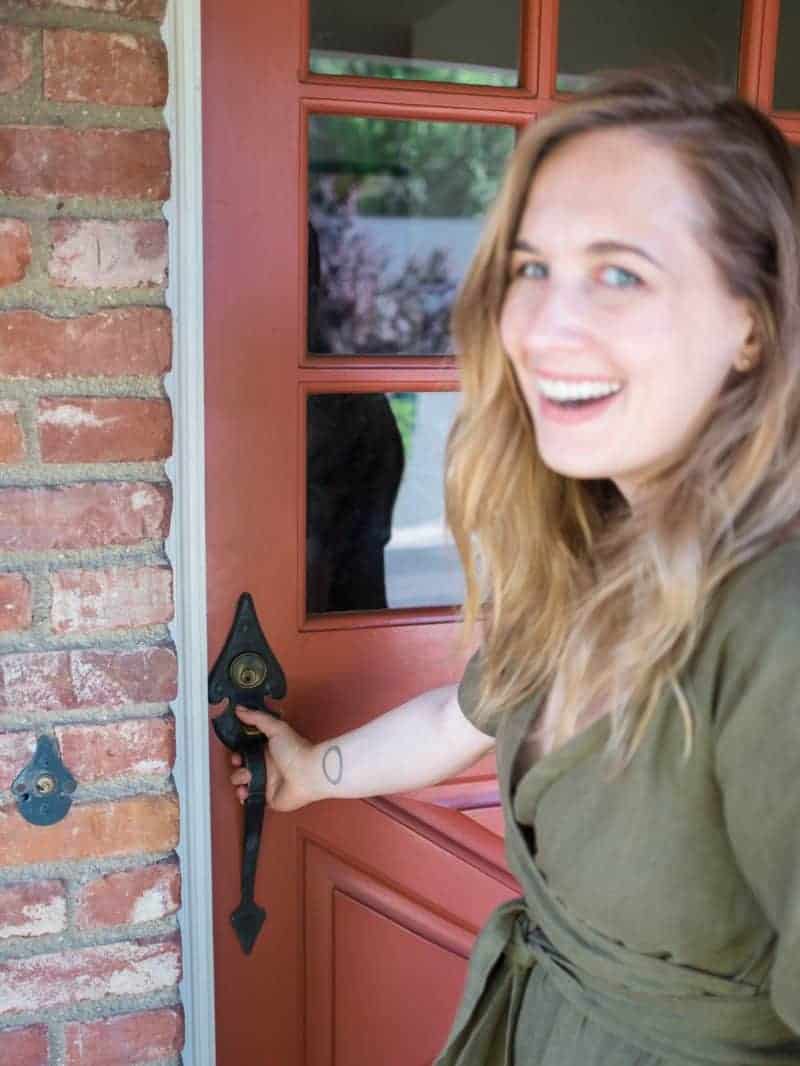 I am so excited to finally be able to share our new home! I am so so SO excited to finally be able to do simple things like change paint color and do more complicated things like remodel the kitchen! Apartment living has been great, but I cannot wait to unleash the years of loaded Pinterest boards onto my new place. The home buying process was honestly pretty terrible. Especially in LA where things are very competitive and all cash offers are kind of the norm. It was a lot of emotional ups and down for sure. A lot of learning how to not get your hopes up, and a lot of weekends given up to open houses. I did however learn A TON. So I wanted to share some of the thoughts I had with you in case you are thinking about a house now, or down the line. So here are 6 things I learned while buying a home. This is definitely 100% my own opinion, and may not be everyone's opinion. Basically, this is what I tell all my friends when they ask me about home buying. :)
1. If you are even remotely thinking about buying a house, even someday, and maybe that day isn't in the near future. Regardless of this – get a real estate app on your phone. We used Redfin. The reason why I suggest doing this is because then you can get really familiar with the market you plan to purchase in, and you will eventually be able to see when things are under or over priced. It will also pull you back into reality if you are on a tight budget but want a mansion. I think it's much easier to get this reality check at this stage in the game (and yes – its a big not fun game) than when you are actually ready to pull the trigger.
2. Go to a Redfin home buying class (because they are free!) and ask all the questions. We ended up not using Redfin to actually purchase our house (because we got a real estate agent not affiliated with Redfin), but found their home buying class really really helpful. We were able to ask a ton of questions about the process, the vocabulary, and anything we ever wondered. They also had a loan agent come and talk to everyone, and we loved her. We ended up using her for the purchase of this house. After the home buying class we learned about down payments. You can put less than 20% down, but then you have to pay for mortgage insurance. Since we loved the apartment we were in, we were not in a rush to buy and we still had more saving to do we decided we would hit that 20% down mark so we could avoid the mortgage insurance cost. Because of this, I started to do research on better ways to save for our down payment. I read a ton of books, but these two I loved the most, and they really helped me to create a budget and just gain a better control of our finances. The books are Dave Ramsey's Total Money Makeover and Ramit Sethi's I Will Teach You To Be Rich. Both of these titles are geared to people who carry a lot of debt, but I love them because the general ideas and practices they discuss are really great and helpful.
3. Once we started getting closer to being able to actually pull the trigger we went to a lot of open houses to experience them in person. All real estate pictures are misleading. Once we were out there every weekend walking through houses it became obvious that we wanted a little bit of a fixer because it seemed crazy to pay for a recent remodel when we hated everything. We started to put together a list of most important house attributes in order of importance. That really helped us narrow down our search, and once we were ready to actually purchase something we were really honed in on what we wanted. This was a process too, we definitely saw a lot of houses with our agent that fit out list, only to heavily consider them and then go back to re ordering our list.
4. Don't get attached. Ugh. It's really easy. Super easy. I did it. I did it a lot. I spent long hours drooling over houses thinking the couch would go here, I would paint this wall this color etc, only to be let down because the house sold for way over asking, or had an all cash offer. It was a huge bummer, and a big fat waste of energy. Obliviously this is a really hard thing to not do, and probably impossible to do straight out of the gate. I think you have to get your heart broken in order to understand how important it is to not get your hopes up. So maybe just consider this just a fair warning :)
5. The last thing I wanted to share that we did that I think was the most helpful was to get a loan agent. We got someone to advocate for us through the loan process. They get paid once the loan is happening and not from you directly. Our loan agent was extremely detail oriented and helped us through a lot of issues because both my husband and I are freelance. She shopped around for the best deal for us, and helped explain every little detail throughout the whole experience. We honestly miss talking to her everyday. So my final suggestion would be to get a loan agent who can help you shop around for the best deal! And get someone you love! 


So much information. House buying is no small thing. It's a huge time commitment. If you guys have any questions, leave them in the comments and I will answer as best as I can! Also follow along on Instagram, I will save all my house adventures to the highlights so you can check them out. Lot's of fun renovations to come! 

Also, good luck to anyone currently in the market for a home! I wish you all the best!