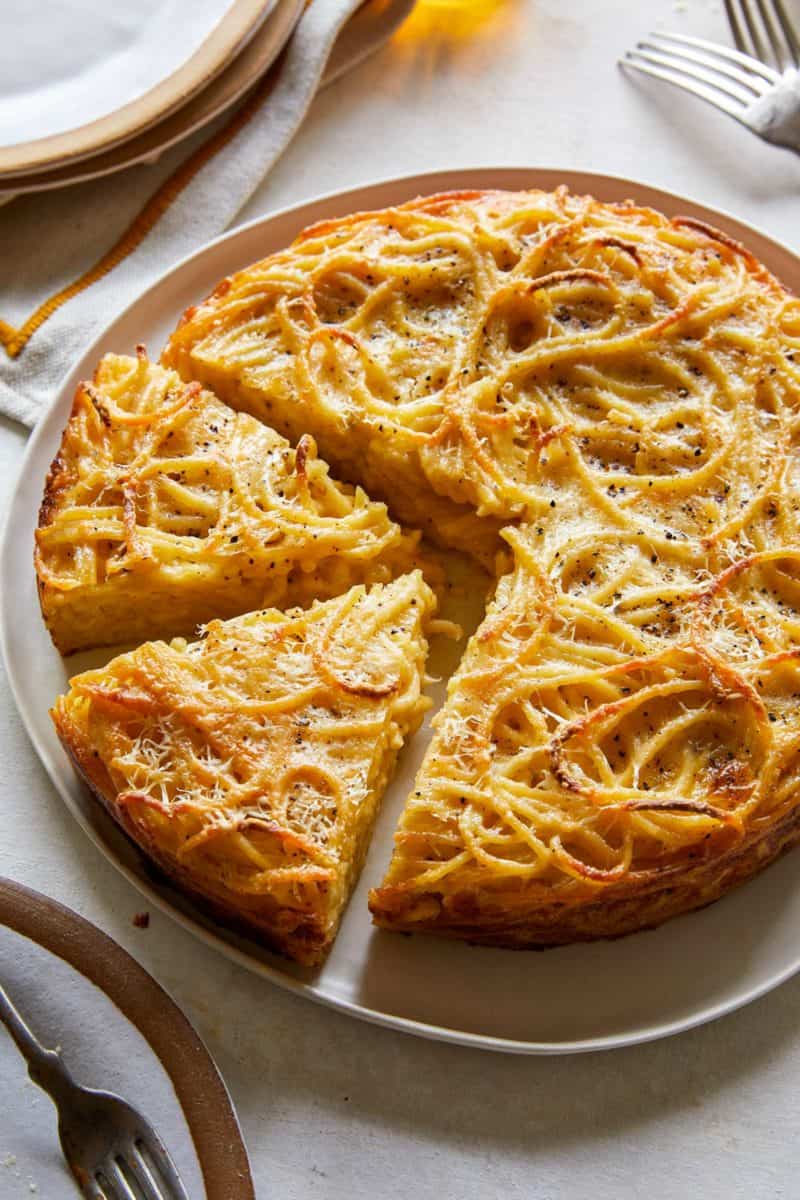 I love love love Cacio e Pepe. Cheese and pepper with pasta, it's like the pasta version of grilled cheese. Simple and delicious, and you don't really need to mess with it. We however decided to slightly mess with it. We made it into pasta pie. I love this because you get some crispy pasta on the top, but on the inside you still get all that gooey cheesy sauce. It's a pretty great combo. Enjoy!
♥ Teri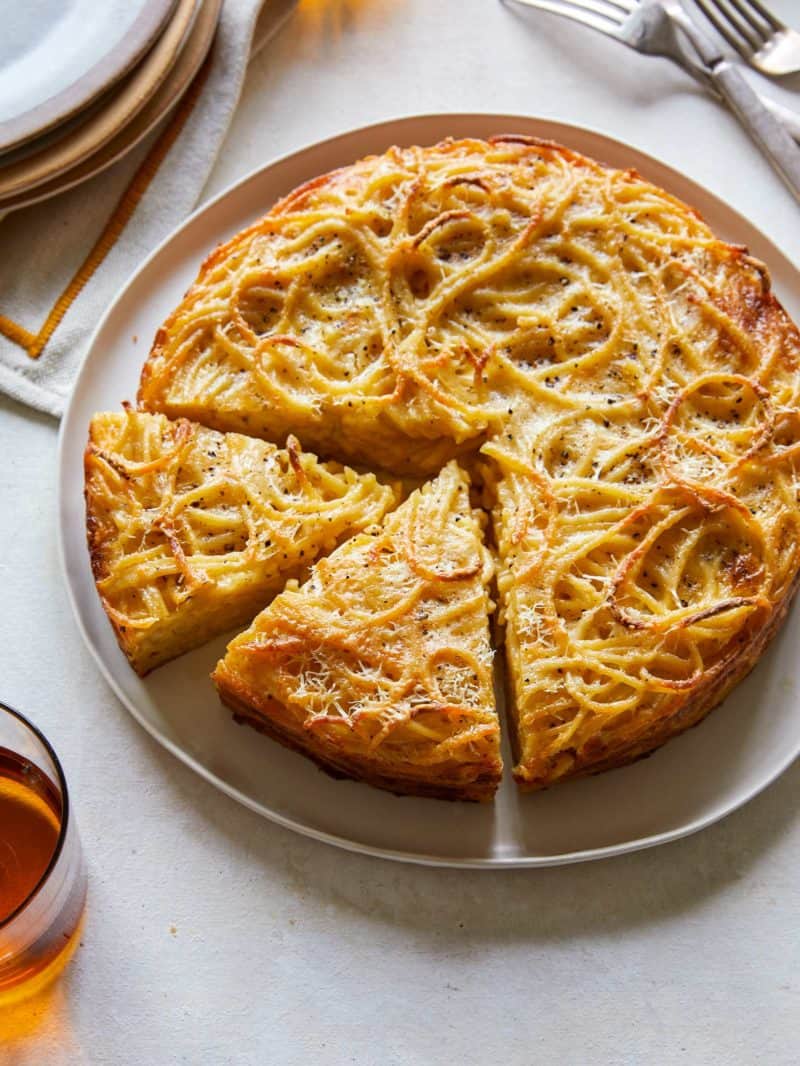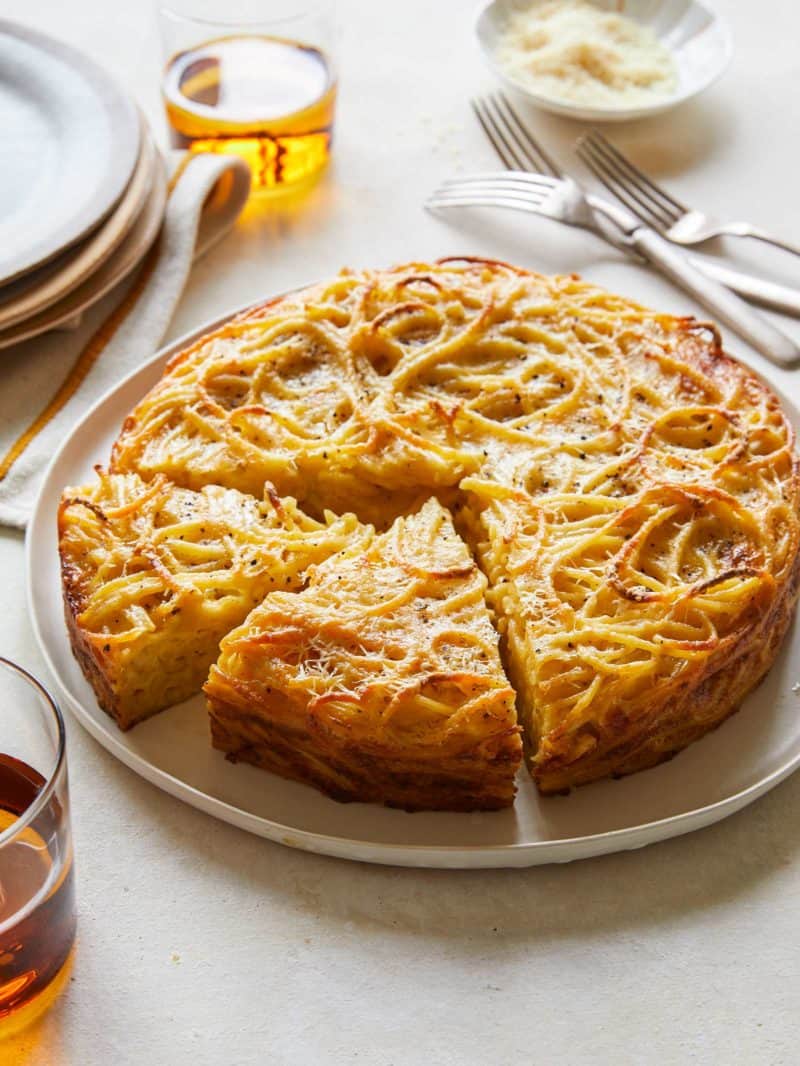 Cacio e Pepe Pasta Pie

Makes 1 (9" pie)

Ingredients:
12 ounces bucatini pasta
1 cup milk
1/2 cup heavy cream
2 large egg plus 1 large egg yolk, beaten
1 cup grated Parmesan, divided
2/3 cup grated mozzarella
1/2 cup asiago
3 cloves garlic, minced
2 teaspoons cracked black pepper, plus more for sprinkling on top
1 1/2 teaspoons salt

Directions:
1. Preheat oven to 425˚F.
2. Lightly grease a 9" spring form pan and place onto a baking sheet.
3. Fill a large pot with water and place over high heat. Add a small handful of salt followed by pasta to the water and boil until pasta is al dente, 5 to 6 minutes, stirring occasionally (you want the pasta to have more of a bite than you would normally want, since you'll be baking it too).
4. Drain pasta in a colander and set aside.
5. In a large mixing bowl whisk together milk, cream, eggs, 3/4 cup Parmesan, mozzarella, asiago, garlic, pepper, and salt until fully combined.
6. Add pasta to milk mixture and toss together until all pasta is evenly and well coated.
7. Pour mixture evenly into prepared springform pan, gently pressing pasta down to create a flatten top. Sprinkle extra pepper over top, cover tightly with foil and bake for 30 minutes.
8. After 30 minutes, remove foil, sprinkle remaining Parmesan over top and continue to bake for an additional 20 to 30 minutes or until pie has set in the center.
9. Remove pie from oven and allow it to cool for about 15 minutes. Release it from the pan, slice and serve.