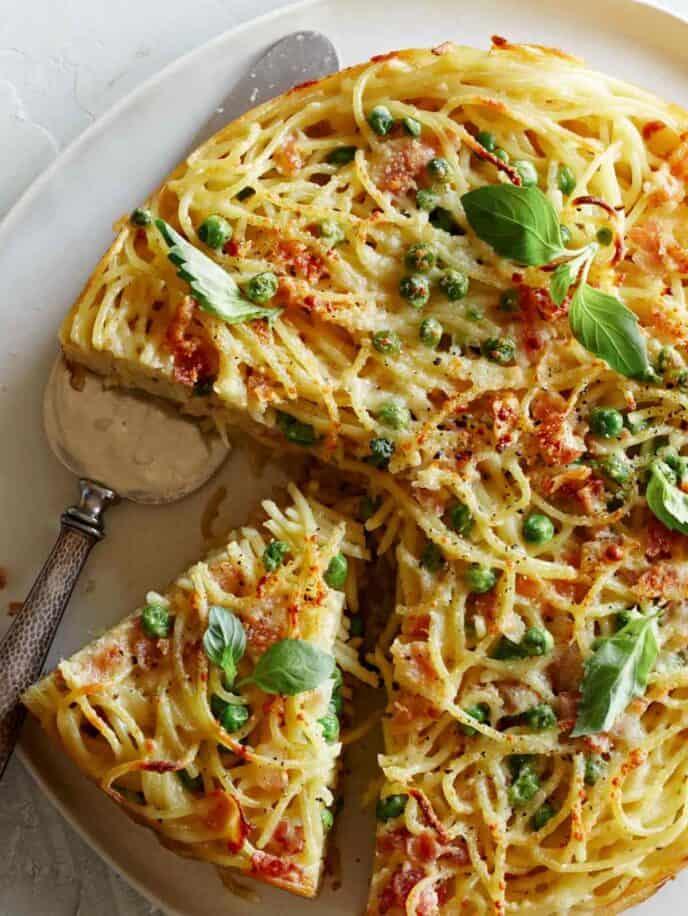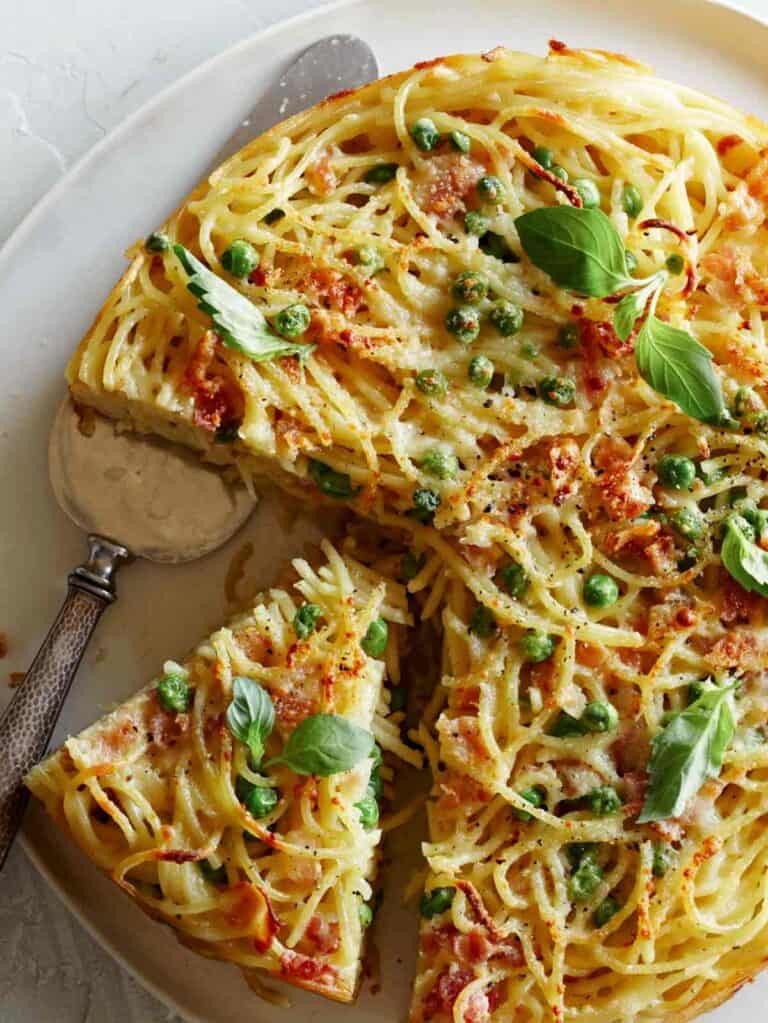 We have been getting so much freaking rain in LA lately it's amazing! We had another wave of heavy showers this past weekend and it was great! Heavy showers, gloomy skies and strong gusts of wind always put me in a cozy mood and this weekend was no exception. We stayed in for most of the weekend and enjoyed this Carbonara Pasta Pie…several times, lol.
This pasta pie is the epitome of a comfort meal; rich, hearty, carb-loading perfection. Not only is this dish super delicious and satisfying, but it's also VERY easy to make! Only a handful of ingredients are required and most of them you probably already have on hand. This dish also makes for awesome leftovers. It holds together beautifully and reheats, covered in the oven quite well. I love to pair this dish with a simple side salad, as per usual (because balance, people!). While my dude and I enjoyed this over the weekend, it's a really great weeknight meal to make too!
If you're into this Carbonara Pasta Pie, we also have this Cacio e PepePasta Pie that is so good and vegetarian friendly! But if you have your heart set on carbonara, we get that, and our Baked Carbonara Mac and Cheese is also a very delicious recipe!
Enjoy!!! Xx,
Jenny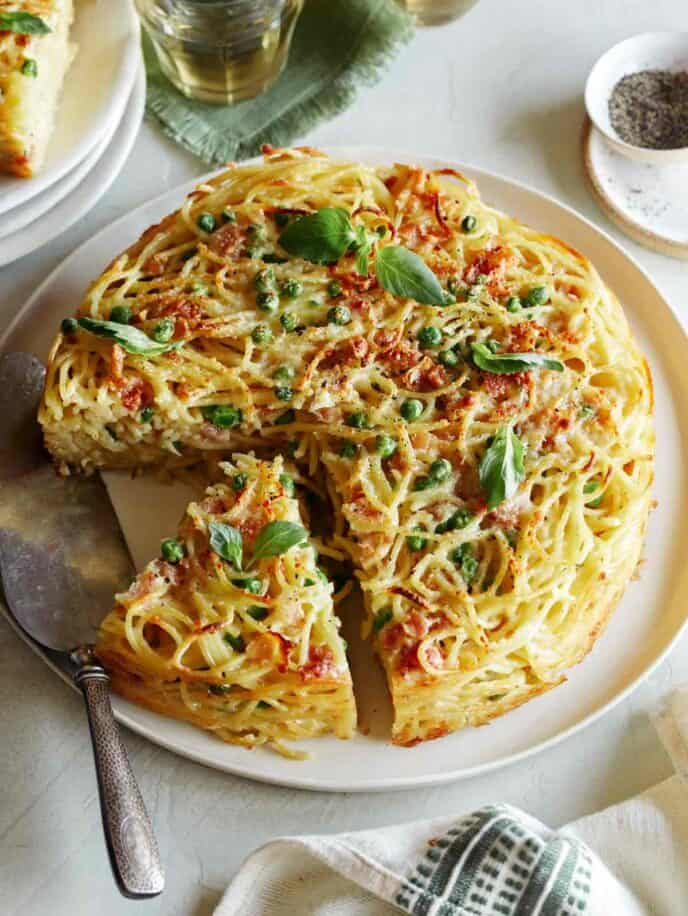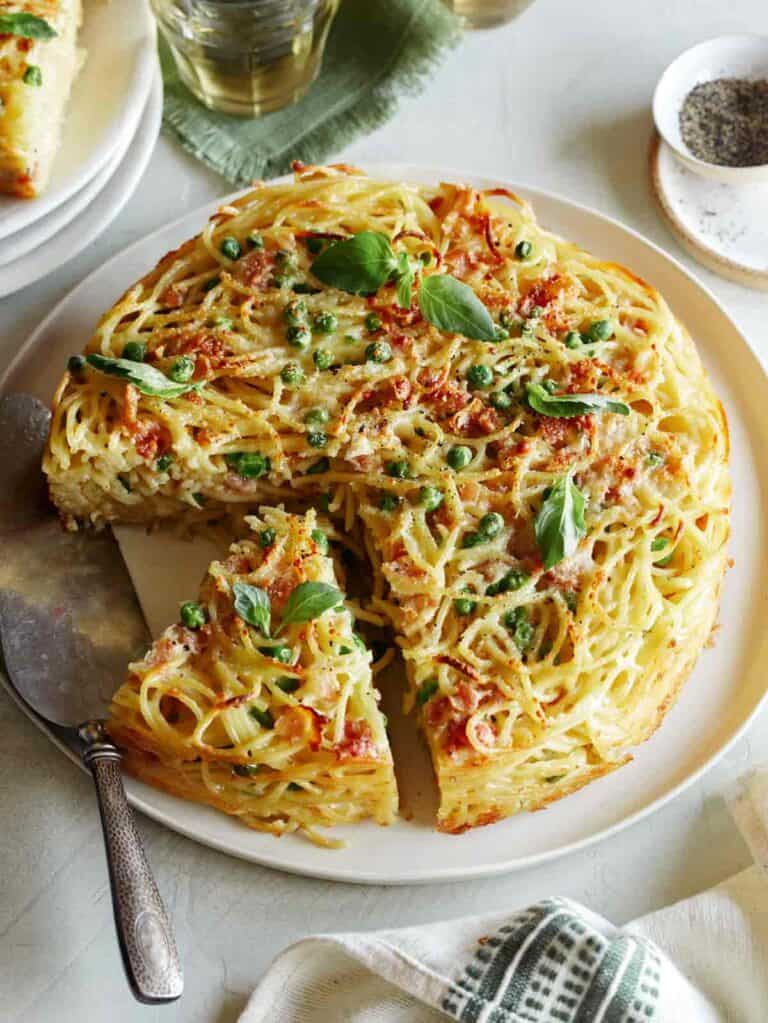 Hungry for more?
Subscribe to never miss a recipe.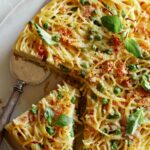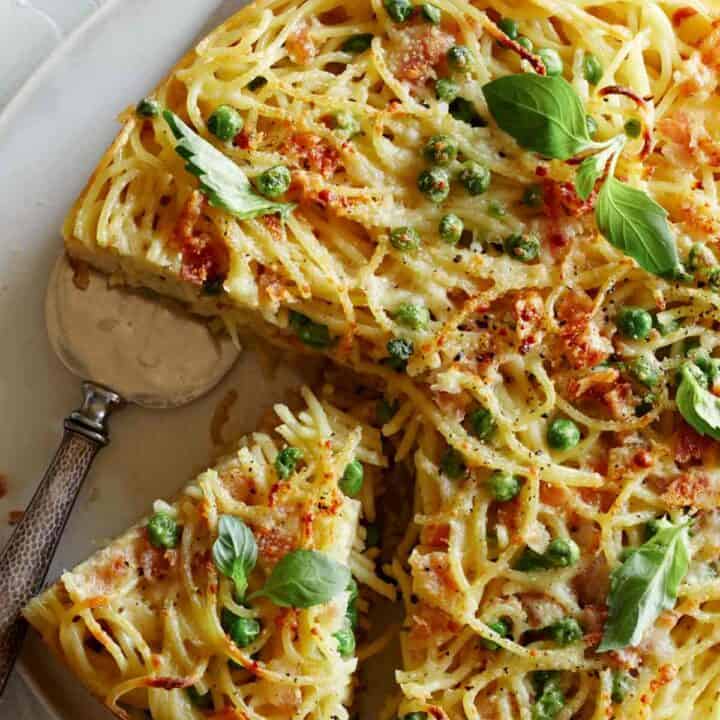 ---
Carbonara Pasta Pie
INGREDIENTS
3

tablespoons

unsalted butter, softened

3

large eggs, lightly beaten

4

ounces

cream cheese, softened

½

cup

grated Parmesan, divided

⅓

cup

heavy cream

1 ¼

teaspoon

salt

½

teaspoon

cracked black pepper

12

ounces

dry spaghetti, cooked until al dente

4

ounces

pancetta, diced, cooked and drained

⅔

cup

frozen peas, thawed

⅓

cup

grated gruyere
garnish
fresh basil leaves

grated parmesan
INSTRUCTIONS
Rub the inside of a 9" spring form pan with butter and set aside.

Pour eggs, cream cheese, half of the Parmesan, heavy cream, salt, and pepper into a mixing bowl and whisk together.

In another mixing bowl combine spaghetti, pancetta and peas. Pour the egg mixture over the pasta mixture and toss together until fully and evenly coated.

Fold in the gruyere cheese and pour the mixture into the prepared spring form pan, flattening the surface.

Place the pasta pie onto a baking sheet and bake for 20 minutes. Remove pie from the oven and sprinkle remaining Parmesan over the top.

Bake the pasta pie for an additional 5 to 7 minutes, remove from the oven and cool, about 15 minutes.

Gently score the perimeter of the pan with a pairing knife and carefully unhinge the pan from the sides of the pie.

Transfer the pasta pie onto a platter, slice into wedges and serve with fresh basil leaves and grated parmesan.