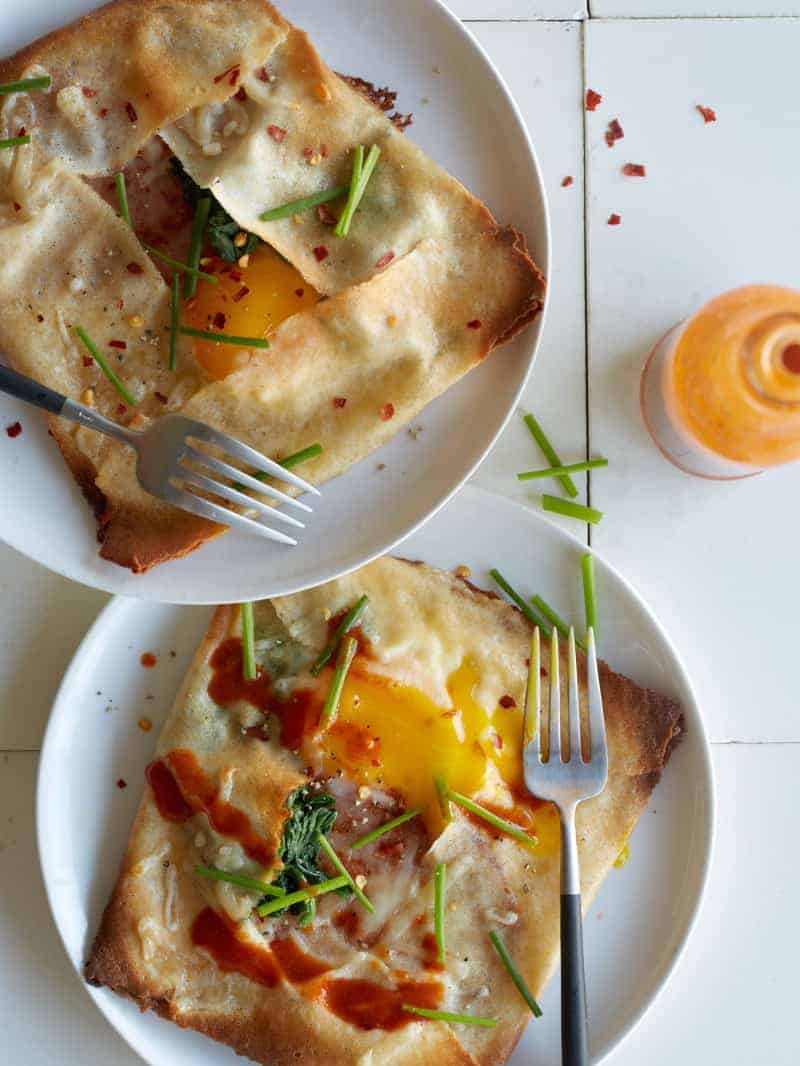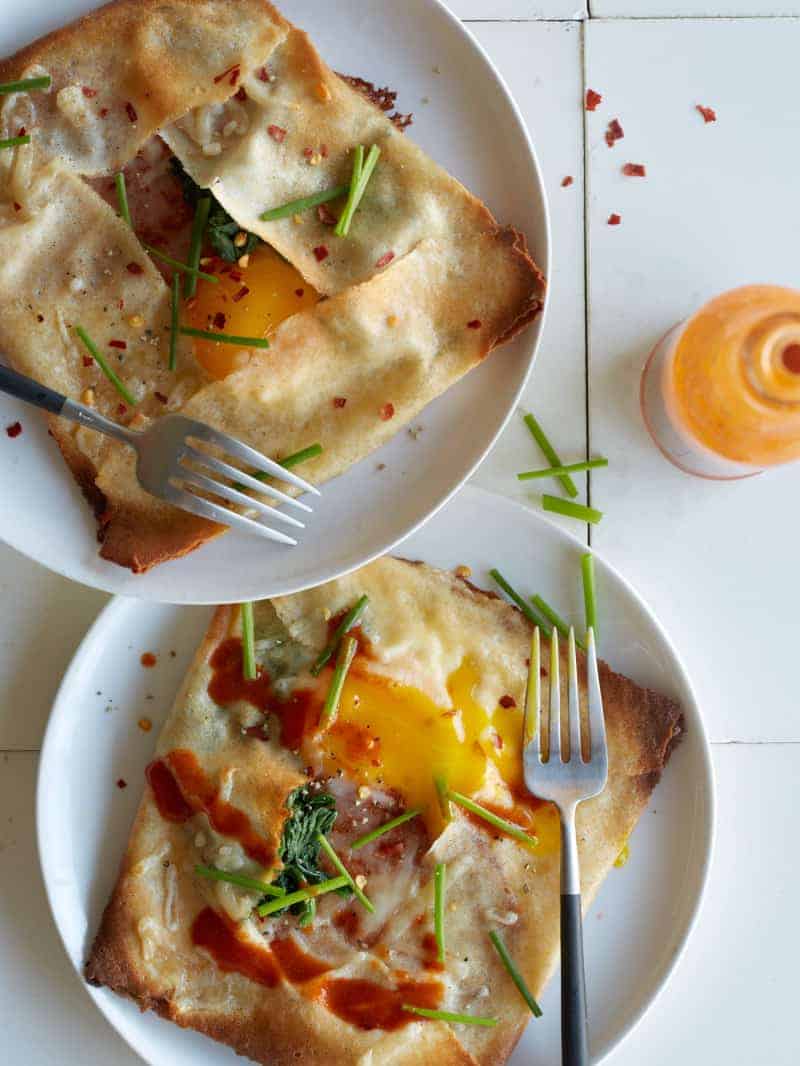 My love for breakfast foods, particularly eggs knows no bounds…but seriously, it doesn't. There are just so many different things you can do with eggs and especially in the breakfast arena. Today we have Ham, Spinach and Swiss Stuffed Crepes. I love these big pockets of savory, breakfast-y goodness, that you can really enjoy anytime of the day. If I'm having this for lunch or dinner, I'll usually throw a simple mixed green salad on top to bulk it up just a little bit.
This recipe might have multiple components, but it's actually pretty easy to to put together, especially if you start some of the prep the evening before. You can blend up the batter ahead of time, as well as get the spinach steamed, the ham sliced, and the cheese grated (if you're using a block). You can even fully make the crepes head of time with sheets of parchment in-between, tightly wrapped in plastic wrap and stored in the refrigerator; so when you're ready to make the dish you only need to assemble the stuffed crepes and bake them. Enjoy! xx, Jenny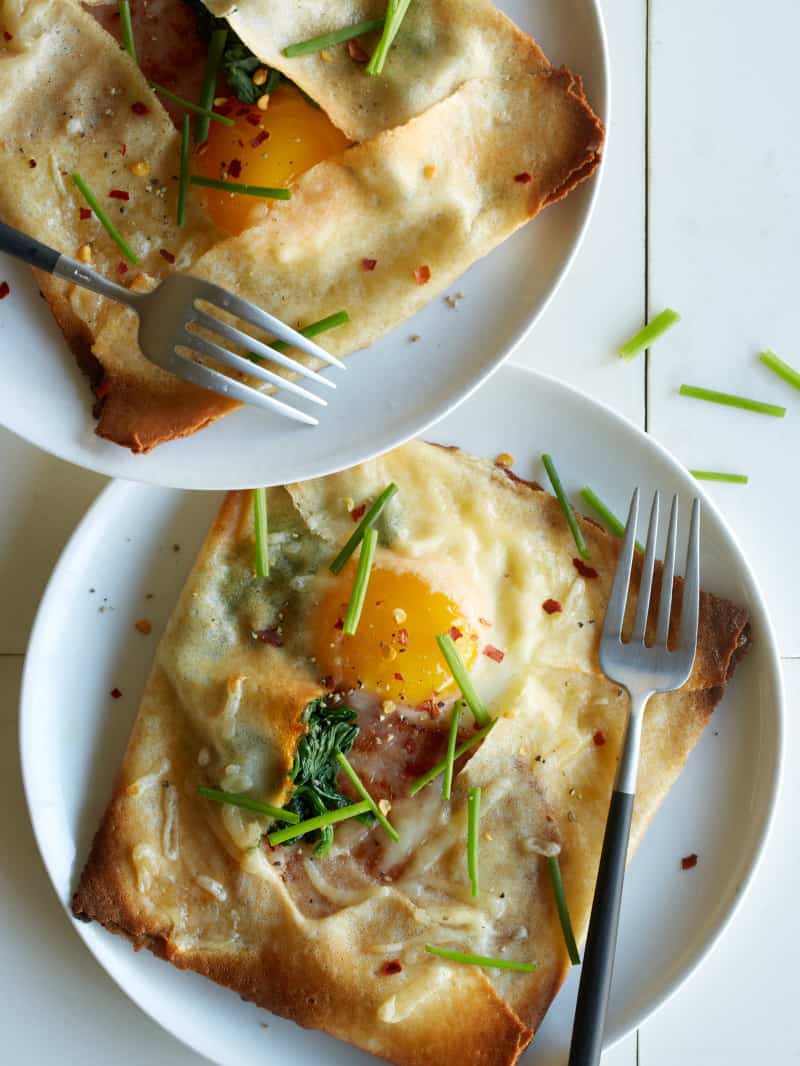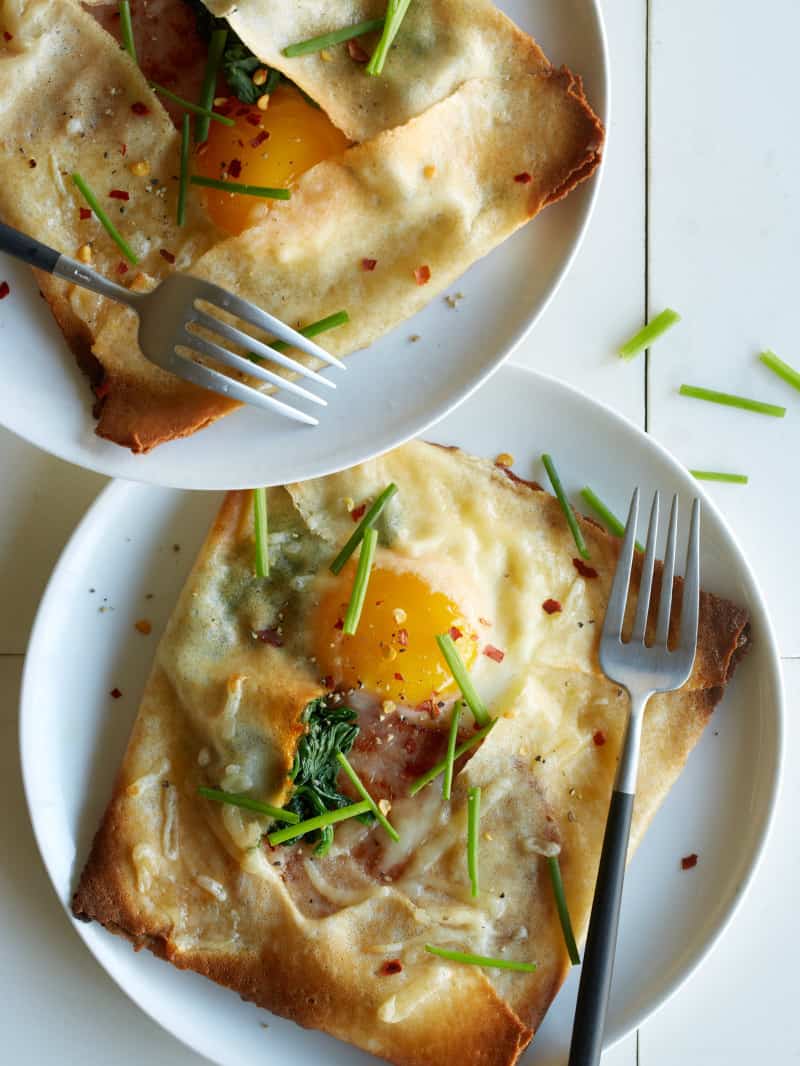 Hungry for more?
Subscribe to never miss a recipe.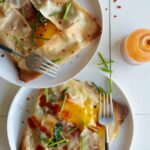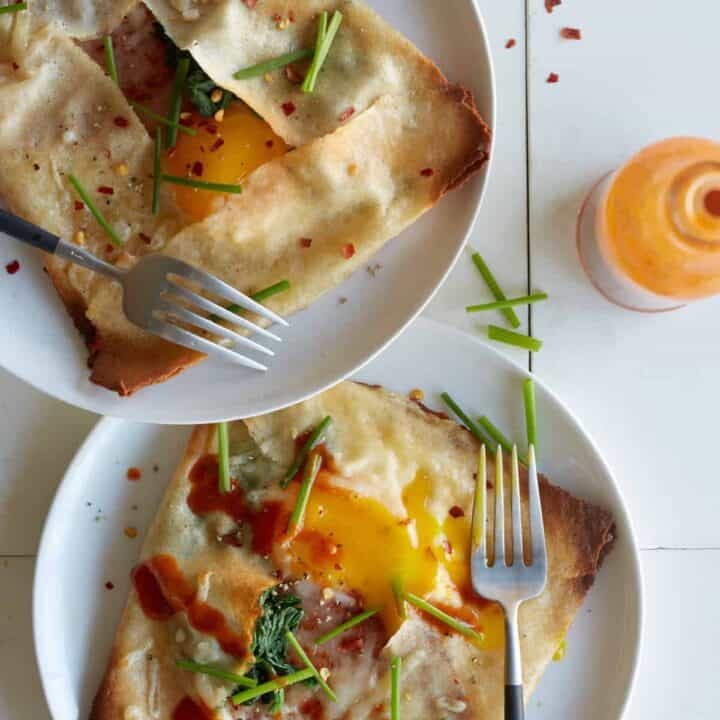 ---
Ham, Spinach and Swiss Stuffed Breakfast Crepes
INGREDIENTS
crepe batter
⅓

cup

all purpose flour

⅔

cup

whole milk

½

teaspoon

salt

3

large room temperature eggs, lightly beaten

4

tablespoons

melted butter, plus more for cooking the crepes
filling
2

cups

shredded Swiss cheese

1

cup

packed steamed spinach, excess water squeezed out

8

ounces

ham, thinly sliced

4

medium eggs, cracked into individual ramekins

sliced chives for garinsh
INSTRUCTIONS
For crepes: Place all the ingredients into a blender and blend until smooth. Refrigerate mixture for at least 1 hour and up to 24 hours. Place a large nonstick pan over medium heat and melt 2 teaspoons butter. Pour ⅓ cup of the crepe mixture into the pan and swirl to create an even, thin coat. Allow the crepe to cook for 2 to 3 minutes or until the edges just begin to brown. Lift the crepe from the pan with a spatula and transfer to a plate. Cover with parchment paper to avoid drying out. Repeat process at least 3 more times, for a total of 4 crepes.

To assemble: Preheat oven to 350˚F. Lightly brush the bottom of a sheet pan with melted butter and top wit crepes.

Sprinkle ¼ cup shredded cheese into the center of each crepe. Top each crepe with ¼ cup packed spinach and 2 ounces ham and top with ¼ cup of the remaining cheese.

Create a small well in the center of each crepe and carefully drop an egg into each well.

Gently fold the sides of each crepe inward, leaving part of the egg and other filling ingredients exposed. Lightly season with salt and pepper and brush some melted butter on the folded crepe sides.

Place the stuffed crepes into the oven and bake for 10 to 12 minutes or until the cheese melts, crepes crisp up and the egg whites cook through (with the yolk remaining runny).

Top each crepe with a sprinkle of sliced chives and serve.
Calories:
618
kcal
Carbohydrates:
14
g
Protein:
39
g
Fat:
45
g
Saturated Fat:
23
g
Cholesterol:
405
mg
Sodium:
1300
mg
Potassium:
417
mg
Fiber:
1
g
Sugar:
3
g
Vitamin A:
1983
IU
Vitamin C:
2
mg
Calcium:
531
mg
Iron:
3
mg