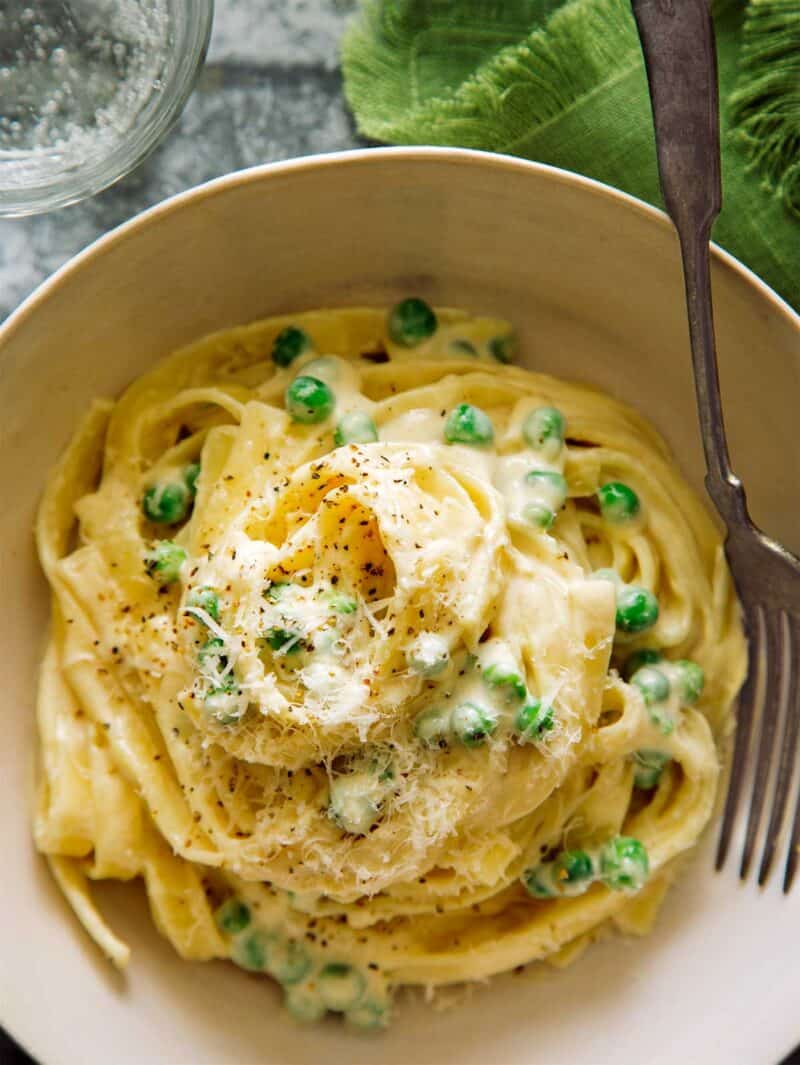 Admittedly the first time I had fettuccine alfredo was when I was in high school. I know, crazy right? I grew up in a Korean household, eating primarily Korean foods. When we did have pasta at home, it was usually spaghetti with jarred sauce and the sprinkle parmesan from a can. True story. When I did finally try fettuccine alfredo, I was hooked. I was in love with the simple, silky, creamy sauce. We have a really easy version with a slight twist today, our Browned Butter Fettuccine Alfredo recipe. This recipe is so good and the added nutty flavor from the browned butter is to die for!
What is browned butter?
Browned butter is when you cook unsalted butter long enough to toast and brown the milk solids in the butter. The water content is also cooked out of the butter. The result is a rich and nutty, more intensely flavored butter and it's goooood!
What are the ingredients in Browned Butter Fettuccine Alfredo sauce?
unsalted butter – this is where all the flavor starts and how the sauce develops
minced garlic – the minced garlic acts as the aromatic in this sauce
heavy cream – the higher fat content in heavy cream vs milk helps to stabilize the overall sauce, resulting in a silky smooth finish
grated Parmesan – the Parmesan cheese helps to thicken and bring the sauce together
peas – this ingredient is totally optional, but I love the bright pops of flavor it adds to the dish
salt and pepper – duh, because we always need to be seasoning our dishes!
How do you make Browned Butter Fettuccine Alfredo?
First you want to make sure to cook your fettuccine until al dente, so it's ready to toss into the sauce.
Next, you brown the butter by allowing the butter to slowly melt and simmer in a large skillet. You want to take your time doing this to make sure your butter doesn't burn.
Once the milk solid bits begin to brown and you smell a toasty and nutty aroma, add the garlic and cook for just a couple minutes.
Next you want to stir in and simmer your cream until it has reduced by about a third. This will help the sauce thicken when the cheese is added and have a really nice consistency that the noodles can hold onto.
Once the cream had reduced it's important to add the cheese in small increments to really allow the cheese to evenly melt together, creating a very smooth and creamy sauce.
If you're using peas this is the time to stir them into the sauce.
The cooked fettuccine is then tossed into the browned butter alfredo sauce until everything is evenly coated. So simple!!
We use dry fettuccine for this fettuccine alfredo recipe, but if you want to tackle making fresh, homemade pasta, we have a recipe for that here! Enjoy! xx, Jenny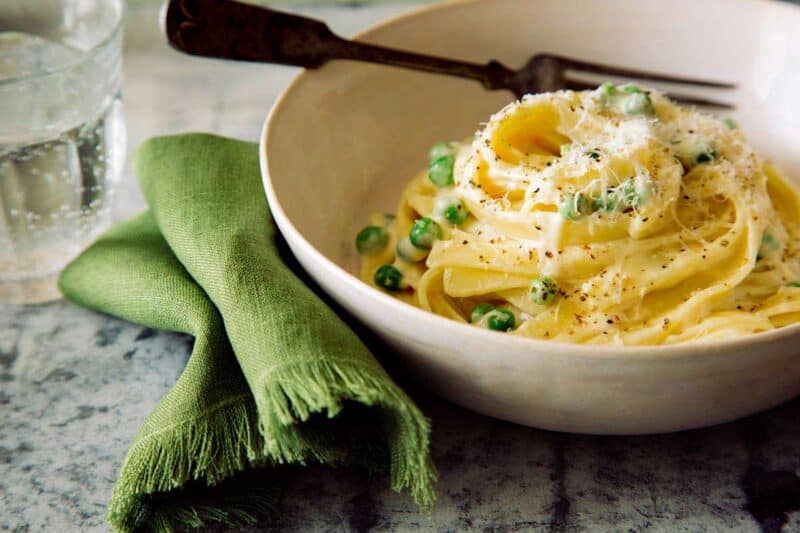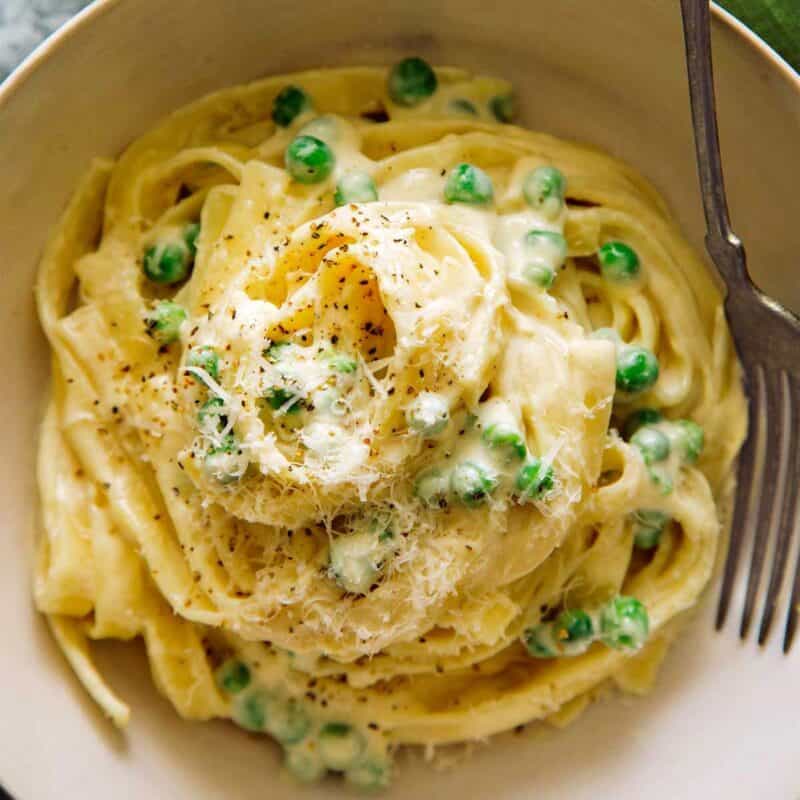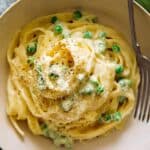 ---
Browned Butter Fettuccine Alfredo recipe
Our Browned Butter Fettuccine Alfredo recipe has an easy twist that makes this recipe to die for . We took a classic recipe for creamy fettuccine Alfredo and added a savory nutty flavor with our version of Browned Butter Fettuccine Alfredo!
INGREDIENTS
1

pound

dry fettuccine

6

tbsp

unsalted butter

2

thinly sliced garlic cloves

2

cups

heavy cream

4

ounces

grated Parmesan

(3/4 cup)

1/2

cup

frozen peas, thawed

salt and cracked black pepper to taste
INSTRUCTIONS
Fill a large pot with water and place over high heat. Once water comes to a boil, add pasta and a small handful of salt.

Boil pasta, stirring occasionally until al dente, about 7 minutes. Drain and toss with a small drizzle of extra virgin olive oil. Set aside.

Place a large skillet over medium heat and melt butter. Continue to cook butter until browned and a nutty flavor comes through, 4 to 5 minutes.

Add garlic and cream and increase heat to medium-high to bring to a boil. Lower heat and simmer until mixture reduces by 1/3, 5 to 7 minutes. Season with salt and pepper.

Slowly whisk gratedParmesan into the cream mixture until fully incorporated and smooth. Continue to simmer sauce for 2 to 3 minutes or until thick enough to coat the back of a wooden spoon.

Stir in peas and remove from heat. Toss fettuccine into the browned butter alfredo sauce until completely coated. Adjust seasonings. Top with extra grated Parmesan if desired and serve.
Serving:
1
g
Calories:
910
kcal
Carbohydrates:
71
g
Protein:
25
g
Fat:
60
g
Saturated Fat:
36
g
Cholesterol:
263
mg
Sodium:
405
mg
Potassium:
356
mg
Fiber:
4
g
Sugar:
3
g
Vitamin A:
2189
IU
Vitamin C:
7
mg
Calcium:
355
mg
Iron:
2
mg
KEYWORD:
alfredo, browned butter, fettuccine, pasta,
COURSE:
dinner, Main Course