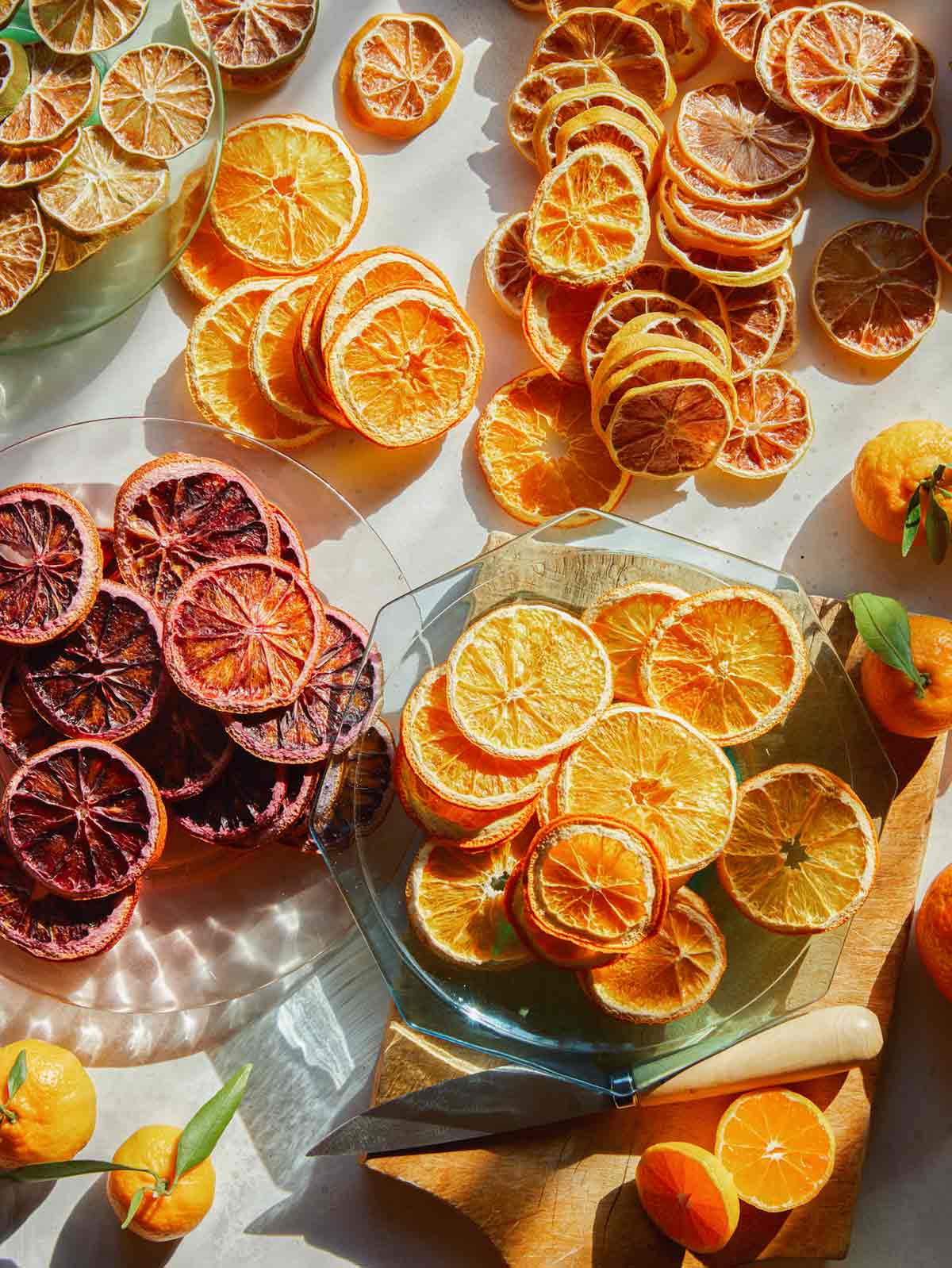 So I'm really excited about our post today because it's dehydrated citrus wheels! I love when winter rolls around and we're able to enjoy all the fun seasonal citrus. I specifically get really excited for tangerines, blood oranges and Meyer lemons. Although the process can be a little tedious because of the time, dehydrating citrus wheels such an easy thing to do with beautiful results and lots of great uses. You can use your dehydrated citrus wheels to flavor a simple hot tea, chopped up and added to soups/stews, pureed into a powder and mixed with herbs and spices to create a custom rub for meats and seafood, or you can even mix it with other whole spices like cinnamon sticks and star anise for a fragrant and homemade potpourri.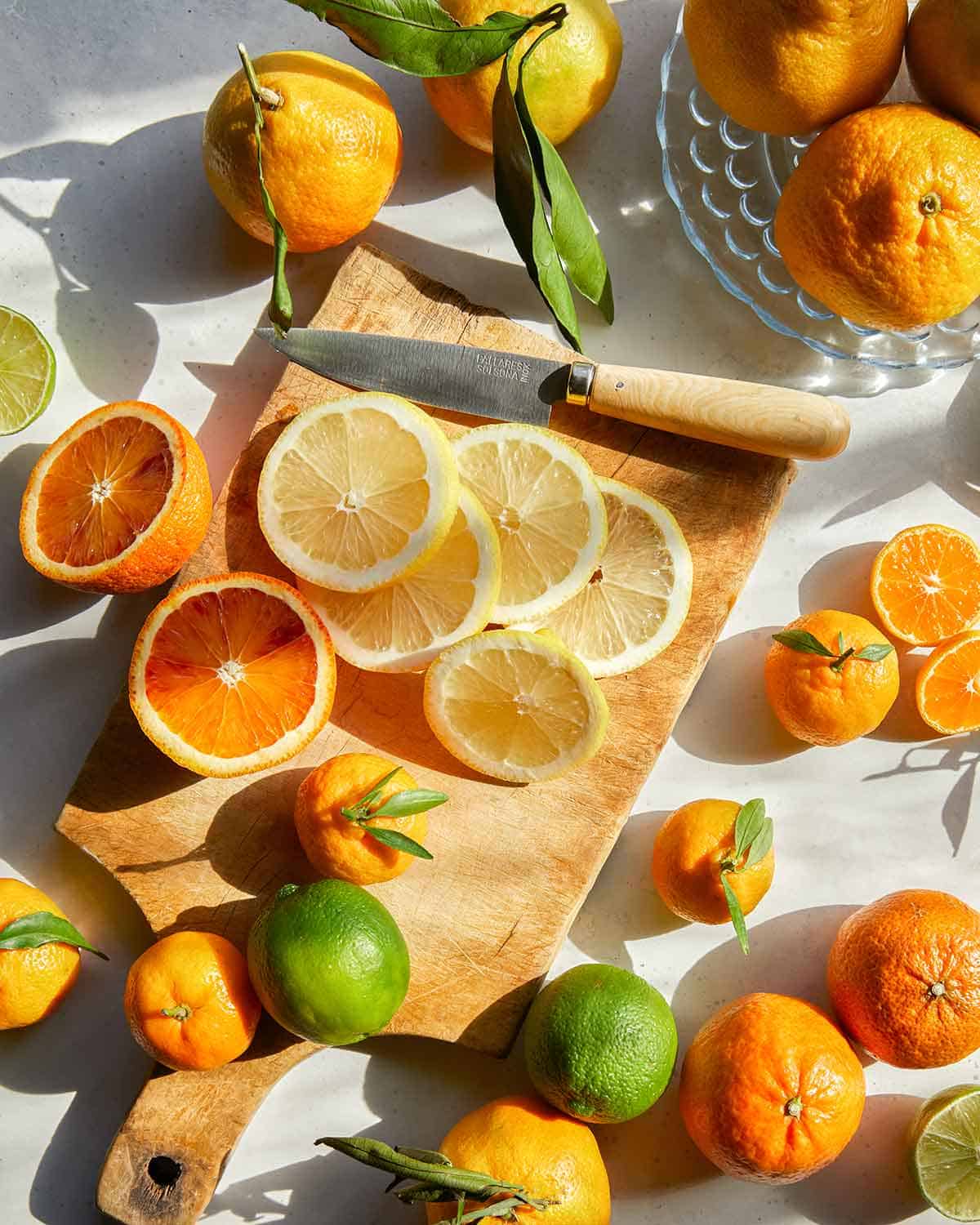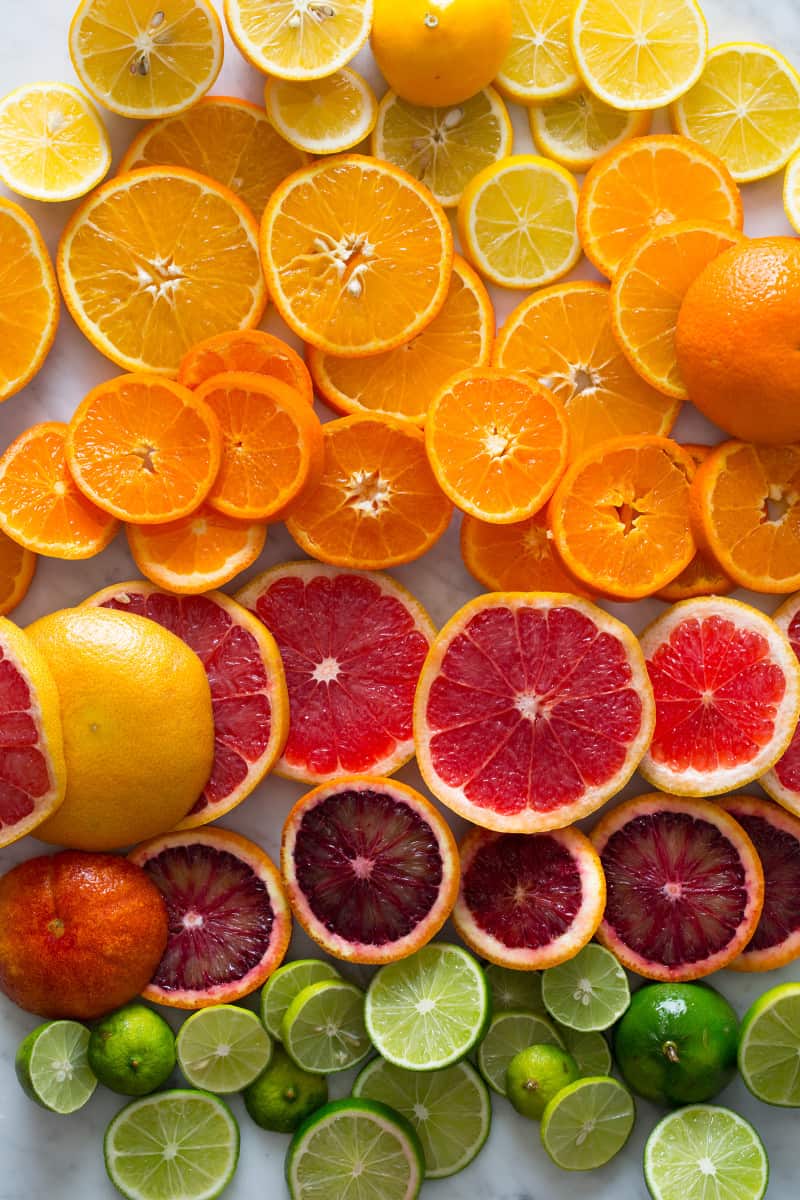 Ways to use Dehydrated Citrus
There are tons of fun and unique ways to use your dehydrated citrus. Here are just a few ways we use them frequently:
Cocktail Garnish – You can grind up the dehydrated citrus wheels in a spice mill to create a powder. Mix with some sugar or salt and you have a very delicious and beautiful rimming sugar or salt for cocktails. You can also simply float a wheel in the top of any drink.
Make a Garland – String a bunch of citrus together to create a fragrant and beautiful garland. I love making them to hand above the window over my sink in the kitchen.
Add them to tea for a little citrus essence.
Baked Goods Toppings – use as a pretty topping to any cake, or cupcake.
Use with Chocolate – Melt some chocolate and spread into a layer, and use these wheels whole or wheels broken into pieces to gently layer the top. Then let the chocolate cool, and break into pieces.
Dehydrating Citrus in the Oven
Using your oven to dehydrate citrus is a great option because you probably have everything you already need – like a baking sheet with an oven safe cooling rack that fits into it. This set of two is baking sheets with racks are great and affordable. You will have to be available to turn the citrus every two hours or so in order to make sure they get properly dried out.
Using a dehydrator, you do not have to be as attentive. Dehydrators are designed to be more set it and forget it.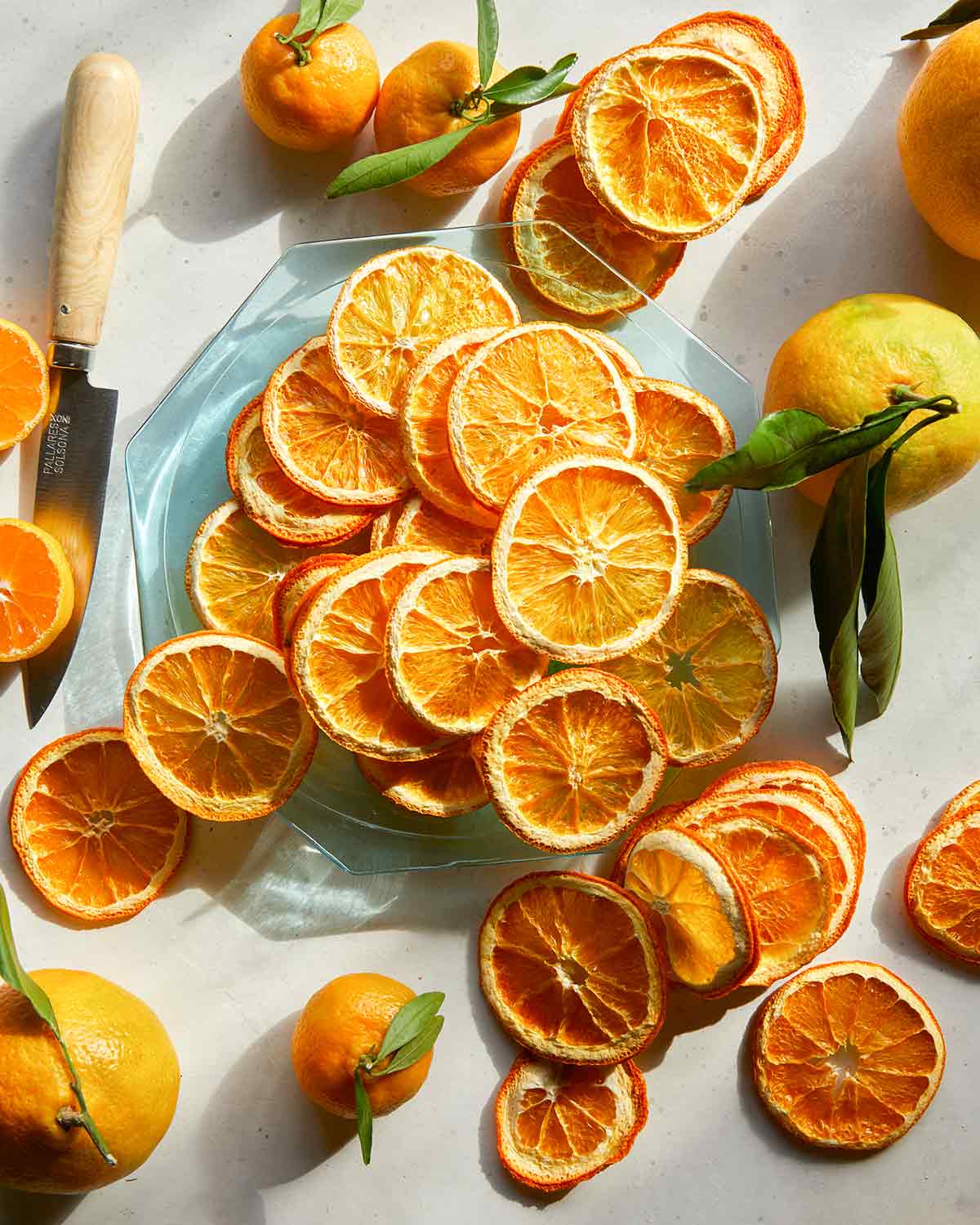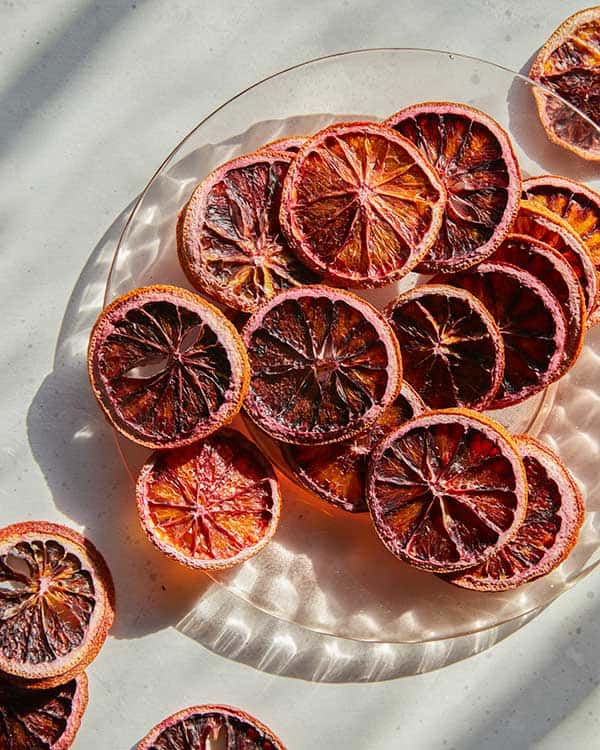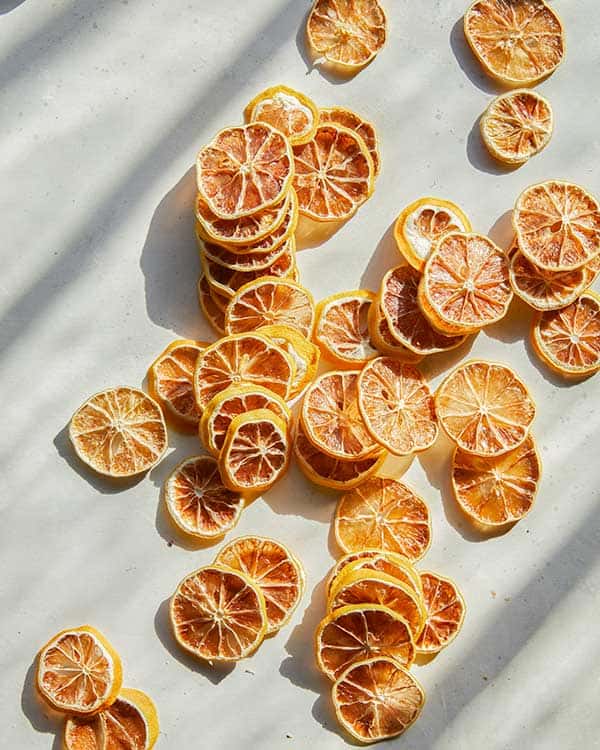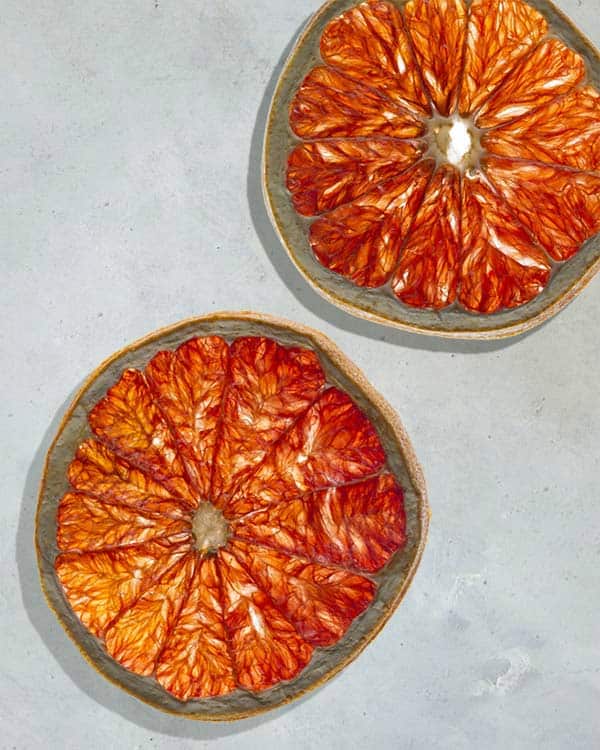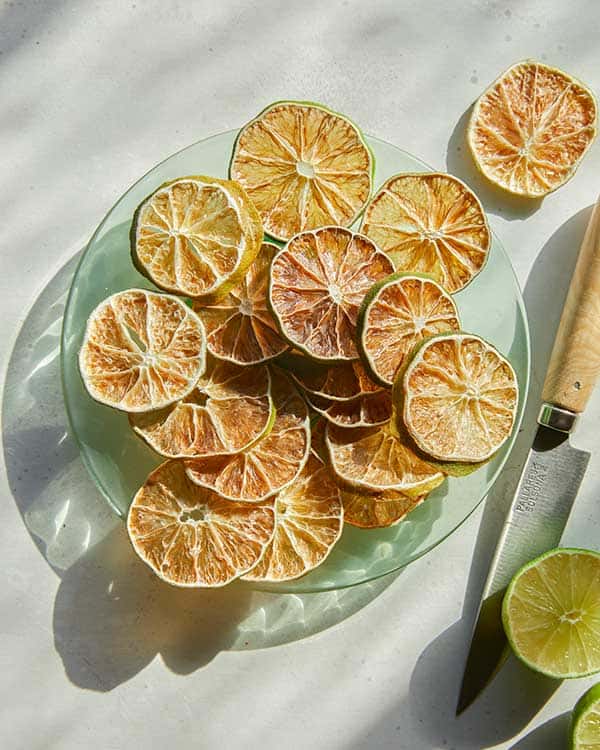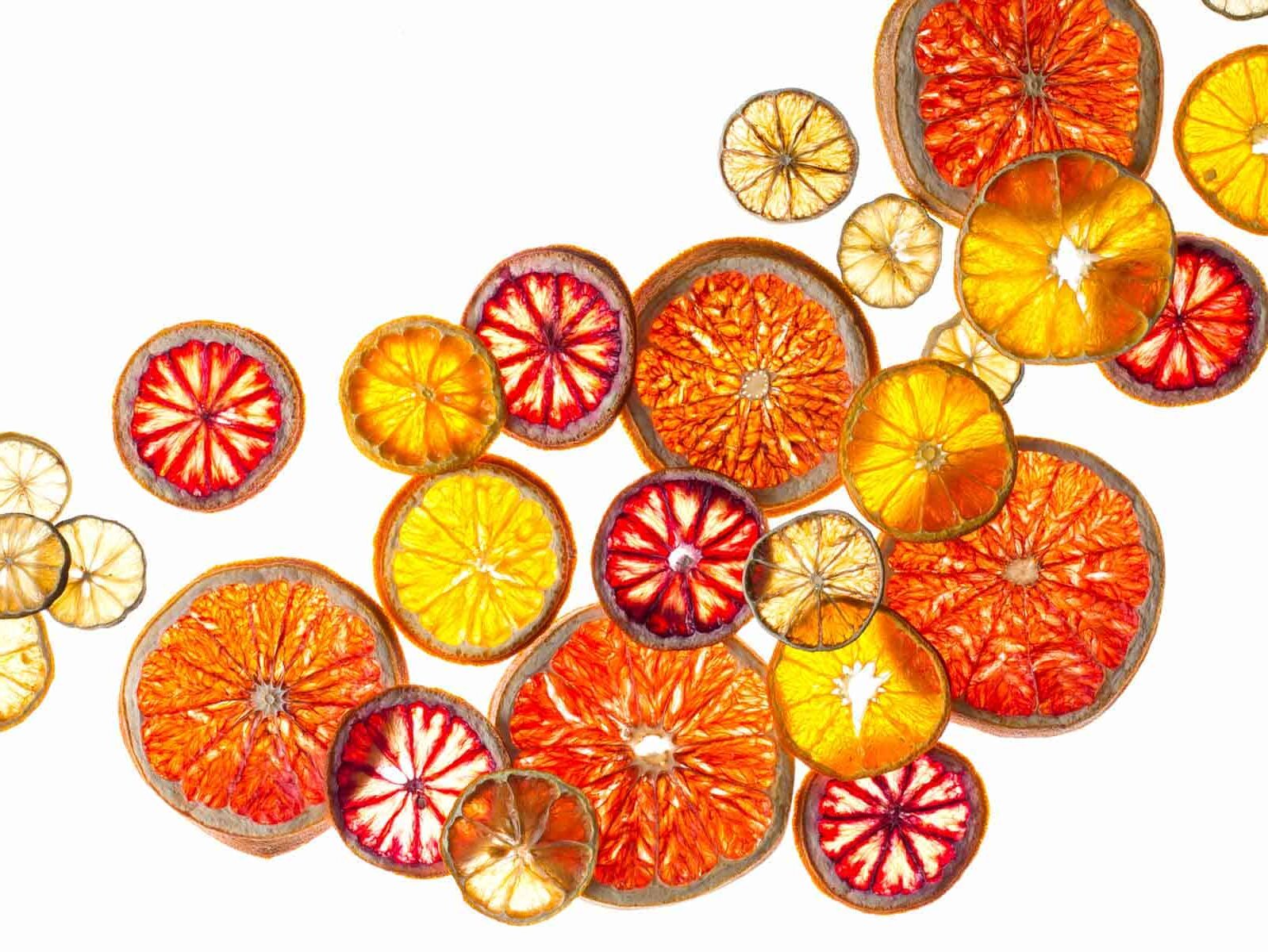 FAQs
How long do the dehydrated citrus wheels last for?
They can last up to 5 years if you ensure there is no moisture left. If there are any moisture left within the wheels they will mold. When you are dehydrating them in the oven be sure that you are doing it for long enough that no moisture remains. I like to press a paper towel into the wheels to see if any moisture remains.
How long does it take to Dehydrate Citrus?
It takes between 4 to 9 hours depending on the type of fruit, and how thick your slices are. Check out the timing we have put together in the how-to post below.
How can you tell when the citrus is done dehydrating?
When they are brittle to the touch. The citrus flesh will still be slightly tacky, but once they cool they will be brittle.
How do you store Dehydrated Citrus?
Store in an airtight container in a cool and dry place. Once you see that the color has faded significantly, that is a good time to throw them out and replace them.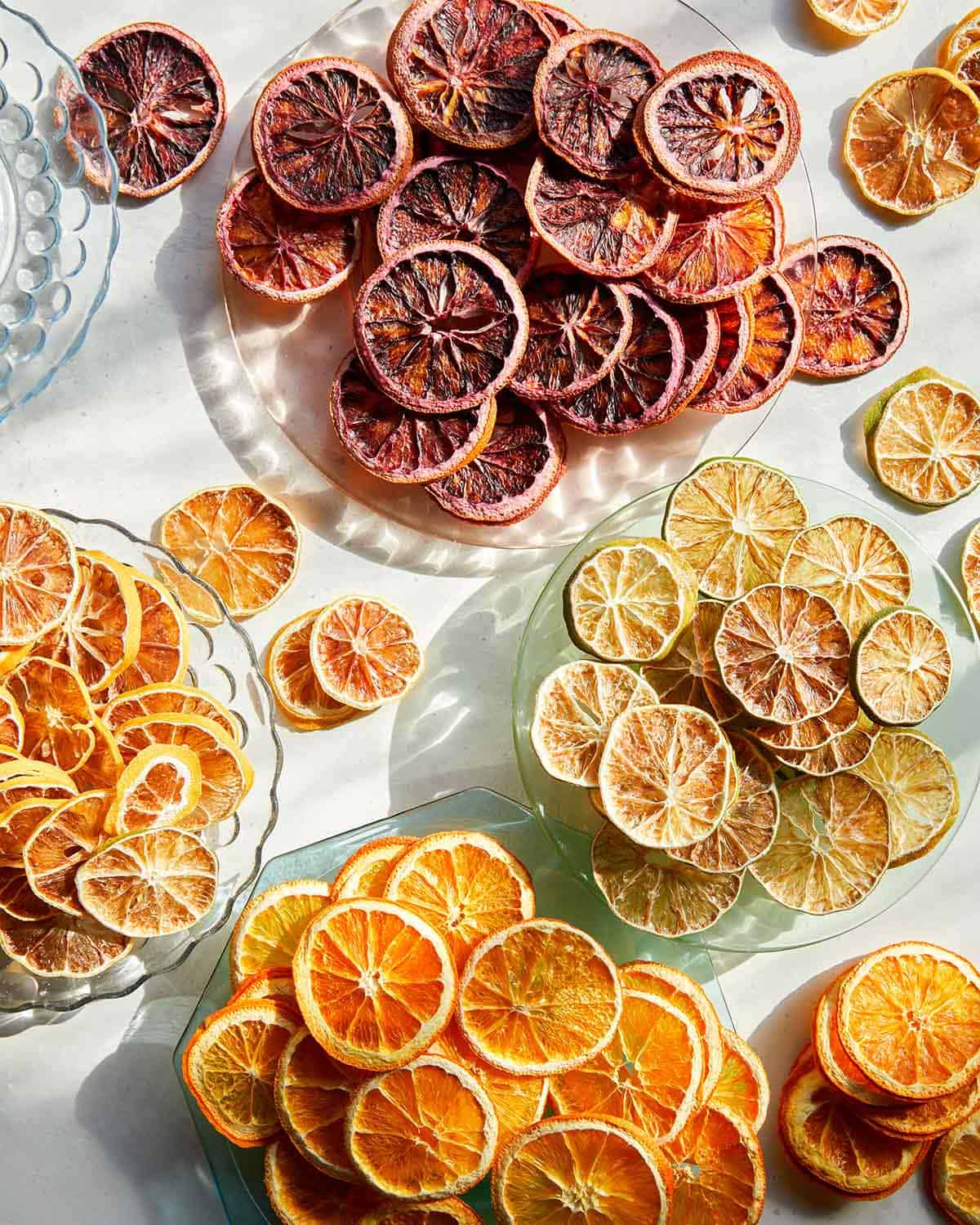 Dehydrating Citrus Tips and Tricks
Slicing: The sharper the knife the better, or use a serrated knife. I prefer to use a mandolin. The thinner your citrus wheels are the better they will dry out, and the shorter time they will take. It is important to make sure your knife or mandoline is sharp! You don't want to tear any of the citrus flesh as you are cutting them.
A dehydrator is also a great way to do many citrus slices at once. A typical dehydrator has many layers to make it easy to dehydrate in bulk. It's also a little less maintenance to use a dehydrator because you do not need to turn the citrus wheels frequently.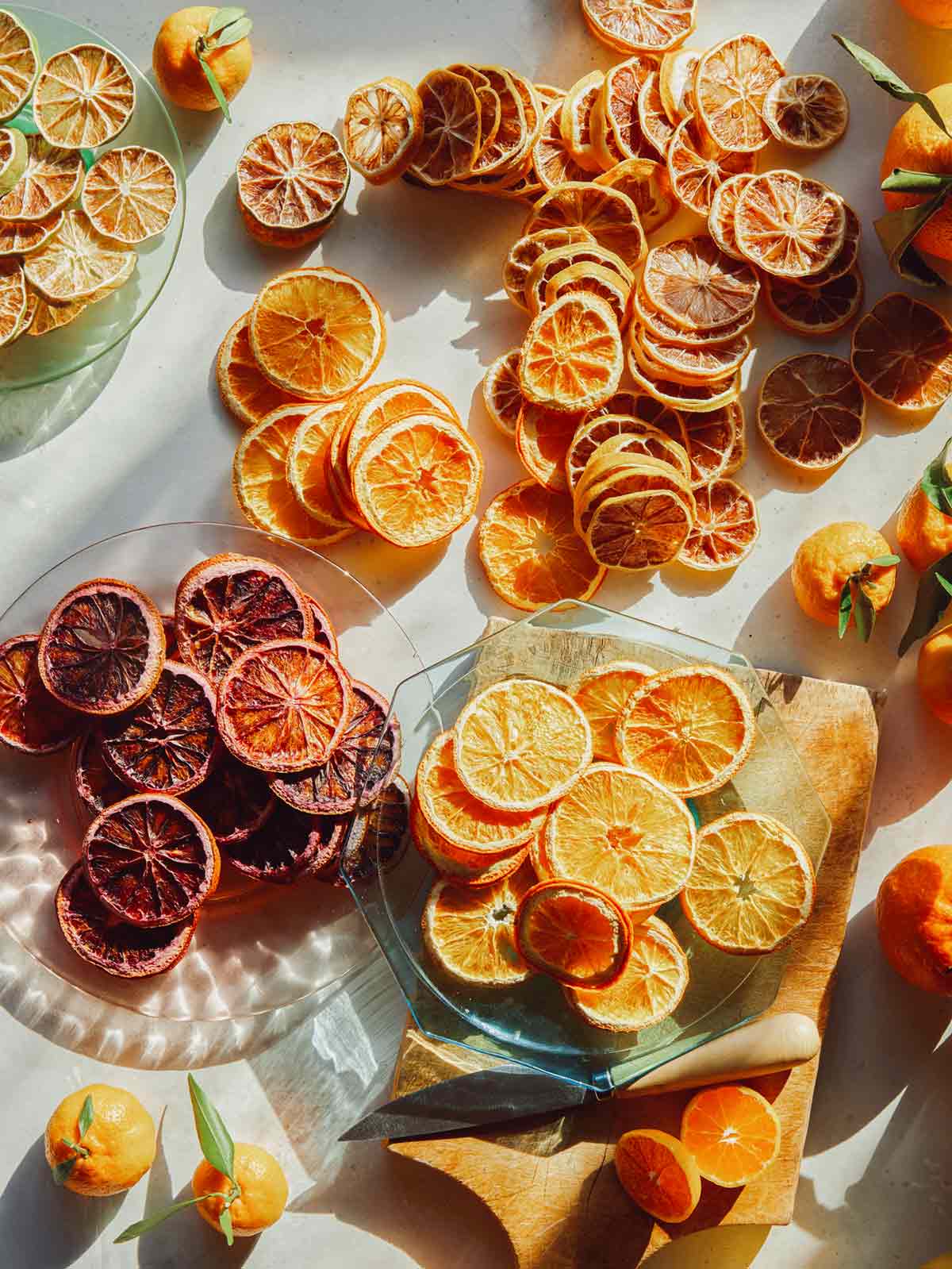 If you love citrus we much as we do – here are some recipes for that utilize citrus well!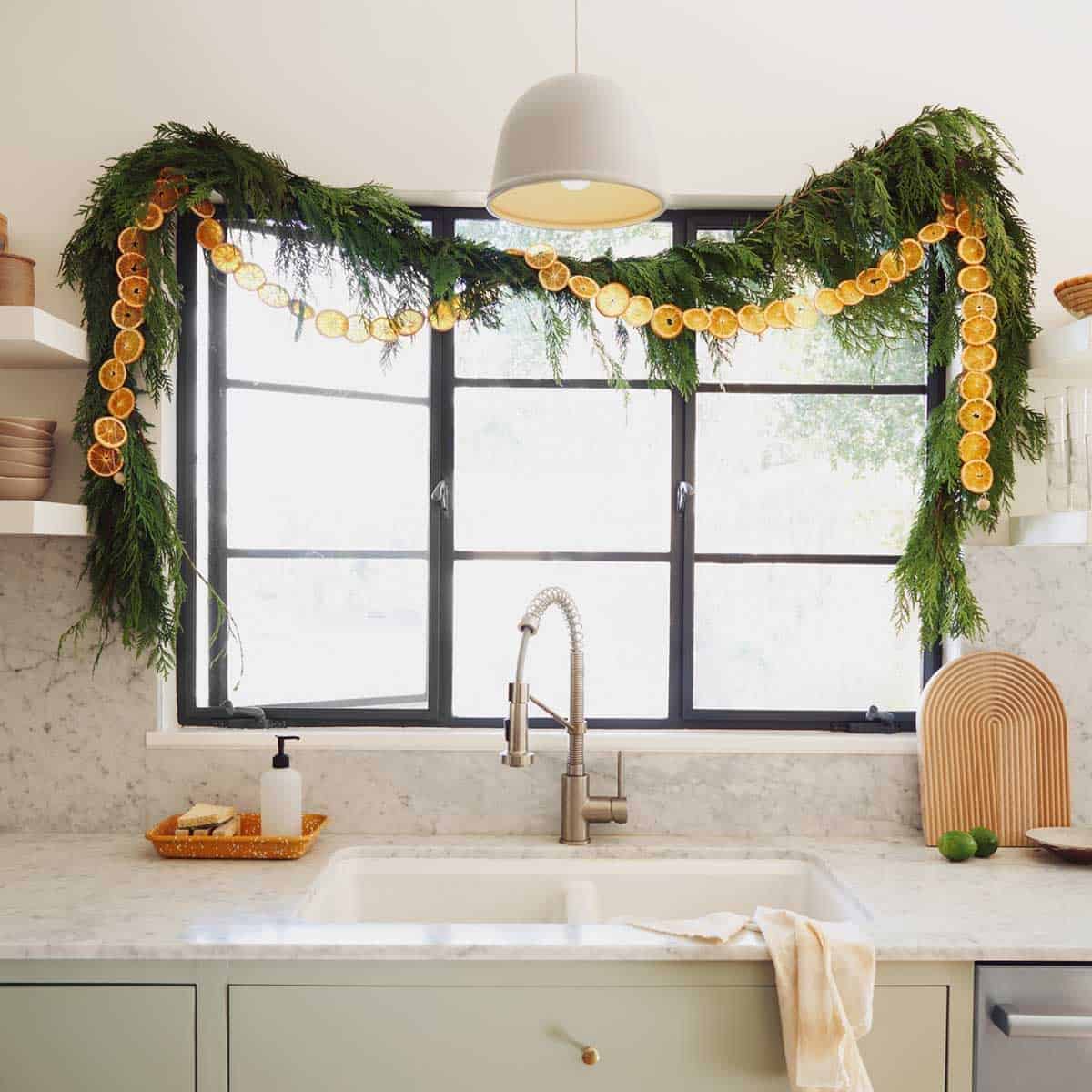 Check out our DIY for our Dehydrated Citrus Garland! It's super easy and looks stunning.
Hungry for more?
Subscribe to never miss a recipe.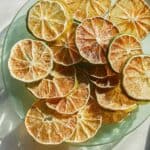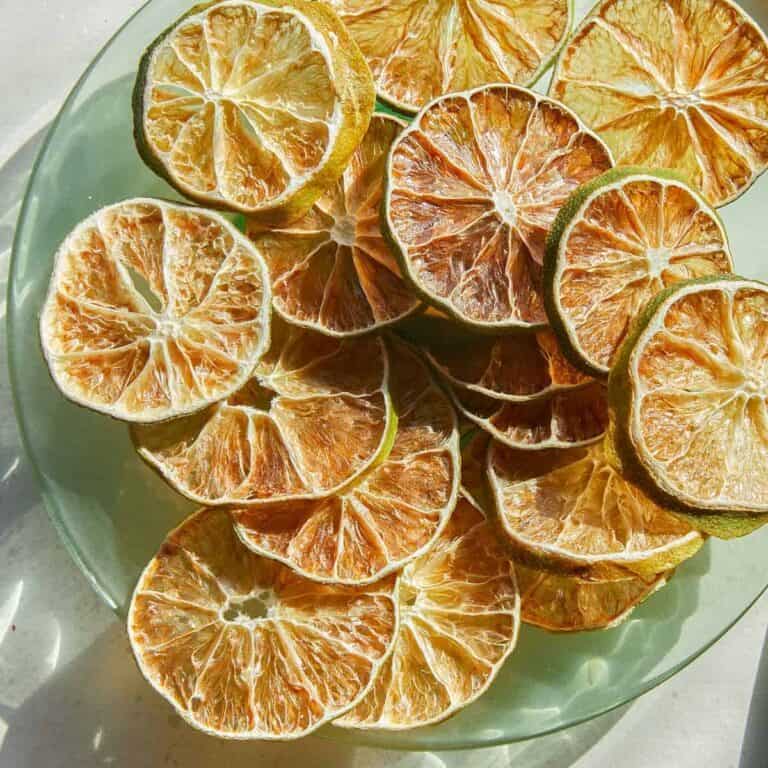 ---
Dehydrated Citrus Wheels
Make your own Dehydrated Citrus Wheels at home using your oven! They are really easy to make, and great to use with cocktails, garnishes, teas, and lots more.
EQUIPMENT
baking sheet

cooling rack

tongs
INGREDIENTS
tangerines

sliced into ¼" thick wheels

lemons or Meyer lemons

sliced into ¼" thick wheels

limes

sliced into ¼" thick wheels

key limes

sliced into ¼" thick wheels

blood oranges

sliced into ¼″ thick wheels

tangelos

sliced into ¼" thick wheels

grapefruits

sliced into ¼" thick wheels
INSTRUCTIONS
Preheat oven to 170˚F. Slice citrus to ¼" thick wheels.

In batches (each type of citrus at a time), arrange slices onto cooling racks and place each cooling rack onto a baking sheet. Place wheel into the oven and fully dehydrate.

Tangerines: 5 1/5 to 6 hours, rotating baking sheets every 2 hours

Lemons: 4 to 5 hours, rotating baking sheets every 2 hours

Limes: 4 to 5 hours, rotating baking sheets every 2 hours

Key Limes: 3 to 4 hours, rotating baking sheets every 1 1/2 hours

Blood Oranges: 6 to 7 hours, rotating baking sheets every 2 hours

Tangelos: 7 to 8 hours, rotating baking sheets every 3 hours

Grapefruits: 8 to 9 hours, rotating baking sheets every 3 hours

Wheels should be completely dry and slightly brittle to the touch. Remove from the oven and allow to cool completely. Store in a sealed container in a cool dry place.
KEYWORD:
citrus, dehydrated