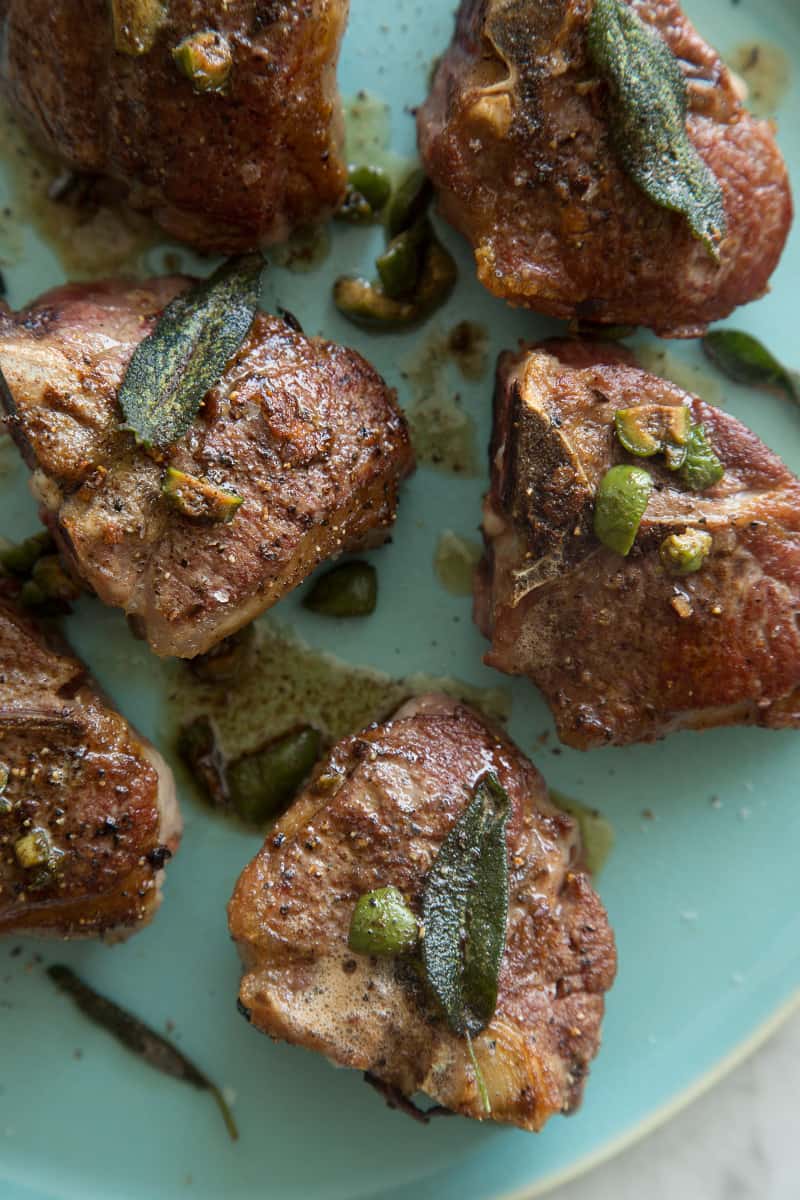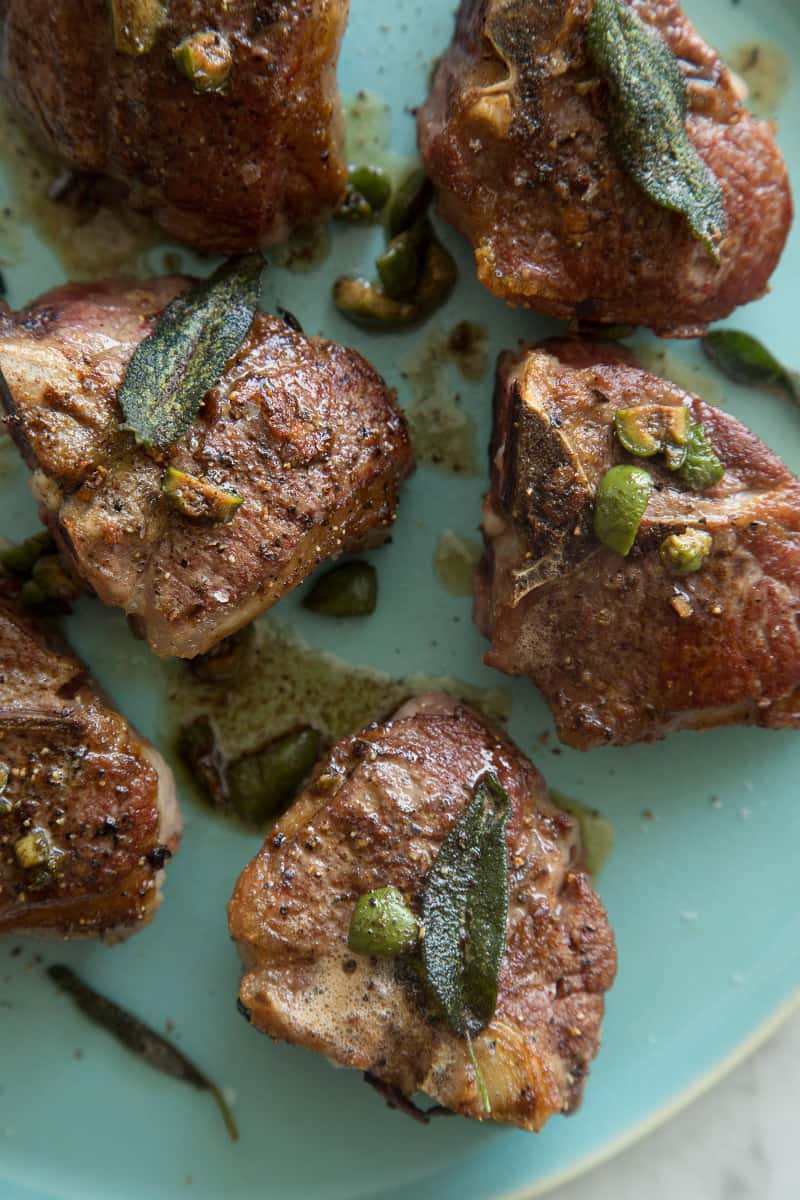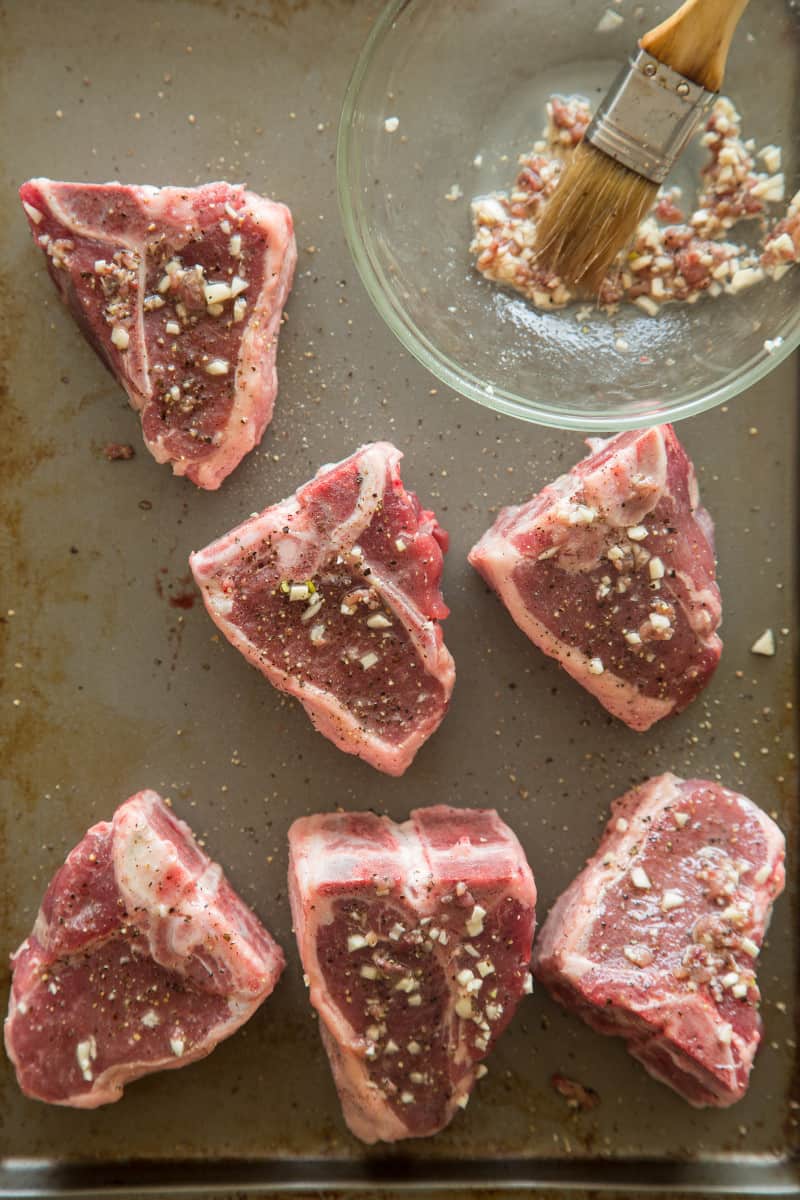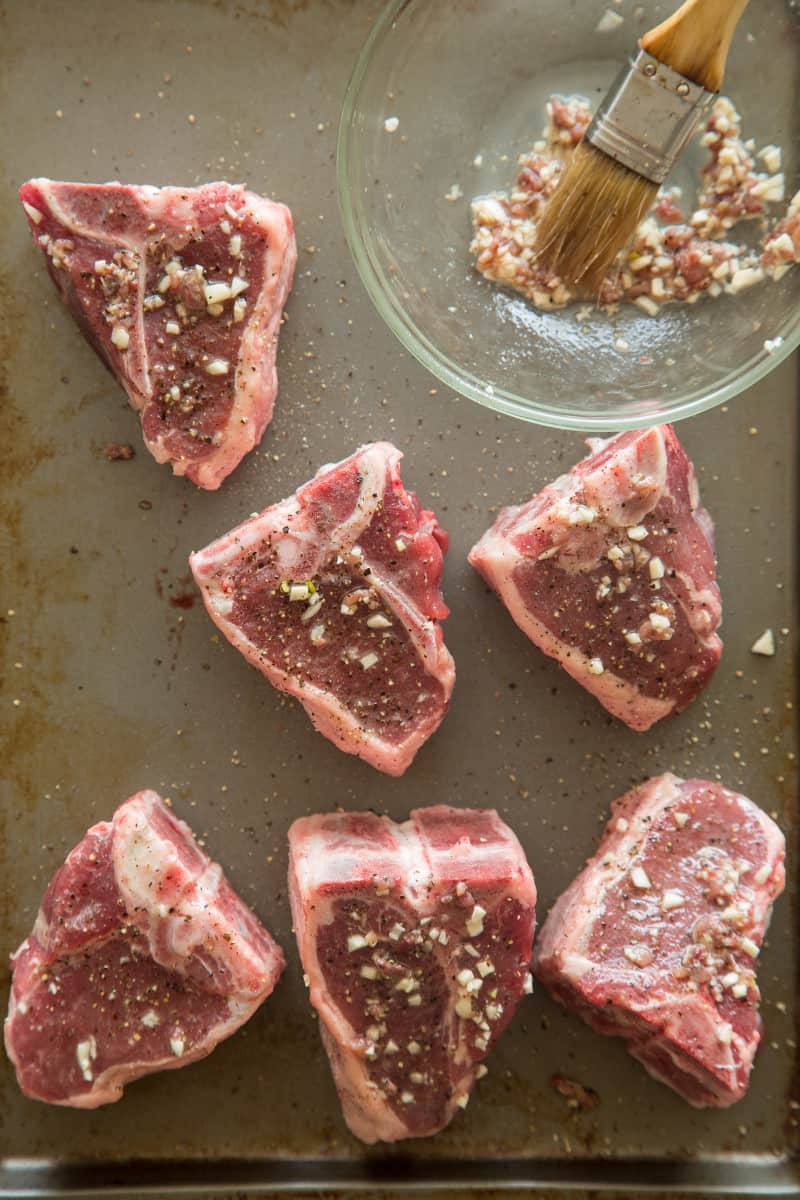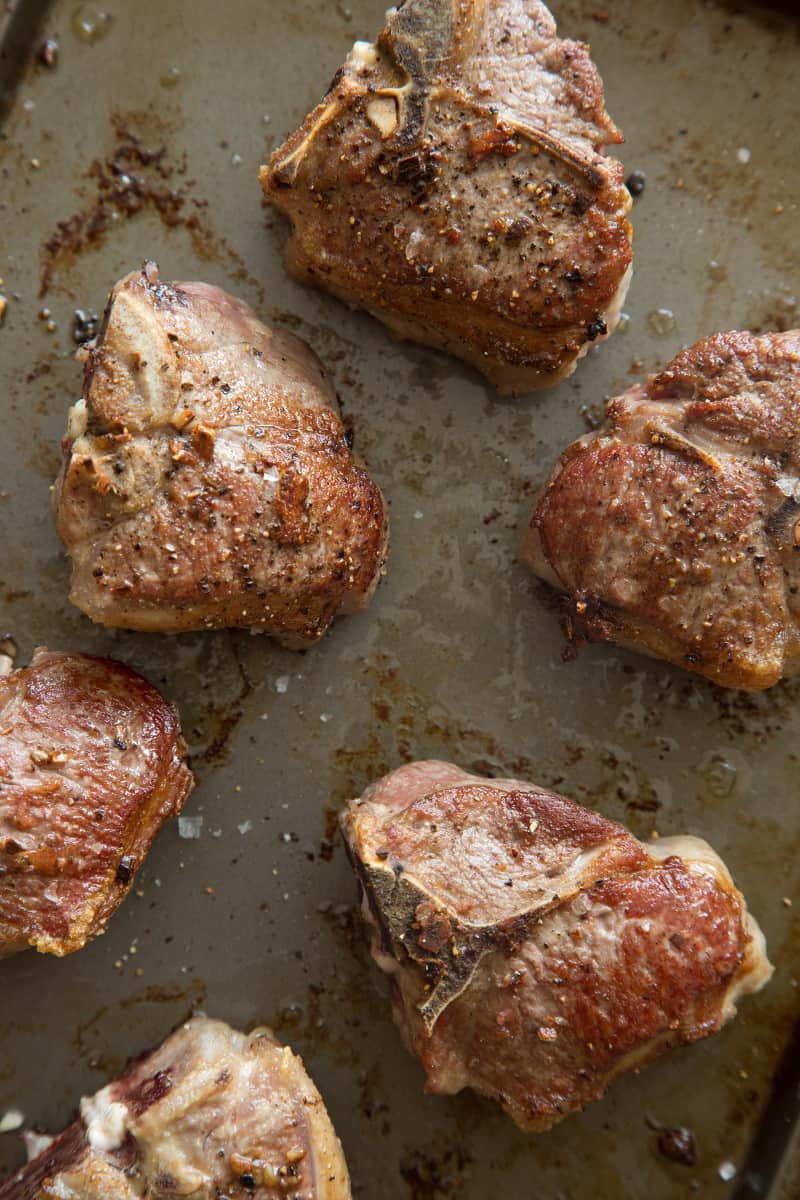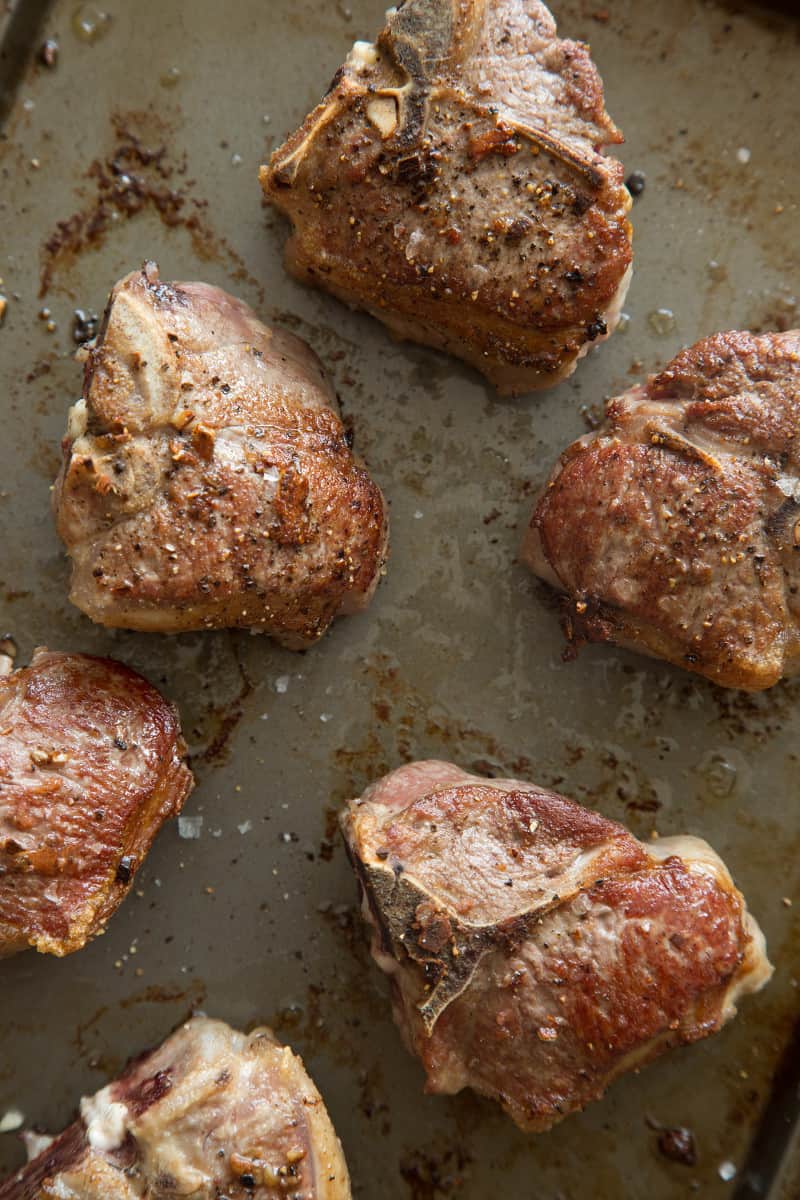 I think I talk about how I dislike going out to eat on Valentine's Day every year. I don't like how every menu suddenly becomes a prix-fixed meal. Boo to no choices. If the boyfriend and I do decide to go out for a Valentine's Day meal, we tend to go on the 13th or 15th, just to avoid the prix-fixed. We're freaks, we know. One of our favorite things to do on Valentine's Day is cook together. We love getting in the kitchen together with a bottle of wine (which for us really means me with a bottle of bubbles and him with his craft beers), splitting up tasks, and listening to weird podcast stories while we make a mess in the kitchen. It's perfection, really.
This year we're keeping things exciting, delicious and super simple. We're making these garlic-anchovy roasted lamb chops with…wait for it….a castelvetrano and sage browned butter sauce!! We love how easy it is to cook up lamb chops and the tremendous amount of flavor you get from them. I'm also a sucker for anchovies, and I especially love using them in sauces, vinaigrettes, rubs, etc. because you get a great briny flavor from them when they're used that way, that doesn't scream "fishy". The olive and sage browned butter sauce is to add a layer of decadence to the dish without filling your belly up too much, like a buttery mash of sorts would do. We love to serve this with a simple watercress or arugula salad because we like how the bitter greens cut through the richness of this lamb dish, creating quite a nice balance.
Enjoy!
xx, Jenny
Here are some other lamb recipes you might like: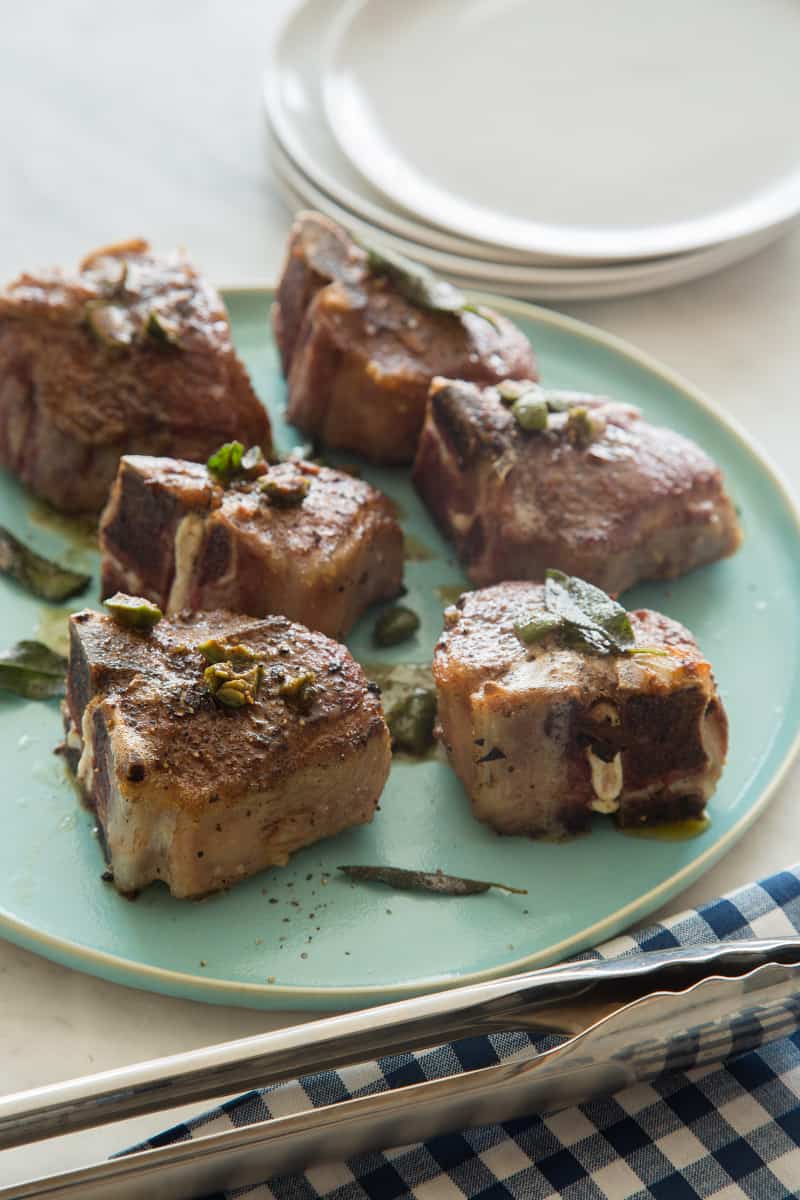 Hungry for more?
Subscribe to never miss a recipe.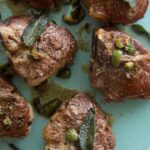 ---
Garlic and Anchovy Roasted Lamb Chops with a Castelvetrano + Sage Browned Butter Sauce
INGREDIENTS
3

garlic cloves, minced

2

anchovy fillets, minced

1

teaspoon

anchovy oil

½

teaspoon

cracked black pepper

6

American Lamb Chops, room temperature

2

tablespoons

extra virgin olive oil

¼

cup

(½ stick) unsalted butter

10

castelvetrano olives, pitted and chopped

8

fresh sage leaves

salt and pepper to taste
INSTRUCTIONS
Place garlic, anchovies, anchovy oil, and black pepper in a small bowl and whisk together.

Lightly season lamb chops with salt and pepper.

Brush garlic-anchovy mixture over each chop, on both sides.

Pour olive oil into a large sauté pan and place over medium-high heat.

Sear each chop in the pan for 2 to 3 minutes, on each side, and transfer to a roasting pan.

Roast lamb chops for about 13 to 15 minutes for medium-rare, and 15 to 18 minutes for medium doneness. Remove from the oven and allow chops to rest for 5 to 7 minutes.

Using the same pan you used to sear the chops, melt the butter over medium-low heat. Allow butter to cook for 6 to 8 minutes or until butter has melted and begins to foam and brown. Add olives and sage leaves and gently fry for 1 to 2 minutes. Remove mixture from the heat. Season with salt and pepper.

Transfer chops onto a serving dish/platter and pour butter sauce over chops. Serve immediately.
Serving:
1
serving
Calories:
414
kcal
Carbohydrates:
1
g
Protein:
42
g
Fat:
26
g
Saturated Fat:
10
g
Cholesterol:
150
mg
Sodium:
206
mg
Potassium:
542
mg
Fiber:
1
g
Sugar:
1
g
Vitamin A:
263
IU
Vitamin C:
1
mg
Calcium:
30
mg
Iron:
4
mg