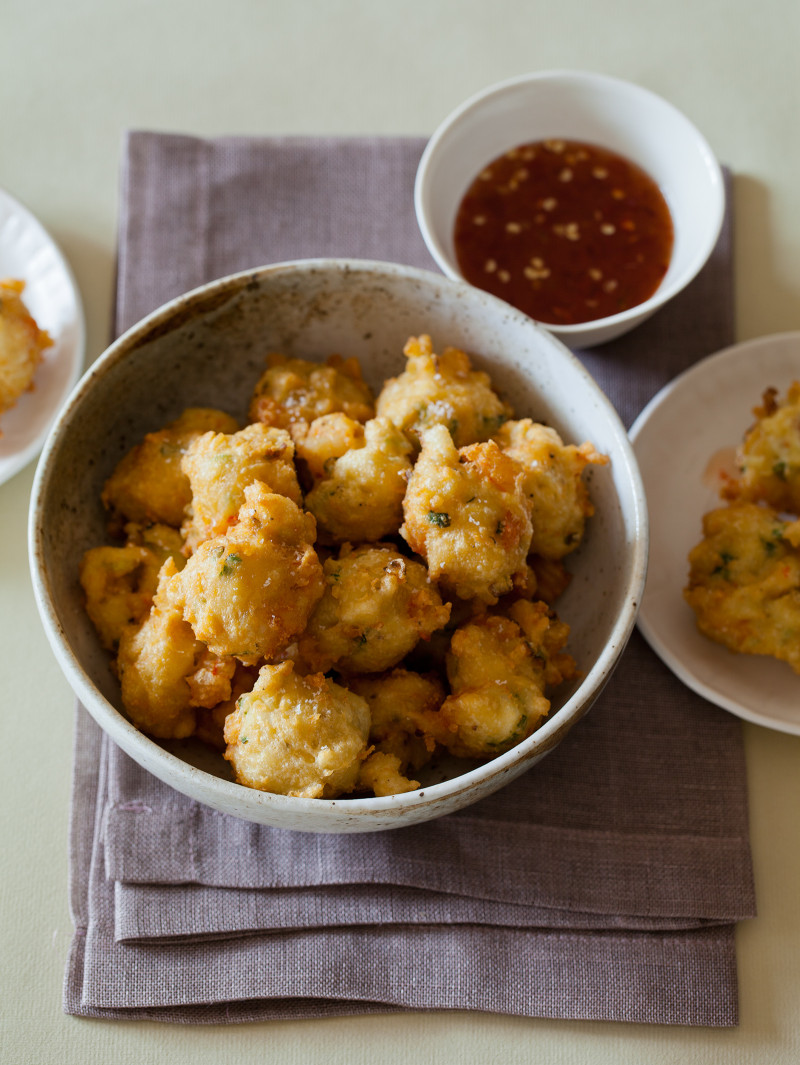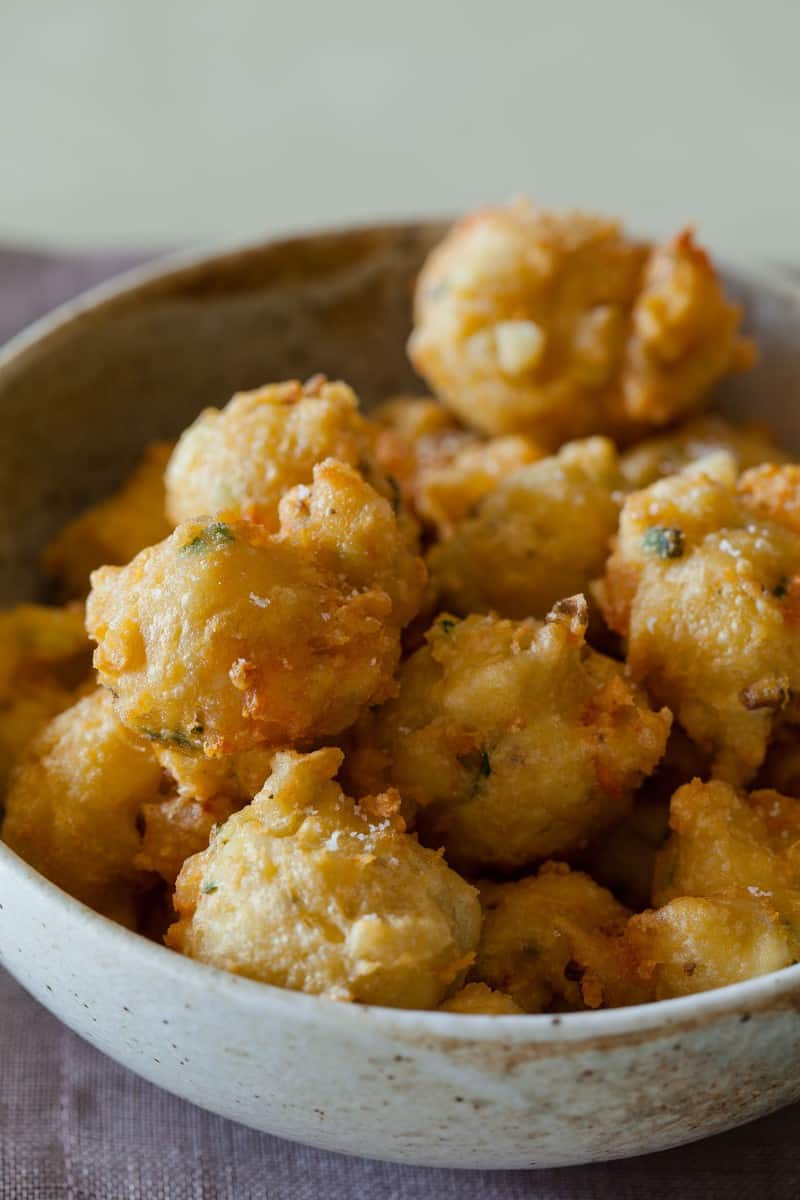 Hi All! Last year I went to the Bahamas to celebrate my sister's bachelorette weekend. There were about 9 of us ladies and we had a really great time. One of my favorite things about the about the trip was the fact that everywhere I turned there were Conch Fritters (one of my best memories on the trip involved food, go figure). When I first saw them I was skeptical, thinking that I would be biting into a mouthful of greasy, bready batter. Nope, not at all! They were light, crisp and filled with chopped conch (think humungous clam of sorts, in more of a "snaily" type shell). I think I had a fritter with every meal while I was there, super good!
Anyway, I made my own little version of these conch fritters, using shrimp because it's a lot more common and well, I love shrimp :) These fritters really are light and crisp on the outside and rich and savory on the inside. We've paired them with our spicy honey drizzle, which we've used before for our hush puppies…the super simple, sweet and spicy sauce goes really well with these bites. You should make them for your next cocktail party, game night or even just as a nice little snack anytime. Enjoy! xx, Jenny
---
Shrimp Fritters
Ingredients
¾

pound

raw tiger shrimp, peeled and cut into chunks

2

green onions, thinly sliced

2

garlic cloves, minced

1 ½

cups

water

1 ½

cups

all-purpose flour

1

tablespoon

unsalted butter

1

teaspoon

salt

½

teaspoon

black pepper

2

eggs

vegetable oil for frying
Instructions
Place shrimp, green onions and garlic into a large mixing bowl and toss together. Set Aside.

Pour water into medium pot and add butter and salt and bring to a boil.

Once mixture has come to a boil, add flour and quickly stir with a wooden spoon, until dough forms. Continue to stir over medium heat, for about 3 minutes.

Place dough into a stand mixer fixed with a paddle attachment and run on medium speed, allowing steam to escape.

Once most of the steam has disappeared add the egg, one at a time, scraping down the sides of the bowl after each addition.

Fold pepper into the pate a choux (the doughy/battery mixture).

Fold the shrimp mixture into the pate a choux until fully incorporated.

Once oil is hot, add tablespoon sized balls of the shrimp mixture into the oil (you'll have to do this in batches); make sure not to crowd the pan/fryer.

Fry each fritter for 4 to 6 minutes, flipping halfway if necessary. Drain on a paper towel and season lightly with salt. Serve immediately with spicy honey drizzle.