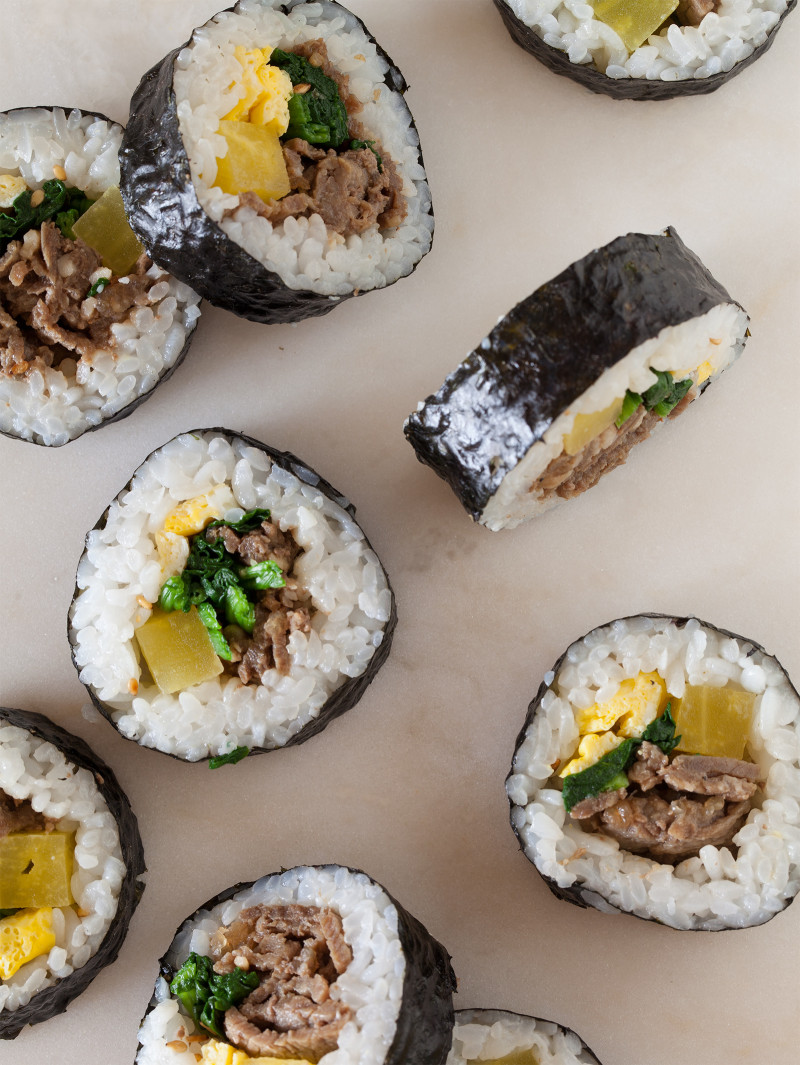 Hi All! It's Friday…yay! Well not really bc i'm working tomorrow, BUT I'm heading up to Carmel on Sunday for a few days with the bf and the pooch and I'm so excited! We're staying at a bed n' breakfast that serves fresh cookies everyday (the part my bf is most excited about), which is super cute. We're driving and not flying this time to take advantage of the scenic/ocean view route up PCH, which I'm only half excited about. Im sure the view will be great, but to me "road trips" usually mean lots of bathroom stops, unavoidable antsiness and constantly feeling like it's stuffy. There is a definite upside to this long drive though…I'm making kimbap for the ride!
Kimbap is basically korean-style sushi rolls with really no fish involved. It's pretty much a marinated beef, veg and rice roll with many many variations. This is just my favorite kind to make. I love love love kimbap…it's a great Korean snack that can really be eaten as a meal because it's so filling. If you don't want to go through the hassle of marinating meats and seasoning spinach etc just head to your local Korean market bc they usually have that stuff pre-marinated/seasoned for you, making this already easy recipe that much faster to put together! If you've never had kimbap, I urge you to make this, it's really quite a tasty little snack/meal and you can just pop the pieces into your mouth…OR you can be like me dad, not cut it into slices and eat the whole roll like a burrito…yea, my dad's incredibly awesome like that :) Anyway, I hope everyone has a great weekend! Enjoy!
xx Jenny
Hungry for more?
Subscribe to never miss a recipe.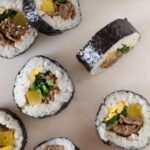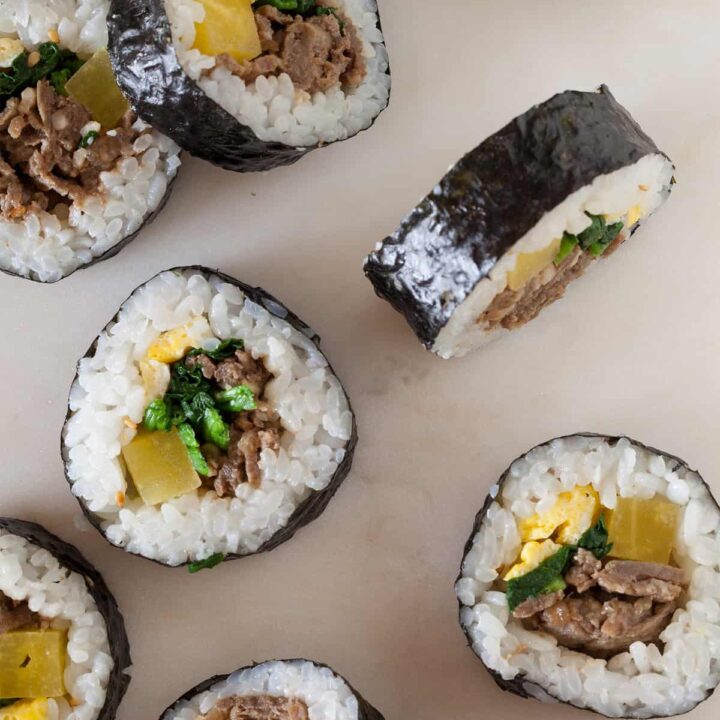 ---
Kimbap
INGREDIENTS
Korean-style marinated beef ribeye
⅓

cup

low sodium soy sauce

¼

cup

Asian pear, peeled and freshly grated

2

tablespoons

sugar

1

tablespoon

sesame oil

2

teaspoons

rice wine vinegar

1

teaspoon

honey

1

teaspoon

fresh ginger, grated

3

garlic cloves, roughly chopped

1

green onion, sliced

1

pound

beef ribeye, thinly sliced
sigumchi namul (marinated spinach)
1

bunch

spinach, cleaned

1 ½

tablespoons

low sodium soy sauce

1

tablespoon

rice wine vinegar

1

tablespoon

sesame oil

1

tablespoon

toasted sesame seeds

¼

teaspoon

sugar

1

garlic clove, minced

1

green onion, thinly sliced

pepper to taste
sushi rice
1

cup

cooked white rice

¾

tablespoon

rice wine vinegar

1

teaspoon

sugar

2

eggs, lightly beaten

1

tablespoon

vegetable oil

¼

yellow pickled radish, sliced into long, thin strips

4

sheets

nori
INSTRUCTIONS
For beef: place all marinade ingredients into a food processor and process until smooth. Pour marinade over sliced ribeye, in layers, and  marinate for 12 to 24 hours. Grill meat in a grill pan, on high heat, with a small amount of nonstick cooking spray.

Grill on each side for 3 minutes or until the meat has cooked through completely. Set aside.

For spinach: fill a large pot with water and bring to a boil. Blanch spinach for 2 minutes, then drain and rinse under cold water. Squeeze excess water from spinach and roughly chop. Set aside. Place remaining spinach ingredients into a bowl and whisk together. Pour marinade over spinach and stir together to completely coat. Place in refrigerator until ready to use.

For "omelet": pour oil into a nonstick skillet and place over medium heat. Pour beaten eggs into skillet and cook like a crepe, about 3 minutes on each side. Remove from skillet and slice into long, thin strips. Set aside.

For sushi rice: place rice, rice wine vinegar and sugar into a large bowl and gently fold together until fully combined. Set aside.

To assemble: place a sheet of nori onto a sushi mat/roller and carefully spread 1/4 cup of the prepared rice onto a thin layer over the nori.

Spread 4 ounces of beef atop the rice followed by ¼ of the spinach, 2 strips of daikon, and 2 strips of egg omelet.

Carefully roll the kimbap as tightly as possible, without tearing the nori.

Once the sushi has been rolled slice the roll into 10 to 12 even pieces, depending on desired thickness.

Repeat with the remaining ingredients until all four rolls have been made and sliced.

Serve accompanied with the remaining pieces of yellow pickled daikon.
Calories:
509
kcal
Carbohydrates:
30
g
Protein:
31
g
Fat:
30
g
Saturated Fat:
12
g
Cholesterol:
151
mg
Sodium:
1074
mg
Potassium:
959
mg
Fiber:
3
g
Sugar:
11
g
Vitamin A:
8301
IU
Vitamin C:
32
mg
Calcium:
141
mg
Iron:
6
mg