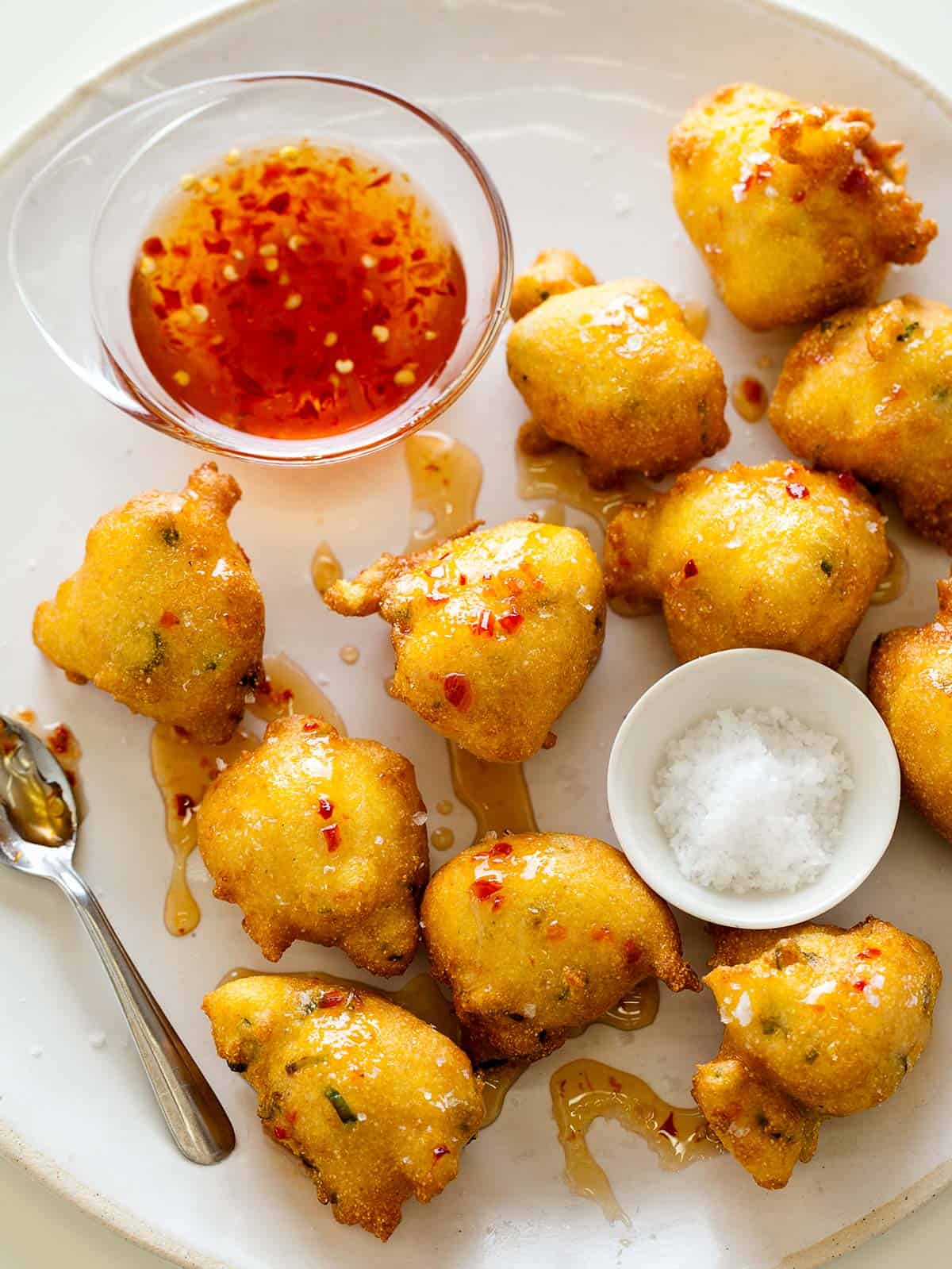 This Hush Puppies recipe is one of our favorites! The first time I had Hush Puppies I was completely hooked. Crispy on the outside, soft in the middle. They are seriously addicting and I dare anyone to eat just one.
History of Hush Puppies
There are a lot of varying stories about the origins, but most of them are myths. A popular story is that fishermen and hunters would fry up leftover batter (from frying fish for their own dinners). They would toss them at their dogs to eat to "hush the puppies" when they would get rowdy at night. This is something that I believed to be true for the longest time.
After doing a little digging, I found out that they used to be called 'red horse bread' in South Carolina. They were specifically coined by a man named Romeo Govans. He was famously known for his fish fries that included red horse bread. Red Horse is actually a type of fish that Southerns would coat in a cornmeal based batter and fry up. They would then take the excess batter and fry up little balls to enjoy on the side or as a snack. The name 'hush puppies' is said to have started in Georgia. Newspapers began writing about a "cornbread concoction" by the name of Hush Puppies, although the exact origins of the name is up for debate.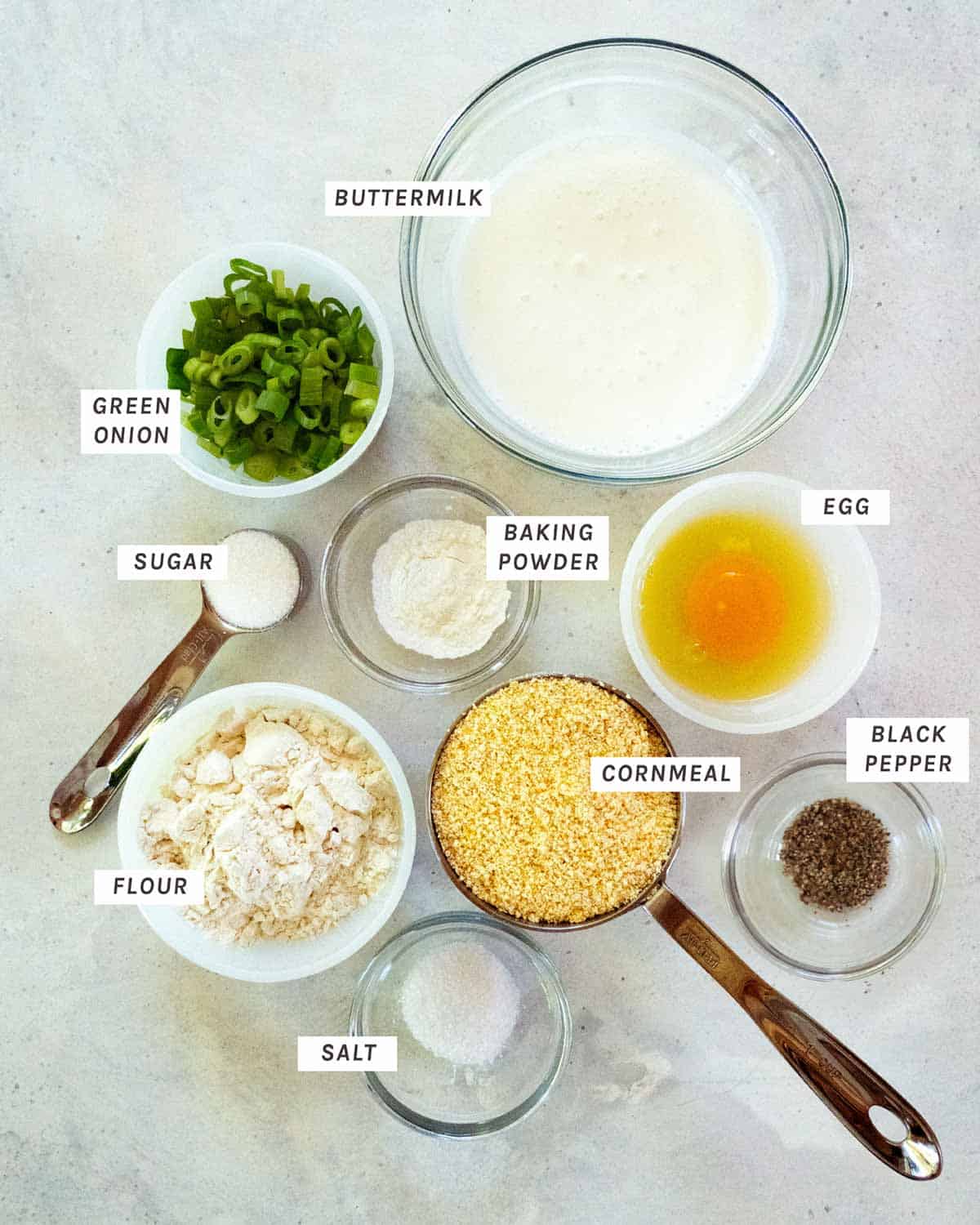 How to make Hush Puppies from scratch
This Hush Puppies recipe is easy to make and only require a handful of basic ingredients.
First preheat your oil.
All the ingredients can then be added to a mixing bowl together and whisked together until a thick batter forms.
Small balls of batter are dropped into the oil and fried for a few minutes until golden brown.
The balls of fried batter are then drained onto paper towels and lightly seasoned with salt and pepper (although this is optional).
Honey is combined with chili sauce to create a sweet and spicy sauce and drizzled over the hush puppies. We love the combination of sweet, spicy and savory all mixed into one, but they are also delicious on their own.
EAT!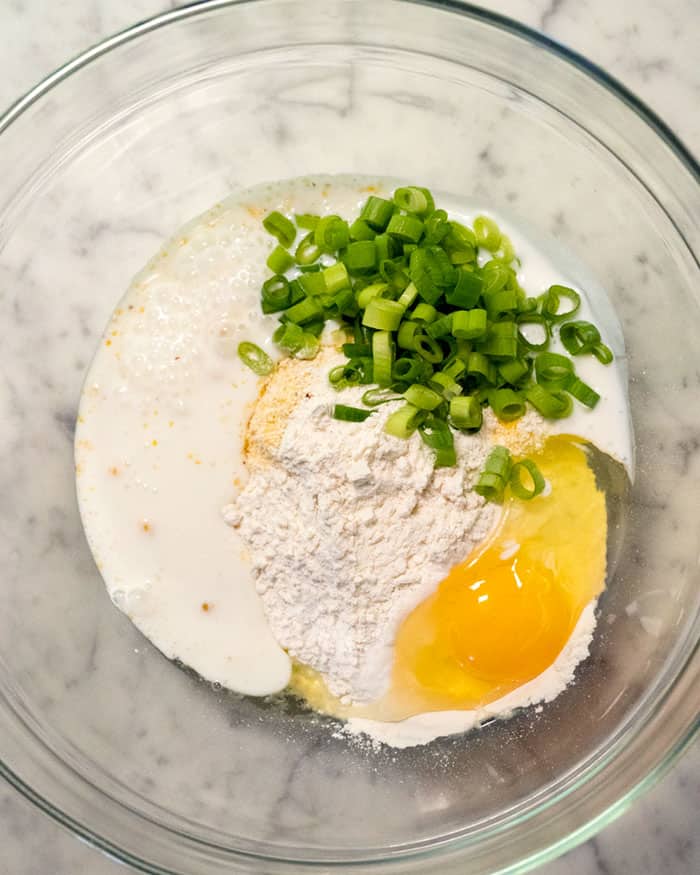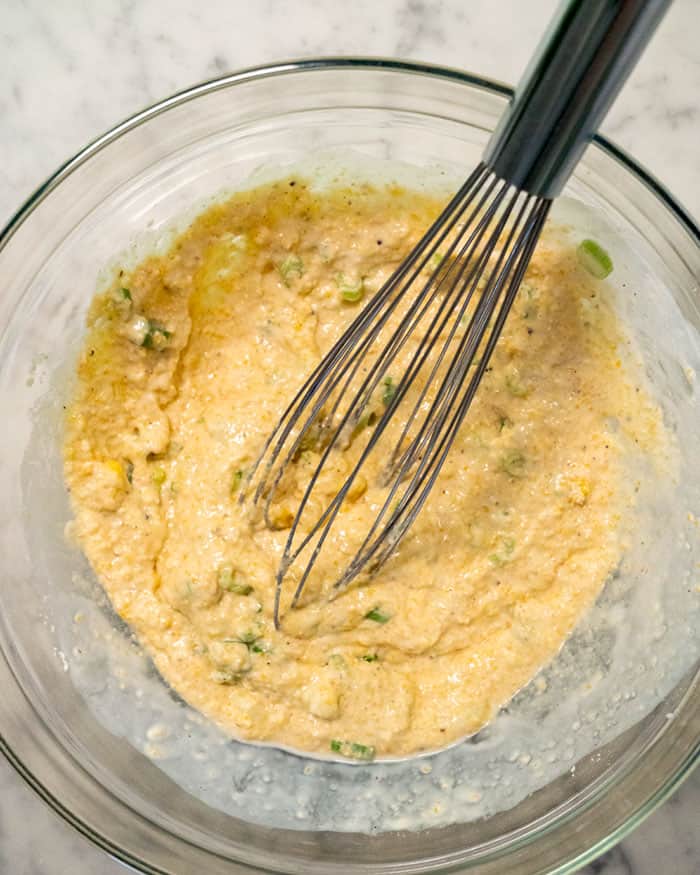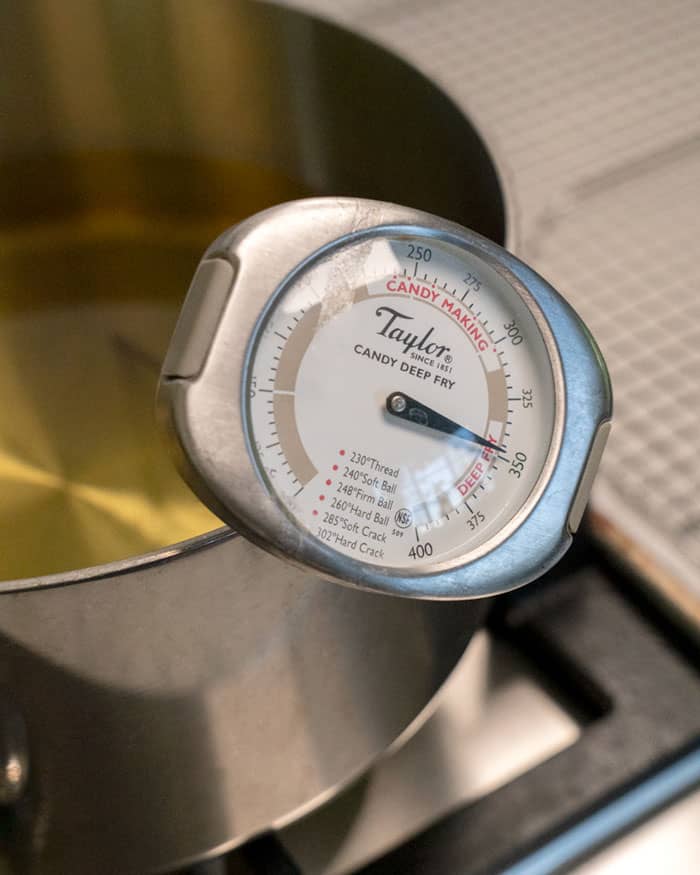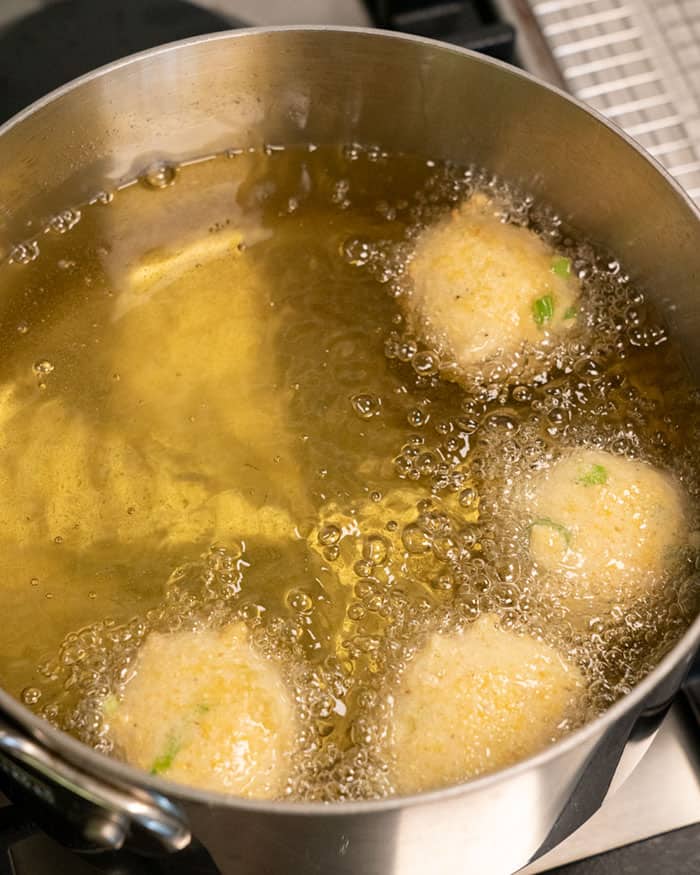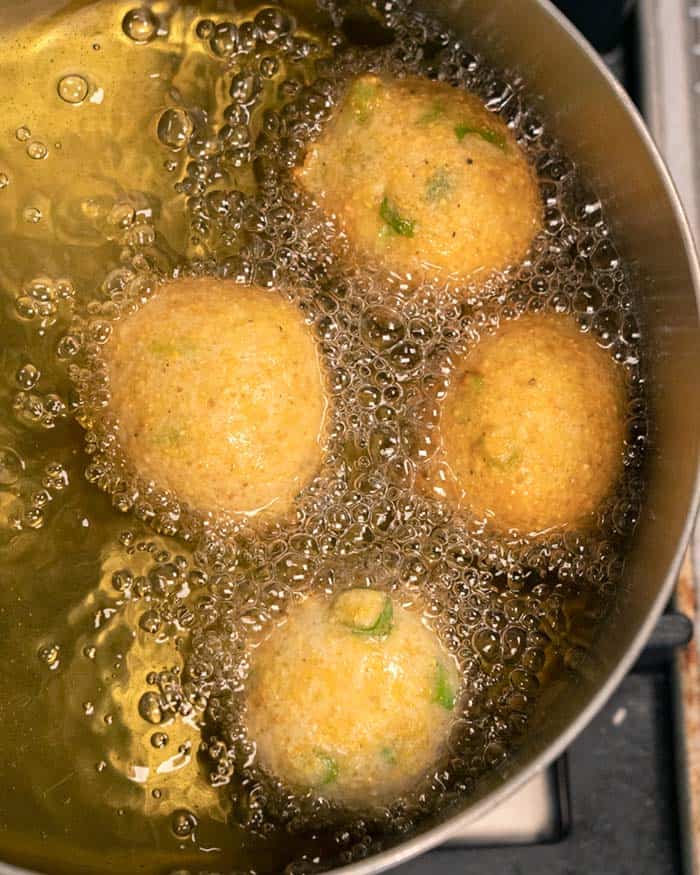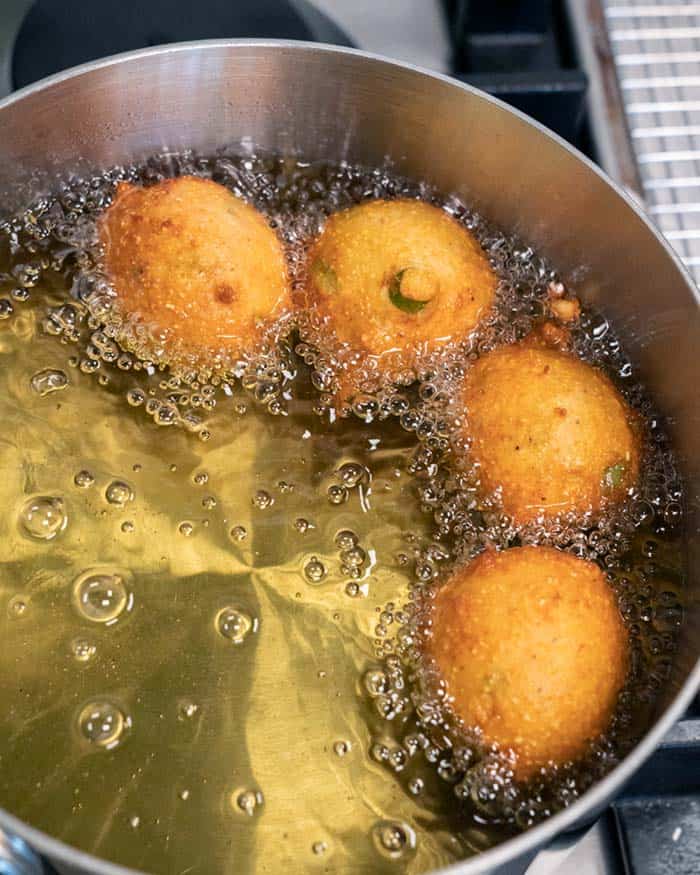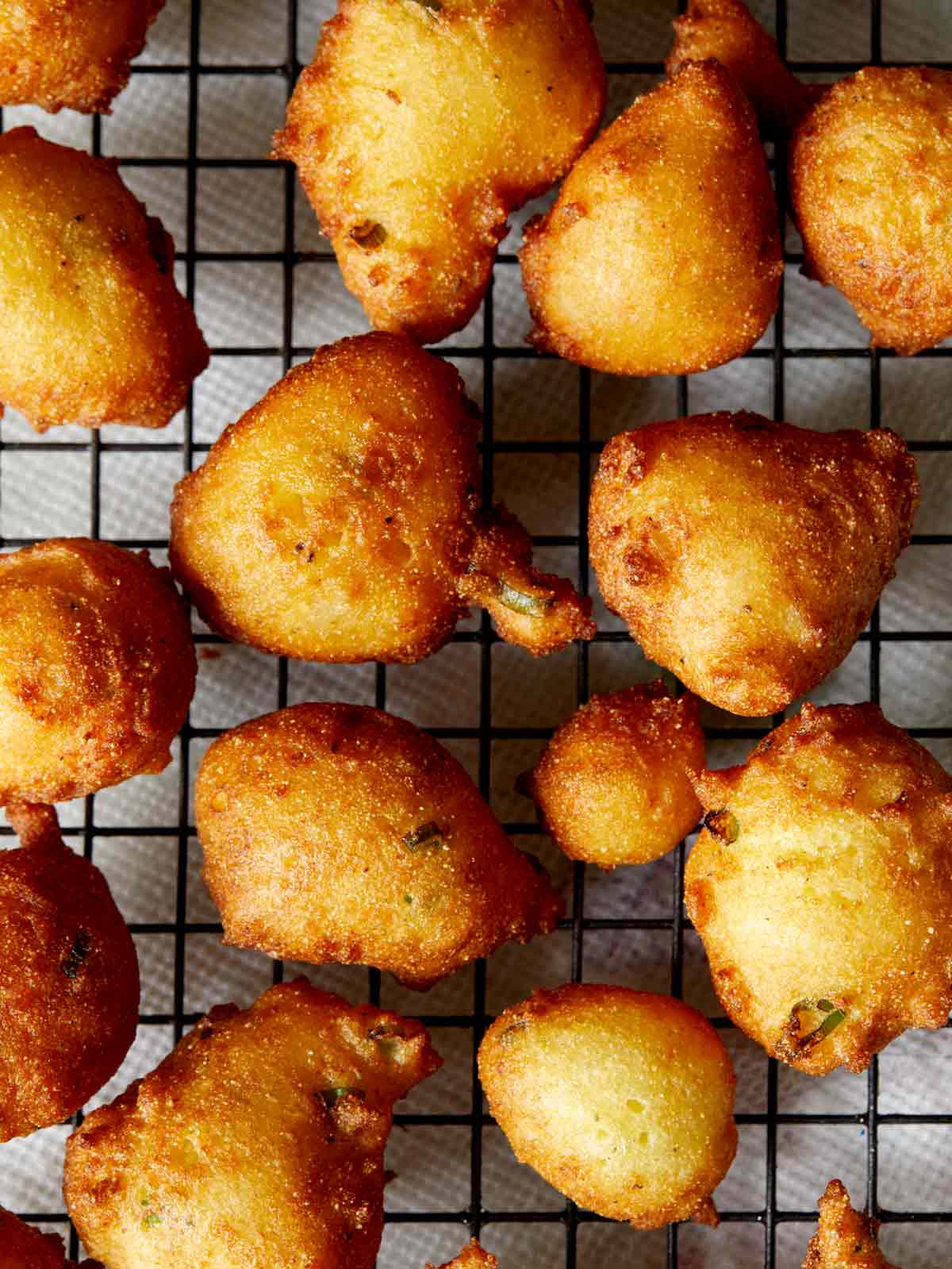 Here are some tools we love for this recipe:
Spicy Honey Drizzle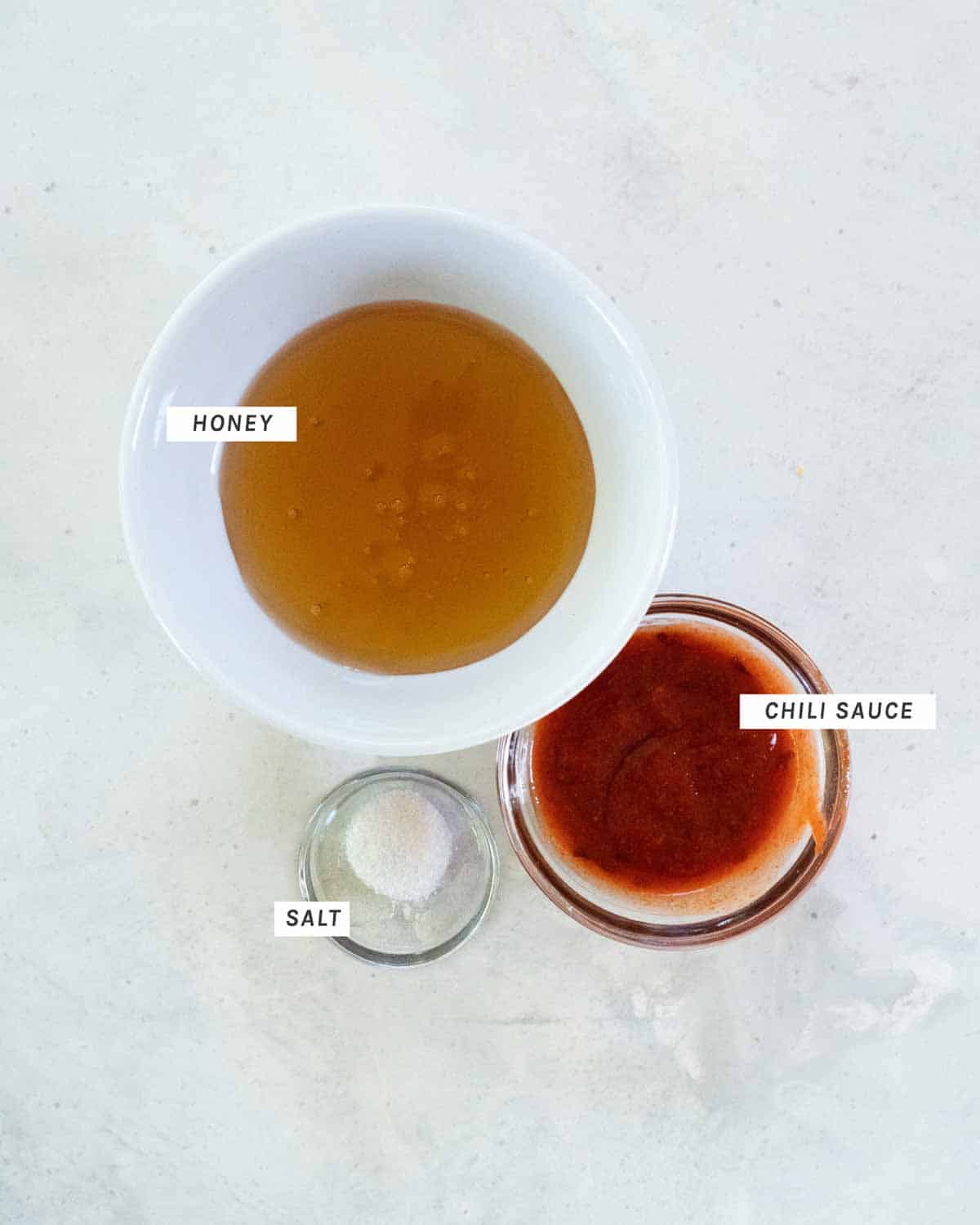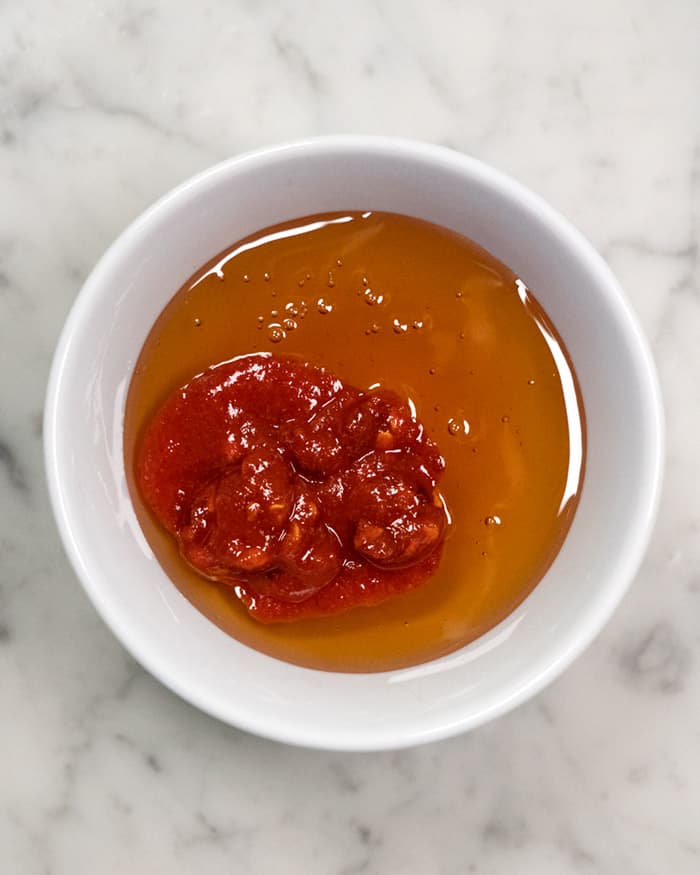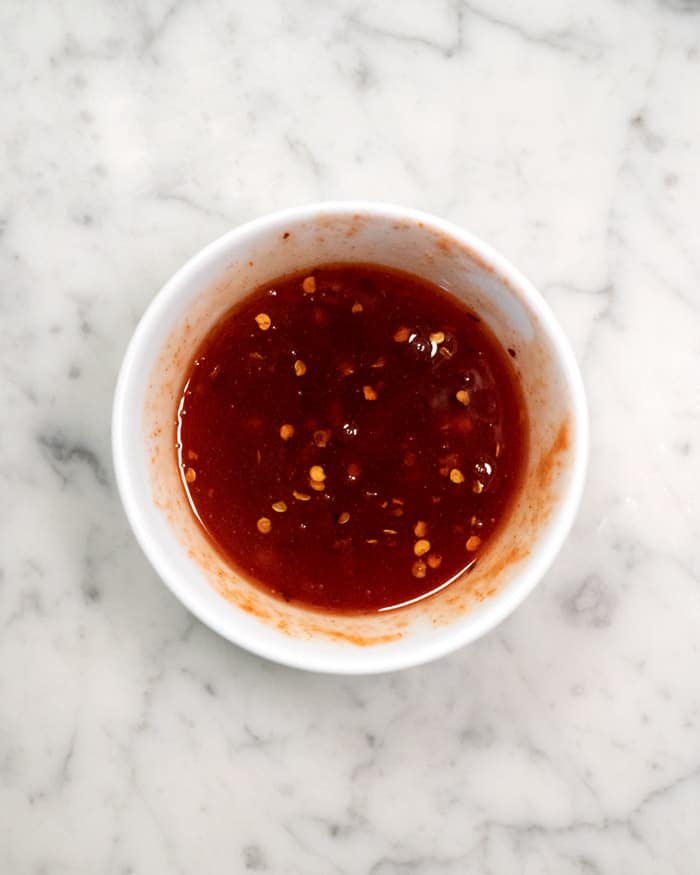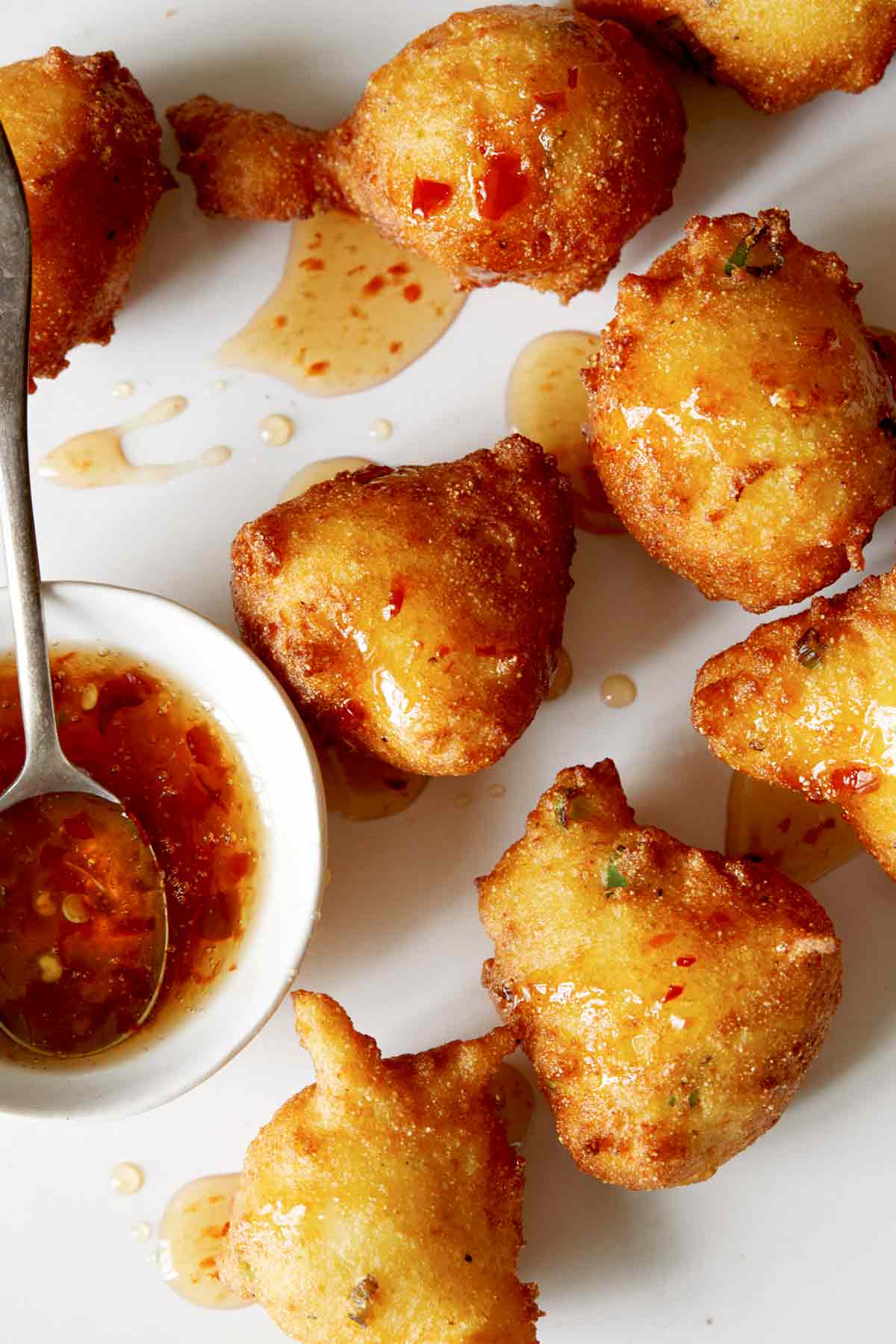 Tips and Tricks
We add sliced green onion to our puppies, which is not traditional. They can easily be omitted, although we love the little oniony bits of flavor dotted throughout each fried ball.
If you don't have buttermilk, you can combine 2/3 cup milk with 1 teaspoon lemon juice. Allow the mixture to sit for a few minutes before whisking it into the batter.
We like to use a small ice cream scooper to easily drop balls of batter into the oil, but two spoons also work well.
It's important to flip each hush puppy while they fry in the oil about halfway through to ensure even all sides get golden brown and that they're completely cooked through the center.
We use an asian style chili sauce for out spicy honey drizzle, but you can use crushed red pepper flakes instead.
Hush puppies make a great snack on their own, but are also really delicious paired with some of our favorite recipes below. Enjoy! xx, Jenny
FAQs
How long do Hush Puppies Last?
This Hush puppies recipe will last in the refrigerator for three days, and in the freezer for three months.

To refrigerate: Once your Hush Puppies have cooled, place them in an airtight container lined with paper towels. Place a layer of the puppies in the container and layer another paper towel on top. Repeat.
To Freeze: Let Hush Puppies cool. Once they are cool transfer to a baking sheet and spread them out in one layer not touching. Place them in the freezer until they are completely frozen through. Transfer to an airtight tag and store in the freezer for up to three months.
To reheat: Place frozen or refrigerated hush puppies on a baking sheet spread in an even layer not touching. Preheat your oven to 375 degrees, and bake for about 5 minutes. Be sure to not burn the tops, so check halfway through. If they are getting a bit too toasty on top, you can flip them.
What are Hush Puppies?
Hush Puppies are southern, savory fried balls made from a cornmeal based batter.
Are Hush Puppies Gluten Free?
No, we use flour in this recipe. You can always try this recipe with a different kind of flour like almond, or cup 4 cup, to make these gluten free.
How do you keep hush puppies from falling apart?
You should not have this issue with this recipe. We have a good balance of wet to dry ratio that should prevent this kind of mess. However, it is good to let the mixture rest for about 5 to 10 minutes before you begin frying. Also, when mixing the batter, just whisk until it's combined. Try not to over mix.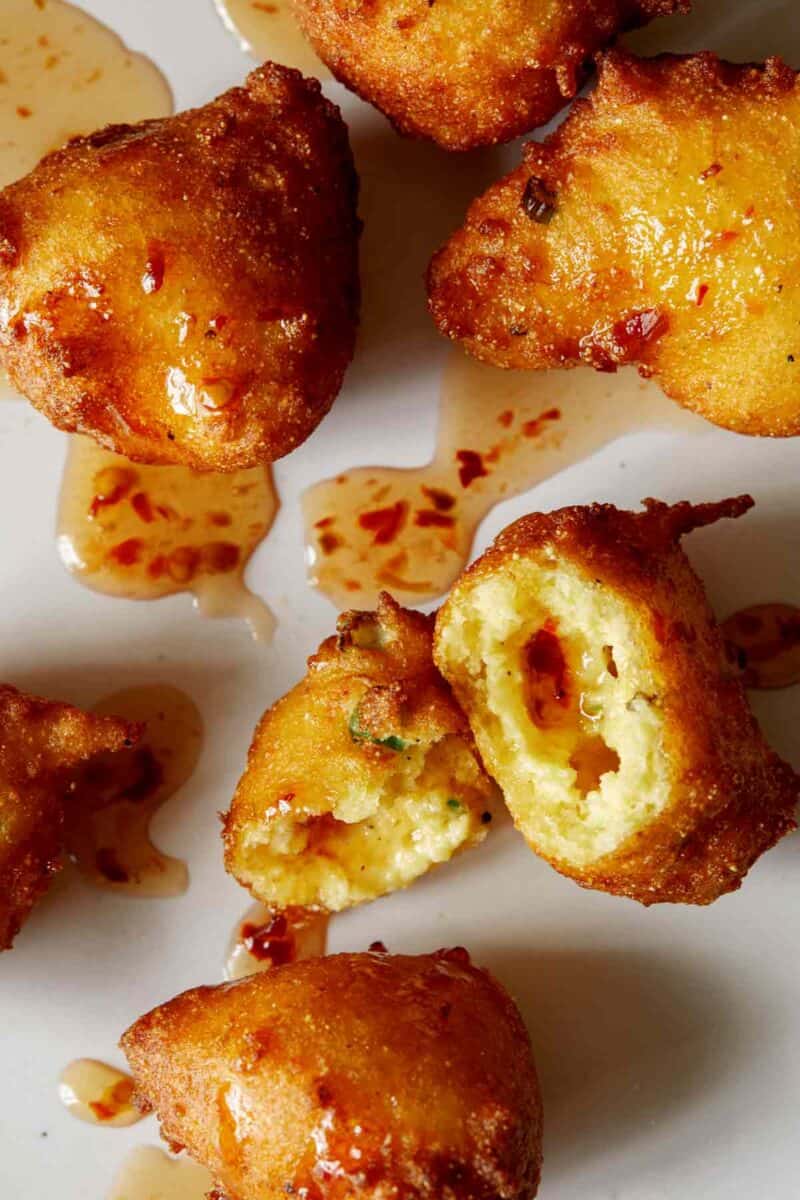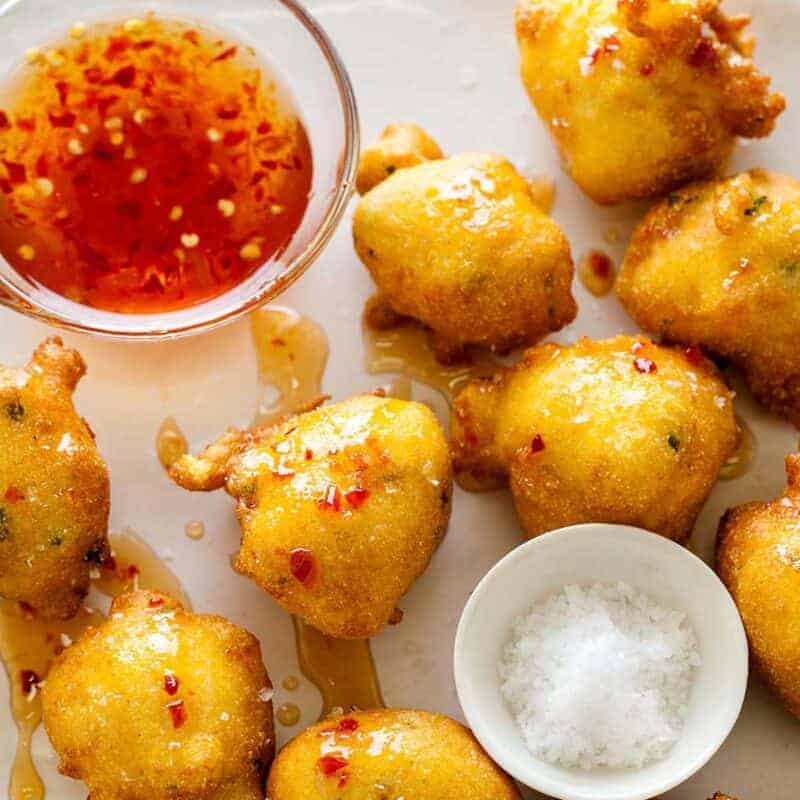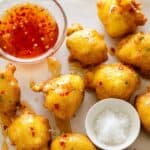 ---
Hush Puppies
These hush puppies are deliciously savory, fried balls of cornmeal based batter. They're finished with a spicy honey sauce for the perfect sweet, spicy, salty bite!
INGREDIENTS
1

cup

cornmeal

½

cup

all purpose flour

1

tablespoon

granulated sugar

1

teaspoon

salt

1 ¼

teaspoon

baking powder

½

teaspoon

ground black pepper

1

egg

⅔

cup

buttermilk

2

green onions, thinly sliced
spicy honey drizzle
⅔

cup

honey

2

tablespoons

fresh chili sauce

such as Sambal

sea salt to taste
INSTRUCTIONS
Pour oil in a large pot and begin preheating on medium-high heat.

Place all ingredients for the hush puppies into a large bowl and whisk together to create a thick batter.

Once the oil has reached 350 degrees F fry large (2 tablespoon) spoonfuls of batter for about 5 minutes, flipping every 2 to 3 minutes. This will take several batches.

Drain on paper towels and season with salt.

In a small bowl combine the honey and chili sauce and stir together.

Serve the hush puppies warm with a drizzle of the spicy honey sauce.
Calories:
272
kcal
Carbohydrates:
47
g
Protein:
4
g
Fat:
8
g
Saturated Fat:
1
g
Cholesterol:
23
mg
Sodium:
439
mg
Potassium:
144
mg
Fiber:
2
g
Sugar:
26
g
Vitamin A:
118
IU
Vitamin C:
1
mg
Calcium:
67
mg
Iron:
1
mg
CUISINE:
American, Southern
COURSE:
Appetizer, sides, Snack